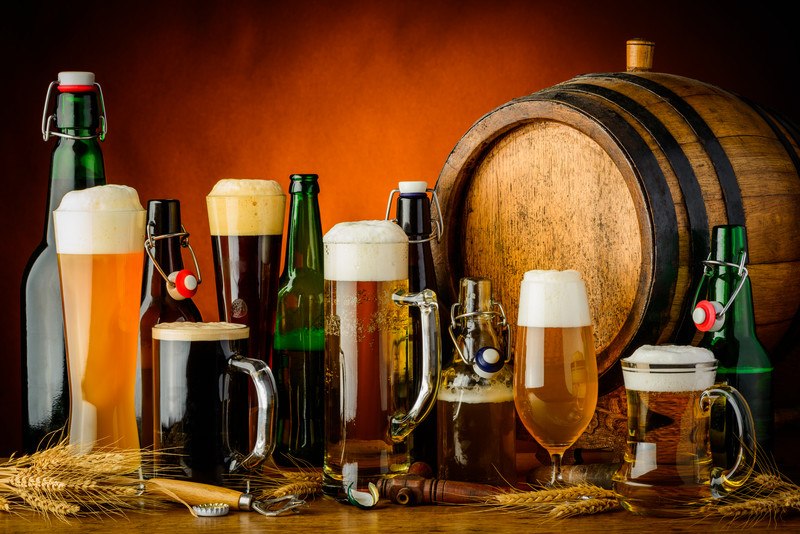 Buying gifts for beer lovers doesn't need to be difficult. It really doesn't matter whether he has beer in the fridge or not. You don't even need to know what type of beer he prefers. There are plenty of different beer gift ideas for him out there, regardless of what he is interested in.
To that end, this list covers a wide range of different gifts that you can give. You could even combine multiple options to create a truly stunning present, regardless of the occasion.
Beer Gift Baskets
Here are more beer gift baskets to check out as well.
Anderson Valley Hop Ottin Deluxe Bouquet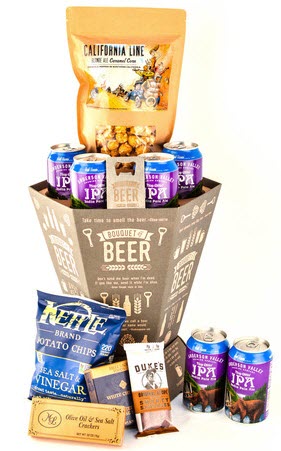 Of all the different beer gift baskets out there, the Bouquet of Beer brand produces the most stunning ones. This Anderson Valley Hop Ottin Bouquet is one example. It's easy to see where the company gets the beer bouquet term from. The gift itself contains 6 cans of Anderson Valley Hop Ottin beer, along with a selection of themed snacks and a bottle opener.
Givens and Company California Craft Beer Fest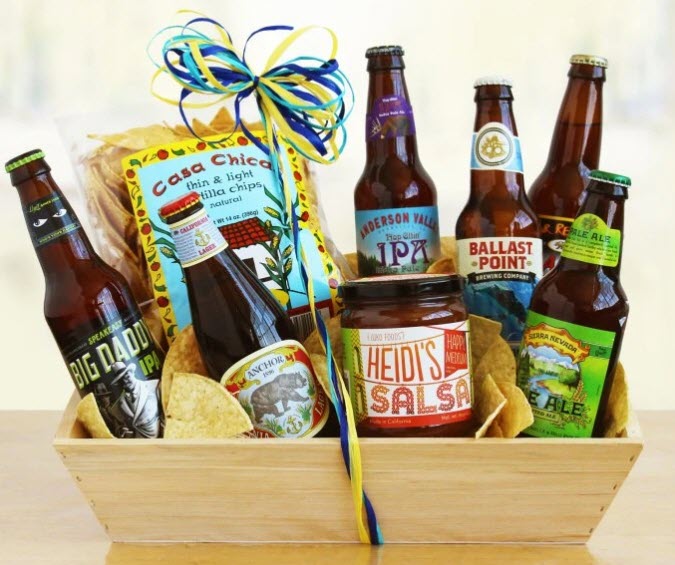 One of the best things about this Craft Beer Fest Gift Basket is the simplicity. The basket just contains 6 different types of beer, some tortilla chips and salsa. It would be the perfect gift for anyone who likes to watch a game and drink beer.
Rare & Barrel Aged Bouquet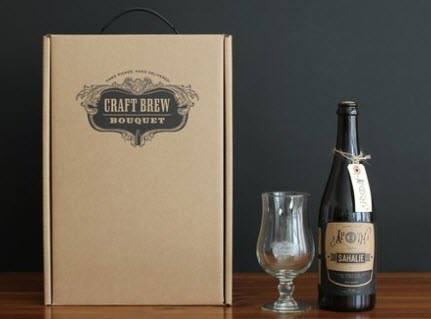 This product is called a beer bouquet, but that's a little misleading. The gift actually contains a 750 ml bottle of aged craft beer, a custom glass and a sea salt hazelnut crunch bar. Don't be put off by the small number of items. The gift is simply one that focuses on quality, not quantity.
Beer & Beef Jerky Gift Basket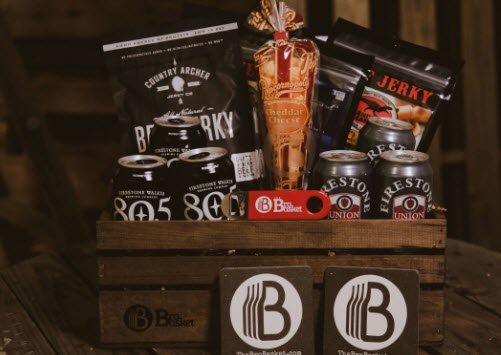 The Bro Basket always produces fantastic gifts and this Beer & Beef Jerky Basket is no exception. The basket contains 6 cans of beer. Half of them are blonde ale, while the other half are IPA. There are also 4 bags of jerky and a few other goodies for good measure.
Premium House Stark of Winterfell Game of Thrones Gift Crate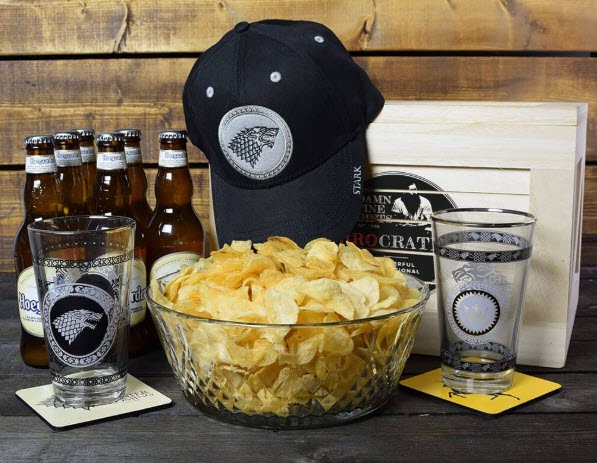 BroCrates is another brand that produces some amazing gifts. This one is strongly aimed at Game of Thrones lovers, offering themed glasses, a hat and a themed coaster (the other coaster isn't Game of Thrones themed, for whatever reason). There is also a glass bowl with chips and 6 bottles of beer to round the whole gift out.
House Targaryen Game of Thrones Brocrate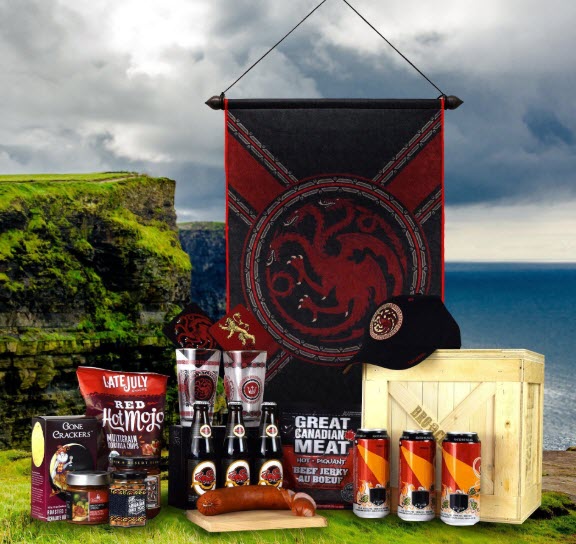 Here's anotherGame of Thrones crate. This one is more impressive still, offering astitched Targaryen banner, along with a hat, glasses, beer and snacks. The items match the fire and blood theme well too, including the presence of desert pepper hot salsa, hot beef jerky, Fire in the Rye beer and Dragon Stout beer. It's hard to imagine anyone not loving the gift.
Other Beer Gift Baskets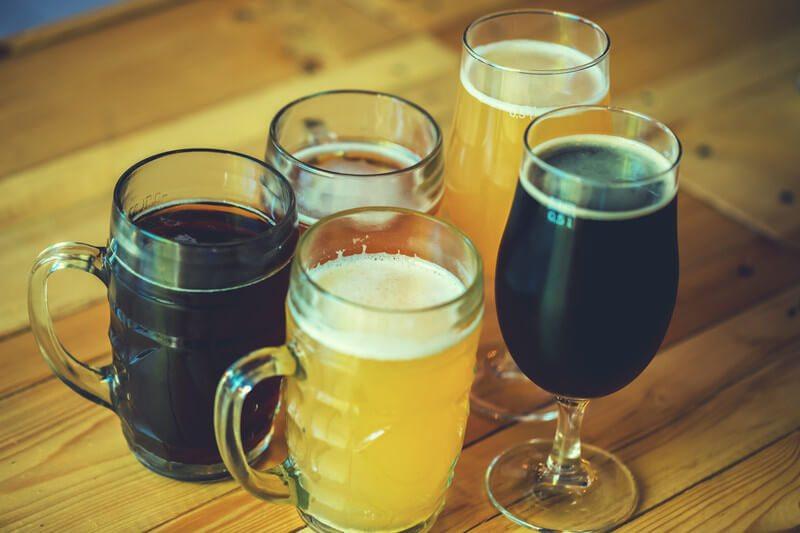 For that matter, any beer gift basket is the perfect idea for beer lovers. There are plenty of them to select from, including imported beer gift baskets, IPA beer gift baskets and ones that cover a variety of styles.
Beer of the Month Clubs
BroCrates' Beer of the Month

Clubs are the gift that keeps on giving. There are multiple Brocrates Beer Club Subscriptions to choose from, including an Exclusive and Rare Beer Subscription, a Mystery Beer Crate Subscription and a EuropeanBeer Subscription. Regardless of the subscription, members receive an info card and a greeting card each month, along with their beer.
The Hop-Heads Beer Club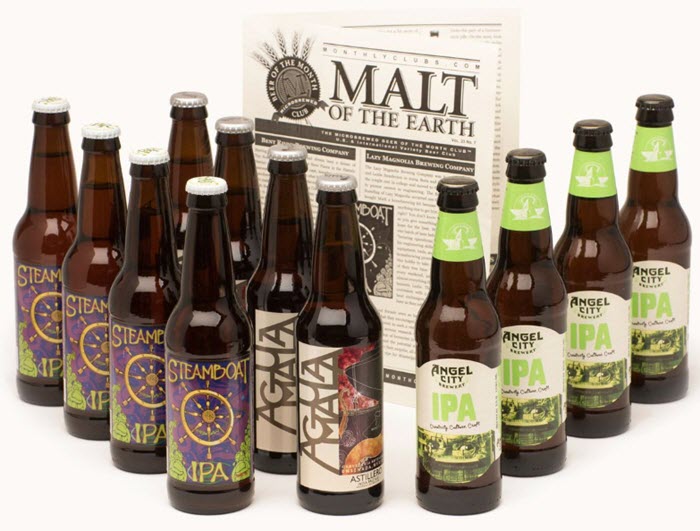 The Hop-Heads Beer Club is one that I've personally tried and was impressed with. As the name suggests, the club focuses on IPA beer. The recipient gets 12 beers each month. These come from 3 different breweries, always providing 4 beers from each brewery. The beers aren't as hop-heavy as some IPAs, but that might be a good thing for some audiences.
Rare Beer Club


The Rare Beer Club is another one that I've tried and enjoyed. The club focuses on beer that is difficult to find. This includes limited-release and exclusive bottles. This style is particularly good for gift giving, as the beer won't be what your recipient already has at home.
There is also customization. Members are given details about the beers before shipment. It is then possible to replace beers, add new ones and/or skip one of the beers. Recipients could even skip that entire shipment. Such flexibility is rare in a beer club.
Other Beer of the Month Clubs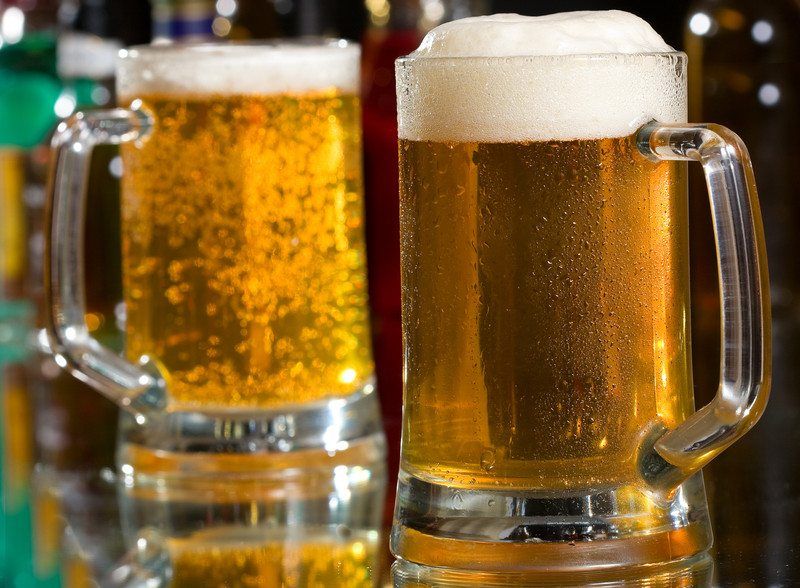 Those were just a few beer of the month clubs. There are many othersas well. You can check out my Top 10 Beer of the Month Clubs for more details. Each club has different features and advantages. The best choice will strongly depend on who will be receiving the membership.
Selections of Beer
British Beer Gift Set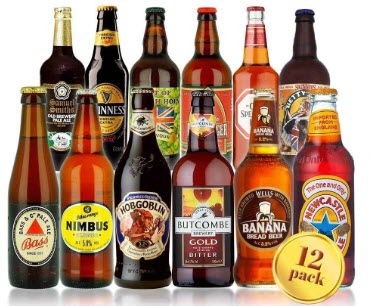 Don't want all the jazz of a gift basket or the complexity of a beer club? What about a simple gift set of beer? This one contains 12 different bottles of British craft brews. The beers are chosen based on seasonal availability, but they'll be always high-quality 12 oz bottles.
Around The World Gift Set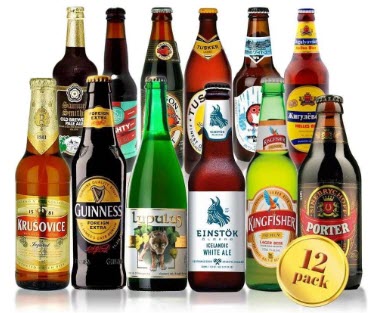 Here's another beer gift set. This time the beer comes from around the world, offering plenty of variation in styles. The selection can include bottles or cans, although you can specify no cans during checkout if you need to.
German Beer Sampler Gift Set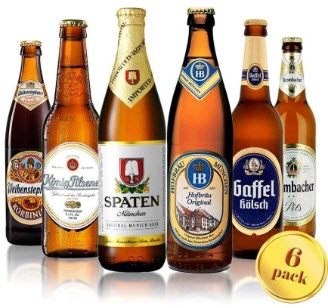 This beer gift set is a bit different. It just contains 6 bottles of beer, but they are larger bottles (500 ml each). Once again, the precise combination of beers will vary over time, but they're always going to be enjoyable.
You could even pair this gift with a beer stein.
Craft Microbrew Beer Gift Pack

All of these beer gift packs come from Spirited Gifts and there are many others on that site too. The final one we're featuring in this list is the Craft Microbrew Pack. This is another set that focuses on large bottles. In fact, the beers are all 750 ml this time, so there's a generous amount of beer provided.
Beer Brewing Gifts
Light Speed Blonde Starter Kit With 3G FastFerment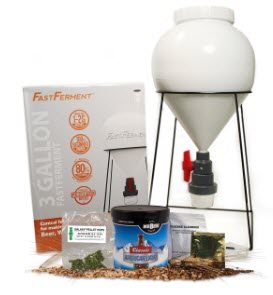 Why just give beer when you can provide someone with the chance to make it for themselves? This Light Speed Blonde Starter Kit offers that opportunity. The FastFerment aspect of the system is developed to be the same shape as brewery fermenters. That aspect alone should make this a popular gift.
Home Brewed Kit (5 gal)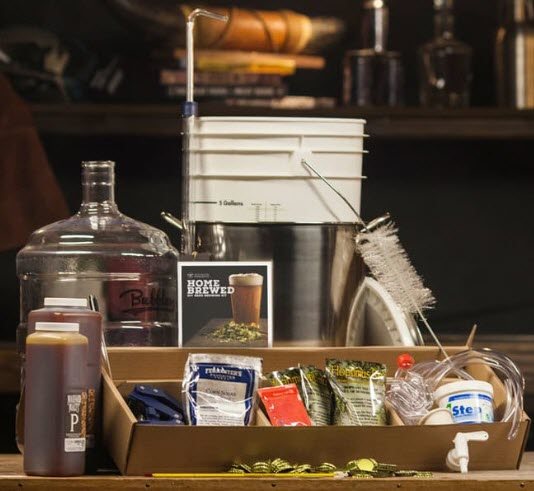 Here's another beer brewing choice. It comes from Man Crates and the system can be used to brew up to 5 gallons of beer. There is even an instruction manual, making this a particularly good gift for beginners.
Craft A Brew Kit (India Pale Ale)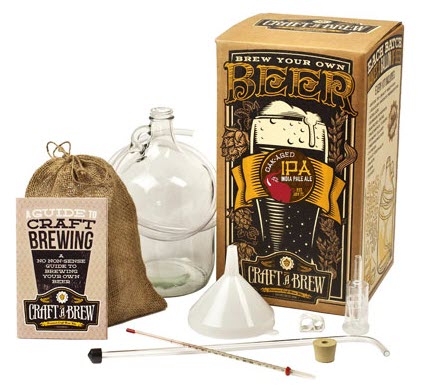 This small brewing kit helps recipients create their own IPA beer. It's a less intense kit than the others, with a 1-gallon jug for brewing. The style isn't a bad thing. The kit simply gives people the chance to experiment and find out what they think about the process.
Glassware, Serving and Storage
NASCAR Barware Crate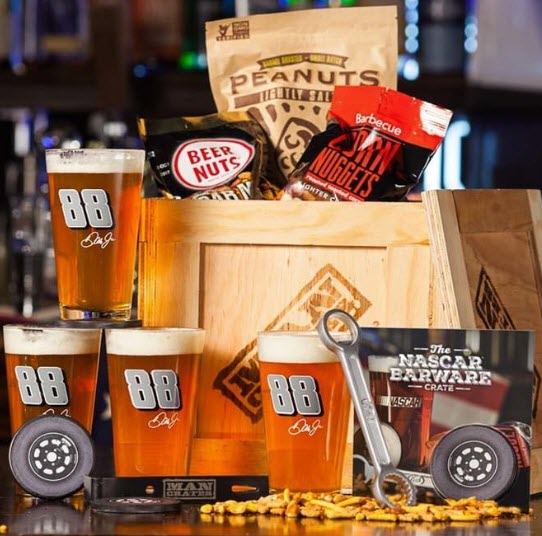 This gift doesn't include any beer, so it can be shipped throughout the United States. The entire crate is perfect for NASCAR lovers. It can even be themed around a specific driver (either Chase Elliott or Dale Earnhardt Jr). The set comes with pint glasses, rubber tire coasters, a wrench-shaped bottle opener and various snacks.
Personalized Wooden Beer Holder with Bottle Opener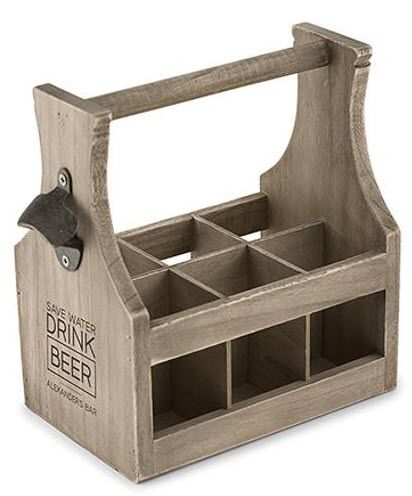 There's always something special about personalized gifts, like this wooden beer caddy. The 'Save Water Drink Beer' line is included with the product. You get to personalize the line below that. Simple touches like that can make all the difference. Besides, you know that a beer holder like this is going to get used regularly.
Beer Tasting Flight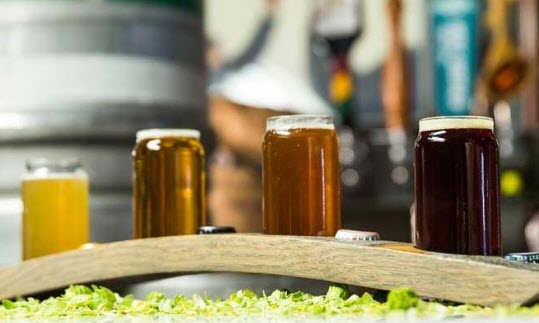 This Beer Tasting Flight includes the 4 glasses that are needed, along with places for bottle caps. The piece is made from re-purposed cask wood, giving it an authentic feel.
Beer Tasting Flight with Space for Caps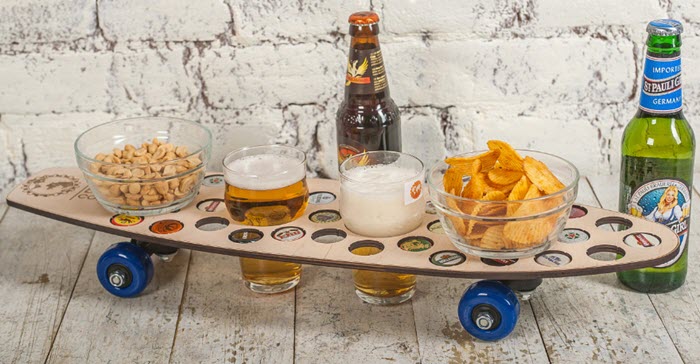 Here's another beer tasting flight in a completely different style. This time, the emphasis is simply on having a good time, rather than comparing beers to one another. It has enough space for 2 glasses of beer and plenty of beer caps. While there are no slots for bowls, they can easily rest on the board, like in the image.
Beer Flight Sampler with Glasses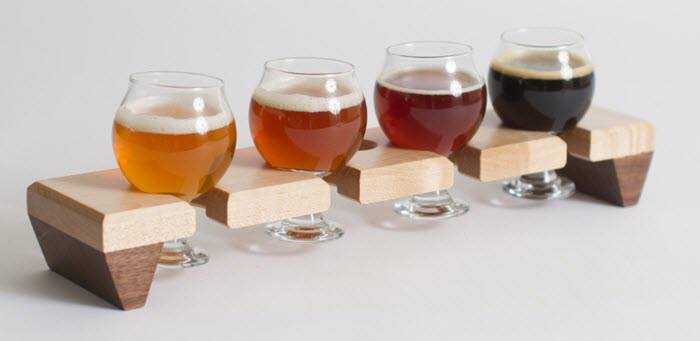 Before we move on, take a look at this Beer Flight Sampler. It follows the familiar style of four small glasses of beer, but does so in a very elegant way. The design makes the piece easy to handle for serving beer as well, allowing the user to carry it in a single hand.
Stainless Steel Pint Glasses And Growler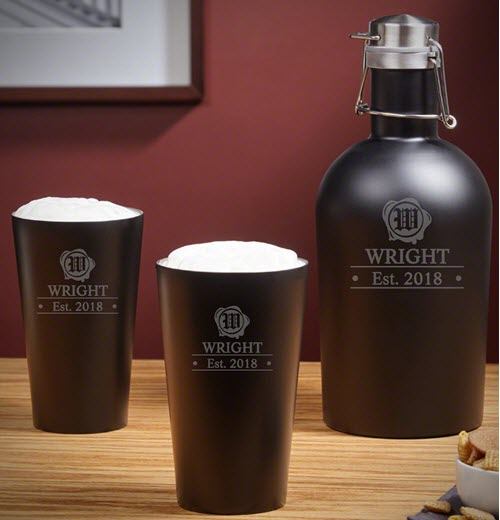 Who says that beer glasses need to be made of glass? Well, okay, the name does suggest that. Still, this set of Stainless Steel Pint Glasses and Growler makes a nice alternative to traditional glasses. They also come with custom engraving, so you can add a personal touch to the gift.
Personalized Growler Crate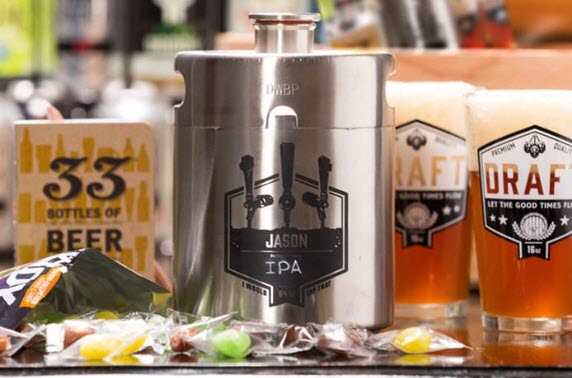 This Personalized Growler Crate is a personalized gift, where you can choose the name on the mini-keg growler. The crate also includes 2 pint glasses, brew candy and a beer tasting journal. Gifts like this work extremely well, as they can be used time and time again.
Picnic Time NBA Pilsner Beer Gift Set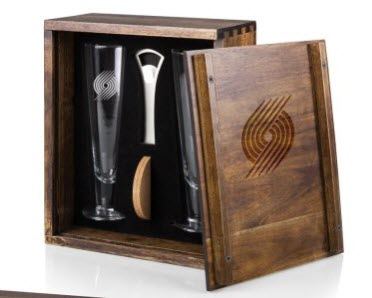 Sports fans will love this Picnic Time NBA Pilsner Beer Gift Set. It contains 2 beer glasses, 2 coasters and a bottle opener. The logo on the beer glasses and gift box are from an NBA team. The sales page allows you to choose which team is featured, with 30 different options to choose from.
Man Cave Gift Basket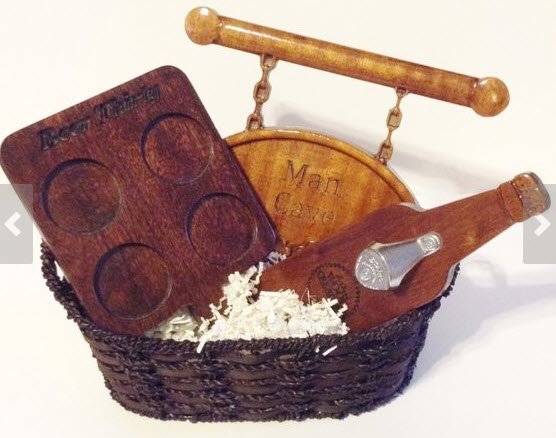 The man cave concept is tried and true, so why not take advantage of it? This gift basket includes 3 key components: a man cave sign, a beer tray and a bottle opener that can be hung on the wall. Each item is handmade. You can even choose the wood stain used and have the bottle opener personalized.
Authentic German Beer Boot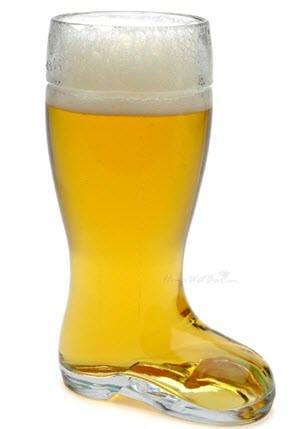 If you want something a little different,how about this Authentic German Beer Boot? The 18 oz glass can be gifted as-is or personalized with up to 3 letters. Drinking out of a glass like this takes a little practice, although that's half the fun.
Personalized Monogrammed Beer Mugs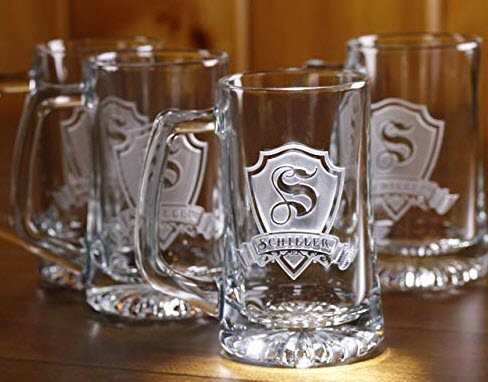 I love the craftsmanship on these Personalized Monogrammed Beer Mugs. The creator uses a deep engraving process, so the finished work looks incredibly high-quality. Each glass has the pictured crest, which includes the name of the recipient and a monogram letter. The listing is for 2 such glasses, making this a good gift for couples too.
Portable Beer Dispenser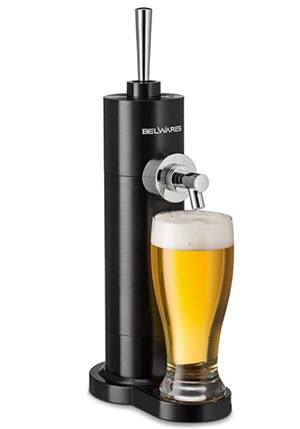 This Portable Beer Dispenser is designed to dispense a 12 oz can into a glass. The process is meant to change the taste and texture of the pint, making it similar to getting a draught beer at a pub. The small size also makes the device very portable.
Personalized Pint Set Ammo Can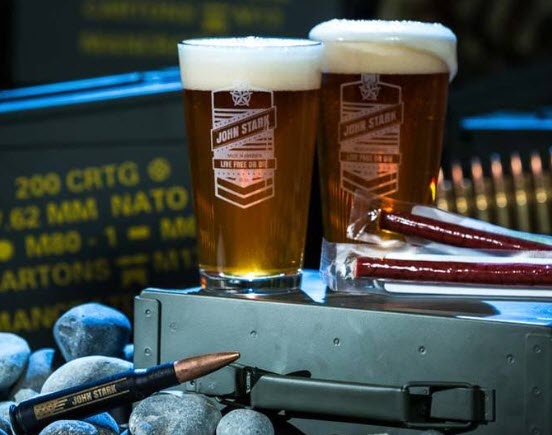 ManCrates always offers unique gifts and this product is no exception. The gift set includes 2 pint glasses, a bottle opener and 2 jerky sticks, all stored within an ammo can. The glasses are personalized with a name and a quote. The same name is included on the bottle opener too.
Personalized Barware Crate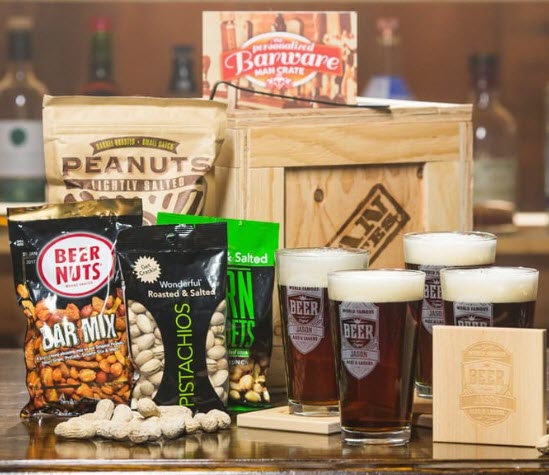 While we're on the topic of personalized barware, check this crate out. There are 4 beer glasses included this time. You get to customize the top and bottom line of text, along with the name on the glass. The box also includes 4 coasters that double as bottle openers. They have the same personalization. Also included are various snacks to round the whole box out.
Customized Beer Tap Handle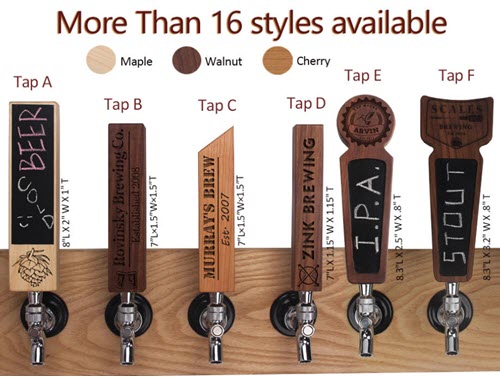 Here's another angle to consider –Customized Beer Tap Handles. These handles are ideal for home brewers and anyone with a personal kegerator. Besides, they just look cool. This particular seller has more than 16 individual styles that you can choose from, along with customized engraving.
Beer Cap Holder Shadow Box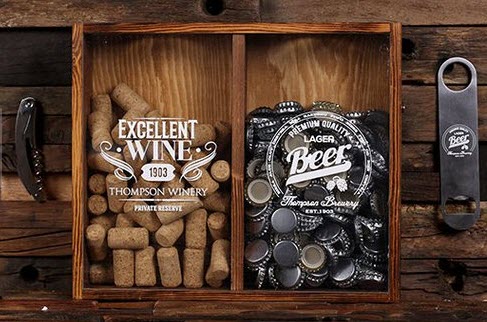 This Beer Cap Holder Shadow Box is such a cool idea. It even comes with the pictured bottle opener and corkscrew. The back of the box has a slideable panel, allowing the box to be emptied and used again. The seller offers full customization and the details are painted on. This creates a high-quality gift.
It's Five O'Clock Somewhere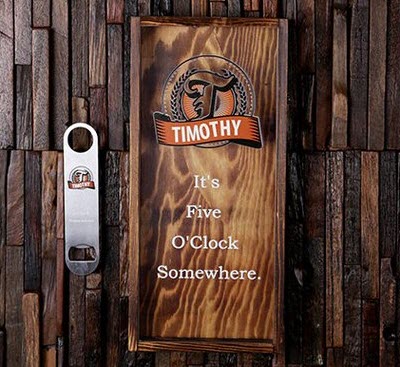 This second shadow box comes from the same seller as the previous one (no surprises there). This time it's just designed to hold beer caps, nothing else. There is an extensive number of quotes and colors that you can choose from. You can choose whatever applies best to the gift recipient.
Personalized Beer Bottle Opener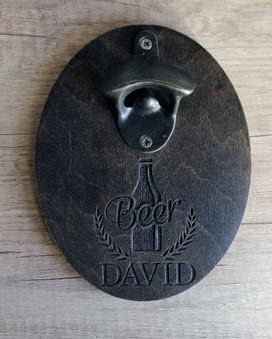 The simplicity is one of the best things about this Personalized Beer Bottle Opener. It's easy to imagine how you could include it as part of a gift basket or even just wrapped up on its own. There are 2 different colors and 15 designs to choose from, along with free personalization.
Take Your Top Off Beer Opener

This Take Your Top Off Beer Opener follows a similar style, but it's not personalized. Including a quote instead of a name makes the gift more versatile. You can even buy it and decide who to give it to later. You can also customize it a little by choosing the color of the stain and the engraving.
Outdoors Drink Holders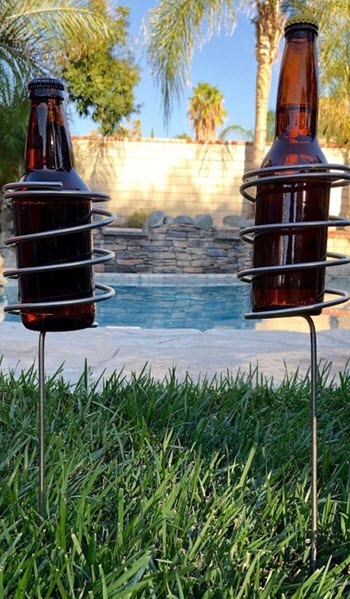 Products like these Outdoors Drink Holders make extremely practical gifts. Users can control the height of their beer by how far the stake is driven into the ground. The listing includes 2 of the drink holders. They're made from unpainted stainless steel and is resistant to corrosion and rust.
Custom Pint Glass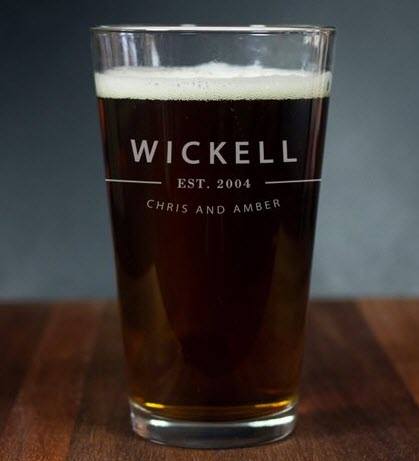 This Custom Pint Glass is a very easy gift. It's inexpensive enough that you could even use it for a secret Santa gift or for someone that you don't know well. The engraving is customizable and you can choose what you want it to say.The same seller has many other engraving styles too if you don't like this one.
Personalized Traditional German Beer Stein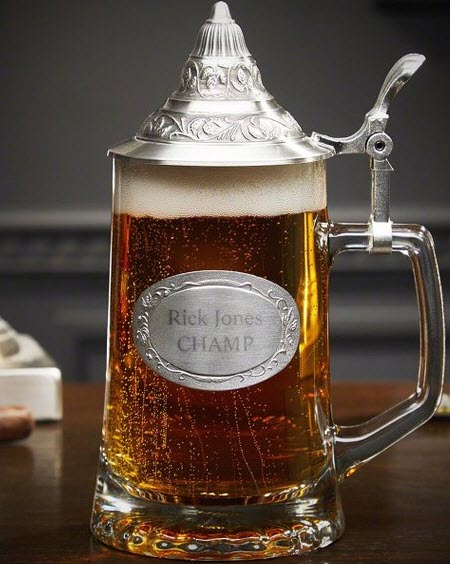 This Traditional German Beer Stein is still a personalized beer glass, but it's considerably more complex (and impressive!). The visual style works extremely well. What's more, the pewter lid even has a practical purpose – it helps to stop bugs from getting in your beer.
Beer Books and Guides
The Craft Beer Cookbook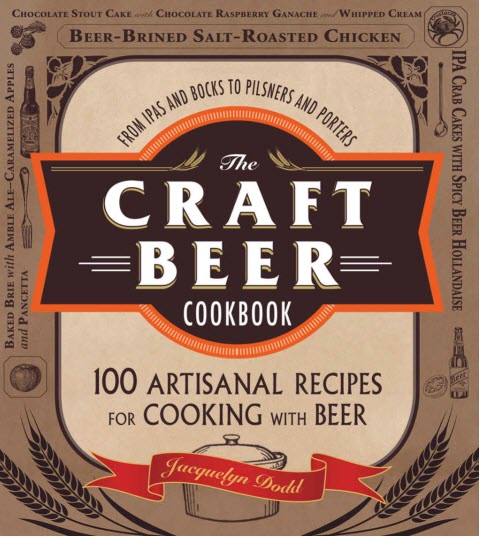 Want to get a beer drinker into the kitchen? The Craft Beer Cookbook might be the starting point that you need. It contains 100 different recipes that use beer as an ingredient. The beer isn't just a random addition either. These are recipes where the beer will make a dramatic difference.
The Craft Beer Bites Cookbook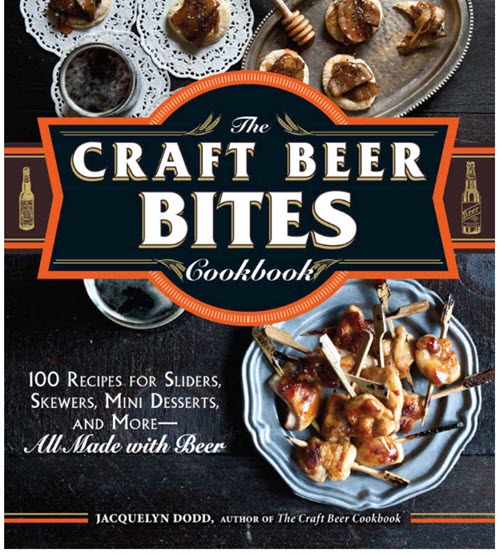 The Craft Beer Bites Cookbook is another beer-based option to try out. This one focuses on small-sized dishes, many of which have their roots in pub meals. This includes beer cheese dip, chocolate stout cupcakes, sliders, skewers and much more.
The American Craft Beer Cookbook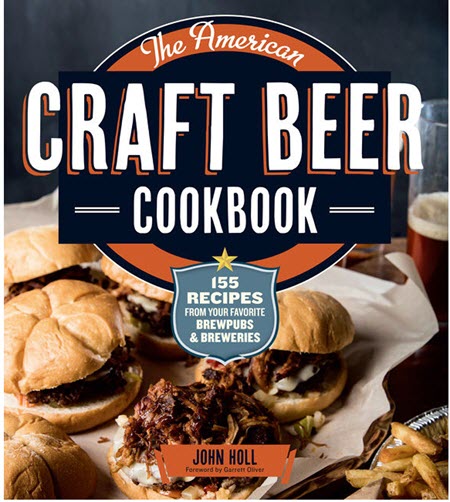 If you want a popular book, try The American Craft Beer Cookbook. This is a more comprehensive option,covering 155 different recipes and many meal types. The recipes themselves come from beer lovers and breweries, which is another reason to seriously consider the book.
The Beer Review Logbook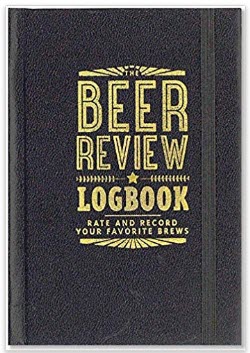 If beer cookbooks aren't his thing, The Beer Review Logbook might do the trick. This is a practical logbook with 144 pages. It has enough space to record tasting notes and details about 124 individual beers. The size makes it easy to slip into a pocket, while the pages remain easy to read.
The Complete Beer Course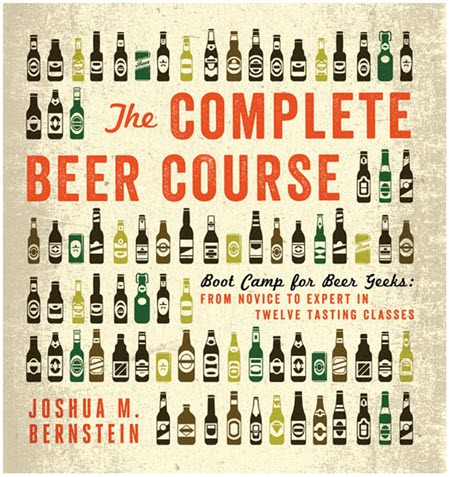 As the name suggests, The Complete Beer Course provides plenty of information about beer. The book includes enough information to make it interesting to beginners and beer experts alike. There are also details about targeted tastings, which can help to refine a person's palate and show them what to look for with good quality beer.
National Geographic Atlas of Beer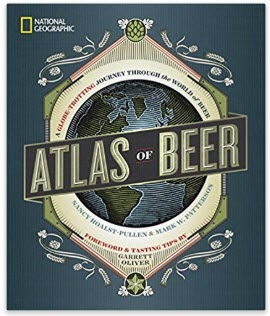 The National Geographic Atlas of Beer is the book to choose for anyone passionate about beer. It includes extensive detail about beer history across the world, along with plenty of photos, maps and additional details. The book also works well as a conversation starter and would look great on any coffee table.
Beer Clothing and Accessories
Leather Beer Can Holder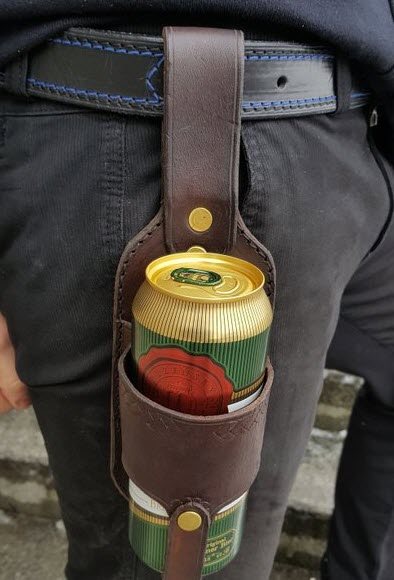 This Leather Beer Can Holder might seem slightly silly, but it is still a practical gift for beer lovers. It gives them the chance to keep their beer with them, even when they need to use both hands.
Good Day Beer Socks for Men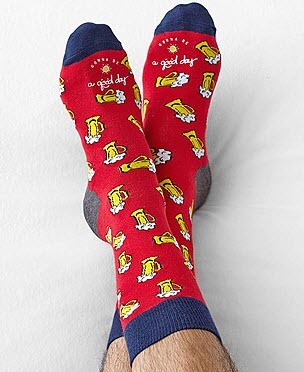 These Good Day Beer Socks are simply fun. They come in a themed gift box and are designed to be comfortable, while still looking good. Besides, any day with beer is a good day, right?
In Pursuit of Hoppiness Shirt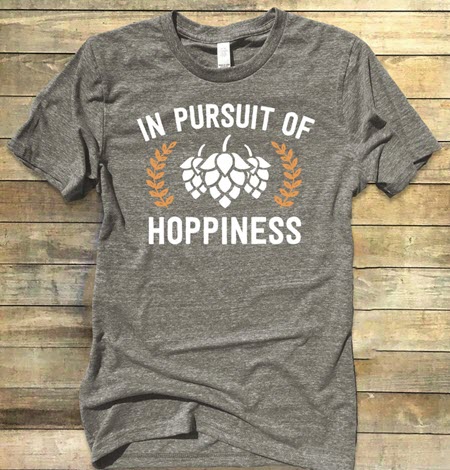 If the beer socks are a little too cheesy, what about this In Pursuit of Hoppiness shirt? There are 6 different sizes to choose from, along with 5 main colors. If you're not a fan of that style, the same seller has others to choose from.
Beer Me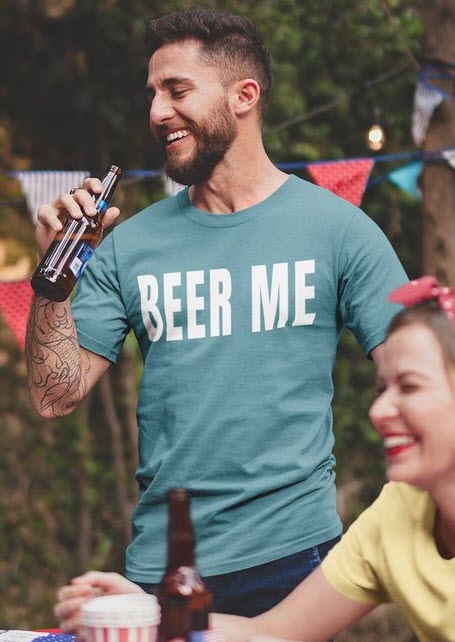 This Beer Me shirt is another choice for the beer lover. This time there are 7 colors and 6 styles. Both this and the previous shirt are unisex, so they could actually be purchased for males or for females.
Other Beer-Related Gifts
American Ale Shaving Kit Box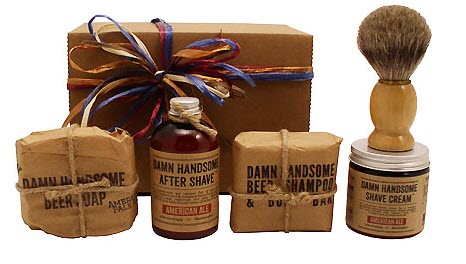 This American Ale Shaving Kit Box proves that beer gifts don't need to include actual beer. Instead, this box offers a selection of shaving and bathroom products that are made using some of the same ingredients used in the brewing process.
Personalized Beer Gift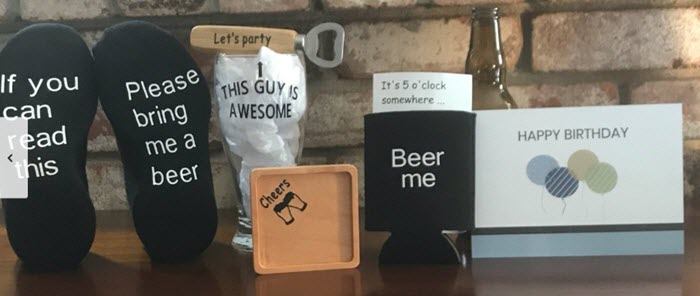 Another option is this Personalized Beer Gift Set. The items are beer-related and include socks, a bottle opener, a beer mug, a coaster and a beer holder. The personalized aspects include choosing the name that is placed on the box and the can cooler, along with which greeting card you want to include.
120 Beers You Have to Try Poster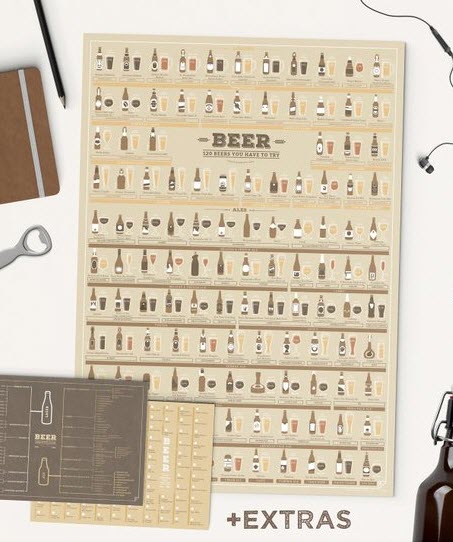 This 120 Beers You Have To Try Poster is a must for any true beer lover. It provides details about a wide selection of different types of beer, including their names, alcohol percentages and types. A beer styles guide and personal beer tracker are also included.
Beer Chiller Sticks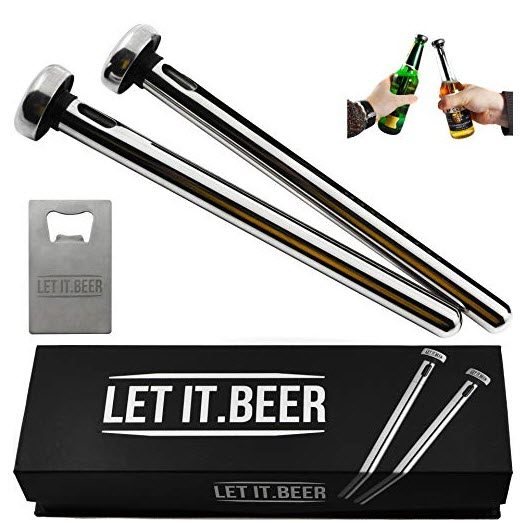 Beer Chiller Sticks are an effective way to keep beer cool. They're simply placed in the freezer for half an hour to an hour, then they can be inserted into a bottle of beer. The style is perfect for anyone who drinks their beer slowly. There are many positive reviews, so it's clear that the sticks work exactly as advertised.
Mark Feldstein Beer Bottle Cap Map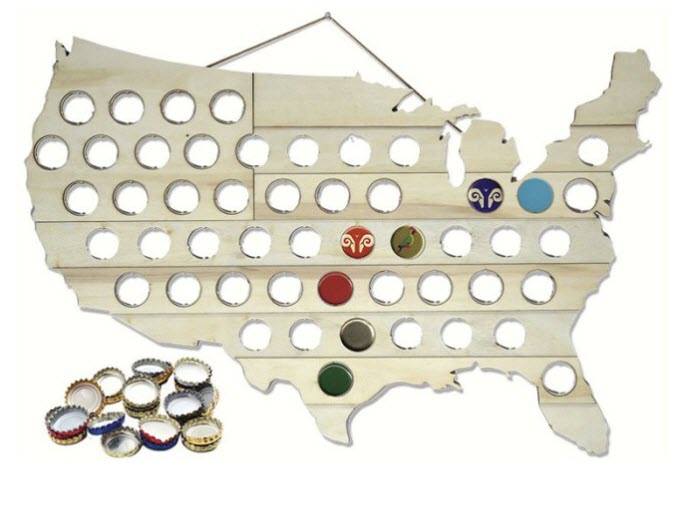 It's easy to see how this Beer Bottle Cap Map would work well as a gift. It gives beer drinkers a creative way to keep track of the unusual beers that they have consumed. It makes for great wall art as well.
Black and Tan Guinness Beer Soap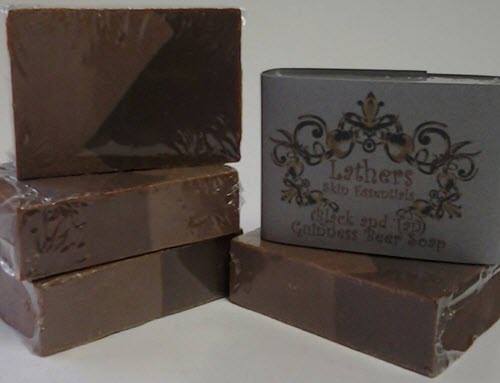 Guinness beer drinkers don't need to stop with the actual beer. Gifts like this Black and Tan Guinness Beer Soap let Guinness lovers extend that passion further. The soap could be a nice addition to a Guinness themed gift too.
Collection of Beer Soap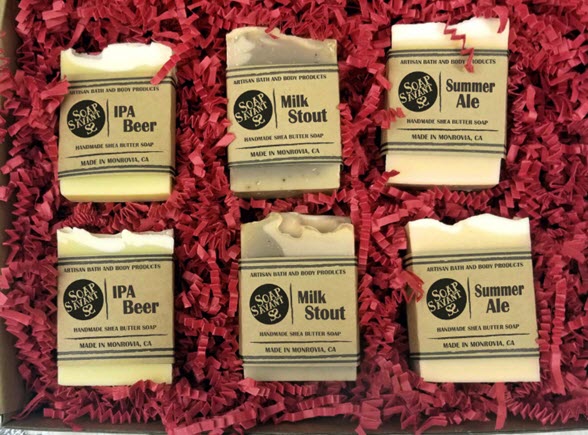 This 6-piece beer soap collection offers 3 different types of beer soap to enjoy. The set is a perfect choice for beer lovers, especially as beer is used as an ingredient. What's more,users say that the soaps are effective and are worth the purchase price.
Beer Candle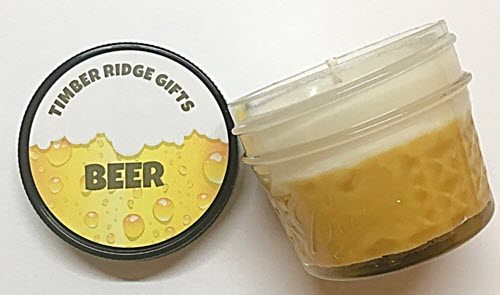 The fact that this is a beer candle should tell you everything that you need to know. The candle is designed to actually smell like the real thing and will burn for between 25 and 30 hours. It can be ordered with or without a gift box.
Unlabeled – The Blind Beer Tasting Board Game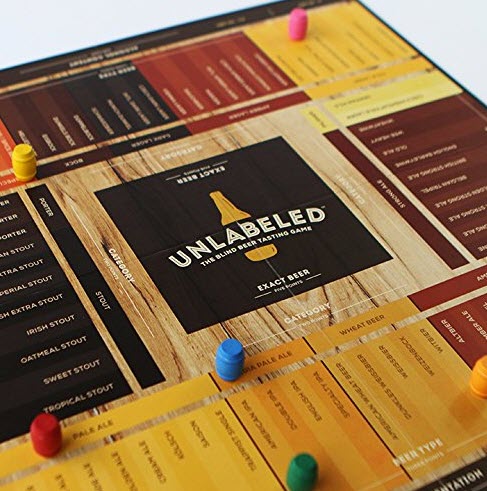 The Unlabeled game is quite literally made for beer lovers. It focuses on beer knowledge and beer tasting. All that's needed to play is a few hidden or unlabeled bottles of beer. The game could easily be played at a bar too,simply by ordering an unlabeled flight of beers.
Uncorked! Games Brew Ha Ha!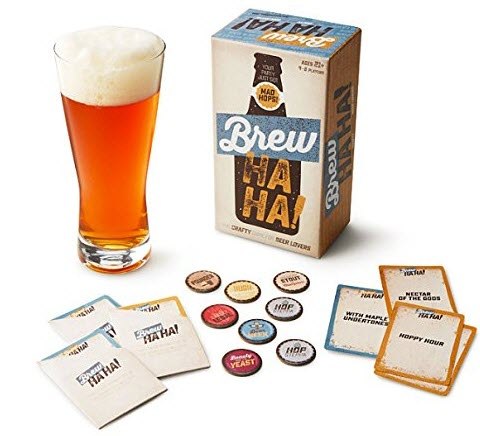 Here's another game for beer drinkers. It's described as a combination of Cards Against Humanity and Mad Libs, with beer thrown in the mix. That description might sound odd, but the game itself seems like tons of fun. It's also card-based, making it a very portable game.
Premium Brew Personalized Bar Board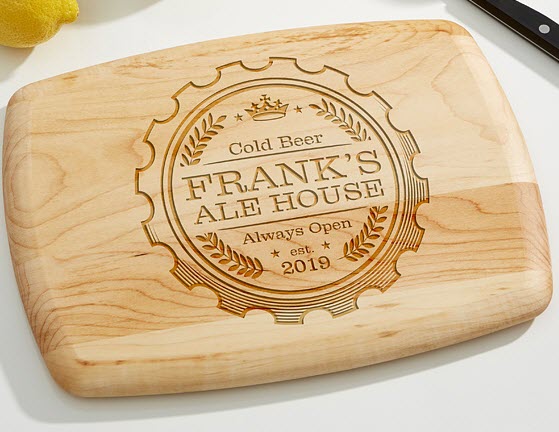 This customized cutting board is a simple gift choice that looks good. You are able to choose the first or last name used for the bar title, along with the established by date and a 2-line message. The cutting board is a perfect way to give something that feels personal.
Personalized Brew Coasters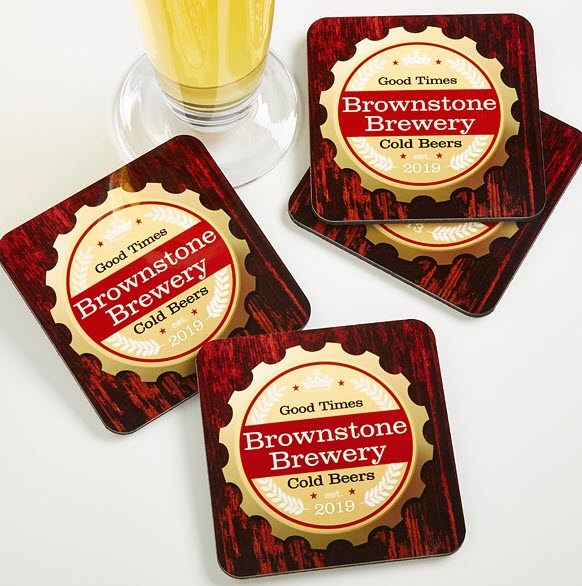 While we're on the topic of personalization, how about these Brew Coasters? You might recognize the design, as it comes from the same company as the cutting board. There are other items in the range too. Once again, you can customize various aspects of the featured image, making this a truly unique gift.
Ales And Tales Tavern Sign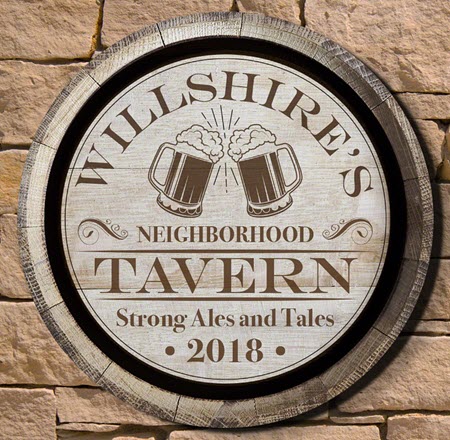 Here's another gift that can be customized. You can choose the name, 2-line message and date that appears on the Ales And Tales Tavern Sign. The idea is particularly appealing for any beer drinker who seems to have it all.
Pint Night Personalized Gift Set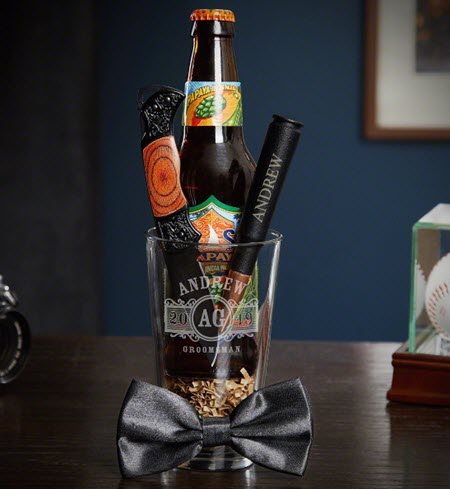 This Pint Night Personalized Gift Set is designed as a gift for a best man,but that's not the only use. It would be a fun gift for many different situations, especially as you get to choose the name, date, initials and phrase on the flask. Despite the image, the gift doesn't include any beer. You could easily add in a bottle yourself to round it all off.
Engraved Beer Mug Set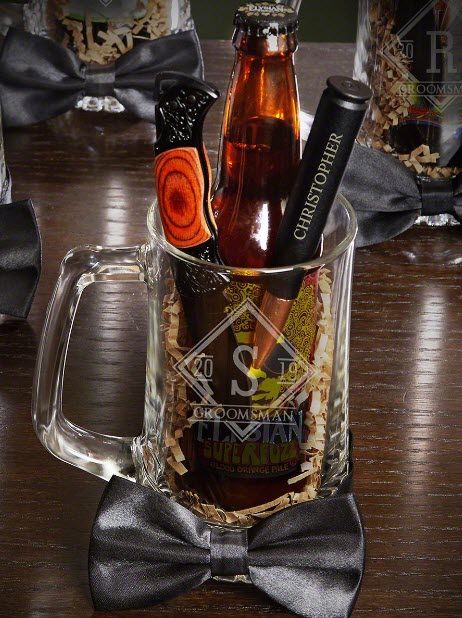 An alternative option is this Engraved Beer Mug Set. It follows a similar style to the previous example and has the same customization options too. In both cases, the gifts included are a bottle opener and a lockback knife. Once again, you'll need to supply the beer.
Beer-Flavored Food
Beer Lovers Gift Pail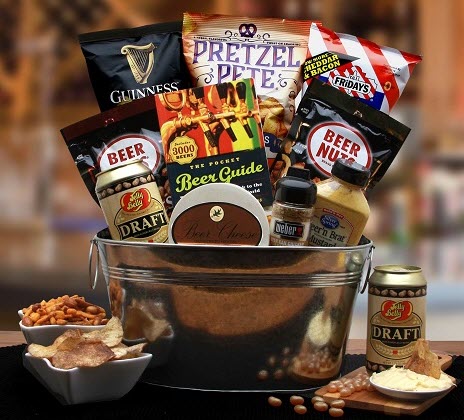 Unlike the beer gift baskets at the start of the list, this Beer Lovers Gift Pail has everything but the alcohol. The individual components aren't just good to have with beer, they all taste like beer too. That even includes Jelly Belly Draft Beer Jelly Beans in a keepsake container.
Beer Bread Mixes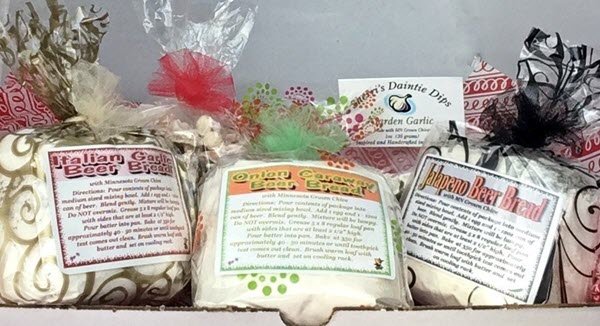 These 3 Beer Bread Mixes are an easy way for people to have more beer in their life. The only other ingredients needed to make the bread are a can of beer and an egg. The gift box also includes a dip mix and a bag of snack crunch.
Beer-Flavored Cheese Box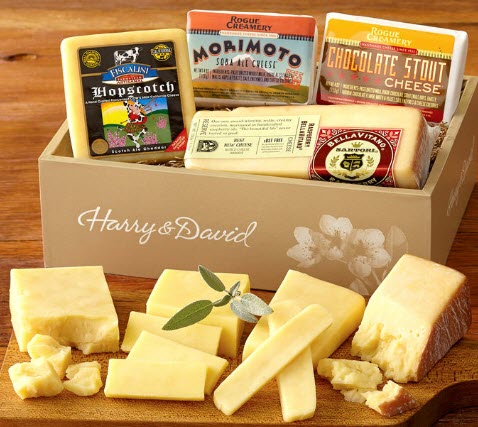 This gift crate is called a Beer-Flavored Cheese Box, so it's pretty obvious what you can expect from it.Gifts like this are exceptionally good for people in states where alcohol can't be shipped. Besides, you could always buy some beer locally to add onto the gift if you wanted to.
Bacon Beer Cheese Dip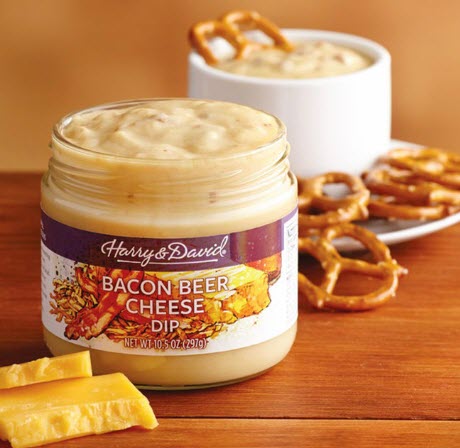 Good gifts don't need to be complicated. This Bacon Beer Cheese Dip shows that. It would be a popular gift on its own or paired with other beer-related products.
Hall's Snappy Beer Cheese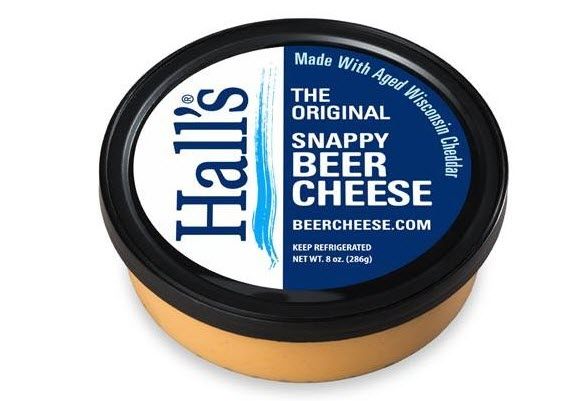 Made with aged Wisconsin cheddar, Hall's Snappy Beer Cheese is a popular dip/spread. It's ideal for any beer lover. There are two flavors to choose from: Original and Hot-n-Snappy. They can be ordered in various pack sizes, depending on your preferences.
Beer Cheese Dip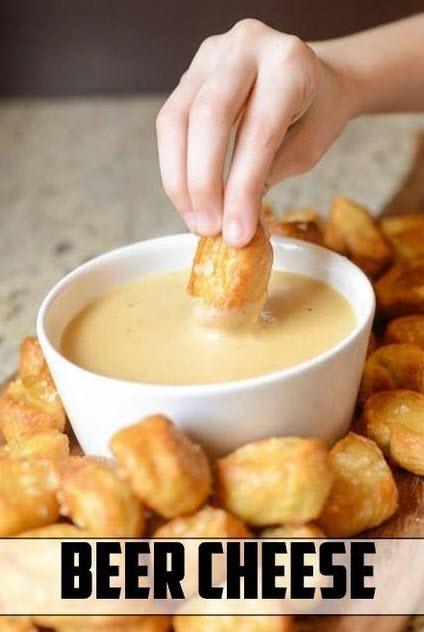 Etsy sellers are known for being creative and this Beer Cheese Dip is a good example. You're basically ordering a dip mix,which comes with complete instructions. The seller also provides additional details if you want to use the mix to create spreads, salad dressings, cheese balls or other tasty variations.
Beer and Bourbon Nuts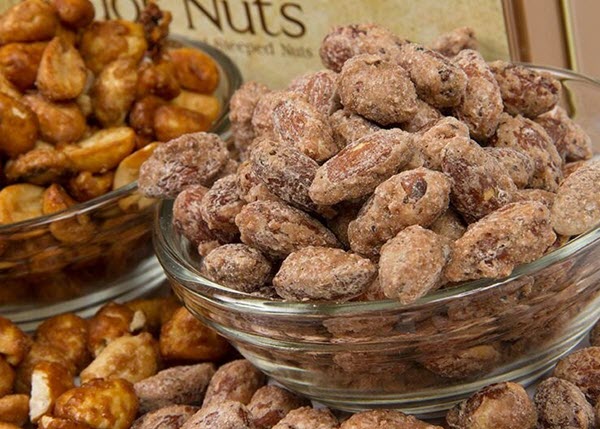 This Beer and Bourbon Nuts selection includes Stout Cashews, Whiskey Almonds and Lager Peanuts. They're all fun flavors to try and they come in a giftable tin. Reviews suggest that the nuts work are perfect for gifts.
Beer-Infused Hot Sauce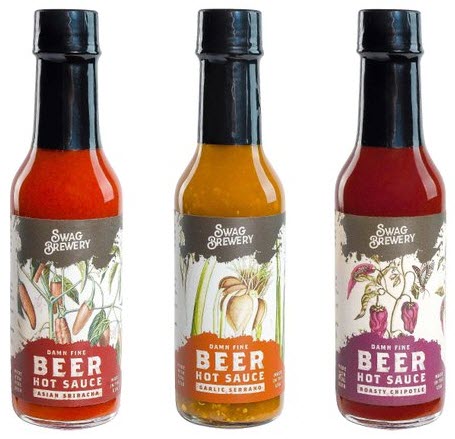 Got a hot sauce fan in your life? If so, this Beer-Infused Hot Sauce pack is a must-have. The flavors are Asian Sriracha,Garlic Serrano and Roasty Chipotle. Each of them uses beer as a key ingredient.
Beer Cheddar Gourmet Popcorn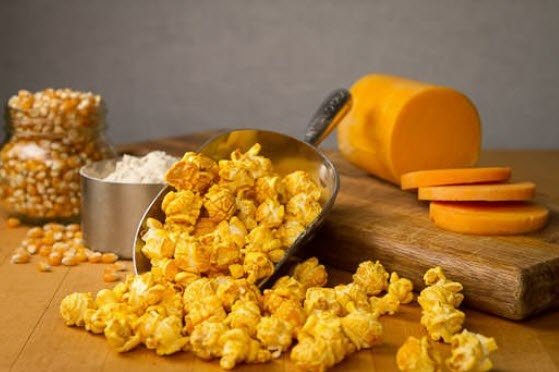 Here's another fun style for beer lovers – Beer Cheddar Gourmet Popcorn. As reviewers have mentioned, the popcorn truly does have a beer undertone, one that works well with the cheddar. The same seller offers various other popcorn flavors, which are all extremely popular.
Hopped Up Coffee Sampler Pack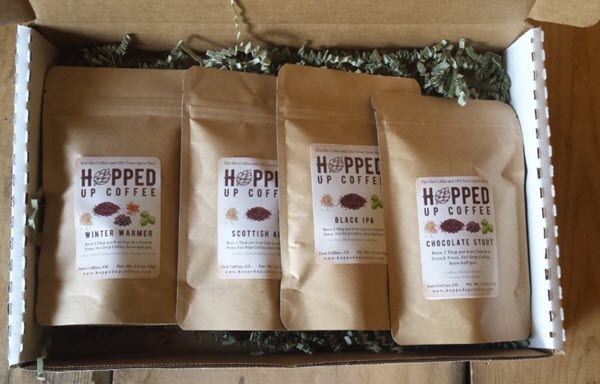 Why choose between coffee and beer when you can have both? Okay, not really, but this Hopped Up Coffee is pretty close. The 4 coffee varieties are developed so that they mimic the taste of beer. Malted barley and hops are even used to create the desired flavors.
Beer Jelly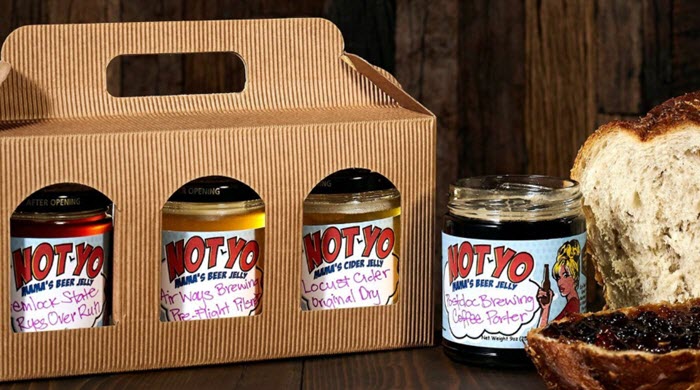 Here's another food angle – Beer Jelly. There are 4 flavors to choose from: dark beer, light beer, IPA beer and cider. They can be ordered individually or as part of a gift box.
Beer Thyme Artisan Mustard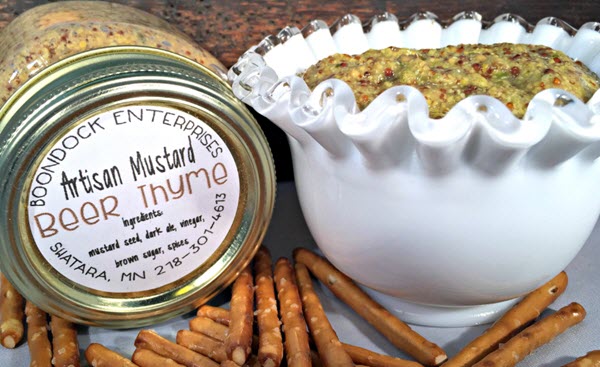 Unlike many other products, this Beer Thyme Artisan Mustard is entirely homemade. The mustard seeds are soaked in ale before grinding, which deeply infuses it with beer flavors. The condiment would be a perfect gift for beer and mustard lovers alike.
Irish Stout Beer and Pretzel Caramels

We can't forget sweet options when talking about beer-related food. These Irish Stout Beer and Pretzel Caramels are one such choice. You can order 6 oz or 1 lb at a time and each caramel is individually wrapped.
Brew Candy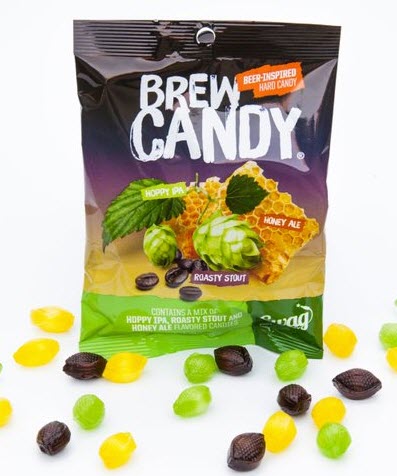 The idea of Brew Candy sounds too good to be true, but here it is. The hard candies are very popular, often turning up in gift baskets. The mixed bag contains the flavors Roasty Stout, Hoppy IPA and Honey Ale. While the candy pieces take on the flavor of beer, they are alcohol-free. That makes them appropriate in situations where beer itself isn't.
In case you haven't tried hop flavored candy, they're pretty damn good. Now why can't I find any malt flavored ones? Seems pretty logical, considering malt is sweet to begin with!