As a general rule, domestic beer is anything brewed inside your country (the United States in this case) and imported is anything that isn't. Brands like Miller, Budweiser and Coors are particularly common domestic brands,while imported ones include Corona, Guinness and plenty of others.
Bored year-round $1 domestics? Then an imported beer gift basket is thoughtful holiday gift.
While the debate rages about which type is the best, the truth is that there are plenty of fantastic beers in each camp. Imported beers can be particularly interesting, as they may use styles that you're not familiar with. This is also why imported beer gift baskets make such good presents. They're the perfect way to help people experience a wider variety of beer.
Whether you're looking for beers from a specific country like Ireland or Mexico, or want to get a variety pack to sample a bit of everything, these imported beer gift baskets make an impactful and fun gift for any beer lover.
Oh, and don't forget that there's an international beer of the month club as well, which I've personally joined, tested, and reviewed (it was worth it!).
Imported Beer Gift Baskets
International Beer Traveler Gift Basket
Around The World Brew Basket
Going The Distance For St. Patrick
The Ultimate Import Sampler
Guinness Lover's BroCrate
The Premium Guinness Lover Gift Crate
Around The World Beer Bucket
Irish Car Bomb
Viva la Mexico Beer Bucket
German Gift Basket
Drink Up It's Ireland Somewhere
Drops of Guinness
International Beer Taster
Imported Beer Basket
International Beer Gift Chest
International Beer Gift Basket
Beers Around The World
International Pub Gift Box
PS. You might also want to check out these international snack clubs to pair with your international beer!
International Beer Traveler Gift Basket

This International Beer Traveler Gift Basket is a great place to start. It contains 6 different bottles of beer, along with tortilla chips, spiced nuts and salsa. Some of the included beers will be familiar, especially Heineken and Guinness, while others are more obscure.
Around The World Brew Basket

If you want more snacks, check out this Around the World Brew Basket. It comes from the same brand as the previous one but includes cheese crackers and a party snack mix. The choice of beer is different as well.
Going The Distance For St. Patrick

Imported beer baskets aren't always about variation. Some of them, like this Going the Distance for St. Patrick basket, are focused on a theme instead. The basket is an impressive one and diligently sticks to the St. Patrick's Day theme. There's even green popcorn in there, not to mention an impressive half yard beer glass.
The Ultimate Import Sampler

This Ultimate Import Sampler focuses on the most well-known import beers, which isn't really a bad thing. There are 3 cans present for each of the 4 types,along with bags of popcorn and 2 pint glasses. Add some ice and the bucket is perfect for cooling beer. With at least 2 of everything, you might find that the contents get shared around.
Guinness Lover's BroCrate

This gift pack is made for anyone who loves their Guinness. There are 9 bottles of the beer included,as well as Guinness fudge and Guinness chocolate. The gifts don't stop at food either. There are some coasters, a fridge magnet, a bottle opener, a stein and a wooden barrel puzzle. It's hard to imagine anyone not loving the gift.
The Premium Guinness Lover Gift Crate

If you thought the previous crate was impressive, wait until you see this one. While there is less beer included (6 bottles versus 9 for the previous crate), this version has plenty of interesting products to make up for that. There are playing cards, a Guinness Growler, a ceramic Stein, coasters and a hat. The crate also includes various snacks, like chocolate, pretzels, olives and beef jerky.
Around The World Beer Bucket

If you're looking for a little more variety, check out this Around the World Beer Bucket. It contains 12 different beers, along with a decent selection of snacks. The 12 beers are always the same. You can even read a little more about each on the company's website. The selection should give any recipient a fantastic taste experience.
For a mix of US and international beers delivered every month, try this beer club.
Irish Car Bomb

In case the name doesn't entirely give it away, this IrishCar Bomb crate isn't just about beer. It includes 4 cans of Guinness Stout, a bottle of Emmets Cream Liquor and a bottle of Jameson Irish whiskey.These are all the components needed for the Irish Car Bomb cocktail. The crate even includes the glasses you need, along with two bags of popcorn for good measure.
Viva la Mexico Beer Bucket

Here's another gift that's pretty obvious from the name alone. The Vivala Mexico Beer Bucket contains 2 Corona Extra cans, 2 Tecate cans and 2 Dos Equis cans. There is also a pint glass and some popcorn included. While this isn't the most elaborate gift out there, you can be sure it will be well received.
German Gift Basket

With a name like German Gift Basket, the beers chosen here shouldn't be any surprise. The same company also has other related gifts, like a Belgian basket and ones themed around particular beer styles. The one limitation is that you're just getting the beers, nothing else. While this isn't ideal, it's not horrible either. The approach gives you the chance to shop for snacks locally and get the perfect combination.
Drink Up It's Ireland Somewhere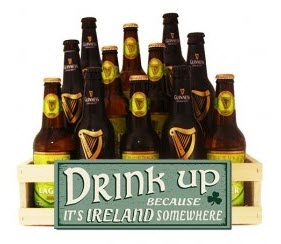 This Drink Up It's Ireland Somewhere crate is a little tongue in cheek, which is entirely a good thing. The gift is a simple one, just containing 6 bottles of Harp Lager, 6 bottles of Guinness and a plaque. Still, it's a fun gift,especially if you know the recipient loves Irish beer.
Drops of Guinness

Guinness turns up in many of these imported baskets, partly because it is such a unique beer. This time, the gift basket just contains 3 bottles of Guinness and 3 snacks. The small size isn't a bad thing, as this makes a great gift for a person you don't know well (or for yourself – we're not judging).
International Beer Taster

This International Beer Taster really is a taster, just containing 3 bottles of beer and 3 snacks. The style is similar to the previous example, except that the beers are different than each other. Once again, it's a good gift if you don't know the recipient very well.
Imported Beer Basket

This Imported Beer Basket is basically a larger version of the previous basket.This time you're getting 6 different bottles of beer and 5 snacks. The balance of snacks to beer is about right too. After all, you don't want to run out of one while there is still plenty of the other left.
International Beer Gift Chest

It's easy to see that this International Beer Gift Chest focuses on more than just there beer. While there are 6 imported beers included, the number of snacks is higher than most similar products. Many of the snacks are typical, but others are less common, like wasabi peas, sweet hot stone ground mustard and beer chips.
International Beer Gift Basket

I love how this International Beer Gift Basket breaks away from other products. While it only contains 6 beers, they're all carefully selected and are considered to be premium brands. The same can be said of the snacks. There are items like butter flavored pretzels, beef summer sausage, dark chocolate and smoky bacon dip & spread.
Beers Around The World

This Beers Around The World Basket is an impressive choice with 12 bottles of beer. Just be aware that they're not all different – there are 6 different types of beer, with 2 bottles of each. As well as the beer, there is a considerable selection of snacks included, like beer nuts, salsa, tortilla chips and pistachios.
International Pub Gift Box

Here's a smaller box to finish the list off. This International Pub Gift Box contains 3 different beers and 5 snacks. It's all packed into an internationally themed box, which would even be easy to wrap.
---
Nothing fit what you're looking for? See my personal favorite beer of the month clubs.