Subscription boxes have been increasing in their popularity at a rapid pace since their inception. The premise is simple – you sign up to a service that appeals to you, and then, usually once a month, you will receive an offering related to that product – in this case, delicious hot sauces.
Below we have taken a look at some of the best hot sauce subscription boxes on offer – take a look, and see if there's one for you! The Rise Of Craft Hot Sauce Is Here!
Once you've found a subscription you love, you can use the sauce in all kinds of ways, like making honey hot sauce or even a hot sauce cocktail.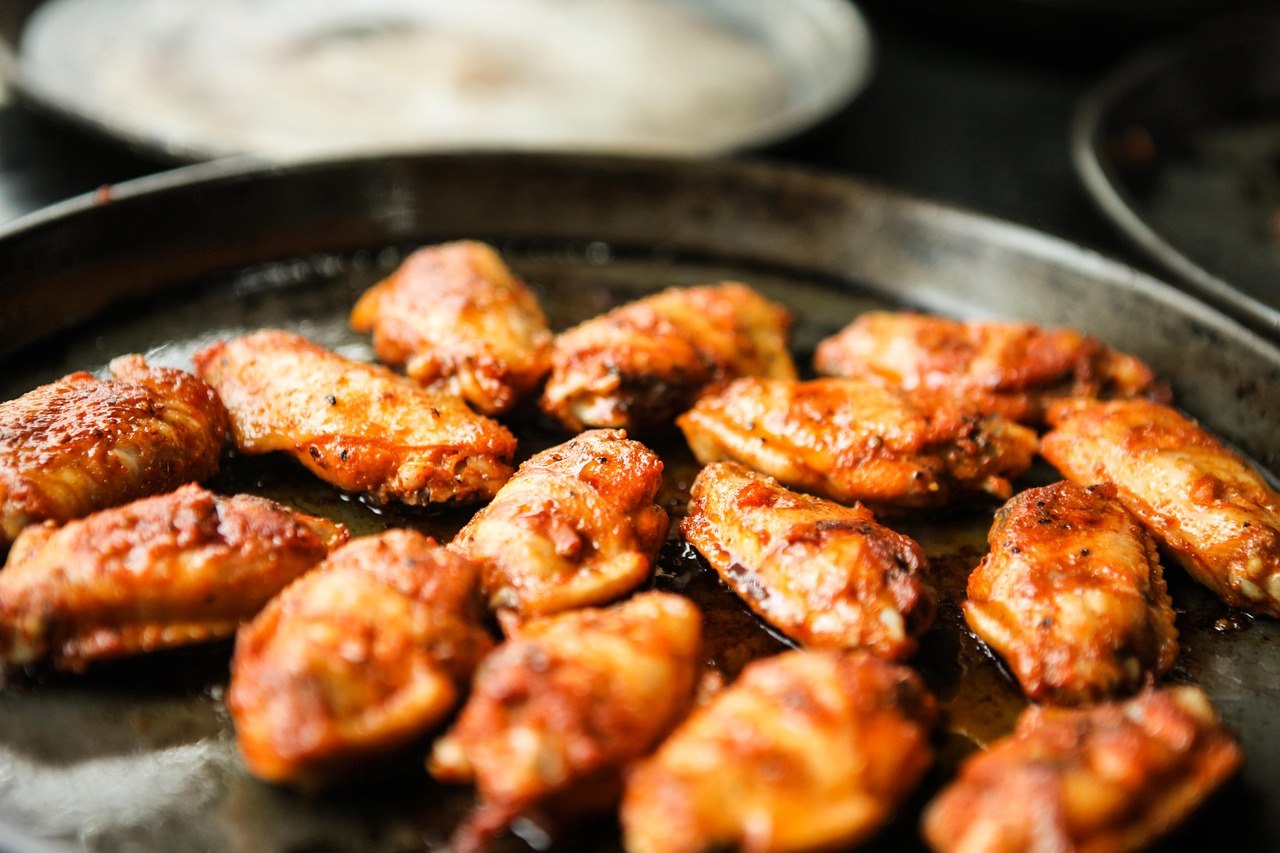 Best Hot Sauce Subscription Boxes
Hot Ones (from First We Feast)
Heat Hot Sauce Club
Fuego Box
Flaming Licks (Formerly Lick My Dip)
Hot Sauce Adventure Club
Hot Sauce Of The Month Club
The Blazing Hot Sauce Box
Hot Sauce Lover
Heatseekrs
Hot Wing Monthly
The Hot Sauce Club
Heat Seeker Box
Spicy Food & Hot Sauce Of The Month Club
Hot Ones (from First We Feast)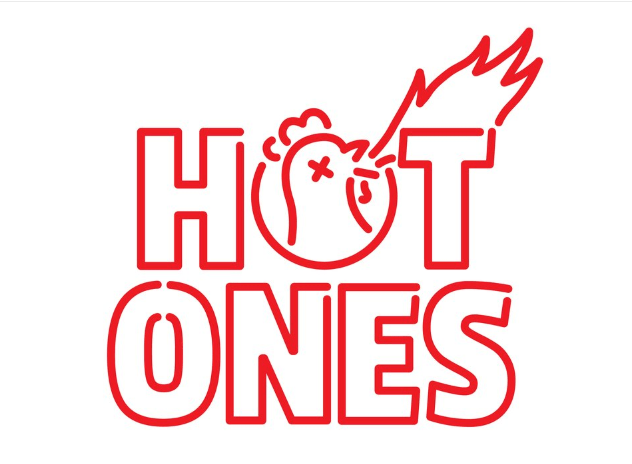 If you're a hot sauce aficionado, you may already be familiar with Hot Ones – the informal chat show from First We Feast on YouTube that features guests gnawing down on some tasty wings with a variation of hot sauces, going from mild-heat to tear inducing.
What the subscription box offers is the opportunity to test out some of the sauces used on the show, including legendary sauces like the dip (where you "dip" an extra bit of sauce on the wing before eating).
If you want to see the show in action, you can find it here – it also happens to be a really fun talk show!
Each monthly Hot Ones box contains 3 different sauces (or sometimes 2 and a special subscriber-only item of interest). A box costs $36 and allows you to test the sauces from the show, including unseen ones ahead of new seasons. You can also pay for 3 months up-front, which will cost you the price of $110.
There's also some swag, recipes and behind the scenes moments that would be of huge interest to fans. If you're a hot sauce fanatic or a supporter of the show, this box could be just right for your needs.
Heat Hot Sauce Club

Heat Hot Sauce Club is an enterprise from the Bay Area that gives you exactly what you want: hot sauce.
Perhaps the most impressive aspect of Heat Hot Sauce Club is its coordination in its offerings – there's something for everybody.
There are 3 available boxes: Mild & Medium, Classic (mixture) and Extra Hot. Within these options, you can choose to be sent either one bottle or three bottles, and then you can choose either to receive them on a monthly basis or a quarterly basis. You can also choose to pay as you go, or pay 3, 6 or 12 months in advance.
The Extra Hot offer is a little bit more expensive, but you can be pretty certain that it will satisfy your HOT sauce needs.
Fuego Box

Fuego Box offers a hot sauce of the month club that will allow you to gain access to some unique, delicious and importantly, hot sauces that you may not come across otherwise.
Fuego Box scours the globe for hot sauces so you don't have to. They pick the best from a selection of hundreds, and then once a month, if you subscribe, of course, they send it directly to you. It's as easy as that!
They offer a "Dip Your Toe In" selection, which is a box containing one hot sauce, which will serve as a tester, of sorts. If you're looking for value, though, then the way to go is the "Sauce Lover" option, which offers a box of 3 hot sauces for $29.95 and is shipped for free every 30 or 90 days based on your selection.
Both of those boxes offer somewhere between mild-and-hot sauces. If you're signing up purely for the hottest sauces on the market, then you'll want to opt for the aptly-named "Pain Seeker" option. This costs $24.95 per box and contains 2 extremely hot sauces per month, and again, can be shipped every 30 or 90 days depending on your preference.
Flaming Licks (Formerly Lick My Dip)

The brilliantly named Flaming Licks is a UK based curator of craft hot sauces and spicy foods. Originally the result of a Kickstarter campaign, Lick my Dip – the companies original name – went from strength to strength, and now offers one of the best hot sauce subscription boxes on the market.
There are two boxes available: the Taste Box and the Crave Box.
The Taste Box costs £15.99 per month and includes 1 full sized craft hot sauce, 1 hot shots taster pack, 1 other condiment or cooking product and some other fun stuff for a hot sauce aficionado.
The Crave box contains everything that was found in the Taste Box, but also includes 4 spicy goodies for you to test your sauce on. Vegetarian options are available with this box and it ships for £25.99.
If you're tempted but want to see more, have a look at their Instagram account – the delicious meals topped with hot sauce will have you salivating.
Hot Sauce Adventure Club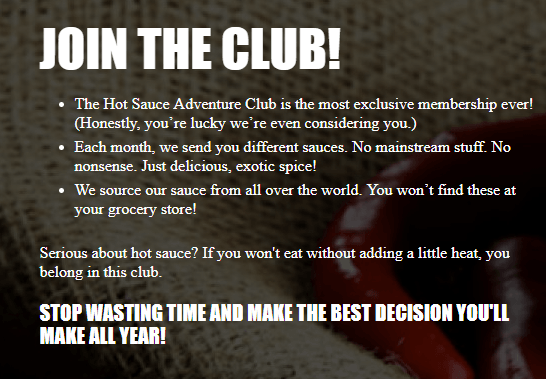 The Hot Sauce Adventure Club, in addition to having a very funny website, boasts the "most exclusive membership ever". Now, while this is not completely verifiable, the quality of their hot sauce offerings is.
Taking inspiration from Central America, the Hot Sauce Adventure Club offers 3 different subscription boxes: The Adventurer Membership, The Expedition Membership and The Explorer Membership.
The Adventurer Membership costs $12.00 a month and subscribing to it means that you will be provided with a different individual bottle of hot sauce once a month for 12 months.
The Expedition Membership builds on this and offers 3 bottles per month for 12 months with a discounted price of $30.00 a month.
The Explorer Membership is the same as the Adventurer membership (1 bottle per month), except it is only a 3 month commitment, making it a great testing membership. It's worth noting that each of Hot Sauce Adventure Club's offerings can be canceled at any time.
Hot Sauce Of The Month Club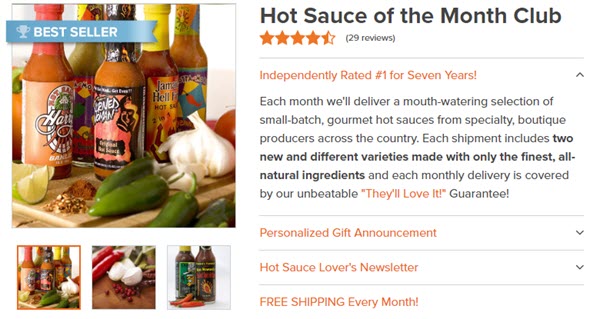 Amazing Clubs has an extensive collection of subscriptions, including this Hot Sauce of the Month Club. The club delivers a new box every month, which contains 2 new small-batch hot sauces from somewhere in the United States. The club is a great way to try out new sauces, ones that you wouldn't have found on your own.
Reviews from members suggest that the sauces do taste amazing, which is always a good sign. The website also offers a list of the previous selections. You can browse through that information to get a sense of what you will be expecting each month.
The Blazing Hot Sauce Box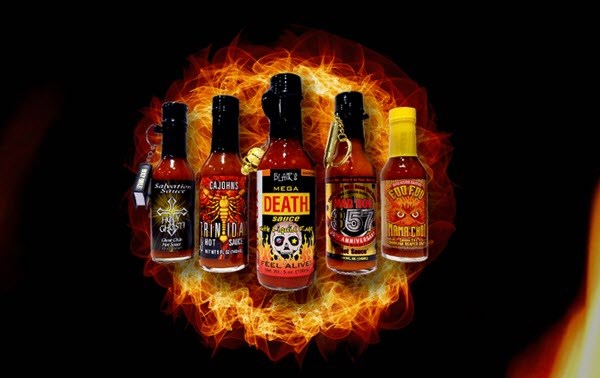 With a name like The Blazing Hot Sauce Box, you know that this is going to be an interesting gift (or treat for yourself). You're also able to choose whether you get 1, 2 or 3 bottles of sauce each month. The shipments cost $12.95, $28.95 and $36.95, respectively. The larger versions are discounted if you pay ahead.
You can also buy hot sauces individually from the company. This might be appealing if you find a sauce you want to try again or if you want to know what to expect before ordering a box.
Hot Sauce Lover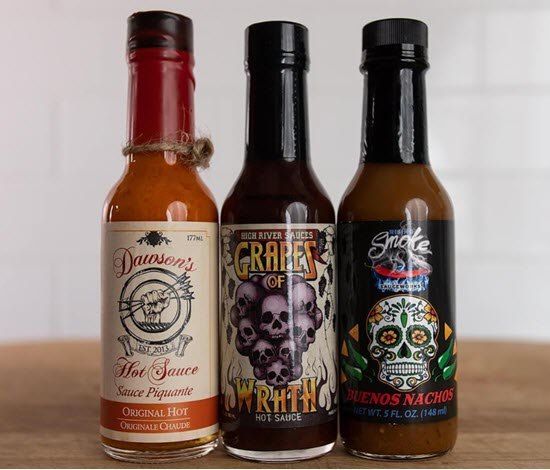 This Hot Sauce Lover subscription comes from the site Doc Hotties, which sells hot sauces individually too. The monthly subscription provides 3 different artisanal sauces for $22.99 per month.
The box aims for a variety of flavors. You'll get some sauces that are hot and others that are milder. The mild ones might be ideal for day-to-day use, while the truly spicy ones are best saved for special occasions.
Heatseekrs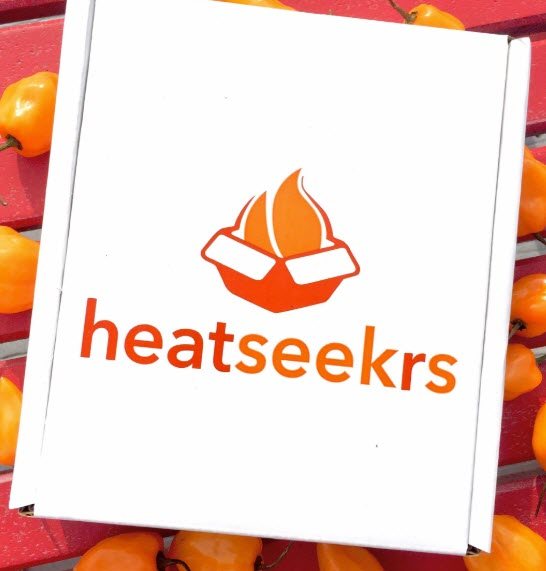 The Heatseekrs box aims to provide hot sauces that have a significant flavor profile too. This time, you get 2 different sauces a month. Most of these won't be available in regular stores and some may have won awards. You can order the boxes monthly or quarterly. Either way, you're paying $19.95 per box, with a flat rate of $5 for shipping.
Heatseekrs describes itself as 'middle of the road' in terms of heat. You won't be getting hot sauces that are almost too hot to stand. Instead, you'll find a nice balance between heat and flavor.
Hot Wing Monthly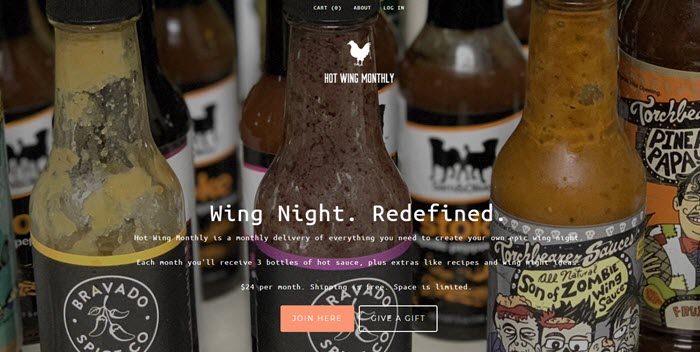 The name Hot Wing Monthly suggests a strong focus on hot wings. While the subscription does include recipes and ideas for wing night, the main emphasis is on hot sauce. You get 3 different bottles of sauce each month for $24 (free shipping).
If you're interested in this subscription, get in fast. The company is relatively small and produces a limited number of boxes each month. You might miss out if you wait too long.
The Hot Sauce Club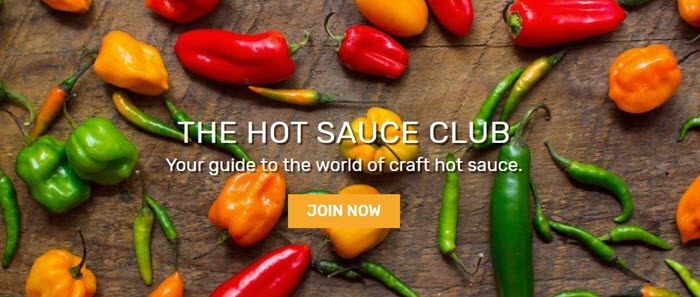 This Hot Sauce Club comes from Farm to People. While the club name isn't original, Farm to People is exceptionally good at finding unusual small-batch products, ones that are bound to impress. The club even has a strong interest in finding complex flavors, particularly those that are somewhat unusual. This aspect alone makes it worth trying out.
Joining the club provides you with 2 or 3 individual hot sauces each month. These are shipped out in the middle of the month and are all made in the United States. Membership costs $25 per month and can be paused when needed. You can also purchase multiple months up front if you want to avoid a subscription.
Heat Seeker Box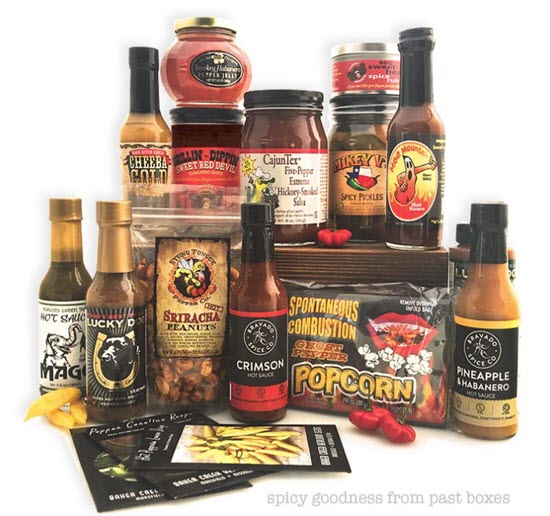 The Heat Seeker Box doesn't just offer hot sauces. You also receive other spicy items, like seasoning, candies, snacks and jerky. The style is perfect for hot-heads who want more than a few bottles of sauce.
Unlike other boxes, this isn't a monthly service. It's seasonal instead and you get a box roughly every 3 months. This style allows the company to create more unusual boxes that are themed around the upcoming season. The boxes can be paid for individually at $39.95 per box. You can also pay for the entire year at once, which costs $154.95.
Spicy Food & Hot Sauce Of The Month Club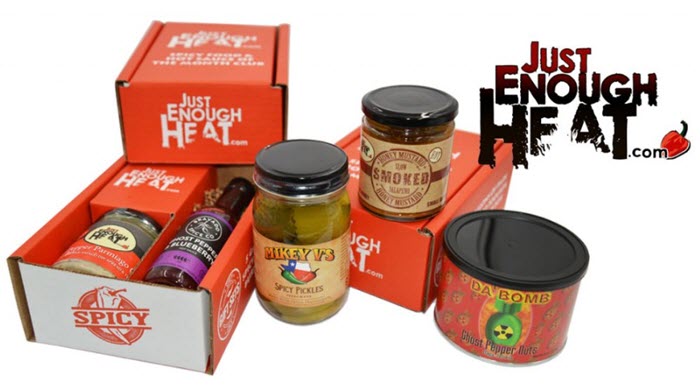 With a name like Spicy Food & Hot Sauce of the Month Club, it's easy to see what this membership focuses on. Members get a box with 2 to 3 different products each month. There are multiple possible product types, including candy, olives, popcorn and, of course, hot sauce.
There's no guarantee that you'll get hot sauce every single month, but there is no shortage of spice. You can also order hot sauces and other products individually. This is fantastic if you find a new favorite in one of your boxes.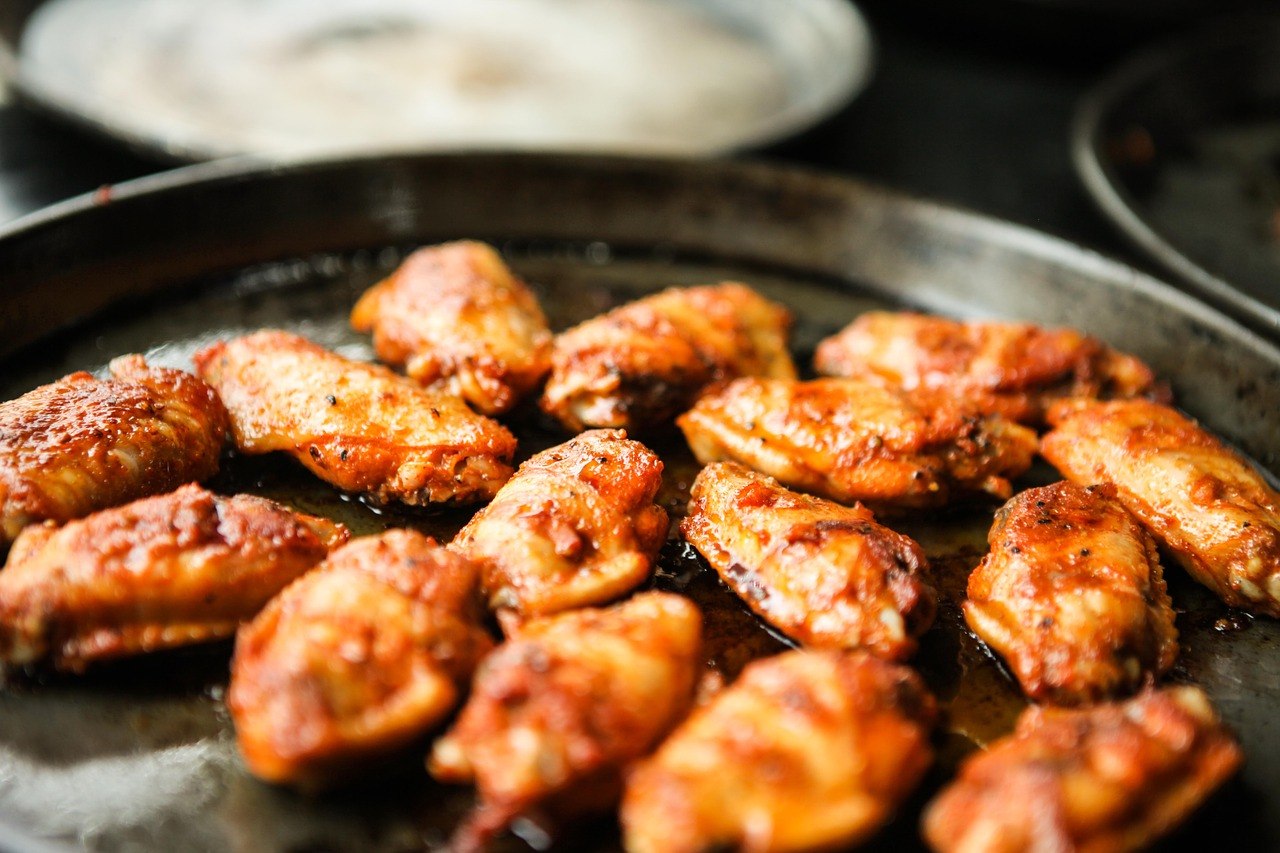 So there you have it – the 13 best hot sauce subscription boxes on the market. If you become a member of any of these, you're sure to have test yourself with some incredibly hot sauces, but ultimately, add some great taste to your favorite foods.