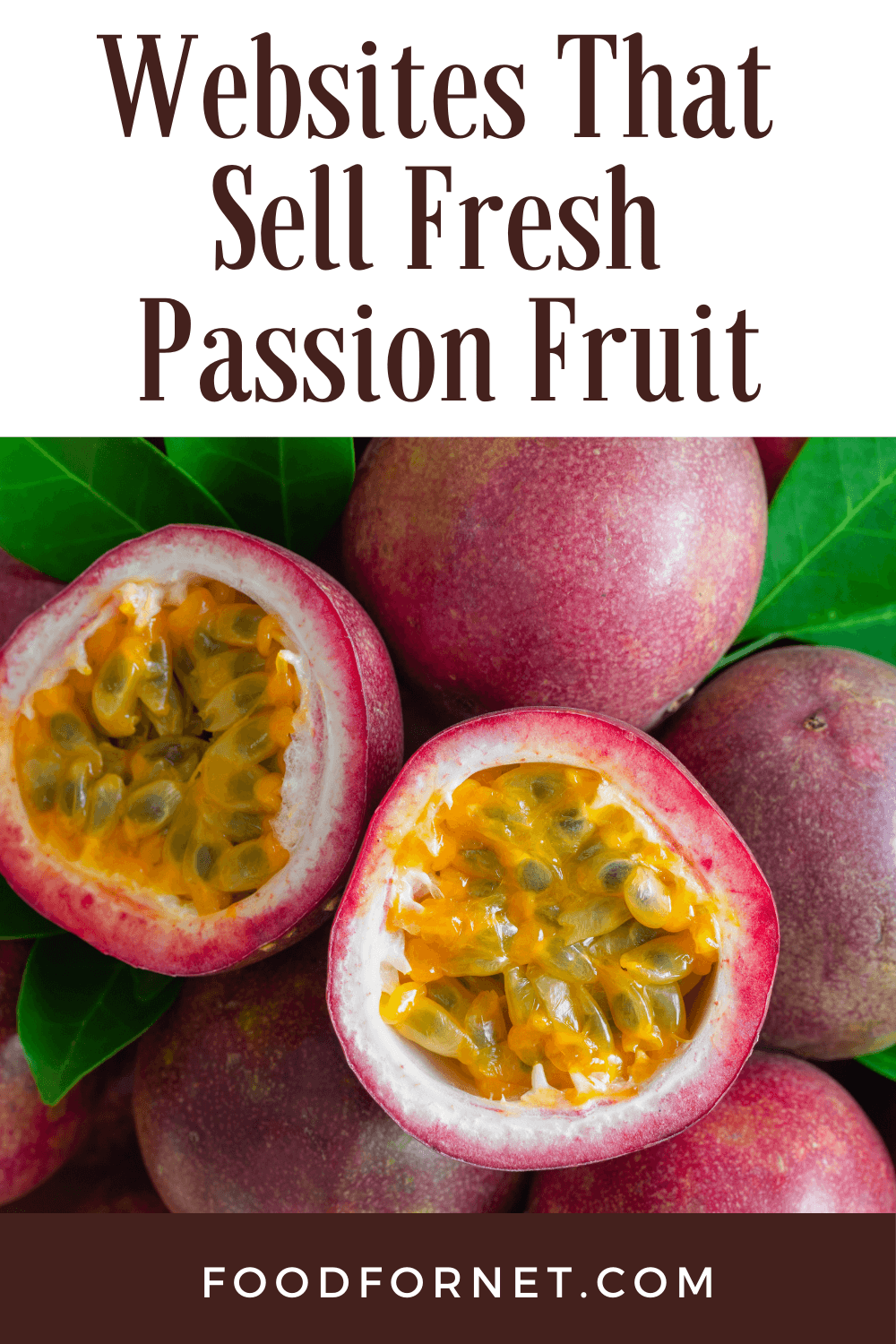 In addition to being beautiful and delicious, passion fruit is quite nutritious. Though it can hard to find, it makes a good addition to your regular routine if you can swing it.
First of all, it's extremely low in calories – about 17 for an entire, regular-sized fruit. Even with so few calories, the fruit still contains a solid amount of fiber, vitamin C, vitamin A, iron, and potassium. It's also rich in beneficial plant compounds like polyphenols.
It's also worth noting that while the body doesn't often absorb iron from plants very well, passion fruit also contains a high amount of vitamin C. This is known to increase the absorption of iron.
While it may not be readily available at your local grocery store, there are many places you can buy fresh passion fruit online. Not only does this make it easier to find, but you can know exactly where it's coming from and how long after harvesting it'll be before it gets to you.
For that matter, many unusual fruits can be purchased online, like durian fruit, breadfruit, and jackfruit.
Where to Buy Fresh Passion Fruit Online
Exotic Fruits USA
Coco Reserve
Buy Exotic Fruits
Miami Fruit
Melissa's Produce
1. Exotic Fruits USA

Exotic Fruits USA has been open since 1899, always working hard to source the best possible fruit while adding to their roster all the time. They are one of the biggest online sources for rare and exotic fruits in the United States, offering fresh fruit that you may not be able to find anywhere else. If the fruit isn't grown on US soil, they are experts at sourcing it from good locations around the world.
They boast some of the juiciest and most flavorful passion fruits on the market. The fruit is packed by hand the same day it ships, meaning you'll get the freshest ones available at the time you place your order. Exotic Fruits USA is so confident in the quality of their products that they offer a 100 percent satisfaction guarantee on every order.
You can order any of their fruits for yourself, but sweet, colorful, delicious exotic fruits make great gifts. If you're ordering the fruit for someone else, you can choose to have it wrapped up in a beautiful gift basket.
In addition to passion fruits, they have almost any exotic or tropical fruit you can think of. This includes things like pineapples, papayas, dragon fruit, persimmons, many different kinds of mango, crab apples, Asian pears, and so much more. They probably have some fruit you've never even heard of.
If you want a regular delivery of fresh exotic fruit, consider joining one of their fruit clubs. These are boxes of fruit that are delivered once a month. You can save some money doing it this way and they offer free shipping on all fruit club purchases.
2. Coco Reserve

Coco Reserve began with a passion and love for coconuts. While they have expanded over the years, coconuts are still their focus. They produce and sell all things coconut. In addition to coconuts themselves, they also sell baby coconut trees, coconut water, and many other coconut-related products to individuals, businesses, and events.
They also have a selection of tools to help you open your coconuts if you buy them fresh and raw. You can choose between a wide mouth tool and mallet, a hole puncher, or a coconut spear.
In addition to their many coconut-themed offerings, they also have a selection of tropical and exotic fruits. While their selection is limited, they guarantee that all their fruit is organic and non-GMO. This means it's never been grown or processed with artificial fertilizers, preservatives, or other chemicals. Their fruit is fresh and incredibly nutritious.
Their selection of fresh fruit includes dragon fruit, lychees, papayas, and passion fruit. They have both yellow and red passion fruit available, both of which are grown in Florida. They do offer international shipping, though you'll need to be aware of your country's laws and restrictions in regards to shipping fresh fruit before placing an international order.
3. Buy Exotic Fruits

Buy Exotic Fruits is another fantastic resource for rare and exotic fruit within the United States. Not only do they have a huge selection of fruit, but they employ experts that know how to pick only the best for their customers.
Their selection ranges from variations on more common fruits like strawberries and apples to the rarest of the rare and unheard of. This includes things like star fruit, rambutan, kumquats, jujubes, dragon fruit, chikoo, feijoas, passion fruit, and so much more. If you can't find it anywhere else, they've probably got it.
Their passion fruit is organic and sold in boxes of six fruits at a time. They guarantee a juicy, flavorful fruit and offer a few ideas and suggestions on their website for how to prepare and eat the fruits. Their passion fruit is grown year-round, though availability does fluctuate so they encourage customers to call and ask before trying to place an order. Delivery is available throughout the United States.
4. Miami Fruit

Miami Fruit was built on a passion for tropical fruit and they want to provide the highest quality selections to their customers all over the United States. They work closely with many different farms in South Florida, harvesting fresh, quality fruit each week. They only partner with the best farmers who have just as much love and dedication to tropical fruit as they do.
Their practice of harvesting frequently in smaller batches means you're getting the freshest possible fruit every time you order. Their selection is already impressive, but they're always working to find new partners and new tropical fruits to try and share with their customers.
You can see what's currently in season and therefore available for purchase on the home page of the website. They have everything from key limes and guava to black sapotes, kumquats, and dragon fruit. You can even get raw, fresh cacao, which is the plant chocolate is made from.
Their passion fruit is available by the box, with the smallest size containing three to six pounds of fruit. The website also contains some information, ideas, and a sample recipe for a passion fruit smoothie bowl. This is helpful if you've never used passion fruit before and need assistance in getting started.
5. Melissa's Produce

Melissa's Produce is proud to be a leading produce resource in the United States. Not only do they have an impressive selection of fresh fruits and vegetables, but they offer up a wealth of information and ideas in the way of a comprehensive blog and plenty of recipes to browse. In addition to purchasing top-quality food, they want to ensure you're equipped with the necessary information about your food, along with how to prepare and eat it.
Their selection ranges from the basics to many rarer items that are often more difficult to find. In addition to passion fruit, this also includes dragon fruit, pomegranates, finger limes, papayas, cactus pears, cherimoya, many different types of bananas, and more.
They sell their passion fruit in batches of eight. The product page itself offers some information on passion fruit, as well as tips to identify the freshest and best quality fruit.
If you want to try a wider variety of exotic fruit regularly, they do offer an exotic fruit club subscription which includes a shipment of a different exotic fruit each month. Their website has a list of what you can expect each month so you know exactly what you're getting. This is a great way to enjoy a variety of rare, exotic fruit while saving some money. They currently only offer shipping to the United States.
Things to Consider When Buying Fresh Passion Fruit Online

Passion fruit is bright, beautiful, juicy, and delicious but it's not the easiest to come by. This is why your best bet is usually to buy fresh passion fruit online, but you should consider a few things first:
The Variety
There are a few passion fruit varieties. The most common is the purple fruits, followed by the yellow. Many places that sell passion fruit focus only on the purple variety, so your options may be even more limited if you're after something different.
Even less common is the giant granadilla passion fruit. While not as easy to find, many consider this to be the sweetest and best-tasting passion fruit variety available, so it may be worth the extra effort to find it online.
Where It's Grown
While passion fruit is native to Brazil and areas in Argentina and Paraguay, it's also possible to grow it in the warmer areas of the United States. Some American companies grow or source it from within the country, while others import it from their native areas.
There are pros and cons to each of these methods. If you get fruit that's been grown in the United States, it'll be even fresher as it doesn't have to travel far. Having it imported may give you fruit with a more authentic flavor, but it may take longer and/or be much more expensive.
Other Fruits
Lastly, what other fruits does the company have to offer? Many places specialize in tropical, exotic, and rare fruits and will have many for sale. If you love passion fruit it may be fun to try some other tropical things, too, and you can save on shipping by getting them all in one place.