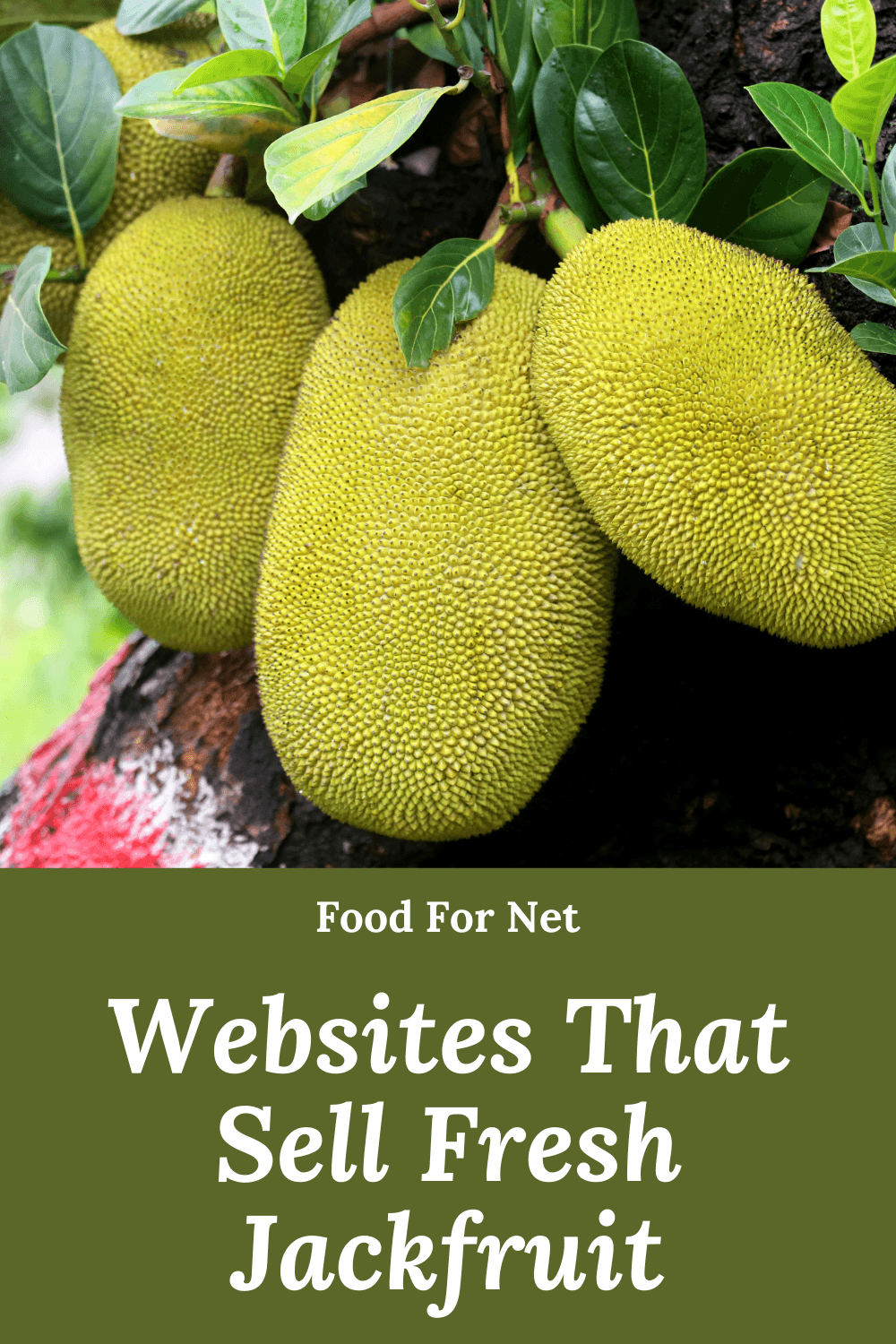 Jackfruit is the largest tree-borne fruit in the world that we know of. While the fruit comes in many sizes, some of the largest pieces can reach up to 80 pounds. For this reason, customers often buy just a single fruit rather than a whole box.
Its weight and rarity can make it expensive and it's not always easy to find. If you can find jackfruit for sale, though, it is worth the price. The fruit contains a long list of vitamins and minerals including fiber, vitamin A, vitamin C, magnesium, potassium, and more. It also contains about three grams of protein per cup which is a lot for fruit.
It's also great for its versatility. Many people cook delicious savory dishes with jackfruit, while it's also a sweet treat on its own or in smoothies. The flavor has been compared to that of a pineapple, but milder, with hints of banana as well.
The websites on this list are perfect places to buy jackfruit online. And, while you're at it, you can look for other unusual fruits online, like durian fruit, breadfruit, and mulberries.
Where to Buy Jackfruit Online
Melissa's Produce
Miami Fruit
Exotic Fruits USA
1. Melissa's Produce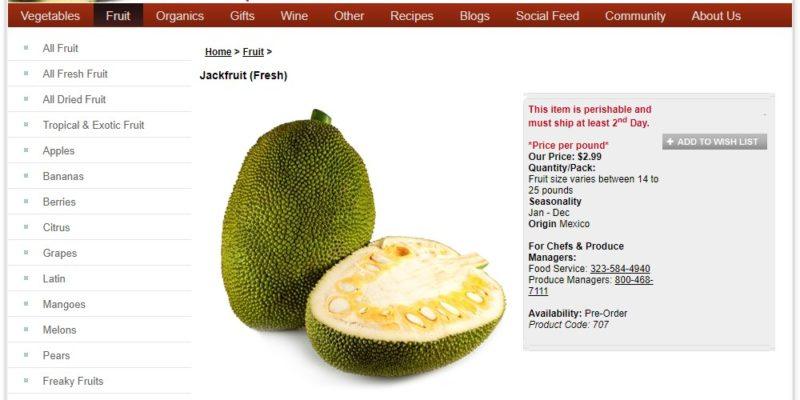 Melissa's Produce prides itself on being the biggest and best resource for specialty produce in the United States. This isn't the only thing they offer, though. They also carry all the basics and produce staples. This means you can get your regular supply of fruits and veggies, and pick up some rare and special items from the same place. This saves you time shopping around and money as you'll only pay one shipping fee.
It also means you can include their rare and exotic offerings in your regular routine. Many fruits and vegetables are hard to find but that doesn't mean they aren't extremely nutritious. Melissa's allows you the opportunity to experience the exceptional health benefits of foods you may not be able to get anywhere else.
Over the years, they've worked hard to develop and maintain strong relationships with retail outlets and distributors around the world. As a result, they've helped grocery stores and other markets expand their own reach and find access to rarer, more exotic produce.
In addition to their huge selection of fruits and vegetables, they also sell an assortment of wine, snacks, and gift boxes. Their website also has a large collection of recipes you can use as well as an extensive large blog with plenty of useful, educational information. They want to take their service a step further and be a complete resource for specialty produce – including the products and related information.
Their jackfruit comes in two forms – fresh and untouched and pre-sliced into "pods." In addition to information about the fruit itself, the website offers easy instructions for handling and preparing the fruit as well as a few simple recipes.
Melissa's Produce ships throughout the United States and offers both next-day and two-day air shipping in addition to regular ground shipping. For perishable products, they require you to select at least two-day air to ensure your products arrive fresh and in perfect condition.
2. Miami Fruit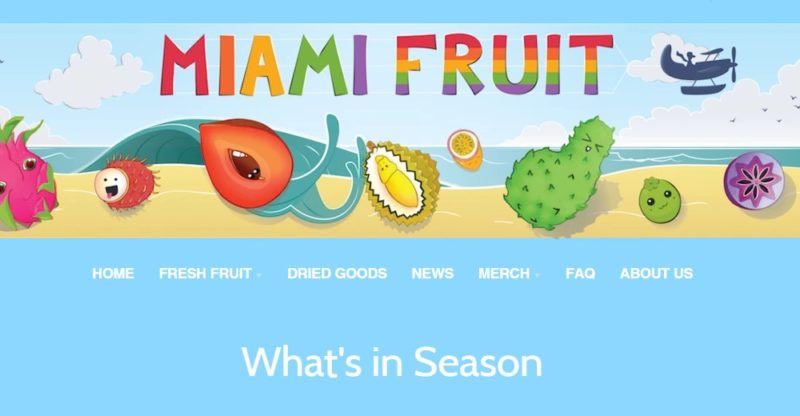 Miami Fruit is passionate about tropical fruit in particular and they are dedicated to providing it to everyone in the United States. What sets them apart from many exotic fruit providers is the fact that almost all of their fruit is produced in the United States.
They harvest a lot of their products from their own farm in South Florida while also working closely with many other local farmers who are just as passionate as they are. Everyone involved works incredibly hard to consistently produce only the highest-quality tropical fruit.
They are always looking for new fruits to try and once they do, they love adding them to their selection for customers to purchase. They also encourage you to reach out if you have a special order or request and they'll do their best to get you what you want.
They keep their website updated as to what's currently in season and available for purchase, as well as what is available for pre-order. Most of their fruits are available in boxes, containing a different number of fruits based on their size and weight. If you want a variety, they also offer a box that contains a selection of what's currently in season. You can make specific requests, which they will honor as long as what you want is available. If you want to be completely surprised, you can order a mystery box that you have no control over or knowledge of before it shows up at your door!
Lastly, one of their most popular selections is their bananas. They always have a large variety of different kinds of bananas available that everyone loves. The bananas are so popular that they are one thing that's always available for pre-order. You can pre-order the type of banana you want and the box will ship as soon as it's available.
Their fresh jackfruit is available in many forms. You can get it unripe which is perfect for cooking, or you can get it already ripe and mushy. It's also available freeze-dried. To even buy a single jackfruit is quite expensive, but you must keep its size in mind. A single fruit can weigh anywhere from 30-80 pounds, so you're still getting plenty of fruit.
Miami Fruit does ship internationally, though some locations may have restrictions on what fresh fruit is allowed into the country, so be sure to check before ordering outside of the United States.
3. Exotic Fruits USA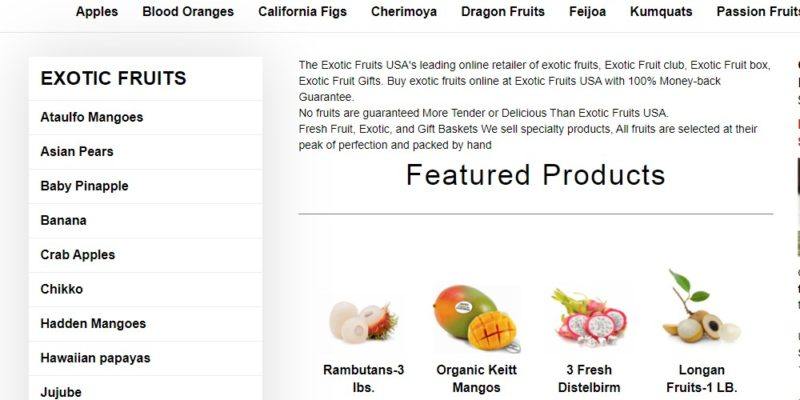 Exotic Fruits USA has been around since 1899 and is still owned and run by the same family. They were always passionate about exotic fruit and they quickly gained a fantastic reputation as one of the best suppliers in the USA. They search far and wide across the globe to find the rarest and most exotic of fruits and then source only the freshest and best quality.
Though these fruits are often not cheap to acquire, they do work hard to keep prices as low as possible, making the fruits accessible to many people.
Some of their more notable selections include a wide variety of exotic apples, dragon fruit, kumquats, California figs, passionfruit, pomegranates, rambutan, persimmons, Asian pears, and strawberry papayas. This list is not exhaustive, however, and they have almost any piece of exotic fruit you can imagine, including jackfruit. Their jackfruit is always fresh and hand-selected. They are also good at finding smaller jackfruits which helps to keep costs down.
For anyone who is just as passionate about exotic fruits as they are, they offer several "fruit clubs" which allow you to sign up for regular shipments of your favorite fruits. Not only does this save you time by automatically shipping every month but all clubs get free shipping on every order. You can order in three, six, nine, or twelve-month increments. Shipping on all their products is available throughout the United States only.
Things to Consider When Buying Fresh Jackfruit Online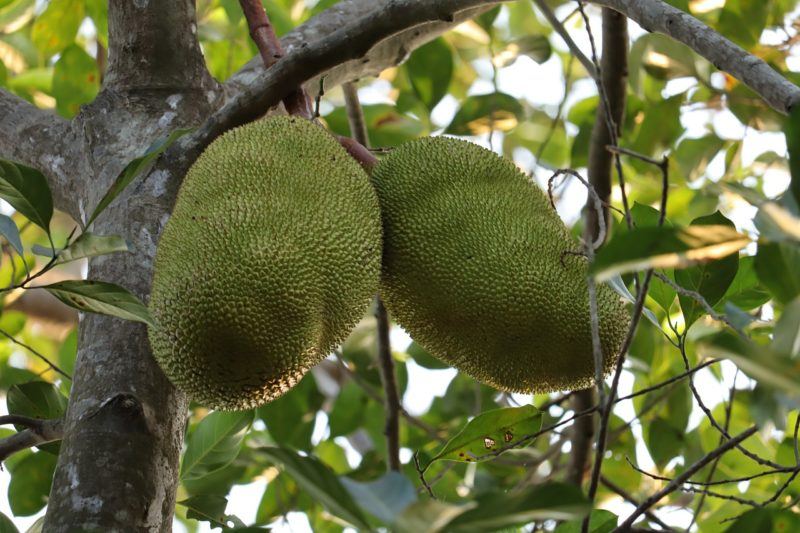 As with any rare or exotic fruit, jackfruit can be difficult to come by and it's often quite pricey. For these reasons, it's important that you do some research and consider the following things before placing an order:
The Size
Jackfruit is one of the largest fruits in the world, weighing up to 80 pounds. This means that a single fruit can last you a long time. It also means that even buying one fruit is expensive, especially if you're getting it delivered as shipping is often based on weight.
While they can be up to 80 pounds, it's possible to find smaller versions, at around 20-30 pounds. The size depends on a few things like the environment they're growing in and the quality of the soil.
If you want to order jackfruit on a regular basis, it's may be best to look for companies that can offer smaller fruits. This way, it's cheaper to order them and you don't have to worry about leftovers going bad before you're able to use them.
How You Want it
Jackfruit is extremely versatile so you should think about what you're using it for before you order. If you're going to cook with it, try to buy it unripe. You can also get it riper and a little mushy already which is good for eating it straight or using it in smoothies or other sweet recipes.
If you don't think you'll go through it quickly consider getting it frozen or freeze-dried instead. This way, it lasts longer and the price is often much lower this way as you don't have to buy the whole fruit.
The Source
While jackfruit is not native to the United States, it can be grown in some of the warmer areas. However, because the growing conditions aren't 100 percent ideal, US-grown jackfruit won't often reach the maximum size of 70 or 80 pounds.
This is something to consider if you want to buy the biggest jackfruits you can find. You'll probably have to look for a company that sources it outside of the United States for the largest ones. On the other hand, jackfruit grown in the United States could be ideal for shoppers who want smaller fruits.