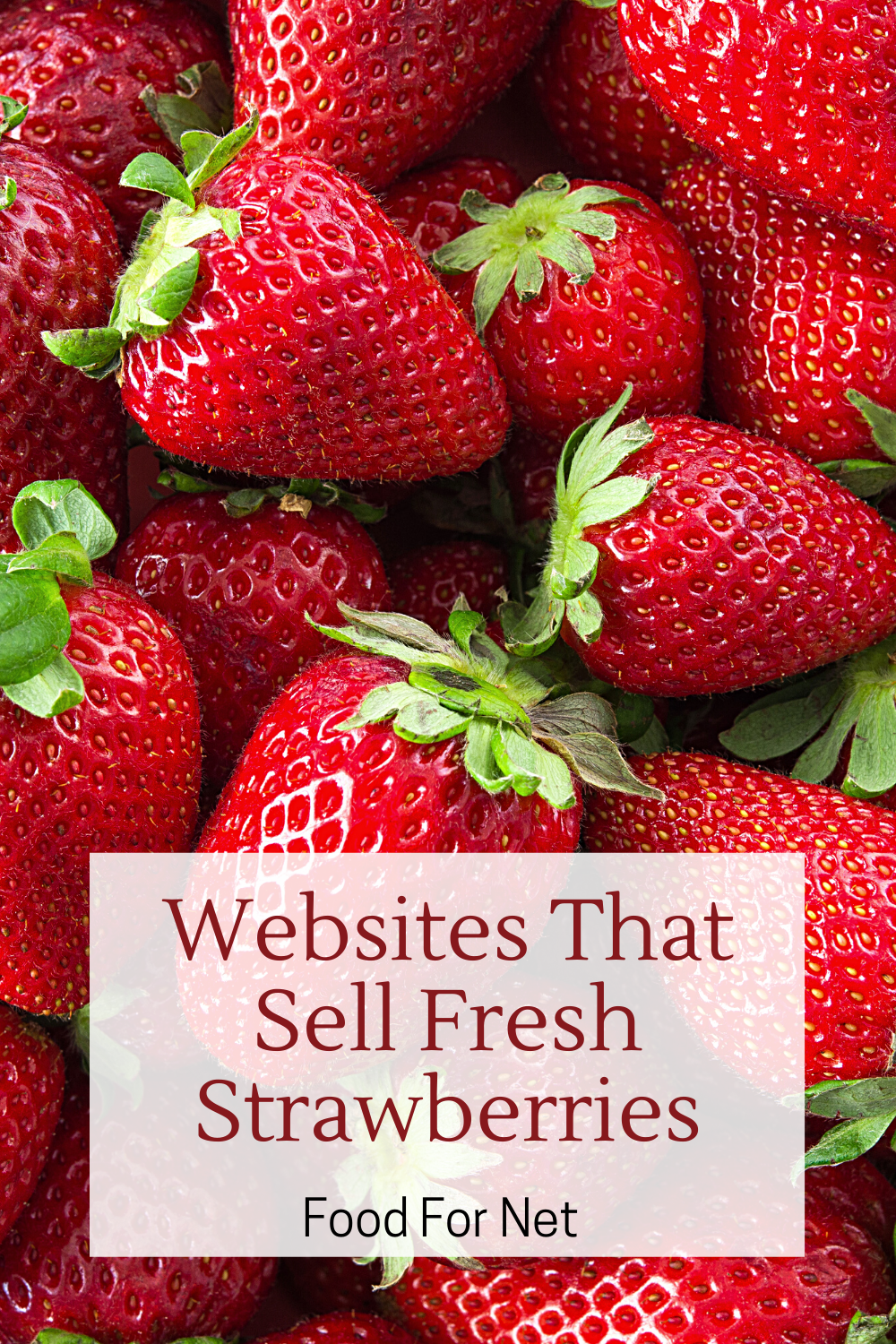 Strawberries are a classic, common fruit with so many amazing uses. They're a great snack to have at home and they travel well to school and work. You can blend them up in smoothies, bake them into a pie, make juice, and so much more. Even if strawberries aren't available locally right now, you can still buy fresh strawberries online throughout the year.
Plus, even though they're often readily available at your grocery store though, doesn't mean those strawberries are automatically the best quality, or that they were grown sustainably.
Your single purchase of a pound of strawberries may not seem like much, but it does matter. This is why it's beneficial to buy fresh strawberries online – you have better access to strawberries that are not only truly organic and better-tasting but grown by farmers who care about the environment.
This is also a great way to get them in bulk if you need to – buying a ton of strawberries at the grocery store becomes expensive fast. You could also look for sites that sell other types of fresh fruit online, and perhaps veggies too, giving you the chance to get everything that you need at one time.
Just be sure to store your strawberries well. If you have a lot of them, you might even want to freeze some.
Where to Buy Fresh Strawberries Online
Melissa's Produce
Fresh Direct
Frog Hollow Farm
HEB
Harry & David
Edible Arrangements
1. Melissa's Produce


Melissa's Produce is known for their impressive and expansive selection of specialty foods – specifically produce. They have almost every fruit and vegetable imaginable, from the most basic and common options to ones you may have never even heard of. They also work to provide information, education, recipes, and even storage tips to make sure your experience with their top-notch food is excellent and unmatched.
They have an impressive selection of exotic fruits, both organic and traditionally grown. This includes things like dragon fruit, goji berries, passion fruit, cactus pears, kumquats, goldenberries, and so much more. Among these rare and exotic fruits though, are your basic blueberries, strawberries, raspberries, etc.
Their strawberries come from a farm called Harry's Berries where they grow and harvest strawberries with superior flavor. They also cut out all the middlemen and get the strawberries to you as soon as possible – meaning you'll get to experience a true field-fresh strawberry.
Because they wish to deliver the strawberries to you at their peak freshness and flavor, the strawberries aren't available year-round. Their peak season falls between March and June and once they're sold out that's it for the year. They do offer a selection of dried fruits as well if you can't find what you want available fresh.
They ship throughout the United States, offering next day delivery for perishable items.
2. Fresh Direct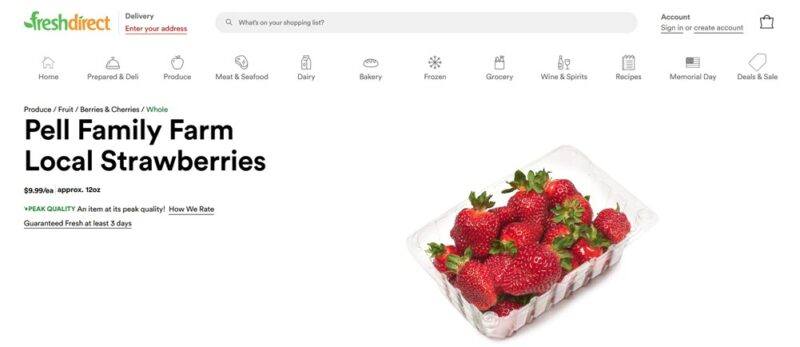 Fresh Direct is a fantastic grocery delivery service with a huge selection and many options. They work well for regular grocery orders if you'd rather not go to the store, but they're also great for those with a busy schedule and need some pre-made meals that can be ready in just a few minutes. Their selection of prepared foods includes everything from breakfasts and appetizers to salads and full dinners.
They also have grocery items in every category – fruits, vegetables, meat, poultry, seafood, dairy, deli, bakery items, and more. They also have a good selection of beer, cider, wine, and other alcoholic drinks that can also be delivered with your groceries.
In terms of fresh strawberries, they have Driscoll's brand on their website with both organic and traditional options available. You can also choose between a regular or large carton. You can also order them by the case if you need multiple cartons of strawberries – for making pies, jams, jellies, etc.
Their delivery area is limited to certain states, and some areas are only eligible for delivery in the summer. Their website has detailed information on specific delivery areas.
3. Frog Hollow Farm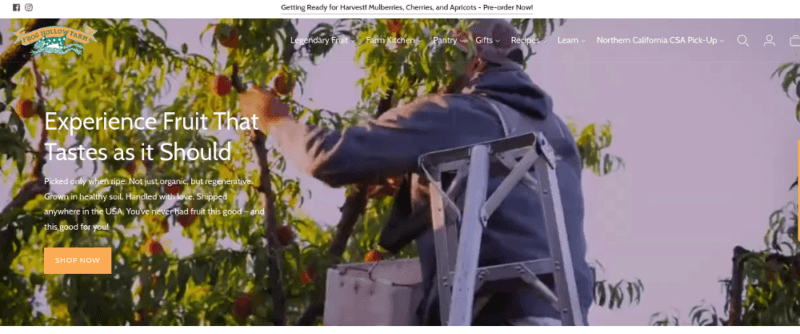 Frog Hollow Farm is passionate about fresh fruit and are also committed to regenerative agriculture. This means they don't only focus on growing as much fruit as possible but they value the quality of the land itself. Not only do they work to preserve and take care of the land but they also work to improve it regularly – improving water cycles, increasing biodiversity, etc.
They are also committed to sustainable farming practices at all times while using organic growing means where possible. This means fewer chemicals and no synthetic fertilizers or pesticides.
They also care very much about their community. Once they've made deliveries to local grocery stores and their mail-order customers, they collect any leftover reject fruit that isn't "cosmetically" fit to sell. Some, they donate to a community agriculture program. The rest of it they use to cook up some great baked goods and other products in their onsite kitchen. You can shop for some of these things like jams and preserves from their online store as well.
All of this combined gives customers the utmost confidence when buying their fresh fruit because you know every step of the process was fair, healthy, sustainable, and well thought out. You can also enjoy some of the best and most flavorful fruits. Their selection includes strawberries, apples, cherries, plums, apricots, nectarines, blood oranges, pears, olives, lemons, and much more.
Their fresh, organic strawberries are popular and tend to sell out fast. If you want to make sure you don't miss the next batch, they will collect your email and send you a notification when they're available again.
If you're a fruit lover and you value their sustainable, ethical practices and organic growing methods, you may consider subscribing to their fruit delivery box. This subscription offers a monthly delivery of a selection of seasonal fruit delivered right to your door.
You can choose between three sizes and the box will always include the best of what's available at that time. The box is a great way to save money on fruit that may otherwise be costly, especially if purchased in stores. They do deliver throughout the United States, though states further from them have longer delivery times. There is a detailed chart on their website that can help you figure out shipping to your location.
4. HEB


HEB is another fantastic online grocery store and began back in 1905. The first store was founded by a woman with children and a sick husband to care for. She opened the store with the last of her savings and dedicated herself to making it work. Since then, HEB has grown from a single, physical store to a grocery empire with many locations and a booming online business.
If you can't make it out to one of their many physical locations, you can order from the website and they will deliver anywhere in the United States. They have everything you need to do your basic grocery shop – fruits veggies, meat, seafood, bakery items, dairy, eggs, drinks, frozen food, and even pet, baby, and home items.
When it comes to strawberries you have plenty of options. You can buy regular fresh strawberries by the pound, or as a part of several different fruit medleys. They also have frozen strawberries available as well as many strawberry-flavored items like yogurt, lemonade, ice cream, and more.
HEB also has an online pharmacy where you can create a profile and get your prescriptions filled through them. This is a convenient option if you wish to switch your grocery shopping activities to them on a more permanent and regular basis.
They also have a recipe section on their website with hundreds of recipes to browse, sorted by category. They also have a search function to customize what you're looking for. You select what you want to make – pizza, bread, breakfast, salad, etc. – and what specific ingredient you're using, such as pork, grain, or fruit, and it'll give you the best recipe available. This is great if you're in a pinch or not sure exactly what to do with certain leftover ingredients.
5. Harry & David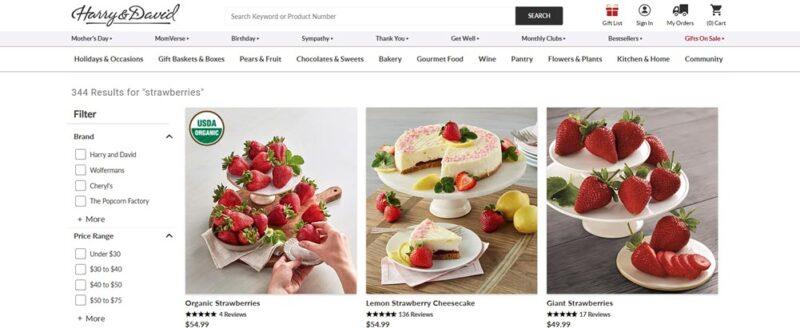 Harry & David takes a different approach than other companies, as many of their strawberry collections are designed as gifts. Some of them come with other products as well, such as a Mother's Day version that includes double Devon cream and chocolate sauce for dipping.
Alternatively, you could go with one of their giant strawberry collections or simply organic strawberries. The berries should taste amazing every time, especially as Harry & David always focuses on quality.
The rest of the site is exciting too. Harry & David offers many different treats, often in boxes or even full subscriptions. It's an amazing site if you want a gift for a loved one or even just a treat for yourself.
6. Edible Arrangements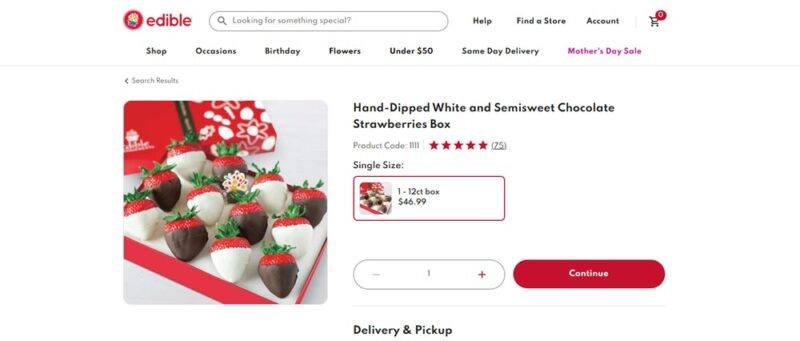 Edible Arrangements also provides strawberries as gifts. In fact, their entire site is focused on edible gifts in various styles, including chocolate dipped fruit and fruit that has been shaped like bunches of flowers.
Most of their strawberries aren't sold on their own, but as chocolate dipped strawberries instead. While this style works fantastically as gifts, it might not be ideal if you're looking for strawberries on their own.
When Are Strawberries In Season?
This is a surprisingly complicated question, as strawberries are grown in many different parts of the United States and in different climates. June is often the best time to buy strawberries, as they tend to be the sweetest and tastiest.
However, the nationwide strawberry season is much longer than just a few months. You can often find strawberries throughout the year, making them more readily available than many other types of fruit.
Things to Consider When Buying Fresh Strawberries Online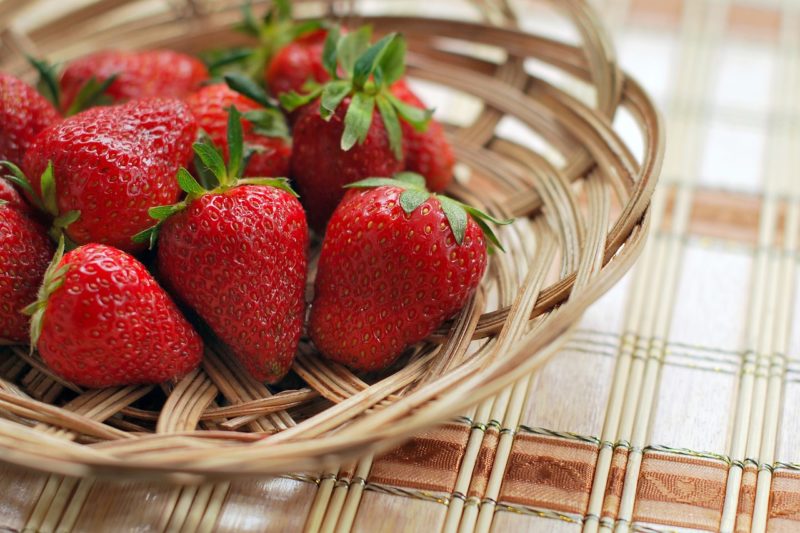 While strawberries aren't hard to come by in grocery stores, buying them online does have benefits. If this is what you've chosen to do, consider these things before choosing a supplier and placing an order:
Availability
Companies won't always have an endless supply of strawberries available, especially if they're smaller, more local farms that produce in small batches. If you've found a farm you love and you're set on ordering their strawberries, make sure you know when they're harvesting and selling.
If they're sold out before you have a chance to order, see if you can put yourself on an email list to be notified of when the strawberries are on sale again.
Intended Use
Strawberries make a great snack on their own but they're also perfect for so many other things. You can make pies, juice, jams and so much more. If you're buying your strawberries to make food or preserves in bulk, this may change where you buy them.
Online grocery stores are great for buying a small number of strawberries for personal use but probably aren't cost-effective for buying in bulk.
Where They Come From
Because they're so popular, plenty of places mass-produce strawberries without much regard for quality or sustainability. If you care about quality and sustainability, pay close attention to where the strawberries are coming from, who is growing them, etc. If a company isn't transparent about their practices, they probably aren't as sustainable or kind to the environment as you want.