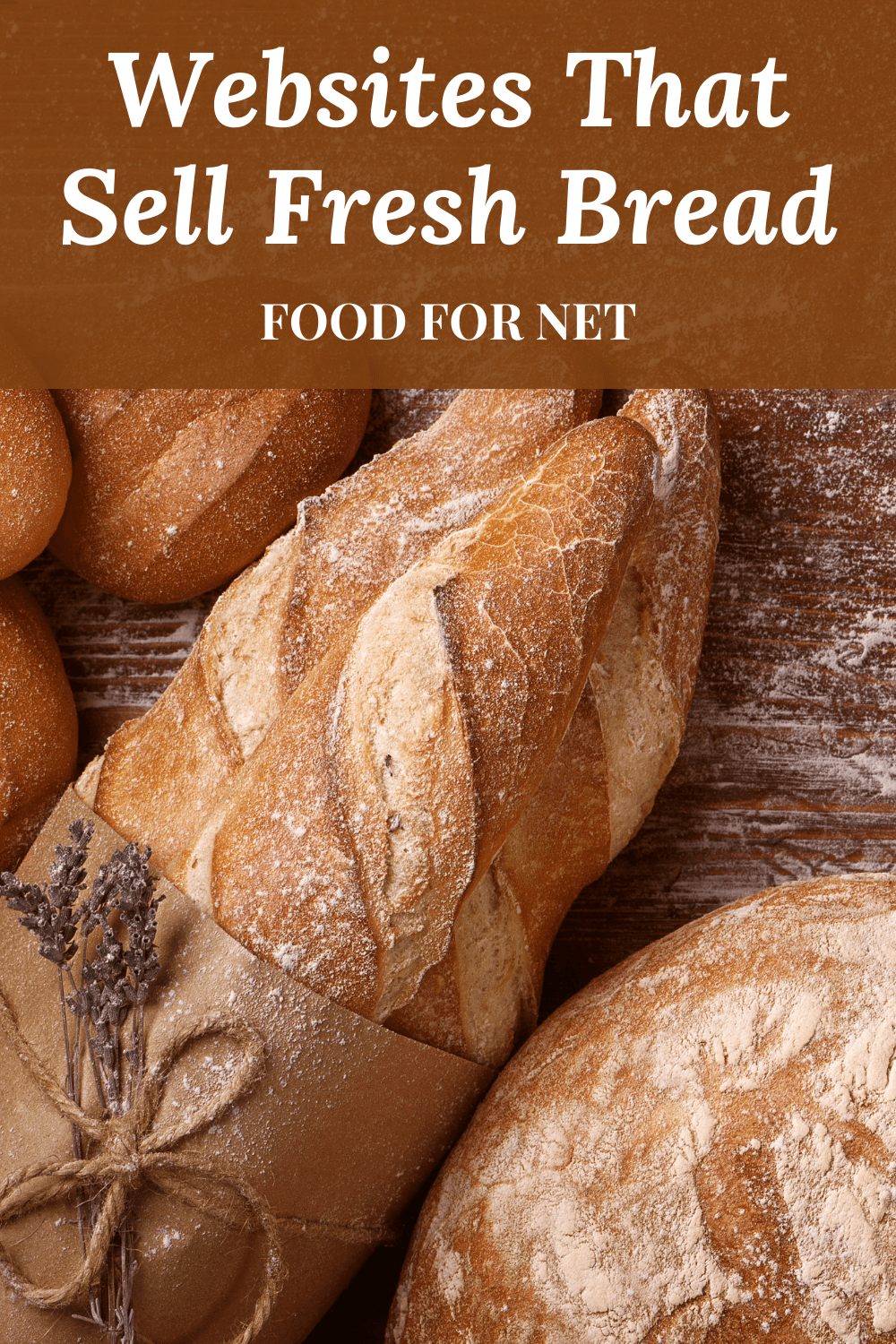 Overall, bread is pretty universal. Whether you're making a quick snack of toast and butter, making a sandwich for lunch, or laboring for hours over a homemade loaf, bread is everywhere and it's good for many things.
But, it's changed over the years. Bread used to be created carefully and filled with nutrition. Most mass-produced bread is simply not healthy anymore. However, there are many companies out there right now that want to change this.
When you order fresh bread online from an artisan shop or smaller family business, not only are you getting better quality but you're supporting their efforts to bring back quality bread. You can also find a much bigger variety when you shop online.
You can put almost anything on bread, from fruit and spices to chocolate. Don't be afraid to have fun with different flavors while you can rest assured you're making a healthier choice.
If you're interested in making your own bread instead, then you could buy fresh yeast online and perhaps turn to a bread machine.
Where to Buy Fresh Bread Online
Domaselo
Bread Village
Silke's Old World Bakery
Zingerman's Mail Order
Little Stream Bakery
Bread's Bakery
1. Domaselo

Domaselo got their name by combining words for home and village. Their goal is to bring back authentic baking, with the feeling of eating at home in a village. They use their fresh, organic sourdough to transport customers back to a simpler time. They're on a mission to create the best bread in the world, and they believe they can do it with sourdough.
Their sourdough is organic and contains very few ingredients. They believe this is the way to make products that are not only high-quality but affordable. They hope to make their delicious, quality bread available to everyone by keeping prices as low as possible.
Their quality begins with the process. They use what they call a "natural" process, meaning they don't use any preservatives or other ingredients to accelerate the process for a bigger yield. The natural methods they use take a lot of skill which is why they hire only the best. This method also means that the sourdough doesn't even have to be sour, allowing them to make a wider range of flavors that appeal to more people.
They offer free delivery in their local Miami area but also ship nationwide. They always ship their bread freshly baked so you're getting it at its peak freshness.
2. Bread Village

Bread Village was founded by a man on a mission for great bread. He didn't live anywhere near a decent, authentic bakery, so he did something about it himself. He was after the perfect bread – crunchy exterior, dense middle, and good flavor.
Bread Village is an online bakery that brings top-notch, artisan bread from Germany to customers in the United States. They began with a focus on German rye sourdough as this bread has the perfect combination of crunchy outside and dense, chewy inside.
This isn't all they offer, though. They also have kaiser rolls, German farmer's bread, multi-seed bread and rolls, German rye rolls, and pretzel rolls. This small but varied selection allows them to focus on quality while still giving their customers a few different options to choose from.
In addition to shipping their bread fresh to you, they also offer partially baked bread. This is bread that they've only baked about 80 percent, which means you can finish the baking on your own and enjoy it fresh out of the oven at home.
They do recommend freezing bread for better storage if you've ordered lots. For sourdough bread though, the acid naturally keeps it fresh for about ten days, so it has plenty of time to get to you and be eaten.
3. Silke's Old World Breads

Silke's Old World Breads is a family-owned company that was started by a couple with a passion for artisan bread, and good food in general. In addition to great bread, they offer a good variety of German specialties and European-style pastries. Their delicious food is a whole experience on its own.
They began with a small bakery with a cozy, family-friendly atmosphere perfect for breakfast dates and casual coffee meet-ups. They grew from here and added a cafe and a deli to their physical locations. Today, they operate out of a large warehouse and offer their products to customers nationwide. If you can make it out to their restaurant, your bread is made to order and prepared right in front of your eyes. You can eat it immediately and it doesn't get much fresher than that.
If you can't make the trip to their store, there is a shipping map on their website that tells you how long delivery will take to your location. Their selection of fresh bread includes sourdough, olive bread, raisin bread, multigrain bread, chocolate raisin sourdough, spicy herb and cheese, Mediterranean bread, and whole wheat farm bread.
4. Zingerman's Mail Order

Zingerman's is actually a community of businesses all operating in the food industry. Each one has a physical store where they sell their products but you can also get the products online. Zingerman's "mail-order" offers fresh bread as well as meat, fish, pantry items, pastries, etc. all of which can be shipped throughout the United States. Other branches of the company include a candy shop, creamery, a coffee shop, a catering business, and more.
Their selection of fresh bread includes basics like rye and sourdough and a variety of specialty bread. This includes things like cranberry pecan bread, cherry chocolate bread, cinnamon raisin bread, onion rye, and so many more unique and interesting flavors.
They also have holiday-themed bread and they'll package it up into a pretty gift if you want to send it to someone. You can also include pastries, cakes, and other baked goods.
They even have several "clubs" you can join. These are essentially subscription services that deliver a selection of goods each month. In the case of their bread club, you can choose between one, two, or three loaves each month and you'll always get something different.
5. Little Stream Bakery

Little Stream Bakery is a small, old-fashioned bakery that focuses on gluten-free sourdough bread. They also keep many other common allergens out of their products, including eggs, milk, soy, peanuts, tree nuts, sesame, and more. Their website offers home delivery throughout the United States and Canada for both individuals and wholesale.
In addition to their fresh, gluten-free bread you can also get several sweet treats from them including apple strudel, apple turnovers, pesto rolls, blueberry squares, carrot cake, cinnamon palm leaves, and more. These are made with the same commitment to quality and freshness.
Little Stream Bakery is small but it's a great resource for anyone with a gluten allergy or intolerance who still wants to experience fresh, delicious sourdough bread.
6. Bread's Bakery

Bread's Bakery is located in the heart of New York and they are committed to providing you with not only quality products, but a quality experience. They offer a fantastic, varied menu inside their restaurant and catering service to those in the area.
For those that can't get to their stores, they do offer online ordering and will deliver nationwide through Goldbelly. Their selection of bread alone is impressive, including everything from basic baguettes and whole wheat loaves to specialty rye and French sourdough.
Also available in the bakery section are tea cakes, brownies, croissants, cinnamon rolls, and a selection of savory pastries as well. For those that want to try their hand at baking their own bread, Bread's Bakery also offers a selection of recipes. Their recipes are based on their signature loaves, meaning you can create an authentic Bread's Bakery experience right in your own home.
Things to Consider When Buying Fresh Bread Online

Fresh bread is a great thing to have around, and when you buy fresh bread online you certainly have many more options than most grocery stores offer. But, there are a few things you should think about before placing an order:
The Type of Bread
Ordering online has many benefits but you should consider the shelf life of bread when placing an order. Left unfrozen, bread has a limited shelf life so keep this in mind as some bread lasts longer than others.
Sourdough, for example, can stay fresh for up to ten days outside of the freezer, while other types aren't quite so lucky. Check the company's shipping policies and see how long it might take to ship to your location.
Ingredients
Once upon a time, bread was fairly healthy and nutritious. However, this often isn't the case anymore. The introduction of preservatives, mass-production, and other chemical additives has watered down the nutritional value of bread.
If you're looking for authentic bread, you want to buy from an artisan or specialty bakery that doesn't just pump out bread as fast as they can for more profit. If you're at all gluten-intolerant, you'll need to find companies that only use gluten-free ingredients.
Other Products
Are you looking for bread only or a whole bakery to choose from? Some companies focus only on a few types of bread, while others offer a variety of other baked goods like cakes, croissants, pastries, and more.