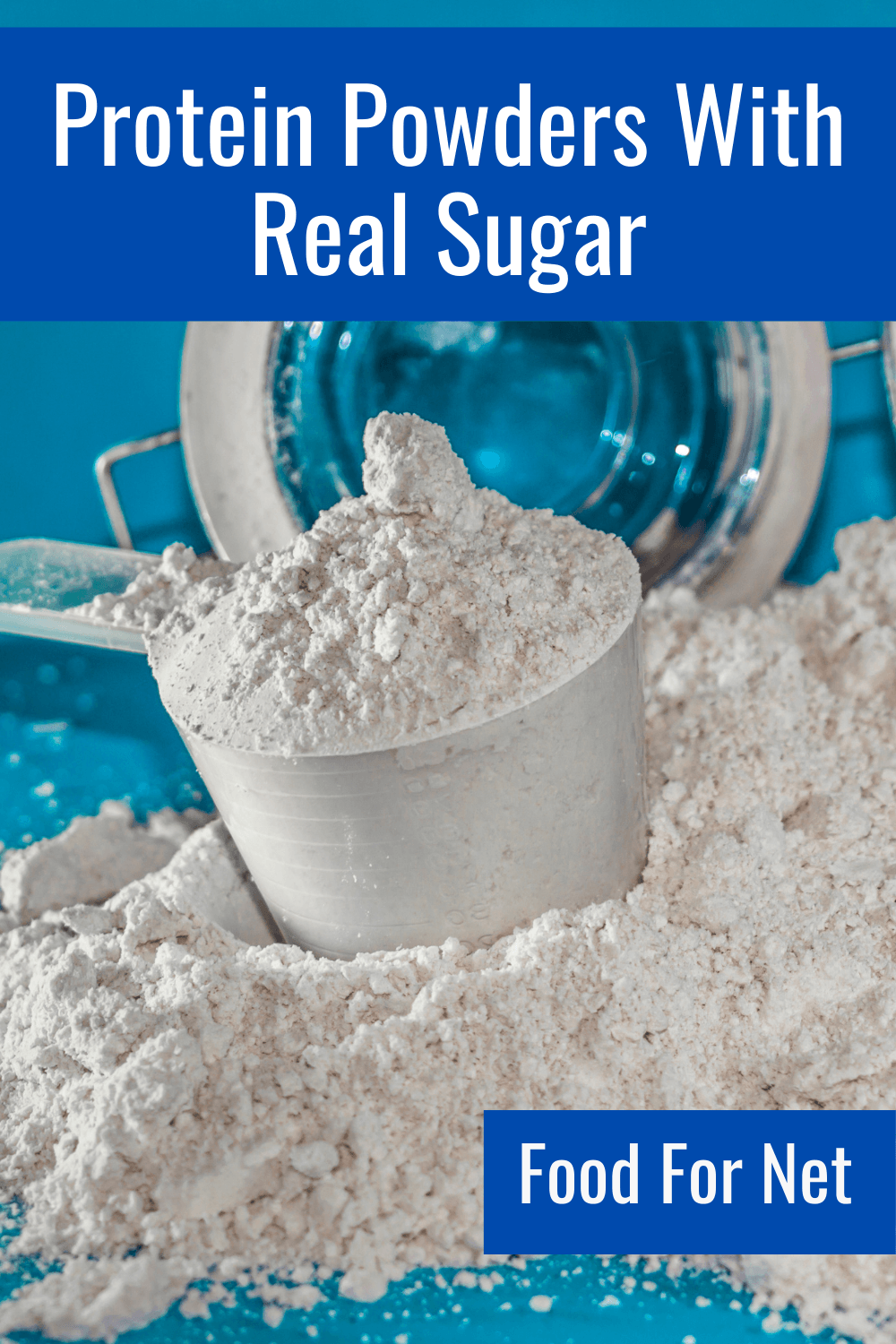 There are many reasons for avoiding sugar. Too much refined and processed sugar is bad for the body and has been linked to many different issues and diseases. It often provides a quick energy boost but this all too often results in a crash. It's also known to be addictive if you have it too much and too often – leading to cravings that can sometimes be incredibly hard to curb.
On the other hand, sugar replacements and artificial sweeteners aren't the perfect solutions, either. While they eliminate sugar itself, they can also disrupt the bacteria in your gut which can lead to all kinds of things from discomfort to disease.
Although you must always watch how much you're consuming and be careful not to overdo it, there are many reasons to find protein powder brands with real sugar. Protein powder and other supplements are a common place to find artificial sweeteners as many people want to supplement, but they also want to avoid sugar. Things like organic cane sugar and especially coconut sugar, though, aren't as bad as they may seem when consumed in moderation. These protein powders are effective, high-quality supplements that use real sugar to help achieve their sweetness and flavors.
The Best Protein Powder Brands With Real Sugar
1. Naked Whey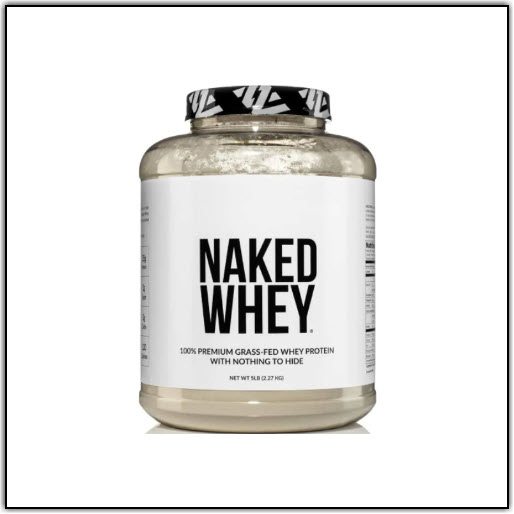 Naked Whey is a grass-fed protein powder sourced from cows that live on small California farms. The cows are grass-fed year-round and raised without any harmful substances like growth hormones. The powder is entirely free from additives and artificial flavors and ingredients. It's truly the most "naked" a whey protein powder can get. Their goal has always been to minimize the steps the product takes between the farm and your cupboard.
Each serving offers a solid 25 grams of protein and an impressive 5.9 grams of branched-chain amino acids for even stronger and more effective muscle building.
Each serving also has 120 calories depending on flavor, two grams of fat, only three grams of carbs, and two grams of sugar. These numbers are for the unflavored option, where whey protein concentrate is the only ingredient. The different flavors have slightly more calories and higher fat, but they're still just as clean and healthy.
For example, the only extra ingredients in the vanilla flavor are natural vanilla flavoring and some coconut sugar. The chocolate uses cacao powder and the strawberry uses real dried strawberries for flavor.
2. Manitoba Harvest Hemp Yeah Plant Protein Blend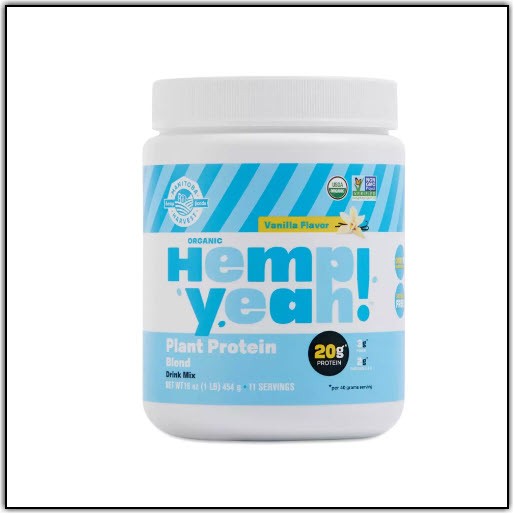 Manitoba Harvest Hemp Yeah Plant Protein Blend also uses coconut sugar to achieve its desired sweetness, along with a handful of other natural flavors such as vanilla. It's also a great all-rounder when it comes to nutrition and providing a good everyday boost. Each serving has 20 grams of protein along with three grams of fiber and two grams of omegas 3 and 6.
Everything is also organic, the powder is vegan, and certified non-GMO. The protein comes from a blended source, including hemp and pea. Both hemp and pea protein have their own benefits and nutritional value, so it's quite beneficial to have a little of both in there.
Each serving is 160 calories with three grams of fat, 12 grams of carbs, and eight grams of sugar. It's available in the classic chocolate and vanilla flavors as well as unsweetened if you ever want to give that a try for some baking or different smoothies. And if you like the benefits offered by hemp, Manitoba Harvest has a fantastic collection of other supplements and products made with hemp, from oil to granola bars!
3. Aloha Organic Protein Powder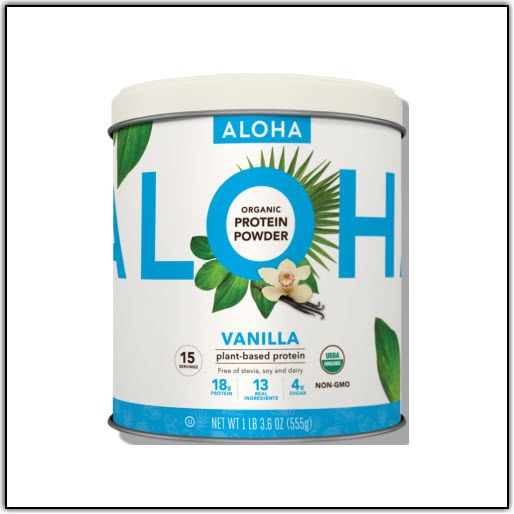 Aloha Organic Protein Powder is a clean and effective protein powder sweetened with organic coconut sugar and monk fruit extract. It's entirely vegan, organic, and natural. It's also certified non-GMO, soy-free, gluten-free, and dairy-free.
Each serving of this protein includes 130 calories, 2.5 grams of fat, 10 grams of carbs, five grams of fiber, four grams of sugar, and 18 grams of protein. It also has lots of iron and a small amount of potassium and calcium.
In addition to offering a super healthy and powerful protein supplement, they've also made significant improvements to their packaging in order to be healthier, more sustainable, and more eco-friendly. For example, the canister is now made from post-consumer recycled plastic which is universally recyclable. It's also easily reusable once you give it a wash – there are plenty of things to do with a nice container and it's even got some bold and pretty colors on it.
4. Opportuniteas Chocolate Whey Protein Isolate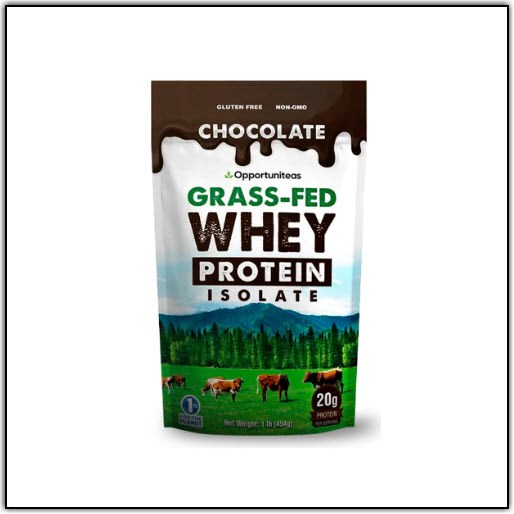 Opportuniteas Chocolate Whey Protein Isolate is a unique product made using only grass-fed cows raised with no hormones. It's flavored with organic cane sugar and organic extra rich cacao as well as a pinch of Himalayan salt. The extra rich cacao is the key ingredient here as this protein powder is so rich and creamy that it closely resembles a delicious glass of chocolate milk, and sometimes you forget it's even protein!
Each serving is only 120 calories with one gram of fat, nine grams of carbs, and 20 grams of protein. The goal of this supplement is not only to support your muscles during training or workouts but to provide quality nutrition and help you maintain your energy.
Protein is a great source of energy and this protein powder not only gives you a great dose of it, but it's a clean, quality serving that can help you feel full and strong while helping you reach whatever your lifestyle and fitness goals may be.
5. Vega Protein Made Simple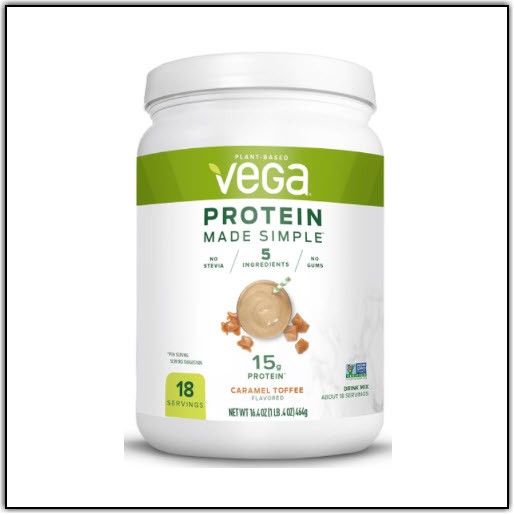 Vega Protein Made Simple is a basic protein supplement made with minimal ingredients. There are three flavors available and they use between four and eight ingredients, while still delivering a smooth drink with a rich and delicious flavor!
The available flavors are caramel toffee, dark chocolate, and strawberry banana. All of these are delicious when mixed on their own into water or milk, and all would also make an amazing shake or smoothie. The flavors are sweetened with organic cane sugar and flavors are created with natural ingredients. For example, the strawberry banana includes strawberry powder, beet juice powder, banana powder, and coconut cream powder – all derived from whole food sources.
Each serving has 100 calories per serving with two grams of fat, seven grams of carbs, one gram of fiber, six grams of sugar, and 15 grams of protein.
In addition to being good for you, Vega works hard to be healthy for the planet as well. The company is committed to waste reduction and carbon neutrality and they source their pea protein from regenerative North American farms.
The Benefits of Natural Sugar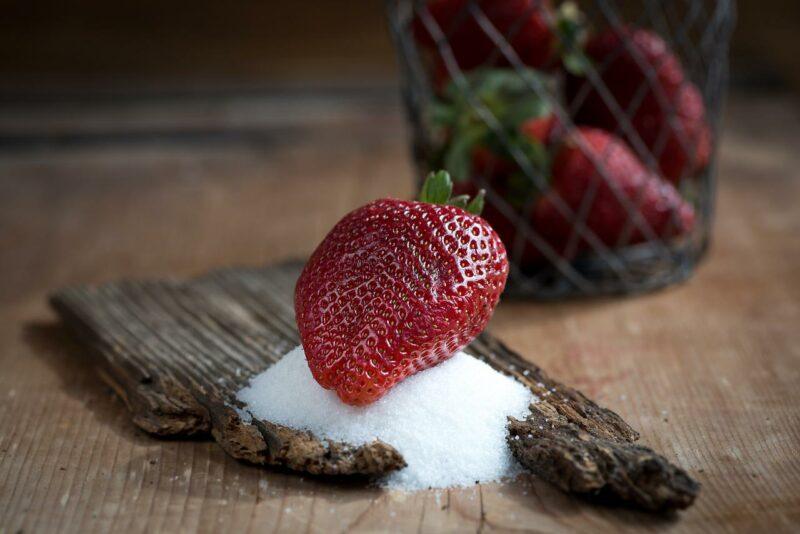 A lot of people see sugar as the enemy and try to avoid it altogether. The sentiment is good because sugar can be quite harmful, but you actually shouldn't be avoiding all sugars all the time!
We must indeed limit our intake of processed and refined sugar – even healthier options like cane sugar and coconut sugar – but sugar from natural, whole food sources comes with many benefits that we shouldn't ignore. One of the biggest and best sources of natural sugar is fruit! You should never feel you must shy away from fruit.
The best thing about fruit is that in addition to being sweet and delicious, the natural sugar comes along with many other nutrients, vitamins, minerals, antioxidants, and health benefits. Dark chocolate is also a deliciously sweet treat that offers many health benefits, as long as it's sweetened naturally and minimally processed!
By enjoying some natural sugar from fruits and vegetables, you'll enjoy benefits like:
Immediate energy. Energy can be found in many things, from coffee and energy drinks to a meal filled with carbs and protein. A nice big bowl of fruit with lots of natural sugar will do the trick, too! Fruit is an excellent choice for breakfast, whether you throw it in oatmeal, cereal, yogurt, a smoothie, or just eat it on its own!
You can store energy for later. Once the glucose from the sugar converts into energy, some will be used immediately and some will be stored for later. It'll then be released when needed, such as during a time of fasting like when you're asleep.
Mood boost. There's no doubt that sugar can make people happy simply because it's tasty and you're happy to eat it, but it can physically make you feel better, too. It activates the pleasure center of your brain and releases a nice rush of dopamine. Many things can cause this to happen, but getting it from fruits and veggies is among the healthiest approaches!
Related Content