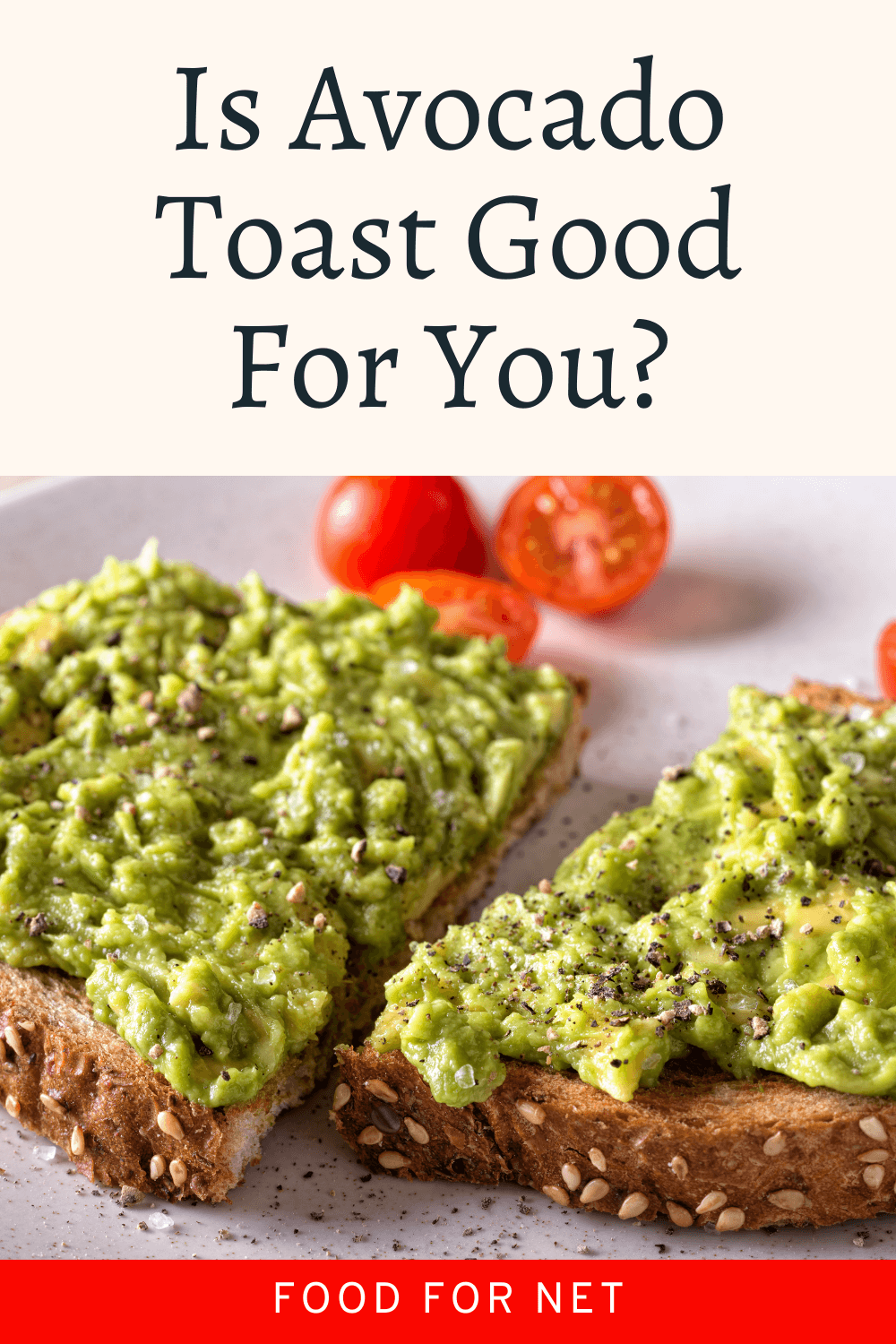 Avocado toast is a simple dish, yet it's also surprisingly controversial. The controversy has little to do with avocado toast itself, but rather with debate about how young people are spending too much on avocado toast and lattes, when they should be saving money to buy a house instead. So is avocado toast good for you, or should you be putting that money away to pay off your student loans?
Of course, buying avocado toast in cafes isn't why millennials often can't afford houses. The housing problem is more strongly linked to the economy, the cost of living, and the amount we're all earning these days. Besides, how many people are actually paying $20 or more for avocado on toast, when they could make it at home for a fraction of the price?
That's getting away from the point though, as today we're interested in health. Specifically, is avocado toast good for you?
It's easy to imagine that it might be, given that avocados have many benefits and are packed with antioxidants and healthy fats. But, there are less appealing things to think about too, including the calories of avocado toast and the toast side of the equation. After all, bread is high in carbs and gluten, to the extent that some people avoid it entirely.
Is Avocado Toast Good For You?
Nutritional Profile Of Avocado Toast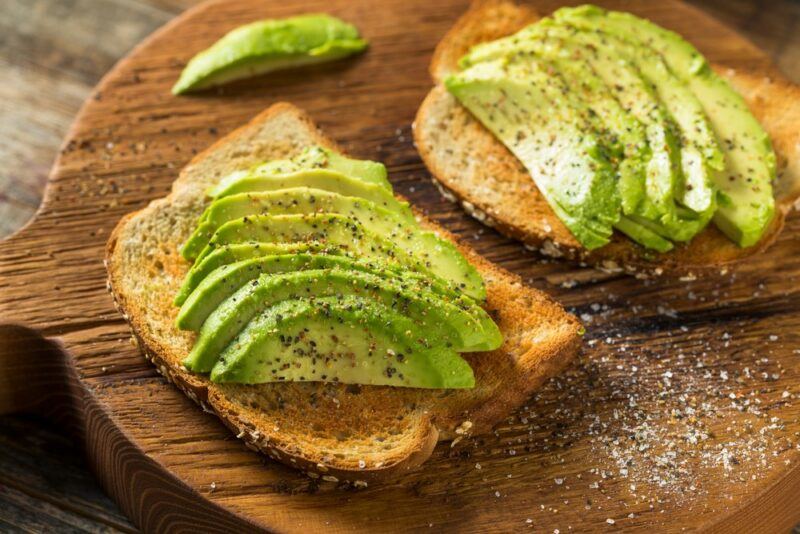 For a single slice of multigrain toast, plus half an avocado, you get the following macronutrient profile:
257 calories
Protein: 6.9 grams
Carbs: 24.3 grams
Fiber: 11.2 grams
Fat: 16.3 grams
The combination is surprisingly well balanced, giving you a decent amount of fiber, protein, and fat per serving. You'll get plenty of nutrients too, along with antioxidants from the avocado.
However, the nutritional profile will change based on the type of bread that you use. In particular, white bread tends to be lower in nutrients and fiber, making it a poorer choice for health.
Features Of Avocados
Avocados are a health food darling these days. They're also delicious and there are countless ways to eat them. It's hardly surprising, then, that they've become incredibly popular.
Benefit: Rich In Heart Healthy Fat
Avocados are high in fat, which is an incredibly unusual feature for fruit. However, most of this fat is monounsaturated.
You've heard about monounsaturated fats before, right? They're famous as heart healthy fats because they can decrease your levels of LDL cholesterol.
The effect is even more powerful if you're replacing some of the saturated fats in your diet with monounsaturated ones instead. Doing so can help to decrease your risk of heart disease, while protecting your heart in other ways as well.
Oleic acid is the most prevalent monounsaturated fat present. This is the same fat you find in olive oil. It's been linked to plenty of benefits as well, including decreasing inflammation and improving blood sugar management.
Risk: Still High In Fat
While the fat in avocados is pretty healthy, it is still fat.
The first issue here is calories, as fat is calorie dense. In fact, you get roughly 9 calories per gram of fat, compared to just 4 calories for carbs and protein. The calorie difference makes it easy to overdo it with high fat foods.
Current evidence suggests sticking to moderate levels of monounsaturated fats and making sure your diet relies strongly on whole foods. This means that while monounsaturated fat is the healthiest type of fat, it's still not something you should go overboard with.
Plus, avocados don't just contain monounsaturated fats. They still contain some saturated fat, roughly 4 grams of it in a full avocado. While the saturated fat content isn't exceptionally high, it might be too much for anyone who needs to be very cautious with saturated fat.
Benefit: They Help With Blood Sugar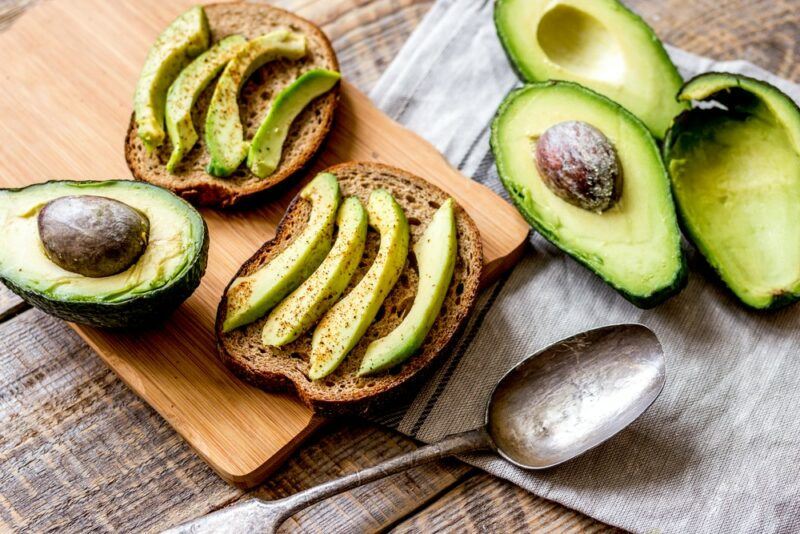 Avocados are relevant to your blood sugar levels too, helping to keep your blood sugar stable while potentially improving your insulin response. The monounsaturated fats in avocados are responsible for some of this effect, although the fiber content also plays a role.
Benefit: A Source Of Plant-Based Compounds
Avocados also provide you with a decent amount of plant-based compounds. Some of these are antioxidants, which help to protect you from free radical damage. Plant-based compounds can have other impacts on your health too, including helping with your heart and reducing inflammation.
Antioxidants are found in plenty of fruits and vegetables, but avocados stand out because they're also low in sugar and contain lower levels of antinutrients than many other options.
Benefit: They're Nutritious
Don't forget that there are plenty of important nutrients present too, including vitamin E, B vitamins, vitamin A, and vitamin K. You're also getting a decent amount of fiber and protein.
These nutrients are crucial, as our bodies rely on them to function. Being deficient in key vitamins or minerals leads to countless health issues and can be incredibly dangerous.
Features Of Toast
Risk: High In Carbs
The most controversial aspect of bread (and toast) is the carb content. Modern diets tend to be carb heavy, partly because we've been afraid of fat for so long.
While carbs are a source of energy, large amounts of them can lead to problems instead, including increased inflammation, spikes in your blood sugar levels, weight gain, and increased risk of diabetes.
The problems are mostly associated with refined carbs, rather than the complex carbs found in whole grains.
Bread is an interesting case here, as it is made from grains, but these are often refined first. White bread is the worst culprit, as this relies on white flour, which is produced from wheat endosperm and misses many nutrients from the rest of the grain.
Whole grain bread tends to be better, but it isn't perfect either. The grains are still often ground to make flour first, which means that they get digested faster.
Risk: Often Highly Processed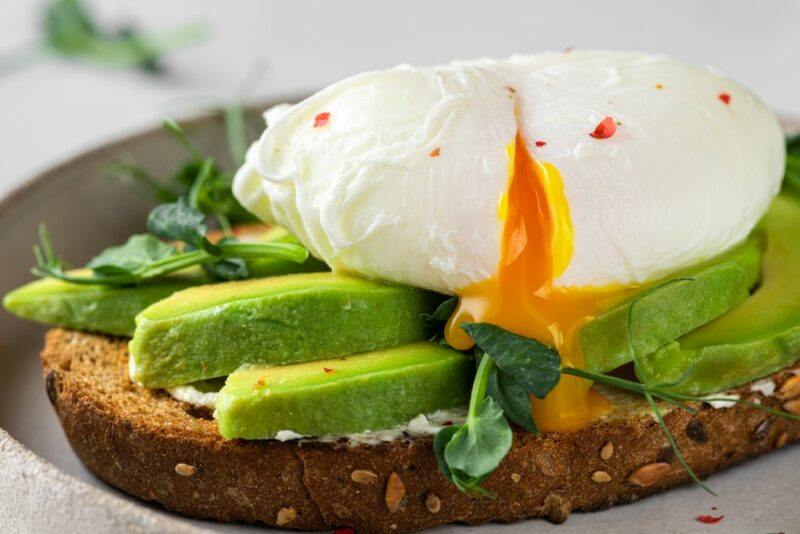 Bread tends to be pretty processed too. This pattern is worse with the packaged bread you find in local grocery stores. Not only does the bread go through countless processing steps, but it often includes some additives as well.
You'll even find a decent amount of sugar and salt in some products. While that sugar and salt do make your bread taste better, they're not healthy at all. Many of us already consume too much of both. Why would we want more in our bread?
Benefit: Boosts Energy And Mood
Our bodies use carbs for energy quickly and efficiently. This makes carb rich foods a great way to boost energy.
That's not all. Carbs also have a distinct mood boosting effect. This is the reason that we often crave carby foods when we're not feeling so good.
It's also a reason for not cutting out carbs entirely. Getting some feel goods from your carbs may be enough to keep you on track with eating healthily and losing weight. After all, carbs aren't the enemy. They can still be useful and even healthy in the right context.
Benefit: Provides Some Nutrients
Even white bread isn't devoid of nutrients. You're still getting some of the nutrients you need to stay healthy. B vitamins feature heavily, along with zinc and phosphorous.
The nutrient content isn't as good as you get with avocados or fresh vegetables, but that's okay. Small amounts of nutrients still add up and help to promote health.
Avocado Toast Itself
Avocados and toast both come with benefits and risks. So, what about consuming the two together?
Doing so has some advantages, as the fat in the avocados helps to balance the carbs from the toast. This should help to reduce any blood sugar effects. Adding extra protein as well, like putting an egg on top, is even more powerful.
Focusing on whole grain bread should provide you with some complex carbs as well, along with plenty of nutrients and healthy fats from the avocados.
The biggest catch is the calorie content. A single piece of toast and half an avocado contains just over 250 calories. Add a large fried egg on top and you're suddenly looking at closer to 350 calories.
The calorie content isn't a huge issue if you're having avocado toast as a meal. But, it's pretty high if you're using the toast as a snack instead.
Also remember that we're only talking about one piece of toast and half an avocado. That might not be enough for some people. Having more becomes a problem fast and could easily lead to weight gain.
As with any food, the trick is to be wise. You'll need to think about your portion size and how avocado toast fits into the rest of your diet.
How To Make Avocado Toast Even Better
The simplest version of avocado toast is what the name suggests – smashed or sliced avocado on toast. However, there are countless ways to vary the dish. Many of these add to the flavor and the texture, while potentially providing extra nutrients as well.
The Bread You Use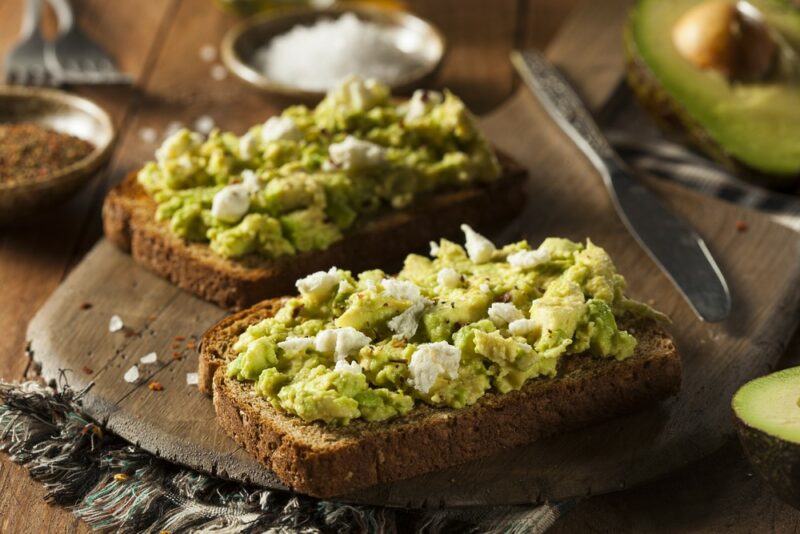 The first thing to think about is the bread. Many people focus on grainy bread, this way there is plenty of texture and flavor to contrast the avocado.
This approach should also provide more flavor and nutrients than you get with plain white bread. To make things even more interesting, why not try sprouted bread? The sprouting process makes the grains more digestible. Some products don't even use flour at all, like Ezekiel bread.
You could also make a keto version of avocado toast. Doing so is as simple as swapping out the regular bread for keto bread instead.
Keto bread is never quite the same as regular bread, but some recipes get surprisingly close. Plus, with delicious avocado on top, the difference shouldn't matter much at all.
Focusing on keto bread also decreases the carb content dramatically, making avocado toast much healthier.
Seasonings And Sauces
A little salt and pepper are all you need to make your avocado toast shine. Coarse salt is particularly good, as it provides a fantastic texture contrast. You could even experiment with Himalayan salt to make the dish taste better still.
You could also play around with other types of seasonings, like paprika or a dash of chili powder. Don't forget about sauces and dressings either. These are an easy way to add flavor, especially if they're already prepared.
Toppings
Toppings are where it's at. Rather than sticking to plain avocado toast, why not add some more ingredients?
Chopped cherry tomatoes are a fantastic place to begin. Cheese is a popular addition too. Feta cheese works exceptionally well, as it gives you a salty contrast to the creamy avocado.
What about protein? Egg is a popular choice here. You could try scrambled eggs or even a whole fried egg. Salmon, bacon, or salami work well for extra protein too, either on their own or with other ingredients.
Protein rich toppings also make your meal more filling, while balancing out the rest of the macronutrients. The protein hit could even turn avocado toast into a full meal, rather than just a snack.
You could make things more complicated still, like by preparing Caprese salad as a topping or perhaps some salsa. Avocado pairs well with plenty of ingredients, so the number of combinations is almost limitless. Why not experiment to find some new combinations for yourself?
Is Avocado Toast Good For Breakfast?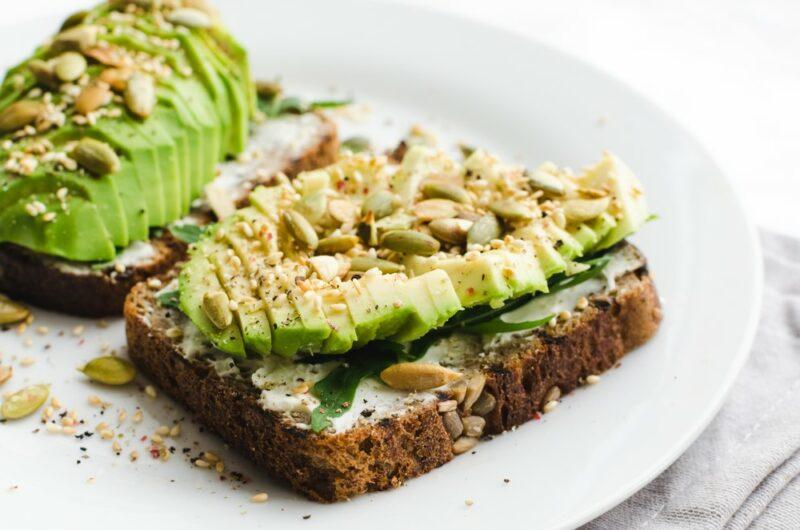 Breakfast is the meal that sets us up for the day, but it's surprisingly difficult to get right. Some of us skip breakfast entirely, while others look for something convenient, like cereal or toast.
The most important thing is finding the breakfast that works for you. You're looking for something that helps to keep you full and gives you sustainable energy. The last thing you want is an initial sugar buzz, followed by a crash a few hours later.
Avocado toast works well here, as the from the avocado balances out some of the carbs from the toast. Add some extra protein and you've quickly got a filling breakfast that isn't difficult to prepare.
Should You Eat Avocado Toast?
There's no getting away from it – avocado toast comes with many benefits. It's also easy to make and tastes amazing.
Many of the problems with the meal come from the bread. They can be easily resolved by focusing on a multigrain or sprouted grain product or by using keto bread.
Beyond that, there's really just the calories to think about. The high calorie content simply means that you need to plan. Think about how much avocado toast you want in a serving and how that fits into the rest of your diet.
Frequently Asked Questions
Is Avocado Toast Good For Weight Loss?
Avocado toast has some benefits for weight loss, as the avocados provide plenty of healthy fats, which have a satiating effect. It's not all good news, though, as avocados are also high in calories.
The calories could easily be an issue if you're hoping to lose weight. Plus, avocado toast is relatively low in protein. This means it isn't nearly as satisfying as you'd expect for the calorie content.
If you want to use avocado toast for weight loss, try serving an egg with it as well. While the egg adds to the calorie content, it also gives you a more satisfying meal.
Is Avocado Toast Good For Diabetics?
Avocados themselves work well for diabetics, with a low glycemic index of just 15. The toast portion isn't as attractive, as it's higher in carbs and has a greater blood sugar impact.
However, serving avocados with toast does decrease the effect on your blood sugar levels. The meal is particularly good if you focus on whole grain or sprouted bread, as the grains have many long term benefits for diabetics.
Is Avocado Toast Keto?
While avocados are keto friendly, bread isn't, which makes avocado toast a poor keto choice. Still, there are some workarounds. One approach is to focus on thin pieces of bread, particularly those that are low in carbs.
Or, you could simply focus on keto bread instead of the conventional variety. There are now plenty of products and recipes out there, including many types of keto seed bread. The low carb content of these types of bread makes them ideal for making keto avocado toast.
Does Avocado Toast Have Protein?
Avocado toast gets some protein from the bread and the avocados, but not a huge amount. You're often just getting around 4 grams of protein per serving. That's not enough to make it a balanced meal.
To get around this, many people add a high protein ingredient on top of an avocado. An egg is the obvious choice, although you could also turn to tuna, chicken, or refried beans.
Is Avocado Toast Vegan?
Avocados themselves are certainly vegan friendly, while the basic recipe for bread is vegan friendly as well. This means that avocado toast is often suitable for vegans (as long as you're not topping it with an egg). It's important to pay attention to the bread though, as not all bread products are vegan.
Thankfully, sliced bread is generally safe, including the brands you get from local grocery stores. If you're concerned, look for companies that have vegan values. This way you know they'll never suddenly change the ingredients on you.