Sourdough bread has a long history. It's one of the oldest types of leavened bread, one that we've been eating for thousands of years. And, while most types of bread are going out of fashion, sourdough has seen a resurgence of interest. This begs the question, is sourdough bread good for you?
To begin with, we need to talk about the bread itself.
Sourdough is easier to make than most types of bread. Rather than relying on baker's yeast, sourdough uses a starter to grow wild yeast. The process leads to lactic acid production, which gives sourdough the tangy taste that it's well-known for. This means you don't need to rely on a bread machine or even a bread cookbook.
This difference in approach could make sourdough healthier than other types of bread, although could is the operative word. And, even if sourdough is healthier, we still need to look at whether it's a good addition to your diet.
Is Sourdough Bread For Your Health?
The Benefits Of Sourdough Bread
Why Sourdough Bread Isn't All That Amazing
Is Sourdough Bread A Probiotic?
How Do These Features Balance Out?
What Can You Eat Instead Of Bread?
Final Thoughts
The Benefits Of Sourdough Bread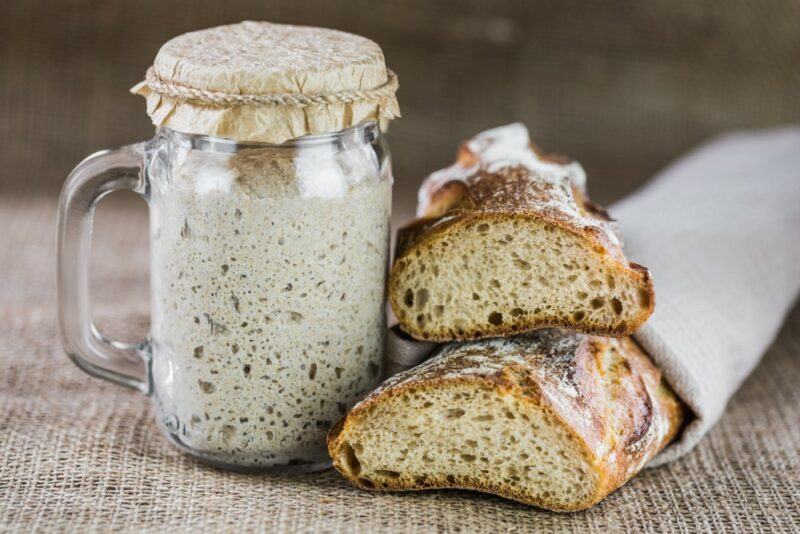 You Can Easily Make It At Home
If you want to make bread at home, sourdough is one of the easiest places to begin. Rather than dealing with commercial yeast, you're using a starter instead. And, to make things even easier, sourdough recipes often don't require any kneading.
What could be simpler?
The main challenge comes from getting your sourdough starter. Some people choose to buy these online or get a portion of starter from a friend that makes sourdough regularly.
It's also possible to make your own starter. Doing so takes a bit more work, but it isn't as bad as you might expect. The site Feasting at Home offers an easy recipe for doing so here.
The ability to make sourdough at home is useful for health too. After all, homemade foods are often better for you than the preservative-laden products that you find at the store. Plus, when you make the bread yourself, you can be confident about its freshness and all the ingredients that went into it.
It May Be Healthier Than White Bread
The lactic acid in sourdough gives it some advantages over white bread, even if your sourdough relies on white flour too.
For one thing, sourdough bread is more digestible. This is because the lactic acid interacts with some nutrients in the bread, increasing their availability. You may absorb more of some nutrients, including folate, magnesium, and potassium.
The fermentation also helps with B vitamin levels. These vitamins are important for your energy metabolism. If you regularly feel sluggish or fatigued, that could be because your B vitamin levels are low.
It's easy to see how that could be a helpful effect.
The lactic acid helps in another way too, by increasing the antioxidants in the bread. You've heard about antioxidants, right? These plant-based compounds may help to protect you from free radicals and even decrease your risk of some diseases.
That's not all. The bacteria used to make sourdough influence the structure of some molecules in the bread. The process decreases the glycemic index of the bread, meaning that the bread doesn't spike your insulin levels as high as regular white bread.
May Improve Your Digestion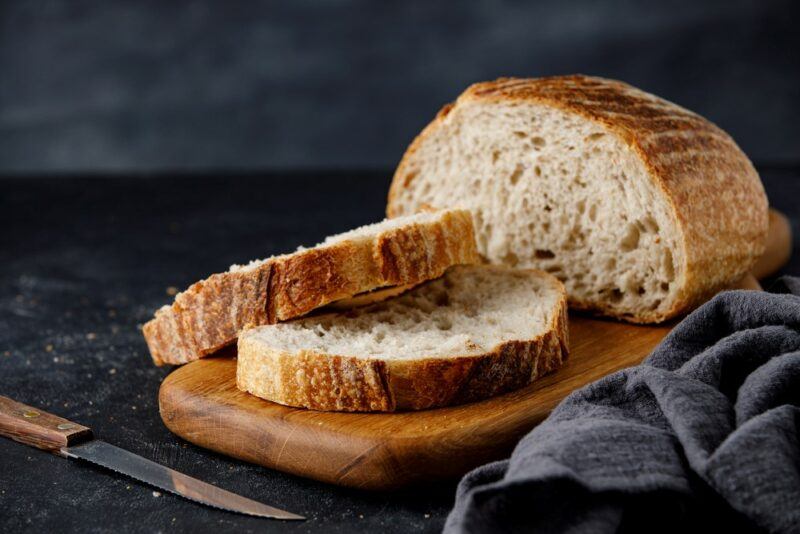 Sourdough bread isn't just easier to digest than regular bread, it may also help your digestion. This is because sourdough contains prebiotics, which help to feed the healthy bacteria in your gut.
Lower In Gluten
The way that sourdough is made influences the gluten in the bread too. You end up with less gluten from a piece of sourdough bread than from a similar piece of white bread.
This effect is useful for anyone with mild gluten intolerance. Some find that sourdough bread is easier to digest than other types of bread, giving them fewer symptoms or even none at all.
You Can Make It With Whole Wheat Flour
Sourdough traditionally uses white flour. However, you can tweak the recipe and use whole wheat flour instead. Doing so will make the bread more nutritious and increase its fiber content.
You might get lucky too and find a store that sells whole wheat sourdough bread.
A whole wheat version of sourdough could promote health in even more ways, such as by decreasing disease risk and promoting healthy aging. After all, studies regularly show these effects for diets that are high in whole grains.
Contains Fewer Preservatives
Companies often add preservatives to make their bread last longer. Sourdough needs fewer preservatives than most other types of bread, due to the acetic acid. This acid naturally protects the bread, making it last longer.
Plus, you can often find sourdough made by artisan bakers, who are unlikely to use many preservatives. This gives you an even healthier product, one that's certain to taste amazing too.
The Flavor
The final benefit of sourdough is also the most obvious – it tastes delicious. Many people prefer the flavor and texture of sourdough over regular bread.
If you're not convinced, why not try some freshly made sourdough for yourself? We're not talking about the stuff from the grocery store that's been sitting on the shelf for a day or two. Try to find a bakery that makes the bread each morning. Or, if that fails, try making sourdough yourself. You won't regret it.
Why Sourdough Bread Isn't All That Amazing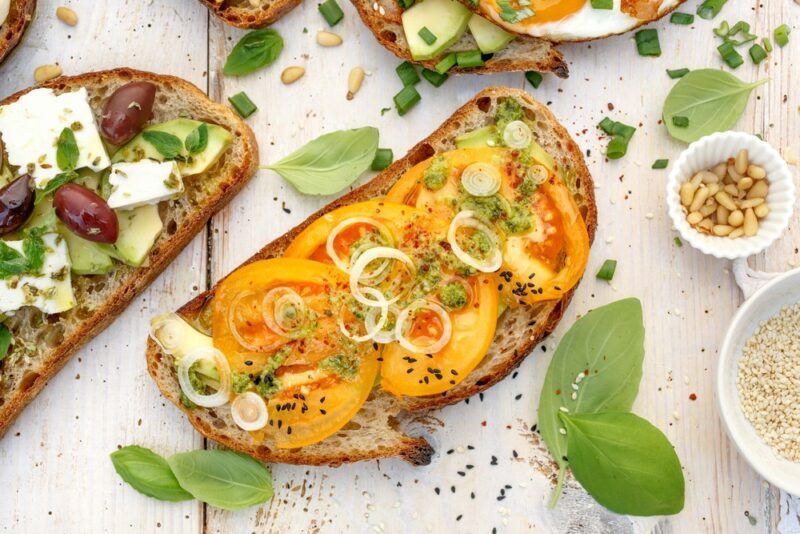 It's High In Carbs
Sourdough has some advantages over regular bread, but at the end of the day, it's still a type of bread and has the problems that come with that, including the carb content.
Carbs are a controversial topic these days.
On one hand, some carb rich foods may be good for you, giving you plenty of nutrients and helping you to stay healthy. Legumes and whole grains are particularly important here (although, as you probably know, there's some debate about both of these food groups).
Conversely, high carb diets might increase inflammation, raise your risk of obesity, and lead to some diseases. This is especially true for diets rich in refined carbs and processed foods.
And, while sourdough bread appears to be a healthy homemade food, it's often made from white flour, which is highly processed. The bread is also rich in simple carb. These are quickly digested and can spike your blood sugar.
Sourdough bread made from whole grain flour may be healthier, giving you more fiber and some complex carbs. Even here, you're still getting some simple carbs, so the bread may still have some negative effects.
It Still Has Some Gluten
While the fermentation process decreases the amount of gluten in sourdough bread, there's still a decent amount of gluten left. This means that anyone with celiac disease and anyone who is highly gluten sensitive may need to avoid sourdough entirely.
Because people respond differently, you may need to experiment with sourdough bread to find out whether you can tolerate it. For some people, sourdough may be a fantastic alternative to regular bread. For others, it will be a complete no-go.
Sourdough Bread Isn't That Nutritious
Sourdough might be better than regular white bread, but you're still not getting a large number of nutrients. This is particularly true for sourdough made from white flour, as you're not even getting that much fiber.
In the end, sourdough bread is a slightly healthier version of regular bread. It's never going to be a superfood or an incredibly healthy choice.
The Starter Can Become Contaminated
You can safely make sourdough at home, giving you a delicious fresh loaf of bread. While the bread is easy enough to make, you need to be cautious to make sure that the starter remains uncontaminated.
If your starter doesn't bubble, if it seems fuzzy, or if it develops some strange colored patches, then it's time to throw the starter out and begin again. Don't ever make bread with a contaminated starter, as the bread could easily make you sick.
Is Sourdough Bread A Probiotic?
Sourdough bread is sometimes called a probiotic food because it's fermented, but that claim isn't accurate.
Probiotics all have one key feature – they contain live beneficial microbes. This isn't the case for sourdough, as the healthy microbes are all destroyed during the baking process.
However, sourdough does contain prebiotics, so it can still promote good gut health.
How Do These Features Balance Out?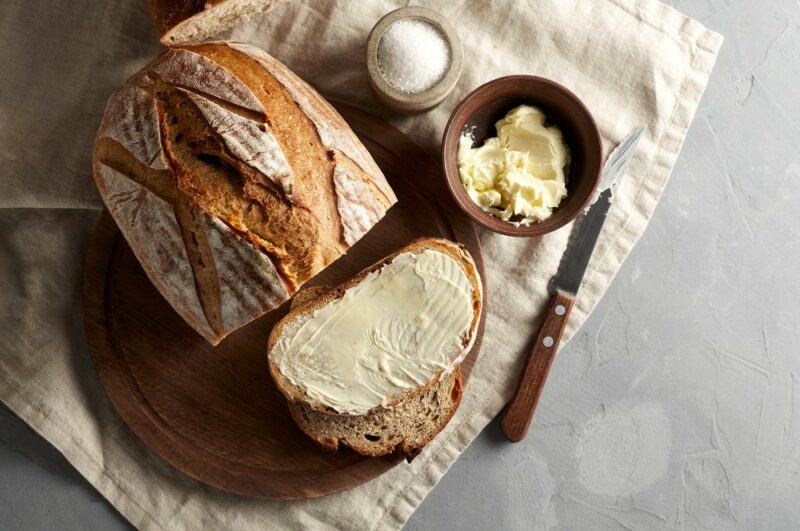 As you can probably tell, sourdough isn't an amazingly nutritious food. And, while sourdough is healthier than regular bread, the difference isn't that dramatic.
So, what does that mean for your health?
Well, unless you have celiac disease or are extremely sensitive to gluten, you should still be able to eat sourdough bread. Doing so might even be helpful, as bread is an easy way to increase your intake of many nutritious foods.
Take sandwiches as an example. They're often packed with plenty of vegetables and perhaps some lean protein. The bread provides a nice contrast to the texture and flavor of the vegetables, giving you a delicious and easy meal.
Combining vegetables and bread in this way reduces the impact of bread on your blood sugar and gives you a much more stable release of energy.
What Can You Eat Instead Of Bread?
If you're worried about the simple carbs or gluten in bread, you might want to use something entirely different. Thankfully, there are plenty of foods that can be used just like bread.
Lettuce is a common option these days. You may even see fast food chains using lettuce leaves instead of bread for their wraps. You can even make burgers using hunks of lettuce instead of burger buns.
Some people take a different approach entirely and use meat instead of bread. This is a fun option for keto dieters, although doing so does increase the calorie content of your meal.
Don't be afraid to get creative. You can replace bread with countless things, even if the taste and texture aren't the same. For example, some people use slices of cooked sweet potato as the base for an open-face sandwich.
Alternatively, some recipes give you a bread-like loaf, but one that is quite different to regular bread. For example, you can make zucchini bread, cauliflower bread, and cloud bread. These all tend to be low in carbs, making them ideal for keto dieters.
Final Thoughts
Sourdough bread could never be called a health food. While it's healthier than regular bread, it still has most of the same problems, including the gluten content and being high in carbs.
Even so, if you can tolerate sourdough, there's no need to cut it out of your diet. The bread is easier to digest than other options and can be used to create some amazing sandwiches.
Besides, when it comes down to it, your health isn't determined by the individual foods that you eat, but by your diet as a whole. You don't need to optimize every single food that you eat to be healthy. In fact, so-called unhealthy foods like bread can be helpful if they increase your intake of healthier foods, like vegetables and legumes.