When we hear root vegetables we readily think of carrots, potatoes, onions, beets, radishes, and the like. Right? As the name suggests, those are vegetables that grow underground, and it's actually true that is exactly what we consider root vegetables. Apparently, though, there is such a thing as true roots and non-roots – the former includes taproots and tuberous roots (examples include carrots, beets, and radishes), and the latter includes bulbs, corms, rhizomes, and tubers (examples include onions, potatoes, taro). One thing remains the same though – both serve as storage organs to supply nutrients for the plant.
Root vegetables are low in calories and high in antioxidants, having said that most are also starches. This is why you've been probably advised to stay away from them if you're trying to cut down on carbs. But the thing is you do need carbohydrates, so what's better than getting your carbs along with vitamins and minerals as well, right? The key is always eating in moderation, keep an eye on portion control. You don't have to stay away from root vegetables entirely even if you're on a low-carb food diet.
Root vegetables are rich in vitamins, minerals, fiber, and antioxidants. The brightly colored ones contain carotenoids that are good for the eyes and may even lessen the risk of certain cancers. They may have earned a bad rap for being starchy but it doesn't discount the fact they do contain nutrients that are good for us. Having said that, here's a list of 13 root vegetables that you can include in your diet. If you're looking to start shopping for some root veggies, check out these 10 websites that sell fresh vegetables online.
Types of Root Vegetables
Beetroot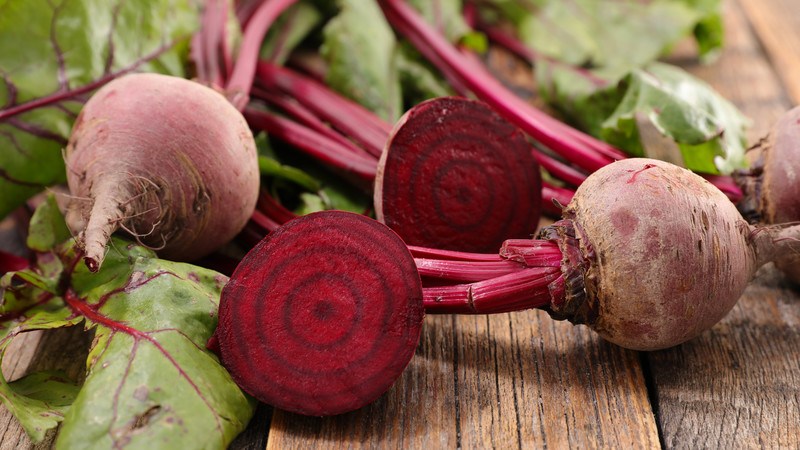 Also called beets, table beet, garden beet, or simply beets. It is the taproot of the beet plant. Its skin and flesh are usually dark purplish red, though some like Chioggia beets have striped red and white flesh, and the yellow or golden ones have yellow flesh. It can be eaten raw, boiled, steamed, or roasted.
It contains fiber, folate, manganese, iron, potassium, and Vitamin C. One of the beneficial plant compounds found in beetroot is inorganic nitrates which can help in lowering blood pressure, improving blood flow, and increasing exercise capacity.
Carrots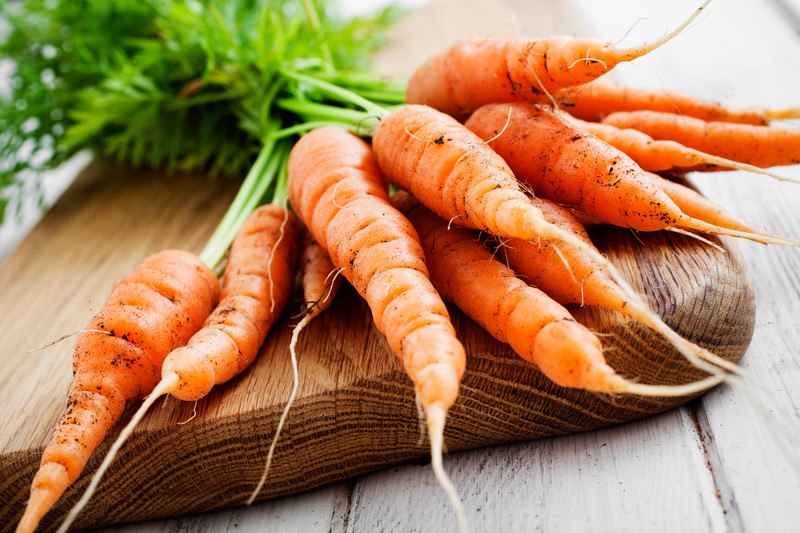 The most common ones are orange in color but they also come in purple, red, white, yellow, and even black colors. Carrots' taste may vary according to color, size, and where it's grown but generally, they taste slightly sweet and earthy with hints of bitterness.
It's a good source of beta carotene, lutein, fiber, vitamin K, potassium, and antioxidants. Carrots are good for improving eye health and reducing the risk of heart diseases and cancer.
Celeriac
Celeriac is a variety of celery and is also called celery root, turnip-rooted celery, or knob celery. This yellowish or green or off-white odd-shaped root has a noticeable celery taste with nutty overtones. It is commonly used in salads, casseroles, soups, and stews.
It's rich in fiber, vitamin B6, vitamin C, vitamin K, phosphorus, potassium, and manganese. Celeriac helps in improving gut, bone, and heart health. It may also contain anti-cancer properties.
Fennel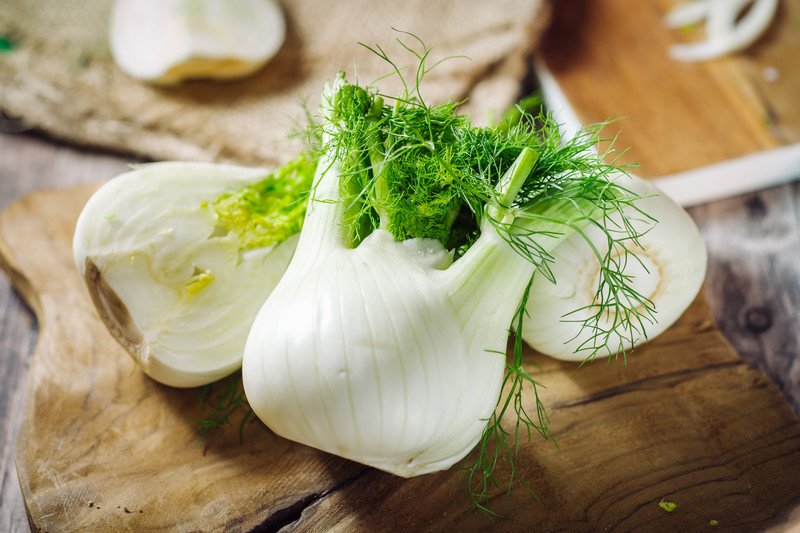 Fennel is a flowering plant that belongs to the carrot family. It has green feathery leaves, yellow flowers and white bulb. Fennel's leaves, stalks, and bulbs are all edible. It has a somewhat sweet, licorice, and anise flavor.
Fennel contains, fiber, potassium, folate, vitamin A, B6, and C, selenium, choline, and phytonutrient. It's good for decreasing the risk of heart disease, reducing chronic inflammation, boosting metabolism, and promoting regularity in bowel movement.
Garlic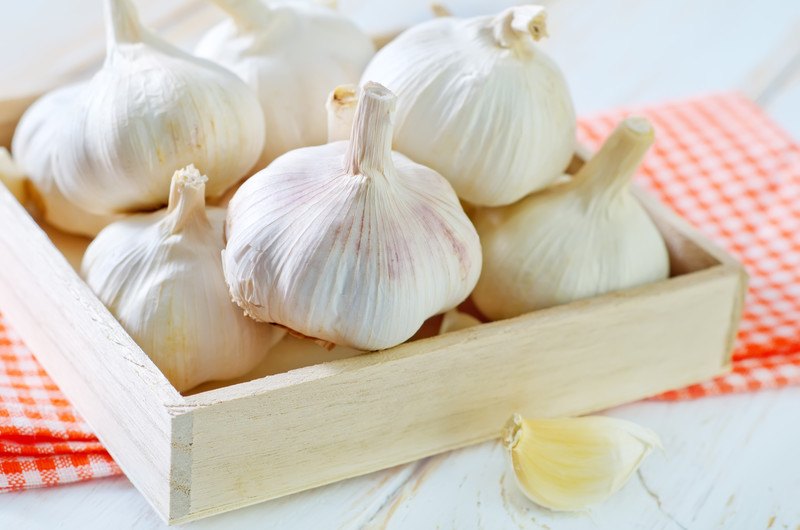 Garlic is a close relative to onion, shallot, chive, and leek. It is one of the most common seasonings in the world. Its bulb is shaped like an onion but is ridged and are divided into segments called cloves. Some garlic has white skins while some have a tint of purple or red to it, the flesh however is ivory-colored.
It's rich in vitamin B6 and C, manganese, selenium, phosphorus, calcium, copper, iron, and potassium. Garlic helps in lowering blood pressure, reducing the risk of heart disease, and improving memory. It also has antimicrobial and antifungal properties.
Ginger
Ginger is another flowering plant for which the rhizome is widely used as a spice. It's a close relative to turmeric and galangal. It is firm, knotty, and rough to the touch. The skin is light brown or cream-colored with yellowish flesh. It has a pungent and mildly spicy flavor with a hint of pepperiness and sweetness.
It is high in gingerol and also contains vitamin C, thiamine, riboflavin, niacin, iron, calcium, and phosphorus. Ginger has anti-inflammatory and antioxidant properties. It can reduce nausea, improve digestion, relieve menstrual pain, treat migraines, reduce the risk of heart disease, and may also help as well in preventing cancer.
Onions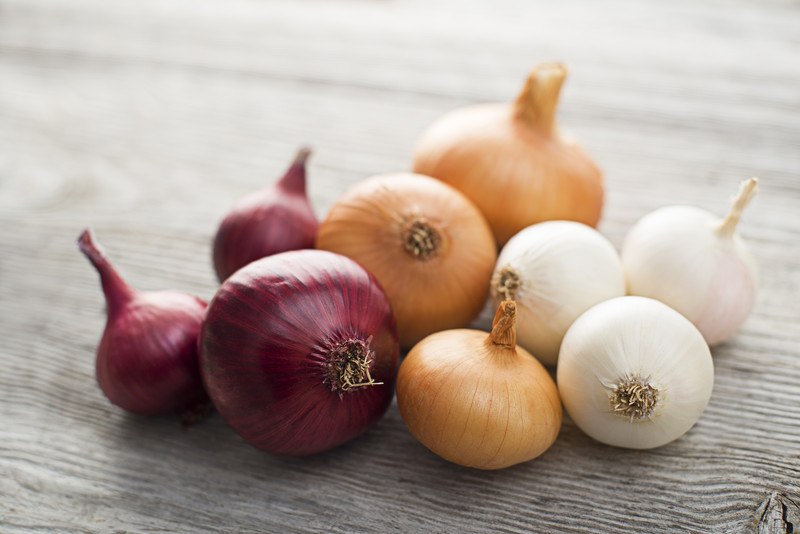 There are many varieties of onions, but all of them have papery layers of outer skin called tunics followed by multiple layers of bulb scales. The flesh ranges from white to yellowish in color. Like garlic, it has a pungent flavor. Depending on the variety, it can be astringent with hints of sweetness and spiciness.
Onions are a good source of vitamin C, vitamin B6, and manganese. It also contains small amounts of calcium, folate, iron, phosphorus, and potassium. It's good for fighting inflammation, reducing cholesterol levels and high blood pressure, controlling blood sugar, and contains cancer-fighting compounds.
Potatoes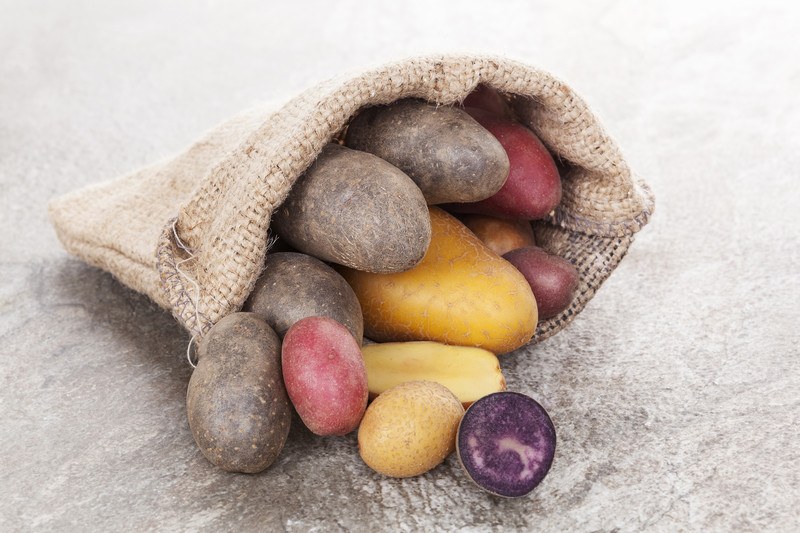 Potatoes come in different varieties, in fact, there are close to 4,000 known varieties of potatoes. These tubers can be categorized into main groups based on characteristics such as russet potatoes, red potatoes, white potatoes, yellow potatoes, and purple potatoes.
It is rich in fiber, vitamins, minerals, and antioxidants (which are found 12 times more in the skin of the potato than in its flesh). It also contains resistant starch which may help in improving blood sugar and digestive health. It can also help decrease the risk of heart disease and lower blood pressure.
Parsnips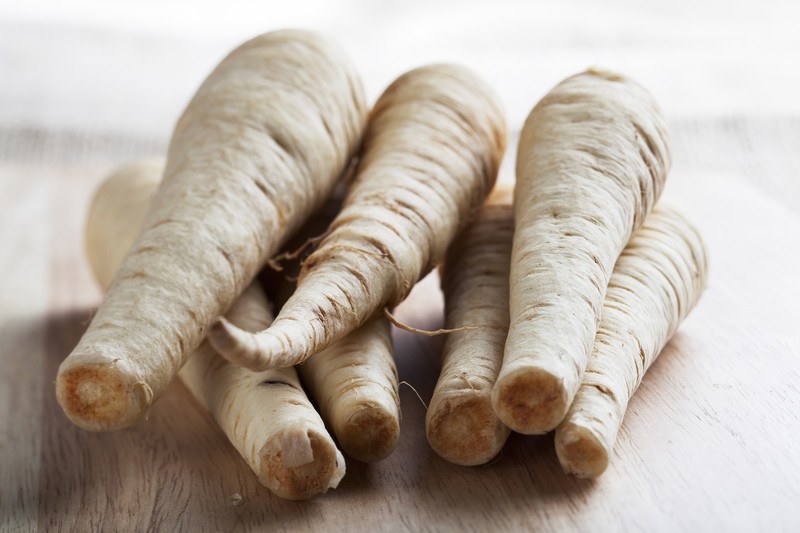 This root vegetable is a close relative of carrots. It actually looks similar to carrot, only it's cream-colored with white flesh underneath. It also tastes quite similar to carrots, but parsnip has an earthier and nutty flavor.
Parsnips contain vitamin C, potassium, folate, and fiber. It helps balance blood pressure, lowers the risk for kidney stones, helps heart function, and promotes a healthy gut.
Radishes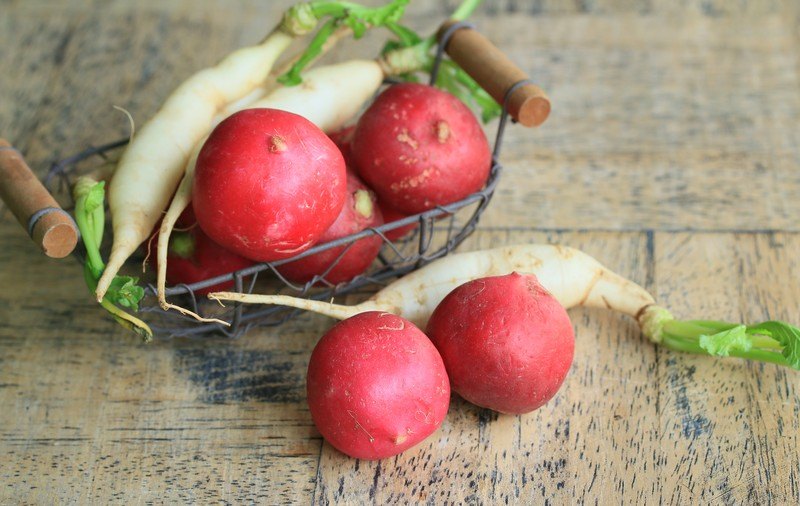 Radish comes in a variety of sizes and colors. It appears quite similar to turnips with a bulb shape. However, there are also some varieties that are more elongated or taper like carrots. Colors can vary from pink, red, purple, golden, to white. It tastes quite spicy with a crisp, peppery, and zesty flavor when raw.
Radish is a good source of antioxidants, natural nitrates, and minerals like potassium and calcium. It helps in lowering blood pressure, improving blood flow, and reducing the risk of heart disease. It also supports a healthy digestive system and contains antifungal properties.
Sweet potatoes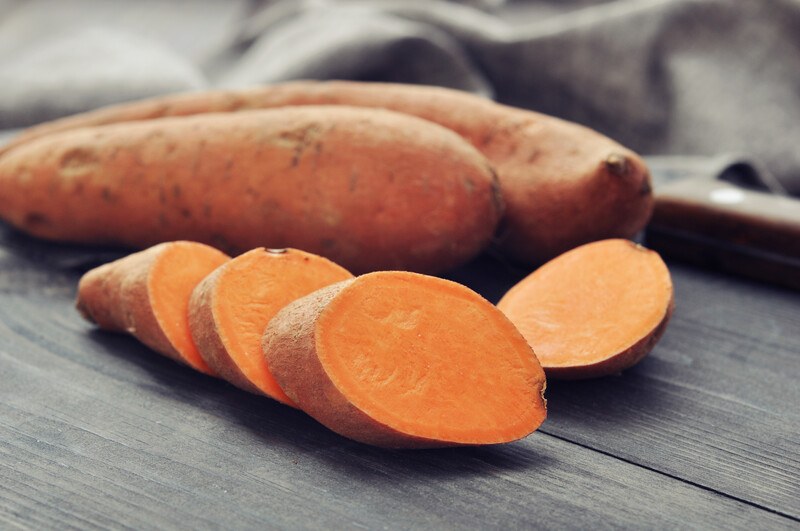 The orange variety is oftentimes called yam, but is not of course related in any way, to true yam. Sweet potatoes belong to the bindweed or morning glory family. It is distantly related to the common potato. Skin color varies from yellow, white, red, purple, to brown. The flesh however can appear white, yellow-orange, or orange-red.
It is rich in fiber, vitamins, minerals, and antioxidants. Sweet potatoes help in promoting gut health, support healthy eyesight, and boost the immune system. It may also help in fighting cancer and enhancing brain function.
Turmeric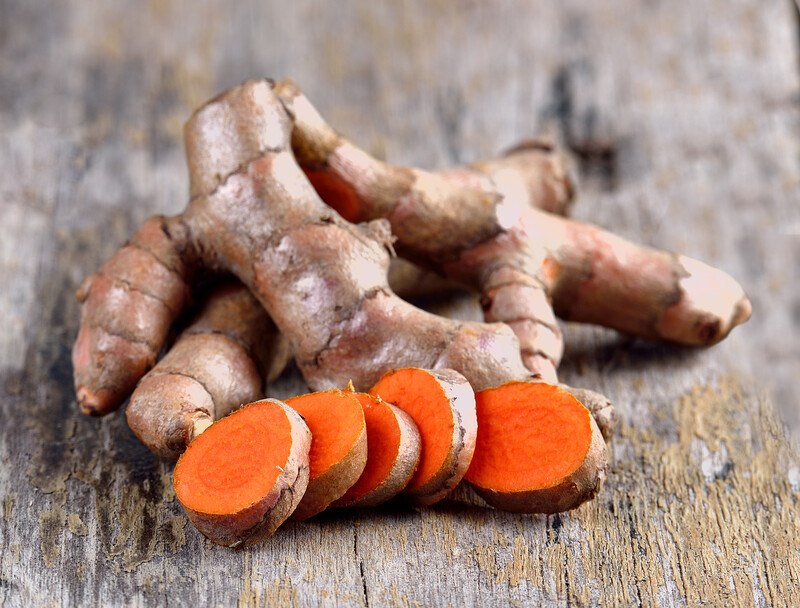 A close relative to ginger and galangal, turmeric is also a flowering plant. The rhizome looks a lot like ginger perhaps a little darker in the skin and the flesh is bright yellow-orange to orange. Turmeric has a warm and bitter taste with peppery notes. It also provides a golden color to dishes and teas.
Turmeric contains vitamin B6, vitamin C, calcium, iron, magnesium, zinc, and phosphorus. It also has curcumin which has powerful anti-inflammatory effects and also a strong antioxidant. Turmeric can potentially improve heart health and prevent Alzheimer's and cancer.
Turnips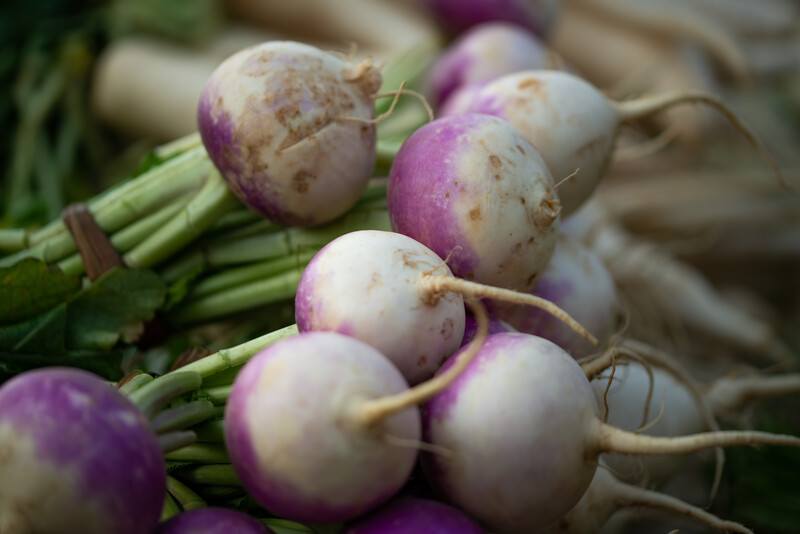 This white and purple root vegetable may look a lot like rutabaga however turnips are comparatively smaller. In its raw form, it has a slightly bitter and spicy taste. Once cooked through, it turns somewhat sweet, earthy, and nutty like cooked potatoes.
It is loaded with B vitamins, vitamin A, C, E, and K, calcium, copper, iron, magnesium, manganese, phosphorus, and potassium. Turnips can help with relieving intestinal problems, lowering blood pressure, aiding weight loss and digestion, and reducing cancer risk.
Why Roots Vegetables Are Good for You
Dietary power-house
They have the ability to hold concentrated amounts of nutrients like vitamins and antioxidants. Add to this the fact that they are low in calories. A cup of mashed turnips for instance can give you as much calcium as half of a slice of cheddar cheese would, amounting to 76mg with only 51 calories.
Rich in fiber
Root vegetable contains soluble fiber and prebiotic soluble fiber. These act as food for the colon bacteria when fermented. These good bacteria in turn do not only help with gut health but the body's overall health as well.
Good snack alternative
Raw carrots for instance or baked sweet potato chips are way healthier snack alternatives than chocolate cookies or crackers. If you're going to stuff yourself with carbs might as well choose the good ones, opt for low glycemic foods.
Shelf-stable
Did you know that root vegetables can last for months? That is if the storage condition of 32-40 degrees Fahrenheit and 95% humidity can be maintained. You can use your basement, crawlspaces, garage, mudroom, or anywhere in the house that stays cool but does not freezes. If you're going to use them within a matter of days then you can of course simply use your pantry or the vegetable crisper in your fridge. Blanching and freezing them can also make them last for months.