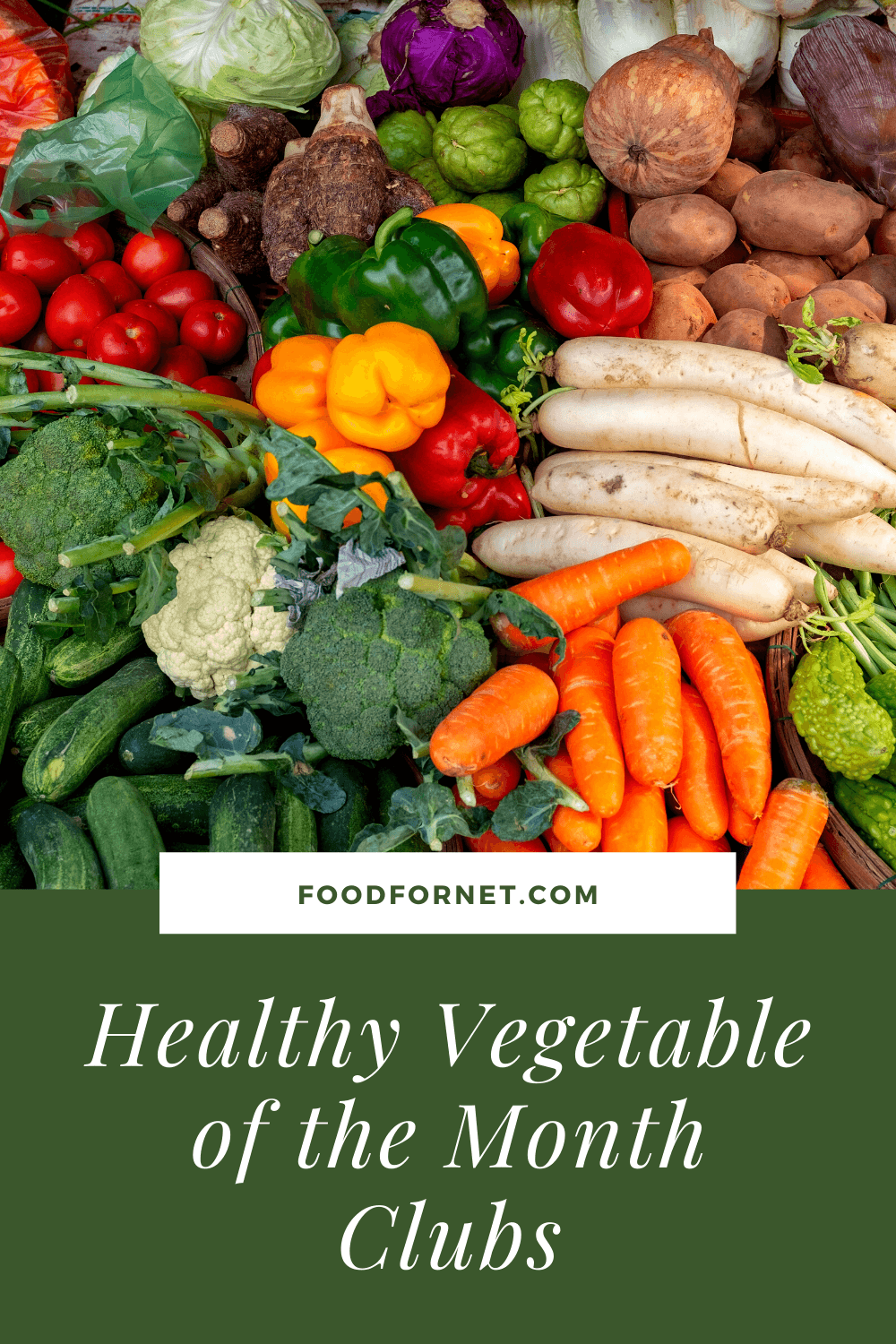 Vegetable of the month clubs provide the chance to enjoy a variety of fresh produce delivered straight to your door. Many will also give you the chance to try out new vegetable varieties that you might not have seen before. But, before we get into the clubs, let's talk a little about vegetables themselves.
Vegetables can be defined as the edible portion of a plant, include the leaves (lettuce), flowers (cauliflower), root (carrot), bulb (onion), and stem (celery). Yet we include other things such as tomatoes, peppers, and eggplants, which are all technically a fruit.
When not thinking of vegetables and fruits in their botanical families, most categorize them based on their culinary use. Since peppers and tomatoes are added to more savory style dishes instead of baking or desserts, they are viewed as vegetables.
The history of vegetables began at the beginning of time, though back then, vegetables were gathered and not farmed. Each of the vegetables has a unique history, most often varying based on its original region. But one thing most vegetables have in common is that they were used for medicinal purposes.
Today, as people are becoming more health-conscious, vegetables are gaining in popularity. Though we all know the importance of eating enough vegetables, according to the CDC, only one in ten adults get the daily recommended amount.
Adults should be eating 1-3 cups of vegetables per day, depending on your caloric intake. Though keep in mind that it also varies on your age, gender, and activity level. Also, "one-cup" isn't always just one cup; it depends on the type, for example:
Raw leafy greens, like dark green leafy lettuce, spinach, and romaine: 2 cups raw = 1 cup of vegetables
12 baby carrots = 1 cup of vegetables
1 large or 2 small red peppers = 1 cup of vegetables
But don't worry, a vegetable of the month club is an excellent way to get your daily vegetable intake up to what it should be. Vegetable subscriptions are perfect for people who want the convenience of fresh veggies delivered to their door.
And if that's not enough, you can check out this list of weird vegetables and see if you can source them at a local farmers market.
Plus, a monthly vegetable club makes a perfect healthy gift for someone you love. it is not only unique, but it is also a great way to support someone's desire to eat healthily.
Vegetable of the Month Clubs
Farmbox Direct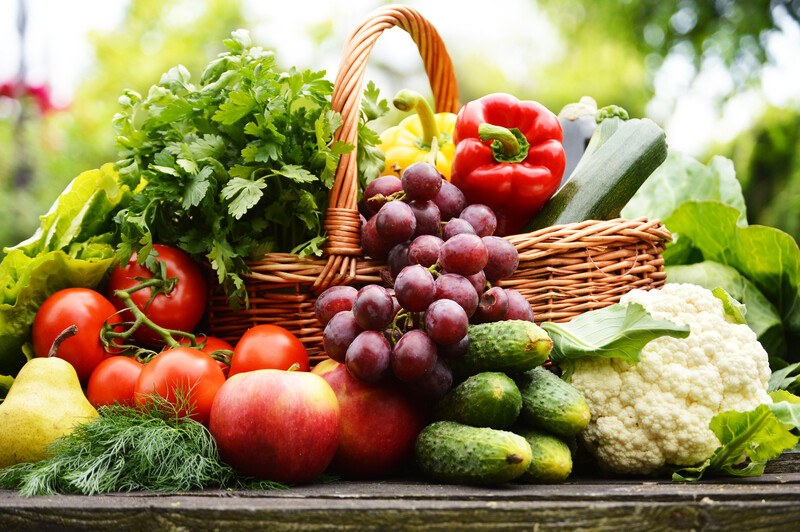 Farmbox Direct, founded by Ashley Tyrner, is a fairy tale come to life, but instead of a princess, our heroine is a CEO. In 2014, living in New York City, having lived on food stamps and now working a full-time job, plus being a single mom Tyrner realized the need for a better, more convenient way to get fresh vegetables into homes across the US.
So, in 2014, Tyrner left her NYC job and opened Farmbox Direct, which is a farm to table vegetable service. Over the last six yearsFarmbox Direct has received significant recognition in media outlets such as CNBC, Time.Com, Forbes, and Vegan Magazine.
Farmbox Direct has three different styles of boxes. Their Organic box costs from $47.95 to $68.95. Their Natural box costs between $43.95 and $53.95, while their Juice box costs $57.95.
The Juice box offers a combination of fruits and vegetables. In contrast, the Organic and Natural boxes can contain fruits and vegetables, just fruits, or just vegetables. You can also choose between small, medium, and large for these boxes.
When signing up with Farmbox Direct, you first choose which veggie box you want, then create your account. You will then select your delivery date and frequency. You can choose to have your veggie box arrive once a week or every other week. Additionally, you can pick the week that you want your first delivery.
Plus, if you don't like what's featured in the box, you can select up to five substitutions, making the service very user friendly.
Some of the veggies you may see in your box will depend on season, but you can expect vegetables like zucchini, cucumbers, carrots, potatoes, broccoli, and kale.
Raw Generation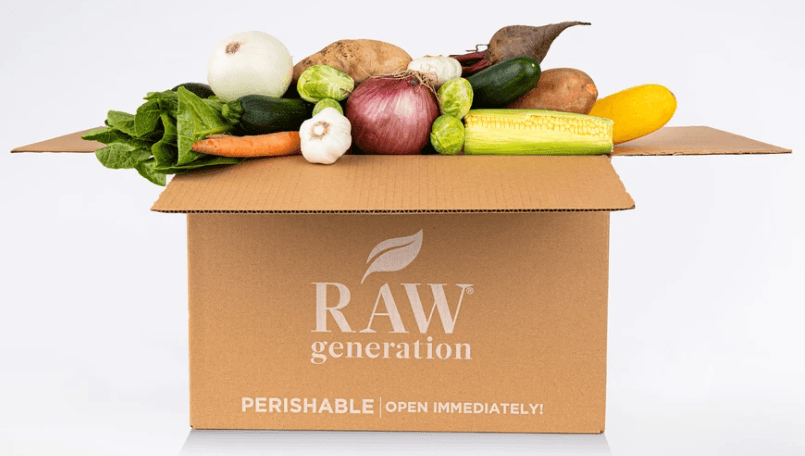 Raw Generation was founded in 2012 by Bill and Jess, a father and daughter team. The two started exploring different nutrition options in 2010 when both of Jess's grandmothers died within six months of each other.
For the two founders, the loss of their family members was a significant point in their lives revealing the harsh reality that nutrition is critical for our well-being.
Though their journey first began as a research mission, their research bloomed into the start of Raw Generation. And between their shared knowledge and experience, they changed and idea into a company.
Though Raw Generation is best known for its hand-made small-batch juice selection, they also carry other items such as cleanse programs, immunity shots, apple cider vinegar drinks, hand sanitizer, and smoothies.
Plus, Raw Generation also offers a fresh produce box, available as a combination of fruit and vegetables, just fruit, or just vegetables. The vegetable box costs $78.39 when you sign up for a subscription.
Raw Generation has a variety of delivery options ranging from every week to every twelve weeks. Each box will contain 25 pounds of vegetables. Though the boxes vary based on the season, most will include:
Avocados
Brussels sprouts
Carrots
Cauliflower
Corn
Cucumbers
Garlic
Onions
Potatoes
Squash
Zucchini
Harry & David

Harry & David, founded in 1934 in Oregon's Rogue River Valley Area, is a long-time family business that prides itself on being an industry leader in the gourmet gift market. Over the years, Harry & David has expanded not only their orchards but also the business as a whole.
The once mail-order company still owns the Oregon orchards where it got its start, but now has more than 40 stores worldwide and hundreds of products available online. Some of the delicious and decadent options Harry & David offer are:
Gift towers and baskets
Baked goods like cookies, cakes, and desserts
Chocolates and candies
Full gourmet meals
They also offer a wide variety of subscription boxes, including a vegetable of the month club. There are three club duration options: 3 months for $119.99, 6 months for $224.99, and 12 months for $424.99.
Shipping is not included in the prices listed above.
Each month you will receive a different fresh pre-selected vegetable, some of the varieties include:
Shiitake mushrooms
White asparagus
California haas avocados
Sugar snap peas
Kabocha squash
Colorful cauliflower
Plus, if you want, you can upgrade the first delivery to replace that month's vegetable with a basket of baby vegetables.
Organic Vegetable Club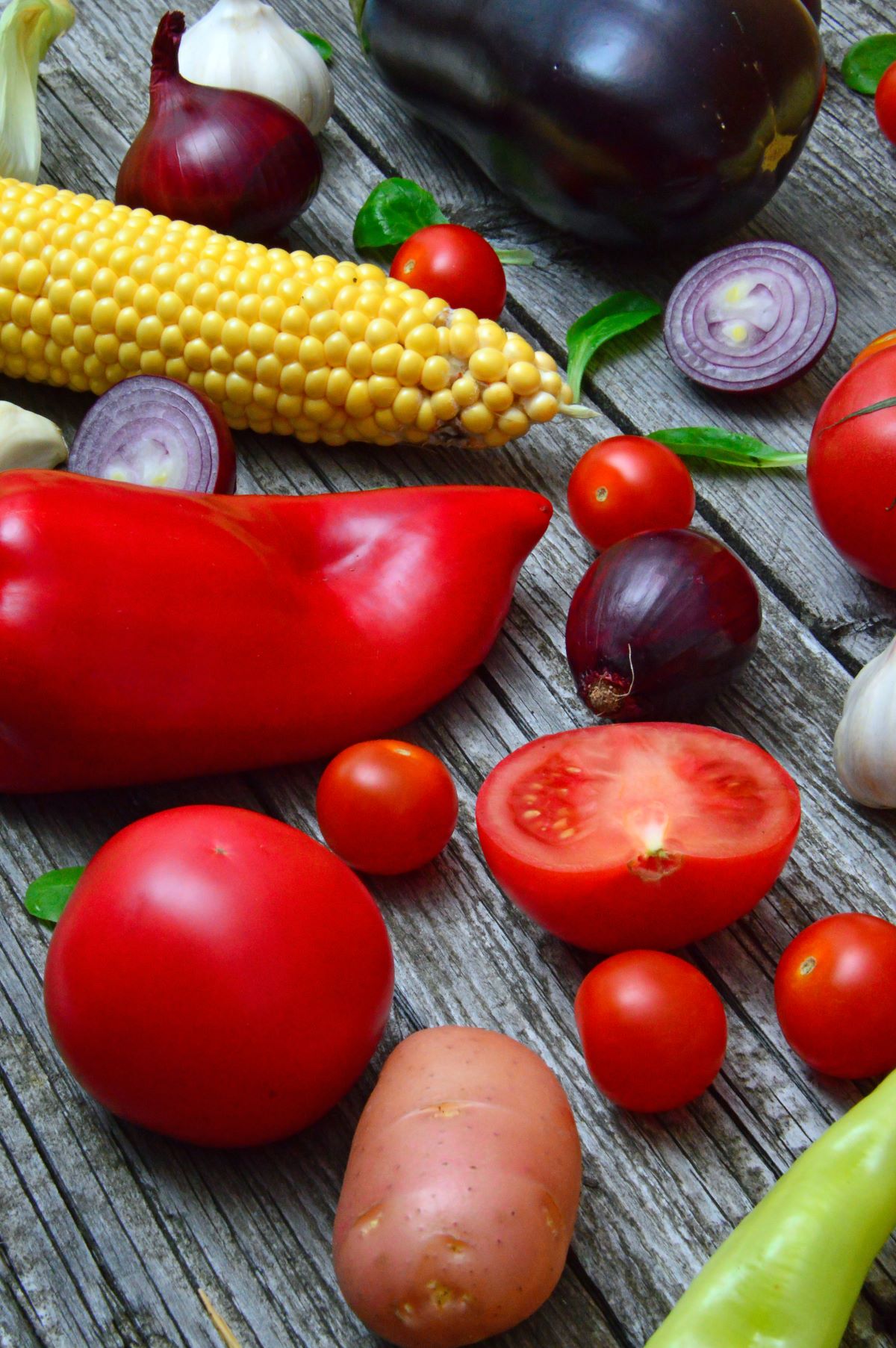 The Organic Vegetable Club, founded in 1989, is one of the oldest mail-order vegetable clubs in the US. Those at the Organic Vegetable Club company pride themselves on sharing their passion for healthy organic vegetables with the world.
The Organic Vegetable Club ships all over the US as well as to select international locations. There are two different size vegetable subscription boxes 5 pounds and 10 pounds. All of the boxes contain organic vegetables and range in duration options from 1 month to 12 months.
Prices range from $49.99 (1 month for 5 pounds) to $839.99 (12 months for 10 pounds).
Olympia Provisions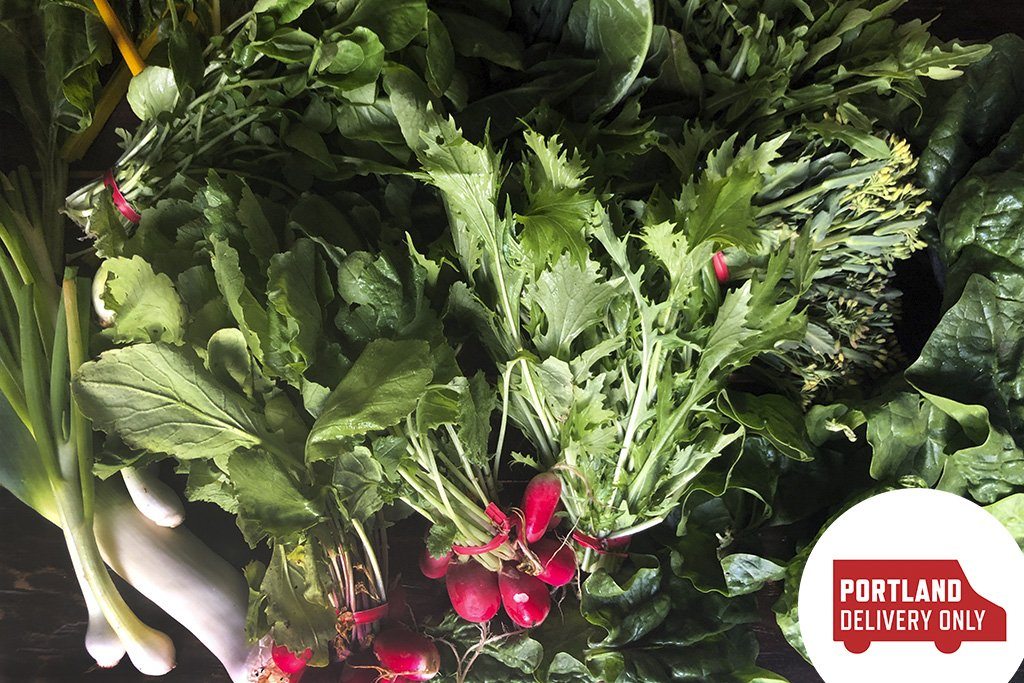 Olympia Provisions, located in Portland, Oregon, was founded in 2009 by Salumist Elias Cairo. It started with Cairo's love of charcuterie, which came from watching his father make sausage when he was a child. His interest in charcuterie only grew stronger with age, and eventually taking Cairo on a journey to Europe where he further studied this culinary art.
Today, Olympia Provisions hosts an online store as well as two Portland restaurants. Also, they sell to numerous markets and boutiques throughout the country. Some of the gourmet options you can find online are:
Kielbasa
Pork rillettes
Snack sticks
Smoked chorizo
Pickles
Frankfurter
Landrauchschinken
Pâté
Summer sausage
Bratwurst
In addition to their great meat selections, Olympia Provisions also sells a Garden Vegetable box to those in the Portland area. The Sheldon's farm Your Kitchen Garden Box is a pioneer in the farm to table movement.
One of the things that makes this box unique is that it contains vegetables not commonly found in other vegetable clubs. Additionally, since the start of this club, it has continued to evolve with the aid of top local chefs to ensure the vegetable box is full of harder to find premium produce.
Though the boxes' content changes weekly based upon availability, some of the vegetables included in this subscription include:
Leeks
Sunchokes
Arugula
Mache
Little Gem Lettuce
Kale
Chard
Watercress
Chicory
Rapini
Boxes are limited to 50 per week and are only available for delivery on Saturday or Sunday. Unfortunately, subscriptions are not available, but instead can be ordered weekly. Each box costs $50 and includes free shipping.
Gift Basket
Melissa's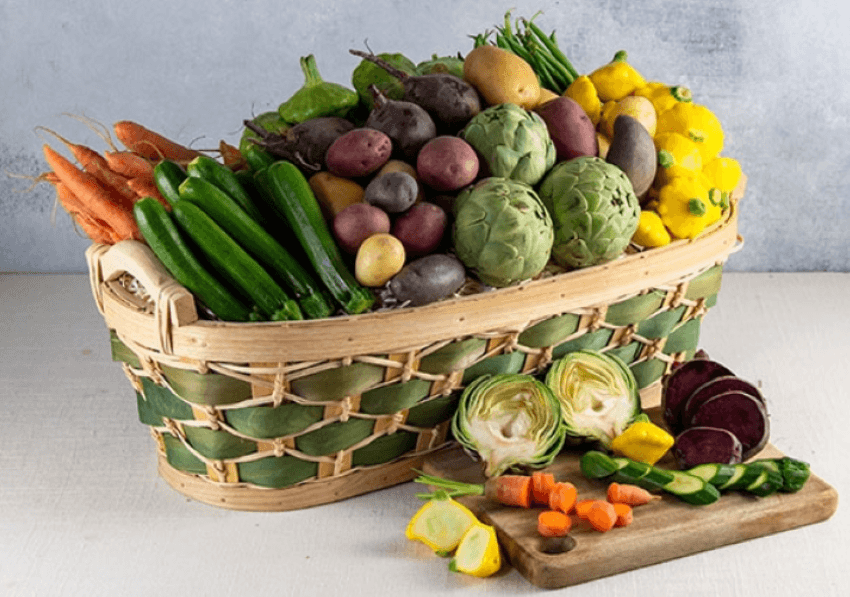 Melissa's/World Variety Produce, located in Los Angeles, California, was founded by Joe and Sharon Hernandez after leaving their careers in the produce industry to use their combined knowledge to start their own company. The company, named after their daughter, represents the company's values and beliefs that family is at the heart of their success.
It didn't take long before Melissa's went from an office with three phones and four chairs to a 280,000 square foot facility. The new building houses state of the art packing equipment, their warehouse, and offices.
Melissa's offers a variety of goods including juice booster packs, truffles, wine, organic produce, and gifts. They also provide unusual types of produce, such as watermelon radishes and Okinawa sweet potatoes.
Of their many gifts, they sell a Baby Vegetable Gift Basket. This basket costs $57.99 and includes six pounds of a variety of seasonal vegetables such as:
Zucchini
Artichokes
Kohlrabi
Beets
Romanesco Cauliflower
Carrots
Squash
Leeks
Potatoes
Turnips
Additionally, you can choose to add a six-inch Easy Slice vegetable knife to complete this basket. Each basket is wrapped in cellophane and decorated with a bow. The basket requires two-day shipping to ensure its freshness.
The photo above is an example of this basket.
Related Content