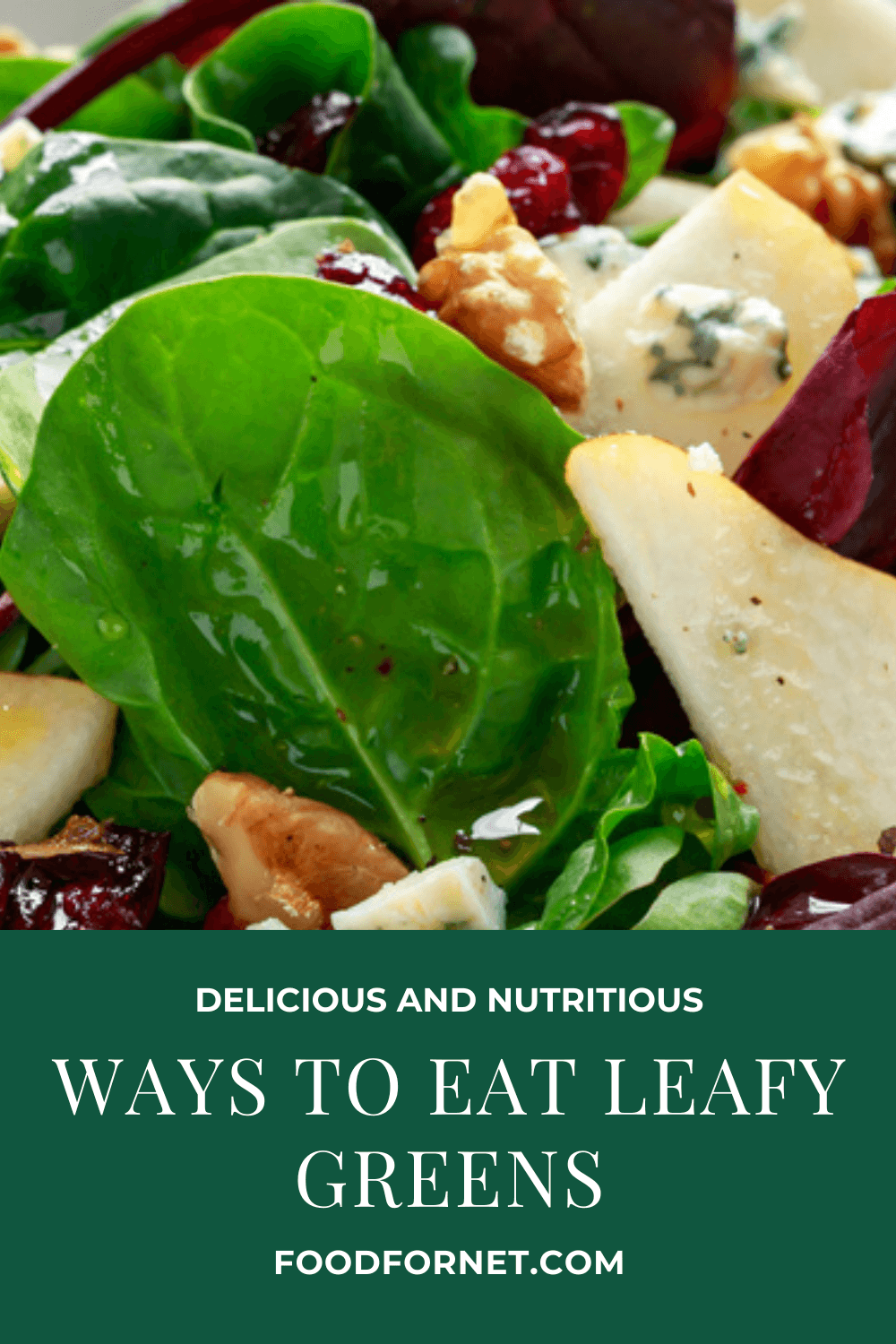 Most of us know that we should be eating more dark leafy greens. Swiss chard, spinach, kale, and all the other examples are packed with nutrients that are good for our mental and physical health, but the greens aren't always appealing. Finding good ways to eat dark leafy greens is essential.
Let's face it. You can only drink so many spinach smoothies before you get sick of the idea. Adding leafy greens as a side dish to meals gets old fast too.
Thankfully, you can make leafy greens easier to eat, while ensuring that they taste good too. The best options for you will depend on your flavor preferences, which is why this list features as many different options as we can find.
Some of these are for a specific type of leafy green, like spinach, while others are more general. Most of the time you'll be able to substitute one type of leafy green for another, but there are exceptions.
Sometimes substitution will change the flavor profile too much. The various greens do behave slightly differently in some recipes too. Don't be afraid to experiment. Sometimes the tastiest dishes are the unexpected ones.
Please leave a comment if you have a favorite way to eat greens that we've missed out.
Ways To Eat Dark Leafy Greens
Spinach Or Kale Chips
Green Smoothie
In A Regular Smoothie
Green Juice
Stir Fried With Garlic
Slightly Wilted
Make Your Own Pesto
In A Recipe With Cheese
Add Greens To A Frittata (Or A Quiche)
Throw Them On The Side
Spinach Artichoke Dip
In A Soup
As An Omelet Ingredient
Add To A Power Bowl
With Eggs For Breakfast
In A Sandwich
In A Wrap
As Part Of A Pasta Dish
On An Appetizer
Thai Spinach Bites
Spinach Muffins
Meatballs
In Lasagna Or Enchiladas
Spanakopita
Green Soup
Spinach, Walnuts, And Blue Cheese
Spinach Lasagna
Spinach Lasagna Roll
Spinach Or Kale Chips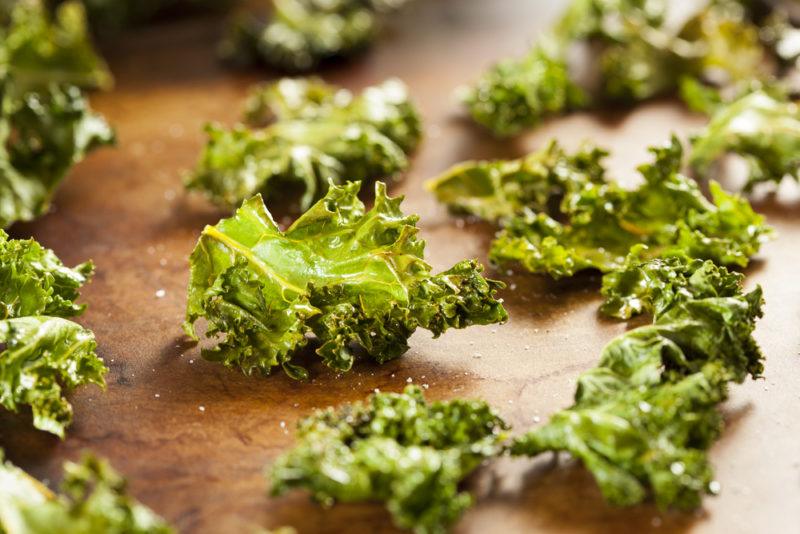 Spinach and kale chips follow the same basic ideas. You're simply baking the leafy green in the oven. You might include some spices to make the leaves taste more interesting, but that's about it.
One example is this recipe from A Clean Bake, which relies on citrus, salt and olive oil for flavoring. There are countless other recipes out there too. Just do a quick Google search, you'll see what I mean.
Spinach and kale chips are easy to eat and they make a very healthy snack. But, this idea isn't for everyone. Some people can't stand the flavor. If you're not convinced, start off with whichever green you like the most and be sure to include plenty of flavoring.
Green Smoothie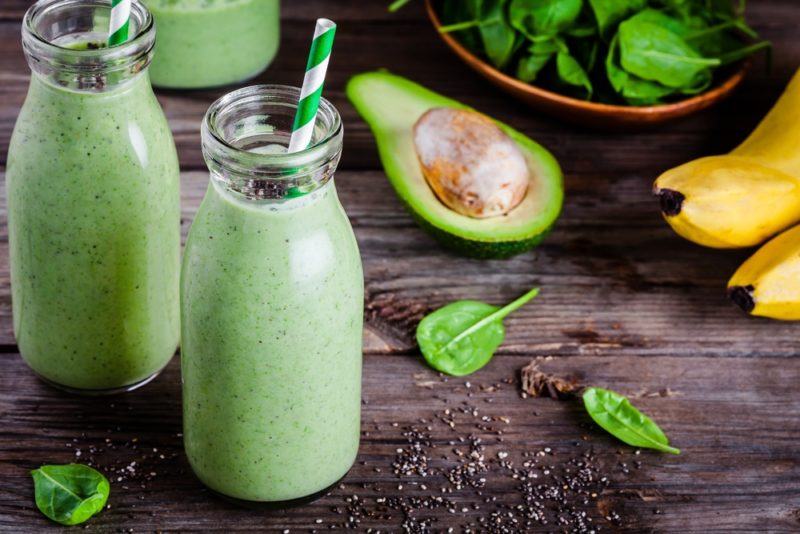 A green smoothie is one of the best choices if you want to consume a lot of greens at a time. Some of them will use multiple cups of spinach or kale, giving you a ton of nutrients.
Drinking your greens is a faster approach than eating them, which could be an advantage if you really don't like the flavor.
Just make sure to pay close attention to what goes into your smoothie. While green smoothies are generally healthy, it's easy to overload them with sugar and fat, to the point that they're not all that good for you.
If you can, try to vary the greens that you use. You might even include multiple types in the same smoothie. This approach is important because each type of leafy green has its own balance of nutrients.
In A Regular Smoothie

Smoothies can come in many different styles and flavors, like a chocolate or a berry smoothie. You can actually include leafy greens in any type of smoothie that you can imagine – just add a handful or two in.
This approach can be more appealing than making a green smoothie, as the flavor of your greens often gets buried amongst your other smoothie ingredients. You might not be able to taste the greens at all, which could be perfect.
If you're having trouble with the texture or fibrous nature of greens in your smoothie, you could try blanching and chopping them first. For that matter, blanched greens can be frozen. Some people chop them up and freeze them in ice cube trays, which then makes it very easy to add greens into your smoothie.
Green Juice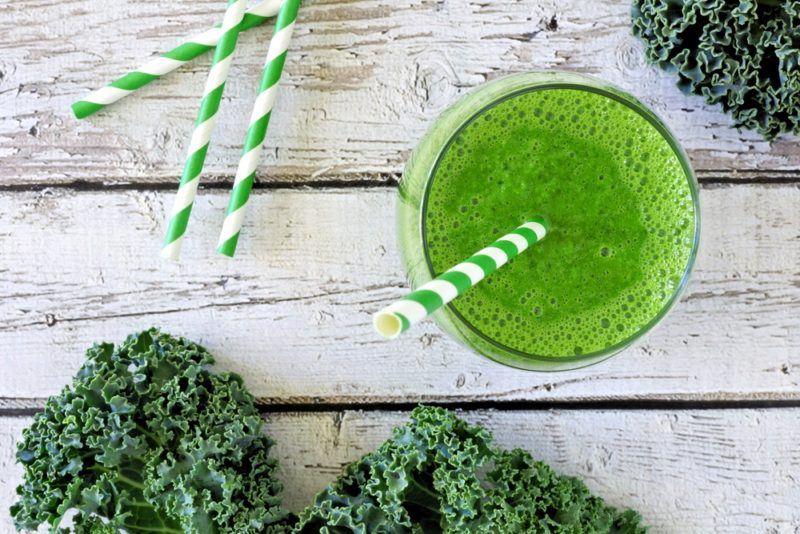 Green juice is another approach to try. The main difference between this and a smoothie is the texture. A smoothie tends to have a fairly thick texture, especially if ice or frozen fruit is used, while juice isn't thick at all.
To make green juice, you need to rely heavily on juice-filled ingredients. Cucumber and celery are two green choices that can work well. You might need to add some apple or orange juice in the mix too, so that you have a little sweetness.
While leafy greens like spinach and kale don't offer much juice, you can still blend/juice them and use them in a green juice. They add to the nutrient balance of the juice. Leafy greens are also what provides you with the dark green color that you're looking for.
Stir Fried With Garlic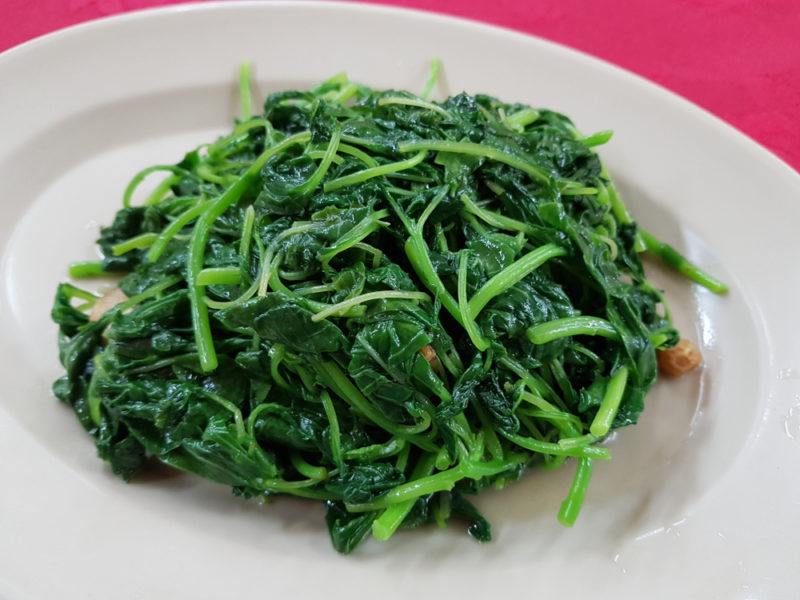 Cooking with greens doesn't need to be complicated. One of the simplest approaches is to stir fry the greens in oil with some garlic. That's it – three ingredients.
Leafy greens fry up very fast. You only need a couple of minutes to create an easy side dish that complements any meal.
The main thing to watch out for is moisture. Make sure that your greens are dry before you try to stir fry them.
If your greens are moist, you'll simply end up steaming them instead. Stir frying like this is mostly done with spinach, but the style should work well for other leafy greens too.
Slightly Wilted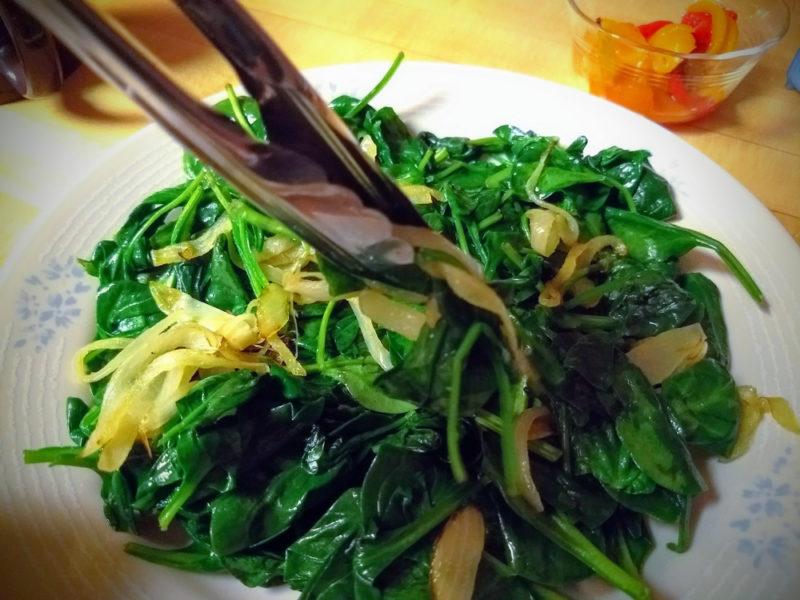 Wilting is one of the most common ways to use spinach (and other leafy greens). One approach is to stir fry the spinach in a pan with oil for a very short time. You can also place spinach in a steamer basket over a pot of boiling water for two to three minutes.
This is all the time you need to wilt the spinach. Cooking it for any longer creates a soggy mess that generally isn't appealing.
Once wilted, you can use spinach in many different ways. Some people make a basic salad with wilted spinach, often just tossing a dressing through it. Others include the wilted spinach in other dishes, such as the various examples on this list.
Make Your Own Pesto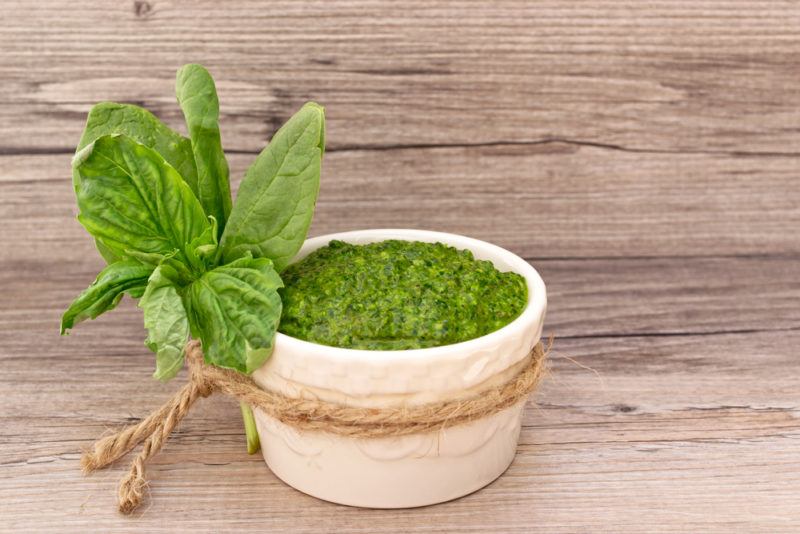 Spinach pesto is an easy dip or spread that you can make at home. It tends to rely on spinach, basil, pine nuts, lemon, and parmesan cheese, along with a selection of seasoning ingredients.
The use of spinach changes the flavor profile of the pesto, making it perfect for anyone who doesn't really like basil. You can even skip the small amount of dried basil that some recipes use.
Kale pesto isn't well-known, but it is certainly an option. A good recipe for this can be found at Pinch of Yum. Here almonds and olive oil are key ingredients, while basil and parmesan aren't used at all.
In A Recipe With Cheese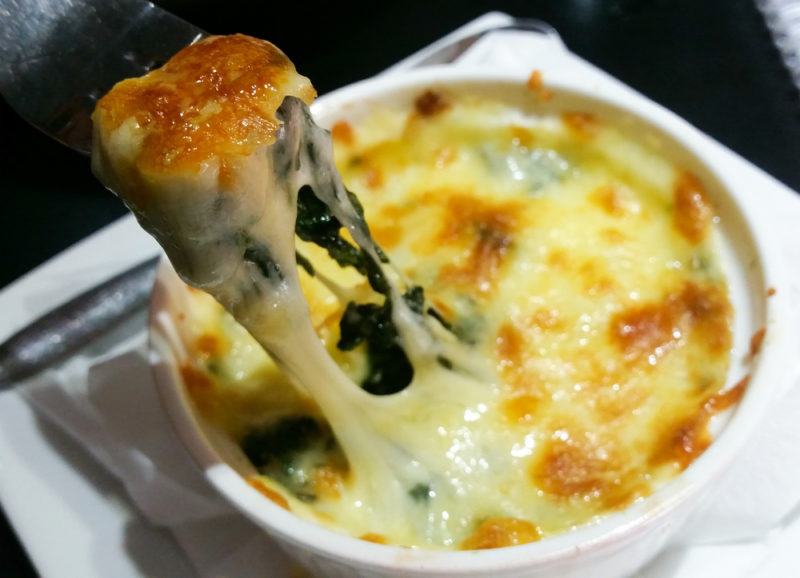 If you're not a fan of how leafy greens taste, look for recipes that have dominant flavors that you enjoy, like cheese. Honestly, cheese is a perfect complement to leafy greens, helping to mellow out the flavors and create a delicious meal.
There are also countless recipes to choose from, such as Shells and Chard (which is a type of mac and cheese) and Calzones with Ricotta.
Add Greens To A Frittata (Or A Quiche)

You can make a frittata or a quiche in almost any way imaginable. There are countless different ingredient combinations out there – and leafy greens are just one easy addition.
You generally don't need to cook the greens first. The cooking process for the rest of the frittata should be more than enough to get your greens exactly how you want them. You can pick the type of green that you like for this type of meal too, they all work well.
Throw Them On The Side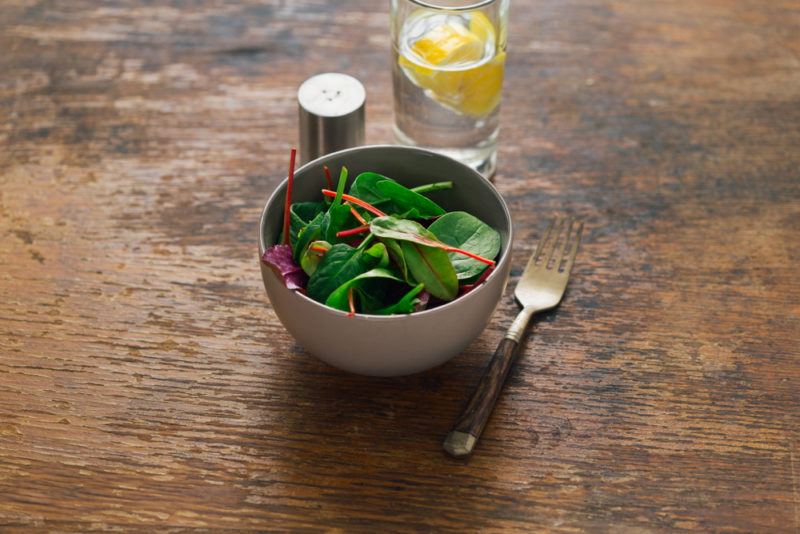 Using leafy greens doesn't need to be complicated. You can use them as a makeshift side salad, either on their own or with some other salad ingredients.
A simple yet classic approach that I've seen is to use spinach, cucumber, tomatoes, and walnuts, with olive oil as the dressing. You can pick and choose the dressing you use, along with which other ingredients you focus on.
Spinach Artichoke Dip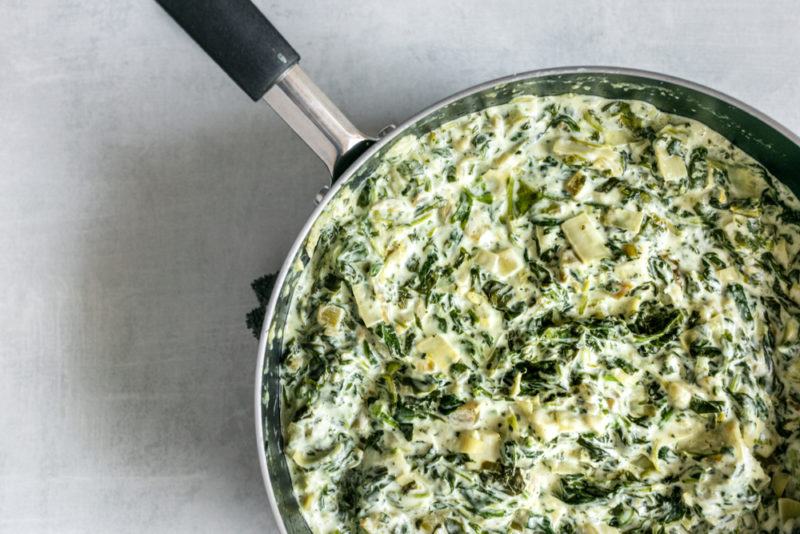 Here's a classic dish to try out. As the name suggests, spinach and artichoke dip heavily relies on spinach and artichokes as the main ingredients.
Various other ingredients add to the creaminess, including cream cheese, sour cream, and mayonnaise. Despite the spinach and artichokes, the dip is often considered unhealthy, as it contains a large amount of saturated fat. Still, opinions on saturated fat do differ and the dip certainly tastes amazing.
You can try your hand at variations too, like a kale and artichoke dip, which is exactly what it sounds like. There are also versions of spinach and artichoke dip that cut down the saturated fat content dramatically.
In A Soup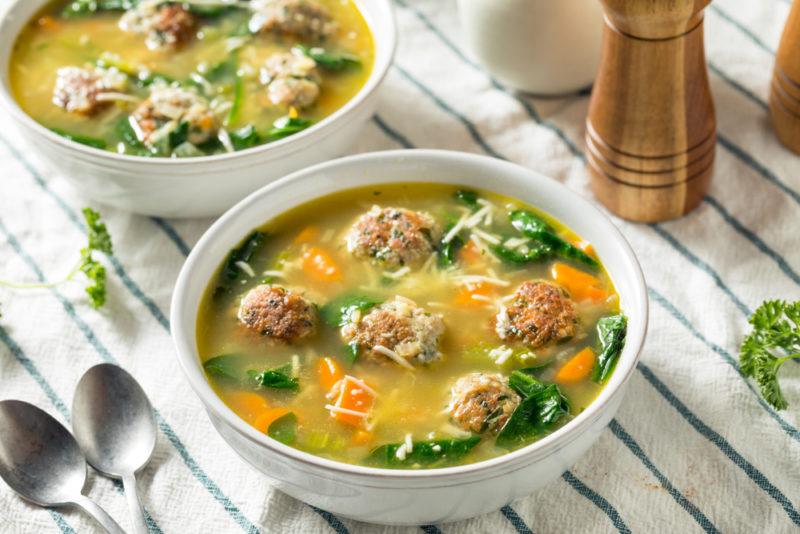 If you're using greens in a soup, you'll need to add them in at the end, that way they maintain their structure. Greens do work surprisingly well in soup, adding in an extra splash of color and flavor.
Each type of green has its own impacts. For example, the flavors of kale are perfect in Italian soups. On the other hand, a bean-based soup will often do better with Swiss chard instead.
We're not just talking about soups that you make yourself either. You can easily add leafy greens into a store-bought soup too, giving you more nutrients and freshness.
As An Omelet Ingredient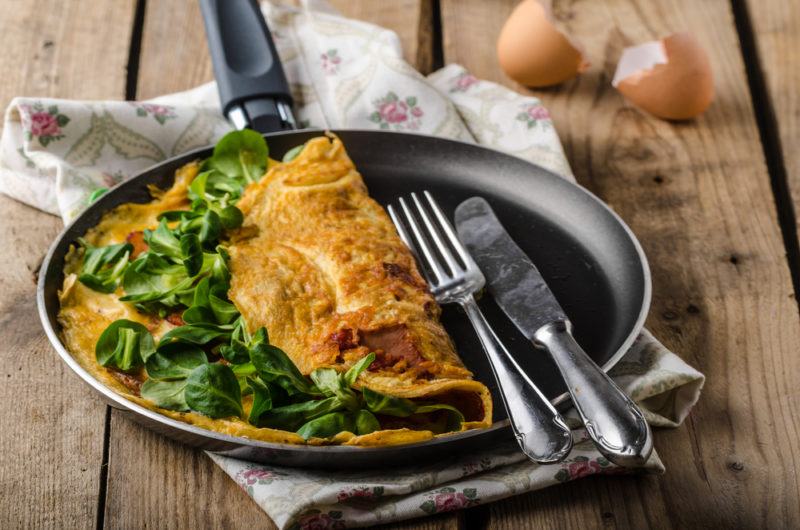 Leafy greens work well in omelets too. You could wilt the greens first and then include them in the omelet, or even simply include them raw. Either approach would work well.
Add To A Power Bowl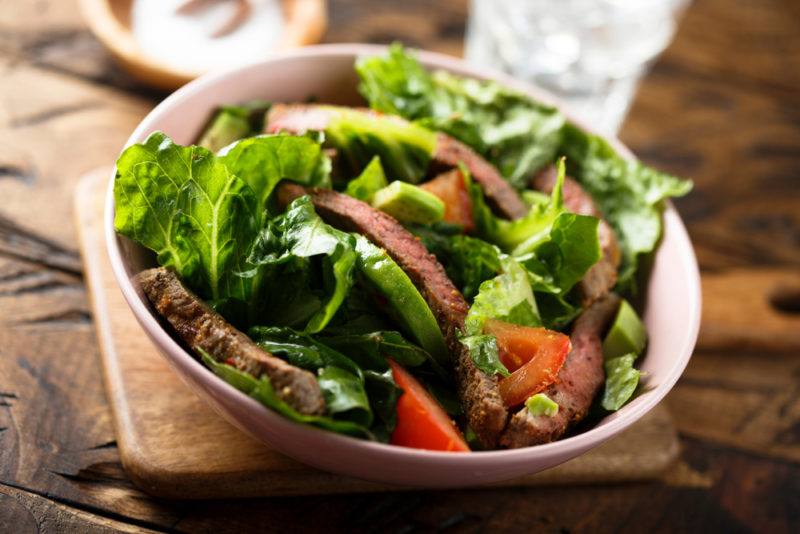 Power bowls involve a combination of multiple healthy ingredients, often ones that are high in protein, like quinoa and chickpeas. The idea is to give you a combination of tastes and textures.
The bowls have proven to be incredibly popular. They're also easy to customize to your own food preferences.
Leafy greens aren't extremely common as a power bowl addition, but they can work well. The greens help to add a little crunch if you're adding them raw. For warm bowls, you can use blanched greens instead. This works particularly well if you're also including an egg in your bowl, as the combination of flavors is perfect.
With Eggs For Breakfast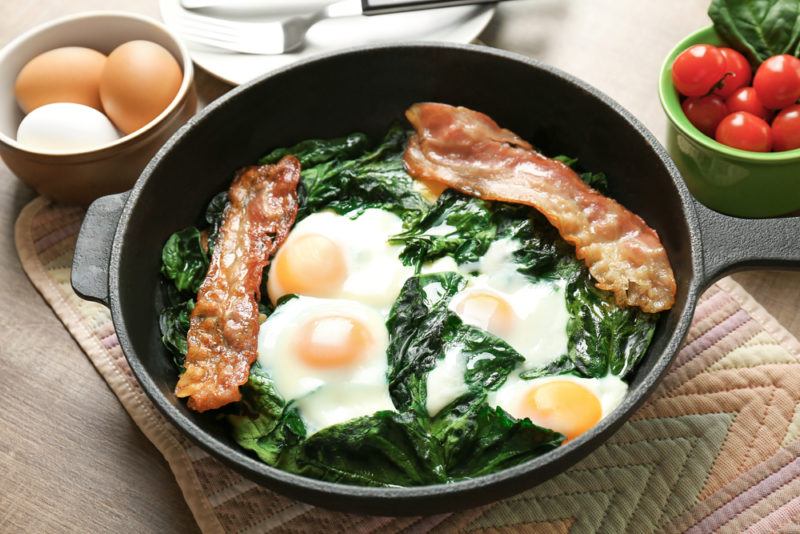 While we're on the topic, any meal that combines spinach and eggs is certain to be popular. There are many variations on this idea, including something as simple as fried eggs and spinach or a much more complicated recipe.
You can even just mix leafy greens into whatever egg-based recipe you're making, like scrambled eggs or as part of eggs benedict.
In A Sandwich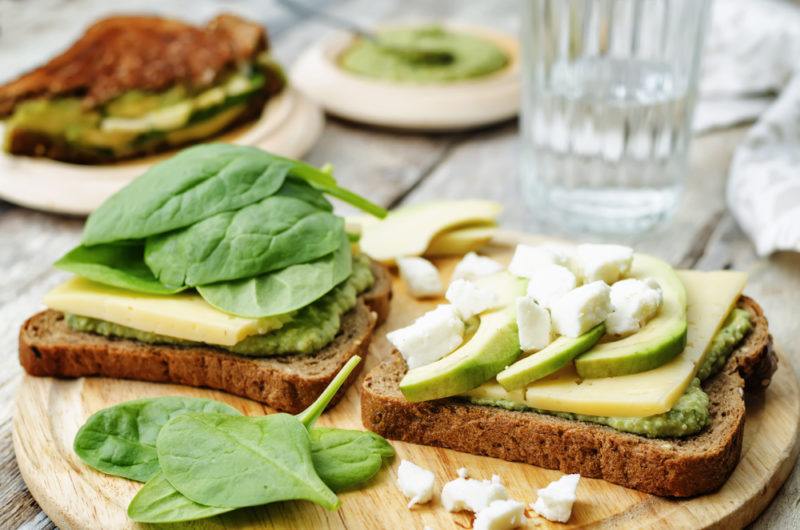 Lettuce is the most common type of green in a sandwich, but you can use dark leafy greens like Swiss chard, spinach, or kale as well. The flavor combination is slightly different each time, but this isn't a bad thing.
In fact, simply replacing your lettuce with spinach is one of the easiest ways to get more dark leafy greens in your diet. The flavor difference between spinach and lettuce isn't very dramatic, so the switch is an easy one.
In A Wrap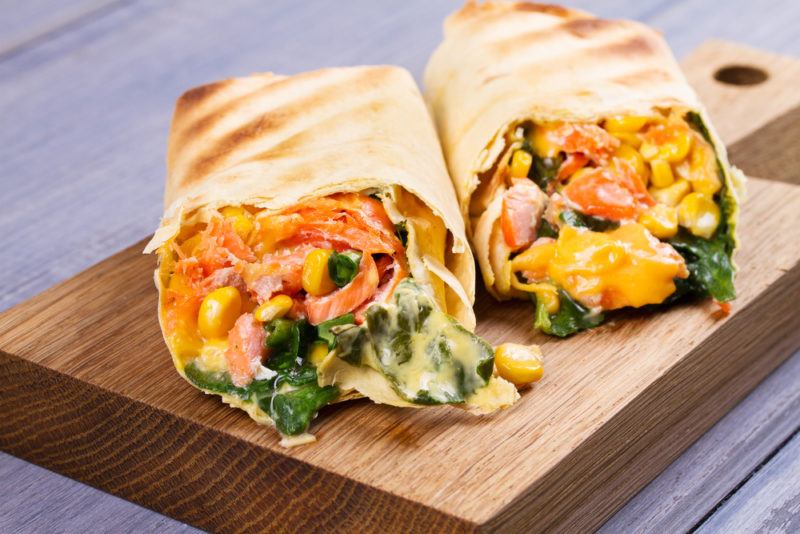 Wraps are another simple way to increase your leafy green intake. Once again, you can simply use spinach (or something similar) instead of lettuce. If your wrap doesn't normally use lettuce, don't worry, you can still add in some leafy greens if you want to.
Honestly, most wraps would benefit from more greens anyway. Experiment to find the flavor combinations that work the best for you.
As Part Of A Pasta Dish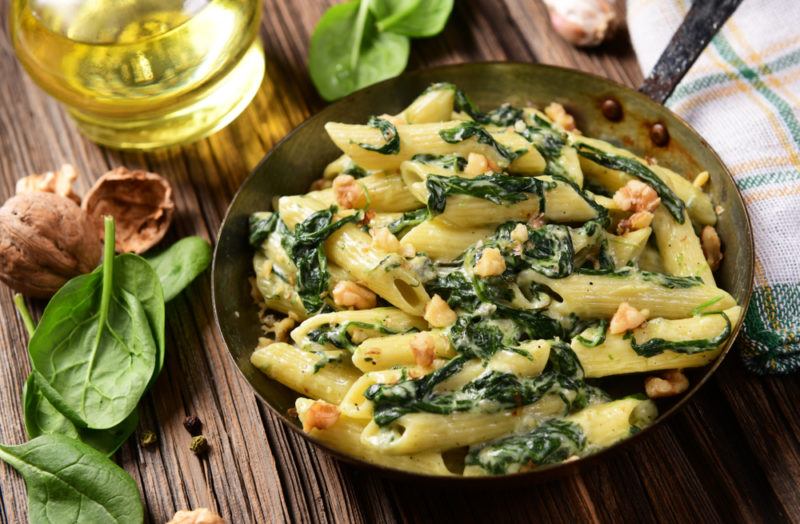 Greens can easily be stirred into a pasta dish, even if the original recipe doesn't call for them. Try chopping your greens, blanching them and stirring them in when your pasta dish is almost complete.
Spinach works particularly well in this way. You'll find that it often adds a complementary flavor, along with all the extra nutrients that you're getting.
With some dishes, the greens will end up being one of the star flavors. That's the case with this recipe for Garlic Chicken with Orzo Noodles.
In other meals, you can almost entirely hide the flavor. For example, try throwing spinach in a meal with a heavy tomato-based sauce. You might not even notice the greens, which is perfect if you're serving kids.
On An Appetizer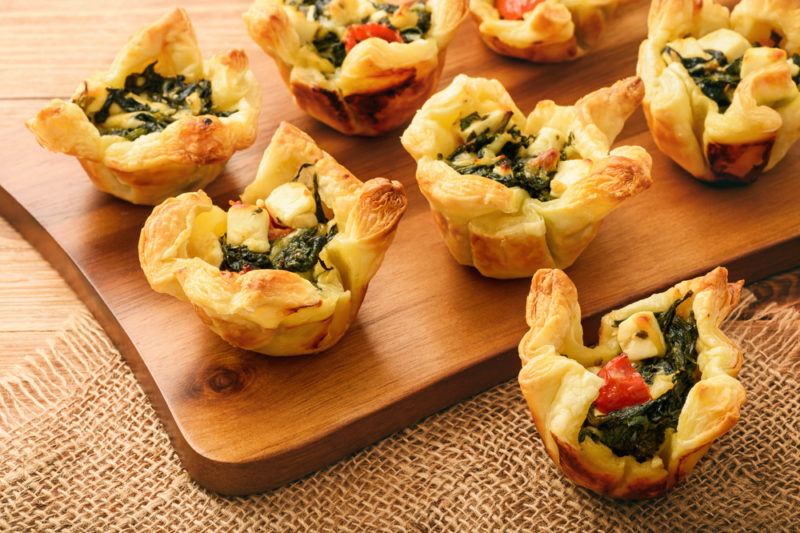 Many appetizers can be spiced up with some greens. There are countless recipes out there, but don't be afraid to get creative too. Some of the best dishes that you make are those that you had never heard of previously.
Appetizers that you already make are a good place to start. Which ones could you easily add some leafy greens to?
Thai Spinach Bites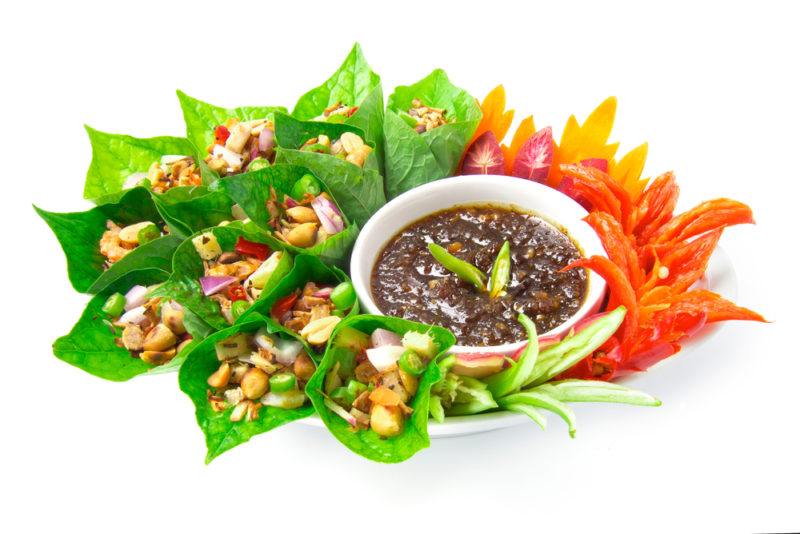 Thai Spinach Bites are a good example of an appetizer that uses leafy greens. The recipe comes from BBC Good Food and relies on combining various flavor packed ingredients and then serving them on spinach leaves.
Something similar could be done with different types of filling or a different type of leafy green, like in the image above. The options are endless.
Spinach Muffins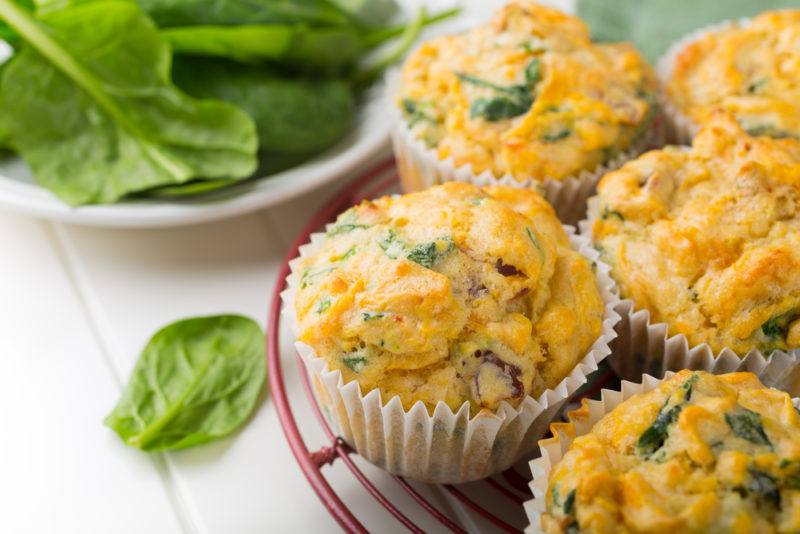 Somewhat surprisingly, spinach muffins tend to be a sweet treat. Many recipes include banana as another key ingredient. As such, the muffins are green because of the spinach, but they don't taste much like spinach at all.
This approach could be the perfect way to introduce picky eaters to spinach. There are plenty of variations to try too, including gluten free examples and ones that rely on whole grains.
Once again, you can vary the idea up by using other ingredients. I've seen plenty of kale muffins too. Some of them rely on banana too, while others rely on different ingredients, like coconut.
For that matter, you don't need to stick to sweet spinach muffins at all. Spinach combines well with many other ingredients, such as in the spinach, cheese, and sweet potato muffins in the image above.
Meatballs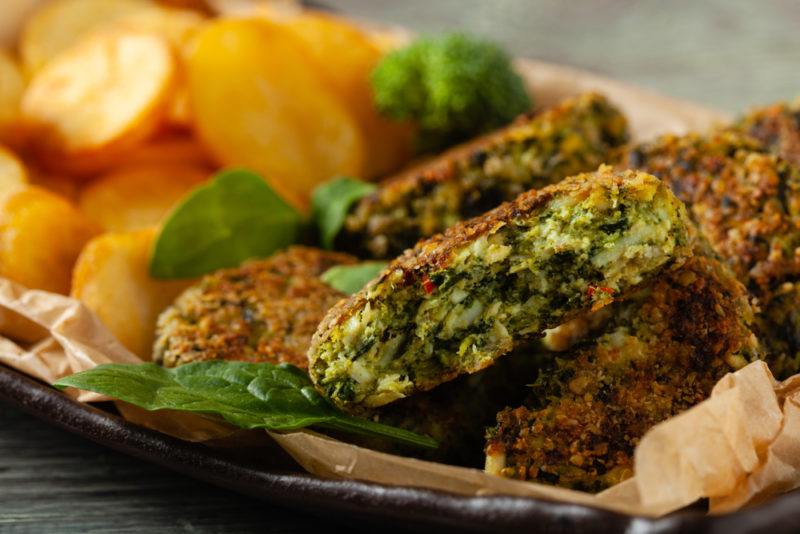 You can make meatballs using leafy greens. Sometimes you might just rely on the greens, while other times you might include meat too.
Including meat and greens together works exceptionally well, as the flavor of the meat and accompanying spices almost entirely drowns out the greens. If you're making a sauce to go with the meal, your eaters might not even realize that there are leafy greens in there.
Alternatively, you can try something like these Herbed Spinach and Kale Balls. These rely on spinach and kale, along with a variety of spices to create a delicious flavor profile. They won't be as satisfying as regular meatballs, but they should taste delicious just the same.
In Lasagna or Enchiladas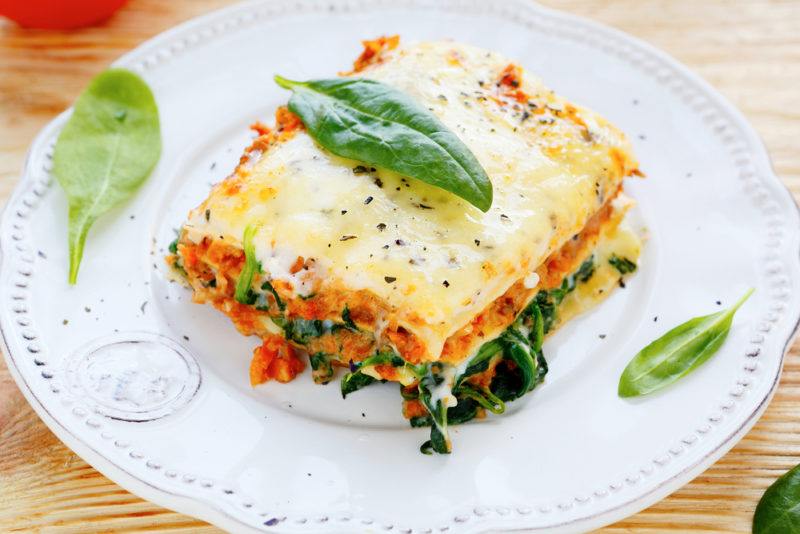 Adding dark leafy greens into lasagna or enchiladas is exceptionally easy, as you're working with such strong flavors anyway. The flavor of the sauce alone will often completely drown out any taste from the leafy greens.
One simple trick is to blanch your greens and then layer them in your lasagna along with the more traditional layers. The greens often take up little space once they're blanched, so the addition is an easy one.
Spanakopita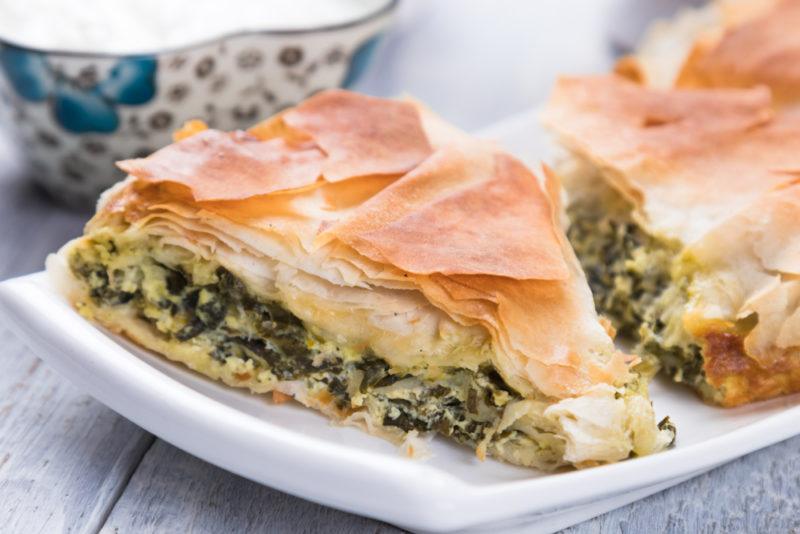 Spanakopita is a Greek spinach pie. It uses spinach and feta cheese, along with phyllo pastry. The recipe is a savory one and is satisfying enough that it can be used as a main meal. Alternatively, you could serve this as a side next to a roast lamb or something similar.
Green Soup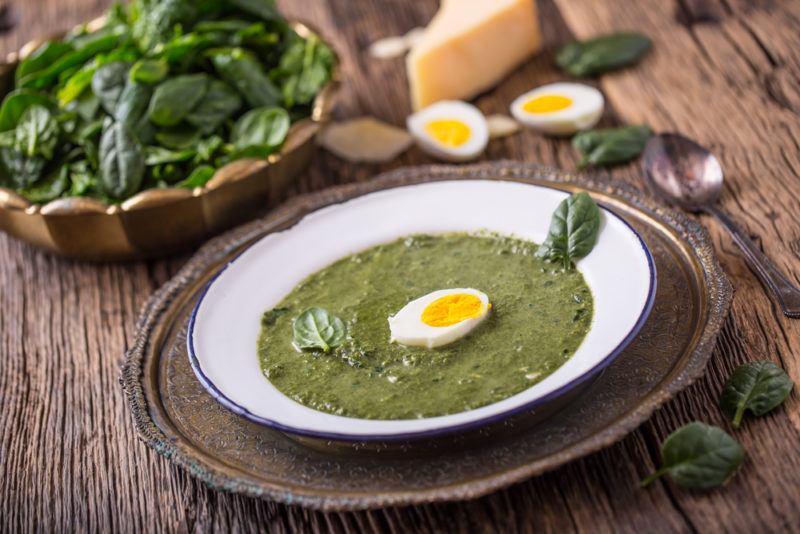 There are many variations on green soup, but the basic idea is that you're relying on leafy greens as one of the key ingredients.
There's a great recipe at Cookie + Kate that can get you started. This recipe doesn't just focus on the greens. There are also enough flavoring ingredients included to make sure that the finished soup tastes delicious.
Spinach, Walnuts And Blue Cheese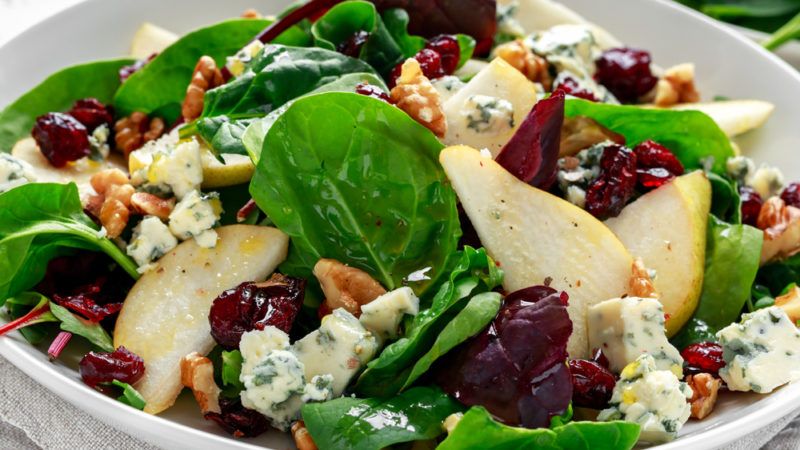 While we've mentioned using leafy greens in a salad before, the combination of spinach, walnuts, and blue cheese is special enough to deserve its own special mention. These three ingredients can almost be a salad in their own right. Of course, you can add in other ingredients too if you want a more complex dish.
Regardless, the flavors of these ingredients complement each other perfectly, giving you a nice and easy salad that tastes delicious.
Spinach Lasagna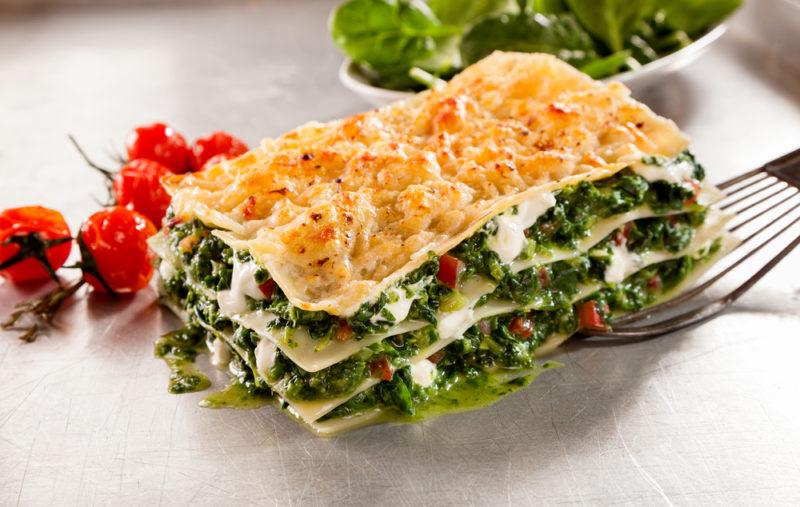 As we mentioned before, you can include spinach in a meat-based lasagna, but that's not the only approach. You can also make a spinach lasagna, which uses spinach and a ricotta filling in layers, rather than meat and cheese sauce.
The end result is much less heavy than a regular lasagna. The flavor of the spinach isn't as notable as you might expect.
While this dish is generally made with spinach, you could use a different type of leafy green instead. For example, some people substitute with kale. If you plan to use kale, including mushrooms in the recipe seems to work very well too, as these nicely complement the flavor of your greens.
Spinach Lasagna Roll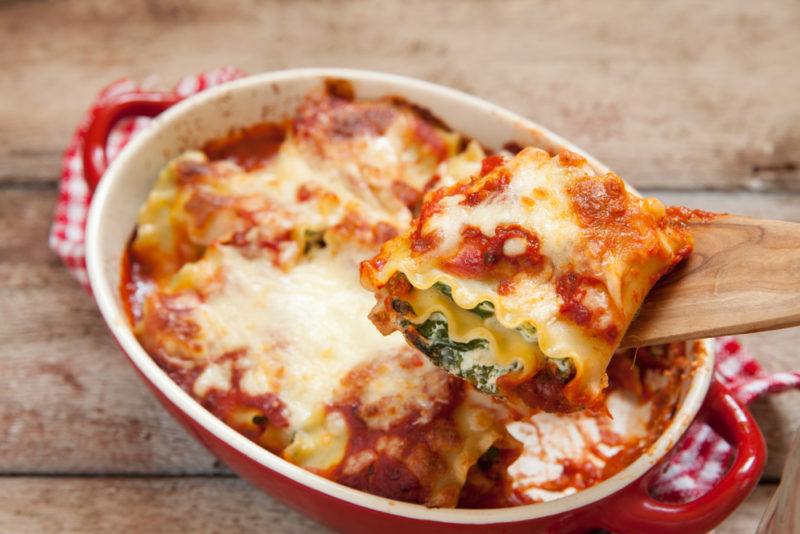 A spinach lasagna roll is a variation on this theme. You're still using the ricotta mixture, pasta, and spinach, but this time the whole dish is rolled up, rather than layered.
The style isn't difficult at all, especially as the red sauce is normally just poured over the top of the dish, rather than being included as a layer.
Once again, you could use a different type of leafy green, although you might need to tweak some of the ingredients to make sure you get a balance of ingredients that works.