Polyphenols have become a popular topic in recent years. There's a ton of interest in these plant-based compounds and the way that they may influence human health. The compounds have even been linked to longer life and a decreased risk of some diseases. It's no wonder that so many people are fascinated by polyphenol rich foods. 
We're going to list some of the most powerful options in this post and talk about what they have to offer. But first, we're going to take a quick look at polyphenols themselves. 
The first point of note is that polyphenols aren't all the same. They fall into various classes. Flavonoids is a particularly common class, which can then be broken into various groups, including flavanols, flavanones, and proanthocyanidins. You may have heard some of those terms before, but perhaps not others.   
There are also many different polyphenols within any given class. This isn't surprising, as there are more than 8,000 different types of polyphenols (which doesn't count the ones we don't know about!) 
Polyphenols don't all have the same effects either. This means that some polyphenols will have very different health implications than others. However, most do have antioxidant effects and many may improve human health. 
And, critically, individual foods and drinks have their own combinations of polyphenols. For example, citrus fruit tends to be rich in flavanones, while other types of fruit don't have large amounts of flavanones.
This pattern means that just focusing on polyphenol rich food isn't enough. You also need to make sure you include a variety of different types of food in your diet. This way you'll have access to the broadest array of plant-based compounds. 
Polyphenol Rich Foods
Coffee
Berries
Purple Foods
Plums 
Goji Berries
Walnuts
Chestnuts
Hazelnuts
Dark Chocolate
Cacao Nibs And Cocoa Powder
Cloves And Other Spices
Flax Seeds
Apples
Olives
Olive Oil
Soybeans
Artichokes
Milk Chocolate
Red Onions
Spinach
Beans
Coffee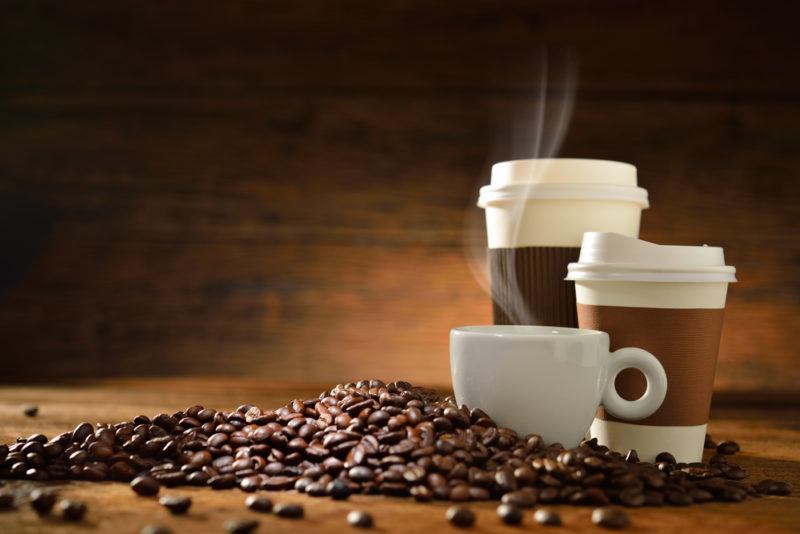 Coffee features on this list for two reasons (even though it is technically a drink rather than a type of food). First, the beverage does contain a decent amount of polyphenols. These polyphenols come from the coffee beans, so stronger coffee will tend to have a higher concentration of polyphenols. 
The other reason is that coffee is a key source of polyphenols for many people. 
After all, it's common practice to drink multiple cups of coffee in a day. It's easy to see how the polyphenol content would add up. The polyphenols may even be one reason that regularly drinking coffee has been linked to longer life and other benefits. 
Using healthy ingredients with your coffee could give you access to even more benefits. For example, some spices can make your coffee taste interesting. And, as we'll learn later, spices can be a good choice for polyphenol intake.  
Berries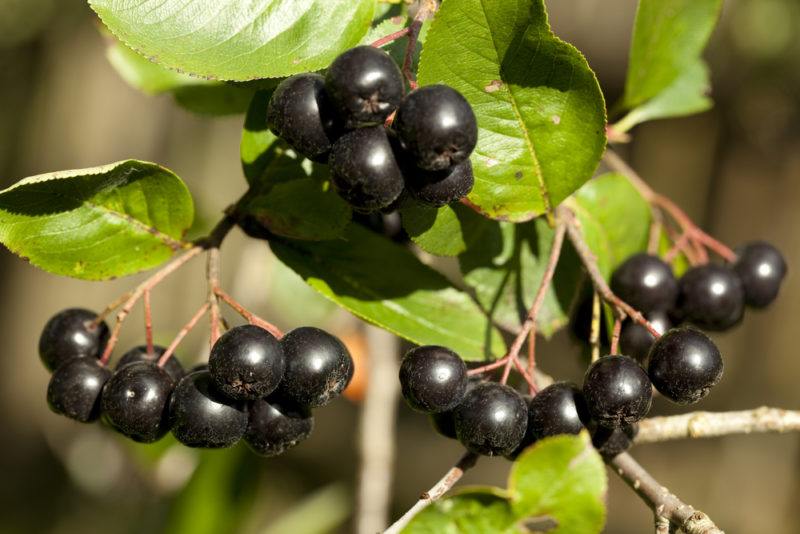 Berries are often recommended as a source of antioxidants and polyphenols. It's easy to see why too, as berries taste good, are easy to find, have a vibrant color, and can be fairly inexpensive (if you find them in the right season). 
The most significant berry for polyphenols is a little unusual. It's called the black chokeberry and it is high in anthocyanins. But, this choice isn't just unusual, it can also be unappealing, as black chokeberries have a bitter flavor.
Black elderberries are another option. While these berries can work well in some recipes, they're another type that you probably don't want to eat on their own. 
Thankfully, some more common and enjoyable berries are options for polyphenols too. Wild blueberries top the list here, followed by blackcurrants and then regular blueberries. Interestingly, the color of wild blueberries is often deeper than regular blueberries, which may explain the polyphenol difference. 
Purple Foods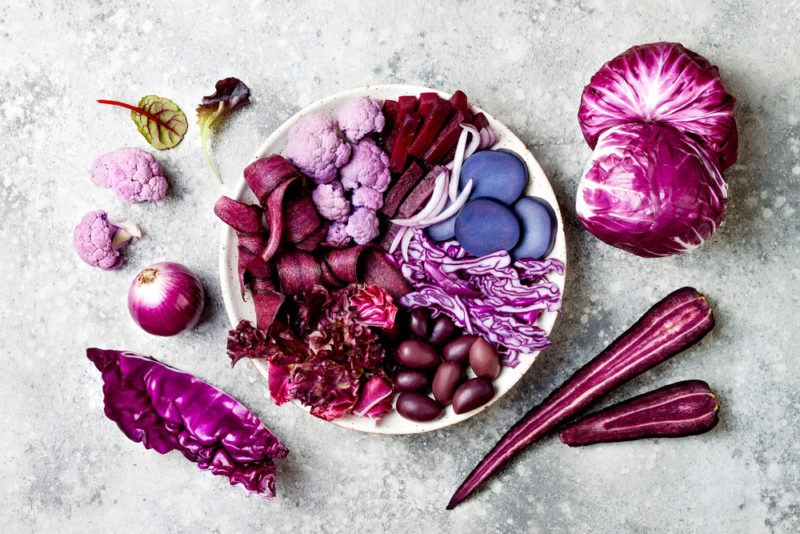 Some polyphenols are also pigment molecules, which means that they're responsible for the bright color of fruits and vegetables. Because of this. the best sources of polyphenols are often the ingredients that have vibrant colors. This is particularly true for red, purple, and blue foods (which is why berries are so important as a source of polyphenols). 
But, berries aren't the only place to find these pigment compounds. Another option is to focus on unusually colored fruits and vegetables. Purple options are particularly powerful, like purple potatoes, purple carrots, and purple asparagus. 
However, you will need to pay attention to how you prepare the foods. Cooking can destroy some polyphenols, giving you fewer benefits. Focusing on gentle cooking methods like steaming is the best way to maintain the polyphenols in your food. 
Plums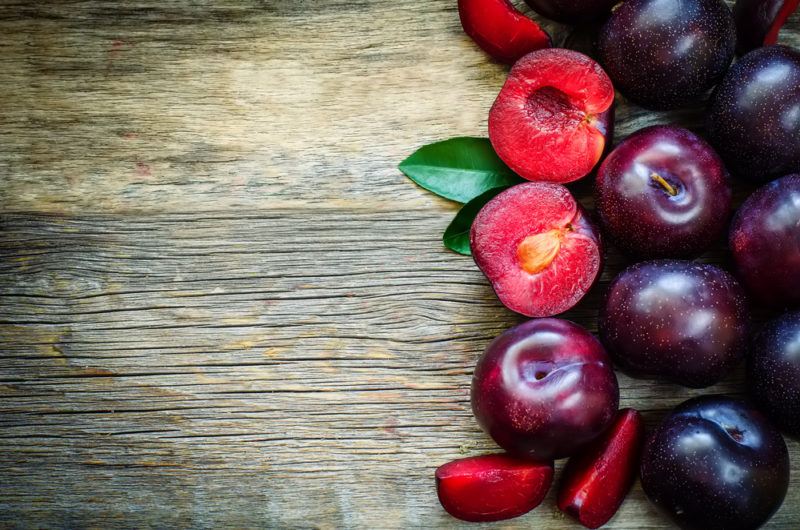 Plums are another purple food and, like berries, they don't need to be cooked first. You can simply enjoy plums when they are fresh, making them an easy choice all around. 
The fruit is also good as a source of vitamin C. While the polyphenols will vary depending on the type of plum, this isn't something that you need to worry about. Just find plums that you enjoy eating and go from there. 
You can also turn to prunes. These are simply dried plums, so they contain the same balance of polyphenols. Because they are dried, the polyphenol concentration per gram is higher compared to plums. Of course, the sugar concentration is higher too, so you'll need to keep an eye on your portion sizes. 
Goji Berries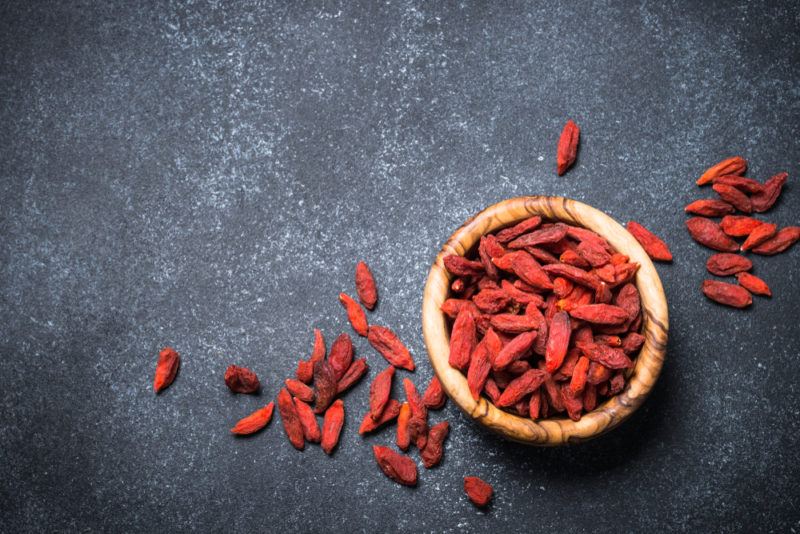 While all berries are good sources of polyphenols, goji berries have some standout features. 
The first is that the berries are often sold dried or as powder. This makes them easy to use and they will last longer than fresh berries. You can simply snack on the dried berries as-is or add them to a meal. 
The dried nature of the berries also means that they're a more concentrated source of polyphenols. Carotenoids like beta-carotene and zeaxanthin are particularly important polyphenols in goji berries. These examples are often linked to improved eye health. 
Goji berries also contain protein, including many important amino acids. This feature is unusual for a type of fruit. 
Walnuts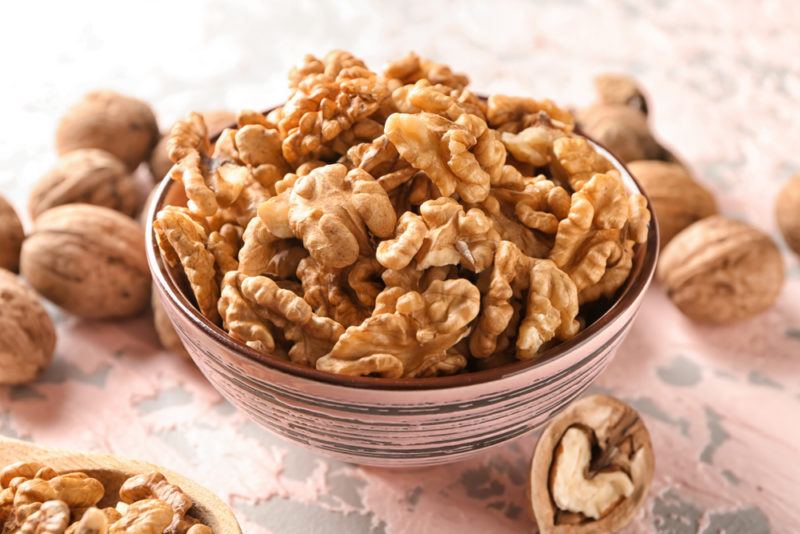 Nuts all have their advantages, but walnuts are an especially interesting choice. They're often thought to be good for brain health – and not just because they're shaped much like a human brain. The nuts also have a long history of use in Chinese traditional medicine and research is beginning to find that the nuts do indeed improve health and brain function. 
Walnuts are also a very good choice for their polyphenol and antioxidant content. These compounds are key reasons why walnuts can help to reduce inflammation and might even lower disease risk. 
They're not too bad to snack on either. And, if you don't like snacking on walnuts, you can easily include them in baking instead. 
Chestnuts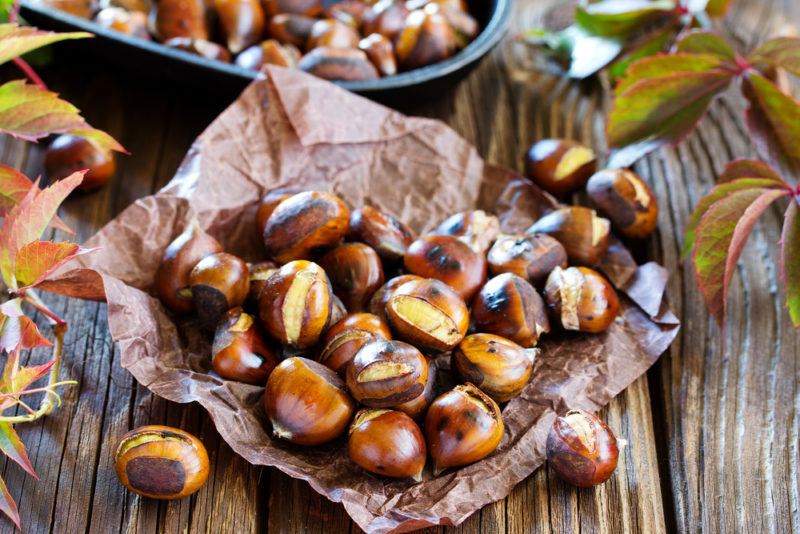 Chestnuts are another interesting choice. They're the most powerful nut in terms of polyphenols, but they're different from most other types of nuts. For one thing, chestnuts have a large amount of starchy carbohydrates, which isn't the case for other nuts. The flavor of the chestnuts might be unexpected too, as they have a sweet flavor and can taste somewhat 'powdery'. 
Another unusual aspect is that chestnuts are often eaten warm. You won't generally snack on them in the same way as other nuts. 
Hazelnuts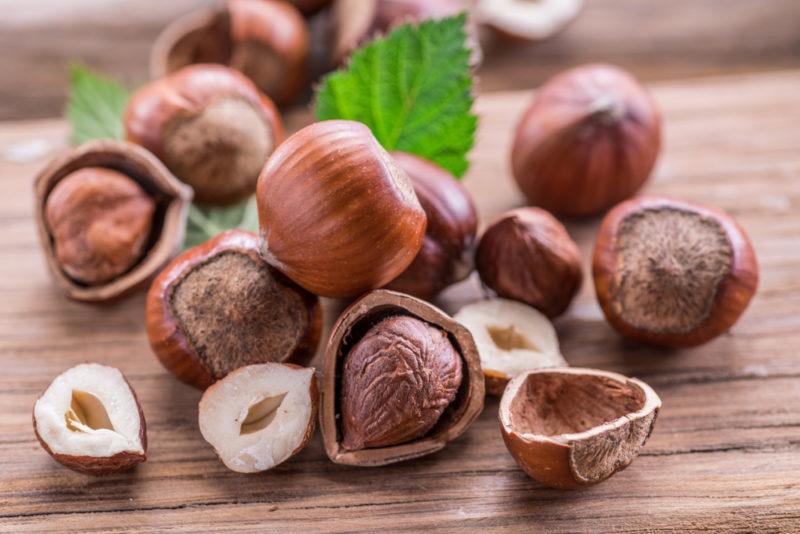 Hazelnuts are the next best nut in terms of polyphenol content. They're more common than chestnuts and may be more familiar too. 
However, hazelnuts aren't generally used as a snacking nut. Hazelnuts are more often used in recipes instead and the flavor of the nut goes perfectly with many meals. 
Dark Chocolate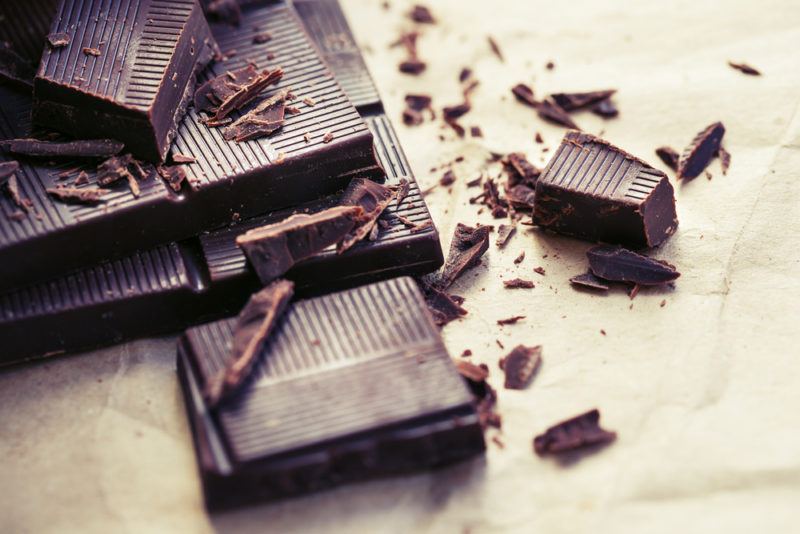 The health benefits of dark chocolate are well-known at this point. These benefits come from various plant-based compounds, particularly polyphenols. 
The important compounds all come from the cocoa bean. This means that the best chocolate has a high percentage of cocoa. 75% cocoa is often considered to be the minimum for health benefits, although the higher the cocoa percentage, the more beneficial compounds that you'll get access to.    
Cacao Nibs And Cocoa Powder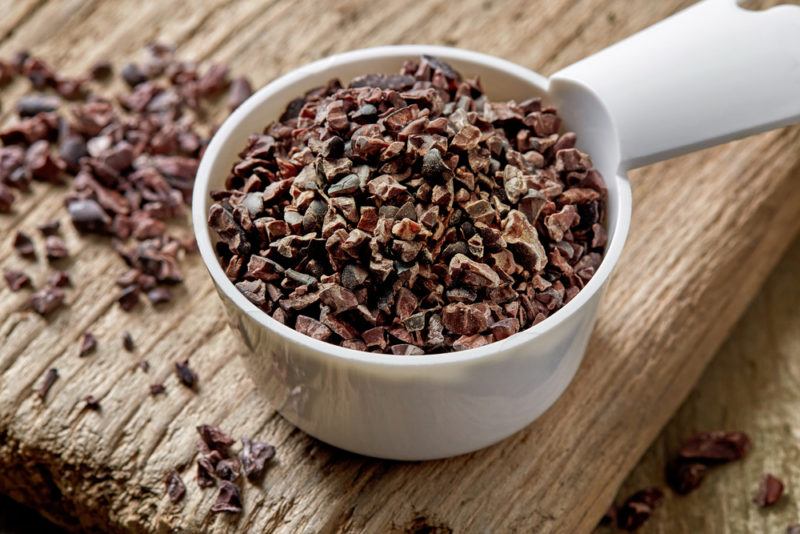 Dark chocolate isn't the only way to get the polyphenols from cocoa. Cacao nibs and cocoa powder are two other options. 
Cacao nibs come from an early stage of the chocolate production process. They are made from crushed cocoa beans that have been fermented and dried. The approach means that you're getting the beneficial compounds from cocoa, without any concerning additives. 
Cocoa powder has been through more processing than cacao nubs, but this powder can still be a powerful source of cocoa polyphenols. The trick here is to look for a good product, one that doesn't include too many additional ingredients or excess sugar. Unsweetened baking cocoa is a good place to begin, as this will often rely on cocoa beans and few other ingredients.  
Cloves And Other Spices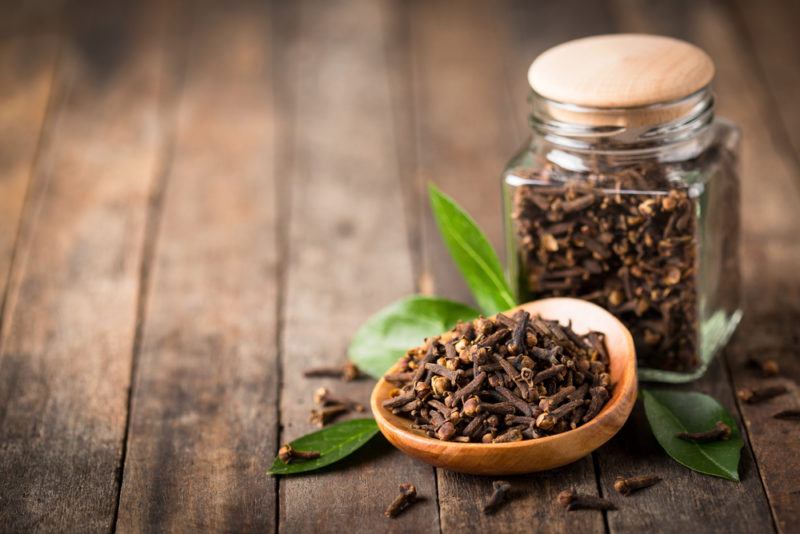 Spices are a concentrated source of many healthy compounds, including polyphenols. This is one reason why it's worth cooking your own meals using whole foods and a variety of spices.
While all spices contain some polyphenols, cloves are one of the richest sources of polyphenols that you'll find. The catch is that you're not going to be eating a large number of cloves at any one time. After all, cloves do have an intense flavor, so they'll strongly influence the taste of the rest of your dish. 
Other important herbs and spices include sage, thyme, basil, rosemary, and star anise. 
Using spices in cooking isn't the only option either. Some delicious drinks rely on spices too, such as chai or a turmeric latte. 
Flax Seeds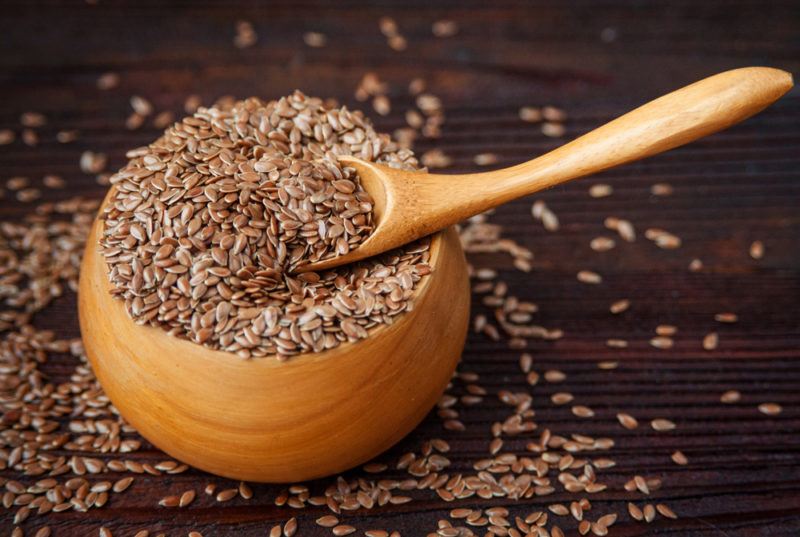 While flax seeds are mostly popular for their fiber content, they are also high in polyphenols. They even rank well in a list of the top 100 foods that contain polyphenols. 
Flax seeds are also useful because they're so versatile. You can scatter them on top of a meal or include them in with granola or something similar. You can also find flaxseed meal, which is made of ground flax seeds. Flaxseed meal is a very easy way to add fiber and polyphenols into your diet. 
Apples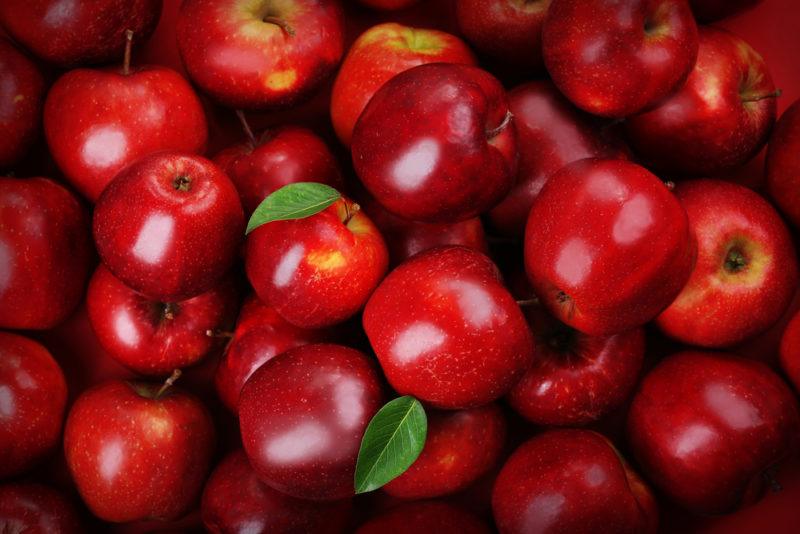 Many of the polyphenols in apples come from the skin of the fruit, so make sure that you're eating the whole thing (rather than peeling it first!). The polyphenol content does vary from one variety to the next, with Red Delicious being one good variety to rely on. 
The color of the apples may influence the polyphenol content and the specific polyphenols that are present. You're likely to find more polyphenols in red apples than in green ones but, as with most fruits, there are exceptions to the pattern. 
Olives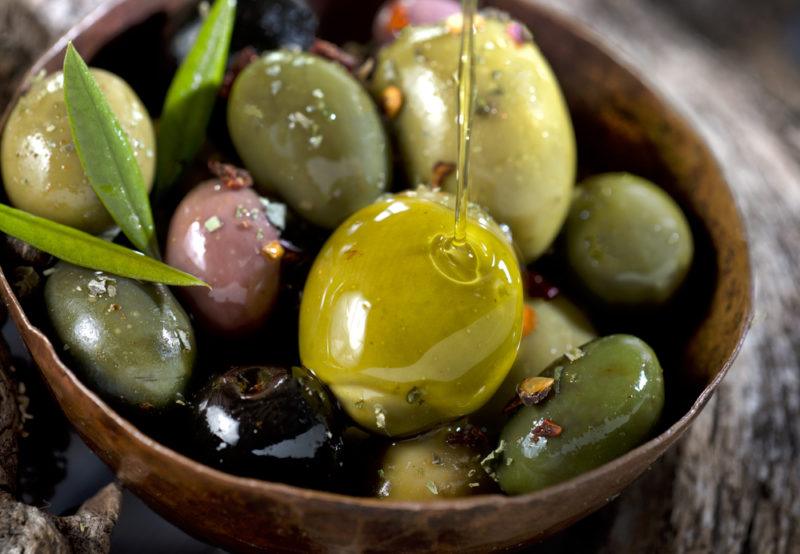 The health benefits of olives are well-known, so it shouldn't be too surprising to see olives on this list. They are a good source of many plant-based nutrients, along with healthy monounsaturated fats. 
As you might expect, black olives are the best type to rely on for polyphenols. They contain a particularly interesting compound called oleuropein, which has been linked to decreased inflammation and blood pressure. 
Olive Oil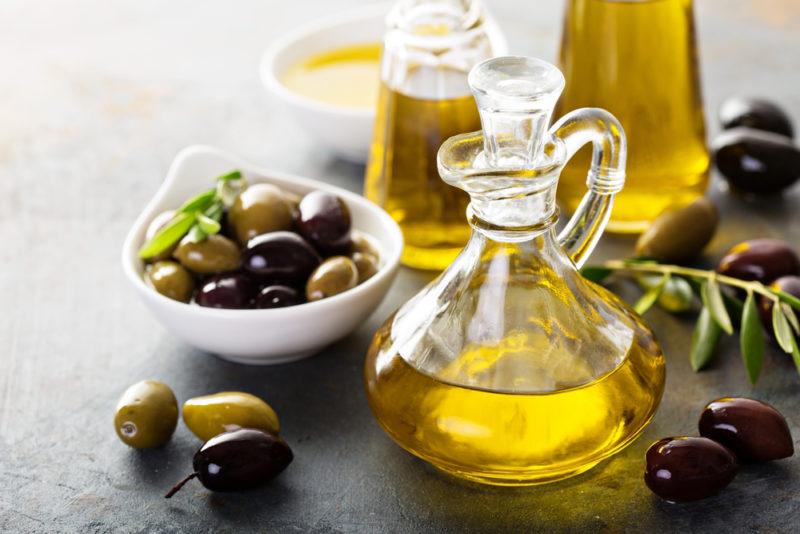 Olive oil is simply made by pressing olives, so it retains many of the important nutrients that you find in olives. This makes it an excellent source of polyphenols. Plus, adding olive oil to your diet is easy. You can use it in cooking, in recipes, as a simple salad dressing, as a dip, or in countless other ways. 
Extra virgin olive oil is by far the best choice. This type of olive oil is created from the first pressing of olives, which keeps the processing to a minimum. 
However, it's important to do a little research when choosing an olive oil brand. Some of the products out there aren't authentic. They may be adulterated with cheaper types of oil, or marketed as extra virgin olive oil when the oil has been refined instead. 
Soybeans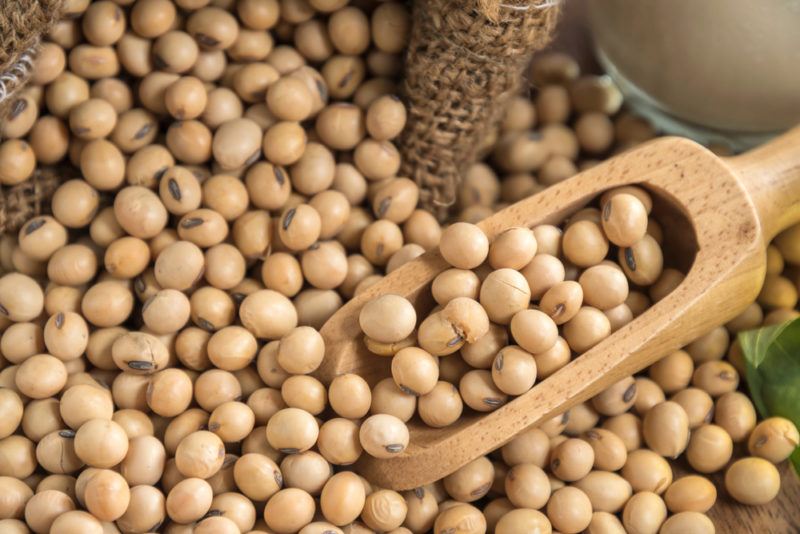 Soybeans are an easy plant-based protein source, especially as there are now many soy products on the market. Tofu, tempeh, natto, soy milk, and soy flour are just some examples. 
The prevalence of soy makes it easy to access the polyphenols from this legume. Any soy product will provide some of these. Look for products that haven't been too heavily refined, as these will always be the best for your health. 
You can also turn to dry roasted soybeans. This is when the soybeans have been roasted in the oven and perhaps seasoned, much like other types of nuts. This approach can be perfect if you want to avoid soy products that have been too heavily processed. 
Artichokes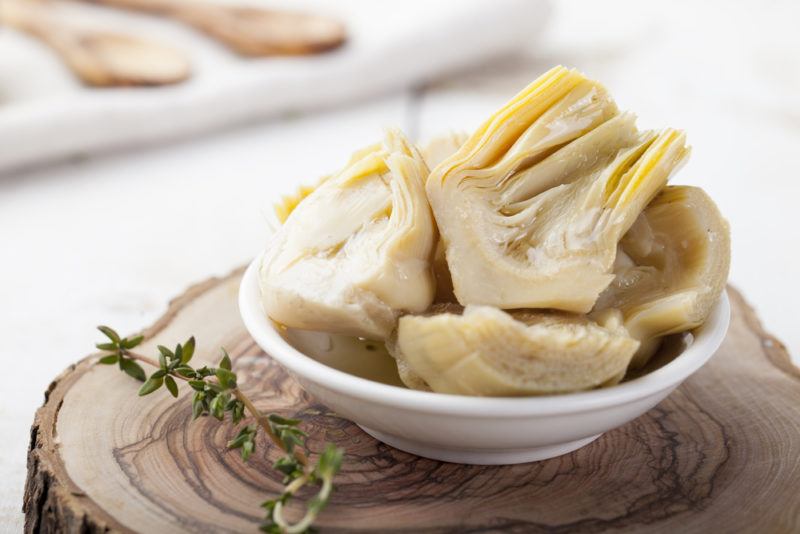 Artichokes are an interesting addition to this list, as they don't have the same vibrant colors that you see with most other polyphenol rich foods. 
Despite this, artichokes do rank surprisingly high for polyphenol content. If you don't eat artichokes regularly at the moment, this is reason enough to add them to your diet.
Milk Chocolate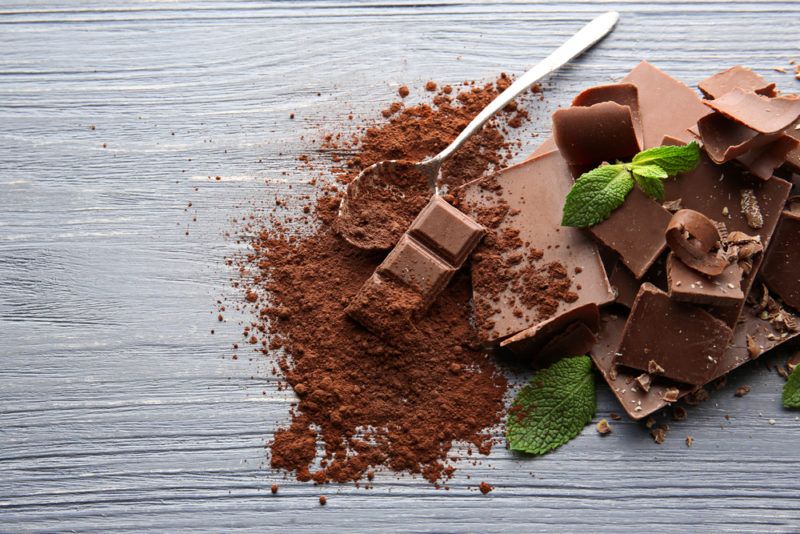 Are you surprised to see milk chocolate on this list? Unlike many of the other entries, this sweet treat certainly isn't a health food. Instead, it is packed full of sugar.
Despite this, milk chocolate does provide you with some of the polyphenols from cocoa. The exact amount will depend on the cocoa percentage of the chocolate and how it has been processed. And, of course, you'll be getting fewer polyphenols than with dark chocolate. 
This means that having milk chocolate as a treat mightn't be as bad as you once thought. Even so, it's important to watch the amount that you eat. Polyphenols or not, milk chocolate is never going to be a health food. 
Red Onions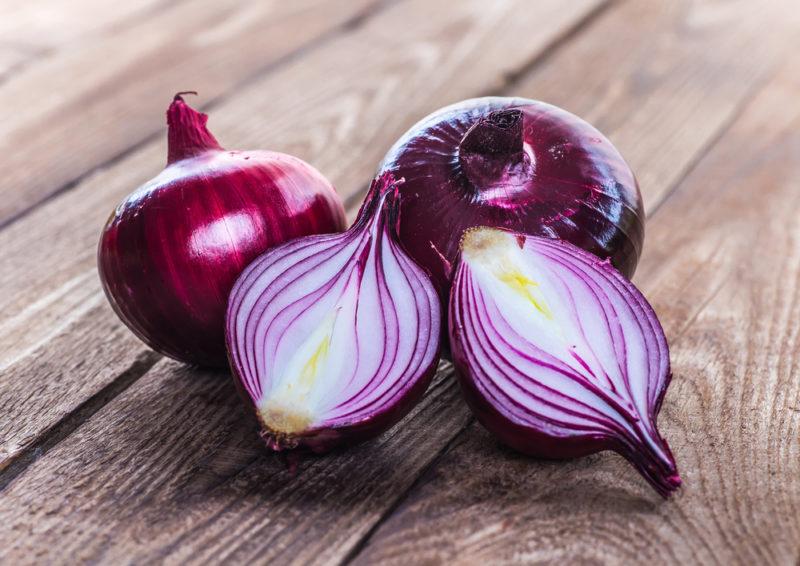 Not surprisingly, red onions contain more polyphenols and have more antioxidant activity than white onions. Anthocyanins are one key class of polyphenols present, which provide the red/purple color to the onion. 
There are also various sulfur compounds present that may promote health in various ways, such as decreasing cancer risk and providing protection from ulcers. 
Because plant-based compounds often partially break down with cooking, you'll get the most benefits from eating raw red onion. This idea isn't for everyone, but many people do find that they enjoy raw red onion as part of a salad or a burger.
Spinach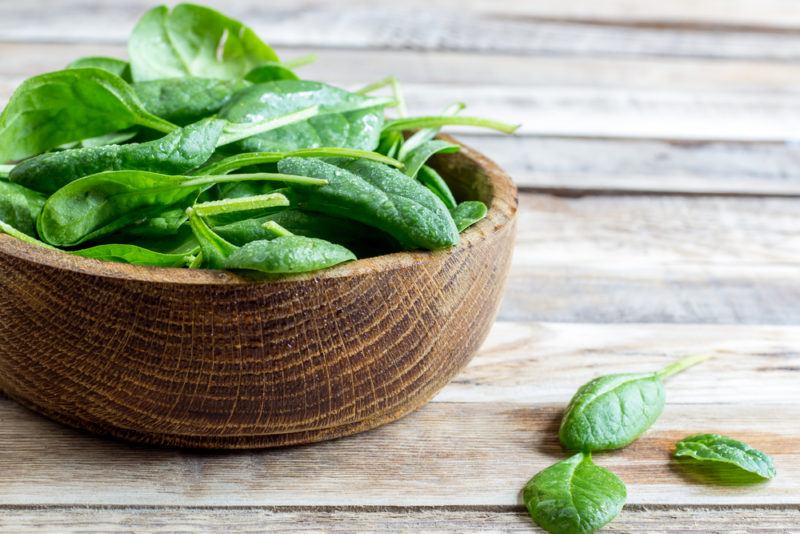 Spinach fell by the wayside a little when kale started to become the latest health food. That's a shame really, as spinach is a powerful way to add nutrients to your diet. The vegetable is nutrient dense too, which means that the nutrient content is high, while the calorie content is low.
Many of the plant's polyphenols are in the form of flavonoids, including compounds like patuletin and spinacetin.
Other dark leafy greens offer polyphenols too and each type will vary a little in exactly what they offer. But, out of all of them, spinach does end up being the best polyphenol choice. That goes to show that the vegetable still has a lot to offer.   
Beans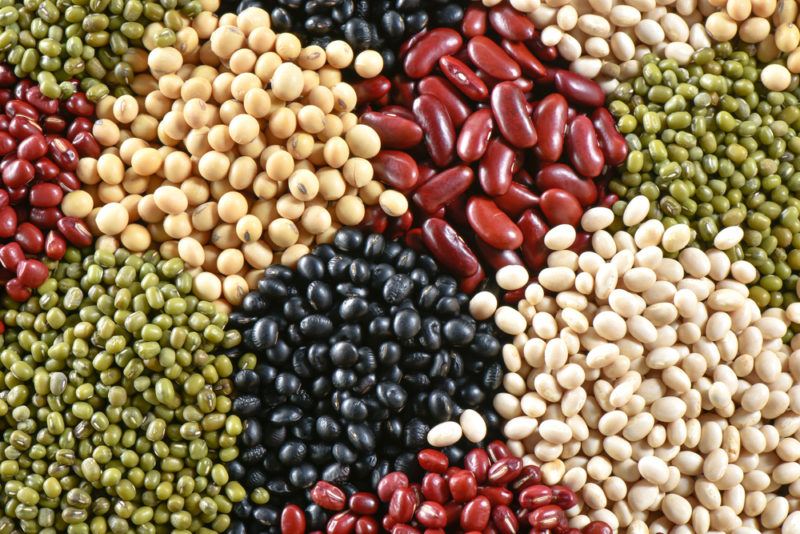 Legumes can offer polyphenols too and beans are a fantastic example of this pattern. Black beans and, interestingly, white beans are both especially high in polyphenols. Beans that are red, blue/violet, or black contain anthocyanins too. These pigment molecules are known for their antioxidant and anti-inflammatory effects.
And, of course, the fiber and protein in beans makes them a healthy addition to most diets.
Because you'll get some polyphenols in any type of bean, you can choose based on your favorites and what you have on hand. Doing so makes the most sense anyway, as each type of bean will have its own advantages and disadvantages.