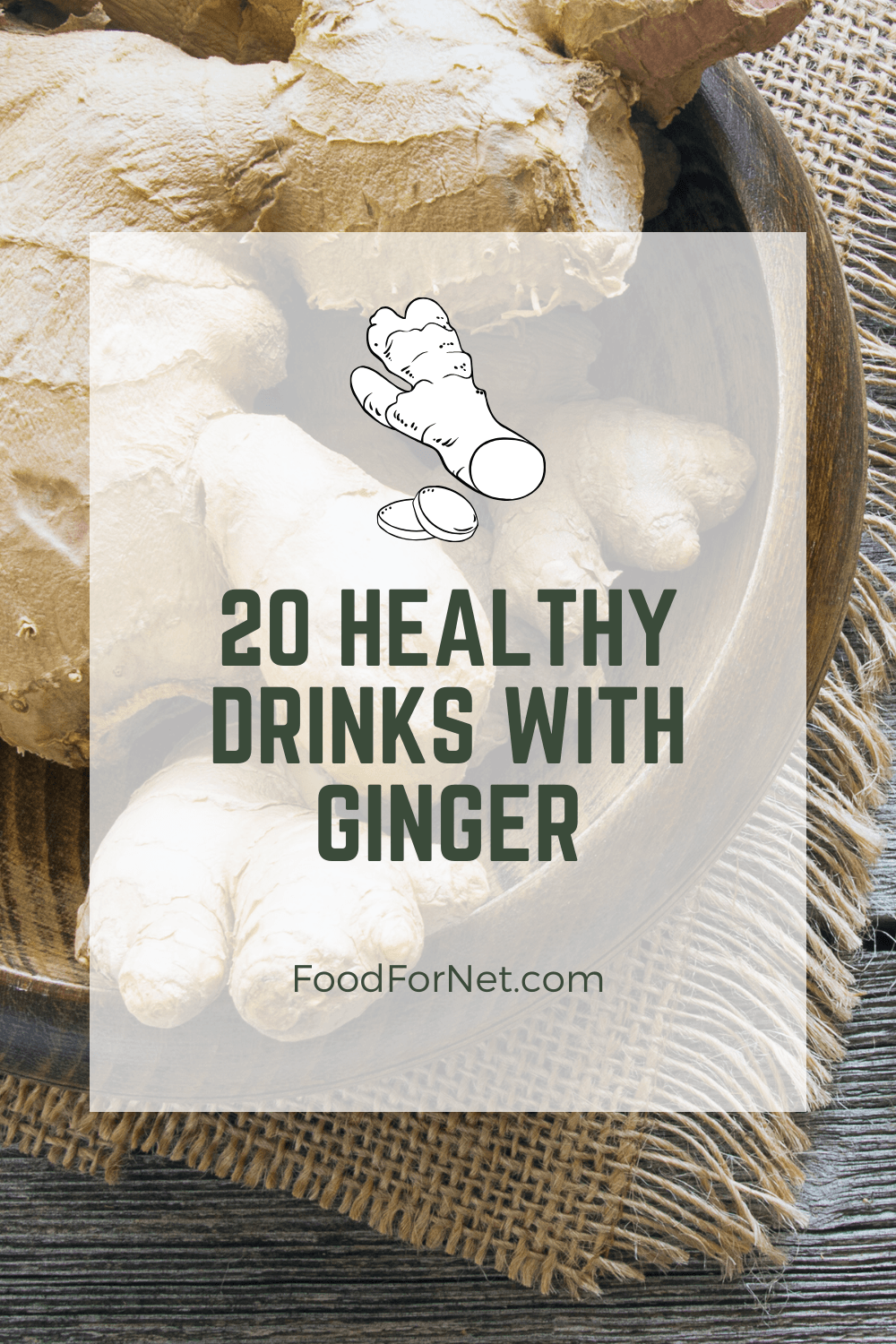 Ginger is much more than just a delicious spice. It has a long history in traditional and alternative medicines, while also being recognized for its health benefits in the modern day. While you can use the spice in cooking, healthy drinks with ginger are an even more powerful approach.
Including ginger in a drink allows you to quickly increase your ginger intake whenever you need to. You also have the chance to include many beneficial ingredients at once. For example, you'll often see turmeric or garlic as key ingredients in a ginger drink as well.
As for ginger itself, the spice is too important to pass up. The main bioactive compound is gingerol. This is responsible for much of the spice's flavor, along with its impacts on health.
In particular, gingerol is a key reason why ginger may help to reduce inflammation and oxidation throughout your body. The spice has also been linked to reducing nausea and improving the immune system, which are both important outcomes.
Healthy Drinks With Ginger
Green Tea
Lemon Ginger Green Tea
Lemon, Ginger And Honey
Chai Tea
Chai Latte
Green Juices
Ginger Juice
Golden Milk
Lemon Ginger Water
Mint And Ginger Lemonade
Homemade Ginger Beer
Smoothies
Ginger Lemon Iced Tea
Hot Toddy
Ginger Turmeric Carrot Shots
Ginger Limeade
Lime-Ginger Slushie With Mint
Ginger Tea Latte
Spiced Milk And Honey
Ginger Kombucha
Green Tea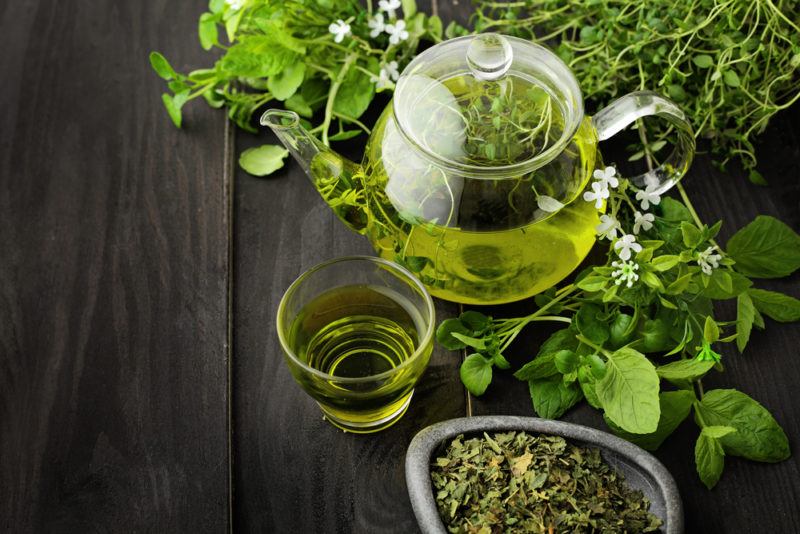 Adding ginger to green tea is a simple approach that also tastes delicious. The flavors of green tea and ginger complement each other well, giving you a hot drink that has a little extra spiciness.
An easy way to make this drink is to grind fresh ginger root and then boil it in water to infuse the flavors. This water can then be used to make your green tea.
The combination of green tea and ginger can be consumed hot or cold. You can also add in other ingredients to create a more complex drink, like in the next example.
Lemon Ginger Green Tea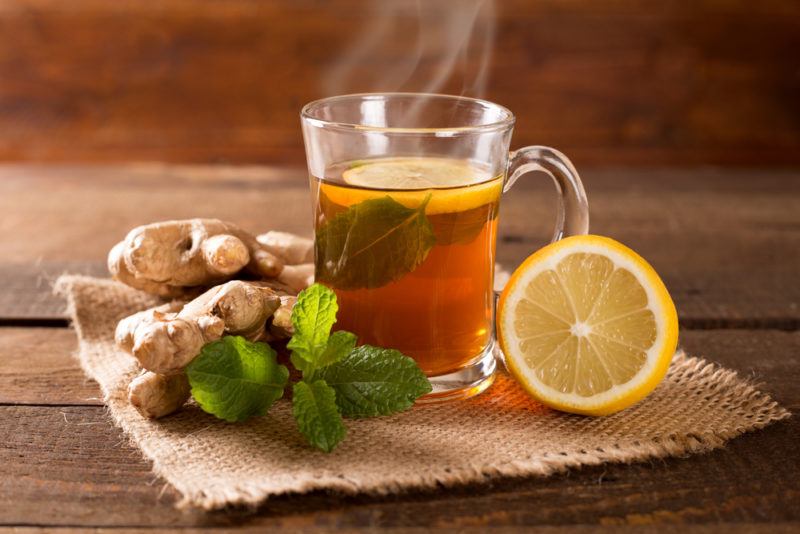 The recipe for lemon ginger green tea comes from the site Everyday Eileen, but you could easily make your own variation. The idea is that you're boiling together ginger, green tea bags, and a selection of other ingredients to create a very healthy drink.
In particular, the recipe features lemon, cayenne pepper, cinnamon, turmeric, and raw honey. All of these have been linked to health benefits.
If you're worried about the added sugar from the honey, simply skip it. The drink can easily be made with an alternative sweetener. You might even find that you don't need a sweetener at all.
Lemon, Ginger And Honey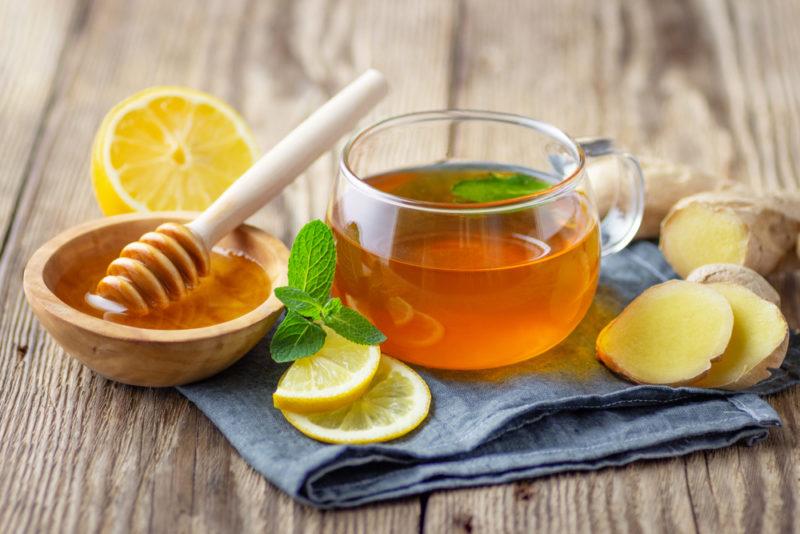 You can make a similar healthy drink by skipping the green tea and using the same general ingredients as the previous example. Doing so is particularly good for anyone who doesn't enjoy the flavor of green tea.
Once again, you can avoid the honey if you would rather make the drink healthier. Just be aware that the flavors can be fairly intense if you skip the sweetener entirely – and this time there's no green tea to mellow the drink out.
Still, lemon, ginger, and honey is a classic combination, one that is certainly good for you. You could even add in a splash of whiskey to create a hot toddy.
If you've never tried this type of drink before, the site Oh How Civilized has some great step-by-step instructions that you can follow.
You don't need to stop with lemon, ginger, and honey as ingredients either. You could use other healthy add-ins too. Turmeric would be a good one, as the flavor of the spice complements the other ingredients well.
Chai Tea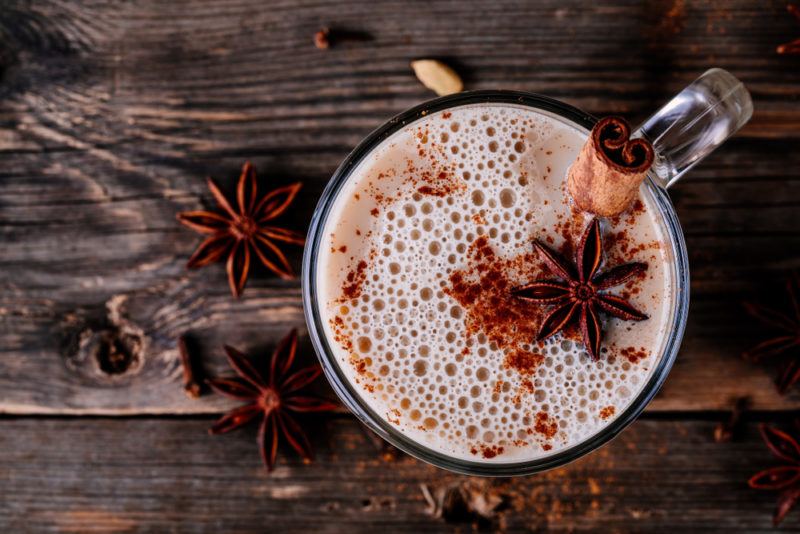 Chai tea has become exceptionally popular in recent years – and there are countless variations to choose from. The basic idea is that you're drinking black tea with a combination of spices. Cinnamon, ginger, and cardamom are some of the most common additions, but you might see other ingredients too, like star anise and fennel seeds.
Because black tea is one of the base ingredients, chai tea does end up containing some caffeine. Still, the caffeine content is much lower than a cup of coffee. Caffeine is thought to have some benefits for health anyway.
No two versions of chai tea are quite the same. This gives you the chance to experiment with different ingredients and quantities.
Chai Latte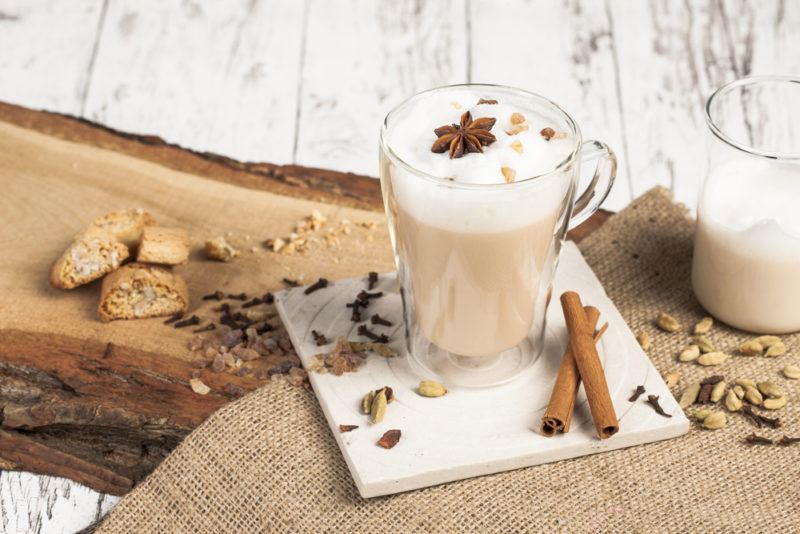 Just like chai tea, a chai latte relies on black tea and a collection of spices. The main difference is that chai tea is prepared much like regular tea, while a chai latte tends to be a milky drink, one that often uses very little hot water at all.
You don't need to rely on tea bags when making a chai latte either. There are various chai syrup products that can simply be added to hot milk.
You will, of course, get more benefits by making the chai latte yourself, using a base of black tea and the various spices. And, as with the other items on this list, using fresh ginger creates a stronger and more appealing flavor than using powdered ginger or a chai syrup.
In the end, the best approach will depend on your preferences and how much effort you want to put into your drink.
Green Juices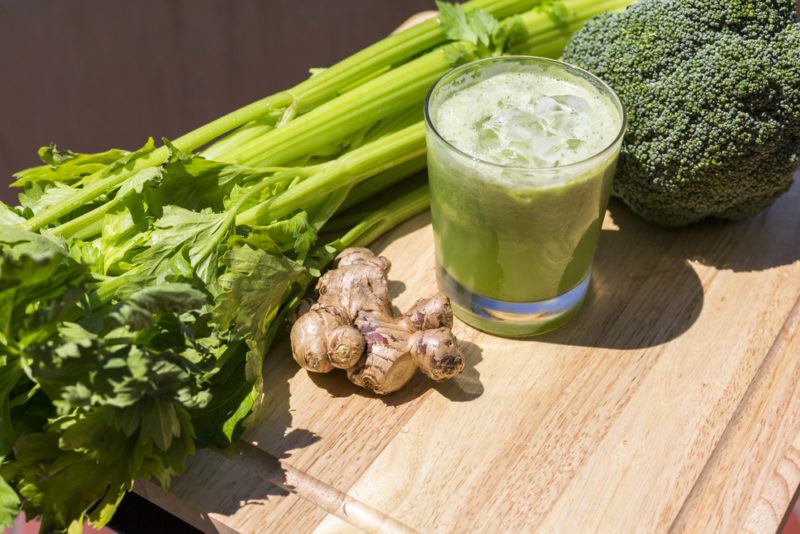 Hot drinks aren't the only way to get ginger into your diet regularly. Plenty of cold drinks can use ginger too, such as green juices.
Green juices generally use a combination of fruits and green vegetables. For example, one recipe on the site Minimalist Baker uses celery and cucumbers as the base ingredients, while adding in apple for sweetness and kale for green color.
Ginger and lemon are used to make the flavor more vibrant, creating a delicious drink that would be very healthy too. There are many other similar recipes out there – and you can easily work out your own too.
A simple approach is to start with a green juice recipe that you find online and tweak the ingredients. If you do this, try to just change a few ingredients at a time. Altering a recipe too much in one go can cause unexpected results.
Ginger Juice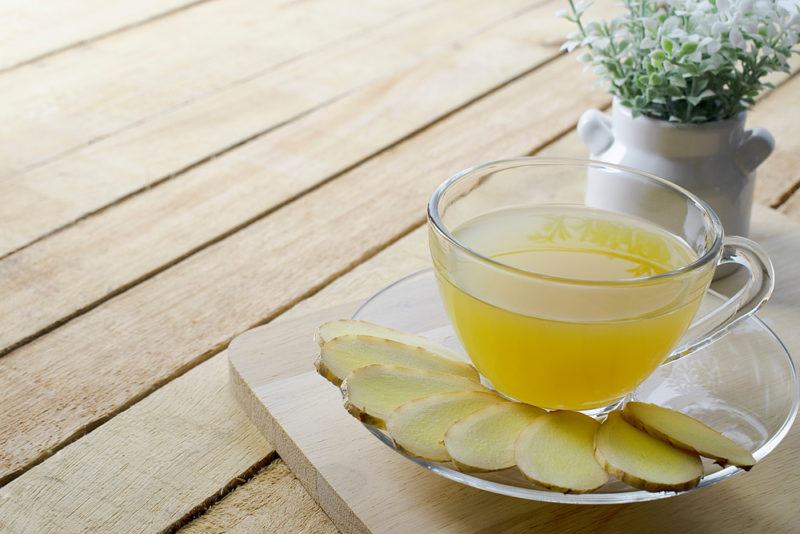 Ginger juice is one of the simplest drinks that you'll see made with ginger. For the most part, the drink is exactly what you would think – juice from ginger.
But, most recipes rely on other ingredients as well. This is partly because you don't get much juice from ginger and also because ginger has a pungent flavor. You need at least a few extra ingredients to create a palatable drink.
One example is a recipe from African Bites, which includes mint, water, lemons, and sugar (or honey) as other ingredients. The biggest problem is the added sugar. While this makes the drink taste good, it does decrease the health benefits.
Thankfully, you can always just cut down the amount of sugar until you get a flavor that you like.
Golden Milk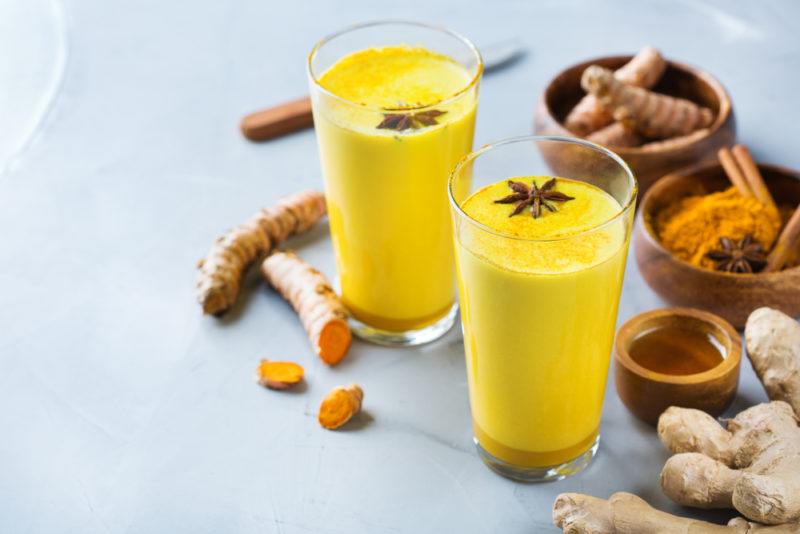 Golden milk is mostly a way to increase your turmeric intake, but many recipes use other spices as well, including ginger. The extra spices give the drink more complexity, while also offering more potential health benefits.
A basic way to make the drink is to mix milk, turmeric, and any other spices in a small pot, bring to a boil and then simmer for around ten minutes. The finished drink can then be strained into mugs. You could skip the straining step to, but doing so would give you a grainy drink.
Many recipes suggest that you should use plant-based milk when making golden milk. You could use dairy milk instead if you wanted to. For that matter, dairy milk tends to be higher in fat, which can make the drink taste creamier and even more delicious.
Lemon Ginger Water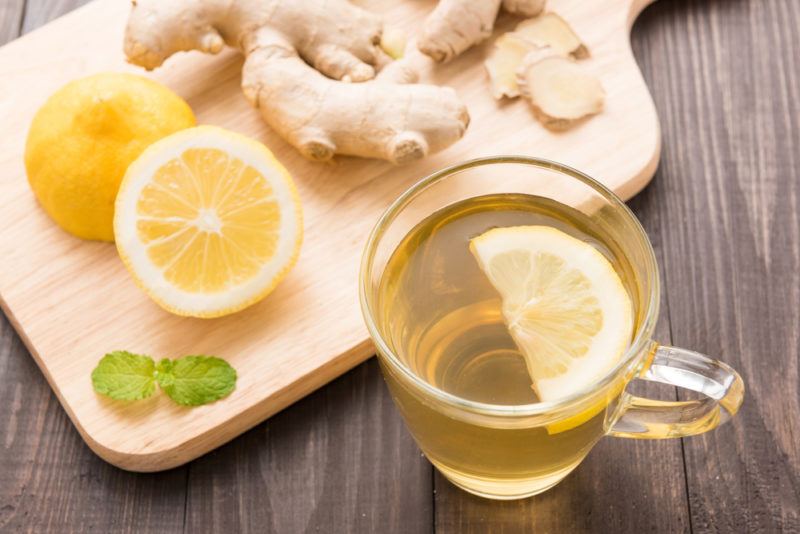 Lemon water is a popular choice in many situations. It is thought to help you to detox and, if nothing else, is an easy way to stay hydrated.
Lemon ginger water is a slight variation on this idea. You start off by peeling and slicing your ginger, then placing this in a jug or bottle with water overnight. This allows the ginger flavor to infuse into your water.
In the morning, you can warm the water up and add lemon juice.
Mint And Ginger Lemonade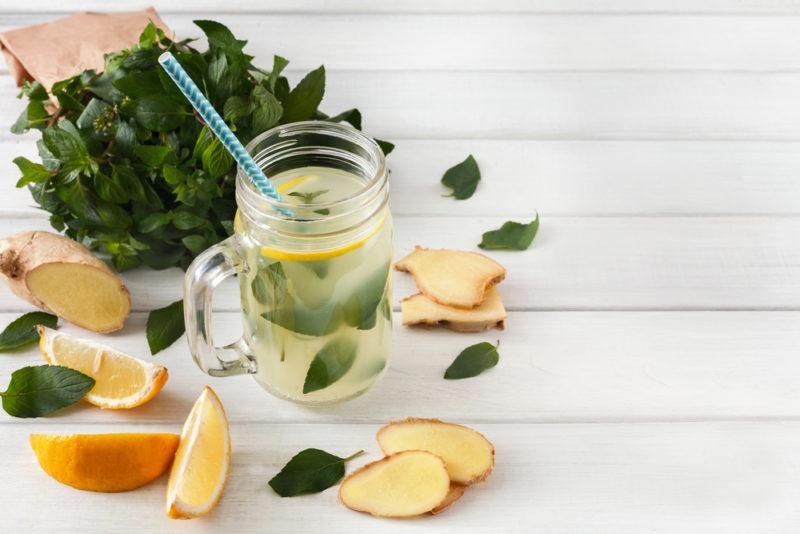 While lemonade from a store tends to be high in sugar and may use far too many additives, the lemonade that you make at home can be much better for you. After all, you get to control the ingredients that you use and their quantities
Besides, lemonade doesn't need to be excessively sweet to taste good.
Out of the many lemonade versions out there, mint and ginger lemonade is one type that stands out. The drink uses ginger, mint, and lemon as the key flavors, which all combine together surprisingly well.
You'll probably need a little sweetener too. The amount will depend on how sweet you like your drinks. Honey is an especially good choice, as you get some trace minerals. Honey has more flavor than sugar too and this flavor complements the other ingredients well.
If you're trying to keep sugar intake to a minimum, then you could use a natural sweetener instead. Stevia remains a popular choice. There is even a lemon-flavored version of stevia.
Homemade Ginger Beer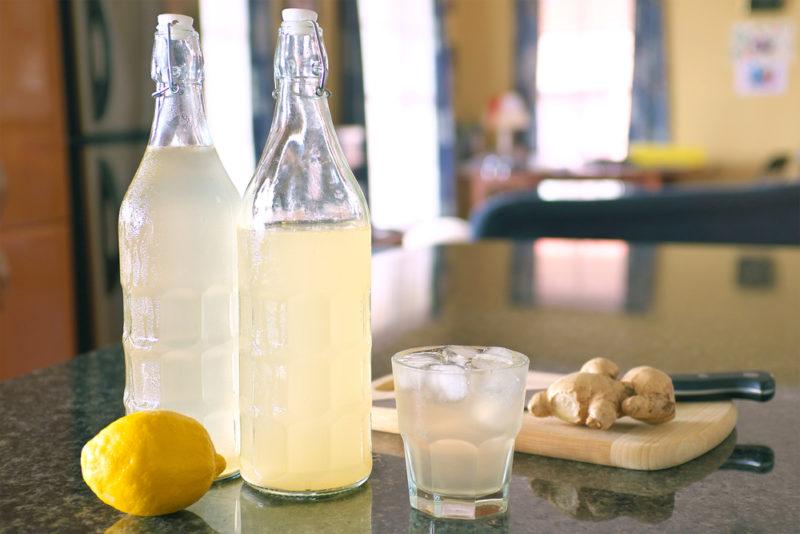 Bottled ginger beer tends to be high in sugar and additives. Thankfully, you can make your own much healthier version at home.
Doing so is powerful because ginger beer is traditionally fermented. With a fermented drink, you're getting various healthy probiotics, which can help to improve your gut health. Ginger beer is also easier to enjoy than many other fermented drinks, like kombucha, partly because the flavor is already familiar.
Making homemade ginger beer isn't difficult. You just need a handful of ingredients. The starting point is a ginger bug, which is made by fermenting ginger, sugar, and water. There is an interesting visual guide on the site Tori Avey, along with many other recipes out there.
While homemade ginger beer will contain some sugar, it doesn't need to include a large amount. Most of the sugar that you use initially will get consumed as food for the microbes. You can choose how much sugar you add to the finished soda.
Smoothies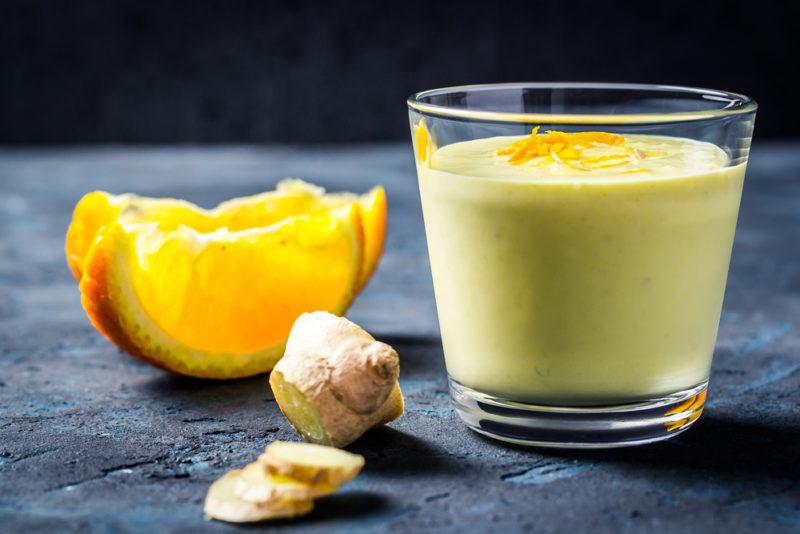 Smoothies can be healthy or unhealthy, depending on how you make them. Many people go overboard with fruit and even fruit juice, which can create a high sugar smoothie that isn't very good for you at all.
You also need to pay attention to the calorie content. Many smoothie additions are healthy in their own right, but the calories from them can add up quickly.
For example, a smoothie that uses two bananas, a decent amount of peanut butter, and full-fat milk may end up much higher in calories than a chocolate bar. Such a smoothie contains some beneficial nutrients, but not nearly as many as it could.
Healthier smoothies rely more heavily on vegetables, along with spices like turmeric and cinnamon. Some will use dairy milk, while others might look for plant-based milk instead.
Ginger Lemon Iced Tea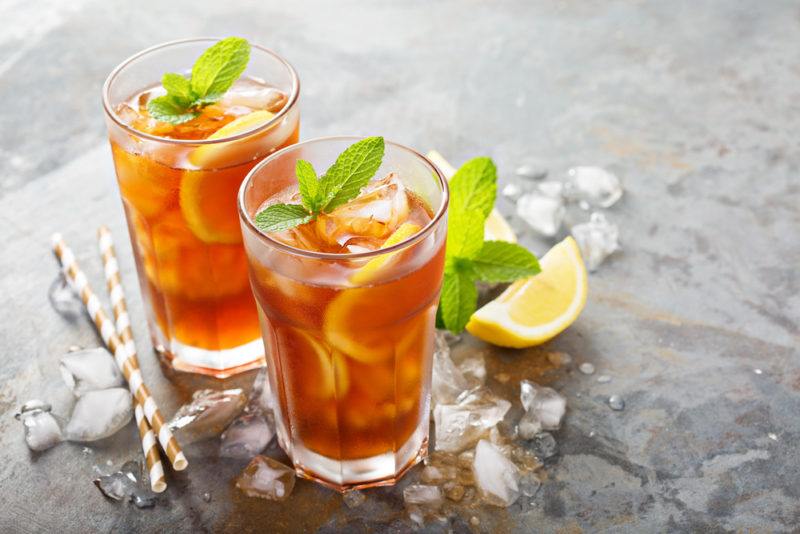 We've already mentioned ginger and lemon a few times in this list, as the two flavors really do go together well. Making ginger lemon iced tea is another way to use the ingredients.
The process is much the same as making any other type of iced tea. This means that you start off by brewing the tea in hot water. You add in grated ginger and lemon zest at the same time.
Instead of adding cold water, leave the tea to cool down. Once it is lukewarm, you can add in honey for sweetener and the lemon juice. After this step, you can chill the iced tea all the way.
The recipe can be varied, of course. You might swap the honey for a different type of sweetener or add in some mint leaves for extra flavor.
You'll also want to balance the flavors. Do you want a very gingery drink or one that only slightly tastes of ginger? What about the lemon? How intense do you want that to be? Your preferences here will influence the amounts of each ingredient that you use.
Hot Toddy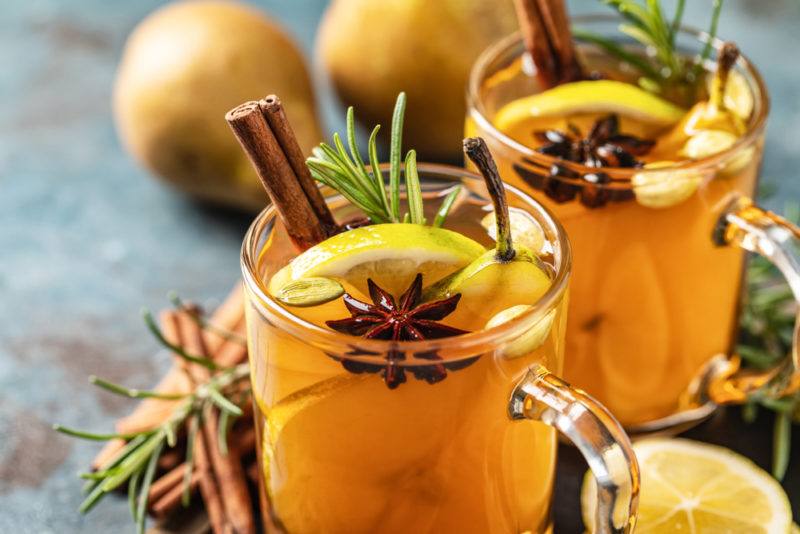 A hot toddy remains one of the best go-to drinks for anyone with a cough or a cold. You're combining several powerful ingredients in a single drink, along with some alcohol to help you relax.
Lemon juice, ginger, and cinnamon are some of the most common ingredients in a hot toddy. Honey is often featured too, as this can help to soothe your throat. While honey is a source of sugar, it can still be healthy in small doses. You can also skip the honey entirely if you're worried about it.
Ginger Turmeric Carrot Shots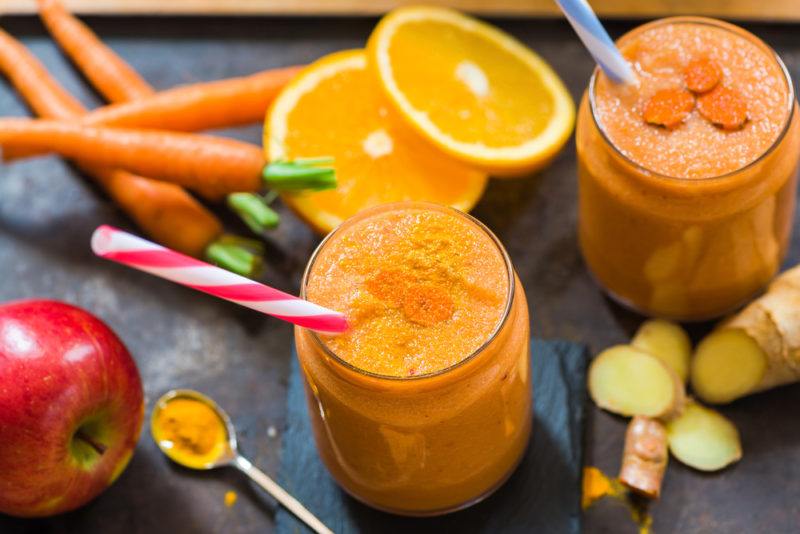 Juice shots were all the rage at one point. While that's not really the case anymore, some types of shots still have major advantages. A ginger, turmeric, and carrot shot is one example.
As the name suggests, this type of shot relies on carrot juice, ginger, and turmeric. Everything should be fresh, which means that you'll be juicing the carrots yourself and relying on turmeric and ginger root (if possible).
The sweetness from the carrots contrasts nicely with the two spices, creating a drink that tastes surprisingly good. If the flavor is too intense, you could try diluting the shots with a little coconut water.
You can make many other types of ginger shots too. Turmeric features in most of these, but don't worry if you're not a turmeric fan – you can easily leave out the spice.
Ginger Limeade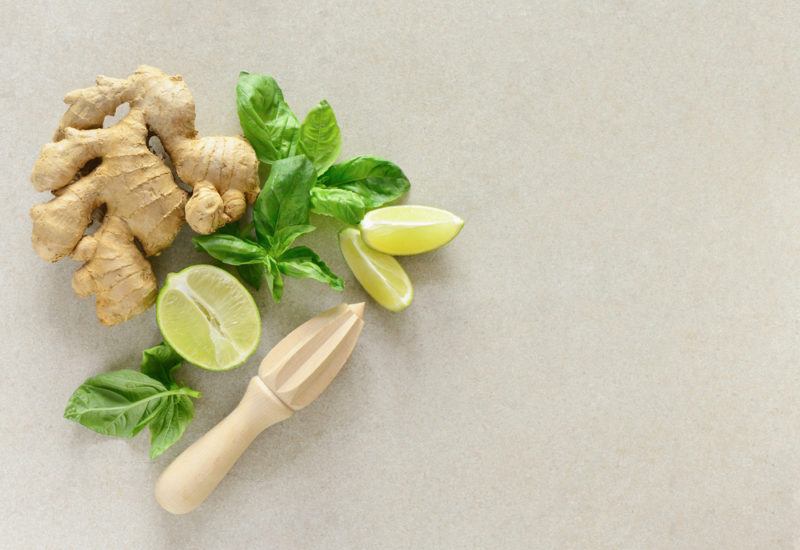 We've talked about lemonade, but what about limeade? Limeade can be more refreshing, especially if you keep the sugar content low. Adding ginger to create ginger limeade works very well indeed, giving you a delicious summer drink that is easy to make.
You can choose what sweetener you use when making this drink, along with the amount of sweetener. Keeping the total sugar to a minimum is important if you're trying to make a healthy drink. Besides, sugary drinks aren't nearly as refreshing as ones with a little tartness.
You could also add peppermint leaves to this beverage. Peppermint contrasts the other flavors nicely, giving your refresher an even more amazing taste.
Lime-Ginger Slushie With Mint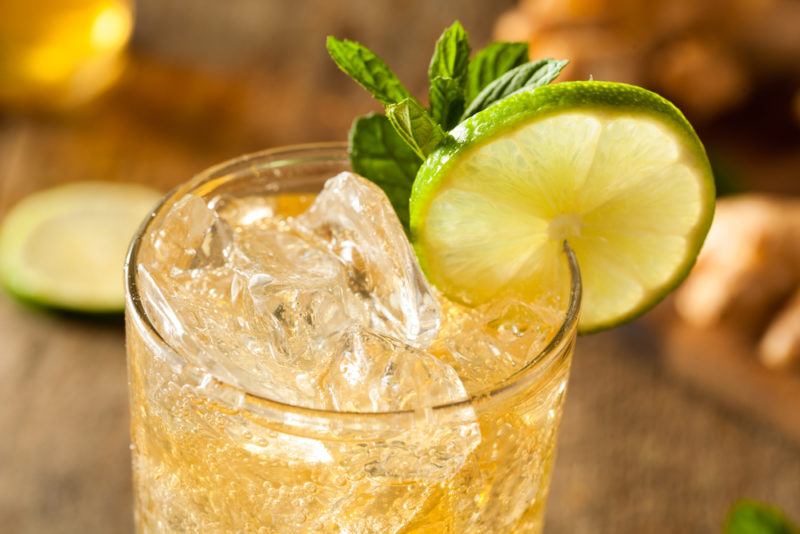 Speaking of lime, ginger and, mint, what about creating a slushie using those ingredients? The general idea is the same as the previous example, except that you're processing the ingredients in a blender with crushed ice.
The finished drink would be ideal on a hot day. You could easily make enough to serve a crowd.
On a side note, a drink like this could easily form the base of a summer cocktail. You might add a little rum or vodka in there to create something sensational.
Ginger Tea Latte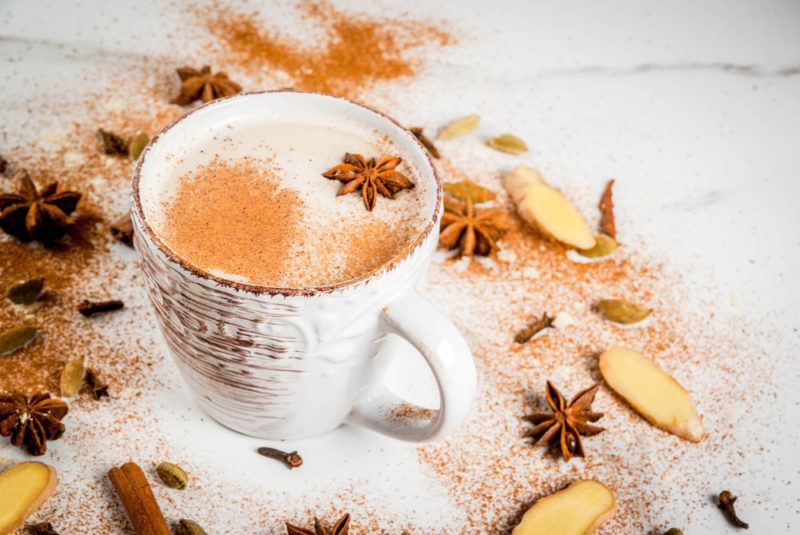 A ginger tea latte is generally a milky drink that is made using fresh ginger root, a ginger tea bag, or perhaps ginger syrup. The idea is similar to a chai latte, except that ginger ends up being a much more prominent flavor.
Some versions of this drink will use multiple sources of ginger to make the flavor even stronger. For example, you could use ginger powder, ginger syrup, and ginger tea all in the same drink.
For a slightly different flavor, you could use regular black tea, along with the ginger-containing ingredients. Black tea does have some health benefits of its own and the flavor complements ginger surprisingly well.
Spiced Milk And Honey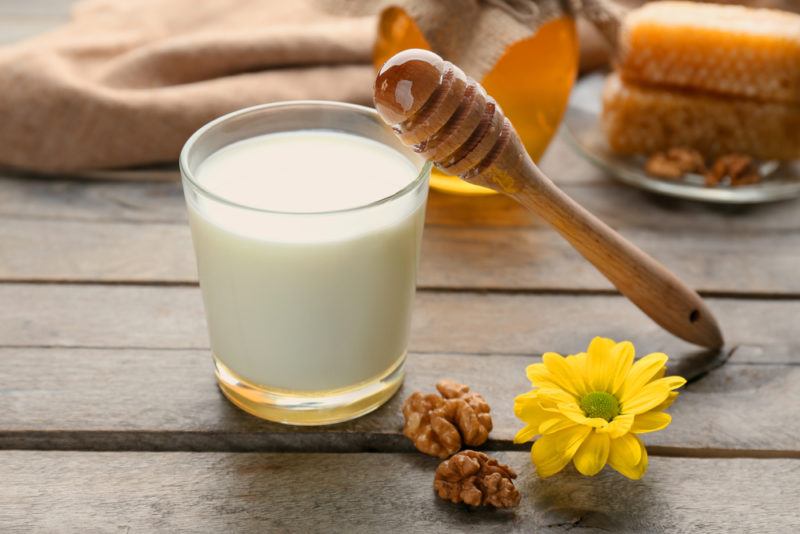 While hot ginger drinks often use water as a main ingredient, you can make delicious drinks using milk instead. One of these is hot milk and honey.
The drink is a variation on the idea of having a glass of warm milk right before bed. Adding honey simply makes the milk more interesting and provides some extra trace minerals.
A spiced milk and honey drink is a step up again. This time you're adding spices into the drink. Even just adding some cinnamon powder and possibly vanilla essence is enough to make the drink amazing.
You might include other spices too. I've seen some recipes that use cloves and cardamom, for example. And, of course, ginger makes a delightful addition.
A similar approach could be done with plant-based milks too, like coconut milk and almond milk. These milks may not be as soothing as dairy, but they have other advantages.
Ginger Kombucha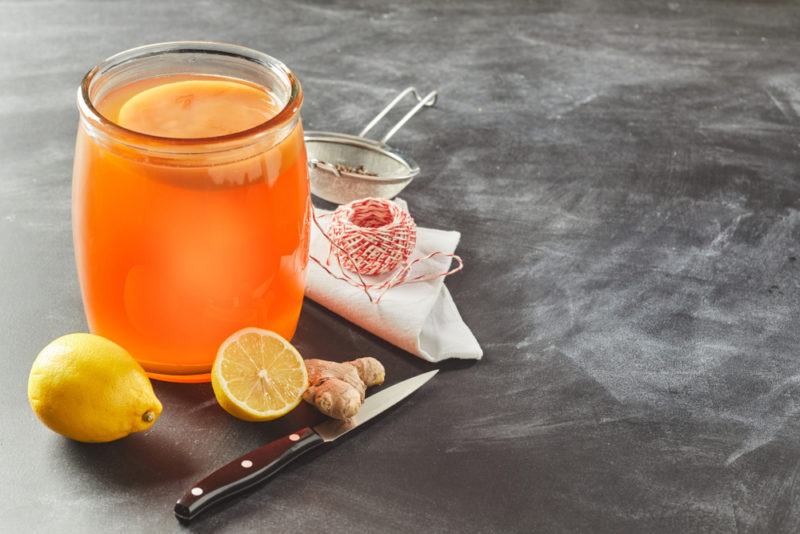 Ginger can be included in kombucha too. This is perfect if you're looking for the sharp kick that this probiotic drink provides.
There are generally two main fermentation steps in kombucha creation. The initial fermentation takes you from sweet tea to tart kombucha, while the second is where you are carbonating the drink and adding extra flavors.
This second step is where the ginger comes in. You add chopped up ginger and kombucha to fermentation bottles, along with any other ingredients that you want. Lemon and honey are both good additions here, which isn't very surprising.