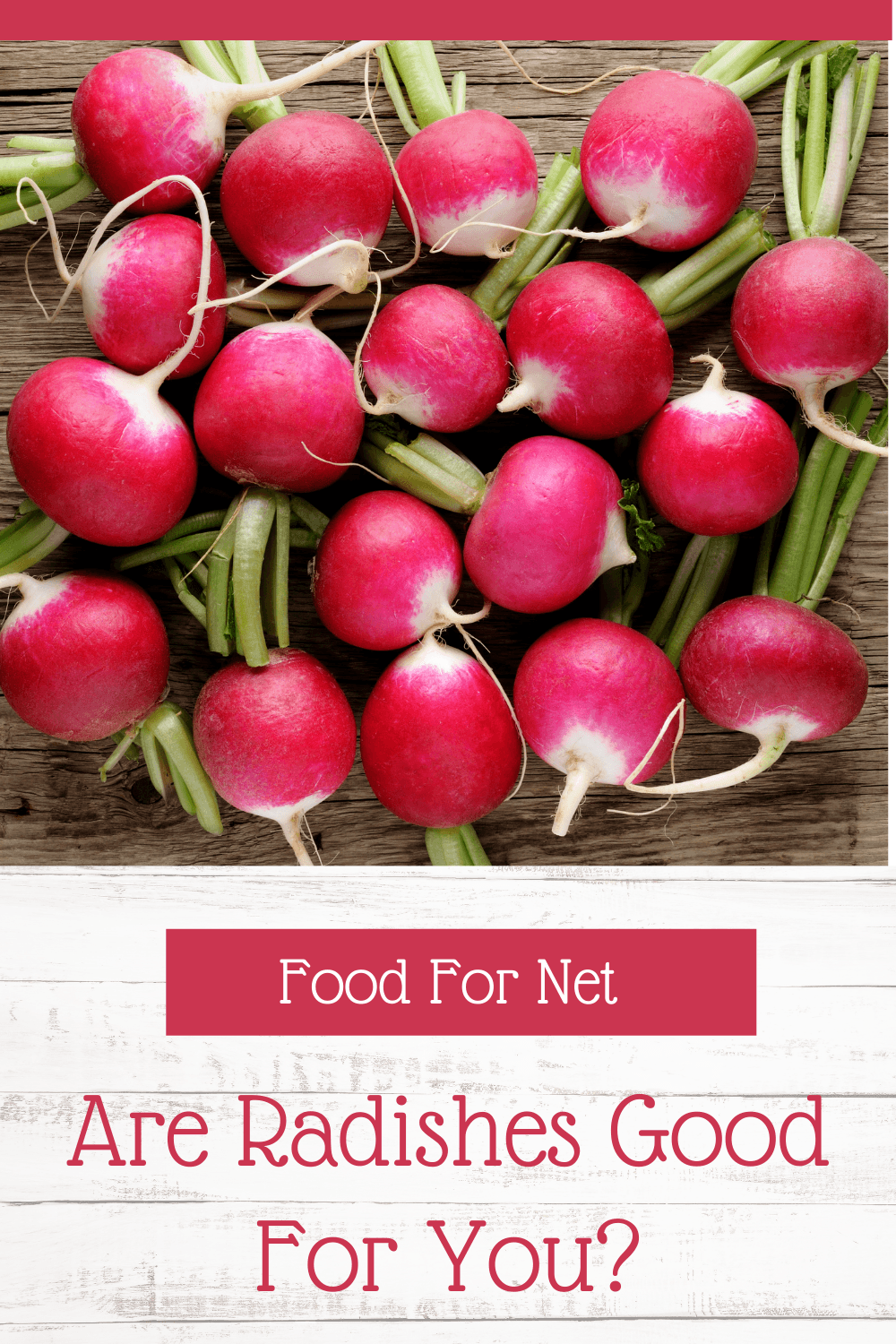 How do you feel about radishes? They're not exceptionally popular, but many people love them. There's something fantastic about their crunchy texture and peppery flavor that just works so well with other ingredients. But are radishes good for you?
There are plenty of types to choose from, including pink, purple, yellow, black, and white radishes. All of these types come from the parent species Raphanus sativa and can be used in roughly the same way.
What about health though? Are radishes good for you?
As you can probably guess, there are plenty of benefits. Most of these are true for all types of radishes. There are some risks to consider too. Don't worry though, none of these risks are serious.
Are Radishes Good For You?
Radish Nutrition
Benefits Of Radishes
How Radishes Could Be Harmful
Can You Eat Radishes Raw?
Types Of Radish
Final Thoughts
Radish Nutrition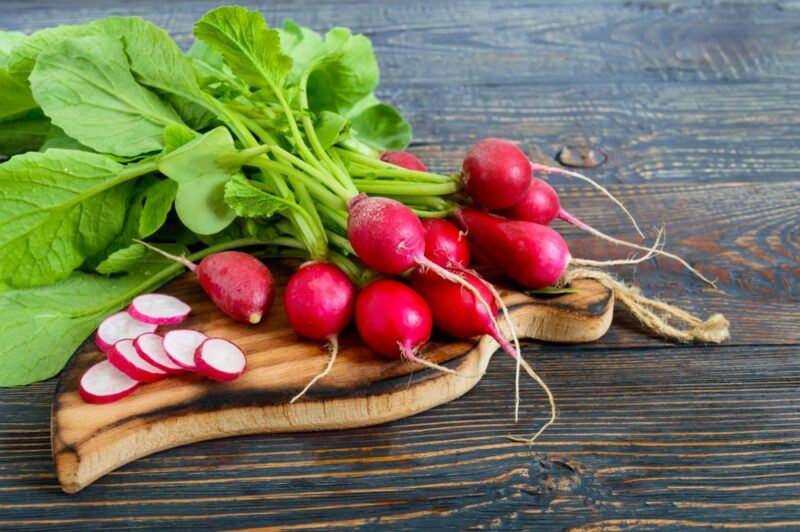 Let's begin with the nutrient profile, as this always tells us what's going on with our food. For a full cup of radish slices, you get the following nutrients and macronutrients:
Calories: 18.6
Carbs: 4.0 grams
Fiber: 1.9 grams
Sugars: 2.2 grams
Protein: 0.8 grams
Vitamin C: 29% of your daily needs
Potassium: 8% of your daily needs
Folate: 7% of your daily needs
There are other nutrients present too, including niacin, vitamin K, magnesium, and calcium – however, the amounts of these nutrients are lower.
Now, this nutrient balance might not seem amazing. You get many more nutrients per serving from kale, spinach, or many other vegetables. But, you are still getting a decent selection of nutrients for barely any calories, which is perfect.
In fact, low calorie ingredients like radishes are one of the easiest ways to boost your nutrient intake. You can just add them to a salad or a sandwich to improve your nutrient balance (or even just eat a raw radish on its own).
Benefits Of Radishes
A Decent Source Of Antioxidants
Nutrients are critical to our health, but they're not the only interesting thing about radishes. The vegetable also contains plenty of plant-based compounds, many of which are antioxidants. Some of the most important ones are vanillic acid, catechin, and vitamin C.
Antioxidants are remarkable, as they reduce free radical damage throughout your body. Doing so may then lower your risk for many diseases, helping you to live longer.
You find antioxidants in all fruits and vegetables, that's true. In fact, all plant-based foods contain at least some antioxidants, so radishes don't stand out in this sense. That doesn't matter though, as the goal isn't to choose the 'best' foods. Instead, including a large variety of fresh foods should give you the most benefits, which could mean eating radishes regularly.
Help With Your Blood Sugar Levels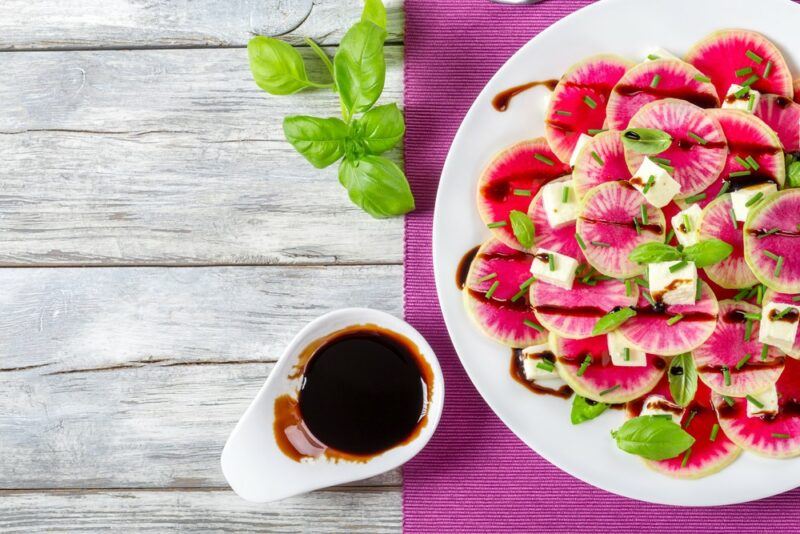 Radishes contain a few important compounds that influence your blood sugar levels. Glucosinolates and isothiocyanate are helpful here.
Other features of radishes can help too, including the fiber and the way that radishes promote the production of adiponectin.
It's not surprising, then, that radishes have a low glycemic index and are an excellent choice for diabetics. These features also mean that radishes should help to decrease diabetes risk.
Could Promote Heart Health
Vegetables are often exceptional for your heart. Radishes are no exception to this rule.
The fiber helps here, as it can decrease cholesterol in your blood. Some of the nutrients also help with your heart health, like the way that potassium decreases blood pressure.
The antioxidants in radishes are relevant here too, particularly a group known as anthocyanins. These compounds aren't just powerful antioxidants. They also have a variety of other roles and have been shown to help reduce blood pressure. This effect may be because anthocyanins help to promote nitric oxide synthesis.
Finally, radishes contain nitrates. These help to lower blood pressure as well.
Can Improve Your Digestion
Here's another useful feature, radishes can help with your digestion. One reason is the fiber content. After all, fiber is absolutely essential for a healthy digestive system. Consume too little fiber and you'll run into a whole host of problems, including increased blood cholesterol, spikes in your blood sugar levels, and constipation.
Some of the nutrients and antioxidants in radishes can help with your digestion too. This isn't so surprising, as nutrients and antioxidants keep our body functioning as it should.
Keeps You Hydrated
Like most vegetables, radishes are a decent source of water. This means they can actually help with your hydration.
The effect is surprisingly important, as many of us don't get quite enough water every day. We get enough to function, true, but we're often mildly dehydrated, which can affect our energy levels, our ability to focus, and more.
If you find it difficult to drink enough water each day, water rich vegetables can help make up the difference. Don't forget about fruits like watermelon either. These are rich in water as well and are also delicious.
They're Low In Carbs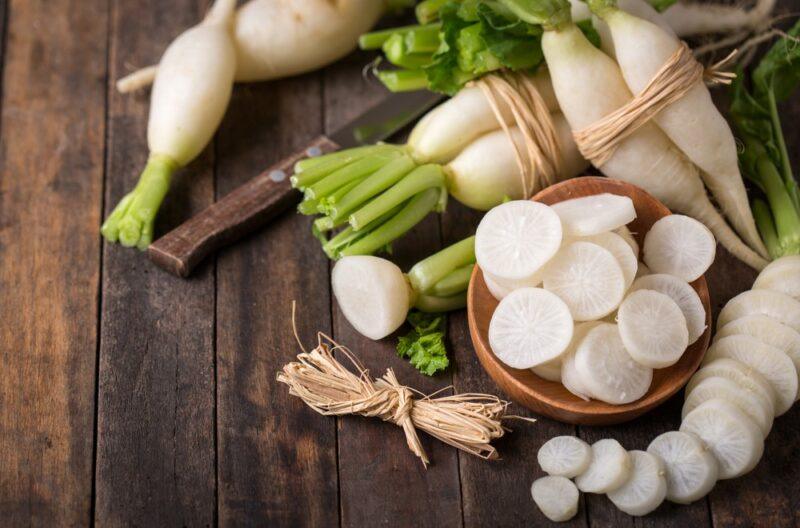 Radishes are low in carbs as well, with a medium radish only containing around 0.2 grams of net carbs. Pretty impressive, right? This means that you can easily add radishes into your diet.
You can use your radishes in plenty of ways, including slicing them as part of a salad. But, one of the most useful options on keto is to roast and season radishes, then use them as an alternative to roast potatoes.
Roast radishes won't have the same flavor and texture as roast potatoes, of course, but they fill the same role on your plate, while only containing a fraction of the carbs.
Could Help You To Lose Weight
Radishes are low in calories, carbs, and fat. What could be better when you want to lose weight? You're also getting a decent amount of nutrients, water, and fiber per serving.
The water and fiber help to keep you satisfied, which may reduce cravings for sugary snacks. Filling low calorie ingredients like radishes can even help to keep your food consumption in check, so that you eat less over time.
The nutrients in radishes are relevant too, as your body needs an adequate supply of nutrients to function optimally. If your nutrient intake is too low, then you might start to see side effects, some of which could hinder your weight loss efforts.
How Radishes Could Be Harmful
Can Lead To Side Effects
Radish is a pretty safe vegetable and is even low in FODMAPs.
Despite this, radishes can cause some side effects, including gas and bloating. For some, these side effects may be nothing more than mildly uncomfortable. For others, they may be painful.
Thankfully, you can avoid most issues by keeping your portion sizes small. Don't worry too much though. Many people won't experience any notable side effects at all.
Might Contribute To Thyroid Problems
The other big concern is that radishes could lead to thyroid problems by interfering with the production of thyroid hormones. This issue is common among cruciferous vegetables because of the goitrogenic compounds they contain.
Despite concerns, most people can eat cruciferous vegetables without a problem. You only really run into issues if your cruciferous vegetable intake is high and you're not getting enough iodine in your diet.
Besides, cruciferous vegetables offer far too many benefits to be written off due to a single concern that won't be true for most people.
Can Decrease Blood Sugar Or Blood Pressure Too Much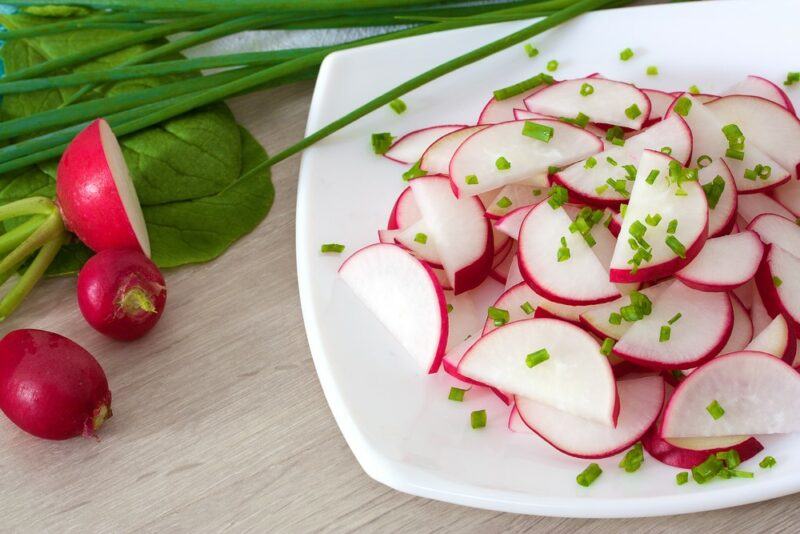 Radishes can help to decrease blood sugar and blood pressure. Those effects are generally helpful, but they can sometimes be risky instead.
For example, if you are taking diabetic medication and eat food that lowers blood sugar, you might drop your blood sugar levels too low. Something similar happens for blood pressure.
Because of this, anyone taking medication needs to be cautious. The same is true if you have a serious health condition. It's best to talk to your doctor about which foods are safe for you and which ones you should be avoiding.
Can You Eat Radishes Raw?
Radishes don't need to be cooked. You can safely eat them raw, and many people do. Most types of radishes have a thin skin, making it easy to eat the skin at the same time as the rest of the radish.
However, raw vegetables do tend to cause more problems than cooked ones. They're harder to digest, for one thing. There's also the risk of contamination from the soil. The goitrogen content may be higher for raw radishes as well, which might be an issue if you're worried about your thyroid.
For most people, the best approach will be to try raw radishes and watch closely for any side effects. Doing so makes it easy to see whether raw radishes are right for you.
Types Of Radish
Thus far, we've been focusing on the famous red radish, the ones that are easily found in local stores and farmer's markets. However, there are plenty of other types as well, including the following.
Watermelon radish. This variety doesn't look that interested on the outside, but the inner flesh really resembles a watermelon. Including slices of this radish in a salad is an amazing way to make it look so much better.
French breakfast radish. This variety looks similar to the regular radish, except that the radish is elongated, rather than being spherical. The flavor is mild, so you can easily eat the radishes as-is.
Malaga radish. These radishes look amazing on the outside, with a deep purple color. While their flesh is white, there is often a tinge of purple as well.
Daikon white radish. These white radishes are popular in Asian and Middle Eastern cooking. While the flavor doesn't work well for eating raw, there's plenty you can do with the radish, like fermenting it and including it in kimchi.
Black Spanish radish. Not surprisingly, these radishes are black, but only on the outside. Their inner flesh is white, which makes for a delightful contrast.
Final Thoughts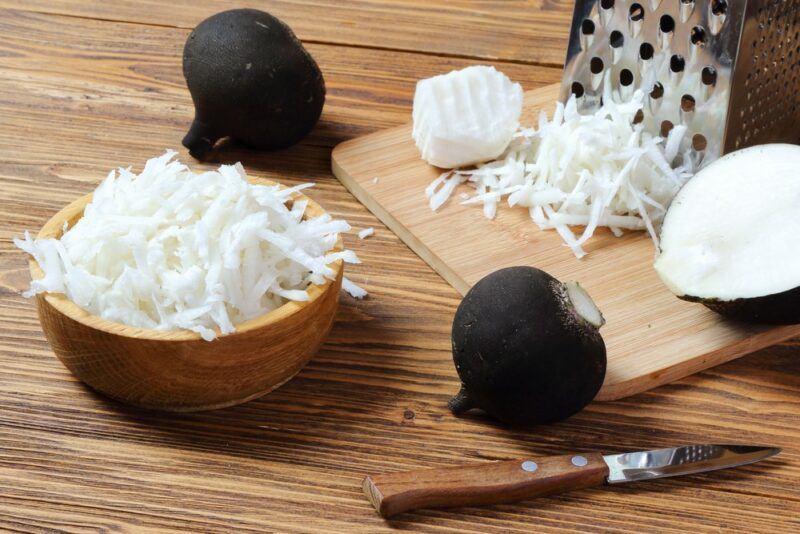 It's easy to overlook radishes in favor of trending superfoods. Yet, radishes easily hold their own, offering plenty of benefits.
One of the best things about radishes is how they can make meals so much more interesting. Even a few slices of raw radish makes a dramatic difference to the flavor of a salad or a sandwich.
If you're not convinced, why not experiment for yourself? You've got nothing to lose and everything to gain.
Frequently Asked Questions
Are Radishes Keto Friendly?
Yes. Radishes are fantastic for keto, as a single one contains around 0.1 grams of net carbs. This means you can eat a dozen or more without worrying much at all.
In fact, some keto dieters regularly use roasted radishes as an alternative to potatoes. This works surprisingly well, as the radishes do take on a similar texture to potatoes after roasting.
Are Radishes Spicy?
Radishes do have a spicy heat to them. This can be very intense, especially if you eat them raw. However, some varieties are milder than others. Cooking radishes also helps to mellow them out and give them extra sweetness.
Do Radishes Cause Gas?
Radishes contain fiber and a sugar called raffinose, both of which can cause gas. The raffinose is a particular problem, as our bodies find this difficult to digest.
Thankfully, cooking your radishes first makes them easier to digest and should reduce any side effects. You can also simply stick to small portions. Because radishes contain a decent amount of water, a small serving of them might not give you any side effects at all.
How Long Do Radishes Last?
The shelf life of radishes strongly depends on how you store them. They'll last between two and four days if they're kept at room temperature. If you place them in the fridge, you can get a week or even two out of them. Keeping them in a jar of cold water in the fridge gives you the best possible quality.
Blanching and then freezing radishes is useful if you want them to last longer. They'll keep for up to six months this way, although some of their texture and distinctive flavor is lost.
Are Radishes Low FODMAP?
Surprisingly, radishes are a low FODMAP vegetable. You can even have a serving of 75 grams (or perhaps more) in the elimination phase of a low FODMAP diet. In fact, you need to have a full cup of Diakon radishes to hit moderate FODMAPs – and that's far more than you're likely to want in a serving.