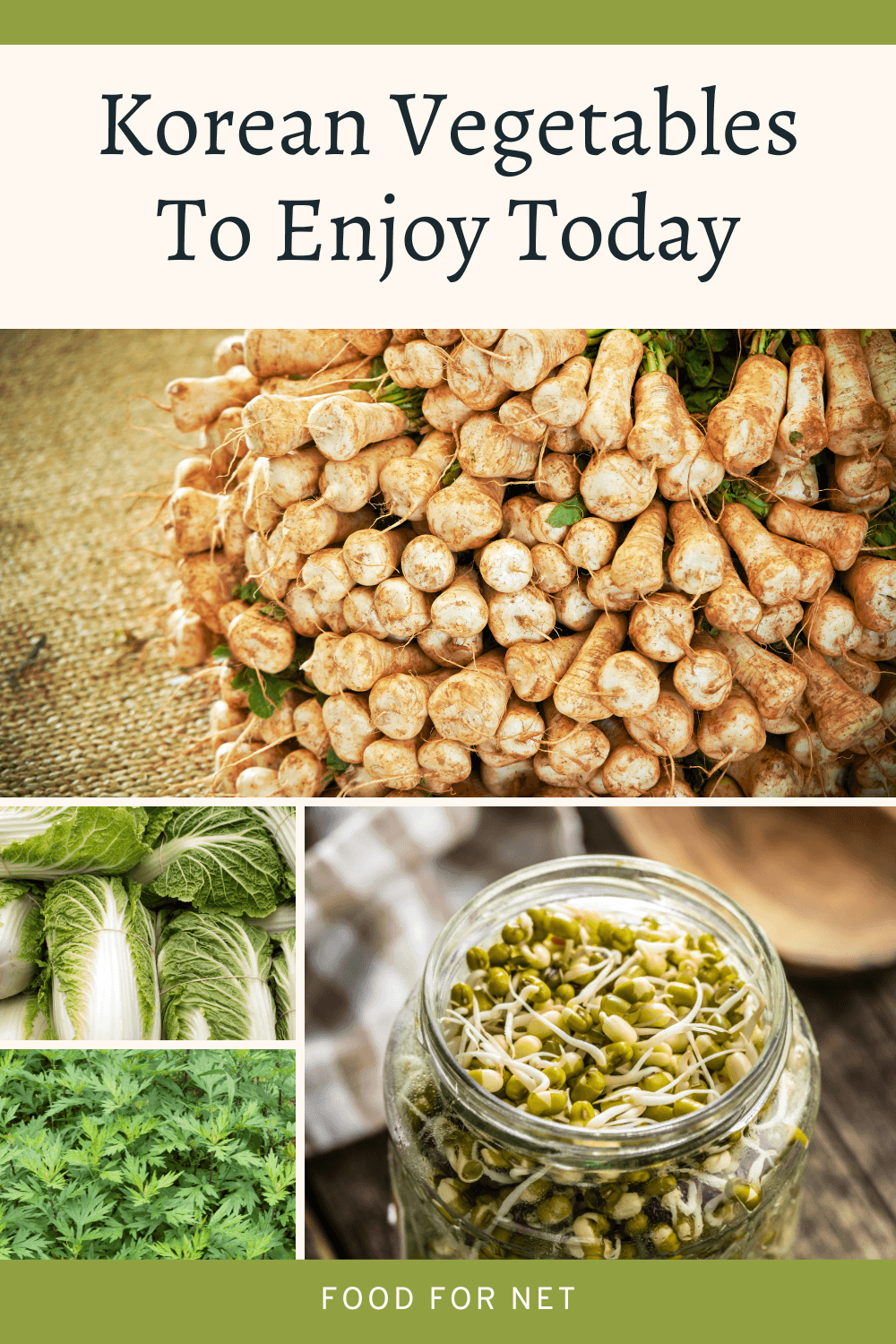 Do you ever fall into the trap of cooking the same vegetables night after night? It's easy to do but also a serious waste, as there are so many fantastic vegetables out there. We've highlighted some of these in our lists of weird vegetables and unusual root vegetables before. Today, we're looking closely at Korean vegetables.
It's a great time to look at these vegetables, as various American grocery stores now stock Korean foods. You can also order such ingredients online and have them shipped throughout the country. Plus, there are countless recipes to experiment with, like these Korean slow cooker recipes and all the recipes offered by food bloggers.
Some of the vegetables on this list will look instantly familiar, as Korean cooking uses many of the same ingredients that are popular here. However, there are some unusual entries as well, ones that you might want to try for yourself.
P.S. Why not experiment with Korean drinks or Korean snack subscriptions as well? These allow you to get even more immersed in the culture and find some new treats along the way.
Korean Vegetables
Mugwort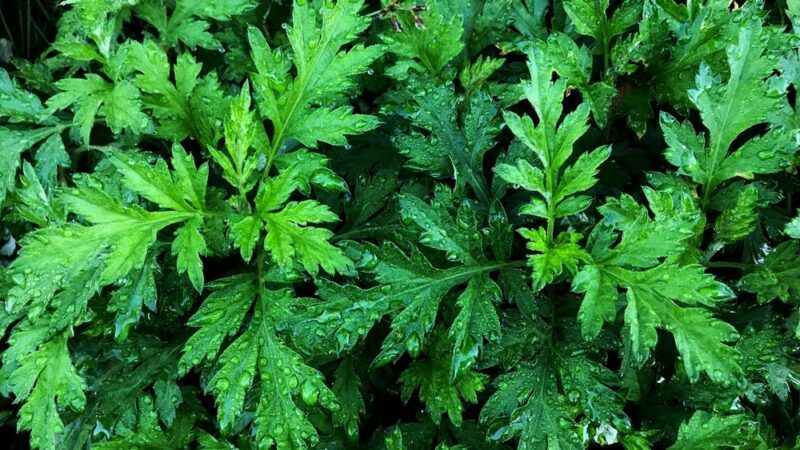 Mugwort is the name given to multiple species of aromatic plants, including Artemisia vulgaris and Artemisia argyi. These herbs are often used to make tea, but also feature in Korean cooking. Mugwort is best picked when it is still young, as this is when it is most tender and best for cooking.
It can then be used in multiple fascinating dishes, including mugwort soup and a mugwort rice cake. Steamed mugwort can even be used to make a sweet snack.
Perilla Leaf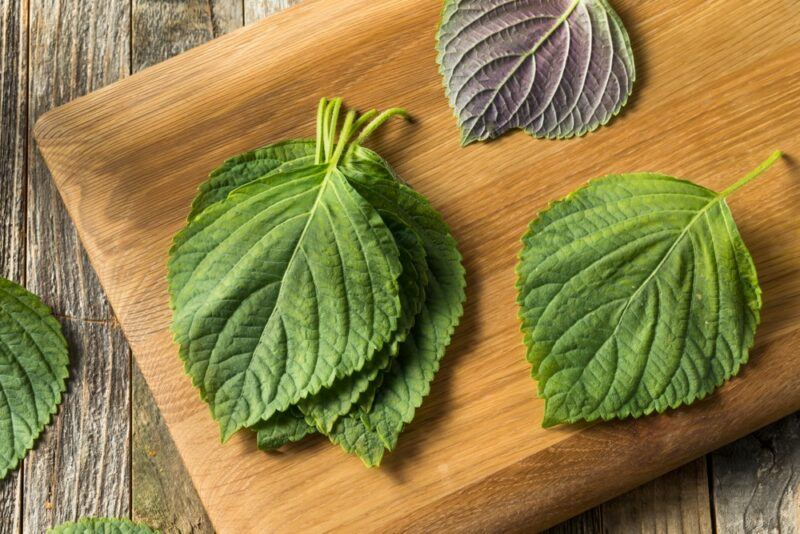 Perilla leaves are another ingredient that could be described as vegetables or herbs. Their flavor profile has notes of both basil and mint, making the leaves an interesting addition to many meals.
The leaves can be shredded and used in many dishes or even left whole and steamed. Pickled perilla leaves work well too. Not only are these delicious, but they're also a very easy Korean side dish to make yourself.
Chonggak Radish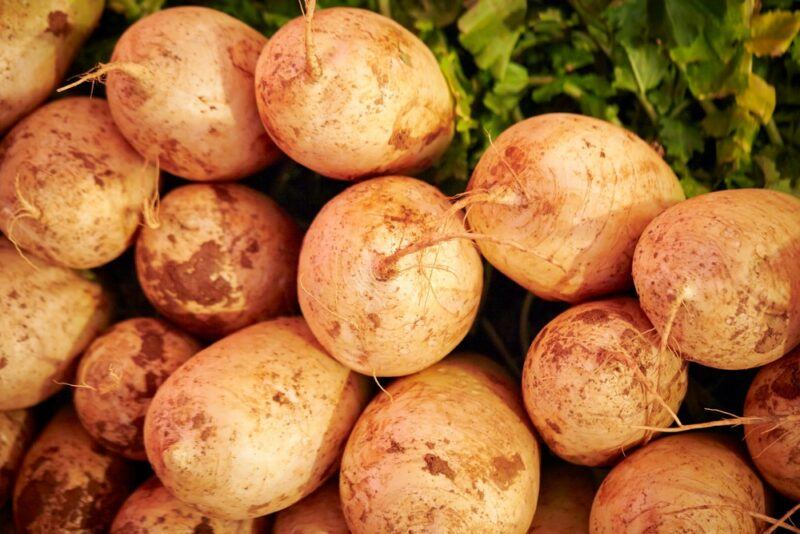 Chonggak radishes are small radishes that look a little like drumsticks. The entire vegetable is edible and all parts feature in Korean cuisine.
One of the most popular styles is chonggak kimchi, which uses the classic kimchi flavoring ingredients. Interestingly, the radishes are kept whole for this dish, which creates a stunning contrast of color.
Korean Squash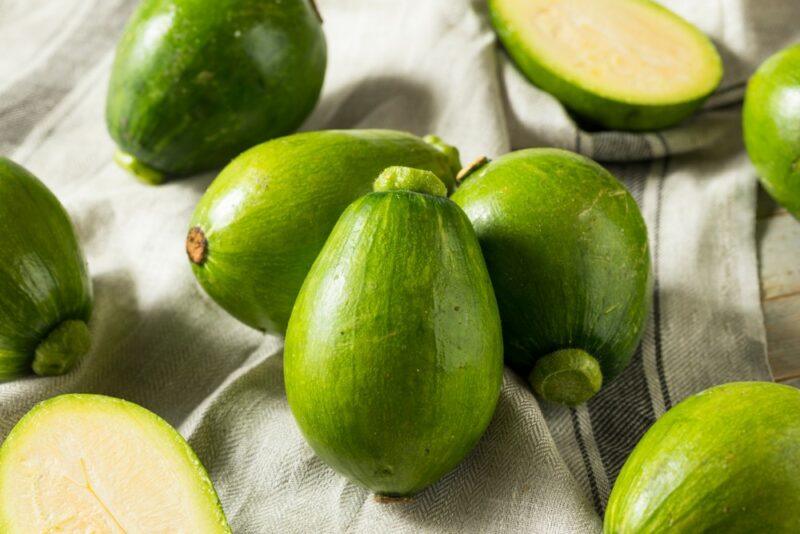 What do you think of these little beauties? They look a bit like zucchini, except that they're shorter and more globular. Their flavor is similar to zucchini too, so they can be used in many of the same dishes.
That said, Korean squashes tend to be denser and a little richer than zucchini. Cutting them more thinly helps to make the texture difference less noticeable.
Napa Cabbage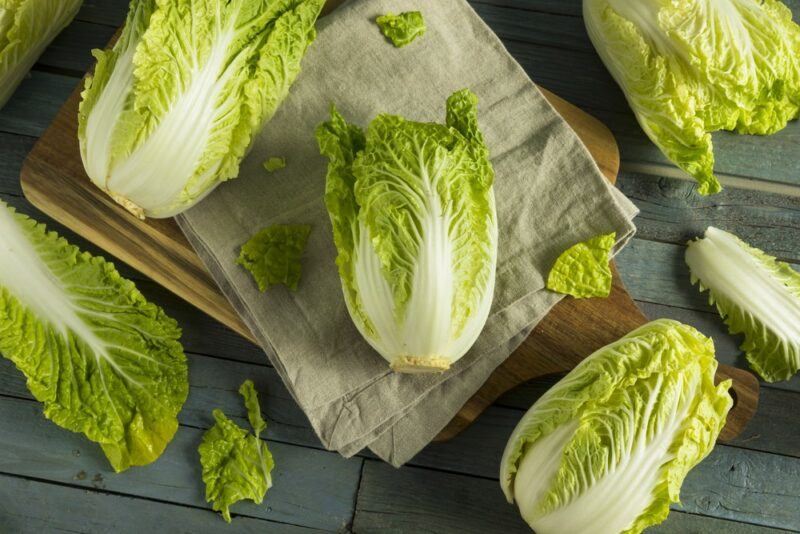 Napa cabbage might look familiar, as it is becoming increasingly common in Western meals. As the name suggests, this is a type of cabbage, one that belongs to the cruciferous vegetable family and offers many health benefits.
Napa is also a great cabbage to use for cooking, as it blends easily with other ingredients and flavors. This means you can use it in countless meals, including Korean and Western recipes. The site healthygreenkitchen.com even has a list of 21 napa cabbage recipes and that barely scratches the surface.
Cucumber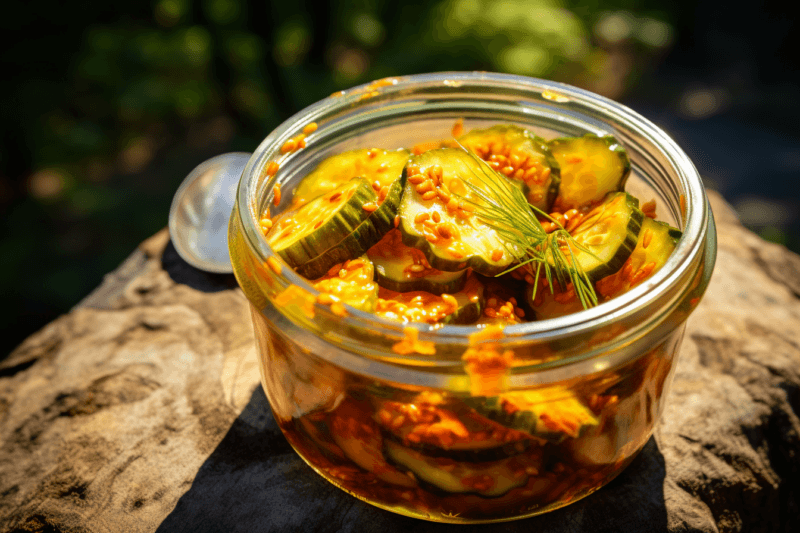 The humble cucumber is easily overlooked, but shouldn't be, as it is delicious, versatile, and easy to use. Cucumbers are also a regular feature in Korean cooking.
Many recipes involve making a type of spicy cucumber salad, where the cucumber is paired with ingredients like soy sauce, sesame oil, and red pepper flakes.
However, there is a distinction to be made. Such dishes often rely on Korean cucumbers. These varieties are similar to our cucumbers, but tend to have small spikes or bumps. They're also sweeter than the varieties that we're familiar with and have a milder flavor.
These cucumbers also tend to be crunchy, which helps them stand up well in cucumber salad recipes.
Chili Pepper

In Korea, chili peppers typically go by the name gochu, where the red ones may be called hong-gochu and the green ones put-gochu instead.
There are many varieties of these peppers to choose from, including those that are very sweet and others that are spicy instead. The Korean varieties can be prepared in the same way as the peppers that we're familiar with or used to make Korean dishes instead – like these stir-fried green chili peppers from maangchi.com.
Korean Green Onions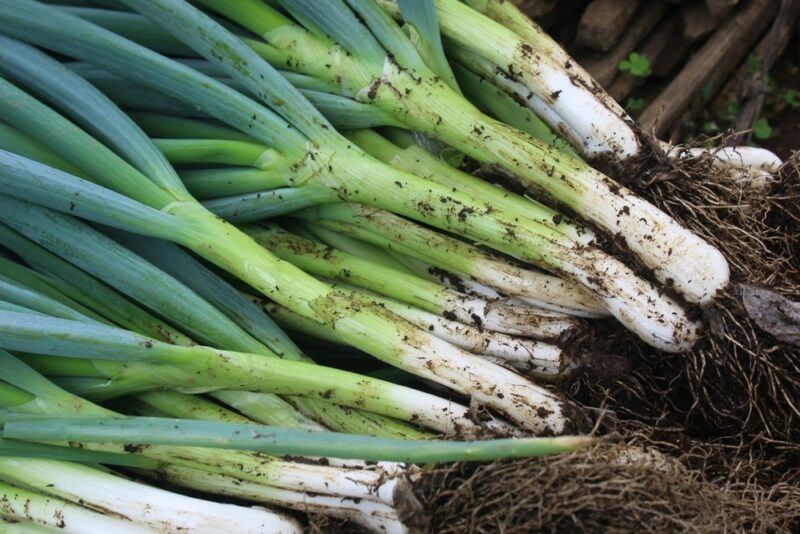 Korean cooking often relies on dae-pa, which is a large green onion that looks a little like a leek. These vegetables are tougher than regular green onions and tenderer than leeks, but are still very easy to use.
Other types of green onion often feature in Korean meals as well. These tend to be thin and more closely resemble the green onions found in the United States. The green onions can be used in all types of dishes, including soups, stews, kimchi, and scallion pancakes.
Mung Bean Sprouts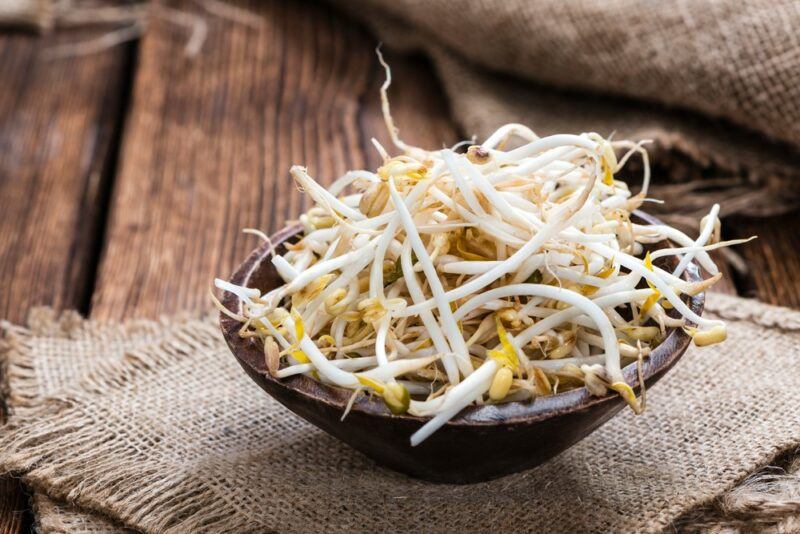 You might be familiar with mung bean sprouts too, as they're common in the United States these days. They're actually so well-known that we typically just refer to these as sprouts (even though there are many other types of sprouts).
Mung bean sprouts have a mild flavor, which makes them fantastic in many recipes. They're extremely common in Korean cooking, often served either cooked or raw as part of a side dish. One example is sukju namul, which is a bean sprout salad that relies on blanched mung bean sprouts, toasted sesame oil, and garlic.
However, it's important to be a little cautious, as there is some risk of food poisoning. Bags marked 'ready to eat' are your best bet if you want to eat them raw, as these should be safe. Washing your sprouts reduces the risk of illness, but even then, people with a weak immune system may want to cook their sprouts instead.
Korean Celery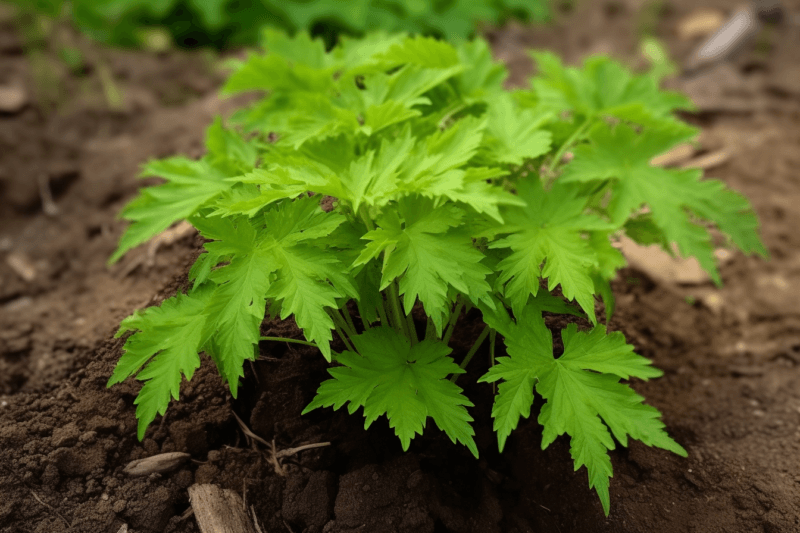 Korean celery, seombadi, isn't a different type of celery. It's an entirely distinct species, one that tastes a little like regular celery and a little like lovage. The flavor is more intense than celery, so the vegetable can make your meals really stand out.
This is also an interesting plant to grow at home, as it looks beautiful. Many people even grow it as an ornamental, without realizing that the greens are completely edible.
Korean Zucchini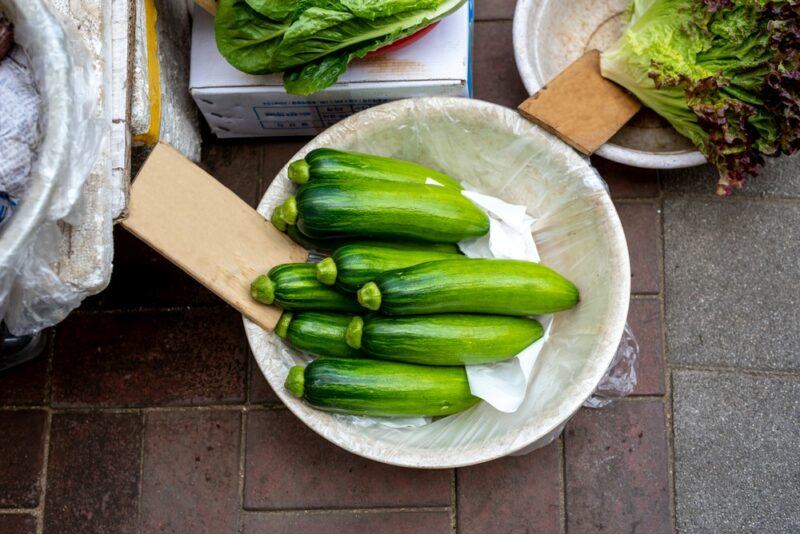 The term Korean zucchini can refer to a few things. First, it refers to any Korean dish made using zucchini, particularly hobak bokkeum, a popular zucchini salad side dish.
Seriously, if you search Korean zucchini, you'll get a huge list of recipes and not much information about anything else.
The term can also refer to a specific type of zucchini, also known as the Korean courgette or aehobak. This squash should look familiar, as it is a similar size and shape to zucchini. However, this squash typically has thinner and smoother skin, while the flavor is more delicate.
While Korean recipes often call for this type of squash specifically, you can often use regular zucchini instead.
Lettuce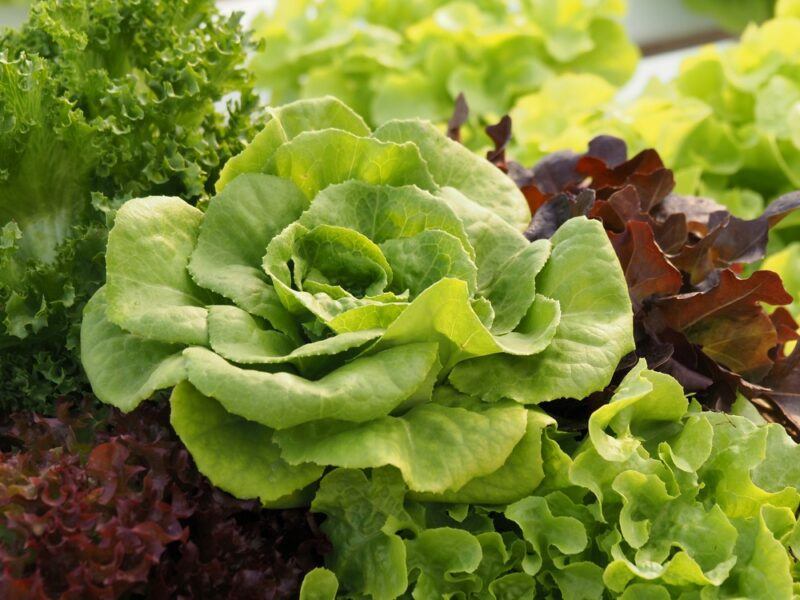 Many types of lettuce are used in Korean recipes, including both green leaf and red leaf varieties. As such, you can easily make many dishes using the lettuce varieties available locally.
Even the ways that lettuce is used might be familiar, including lettuce salad and lettuce wraps. Of course, these have their own local characteristics, so it's great to try authentic Korean lettuce recipes for yourself.
Soybeans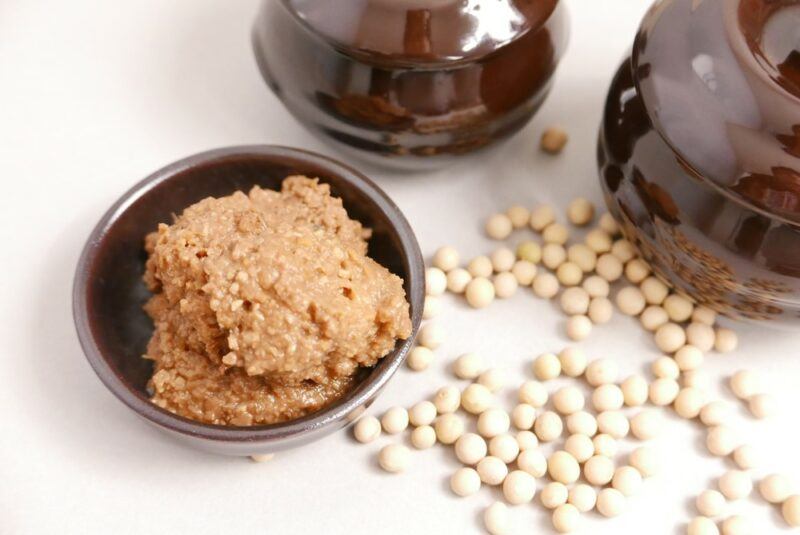 Soybeans are another popular Korean ingredient and are used in various ways. Some recipes focus on whole soybeans. Kongjorim is one example of this, as the dish relies on dried soybeans and soy sauce. Others turn to soybean sprouts or use soybeans to make a paste instead.
Sprouting soybeans is particularly appealing, as doing so decreases their phytic acid content. Doing so means the beans won't impair iron absorption as much. That's great news for vegetarians.
The popularity of soybeans means there are countless recipes to choose from. While these differ in style and flavor, most are delicious and are worthy additions to your dinner table.
Sweet Potato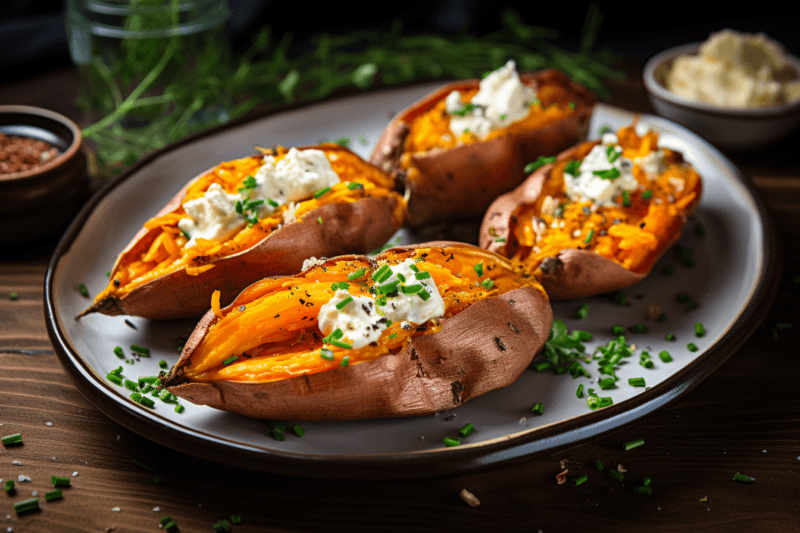 Sweet potatoes are called goguma in Korea. Popular varieties have purple skin and yellow or off-white flesh. These potatoes tend to be sweeter than the versions we see in the United States, although they're delicious and can be used in exactly the same way.
In fact, roasted sweet potatoes are a popular snack in Korea. They're so popular that you'll often find these potatoes sold from food trucks.
Sweet potatoes aren't just grown for their tubers. The leaves of the plant are often eaten as well and can be treated just like spinach. This is great news if you're growing Korean sweet potatoes at home, as you'll get two vegetables for the price of one.
Potatoes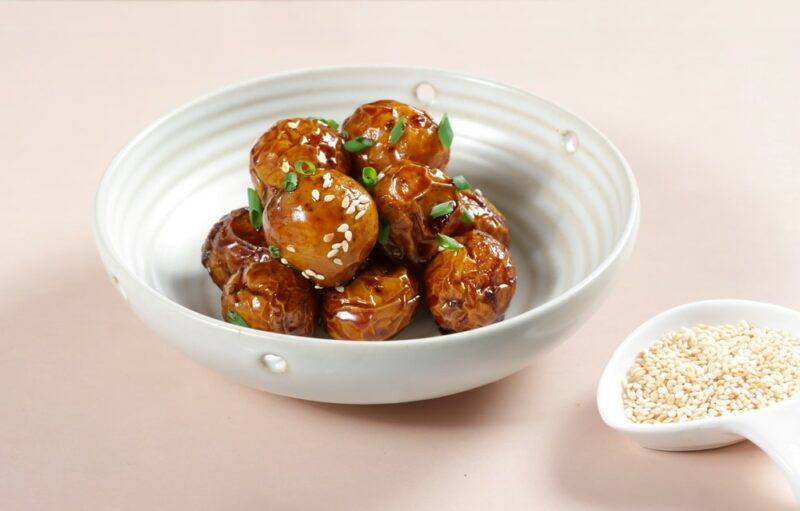 Potatoes aren't a staple food in Korea like they are in Western countries, but this doesn't stop them from being popular. Their use is also shifting, with potatoes becoming more widely used in some parts of the country.
If you visit Korea, you'll often see potatoes served as a snack or a side dish, rather than the focal point of a meal. This approach makes it easier to enjoy all the flavors of potatoes rather than taking them for granted.
Pumpkin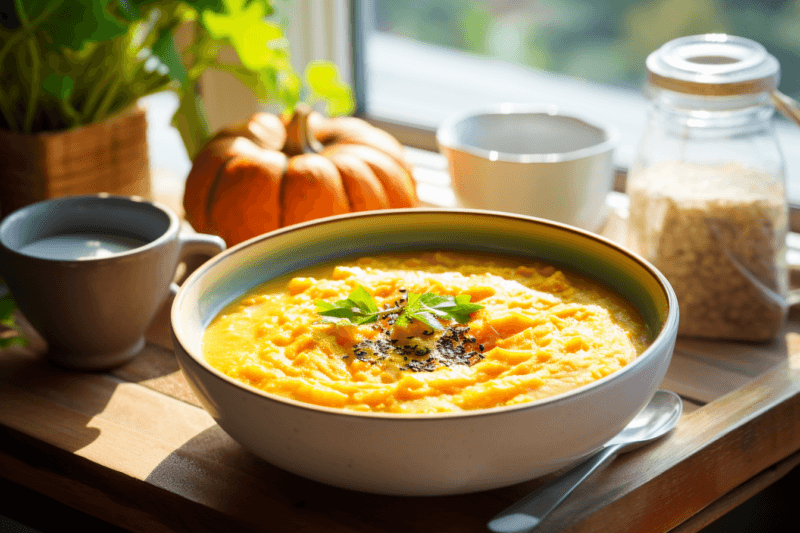 Here's another starchy vegetable to consider. Pumpkins are a fantastic choice, as they're rich in antioxidants and nutrients, while also being delicious.
Korean cooking doesn't use pumpkin in the way you'd expect. The most popular recipe is pumpkin porridge – called hobakjuk. This is a little like pumpkin soup, except that it uses glutinous rice as one of the main ingredients. The rice is often formed into chewy balls and makes the porridge even more unusual.
Of course, this isn't the only approach. There are also roasted pumpkin side dishes and even pumpkin pancakes. Each dish has its own features that make it stand out.
Cauliflower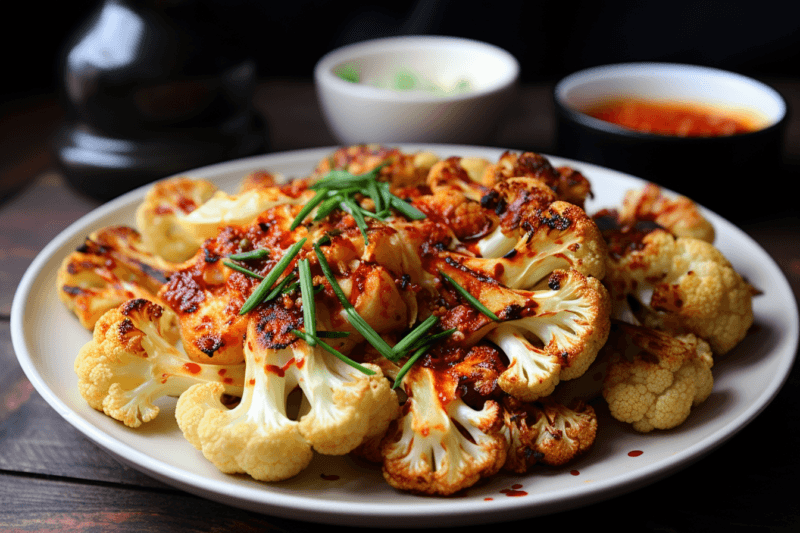 Cauliflower is an interesting case. It's sometimes consumed in Korea, but not as often as many of the other items on this list.
In fact, the famous Korean fried cauliflower dish is a Western vegan alternative. Korean fried cauliflower still features plenty of familiar Korean flavors; it just isn't a meal you'll normally find served in Korea.
Korean Radish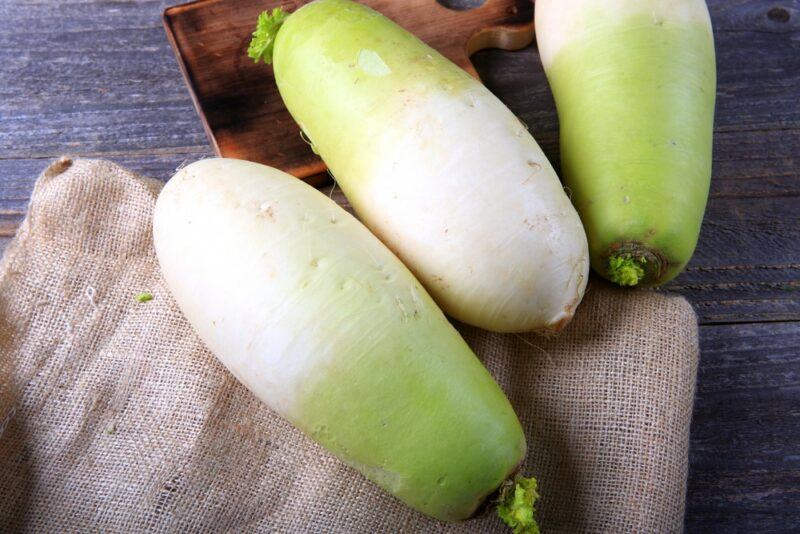 We've already discussed one type of Korean radish, the chonggak radish. However, this current radish is different. It tends to be fairly short and wide, often with a two-tone green and white coloring.
The radish flesh has a fairly strong flavor, with an interesting balance of salty, sweet, and sour. These radishes are also crunchy, which makes them fantastic for pickling.
Yeolmu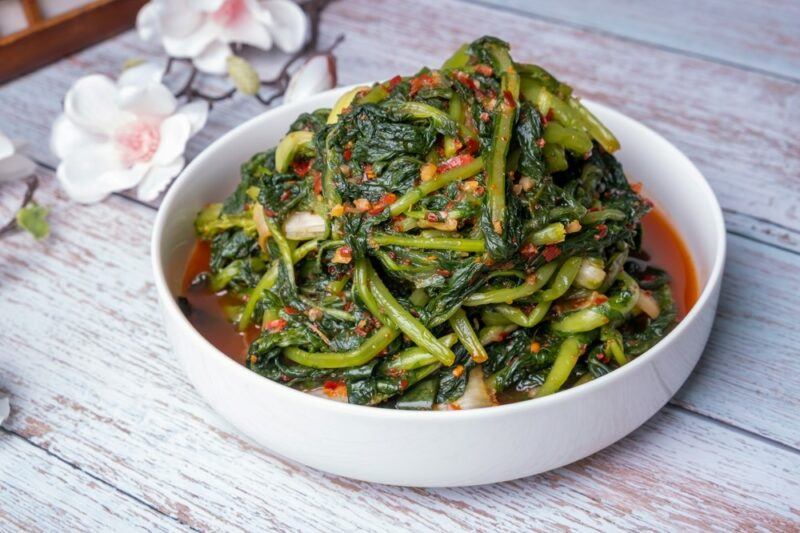 On the topic of radishes, we have yeolmu, which refers to young summer radish greens. These greens come from multiple types of long and thin white radishes and are often used to make a type of kimchi.
There's an interesting recipe for these radish greens at seriouseats.com. The post also provides details about why kimchi is special and different ways you can use it.
Cabbage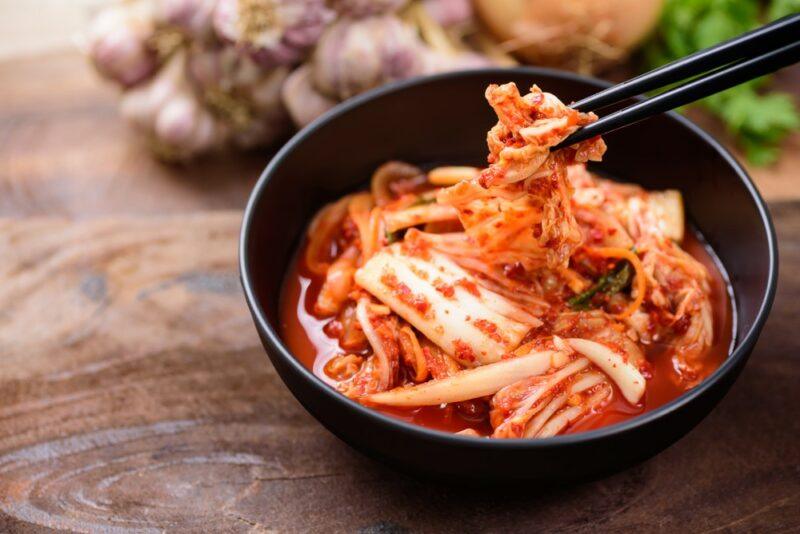 Now we come to cabbage, which really is a classic ingredient. There are countless ways to use this in Korean recipes, including stir fried cabbage, spicy coleslaw, and kimchi (of course).
Some recipes rely on napa cabbage, but this is hardly the only cabbage option. You can easily experiment with other cabbage varieties, especially if you're trying Korean cabbage recipes in the United States.
Chives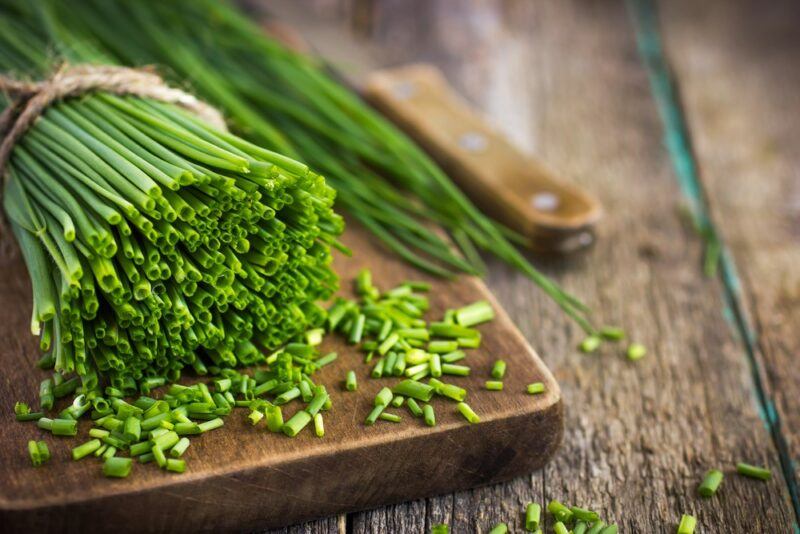 Chives also feature in Korean recipes, which is excellent news, given that these little plants are delicious and so easy to find. Plenty of recipes use chives, including kimchi, chive pancakes, and a chive salad. Most of these are excellent as side dishes, particularly alongside some source of protein.
Korean Wild Chive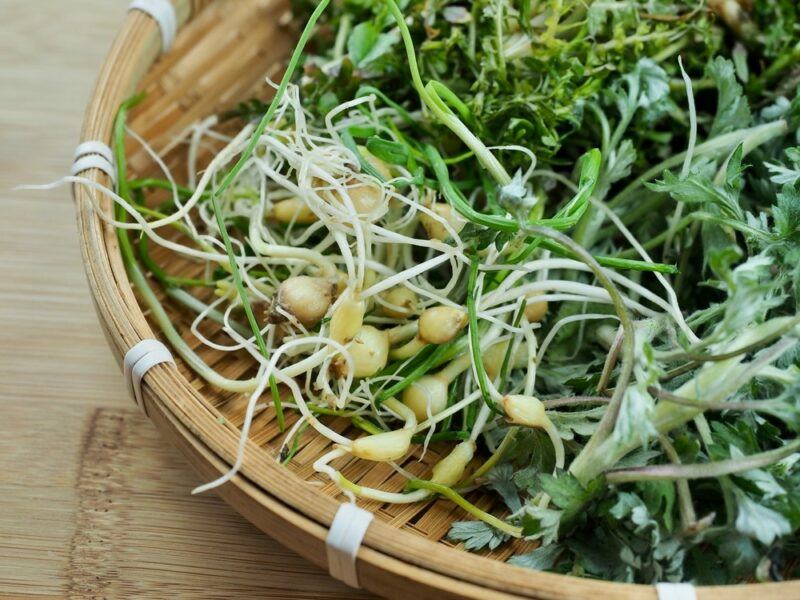 This species has the scientific name Allium monanthum. The plant is similar to chives, but has very tiny roots and only a slight onion flavor. Korean wild chives can be used exactly like regular chives, so you can choose whichever type you have access to.
However, Korean wild chive is just one type of chive used in Korean cooking. There are Korean garlic chives as well (these are similar to Chinese garlic chives, but aren't quite the same), along with varieties that look much like the chives found in the United States.
Delicious Korean Vegetable Side Dishes
Hobak Bokkeum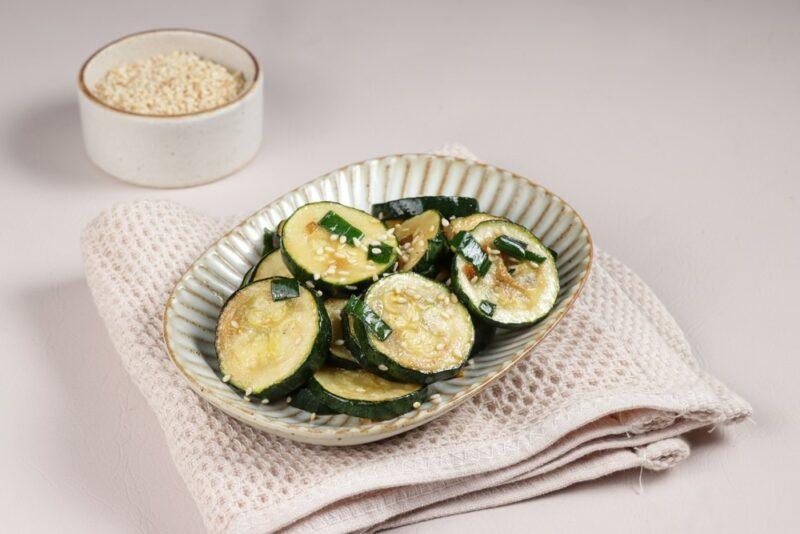 This recipe features the Korean squash that we talked about earlier. It's a simple one that relies on sliced squash, fish sauce, sesame oil, and a few extra ingredients.
Hobak bokkeum is a fast side dish too. You can even prepare it in five minutes or so. There's a fantastic recipe for doing so over at koreanbapsang.com and this can be made using Korean squash or any type of zucchini.
Gamja Jorim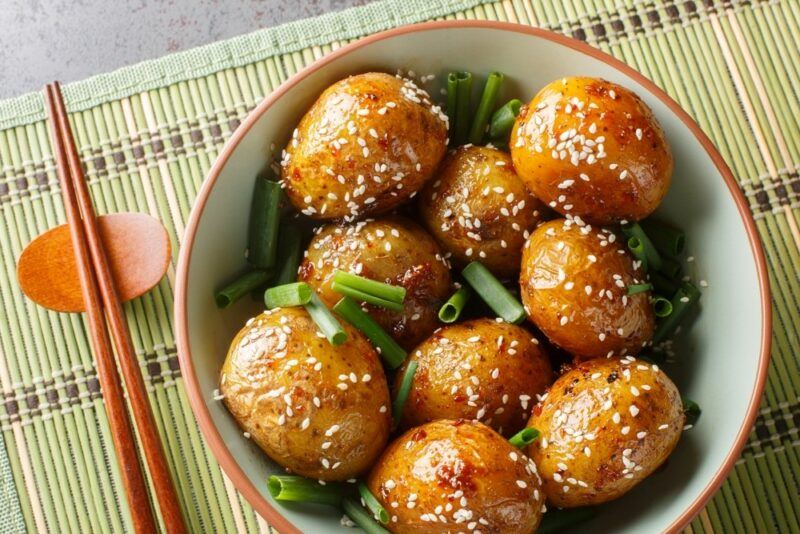 This dish can be called gamja jorim or algamja jorim and is a fantastic Korean side dish to make at home. Many versions rely on baby potatoes, which makes the treat even more delicious.
The potatoes end up with a perfect soft and fluffy interior, contrasted by a sticky and almost chewy exterior and salty flavors from the braising sauce. This is much more interesting than the mild potatoes dishes served in the United States.
The recipe from mykoreankitchen.com gives you all the details needed to make the potatoes yourself. There are also plenty of photos to make the process even easier.
Sangchu-geotjeori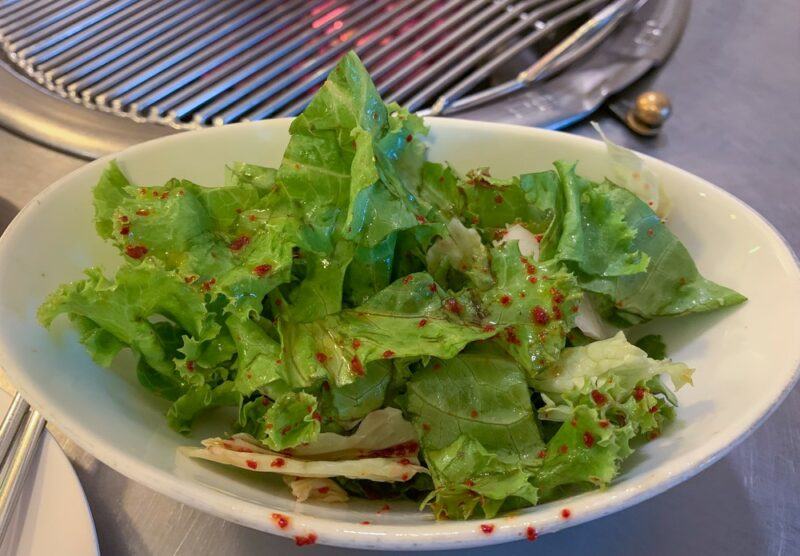 Korean lettuce salad, or sangchu-geotjeori, is a popular way to serve lettuce and an excellent side dish during a barbecue or any other outdoor event. The salad is made with lettuce, oil, vinegar, soy sauce, plus a few extra flavoring ingredients.
Some versions rely just on lettuce, so you're basically serving up a plate of deliciously spiced lettuce for your guests. Other versions include extra vegetables, like green onions and perilla (such as in this version from kimchimari.com). That approach makes the dish even more exciting.
You could also use this same dressing for other types of vegetables. Why not experiment a little and see what you come up with?
Ssambap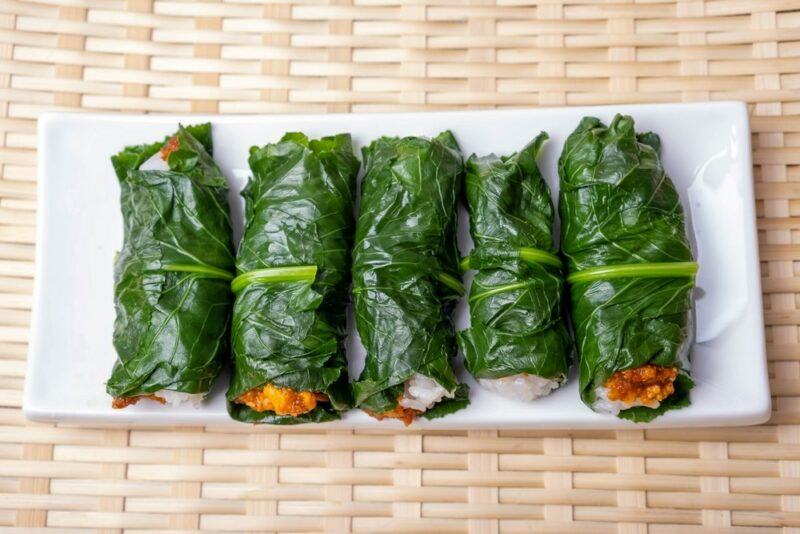 Ssambap is another Korean lettuce recipe. This time, we're talking about lettuce wraps, where rice and fillings are wrapped in lettuce. Some versions end up looking like rice balls, some are long and narrow wraps, while others are similar served as with the fillings on top of lettuce.
Many versions of these wraps feature seasoned meat and a bold sauce. However, the term ssam simply translates to wrap, while bap translates to rice, so there's plenty of room for variation. While there are countless styles and recipes to choose from, this one from mykoreankitchen.com is a great place to start.
Chonggak Kimchi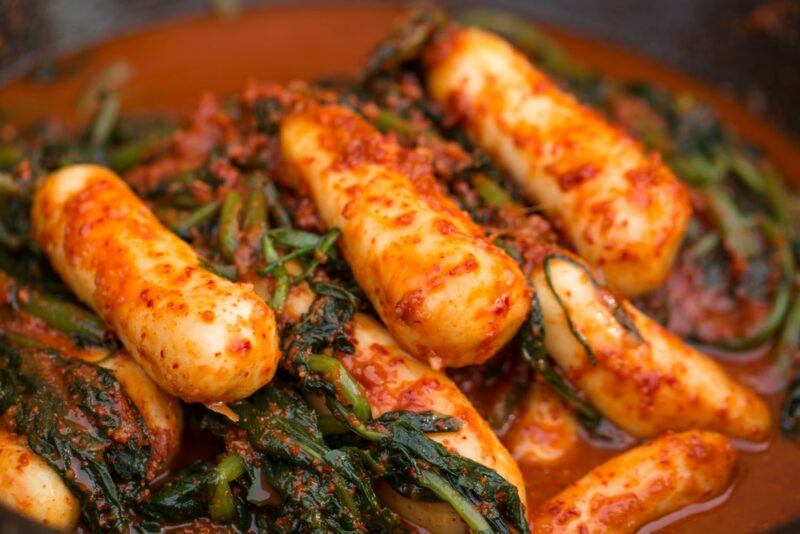 Chonggak kimchi is often translated as ponytail kimchi, due to the use of ponytail radishes as the main ingredient. These are the same chonggak radishes that we talked about earlier and look absolutely stunning in the dish.
The radishes work well here, as they're both tender and crunchy. Their mild flavor is also an excellent contrast to the intensity of the kimchi.
Chonggak kimchi is so popular that you can buy it already prepared. Still, if you want to try it for yourself, this recipe from beyondkimchee.com is a fantastic place to begin.
Oi-sobagi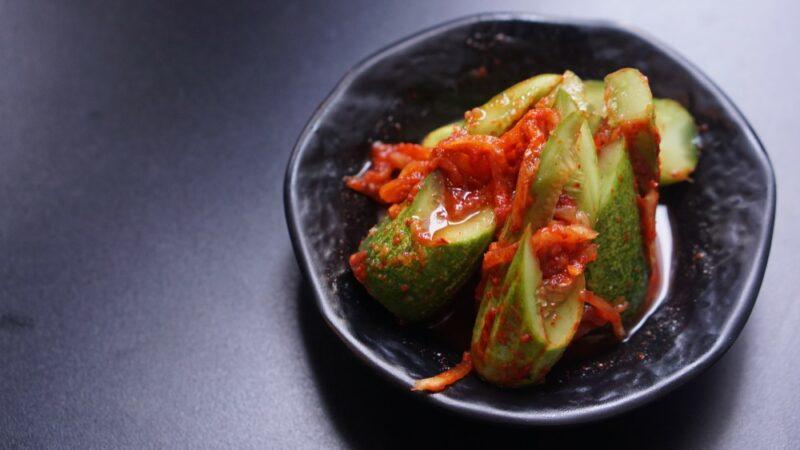 Speaking of kimchi, here's another dish to experiment with. Oi-sobagi is basically cucumber kimchi, except that it's most often served as cucumbers that have been stuffed with kimchi. This approach gives you a fantastic contrast between the intensity of the kimchi and the mildness of the cucumbers.
The recipe from maangchi.com is a great place to start, as you don't need to wait around for fermentation. Or, you can try the recipe from koreanbapsang.com, which offers a slightly different approach.
Korean Green Onion Pancakes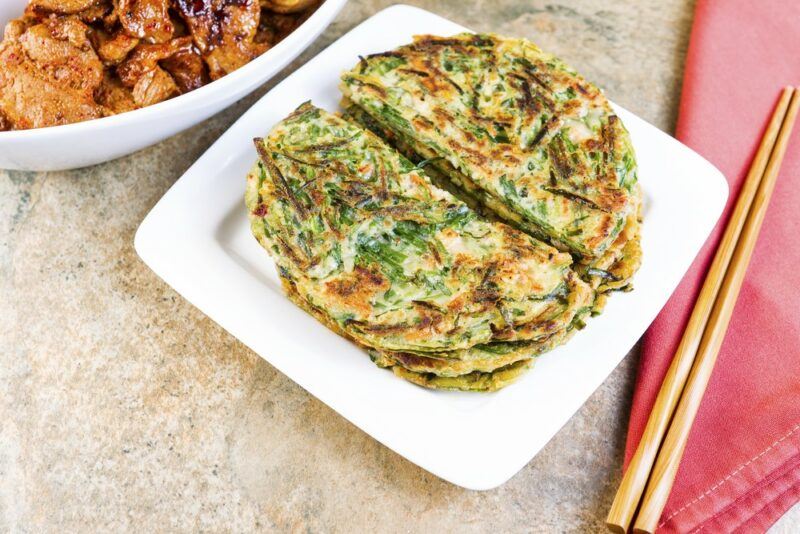 This dish often goes by the name pajeon, which refers to pancakes with green onions as the main ingredient. They're typically savory pancakes that may also include soybean paste, flour, and eggs. Some versions also add seafood, while others are vegetarian instead. If you want to try this one for yourself, houseofnasheats.com has a fantastic recipe to get you started. Any type of green onion should work fine for this recipe, including the Korean green onions we talked about earlier.