Sauerkraut, kombucha, yogurt, and miso are all well-known fermented foods, ones that are often thought to promote health. Kimchi, on the other hand, is much less familiar (unless you happen to live in Korea). That begs the question, is kimchi good for you?
It's a fermented dish, which should mean that you're getting plenty of probiotics. However, fermented foods and drinks aren't all the same. Some are more nutritious than others. Their balance of microbes varies as well.
Take kombucha and kefir for example. Kefir is typically made from milk, giving it more nutrients, fat, and calories than kombucha, along with a milder flavor. While the mild flavor makes kefir an appealing choice, it doesn't work well if you're avoiding milk for any reason.
So, what about kimchi? Is it a wise choice or should you stick to other foods instead?
Is Kimchi Good For You?
What Is Kimchi?
Kimchi Vs Sauerkraut
Benefits Of Kimchi
The Risks Of Kimchi
Is Kimchi Easy To Make?
What Does Kimchi Taste Like?
How Do You Store Kimchi?
Final Thoughts
What Is Kimchi?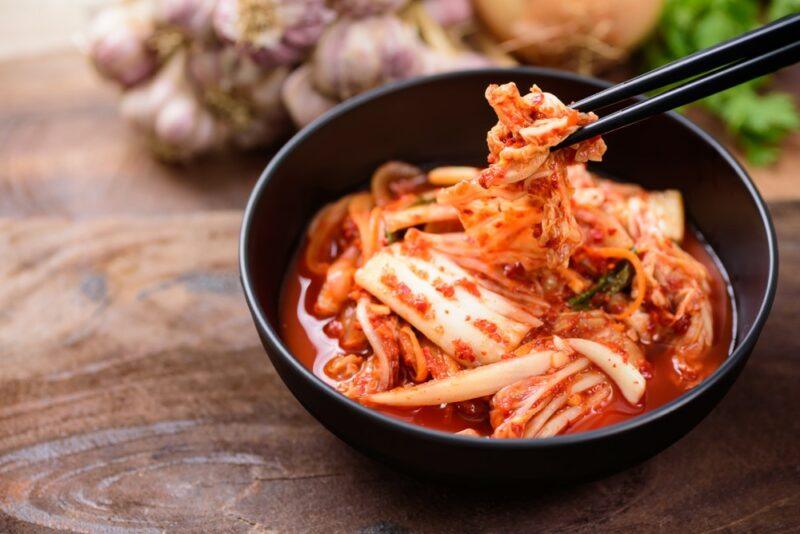 Kimchi is a traditional Korean dish, one that relies on cabbage, salt, and a variety of other ingredients. While it is produced in a similar way to sauerkraut, kimchi often ends up having quite a different balance of flavors. Many versions end up being quite spicy.
Kimchi isn't just traditional, it's also very popular. It's served as a side dish with most Korean meals and can also be an ingredient in stews and soups. In fact, kimchi is so popular that some people end up eating it multiple times a day.
Kimchi Vs Sauerkraut
Kimchi and sauerkraut are both similar, as each dish relies on cabbage and uses lactic acid fermentation. But, sauerkraut relies on either green or red cabbage, while kimchi relies on napa cabbage instead.
That's not the only difference. Sauerkraut tends to be a simple recipe. While caraway seeds and spices are sometimes added, sauerkraut is mostly just cabbage and salt. This is one reason why sauerkraut tends to taste similar, regardless of who makes it.
Kimchi, on the other hand, uses a variety of other ingredients. Radishes and scallions are common additions, but you'll even see pears and brussels sprouts used.
The addition of other ingredients means there's plenty of room for variation – and hundreds of different kimchi recipes exist. This variation is one reason why kimchi pairs well with so many different meals.
Benefits Of Kimchi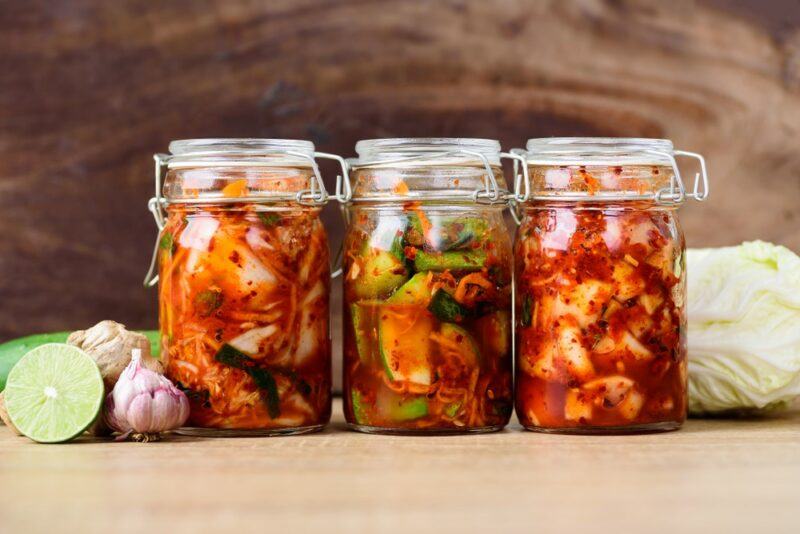 The Probiotic Content
Let's start with the most obvious benefit of kimchi – the probiotics. After all, these microbes are the reason that many of us are experimenting with fermented food and drinks.
The idea is an important one too.
We now know that there are around 100 trillion microbes in our gut. Many of these are bacteria, but there are some species of yeast and viruses in there as well.
Having a gut full of microbes might sound like a bad thing, but that's not the case at all. Instead, these microbes function as a virtual organ, one that may play essential roles in our health.
So, why probiotics?
Well, in an ideal world, we'd already have a healthy balance of gut bacteria and wouldn't need probiotics at all.
That's not the case though. Plenty of things can harm the bacteria in our gut, including having a very limited diet, taking antibiotics, not consuming enough prebiotics, drinking too much alcohol, and being highly stressed.
If the bacteria in our gut does become unbalanced, probiotic foods like kimchi can be an easy way to improve the balance of gut bacteria. Doing so could have countless benefits, like decreasing the risk of disease, promoting weight loss, improving digestion, and reducing the risk of depression.
There Are Nutrients Too
Kimchi is made from fermented vegetables and spices. Not surprisingly then, the dish ends up being nutrient dense.
Some of the most notable nutrients include choline, vitamin K, and vitamin C. There are plenty of other nutrients present too, like copper, calcium, and iron. Of course, the exact nutrient distribution varies based on the ingredients. Kimchi that focuses on carrots, for example, will be higher in vitamin A than one that does not.
There are also important plant-based compounds, including beta-carotene and a variety of antioxidants. These can all play a role in your health too. For example, antioxidants are often linked to decreased oxidative stress and may lower disease risk as well.
Plus, kimchi is often served alongside other foods, ones that also provide plenty of nutrients.
The Macronutrient Profile
The macronutrients in kimchi are impressive too, as the dish ends up being high in fiber and low in fat. This is a fantastic balance, given that many of us consume too much fat and not enough fiber anyway.
You're not getting much protein from kimchi, but this doesn't matter too much, as kimchi is normally used as a side dish, rather than being eaten on its own. This means you'll often get protein from other parts of your meal.
Kimchi also ends up being low in calories, making it excellent as a weight loss food.
Works Well With Many Diets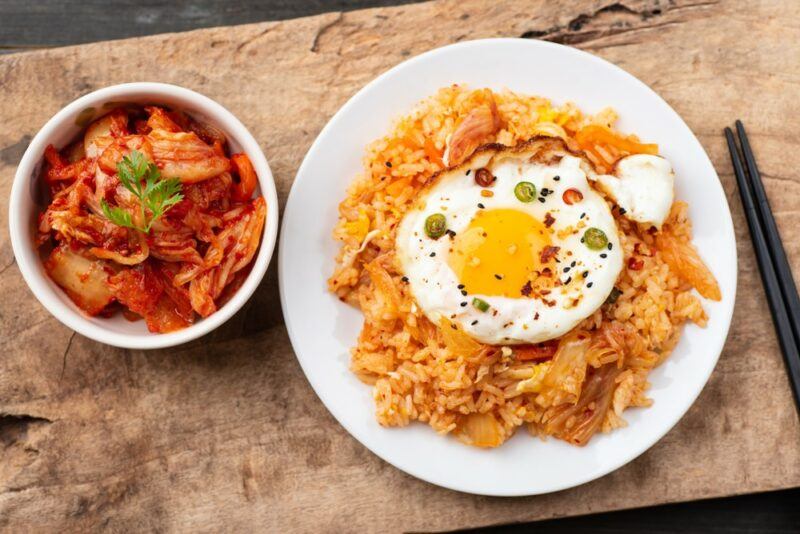 Because kimchi relies on plant-based ingredients, it's perfect for many diets. Vegetarians and vegans can eat it with ease, as can anyone avoiding gluten, dairy, sugar, or caffeine. Many other fermented foods are far less versatile.
Kimchi even ends up being a keto-friendly side dish. This is because most of the carbs come from fiber, so the net carb content per serving tends to be low. However, keto dieters should probably use kimchi as a side dish rather than as a main meal, as the low fat content of kimchi could throw your macros out of balance.
Just make sure to check the ingredients label if you're purchasing kimchi from the store. Some commercial brands have taken the disappointing approach of adding sugar and other undesirable ingredients to their kimchi.
Helps Improve Your Digestion
Kimchi is relevant for digestion in two different ways. First, the probiotics can help improve the balance of bacteria in your gut. Second, the high fiber content of kimchi helps to keep you regular and makes sure that your digestive system functions well.
I mean, let's face it, many of us don't consume as much fiber as we should.
Not getting enough fiber leads to many problems, including constipation, increased cholesterol levels, abdominal pain, and fluctuations in your blood sugar.
The Spices May Help Too
Kimchi is mostly a fermented vegetable dish, so it's easy to overlook the spices that are also present. Garlic, ginger, salt, and pepper are common additions, and you might see others too.
Spices are powerful. Truly. They're concentrated sources of plant-based compounds. Many are very high in antioxidants as well.
Many kimchi recipes are spicy too, as they feature chili peppers or chili powder. This is relevant because, despite common myths, spicy food can be very good for you.
The Risks Of Kimchi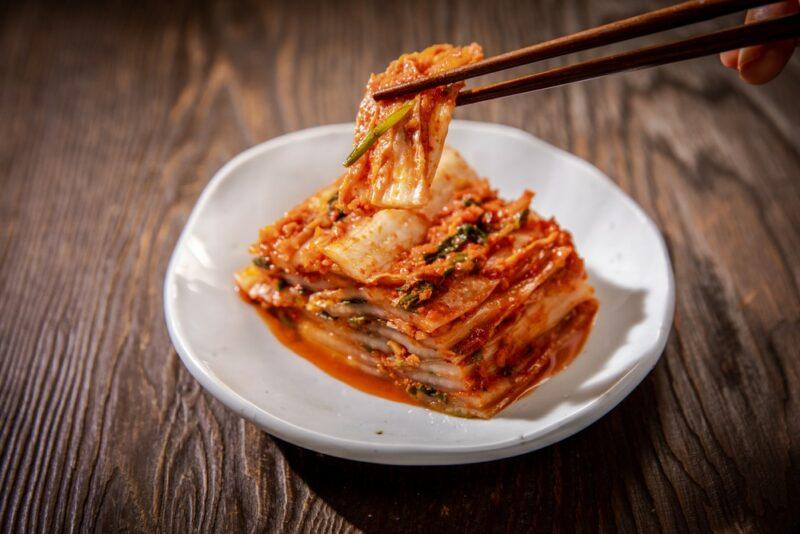 Kimchi, like other fermented foods, is generally seen as safe. As we've already shown, the microbes present are likely to improve your health, rather than cause harm.
Even so, there are some areas of concern.
The Sodium Content
One of the biggest issues with kimchi is the sodium content. After all, high sodium intake has been linked to a variety of diseases, including increased risk of cancer.
This is a serious issue for two reasons. First, kimchi contains a lot of salt. Imagine what happens if you end up eating kimchi most days.
Second, most of us are already consuming too much salt. The seasoning seems to make its way into every type of food imaginable. It's easy to miss too, as sometimes you can barely taste the salt. Even some apparently healthy foods and drinks, like V8 vegetable juice, end up being shockingly high in sodium.
It Can Be Spoiled
Like most food, kimchi will spoil over time, especially if good hygiene practices aren't followed when making it. The strong smell and flavor of kimchi are a problem here, as they make it difficult to determine whether kimchi is safe to eat or not.
Side effects of spoiled kimchi include vomiting, nausea, and diarrhea. Some more concerning side effects can occur too, like botulism. Such issues are most common if the kimchi uses seafood as an ingredient.
There's also the risk that the kimchi is contaminated during preparation. If that happens, it's likely to spoil much faster.
This is why it's always important to buy kimchi from a trusted supplier or make it yourself. Anyone with a compromised immune system should be even more careful with fermented foods like kimchi.
Eating Too Much May Not Be A Good Thing
Most healthy things are only healthy when the quantity is right. Having too much of anything, including oxygen, water, and exercise, can be harmful and might even kill you.
Kimchi is no exception to this rule.
There's even concern that high kimchi consumption could contribute to stomach cancer. The issue mostly applies to Korea, where kimchi may be eaten two or three times per day. If you're only eating kimchi occasionally, then you have little to worry about.
There Are Side Effects
Even if your kimchi intake is limited and the dish isn't spoiled at all, it can still cause side effects, including bloating and nausea. These side effects aren't a serious problem and often decrease over time. However, they may be uncomfortable or even painful, especially if you're sensitive.
The side effects can be worse for anyone with irritable bowel syndrome or related conditions, partly due to the garlic that's often included in kimchi.
There are amines in kimchi too, including histamine. These are produced during the fermentation process and may lead to headaches for some people. Kimchi is also fairly high in tyramine, which can be an issue if you're taking MAIOs or get migraines regularly/
None of these side effects make kimchi unsafe. Nevertheless, they're a reminder to pay close attention to how your body responds to kimchi. If you regularly experience uncomfortable side
Is Kimchi Easy To Make?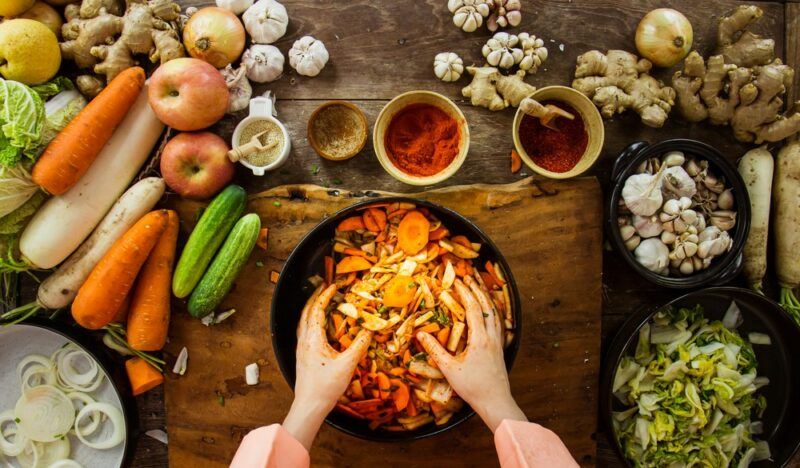 While kimchi is easy enough to find in local stores, it's often better to make your own. This way you know exactly what is going into the dish and can be confident that there are no concerning ingredients.
Unfortunately, kimchi isn't as easy to prepare as sauerkraut. There are more ingredients to think about, which can include multiple types of vegetables, fish sauce, spices, and perhaps chili powder.
It may also take time to find a recipe that you like. After all, there are many types of kimchi out there and the flavor profiles can be quite different from each other.
Thankfully, there are plenty of recipes and some are designed to be both fast and easy (like this one from Feasting at Home). Many recipes provide details about variations too, giving you the chance to adjust the dish to match your own flavor preferences.
And, while kimchi is a bit complicated, you should find that the process gets easier and more enjoyable the more you do it.
What Does Kimchi Taste Like?
The flavor of kimchi is influenced by the recipe and the specific ingredients. That being said, you're often looking at strong flavors. Some versions are incredibly salty and spicy, while others end up being intensely garlicky instead. Sometimes the kimchi is just incredibly sour.
Not surprisingly, some people find that they simply can't get into kimchi – it's just too overwhelming (if that's the case, try sauerkraut instead, the flavors there are much less intense). Others love kimchi and can't get enough of it.
The trick is to experiment. Don't try kimchi once or twice, then decide that you don't like it. That would be a shame, as there are so many differences between kimchi recipes. Trying multiple products and recipes will give you a much better idea about what to expect. You might find that you love some versions of kimchi and hate others.
How Do You Store Kimchi?
Fermenting doesn't make kimchi shelf stable. Quite the opposite, in fact. Because of the bacteria present, you should always keep kimchi in the fridge. Even then, you need to be cautious.
Experts recommend only using clean utensils with the kimchi in its container and try to avoid opening it more than you need to. Those practices reduce the risk of contamination and help to keep your kimchi healthy and tasty for longer.
Keep an eye on the brine level too. The kimchi will last much longer if the ingredients are all under the level of the brine.
Final Thoughts
Many people enjoy kimchi, finding it to be a delicious food that also improves their health. Indeed, kimchi has plenty of amazing features, including probiotics, antioxidants, vitamins, and minerals. It's also a natural vegan food that relies on vegetables and spices.
Still, the sodium content makes kimchi a poor choice for some.
It's important to pay attention to your body too. You may find that kimchi helps you to feel better and improve your digestion, which is fantastic news.
Alternatively, kimchi may make you feel sick. If kimchi keeps having this effect, even after you've been consuming it for a while, then the dish probably isn't right for you. After all, we all have unique needs. We get the most benefits by choosing foods that match our needs, rather than following the latest fad.
Remember too that different types of fermented foods contain their own selection of healthy bacteria. You'll see the most benefits by including a wide variety of foods and drinks in your diet, rather than focusing on just a couple of options.
Frequently Asked Questions
Does Kimchi Go Bad?
Yes, like most foods, kimchi will go bad if left too long. This is a serious issue, as spoiled kimchi can easily make you sick, causing symptoms like diarrhea and vomiting.
The risk is particularly high if your kimchi uses seafood as an ingredient.
How Long Is Kimchi Good For?
Kimchi has a decent shelf life. Kept at room temperature, it will last a week after being opened. However, you shouldn't do this if the kimchi contains seafood or any other temperature-sensitive ingredients.
It lasts longer in the fridge – anywhere from three to six months (storing it in the fridge is also safer). However, it does keep fermenting in this time, so kimchi tends to be crunchier and milder at the three-month mark. The flavor can get pretty intense once you get close to six months of storage.
If you're preparing kimchi yourself, make sure that everything is safe and well-sterilized. It's easy to contaminate your kimchi with harmful microbes, which then grow as the kimchi ferments.
Is Kimchi Vegan?
Kimchi traditionally relies on fish sauce and shrimp paste. These provide the dish with its recognizable depth of flavor, but mean that kimchi isn't always vegan friendly.
Thankfully, the problem is easily avoided by using vegan-friendly alternatives, like miso paste or coconut aminos, rather than fish sauce.
Is Kimchi Spicy?
Kimchi is often mildly spicy, although the exact level of spice varies from recipe to recipe. You'll find some that are very spicy indeed, along with others that are much milder.
If you're not a fan of spice, look for versions that are marketed as being mild. You can also make your own version and leave out any spicy ingredients.
Is Kimchi Keto Friendly?
Kimchi can be keto friendly, often giving you one or two net grams of carbs per serving. However, the dish can be made in countless ways, so the carb content can vary too.
If you're buying kimchi, keep an eye out for any additives that might raise the carb content. Your serving size matters too. Kimchi is normally suggested as a side dish rather than a full meal for keto dieters, particularly as it is low in fat.