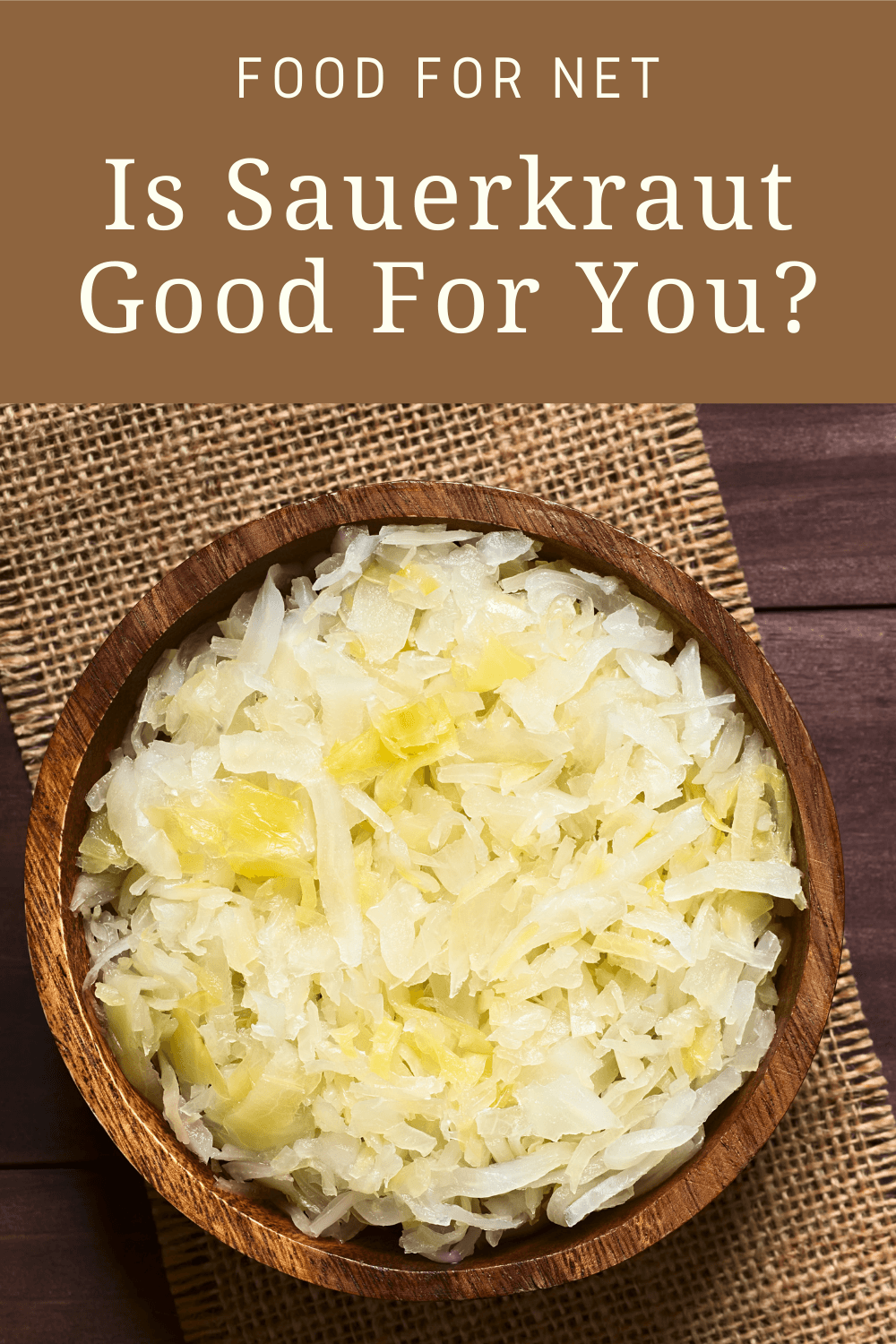 Sauerkraut is more than just a sour ingredient to use in sandwiches or a side to your meal. It's also a fermented vegetable dish, like kimchi, so it's an excellent source of probiotics. That begs the question then, is sauerkraut good for you?
It seems like it must be right? You get the nutrients from the cabbage, along with bacteria that should improve your gut health. Sauerkraut is also a simple dish that just relies on cabbage and salt. You can even prepare it at home.
Of course, there are always two sides to the story. Sometimes sauerkraut mightn't be the wisest choice. Plus, while it does offer benefits, these are sometimes exaggerated. So, let's see where sauerkraut shines and where the issues are.
Is Sauerkraut Good For You?
What Is Sauerkraut?
The Probiotic Benefits Of Sauerkraut
Other Reasons To Eat Sauerkraut
Why Sauerkraut Might Be Overrated
Can You Heat Sauerkraut?
How To Use Sauerkraut
Final Thoughts
What Is Sauerkraut?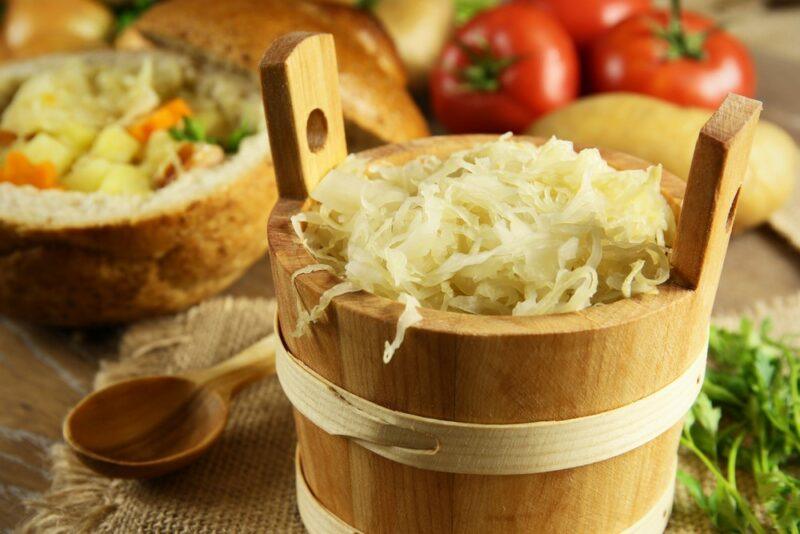 Sauerkraut is a simple dish, one that's just made from shredded cabbage and salt. You can add other ingredients too, like garlic, shredded carrots, or caraway seeds, but those are all optional.
To make sauerkraut, you basically just shred your cabbage, then massage salt into the cabbage leaves, until you start to get brine. At this point, you can pack the cabbage leaves, salt, and brine into jars, then leave it to ferment.
If you keep the jars at room temperature and out of the sun, then they should take anywhere from one to four weeks to ferment fully.
The longer your sauerkraut is left to ferment, the more the flavor changes. If you're making the dish at home, you may need to start testing it every few days, until you find the fermentation time that suits your flavor preferences.
You might need to try short fermentation times at first, as they should give you a milder flavor. Then, as you get used to the sauerkraut, you might choose to extend the fermentation time.
When doing so, it's important to make sure there are no air bubbles in the jars and that the cabbage remains fully submerged. These steps are crucial for preventing the growth of harmful bacteria.
The Probiotic Benefits Of Sauerkraut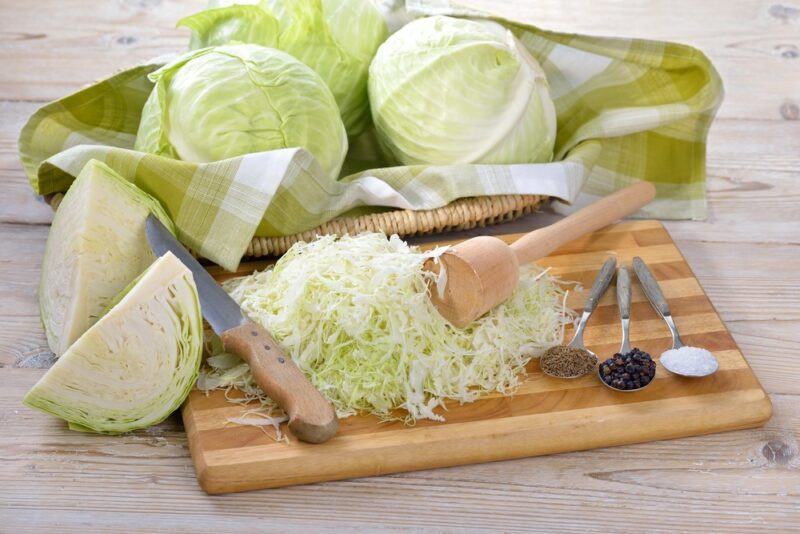 Sauerkraut has long been used as a tasty way to preserve cabbage. These days, we're starting to realize that it also offers powerful probiotic benefits.
You've heard about probiotics, right? They're only the next 'big thing'.
The basic idea is that our guts are filled with microbes that actually help us. They're not just relevant to digestion either. Instead, the bacteria in our gut might influence health in countless ways. They may even improve mental health and decrease the risk of depression.
You can get probiotics from supplements, where you get anywhere from 1 to 50 billion CFUs (colony forming units) per dose. Fermented foods tend to contain fewer CFUs, often between 1,000 to 100 million instead.
But this doesn't mean that fermented foods are less powerful. They often contain more types of microbes than probiotic supplements. Indeed, sauerkraut may contain as many as 28 individual strains.
You also get all the nutritional benefits of the ingredients (the cabbage, in the case of sauerkraut).
Probiotics have become a hot topic, so there's plenty of research into how they can help you, including links to improved digestion, less diarrhea, reduced gas, a better immune system, less stress, and increased weight loss – to name just a few.
These effects occur because probiotics add to the bacteria that are already in your gut – helping to fill any gaps. They're particularly relevant if your gut bacteria has been compromised in any way, like after a course of antibiotics.
More research is needed to work out the best types of probiotics and the best doses for particular needs. Still, even now, it's clear that probiotics can be powerful in the right situations. Why not add some to your diet and see if they help?
Other Reasons To Eat Sauerkraut
Probiotics are important, but they're not the only reason to turn to sauerkraut.
The Nutrients
For one thing, sauerkraut still offers all the nutrients that you find in cabbage, which includes vitamin K1, iron, vitamin B6, and copper. These nutrients all provide important benefits, some of which complement the effects of probiotics.
For example, probiotics may help to improve mental health and mood management, making people feel better and even treating symptoms of conditions like depression, autism, and obsessive-compulsive disorder. The minerals zinc and magnesium found in sauerkraut also have positive mental health effects.
Because sauerkraut is made from cabbage, it also ends up being a low calorie food. You're often just getting around 30 calories per serving. As such, you can easily add some sauerkraut to your meal and boost your nutrient intake.
There's a decent amount of fiber too. Like the probiotics, the fiber should help to improve your gut health – reducing the risk of issues like diarrhea and constipation.
May Have Direct Health Benefits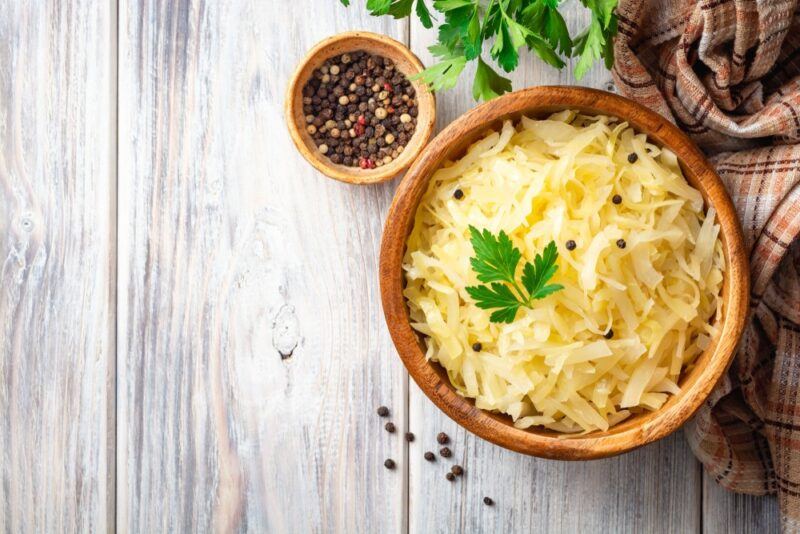 Most studies have focused on probiotics or on specific nutrients. However, there has been some research into sauerkraut as well, including a suggestion that high sauerkraut and cabbage consumption might reduce the risk of cancer.
For one thing, cabbage belongs to the cruciferous vegetable family and contains compounds known as isothiocyanates. These may be relevant for reducing the risk of cancer and some other chronic diseases.
It's One Of The Easiest Fermented Foods
If you're looking for probiotics, few foods are as easy as sauerkraut. Cabbage already has lactobacillus bacteria on its surface, so you don't need any type of starter.
Instead, you just need the cabbage itself and the salt. You might add a few extra ingredients for flavor, but that's it.
This is much easier than kombucha, for example, where you need to source a SCOBY and make sure that it remains healthy.
Why Sauerkraut Might Be Overrated
The Sodium Content
Like many fermented foods, sauerkraut is very high in sodium. You're often looking at more than 650 mg of sodium in a 100-gram serving.
The sodium content can be a serious problem, as most of us are already consuming too much of the mineral. Doing this can raise our blood pressure, while also increasing the risk of strokes and heart diseases.
Keeping your sodium at reasonable levels often involves avoiding sodium rich foods like sauerkraut. Or, at least, being careful with the amount that you consume.
You can buy sauerkraut that contains less sodium or make it at home. But, you can't skip the sodium entirely. Salt is a critical ingredient for making sauerkraut, as it helps to draw the cabbage juice – so, even low sodium sauerkraut will contain a decent amount of the mineral.
Rinsing the sauerkraut and soaking it in cold water for a while can help too, although you may decrease the probiotic content when you do so. And, even then, some sodium will remain.
If sodium is a problem for you, consider skipping sauerkraut altogether. Otherwise, the risks of high sodium intake will outweigh any benefits that you get from the sauerkraut itself.
Besides, sauerkraut is hardly the only fermented food out there. Why not look for options that don't rely on salt, like kombucha, yogurt, or kefir?
Rich In Histamines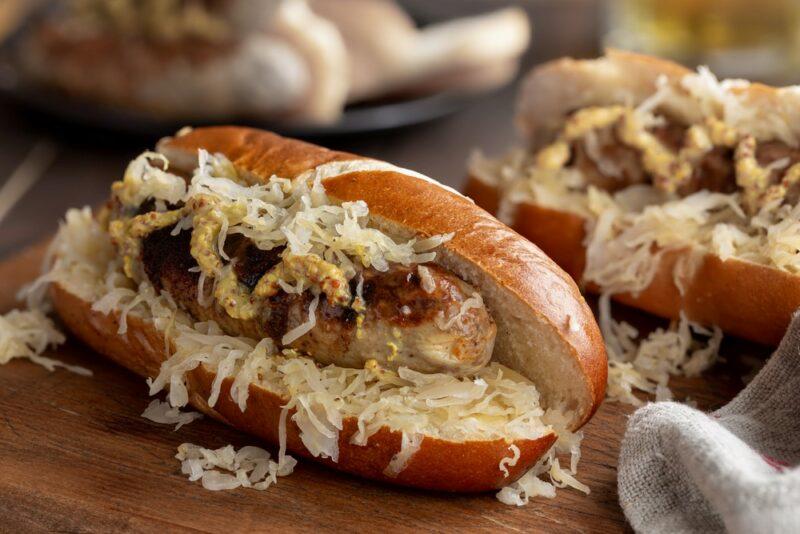 Sauerkraut is also rich in histamines. While these compounds are often overlooked, some research suggests that they may promote food intolerances, even among people with no previous history of food intolerances.
To avoid this problem, it's best to stick to small servings of sauerkraut, like a tablespoon or two alongside a meal.
Probiotics Aren't Always That Powerful
Probiotics provide you with live healthy microbes that can help fortify the microbes in your gut – giving you better biodiversity and improving your health overall. This much sounds amazing.
As we highlighted earlier, there's a ton of evidence that supports the power of probiotics. Yet, despite this, probiotics may well be overhyped.
The problem is that, like vitamins and minerals, probiotics are most helpful when the strain of bacteria complements what your body needs. Makes sense, right? If you already consume plenty of iron, taking an iron supplement generally doesn't help. The same is true for probiotics.
Working out which vitamins and minerals you need isn't too difficult. You can look at your diet or get a test from your doctor.
Doing this with the microbes in your gut is a whole different story. We don't have the tools yet to look at which microbes are present and which ones you might need.
Instead, we mostly need to guess. This often involves consuming many different fermented foods, including sauerkraut, in the hopes that some of the probiotics present are what our bodies need.
The approach does often pay off. Many people do find that their digestion improves or they see health benefits in other areas. However, benefits aren't guaranteed.
Sauerkraut Products Aren't Created Equal
If you're buying sauerkraut in the store, you'll need to choose the product carefully. There are three main issues to watch out for.
First, some brands are pasteurized. This makes them safer, but also kills any healthy bacteria, so you won't get probiotic benefits at all. If the sauerkraut is stored in the fridge, it probably hasn't been pasteurized. You should still check the label though, just to be certain.
There may also be preservatives. These help to keep the product stable, but can also decrease the probiotic content. Besides, preservatives don't provide any health benefits, so why consume them when you don't need to?
Finally, store-bought sauerkraut often includes added sugar. The sugar helps to make the cabbage more palatable by offsetting some of the sourness. But, of course, the health risks of sugar are well-known. You really don't need sugar in sauerkraut anyway.
Thankfully, there are plenty of excellent brands that don't pasteurize their sauerkraut, avoid preservatives, and don't add sugar. You just need to spend a little time looking at the ingredients labels until you find them.
The best products should rely on cabbage and salt as ingredients, nothing else. Make sure that there isn't any vinegar used either, as vinegar will affect the probiotic content.
You Can Grow Harmful Bacteria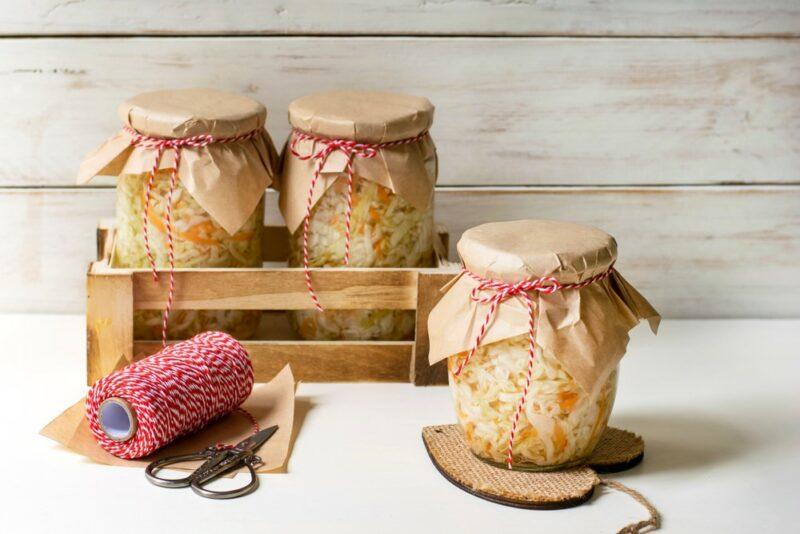 Sauerkraut is meant to be a nutritious source of healthy bacteria. However, sometimes you end up growing harmful bacteria instead. To avoid this, you need to take care in every step of the process, making sure that everything is appropriately sterilized.
Remember too that the cabbage in your sauerkraut should always be below the brine line in the jar. If your sauerkraut just ends up a little brown, that's okay, as the color comes from air exposure. You can get rid of the brown sauerkraut and the rest should be fine to eat.
But, if there are any concerning colors, mold, or strange odors in your sauerkraut, it's best to throw it all out and begin again. Seriously. It's better to waste some of the sauerkraut than to make yourself sick.
Can You Heat Sauerkraut?
If you don't like sauerkraut straight from the fridge, try letting it come to room temperature or stir the sauerkraut into some warm soup.
However, it's important to avoid cooking sauerkraut directly. After all, many benefits of sauerkraut come from the probiotics and these are sensitive to heat. Cooking sauerkraut or even heating it too much risks destroying some of these microbes, which then decreases the benefits that sauerkraut offers.
This might be disappointing. Still, you can easily serve raw sauerkraut at the side of your meals. Doing this gives you a fantastic balance of flavors, without compromising the microbes in your sauerkraut.
How To Use Sauerkraut
Sauerkraut doesn't need to be complicated. One of the simplest options is to serve it on its own, as a side to a meal. Some people even eat it with a fork straight from the jar.
You can also pair the fermented cabbage with countless ingredients. Sauerkraut and avocado is a particularly delicious combo, as the creaminess from the avocado helps to balance out the intensity of the sauerkraut.
Don't be afraid to experiment. The zing of sauerkraut often works well when you least expect it to.
Indeed, some people have played around with slightly strange ways to use sauerkraut, like mixing it in with your pasta or even blending it into a smoothie. Both approaches bury the flavor of sauerkraut somewhat and make it easier to enjoy.
Final Thoughts
Sauerkraut is loved by many and also happens to be rich in nutrients and probiotics. It's also a low calorie side that adds a lot of flavor to any meal.
What's not to love?
Well… the sodium content for one. Then there's the flavor, which can be a bit much for some people (particularly if the sauerkraut has been fermented for weeks).
These two issues mean that sauerkraut won't work well for everyone – and that's okay. Seriously. There's no need to force yourself to eat sauerkraut if you don't like it. You can easily focus on a different type of probiotic food.
Frequently Asked Questions
Can You Freeze Sauerkraut?
Yes. Sauerkraut will keep well in the freezer, lasting between 8 and 12 months. What's more, the sauerkraut retains most of its original flavor and texture.
However, freezing sauerkraut isn't ideal, as most of the probiotic benefits get lost. So, if you're specifically after probiotics, it's better to focus on fresh sauerkraut.
Does Sauerkraut Go Bad?
Yes, sauerkraut can go bad. It's not incredibly dangerous when this happens, but it can cause some food poisoning symptoms and isn't a good idea.
To avoid problems, keep a close eye out for any signs of mold on your sauerkraut. The sauerkraut should also be under the layer of brine in the jar, otherwise there's too much risk of mold.
How Long Does Sauerkraut Last?
Sauerkraut has a decent shelf life, often lasting between 4 and 6 months. You might be able to keep it for longer than this if there are no concerning signs of mold, but the quality decreases as you go along.
What Does Sauerkraut Taste Like?
Sauerkraut has a distinct sour and salty taste. It can be a little shocking at first, but the flavor isn't that intense and the dish generally isn't spicy. Longer fermentation increases the flavor, so sauerkraut does become stronger over time.
Some people add additional ingredients, including caraway seeds and even juniper berries. These provide extra flavor and make sauerkraut a little more interesting.
Is Sauerkraut Keto Friendly?
Sauerkraut can indeed work well on a keto diet, as it contains just two grams of carbs per serving. It's also a fantastic source of fiber and probiotics, which are both important on a keto diet.
Just keep an eye on your portion sizes. In particular, sauerkraut is best when used as a side dish, rather than trying to make a meal from it.