Chai tea is one of the most perfect drinks in winter. It's delicious, warming, and can be low in calories too. So, you might wonder, is chai tea good for you?
The simple answer to that question is yes. After all, the drink is a variation on black tea and tea itself has been linked to plenty of benefits. Chai also has spices added, which have their own benefits.
Even so, whether chai is good for you or not strongly depends on how it is made. Some versions are amazing, while others are heavy on sugar and milk, giving you an entirely different experience.
There are other things to consider too, including the combination of spices. Each spice in chai tea can subtly influence your health, as can the black tea. In this post, we're taking a close look at some of the features of chai tea, along with how you can choose the healthiest cup of it each time.
Is Chai Tea Good For You?
The Ingredients In Chai Tea
Other Benefits Of Chai Tea
The Health Risks Of Chai Tea
Things To Watch Out For
How To Make Chai Tea
Final Thoughts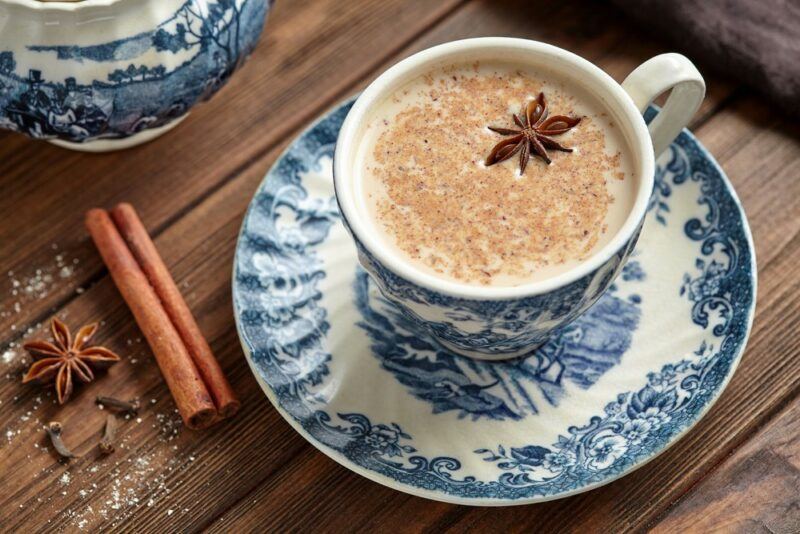 To begin with, what is chai tea anyway? The drink has a slightly confusing name, as chai is the word for tea in India. But, when we talk about chai tea in the U.S., we're not talking about any old type of tea. Instead, our chai tea is called masala chai in India, where the word masala refers to the spices in the tea.
The traditional preparation of the tea involves simmering black tea leaves and spices in a mixture of milk and water. Buffalo milk was the traditional choice for milk, while key spices included ginger, cardamom, peppercorn, star anise, and cinnamon.
The approach gives you a creamy and spicy tea, one that has a mix of interesting flavors. Plus, the spices mask some of the flavors of the tea leaves, which can be useful if you don't like black tea on its own.
Not surprisingly, the American version of chai tea doesn't use buffalo milk. Cow's milk is sometimes used instead or you'll find chai tea made using plant-based milk.
Chai tea brews can vary dramatically from each other, including differences in the spices that are chosen, the type of milk, the type of sweetener, and how much sweetener you use.
There are also chai tea lattes, which often involve combining chai tea concentrate and steamed milk. Such drinks are creamy and delicious, but they're also much milkier than a traditional cup of chai tea.
The Ingredients In Chai Tea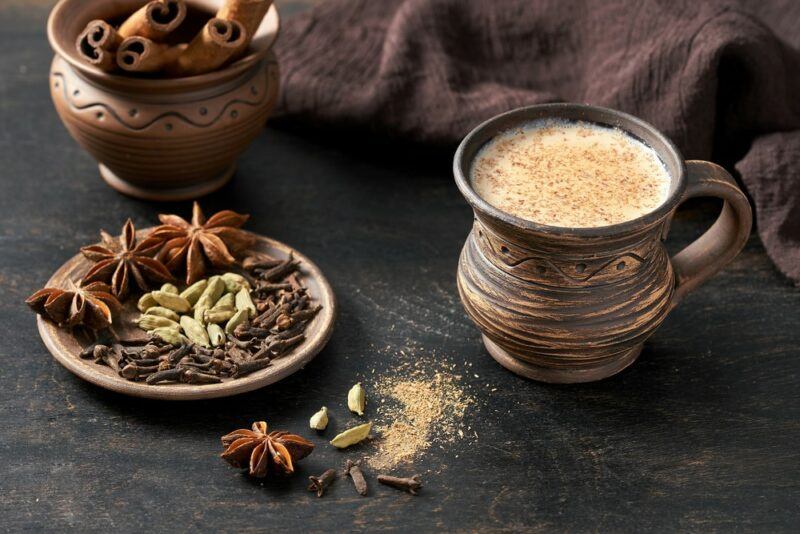 Most of the benefits of chai tea come from how it is packed full of healthy ingredients.
Black Tea
Black tea is made from the leaves of the Camellia sinensis plant and is loved throughout the world. It's easy to see why too, as black tea is a low calorie hot drink that has been linked to a variety of benefits.
Some of these benefits come from the caffeine in the tea. Despite caffeine's bad reputation, it may actually improve health, while also helping to keep us alert and focused.
Black tea ends up being an excellent choice for caffeine, as it contains less caffeine than coffee, so you shouldn't get the jitteriness that sometimes comes with a cup o' joe.
Other benefits are linked to the compounds in black tea, including the antioxidants. Don't discount these antioxidants just because they're not as famous as the ones in green tea – these antioxidants still fight free radicals and help to lower disease risk.
Cinnamon
Cinnamon is often seen as one of the healthiest spices. It has a long history in traditional medicine and has also been studied for its health benefits. These benefits include decreasing inflammation, reducing heart disease risk, improving insulin sensitivity, and lowering blood sugar levels.
If you're making chai tea yourself, it's important to pay attention to the type of cinnamon that you use. There are two main options: Ceylon cinnamon and Cassia cinnamon.
Cassia is the more common variety and is the one you find at grocery stores. However, Cassia cinnamon contains high levels of coumarin and can be dangerous in high doses.
Ceylon cinnamon isn't as easy to find and is more expensive, but it also contains much less coumarin, making it a safer choice. If you use cinnamon often, then Ceylon cinnamon is an important investment
Ginger
You'll often see ginger featured in hot and cold drinks, party for its health benefits and partly for its flavor. The benefits of ginger shouldn't be ignored either, as there's plenty of them.
You probably already know the first benefit – that ginger often helps with nausea. Ginger also has strong antioxidant and anti-inflammatory effects, which can promote health in any number of ways.
There's even evidence that ginger can help to decrease blood sugar and heart disease risk factors, while also improving osteoarthritis symptoms and potentially decreasing cancer risk.
Cardamom
Cardamom isn't as famous for its health benefits as cinnamon and ginger, but the spice still packs a punch. It's another one that's thought to help with your heart health. This includes decreasing cholesterol levels and blood pressure.
There are plenty of antioxidant and anti-inflammatory effects too, just like you find with most herbs and spices. Plus, cardamom adds a distinctive flavor to your tea, so it's worth including for that reason alone.
Star Anise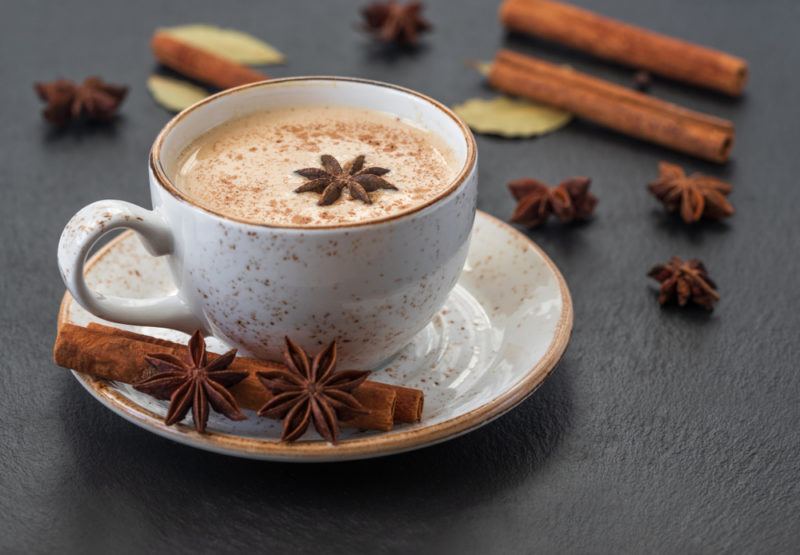 Not surprisingly, star anise is another source of antioxidants. It's also strongly linked to antibacterial effects, with theories suggesting that it could help your body to fight off the flu and other illnesses.
Star anise could help your blood sugar levels too, which is always desirable.
Black Pepper
Black pepper is most well-known for its ability to help with curcumin absorption. Curcumin is the active ingredient in turmeric, so that's not relevant here, as turmeric generally isn't a chai tea ingredient.
Still, black pepper has been linked to plenty of other benefits. It could even help with weight loss and may improve your digestion. Black pepper also helps your body to absorb some nutrients, increasing the benefits that you get from food.
Other Spices
Other spices can feature in chai tea too, including cloves, coriander seeds, peppercorns, and fennel. Each of these has its own health implications. Indeed, most herbs and spices act as antioxidants and anti-inflammatory agents, while promoting health in plenty of other ways too.
The Milk
Chai tea often contains more milk than regular tea. The milk is even more prominent if you turn to a chai latte instead. How the milk influences your health depends on the type you choose and how your body responds to it.
In the United States, cow's milk is a common choice. We've long been told that this is a healthy choice, as long as we focus on low fat milk. These days, there are more debates about the risks and benefits of milk, with some people saying that milk is healthy, while others suggesting that you should avoid it instead.
For the most part, milk appears to be healthy and safe, as long as you're not allergic to the milk proteins and don't have lactose intolerance. Milk does, after all, contain plenty of nutrients and is a source of high-quality protein.
If you're not interested in dairy milk, plant-based milk is another option.
Plant-based milk isn't milk in the traditional sense. Instead, this type of drink is made from plants and is designed to behave similarly to regular milk. There are differences, of course, including variation in flavor, nutrition content, and how the milk reacts to intense heating.
Plant-based milks offer some nutrients and plant-based compounds, but this isn't the main reason for using them. Instead, they're often seen as healthier than dairy milk and less likely to promote inflammation.
Other Benefits Of Chai Tea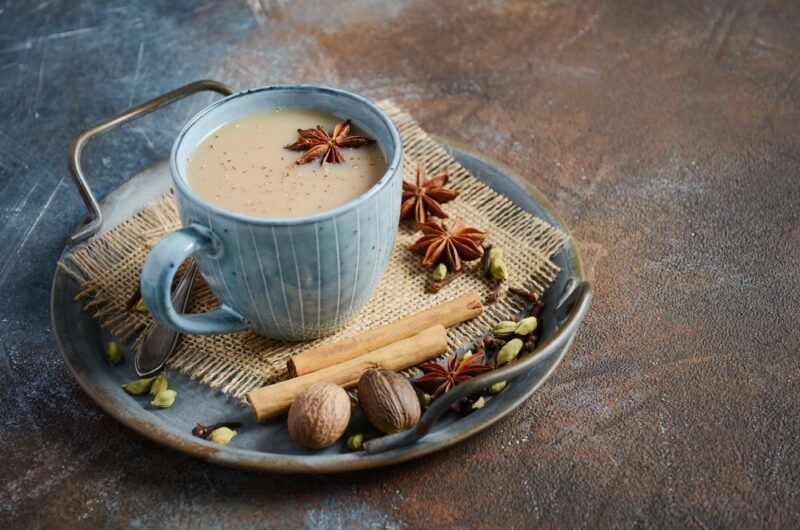 Chai tea has some other advantages too. One is that the various spices and milk mask some of the flavors of the black tea. This makes the drink easier to enjoy for non-tea drinkers.
Plus, there's plenty of room for variation in terms of the spices that are used and the amount of each. This makes it easy to adjust the recipe to match your preferences. You might make a very spicy version of chai tea or one that is less intense, where the black tea is the dominant flavor.
Even with the milk, chai tea ends up being a low calorie drink. The calorie content is even lower if you use plant-based milk instead of dairy milk.
You might find chai tea perfect on cold winter nights and as a cold or flu remedy. If the caffeine is a problem, try making the drink using decaffeinated black tea instead.
The final benefit of chai tea is that it's a useful way to increase your spice intake. Few other accessible foods and drinks feature such an array of spices.
The Health Risks Of Chai Tea
While chai tea has numerous benefits, no food or drink is without its issues. The large number of ingredients in chai tea means you need to be more careful than normal.
Can Be High In Sugar
If you order chai tea from local coffee shops, you'll probably notice a wide variation in how the drink tastes. Some chai teas are rich in spices, providing a distinct black tea flavor, along with a kick from the individual spices.
On the other end of the spectrum is overly sweet chai tea. Sometimes you can barely taste the spices because of all the sugar that's used.
While a little sweetness in your chai tea is no big deal, a product that's packed with sugar will offer you few benefits. Many of us consume too much sugar as it is. Adding even more to our diet is hardly a good idea.
The Caffeine
Because chai relies on black tea, it has the same limitations as black tea – including the caffeine content.
While you're getting much less caffeine than in a cup of coffee, the caffeine can still have an impact. This is even more significant if you have multiple caffeine-containing drinks each day.
Side effects of too much caffeine consumption include dizziness, problems sleeping, increased heart rate, headaches, and heartburn. It's also easy to become dependent on caffeine and experience withdrawal effects if you don't have any for a while.
Side Effects
Caffeine isn't the only cause of chai tea side effects.
For one thing, black tea contains tannins. These are responsible for many of the benefits of tea, but they can also interact with your digestive system, causing symptoms like stomachache and nausea.
You may also experience side effects from the individual spices used. For example, despite the positive features of cinnamon, it can also thin your blood and can be an issue if you are diabetic.
Similarly, cardamom can trigger allergies, especially if you use a large amount of it regularly. Cardamom also interacts with some medications and may contribute to gall bladder problems.
These issues probably aren't a big deal if you only have chai tea every so often, as most of the spices used are already common in our diets. Still, it's important to be cautious with how much you drink and pay attention to how your body responds. This way you can reduce the risk of any serious complications.
Contamination
There's also the chance that your tea is contaminated with heavy metals or other chemicals. This isn't just a result of whether pesticides are used but is also related to the environment around the tea plants.
For example, when tea is grown in industrialized areas, there's a higher chance of lead contamination. Tea grown in China and India is particularly at risk, which is bad news for chai tea, as the drink itself comes from India.
Choosing an organic product won't necessarily protect you either, as some of the contamination comes from the ground and the environment, rather than farming methods. To protect yourself, you need to focus on high-quality products, preferably ones that test their tea leaves regularly.
Thankfully, you're brewing a hot drink using tea leaves, rather than consuming the whole leaves. This should mean that you're not getting many concerning compounds, even if the tea leaves are contaminated.
Things To Watch Out For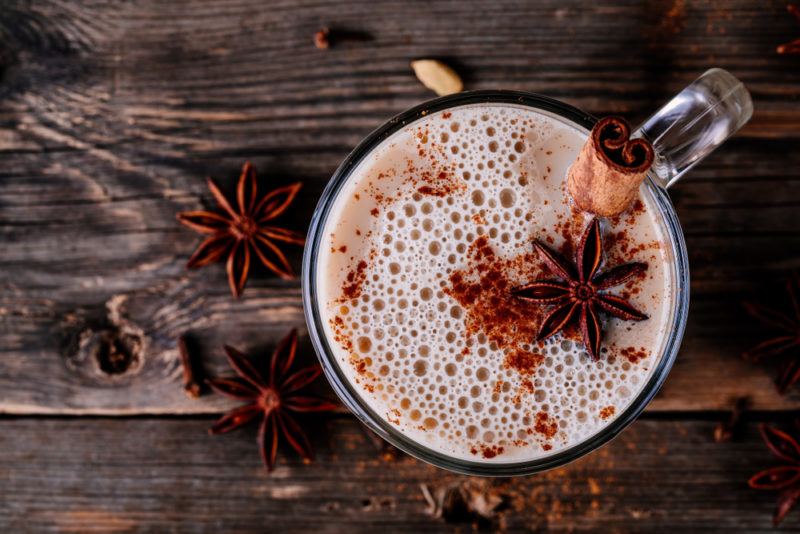 Chai Tea Concentrate
Chai tea concentrate is a liquid that you can use to make chai tea quickly. It's much easier to use than messing around with black tea and the individual spices. Plus, you get a more consistent drink each time.
If you make the concentrate yourself or choose a good brand, then it could be a great idea.
But, many companies use excess sugar and additives to create delicious products that aren't healthy at all. To avoid this, read the ingredients label and look for products that focus on high-quality ingredients and keep the sugar content to a minimum.
Chai Tea Lattes
While chai tea itself tends to use a combination of water and milk, a chai tea latte is often made almost entirely with milk. Chai tea lattes also tend to be sweeter, as extra sugar is added to make the drink easier to enjoy.
Some versions also use cream as an ingredient or add a little whipped cream on top. The cream makes the drink richer and more sensual, while also making it less healthy.
All in all, chai tea lattes aren't nearly as healthy as a mug of traditionally prepared chai tea.
You can't just look for cafes that use the term chai tea rather than chai tea latte, as the terms are often used interchangeably. It's better to enquire about how the tea is made. This way you know what to expect before you pay any money.
Tea Bags
You can sometimes find chai tea bags as well. This is one of the easiest ways to make chai tea, as you can just use them like a regular tea bag, then add warm milk to the finished drink.
However, the flavor profile is never quite the same as authentic chai tea.
If you take this route, choose your product wisely. Spices become stale over time, losing much of their vibrancy and flavor. Chai tea tastes the best and offers the most benefits when the spices are fresh, so you want to buy tea bags that haven't been sitting around for too long.
Loose Leaf Chai Tea
Alternatively, you can look for products that contain loose leaf black tea in a mixture of spices. You can easily follow the traditional brewing approach with these products and get a much nicer cup of chai.
Having the tea and spices together like this is very practical too.
Plus, companies that sell loose leaf tea tend to have an emphasis on quality. This should mean that you're getting fresher tea than if you buy tea bags.
Even so, it's still important to choose a reliable brand. Look for one that is up-front about their harvesting and manufacturing processes.
How To Make Chai Tea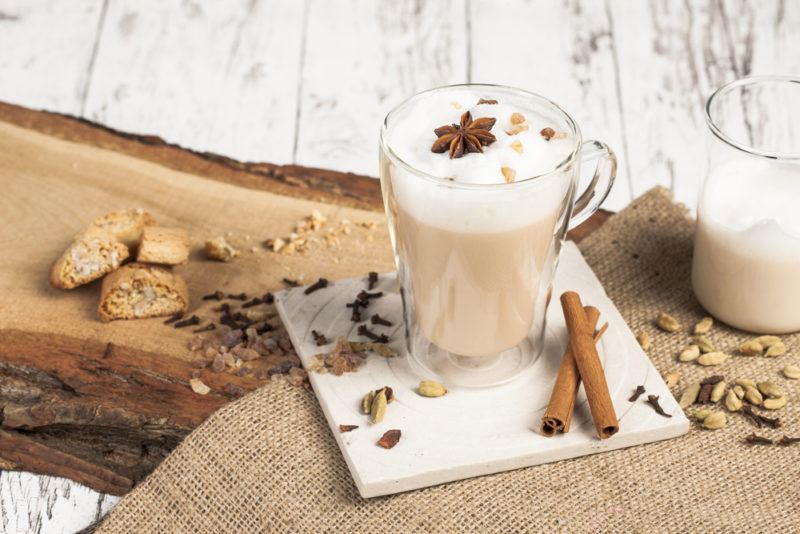 The products we mentioned give you the chance to make chai tea in a few simple steps.
However, they're not ideal, as you often won't get fresh spices, so the flavors and the benefits will be decreased. It's much better to make chai tea at home yourself, using freshly purchased spices.
Doing so isn't nearly as difficult as you might imagine. There are many delicious recipes out there, including this one from Foodess.
With this, and many other recipes, the first step is to simmer the water, spices, and milk (you can swap the milk out for a plant-based milk if you prefer). Simmering allows the flavors of the spices to infuse into the other ingredients.
Then you bring the heat down, add the black tea leaves, and leave the mixture to steep. Lowering the heat is important, as black tea won't taste as good if the temperature is too high.
Finally, once the tea has steeped, you can strain the mixture into a mug. This gives you all the flavors of the tea leaves and the chai spices, without any 'bits' in your final drink.
You can also sweeten the tea with sugar. How much you use is up to you. Some people love chai masala with plenty of sweetness, while others prefer the spices to shine through instead. You'll get more benefits by keeping the sugar content low, but everyone has their own preferences.
On a side note, you can make cold brew chai tea. This version uses cold water instead of hot water and gives you a mellower drink.
Final Thoughts
Chai tea is delicious, giving you access to all the benefits of black tea, along with the various spices that are included. However, you need to choose your products carefully, as some use stale spices, while others may be contaminated or are high in sugar.
You also need to pay attention to how your body responds. Each of the spices used in the tea can cause side effects, as can the black tea itself.
Frequently Asked Questions
Is There Caffeine In Chai Tea?
Chai tea uses black tea as a key ingredient, which means it does contain some caffeine. You're often looking at around 40 mg of caffeine, which is roughly the same as a mug of black tea and much less than coffee.
However, the caffeine content is influenced by the quantity of tea leaves used and how long these steep for.
You can find decaf chai tea products, just as you can for black tea. Here, the tea leaves have been through a decaffeination process that gets rid of most of the caffeine. Decaf chai tea does still contain tiny amounts of caffeine, but the caffeine levels are too low to affect most people.
Does Chai Tea Make You Poop?
This is an interesting one. For some people, yes, chai tea can lead to increased bowel movements, partly because of the various spices it contains. The caffeine and hot water are relevant too, especially first thing in the morning.
However, some people experience the opposite effect, where chai tea leads to constipation instead. This is linked to a chemical called theophylline. The theophylline shouldn't be a big deal if you're having chai tea every so often, but it may become relevant if you're sensitive to the chemical and drink large amounts of chai tea.
Is Chai Tea Good For Weight Loss?
Tea is always relevant for weight loss, as it's a low calorie hot drink that mostly consists of water. Drinking tea can even reduce your calorie intake, as it keeps you feeling satisfied for a little.
The caffeine in chai tea plays a role too, as this can slightly boost your metabolism.
Don't expect chai tea to have a radical weight loss effect though. You still need to put the hard work in yourself.
Is Chai Tea Good For Acid Reflux?
Most of the time, no. Chai tea is likely to aggravate acid reflux symptoms instead, as it is mildly acidic. The caffeine in chai tea can make your symptoms worse too, as can the milk that's sometimes used to prepare the tea.
Does Chai Tea Give You Energy?
You may get some energy boost from the caffeine in chai tea. This effect is milder than the energy boost from coffee, but may be perfect if you're sensitive to caffeine.