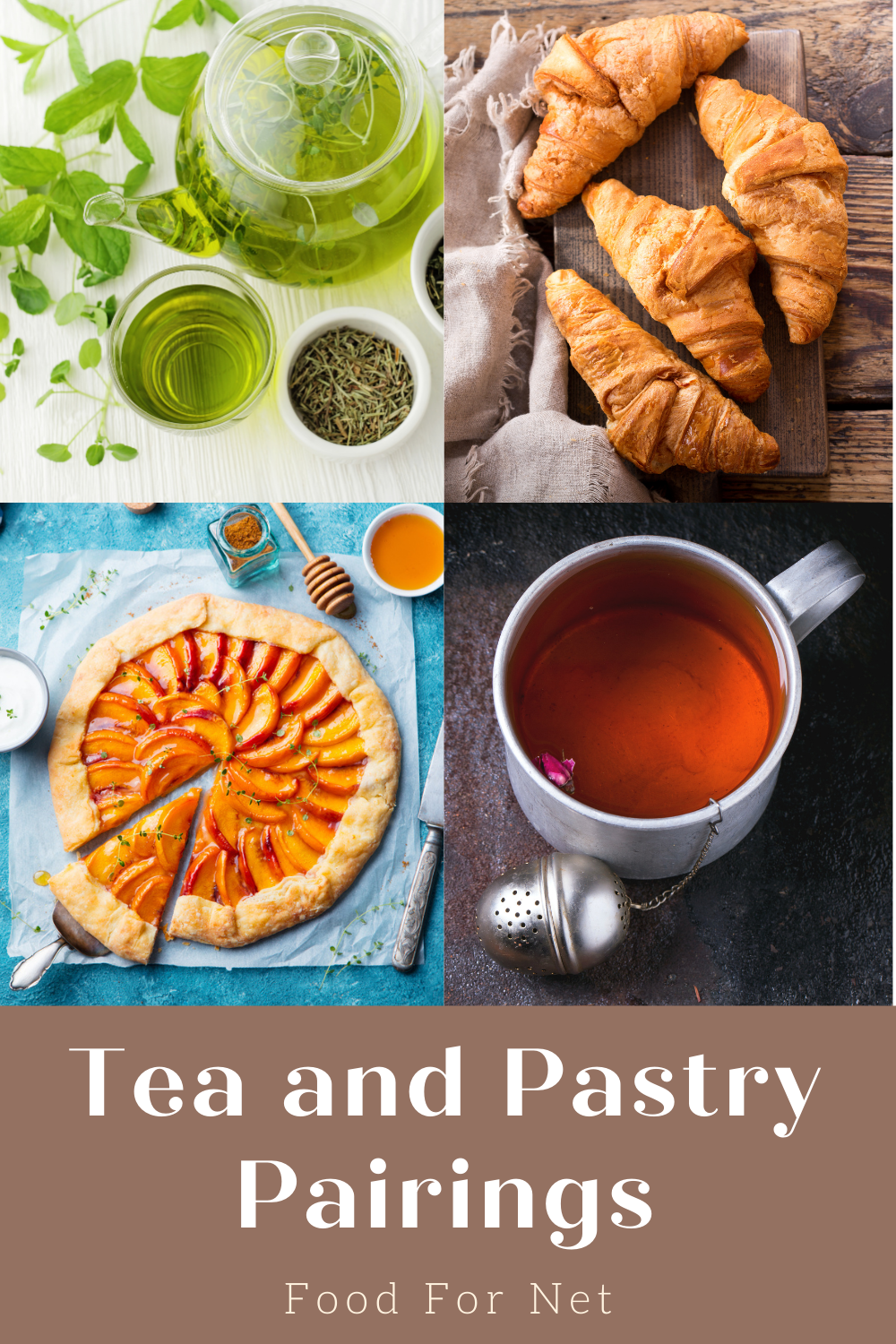 Pairing food and wine is a common practice. Matching food with tea instead isn't done nearly as often, especially not in the West. Yet, tea offers much of the same complexity that you find in wine, and it's not so surprising that you can pair tea in much the same way that you can pair wine. This post focuses on one narrow area – tea and pastry pairings. These can all get you started on your tea pairing journey.
Before we get rolling, let's get some definitions out of the way.
First, technically speaking, tea is made from the leaves of the Camellia sinensis. There are various types, including green tea, black tea, and white tea. And, just like with wine, there's plenty of variety between individual teas, even when they're of the same general type.
Then there are the herbal teas and flower-based teas. These are made from leaves, buds, roots, or flowers of different plants. They can have distinct flavor profiles and can be very different than tea made from Camellia sinensis.
Also, we need to talk about pastries. The term pastry refers to a type of dough made using flour, water, and some type of fat. Sugar is often used as well, although pastry can be savory too.
Pastries, on the other hand, are baked goods that are made from pastry. Pastries are often sweet, but not always, and include pies, danishes, croissants, cannoli, and eclairs.
P.S. What about making your own treats to serve with tea? Baking subscription boxes are great ways to get you started on this journey.
Delicious Tea And Pastry Pairings
Pastries with Cinnamon
Macarons
Berry Pie
Peach Galette and White Tea
Scones
Croissant and Fruity Green Tea
Fruity Black Teas and Heavy Pastries
Tea, Pastries, and Chocolate
Light Oolong Teas
Dark Oolong Teas
Fruity Black Teas
Smoky Black Teas
Matching Herbal Teas and Pastries
Pastries with Cinnamon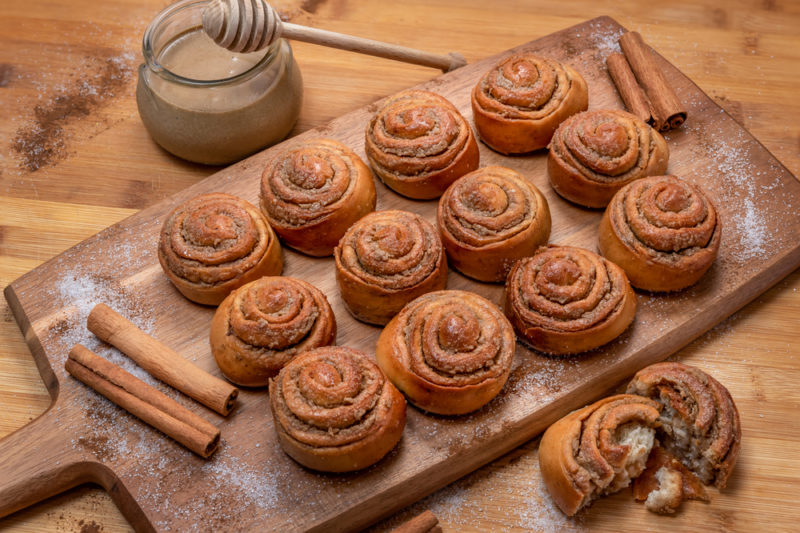 If cinnamon is one of your pastry's main flavors, then chai tea is a logical pairing. Chai relies on strong black tea, along with milk and a selection of spices, including cardamom and cinnamon. This means that you're pairing like with like, as you have cinnamon in your pastry and also in your tea.
The combination works best when your pastry doesn't contain too many subtle flavors. The strength of your chai tea means that anything subtle could easily get overwhelmed.
Macarons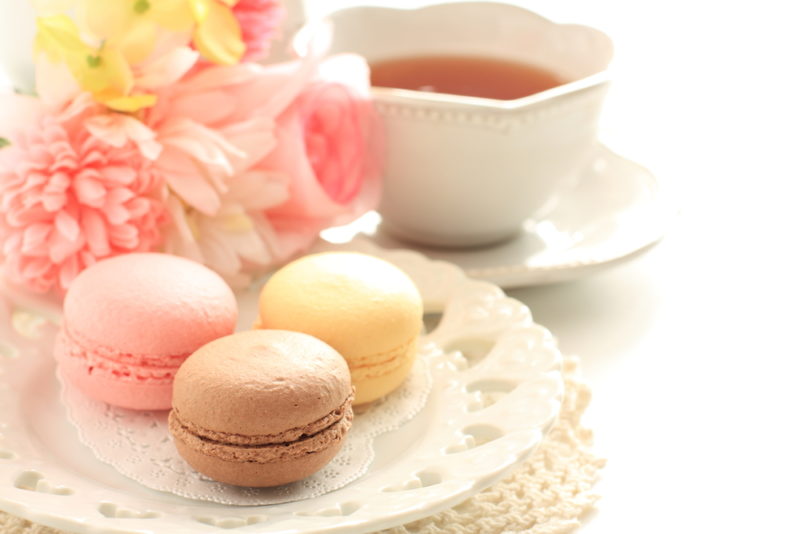 Macarons are a French pastry that relies on egg whites, ground almonds, and sugar. They're a little like meringues and have a layer of buttercream or ganache sandwiched in the middle (don't confuse these with macaroons, which rely on shredded coconut rather than ground almonds).
Macarons tend to be sweet and can be a little difficult to pair, which is why this time we're suggesting an herbal tea. A strawberry ginger herbal tea is one type that could work well, as you're getting sweetness from the strawberry and an interesting flavor contrast from the ginger.
Or, if you'd rather focus on regular tea, oolong can be a decent choice. Just make sure that the flavors of the tea aren't too rich, as you don't want to overwhelm your dessert. If your macaron has a subtle flavor, you could even pair it with white tea. Be careful though, as the delicate flavors of white tea are easily overwhelmed.
Berry Pie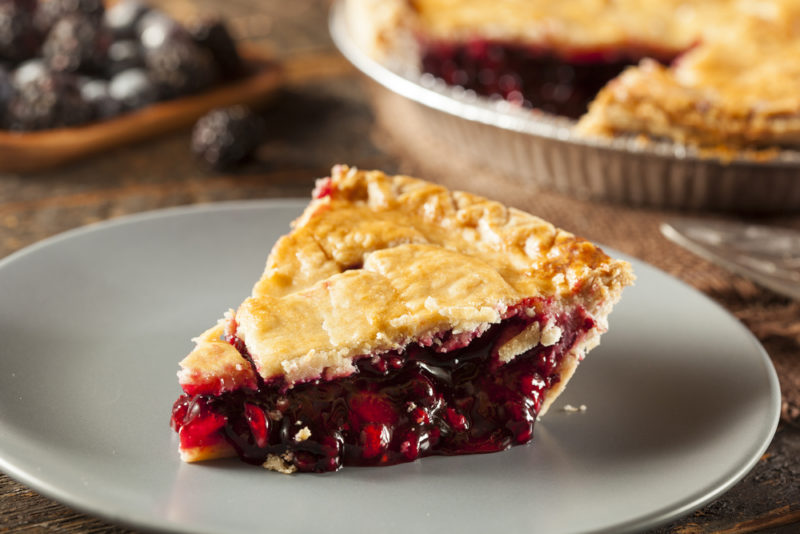 There are a few pairing options for a berry pie, starting with English breakfast tea. This is a black tea blend with a strong depth of flavor. The taste is so notable that most people drink the tea with milk and sugar, rather than having it on its own. When consumed like this, English breakfast tea will match well with many types of dessert.
A berry pie is an excellent place to begin, as you have the smooth and rich pastry, along with the strong flavors from the berries. Both features are excellent complements to your tea.
There's plenty of room for variation too, as there are so many types of berry pie that you can make.
Earl gray tea ends up pairing well with berry pie too. This isn't so surprising, as earl gray is another type of black tea. The main difference is that earl gray uses bergamot oil, which changes the flavor profile.
Peach Galette and White Tea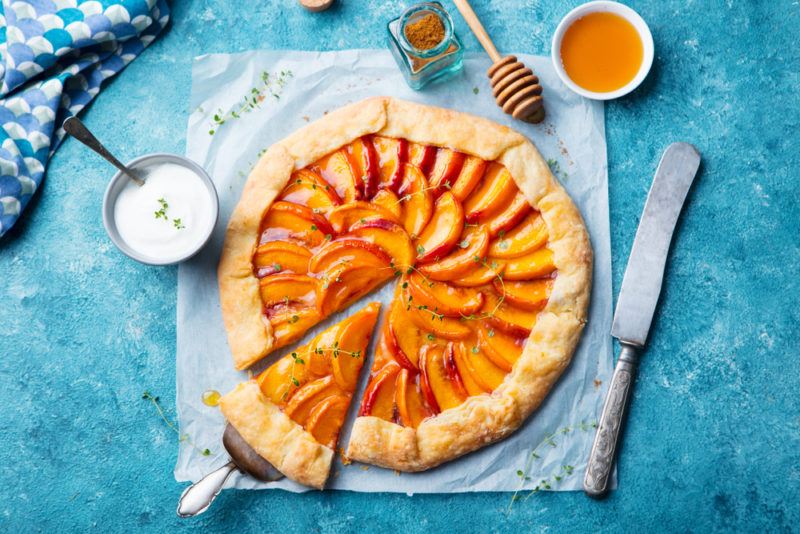 White tea has a very subtle flavor profile, which makes it difficult to find good food pairings. If you make the wrong choice, then your dessert will completely overwhelm your tea's flavor, to the point that your tea tastes like water.
Drinking white tea on its own is the easiest way around this problem, but that doesn't help if you want a dessert or pastry at the same time. Galettes work well here, as this type of pastry tends to be freeform and the pastry part of the dessert is very thin.
While peaches aren't the only type of fruit you can use here, they are an excellent choice. After all, peaches have a subtle sweetness that isn't going to overwhelm your tea at all.
If you're going to try another type of fruit instead, look for one that isn't overwhelmingly sweet or juicy. When you're working with white tea, subtle will always be best.
Scones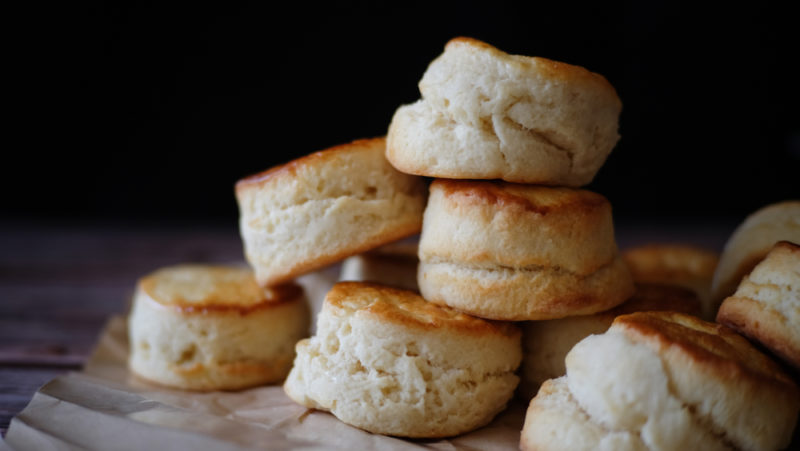 Calling scones a type of pastry might seem like a stretch. Still, pastry is somewhat flexible as a category. Besides, scones are classically paired with tea, so we need to talk about them.
Black teas tend to work best here, with earl gray being one of the classic choices. This type of black tea uses bergamot oil to give it a distinct flavor profile. The tea ends up working very well with scones, regardless of whether you add milk to your earl gray.
Chai tea is another noteworthy option. Pairing scones and chai tea might not be as classic as earl gray and scones, but chai has some serious advantages. For one thing, the spice notes in earl gray help to make your scones more interesting. The spices also stand up well against things that you might serve with your scones, like jam and clotted cream.
If you like flavored scones, try pairing apple scones with chai tea. This combination is exceptional because of the cinnamon that's in your chai tea. We all know that cinnamon and apple complement each other well.
Croissant and Fruity Green Tea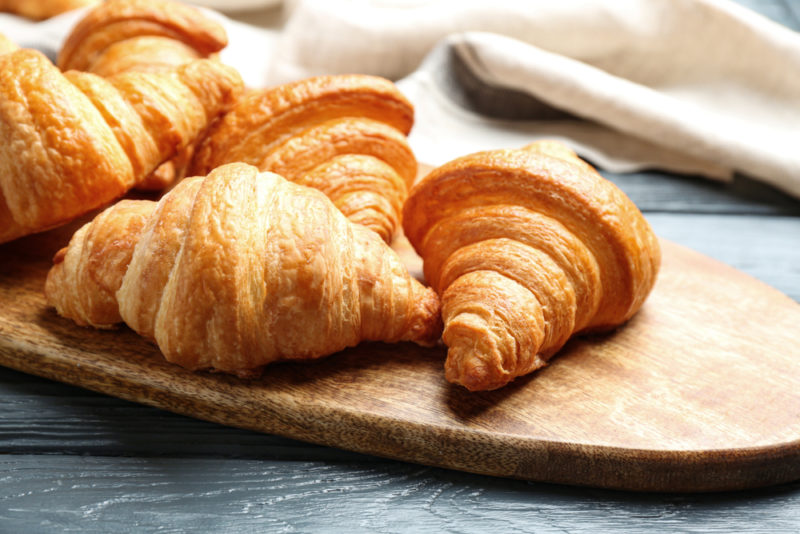 Some green teas have fruity characteristics and are often fairly light. Serving these teas with an unsweetened pastry, like a croissant, is perfect, as you don't end up with too much sweetness. You also get a fun balance between sweet and savory flavors.
This also makes for an effortless match.
But, as you can probably guess, you'll get the best experience if you focus on freshly baked croissants, rather than ones that have been sitting around. If you're going to try the combination at home and don't want all the work that comes with handmade croissants, look for parbaked frozen croissants instead.
Frozen croissants like these can be finished off in your oven. This gives you a fresh and delicious croissant, with barely any effort on your part.
Fruity Black Teas and Heavy Pastries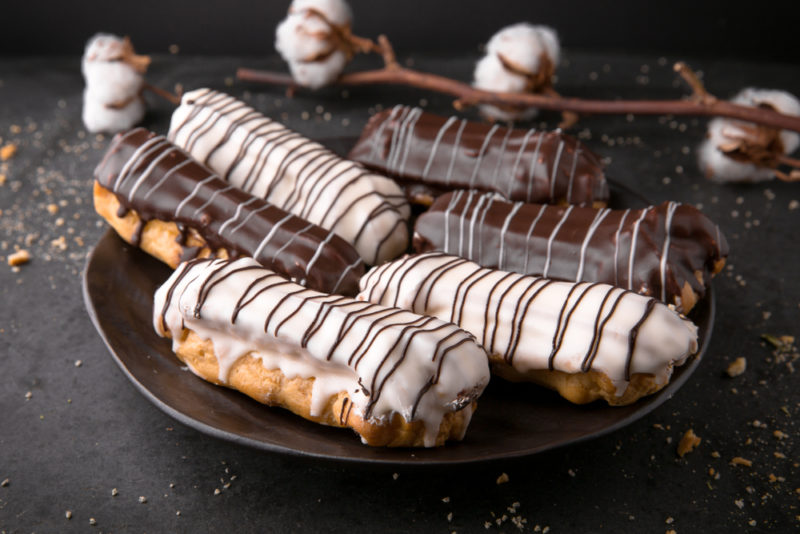 Some pastries taste amazing the first time you bite into them, while every other bite isn't nearly as good. This happens because your mouth is still coated with the thick flavor and richness of your pastry.
Black tea can be useful here, as it helps to cleanse your palate. You're able to get the experience of that first bite over and over again.
This approach works for most types of rich pastry. This includes any time where the pastry is thick and heavy or where there is rich filling, like something chocolatey or cream-based.
Tea, Pastries, and Chocolate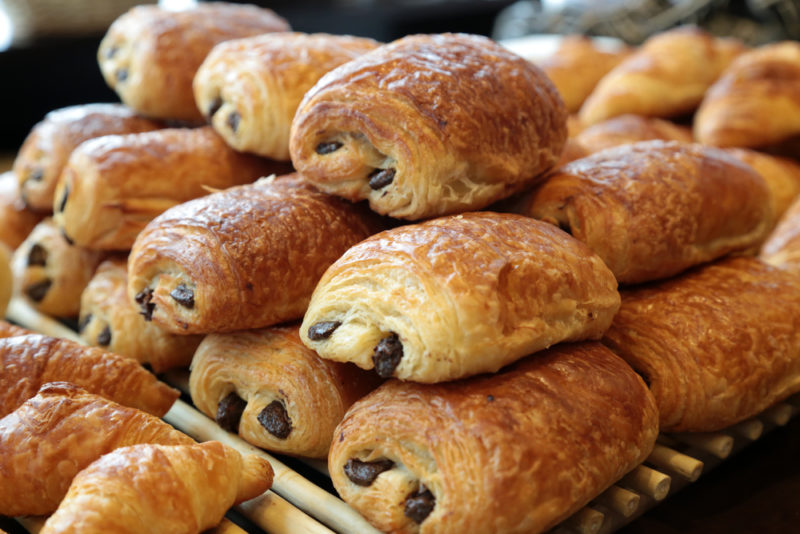 Chocolate remains one of the most popular treats. It's a comfort food, after all, one that many of us turn to regularly. But, pairing with chocolate can be a little tricky, especially if chocolate is just one aspect of your dessert.
The type of chocolate is a good starting point.
Green tea is a surprisingly good match for dark chocolate. This works because dark chocolate is often bitter. This allows the fruity flavors in the tea to shine.
On the other hand, milk chocolate pairs well with black tea, partly because black tea has some sweeter notes, which complement the creaminess of milk chocolate. This combination is even better if you're having milk or cream in your black tea, as you end up with a parallel creaminess between your chocolate and your tea.
Of course, those suggestions are based on the chocolate itself. You may need to do a little tweaking if you're serving a pastry that includes chocolate.
To begin with, think about the main flavors in your pastry. If chocolate is dominant, then pair your tea with the chocolate. If there are other intense flavors, you might need to pair based on these instead.
For example, Twinings suggests pairing their strong English breakfast tea with a pain au chocolat. It's easy to see how that combination would work well, especially first thing in the day.
Light Oolong Teas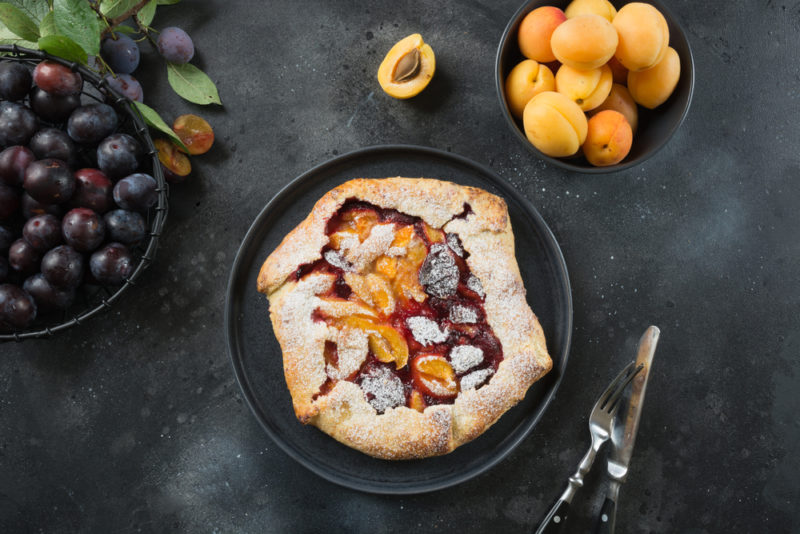 Oolong tea is more oxidized than green tea, but less so than black tea, so it falls somewhere between the two in terms of flavor. The amount of oxidation can vary from one type of oolong to the next, which influences the tea's flavor and the best choices for pairing.
Light oolong teas are often similar to green teas. They can have strong floral characteristics and are best paired with subtle and fragrant foods.
You could even focus on the peach galette that we mentioned for white tea or perhaps a lightly flavored macaron (which, interestingly enough, is considered a type of pastry). Many other pastries would work well too.
The trick is to look for ones that don't have strong flavors or heavy textures. So, steer away from any that rely on sweet, rich, and juicy fruit, as those desserts would easily overwhelm your tea.
Dark Oolong Teas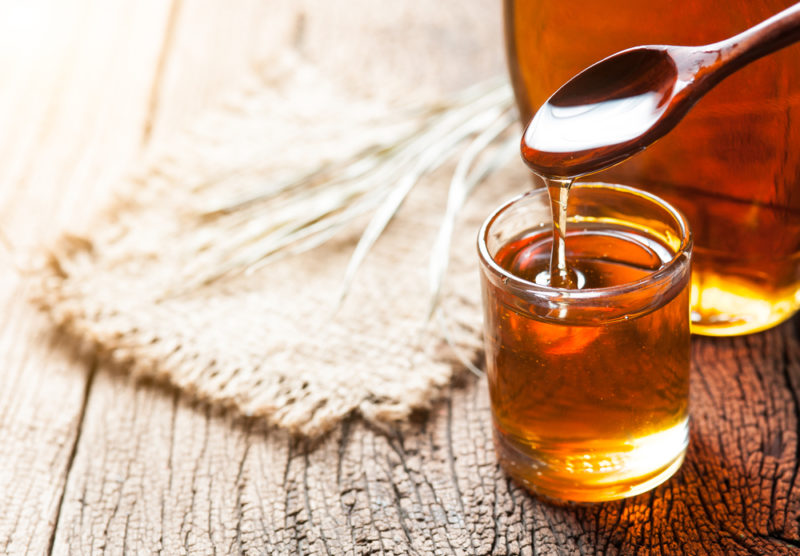 If your oolong tea is dark instead, you have much more scope to experiment. Such teas pair well with strong flavors, including grilled meats. Sweet desserts often work well with these teas too, especially pastries that rely on maple syrup.
The flavor of maple syrup highlights the complexity of your oolong tea and makes some of the flavors even more prominent.
Fruity Black Teas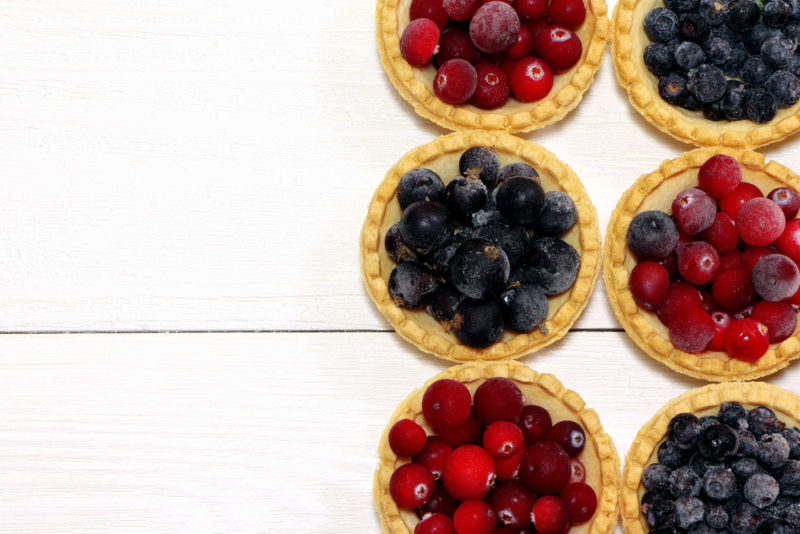 Fruity black teas tend to be high in tannins. They help to cleanse the palate and can make sweet food taste even sweeter. The impact on sweetness isn't a bad thing at all. In fact, sweet desserts are excellent when paired with black teas.
There are plenty of sweet pastries that you could try here, including fruit pies, danishes, tarts, and tartlets. While you can run with almost any type of fruit, try focusing on fruits that are sweeter, juicier, and have strong flavors – like berries. Milder fruits, such as peaches, won't pair quite as well.
Smoky Black Teas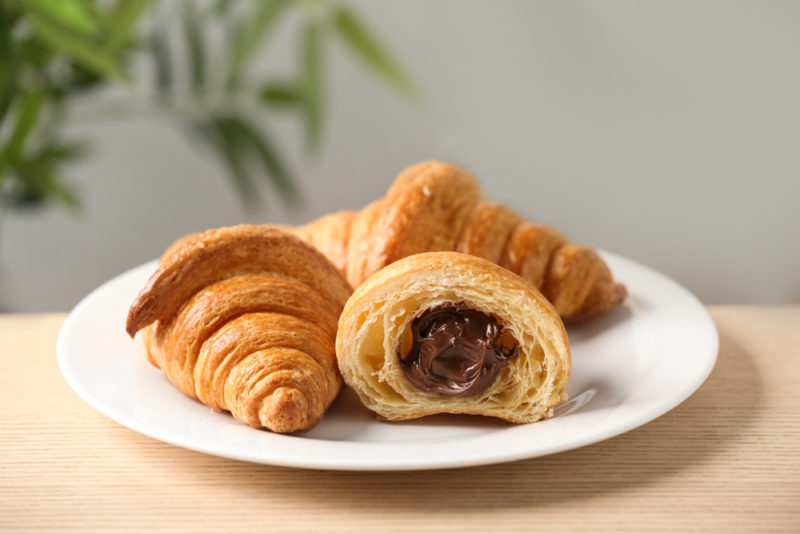 Some black teas end up being smoky instead and the flavors that you need here are quite different. You'll generally need foods that are strongly flavored, but aren't intensely sweet.
So, this time around, fruit desserts aren't a good choice. You could go with chocolate-based pastries, including ones that use milk chocolate. Other types of strongly flavored desserts might be appealing too, such as pastries that use gingerbread spices.
Matching Herbal Teas and Pastries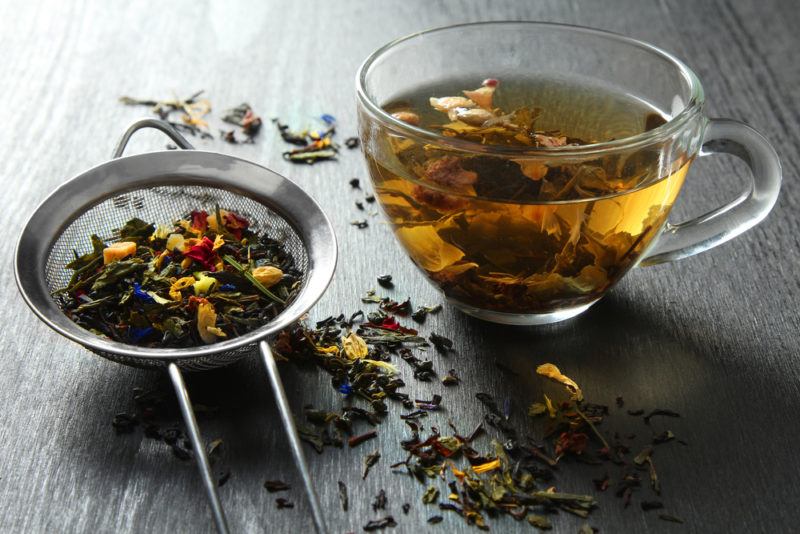 Herbal teas are a little different. They don't have the distinctive flavor from Camellia sinensis and can vary dramatically from one another.
Some of them are very mild, especially the floral teas, so you need to match them with a mild pastry. Look for cases where the pastry layers are thin and you're not using strong flavors in the pastry filling. Make sure that the pastry isn't too sweet either. So, as with white tea, you're looking for subtle.
Other herbal teas have strong and distinctive flavors. Take ginger tea, for example. It is exactly what the name suggests, so you'll need to match it with pastries that work with the flavor of ginger.
This includes pastries that use ginger as an ingredient, along with those that are complementary. For example, ginger and dark chocolate often work together well, so a pastry with dark chocolate could naturally work well with ginger tea.
Some herbal teas are more complex, using multiple flavors and ingredients. To pair with them, you'll need to pay close attention to the flavors that are present – and then make sure your food either complements or contrasts those flavors well.
The simplest approach is to pair like with like. So, if your tea has strawberry as a main flavor, you could pair it with a strawberry danish or some other strawberry dessert. Likewise, a lavender tea would pair well with lavender macarons.
You can also look for flavors that work well together. For example, rosemary and lavender in your tea would work surprisingly well with a lemon-based dessert or almost any citrus dessert.
Experimenting is crucial here – as there are so many different flavor combinations out there. You have your own preferences too and these will influence the pairings that you enjoy the most.
How To Pair Tea And Pastries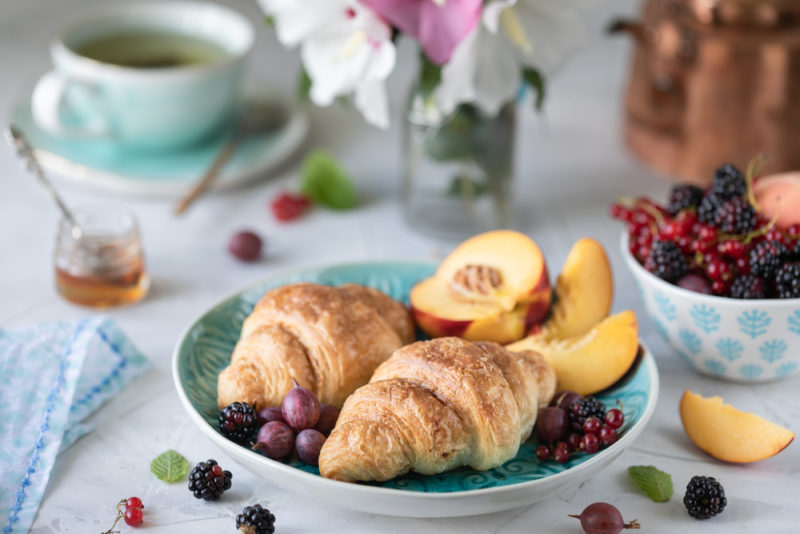 We've highlighted plenty of different pairings on this list, more than enough for you to have some fun and experiment for yourself. But, what if you want to focus on a pastry that doesn't feature on this list?
In some cases, you'll be able to use other pairings as a guide. Pay attention to your pastry's main flavors and textures and look for similar pastries that we've featured on the list.
You can also focus on general principles. One is to think about flavors. Do you want the tea to contrast or complement your pastry? Once you've decided on that, your pastry's flavors should give you plenty of insight into the type of tea you want.
The strength of flavor matters too. As with wine, it's best to pair strongly flavored pastries with robust teas. Milder teas call for more delicate foods.
The final tip is to experiment. Food pairing isn't always predictable. Some combinations seem like they should work well and end up tasting horrible, while others sound strange on paper and are delicious in practice.
Besides, everyone has their own taste preferences. You might find that you hate a pairing that someone else loves and vice versa. The best experience will always come from following your instincts.