Many of us regularly enjoy wine with our meals. But, the experience is strongly influenced by the pairing of wine with food. Get this right and you have a delicious meal. Get it wrong and everything is much less enjoyable. We've highlighted food and wine pairings in the past by looking at specific types of wine and popular combinations. This time, we're getting much more specific and focusing only on baked salmon wine pairing.
Why such a narrow topic? Well, wine pairing is a bit of an art and it can seem overwhelming. Focusing on a single type of food means that there are fewer things to consider.
You'll be able to take the general principles that we talk about here and apply them to other food and wine combinations too. If you want to learn more about wine pairing, you can check out our lists of delicious red wine and white wine pairings, along with details about pairing wine with pasta.
Or, if you're ready to get started yourself, why not try out a wine club or two?
Baked Salmon Wine Pairing
Oak-Aged Chardonnay
White Burgundy
Sauvignon Blanc
Pinot Gris
Viognier
Pinot Noir
Beaujolais
Red Zinfandel
Rosé
Oak-Aged Chardonnay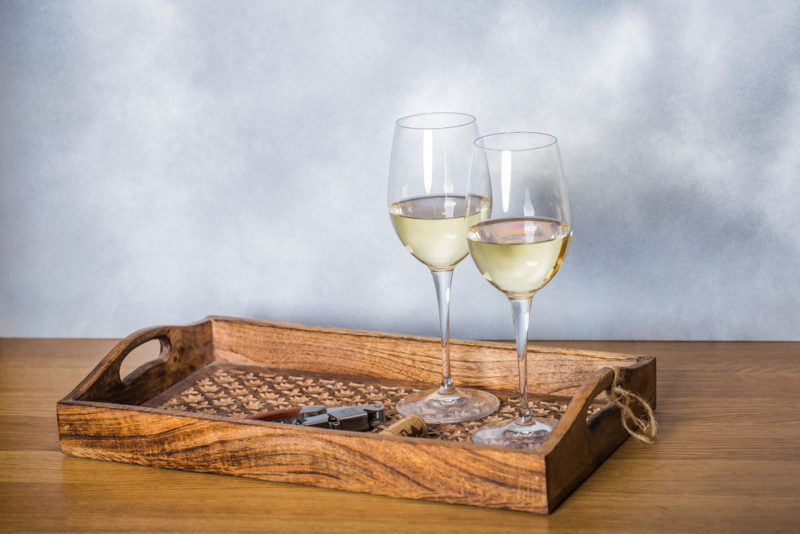 Pairing fish with white wine is a classic choice and the idea is as relevant for salmon as other types of fish. An oak-aged chardonnay is an especially good choice, as you're relying on a rich and complex wine that will complement the richness of your salmon.
A combination like this helps to create a full-tasting meal, one that offers many flavors to enjoy. Chardonnay is also well-known for having buttery flavor notes. This part of the flavor profile one of the main reasons for serving chardonnay with baked salmon.
We're suggesting an oak-aged chardonnay here because the oak aging adds an interesting complexity to the wine, providing you with a mouthfeel and weight that matches that of the fish.
Chardonnay can be an even better choice if you're serving salmon with a creamy or a butter-based sauce. Rich sauces like this need a complimentary wine and chardonnay performs this role admirably.
White Burgundy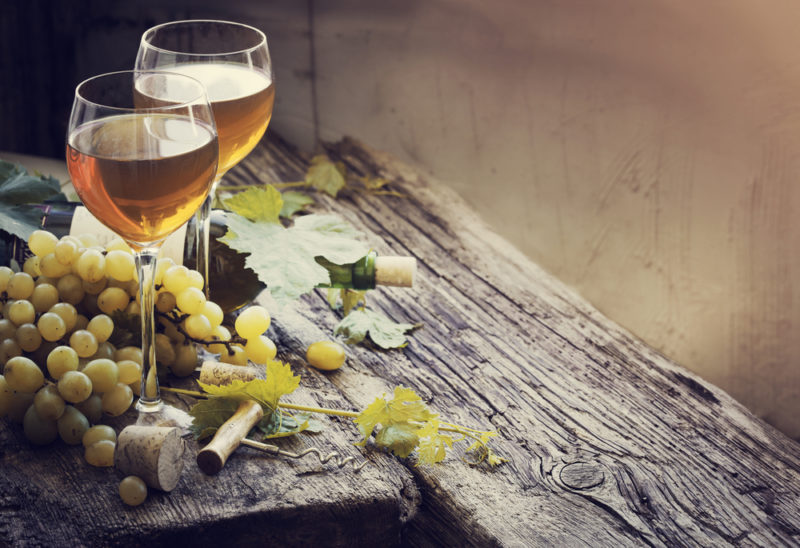 White burgundy isn't a different type of wine variety. Instead, the wine is simply a type of chardonnay. White burgundy is however quite famous, as the Burgundy region is where the chardonnay grape originates.
Not surprisingly, white burgundy wine is produced in Burgundy. The combination of tradition and environment means that you end up with a distinctive type of chardonnay – one that you simply cannot find anywhere else.
White burgundy is often called the gold standard for chardonnay, to the point that once you've tried it, you might be spoiled for anything else. Not surprisingly then, white burgundy ends up being a delicious pairing with baked salmon.
Sauvignon Blanc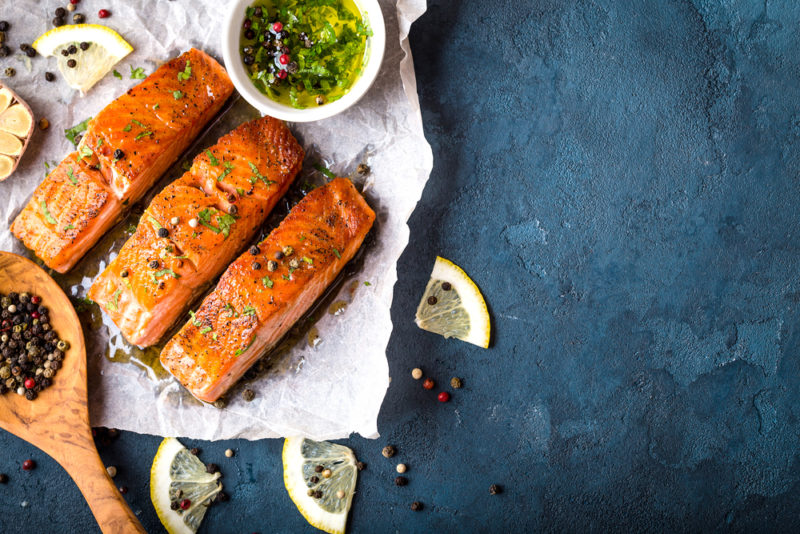 Sauvignon blanc is another classic white wine that you can pair with baked salmon, but this time the effect is quite different. You will often end up with a wine that somewhat contrasts the salmon, acting as a palate cleanser.
A pairing like this can be a way to stop the richness of your baked salmon from being too overwhelming and also balances out the flavors of the meal. Sauvignon blanc from the Loire Valley, Chile, or New Zealand can be an especially good match. Look for a bottle that has some green herbal notes, as this part of the flavor profile is perfect with wine.
Sauvignon blanc also happens to be a forgiving wine, one that pairs well with plenty of types of food. Because of this, sauvignon blanc is also a good choice for many of the seasonings and sauces that are often served with salmon. The wine is especially appealing for recipes that heavily rely on herbs and those that have citrus flavors.
Pinot Gris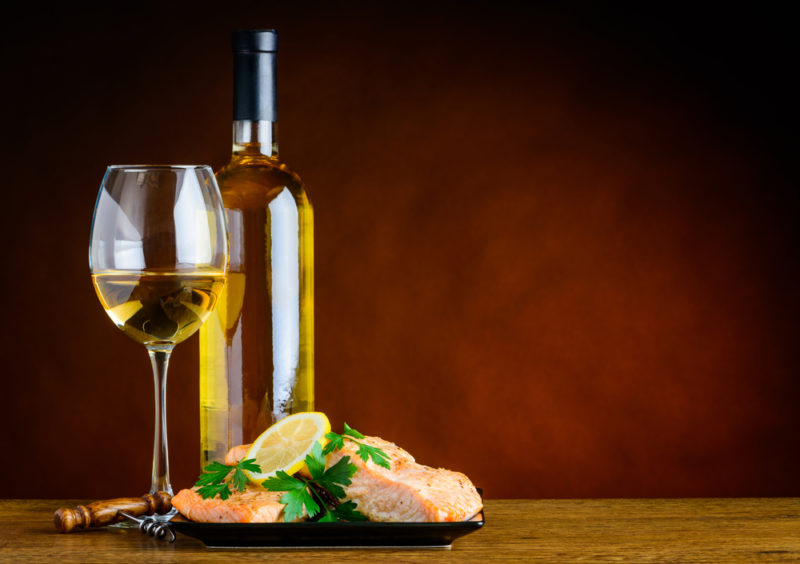 While pinot gris isn't recommended for salmon as often as some of these other types of wine, it can still be a surprisingly good complement. The wine often has a refreshing citrus flavor and is generally dry.
Pinot gris often ends up being vibrant and refreshing. Its high acidity means that the wine generally tastes less sweet than chardonnay. This vibrancy means that pinot gris is best when paired with salmon on its own or salmon that relies on herbs for flavoring.
If your dish relies on a creamy sauce instead, then chardonnay is usually a better choice. However, you may be able to get away with a pinot gris from Australia or the U.S., as these tend to have more body and higher alcohol content.
Viognier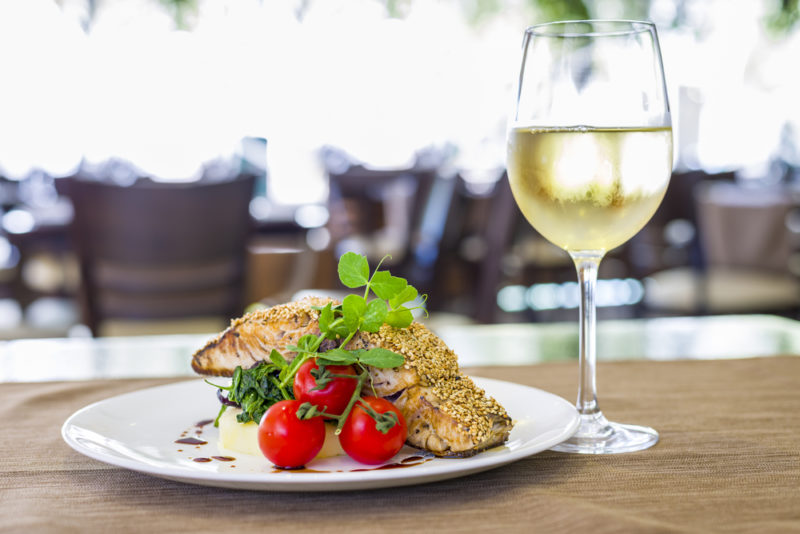 Viognier might not be as well-known as chardonnay, but it is another type of full-bodied white wine. This full body is one reason to pair viognier with baked salmon, as the wine is complex enough to hold its own and complement the salmon, without overwhelming the flavors of your meal.
Viognier tends to be produced as a dry wine and can impart a slight bitterness. When aged in oak, the wine takes on a creamy flavor and can even include some vanilla flavor notes. But, by and large, viognier is known for light flavors, including honeysuckle and tangerine.
Regardless of whether you choose the oaked or unoaked version of the wine, viognier is a good combination with baked salmon. With oaked viognier, you end up with a richer flavor combination, while unoaked provides more contrast between the wine and the fish.
Pinot Noir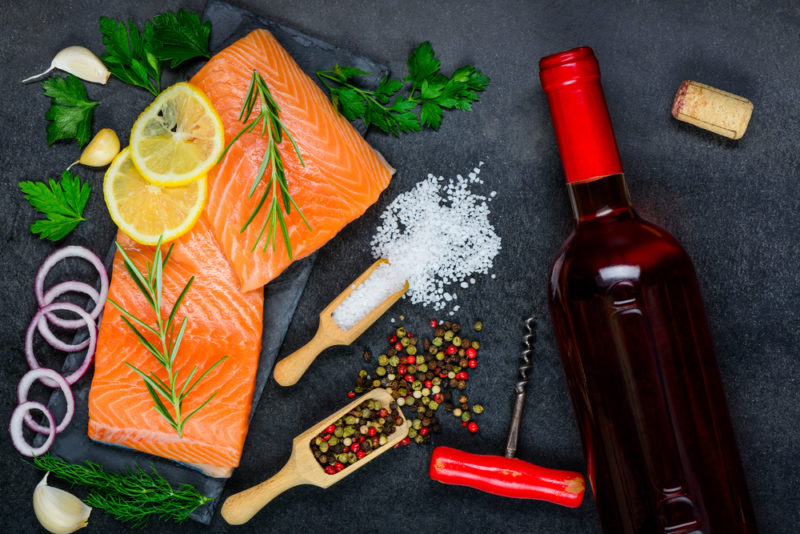 Tradition dictates that fish is served with white wine, but this isn't a hard and fast rule. Some red wines are perfect with salmon too. The trick is to look for wines that are low in tannins, as a medium or high tannin wine can end up with metallic flavors when served with salmon.
Pinot noir is the classic choice here, as it is a very popular light-bodied wine that is low in tannins with a smooth finish. These features make the wine easy to enjoy and mean that it can pair well with many foods – including dishes that you would traditionally serve with white wine rather than red wine.
Pinot noir is also one of the most versatile wines for pairing with food. It complements countless dishes, including any type of cooked salmon. So, you can use pinot noir regardless of the seasoning that you use with your salmon or the other ingredients that you serve with it.
You can also turn to a red burgundy wine. This is essentially just pinot noir that is made in Burgundy, France. Burgundy is famous as a wine producing area and the wines from Burgundy are thought to be some of the best in the world.
Because red burgundy is a specific type of pinot noir, the pairing of red burgundy and salmon has the same advantages as serving any other type of pinot noir with salmon.
Beaujolais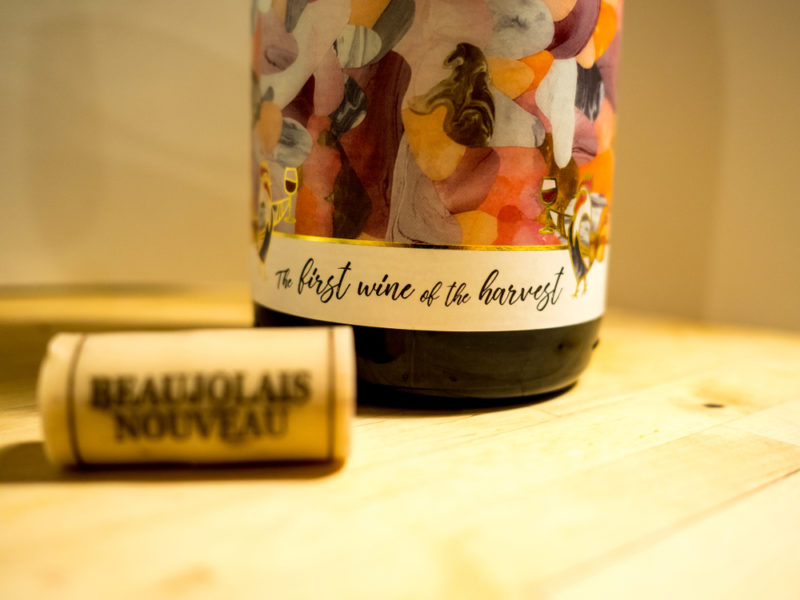 Beaujolais is a low tannin red wine that has surprisingly high acidity. This combination of features makes it an interesting pairing choice, as you can use it with some heavily spiced meals along with nuanced dishes – like cedar-planked salmon.
It's fantastic to have so many options with a single bottle of wine. This means that you should be able to serve Beaujolais with salmon, regardless of how you are seasoning it or the type of sauce that you're using.
You could also turn to a Beaujolais Noveau, which tends to be a light-bodied and easy-to-drink wine. This is hardly surprising, as the wine tends to be bottled between six and eight weeks after harvest, which isn't much time at all. The light body of the wine makes this an easy-to-drink choice, perfect for guests who are beginners with red wine.
Red Zinfandel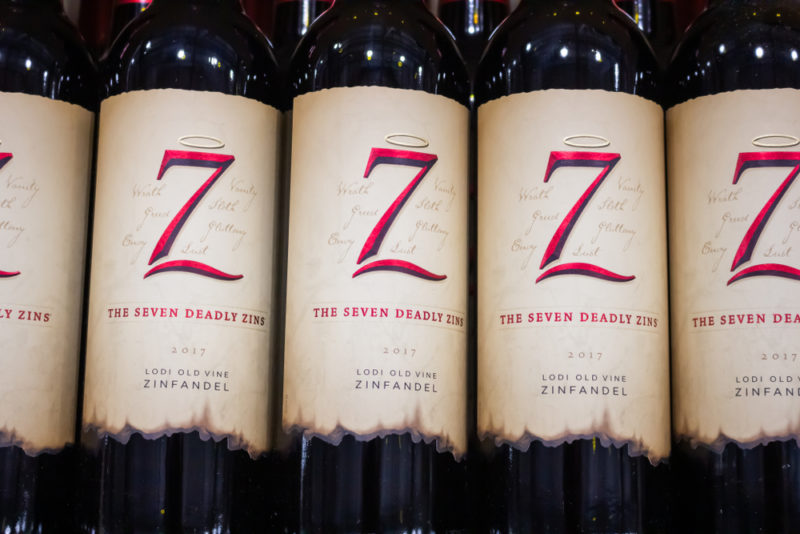 Red zinfandel tends to be more fruity and intense than many other reds. It's often called a bold wine, one that is known for having a high alcohol content and having an almost jammy flavor profile.
The vibrancy of red zinfandel might seem like a poor choice when pairing with baked salmon, but the wine can complement the fish well. This is particularly true if you're using strong spices with your salmon or if you're also going to char your salmon rather than just baking it.
Rosé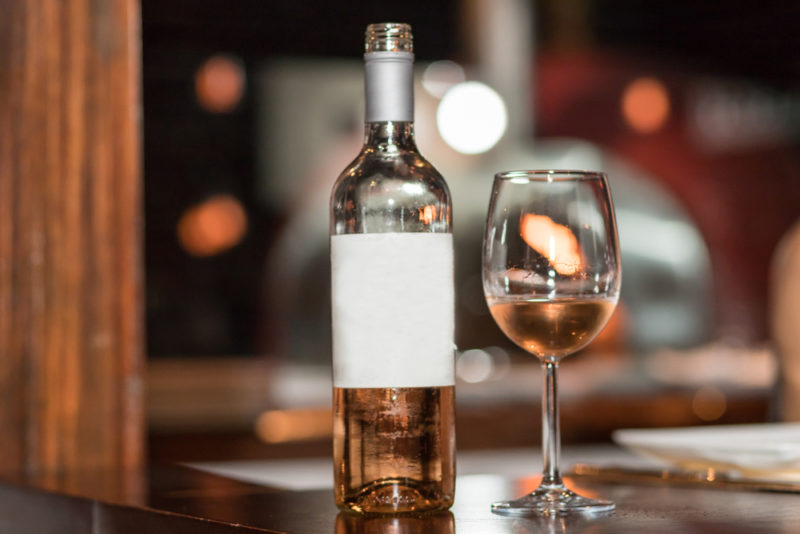 A bottle of rosé is often a good choice when you want an interesting wine that isn't too overwhelming. Rosé wine tends to have some of the complexity that you find with red wine, yet rosé also tends to be lighter and more nuanced.
Rosé works particularly well with baked salmon because it tends to be somewhat acidic – a feature that contrasts well against the richness of the salmon.
You don't need to stick with still rosé either. Many bubbly bottles of rosé will pair well with salmon too. The bubbles provide extra contrast against the salmon and also help to refresh your palate.
You may need to do some experimenting here, as there are various types of rosé to choose from and they tend to have their own distinct profiles. A pinot noir rosé could be a good place to start, as this retains many of the features of a pinot noir, but tends to be lighter – giving your fish more chances to shine.
Baked Salmon Wine Pairing Tips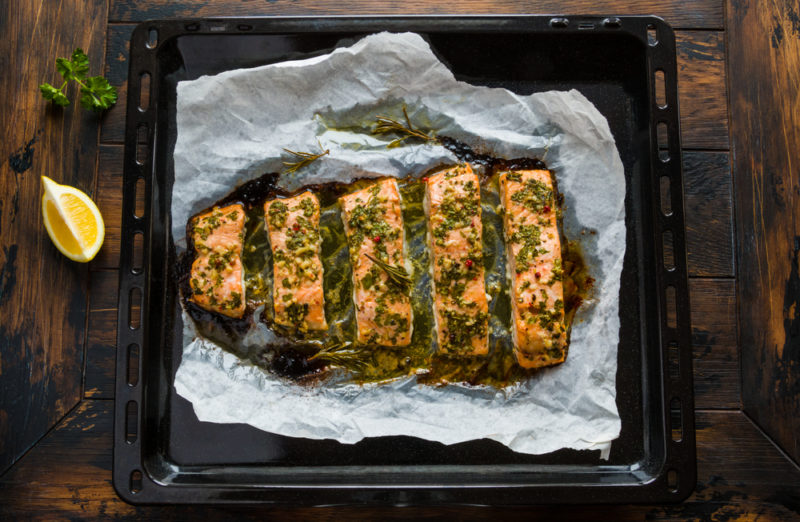 It would be impossible to cover every possible wine that pairs with baked salmon, as there is an incredible number of wine varieties out there. That's not counting all of the differences within a variety and between one winery and the next.
Besides, food and wine pairing is as much of an art as it is a science. One pairing of salmon and wine isn't necessarily better than another. The effect partly comes down to your personal preferences. This is why it's always worth experimenting with the wines that you use until you find combinations that are perfect for you.
With baked salmon, you can use the wines that we've included on this list as a starting point. Try other similar wines first, before branching out into more unusual combinations. You'll mostly want to avoid intense wines, as these will drown out the nuances of your salmon almost completely.
You'll also need to think a little about what you're serving with the salmon. For example, you might need a richer wine if you're serving baked salmon with a rich creamy sauce versus if you're not using any sauce at all.