Craft of the month clubs for kids offer a fun way to get kids engaged in crafts – and off their devices. And, why not? Crafts have a long history and they continue to mean a lot to adults and kids alike.
Before industrialization, crafts were a critical part of commerce. Craftsmen and women were able to make a livable wage from creating various crafts, including pottery, blankets, woodworking, and more. Skilled craftspeople were a vital part of day-to-day life because, without them, many would be without the essential tools they needed for day to day life like utensils, stoneware, blankets, and furniture, to name just a few.
However, after industrialization, when items were mass-produced for less, many craftspeople found themselves out of work. And though some artists are still able to make a living from their craft, many no longer view it as a viable income source.
Fortunately, the art of crafting has not been lost and is instead often seen as a hobby and way to socialize and relax. There are definitely benefits of enjoying crafts such as less stress, a chance to connect with others socially, and a sense of accomplishment.
And crafts are not just good for adults; kids benefit greatly from taking part in crafts. Some of the key benefits to children include:
Improves coordination and motor skills
Aids in promoting creativity and imagination
Helps them improve their critical thinking skills
A great way to make new friends
Healthy way for kids to express themselves
Reduces screen time
Craft of the month clubs for kids are an incredible way to promote and support a child's imagination and creative side. Plus, they offer a wonderful way to spend quality time together doing a fun activity.
There are several craft of the month clubs available for both boys and girls. These craft subscription boxes are also available for children of varying ages and skill levels.
So if you are looking for a fun way to keep your child's brain engaged, try out one of the below craft of the month subscription boxes. You could also check out science kit of the month clubs or children's book of the month clubs, which may appeal to different sets of interests.

Craft of the Month Club for Kids
Annie's Kit Clubs
Kid Made Modern
Green Kid Crafts
We Craft Box
Little Dreamers Club
Doodle Crate
Annie's Kit Clubs

Annie's Kit Clubs, owned by the Muselman family, is part of Annie's Craft Store. The company first started back in 1925 as a printing company. And though the printing company still exists, they have since branched out, creating Annie's Craft Store, which started in 1975.
Annie's offers a variety of craft products including a magazine line, digital media, patterns, crochet, knitting, sewing, quilting, and book clubs.
Annie's Kit Clubs offers a variety of craft subscription boxes for both adults and children. Several different clubs are available like yarn, crochet, knit, general crafts, quilt and sewing, paper, jewelry, and kids crafts.
There are two different kid's craft subscription box choices.
The first is called the Creative Girl's Club. It is fashioned to promote and grow young girls' creative side. These craft boxes are intended for children 7-12 years old. Each box includes two different projects.
All of the boxes include instructions and materials needed to complete each craft. These projects are designed to allow children to work on them with independently. Some of the crafts included in this club include beadwork, yarn crafts, jewelry, painting, stitchwork, scrapbooking, and more.
The second club they offer isn't gender specific and is called the Young Woodworkers Kit Club.
This club is geared towards those interested in learning about basic woodcraft and is designed for kids 7-12 years old. The kits are a great way to introduce children to various skills and learn how to use simple tools safely and effectively. The Woodworker's Kits also help kids learn how to measure and the importance of following directions.
Each kit includes tools and materials. There are five tools that are included and are part of the first three boxes. All of the materials are conveniently pre-cut and pre-drilled. Some of the kits included in this club are turbo racers, catapults, and airplanes.
Kid Made Modern

Kid Made Modern opened in 2012 and has strived to encourage and inspire creative thinking in children. They hope that their kits will help children's imaginations grow through the variety of crafts they have designed.
Kid Made Modern offers all of their crafts online, but they also sell to retailers worldwide. All of their kits are carefully designed for safety, quality, and fun. The company is run by a team of moms passionate about sharing the joy of crafts and creativity with kids.
They offer a wide variety of crafts for different ages, including:
Arts and Crafts Supply Library
Water Color Kit
Paper Mache T-Rex Kit
Wooden Robot Kit
Backyard Explorer Kit
Comic Book Kit
Create your own haunted house
Plus, Kid Made Modern offers a Craft Club Monthly Craft Subscription Box. These monthly craft crates are designed to be an art class in a box. All of the boxes are created by art educators and contain everything a child needs to complete that month's craft.
There are three different craft club subscription options:
Month-to-month for $34.99 per month
3-month prepaid for $99.99
6-month prepaid for $199.99
The three different clubs are for kids 6+ years old.
Green Kid Crafts

Green Kid Crafts has been doing business for ten years. The company was founded by Penny Bauer, a mother and environmental scientist looking to help kids learn about the world and enjoy discovering new things.
Penny specializes in sustainability, conservation, youth education, and activism. As a mother, she wanted to help encourage creative learning but became frustrated with the wastefulness of other craft kits.
Because of Penny's frustration from being unable to find eco friendly craft boxes, she used her passion for crafts and the planet to start Green Kid Crafts.
These eco-friendly craft kit boxes are available for sale individually as well as through a subscription. Some of the individual kits for sale are:
Down on the Farm Box
Reptiles Box
Soaring into Flight
Transportation
Human Body Lab
Endangered Animals
Botany
Weather Science
There are two subscription boxes to choose from: The Discovery Science & Craft Subscription (Ages 5-10+) and the Junior Science & Craft Subscription (Ages 2-5).
Both are available in four different options:
Month-to-month for $29.95 per month
3-month prepaid for $83.85
6-month prepaid for $161.70
12-month prepaid for $299.40
Each box includes 4 to 6 projects, a 12-page monthly magazine, and all of the materials needed for the crafts. Shipping is always free.
We Craft Box

We Craft Box was founded by Betsy Wild, a graduate from Art Center College of Design. She started We Craft Box as a way to share her passion for art with kids everywhere. Betsy understands the amount of time and work that goes into planning various arts and crafts projects, so she started this company.
We Craft Box makes it easy for parents and kids to craft together without the hassle of looking for projects and then shopping for the supplies. The We Craft Box company goal is to bring parents and children together and help them create both memories and crafts.
We Craft Box sells individual boxes in addition to their subscription craft boxes. Some of the individual box themes include:
Pirates and Mermaids
Super Hero DIY Face Mask Kit
The Glow Bots
Dino-Mite Dinosaurs
Camping Critters
Whether you purchase an individual box or a subscription all of the boxes come with a fun theme. Plus, all of the boxes include all the materials needed for two people, easy-to-follow instructions with accompanying photos, and a story about the project to help motivate and promote creativity.
There are four different craft subscription boxes available:
Month-to-month for $29.99 per month
3-month prepaid for $84.99
6-month prepaid for $159.99
12-month prepaid for $299.99
Each of the craft of the month subscription box includes three crafts for two people. The boxes are designed for children between the ages of 3-9 years old.
Little Dreamers Club

Little Dreamers Club is designed to help parents focus on family time and make crafting with their kids easier. The company's primary goal is for families to have fun together being creative.
Little Dreamers Club has separated the boxes into two age groups. There is an Adventurer box for younger kids, appropriate for those 3-5 years old, and the Pioneer box for kids 6-8 years old. The company sells individually themed boxes in addition to their craft of the month subscriptions.
Some of the themes you can find in the single box choices are:
Pirate Adventure
Solar System
Backyard Explorer
Color Me
Jungle Adventure
Each of the themes comes in both age groups. Subscriptions are available in 3, 6, or 9 month prepay options. Boxes ship out every 60 days. All of the craft boxes contain:
A themed club badge
4-6 themed craft projects
A top-rated book
Art supplies to complete the project
The first craft box is shipped immediately followed by future boxes arriving shortly after the 5th of the month.
Doodle Crate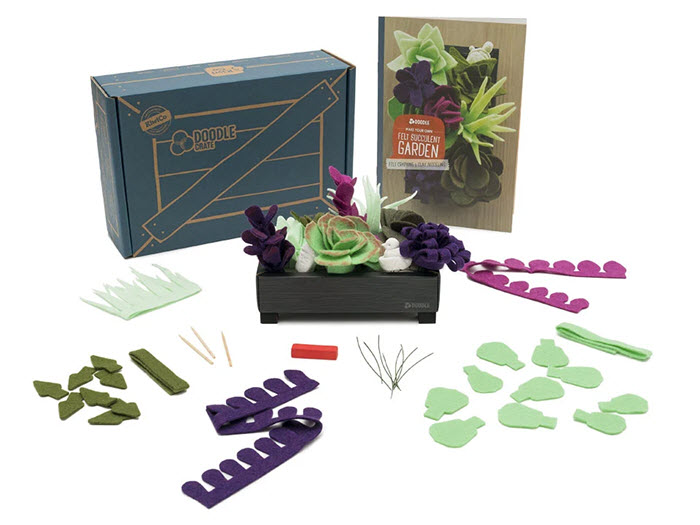 Doodle Crate is one of many boxes created by KiwiCo, but don't let the name fool you – this craft crate doesn't focus on doodling at all. Instead, the boxes aim to help kids to be creative in a variety of ways.
The kit is designed for children aged from 9 to 16+ and gets excellent reviews. It's easy to see why, as the crafts are more complex than in many of the other boxes. Making a succulent garden out of felt or designing a faux leather portfolio are two of the many types of crafts that show up.
Subscriptions renew each month and the cost is based on the way that you pay and the length of your subscription. A month-to-month subscription costs $19.95 per month. This drops down to $18.50 per month if you run a 6 month subscription and $16.95 per month for a 12-month subscription.
Interestingly, there are pre-pay subscriptions too, which cost as follows:
1 month for $24.95
3 months for $60
6 months for $110
12 months for $205