Ever wonder who was the first daring person to try caviar? Well, unfortunately, there is no record of that brave person's name, but we do know that we can thank the Persians since they were the ones to introduce this delicacy to the world. Thanks to them, there are now even caviar of the month clubs!
During medieval times, caviar was a popular food amongst the British royalty, and the sturgeon was then renamed the "Royal Fish." Eventually, at the beginning of the 20th century, Henry Schacht started the first American caviar company.
Unfortunately, due to its popularity and overfishing, sturgeon almost became extinct and ended the short-lived American caviar production.
In the early 2000s, new bans and laws were implemented to save the nearly extinct sturgeon. And, now thanks to sustainable farming and fishing regulations, the sturgeons are making a come back, and caviar is becoming more readily available.
Technically caviar is eggs from sturgeon, and other fish eggs are considered roe. But like champagne, the name has become relatively interchangeable amongst the general population, but not amongst connoisseurs.
Though this article is about the best caviar of the month clubs, most of the clubs also offer a selection of roe as well. There are several benefits for signing up for a caviar subscription:
Experience different caviar flavors from both domestic and international sustainable sources
Learn more about caviar
Receive free caviar recipes
Receive some of the freshest caviar possible, conveniently to your door
And for those looking for a luxury gift, check out the different gift baskets and crates at the end of the article.

Caviar of the Month Clubs
The Caviar Company
Passmore Ranch
Khavyar
The Caviar Club
Caviar Gift Baskets
Fine Taste Club
Marky's
Williams Sonoma
Caviar Express
Caviar of the Month Clubs
The Caviar Company

The Caviar Company, located in San Fransisco's marina district, is founded, owned, and operated by a sister duo.
The Caviar Company prides itself on providing a premium product through sustainable means. They use "aquaculture and sustainable sturgeon farming methods" to support the wild sturgeon population.
In addition to being an online caviar company, they also have an upscale storefront on Union Street in San Fransisco. Plus, The Caviar Company also hosts and assists in-home caviar events.
The Caviar Company offers a variety of options, including:
Imperial Golden Russian Osetra Caviar
Kaluga Hybrid Caviar
Siberian Sturgeon
Royal California White Sturgeon Caviar
Classic California White Sturgeon Caviar
Hackleback Caviar
Paddlefish
Smoked Trout Roe
Trout Roe
Whitefish Roe
Salmon Roe
In addition to caviar and roe, they also have caviar accessories and accompaniments:
Crème fraîche

Vermont Creamery
Bellwether Farms

Cocktail Blini
Intimate Caviar Cooler Gift Set
Silver Roll Top Caviar Server
Mother of Pearl Spoons
The Caviar Company also offers a couple of different clubs:
Emerald Caviar Club $1,000

Four shipments per year – February, May, August, and November

Sapphire Caviar Club $500

Two Caviar shipments in May and November
Each membership includes
The first shipment will consist of Mother of Pearl serving pieces
A minimum of two premium black caviars per shipment
Special access and special invites to exclusive events
15% off future orders
30% offer orders in December
Invitation for you and a guest to attend the yearly National Caviar Day Party
Priority access to our Caviar Concierge Service
Recipes included in each shipment
Passmore Ranch

Passmore Ranch, located in Northern California, is family-owned and operated by Michael and Vandy Passmore. The Passmore Ranch raises and farms fish for their caviar. The caviar they don't farm themselves is sourced from their partner farms.
In addition to offering their caviar online, they also deliver directly to top Michelin-star restaurants. Although they don't have a retail shop, they do partner with some local stores to sell their caviar.
The Passmore Ranch offers overnight shipping via UPS anywhere in the US.
The Passmore Ranch offers both roe and caviar:
Ranch Reserve
Passmore Select
Steelhead Roe
In addition to individual jars, the Passmore Ranch also has three clubs:
120 g – $250/ month but does not include shipping
240 g – $500/month but does not include shipping
720 g – $1500/ month but does not include shipping
Each membership includes:
A variety of hand-selected caviars that total the weight associated with your club of choice
The caviar is packed in a thermal wrap, capable of keeping the caviar cool for at least 48 hours
Tasting notes
Recipes
Khavyar

Khavyar started 2015 and offers an array of both domestic and imported sustainable caviar and roe. In Khavyar's short five year history they have made quite a big name for themselves and have been featured in several magazines like:
Town and Country
CRAVE
Food and Wine
Real Simple
Forbes
The New York Times
Khavyar supplies several top chefs and gourmet caterers around the country.
Some of their caviar selections include:
Beluga Hybrid
Osetra Galilee Royal
Imperial Prime Kaluga Hybrid
Royal White Sturgeon
Spoonbill/Paddlefish
Amia Calva
In addition to their caviar, they also offer smoked salmon and trout, as well as some popular caviar accompaniments like crème fraîche and blinis.
Their caviar club is a six-month club for $198/month, but if you pay in advance, you will receive a 10% discount, this price does include shipping. The caviar shipments will arrive on the second Wednesday of every month.
Every month the recipient will receive a pair of hand-chosen caviar with a $300+ retail value, plus French blinis and crème fraîche. Additionally, the first shipment includes a set of Mother of Pearl Spoons.
Over the six months, a combination of domestic and imported caviar is included to provide the ultimate tasting experience. Information and recipes for that month's caviar are also included in the monthly subscription.
The Caviar Club

The Caviar Club's focus is on providing its customers with a regular supply of premium caviar. The club designed to make caviar available at different price points does so without compromising the integrity of their product. The Caviar Club offers two different caviar types:
Kaluga Hybrid – Union between the Kaluga and Shassetra sturgeons

Size: Large
Flavor Profile: Bold, floral, and fruity
Species: Huso Dauricus/Acipenser Shrenckii
Shelf Life: 4 Weeks Refrigerated

Royal Ossetra

Size: Medium
Flavor Profile: Nutty and briny
Species: Acipenser Gueldenstaedtii
Shelf Life: 4 Weeks Refrigerated
The Caviar Club has eight different choices to choose from, starting at $200.
Caviar Sampler – One-time shipment, includes both caviars
Flexible Subscription – $1000 pre-pay order at your convenience
The other six options are broken up based on the frequency of the shipment as well as the caviar type. The delivery frequencies are monthly, bi-monthly, and quarterly.
After choosing which caviar and frequency you want, you will pick from one of eleven tin size options.
Caviar Gift Baskets
Fine Taste Club

Fine Taste Club, founded in 2016 by Antonio Salto and Juan Diego Casaretto, strives to bring its customers the best gourmet foods and products from around the world.
Fine Taste Club offers a variety of themed gift boxes, with foods from several different countries:
Truffle Lovers Premium
French Provence Deluxe
Gourmet Luxury Collection
Extra Virgin Oils Premium Products
Plus the finest unique culinary treasures such as:
Whole bone-in acorn-fed 100% Iberico Jabugo ham
Turron de Jijona – Traditional Spanish almond nougat sweet bar
Cream and Black Truffle Sauce
White Truffle and Porcini Sauce
Premium Extra Virgin Olive Oil – first day of harvest
Duck foie gras
However, some of their best gift options come in the form of caviar. They offer three different caviar gift box options:
Caviar Trio $209.99

Serves 6-12 people
Three 1-ounce tins
Caviar native to the Caspian sea and Russian lakes and rivers

Caviar Party $699.99

Serves 12 People
Three 4.41 ounce tins
Includes: Acipenser Gueldenstaedtii, Acipenser Baerii, and Baerii Reserve

Caviar Feast $1,449.99

Serves 25 people
Three 8.81 ounce tins
Harvested directly in the river
Marky's

Marky's originally named the Russian Shop was established in 1983, by emigrant Mark Zaslavsky. Zaslavsky started by offering imported smoked fish and caviar, but soon expanded to include other treats like:
Russian candies and cakes
Additional caviar selections
Exotic truffles
Duck Foie gras
Imported meats and cheeses
Fine wines and champagnes
Today Marky's has expanded to carry imported goods from all over the world. The main focus is still on culinary delicacies, but they also carry unique cookware such as:
Ceramic escargot plates
Glass Caviar servers
Silver-plated caviar and vodka server
Blini pan
Foie Gras Slicer
Mother of Pearl Caviar plate
The only thing that changed with Marky's caviar selection since 1983 is the variety offered. There is almost every type of caviar you can think of, plus a few more and all at various price points, making this luxury treat available to more people.
If you are looking for the ideal gift, but are feeling overwhelmed with the 58 different sturgeon caviars and 35 non-sturgeon roe choices, check out their gift baskets.
The caviar gift sets start at $110 and go up to $595. There are over 20 different choices, most of which include:
Blinis
Crème fraîche
Mother of Pearl Spoon
Mother of Pearl Dish
Marky's Soft-sided cooler bag or Gift Box
The most significant difference between the boxes and baskets are the caviar varieties and quantities included in the set.
Williams Sonoma

Most of us are familiar with Williams Sonoma as a high-end kitchen supply retailer; however, not everyone knows that they also offer food and gift baskets.
Williams Sonoma offers a variety of foods like:
Seasonings
Sauces
Mixes
Frozen ready to bake pastries
Cheese and Meat baskets
And they also sell a few different caviar gift sets:
Williams Sonoma Roe Caviar Gift Crate for $109.95. The crate featured above includes:
2 oz of Wild Caught Alaskan Salmon Roe
2 oz of Smoked Trout Roe – Farmed Rainbow Trout from France
Blinis
Glass Caviar Server
Mother-of-Pearl Spoon
Sasanian Caviar Trio Gift Set $199.95:
1-oz. of the following caviar:

Royal Russian Osetra
Osetra Supreme
Siberian Sturgeon Baerii

Two mother-of-pearl spoons
Tsar Nicoulai Caviar Gift Set $225:
1-oz. of the following caviar:

Select Caviar
Estate Caviar
Paddlefish Caviar
Sasanian Caviar Gift Crate $599.95
8.75 ounces of Russian Osetra caviar
French and thin Russian blinis
Crème fraîche
Mother of pearl spoon
Caviar Express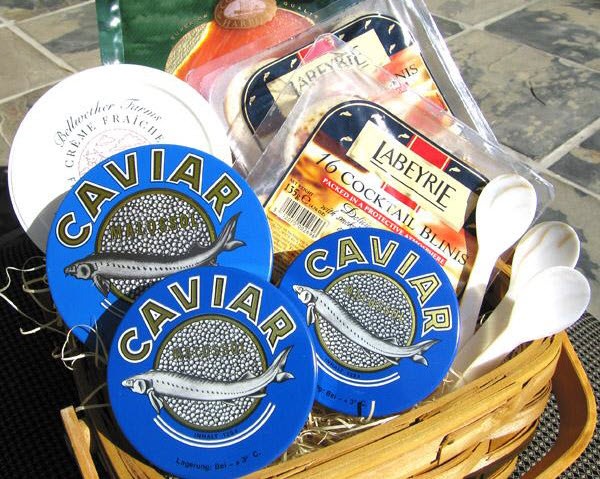 Caviar Express is a family-run business that has been in operation since 1967. They offer various types of caviar and caviar accessories, including caviar vodka sets.
They also have some specialized gift baskets, including their Russian Grade Caviar Sampler Gift Basket, American Caviar Sampler Gift Basket and extravagent Caviar Indulgence Gift Basket.