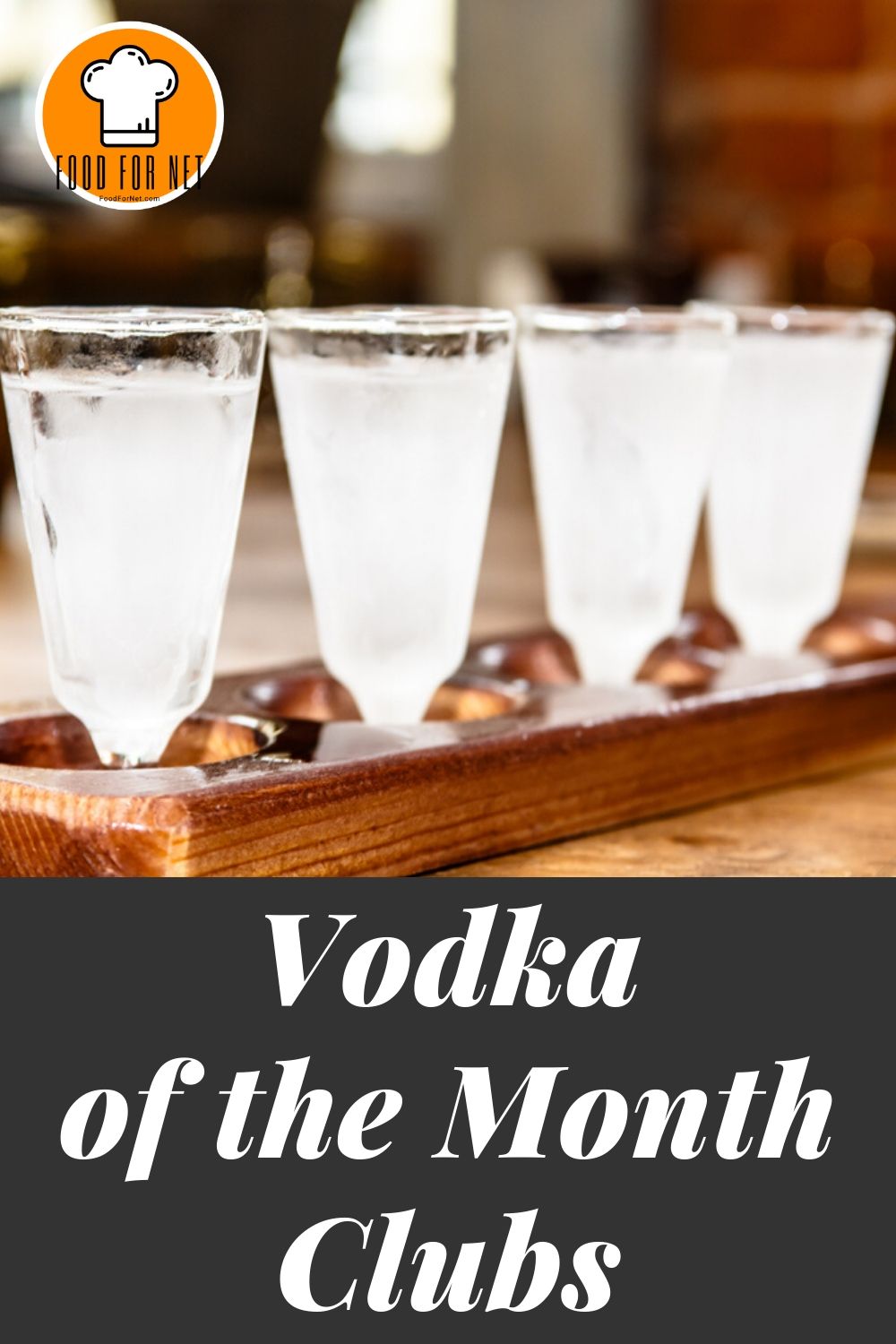 Vodka has been a well-loved spirit since the 14th Century, where it first originated in Russia. Originally made from potatoes, vodka has evolved over the centuries, can now be found fermented from a variety of sources, including cereal grains.
Vodka is one of the most versatile alcoholic beverages available today. It is refreshing when served neat, or it can add the perfect amount to pizazz to any mix. Vodka is the most neutral flavored alcohol available in Russian Voda means water. Due to its lack of intense flavor, vodka can not only be paired with almost any beverage, but it can easily be flavored before bottling, creating a whole new world of deliciousness.
Due to its natural versatility, a vodka of the month club membership is the ideal gift for a friend, family member, business partner, or even to yourself. Or perhaps if you're not looking for a full-on commitment, try one of the fabulous gift basket options, they make for the perfect host or hostess gift, especially during the holiday season.
Whatever the occasion or commitment level, you won't want to miss out on trying some of the vodka subscriptions and baskets we've listed below.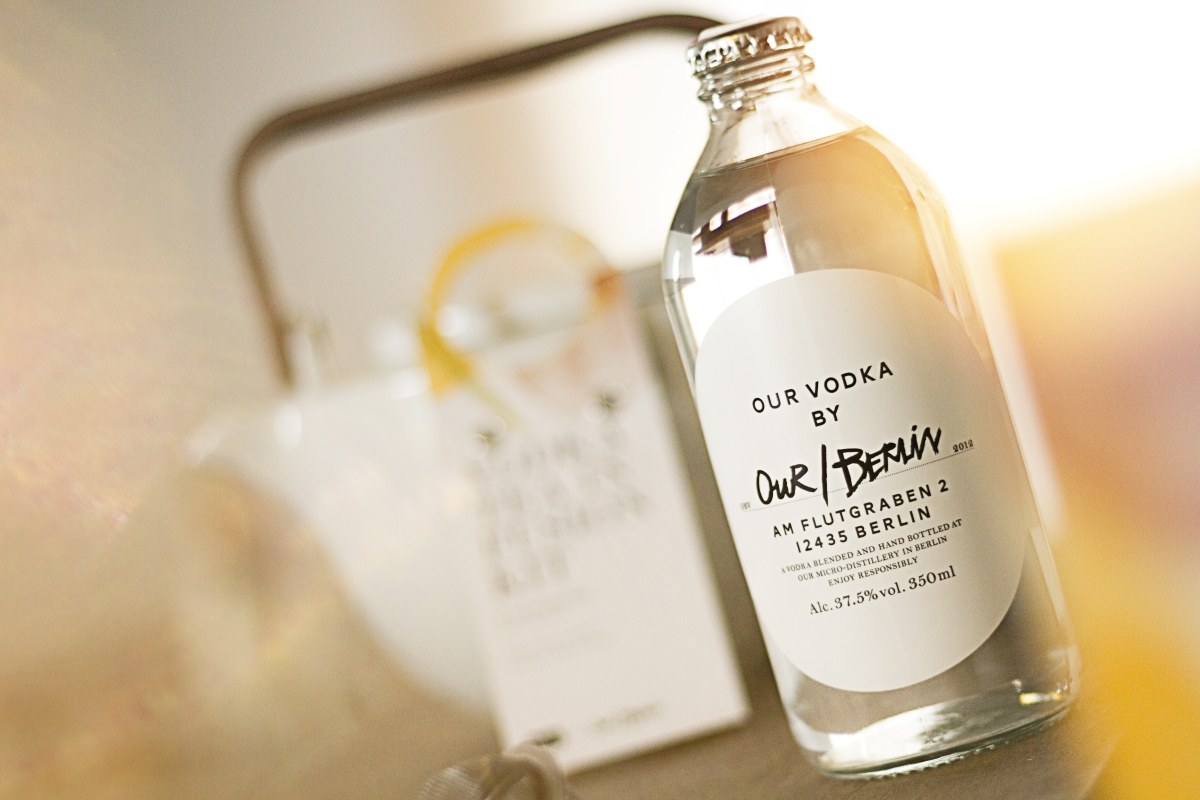 Vodka of the Month Clubs
Vodka of the Month Clubs

Taster's Club
Spirited Gifts
Universal Fine Wine & Spirits
1-877-SPIRITS
Gift Baskets

The Bro Basket
Build a Basket
Thinkliquor
Saloon Box
Vodka of the Month Clubs
Taster's Club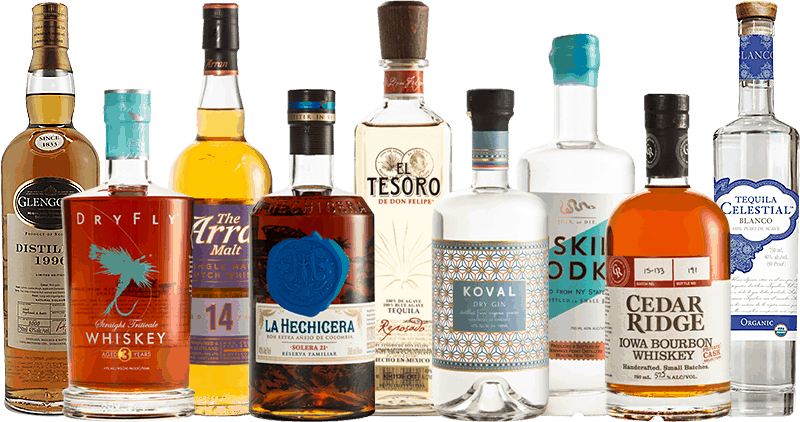 Taster's Club was founded in 2012 by Mack McConnell from the comfort of his bedroom in San Fransisco. A short five years after Mack realized his dream of sharing his love of "booze" with others, the Tater's Club had grown substantially, offering eleven different club options. Later in 2017, it was purchased by Sureswift Capital.

The Taster's Club Vodka membership is so much more than a monthly bottle of vodka. In addition to the 750 ml bottle of vodka, members will also receive a digital vodka 101 course that includes:
Flavor profiles for that month's vodka choice
Best practices for vodka tasting
General Information on that month's distillery
Fun facts about vodka such as regional information, production, and styles.
Each month there will be a different vodka with new course material. Members can check out some of the previous month's selections before signing up, but they keep the future shipments a secret, so there will be a surprise each month.
There are two different subscription options. The cost is the same regardless of which option is chosen. The price is $44/ month plus a $15 shipping fee.
Gift Subscriptions can be anywhere between three to twelve months
Personal Membership is a month to month option and can be canceled at anytime
Spirited Gifts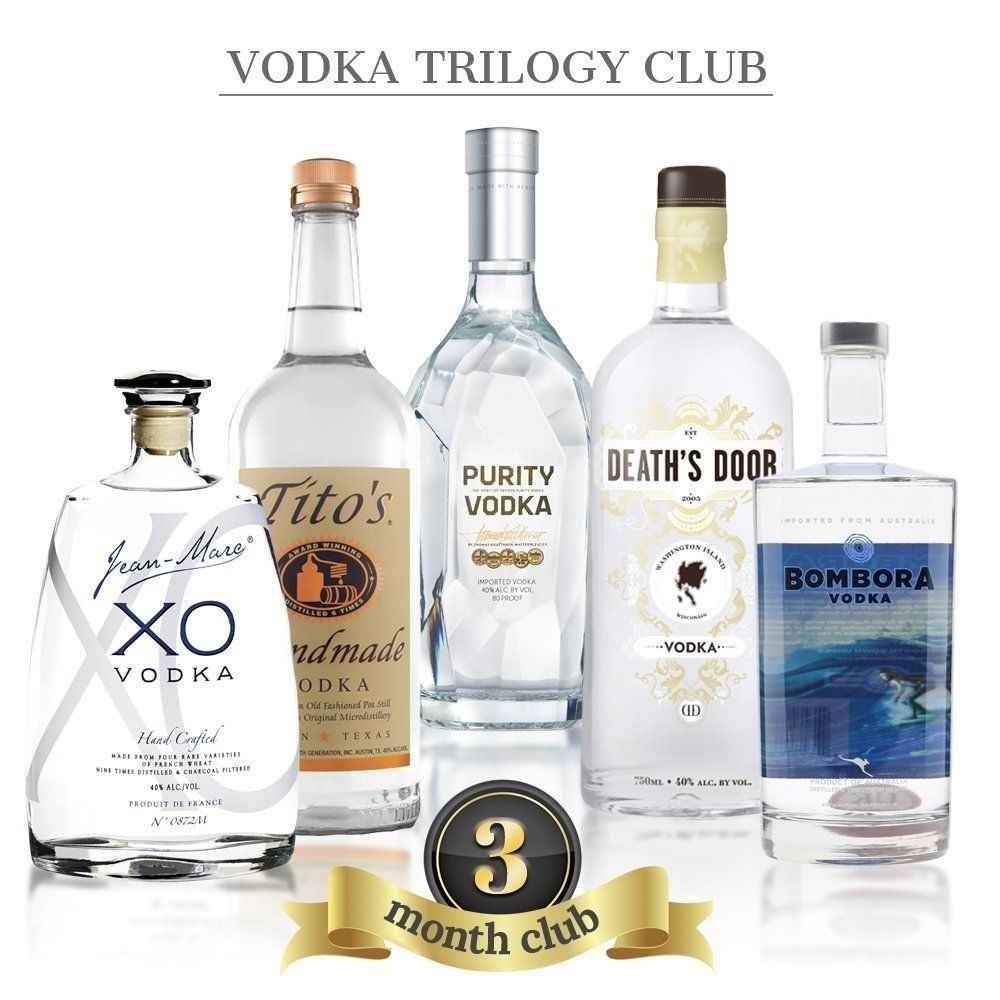 Spirited Gifts was founded in 2012 with the mission to "Deliver the Perfect Gift Every Time." Spirited Gifts takes its mission to a whole new level with marvelous customizing options and gift ideas.
They offer a large variety of spirits and gift options, including personalized engraving on specific brands of spirits or glassware.
Spirited Gift's vodka of the month club is a three-month subscription, with a different variety of vodka delivered each month. What sets Spirited Gifts apart from others is that they offer customized engraved vodka bottles, as well as fun addons, like glassware, gift baskets, and cigars.
The three-month subscription is $199 and includes free shipping.
In addition to their vodka of the month club, they also offer fun gifts like:
Gift baskets featuring a variety of popular high-end vodkas accompanied by delicious snacks
Limited Edition Bottles
Gift Sets highlighting popular cocktails like Moscow Mules, Dirty Martinis, and Cosmopolitans
Unique flavored infused vodkas such as Truffle, Rosé, and Cucumber Mint
And of course, all of the gift options are fully customizable with addons and engraving. It would be pretty difficult not to find the perfect present from Spirited Gifts.
Universal Fine Wines & Spirits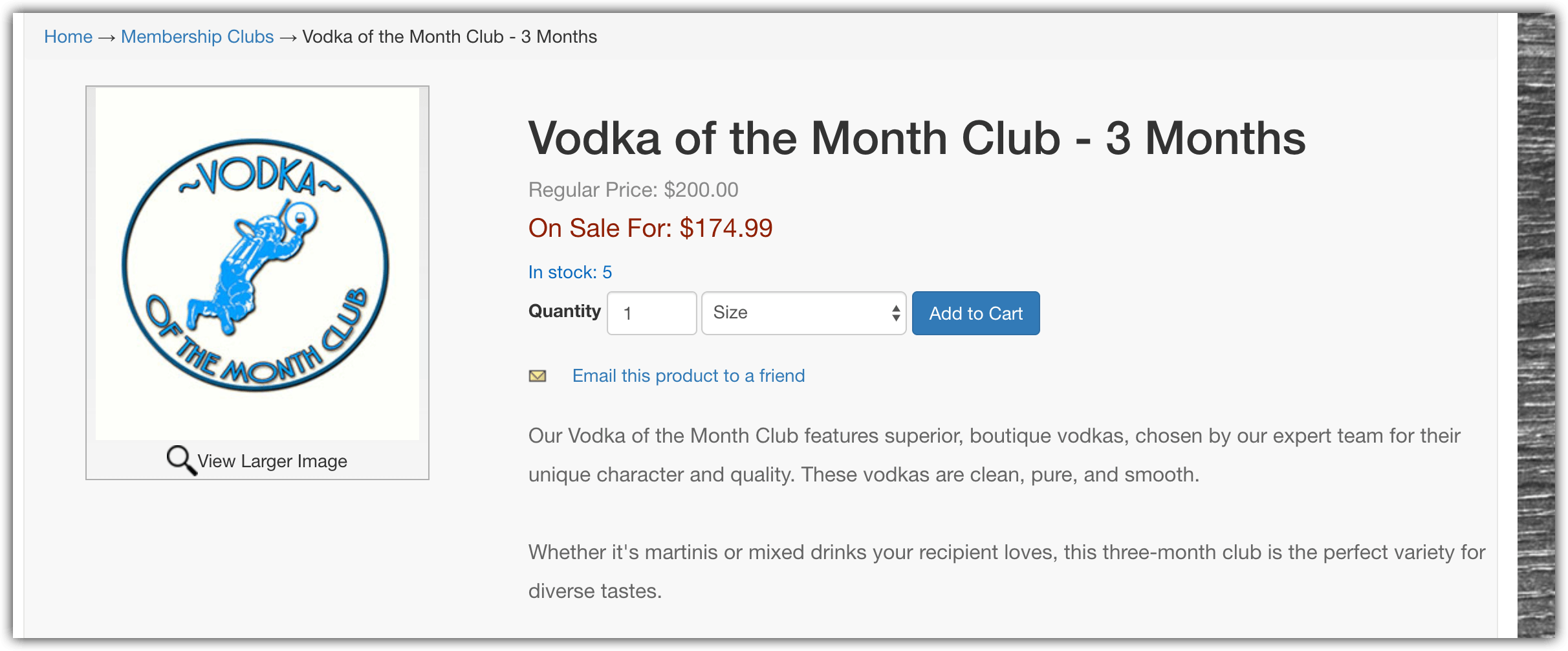 Universal Fine Wine & Spirits started in May of 2003 in Holiday, Florida. It began as and still remains a family-owned and operated business. Not only are they an online store, but they also feature a retail shop, where online orders can be conveniently picked up.
Universal focuses on offering specialty spirits, craft beers, and handcrafted wines. If you're looking for a unique gift, they're an excellent online store to check out, plus if they don't have what you're looking for, they are happy to do special order to get it in for you. However, with 250 online vodka choices from all over the world, you may have a hard time not finding the vodka of your choice.
Universal's vodka of the month club comes in three different subscription options, three, six, or twelve months. Membership pricing usually is $66.66 per month with free shipping. However, Universal does run specials offering the spirit memberships at significantly discounted pricing.
Each month the member will receive a unique vodka, specially chosen by a vodka connoisseur for its exceptional smoothness and high quality. Because options vary depending on availability, there is no preset list for upcoming vodka choices.
1-877-SPIRITS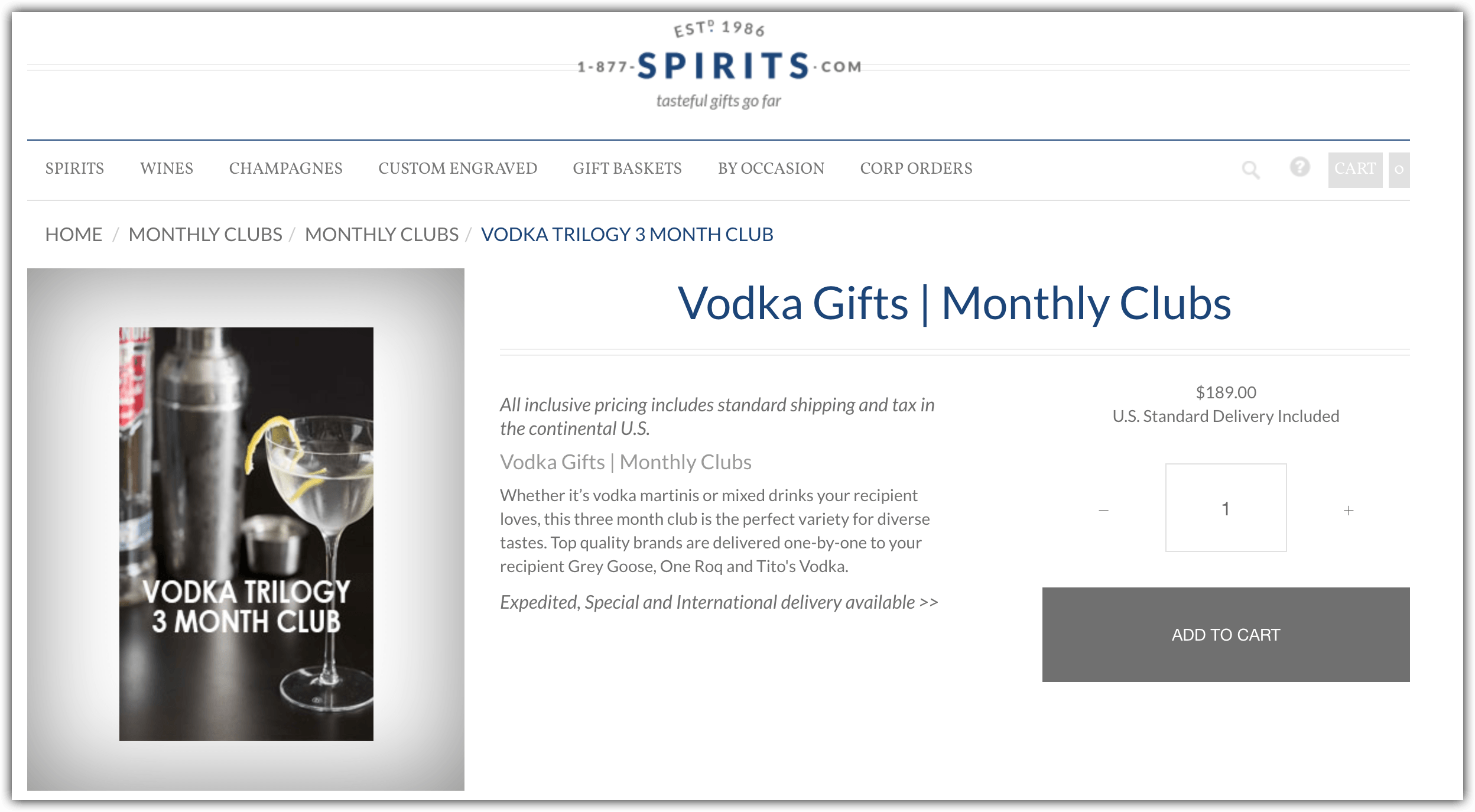 1-877-SPIRITS prides themselves on their 31 years of premier global concierge service, specializing in wine, champagne, spirits, gift baskets, and gift of the month clubs.
Their vodka of the month club is a three month subscription. During the three months, the recipient will receive one bottle month. The top-shelf vodkas included in this membership are Grey Goose, One Roq, and Tito's Vodka.
The vodka trilogy club costs $189 and includes shipping to anywhere in the continental US. 1-877-SPIRITS does offer international shipping for an additional charge.
If you are looking for a more specialized gift, you may consider one of their many vodka gift basket options such as:
Grey Sensation – This fun basket's star is obviously Grey Goose, but accompanying it are chocolates, teas, and other delectable treats
Hangar One Cocktail Party – This basket Hangar 1 vodka, a cocktail shaker, olives, and both savory and sweet snacks
Tito's Time Basket – The Tito's basket is sporting some fun casual snacks like fruit spreads, cookies, and a salty pretzel mix.
Vodka Gift Baskets
The Bro Basket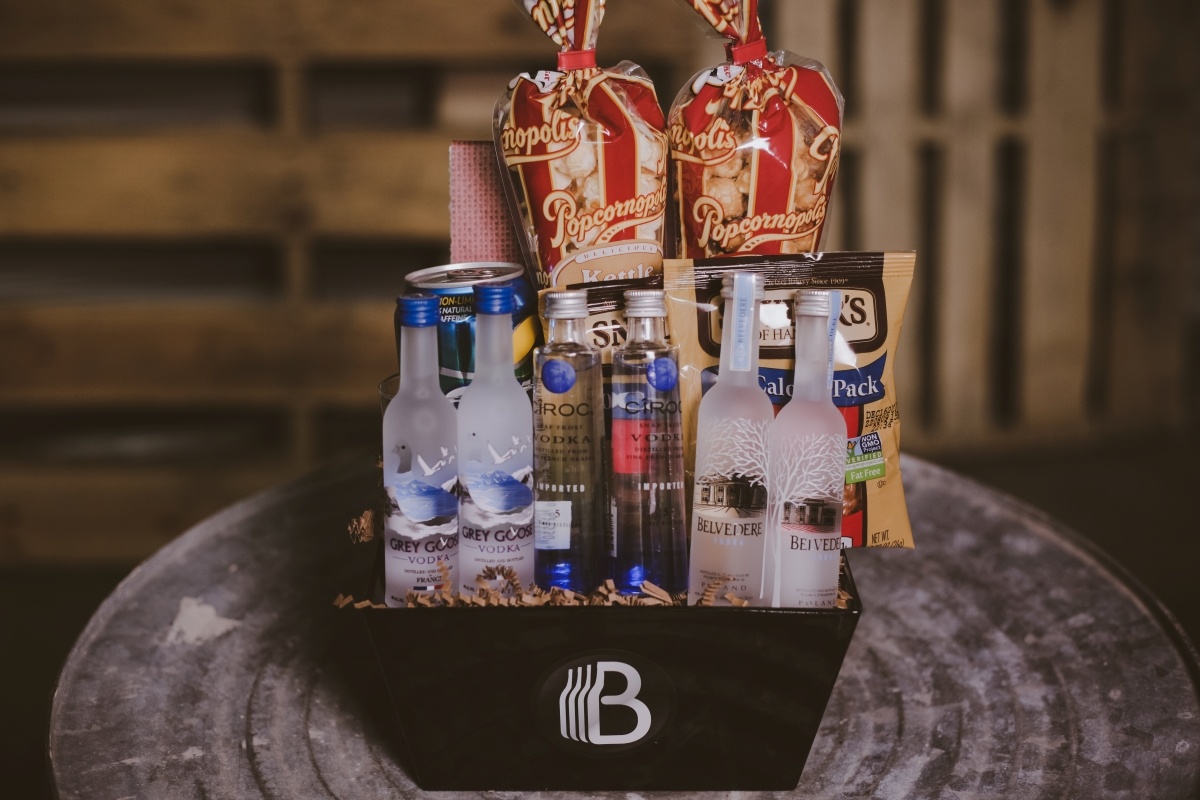 The Bro Basket was inspired by one off-handed comment back in 2013, "I don't want flowers, but you can send me a bucket of beer instead!" This one comment traveled to an Entrepreneurial class that soon became the class' primary focus.
Even though this idea didn't hit the ground running with a whole class' effort behind it, three classmates didn't let this dream fizzle. In December of 2014 for they opened their "doors" for business.
Much to their disappointment, the original business model was not taking off as they had hoped. But through tenacious focus, trial and error, coffee, and beer The Bro Basket eventually became the successful company we see today.
Don't let their name fool you; The Bro Basket isn't just for men. 1/3 of their business are female recipients. With a wide variety of baskets ranging from wine, beer, spirits, and even fitness-focused gift options, who couldn't find a basket that for the person who has everything?
The Bro Basket offers twelve different vodka gift baskets. There are three main vodka options to choose from Grey Goose, Kettle One, and Tito's. Of these twelve baskets options, eleven are pre-designed, ranging from the Junk Foodie Party Package to the Mighty Mule that includes hammered copper Moscow Mule mugs. Prices start at $44.95 and go up to $229.95, not including shipping or signature fees.
The twelfth option is a customized basket and the only thing limiting this basket is your imagination. The personalized gift crate option starts at $39.95.
Build a Basket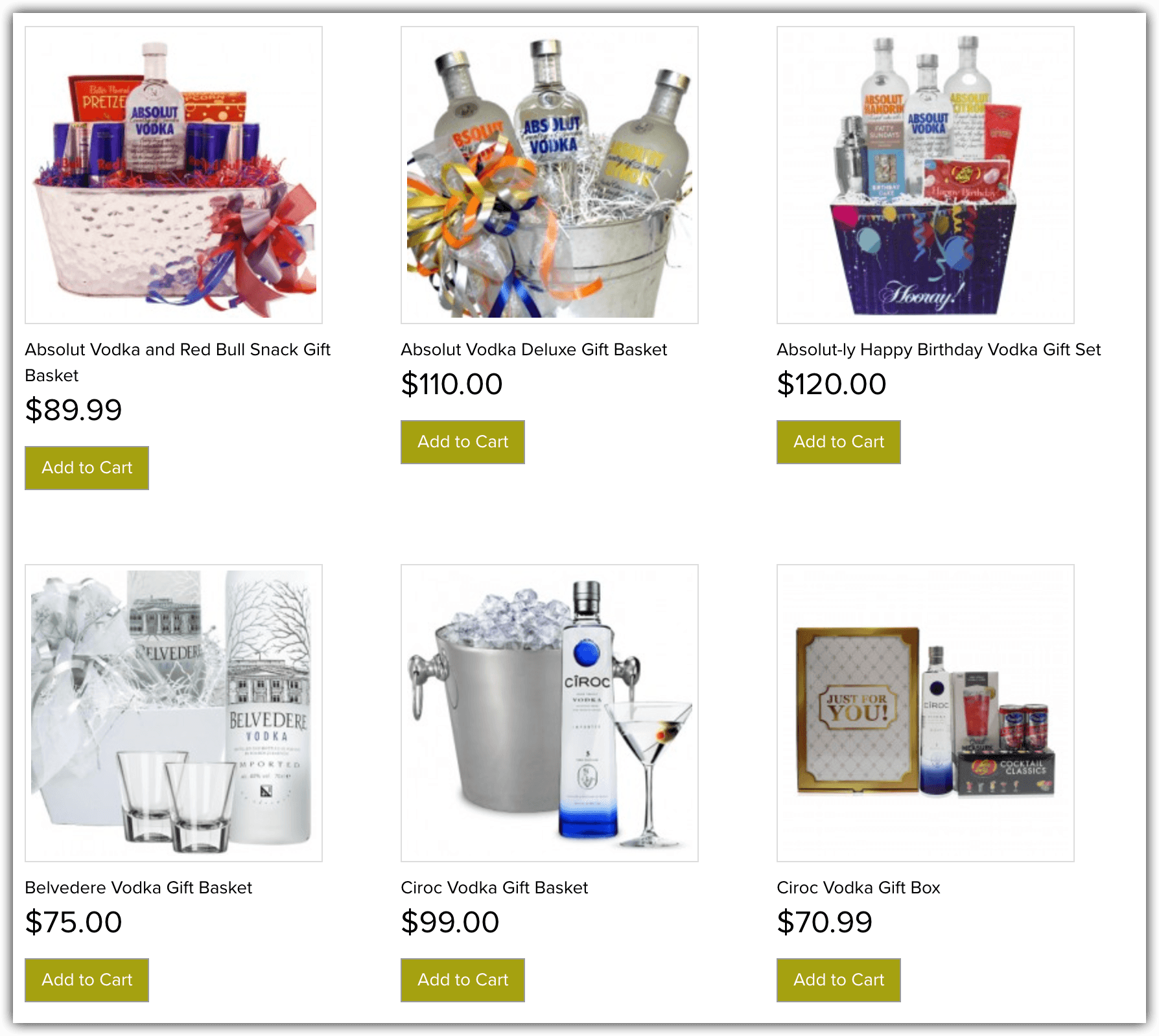 Build a Basket is a unique online store specializing in fully customizable gift baskets. Headquartered in Bergenfield, NJ, they offer anything and everything from fun novelty socks to vodka gift buckets.
Build a Basket uses the term "basket" quite loosely, they have several exciting packaging options such as:
Antique Copper Metal Carts
Treasure Map Bottle Boxes
Wood Crates
Themed Gift Boxes
Although the name of the company is Build a Basket, if you are feeling overwhelmed by the multitude of options, they also offer prebuilt baskets to help make life just a bit easier.
Build a Baskets offers 21 prearranged vodka baskets ranging in prices from $19.99 – $120.00. Pricing does not include the cost of shipping. Shipping is determined by the size of the basket and the shipping destination.
For those of us who are feeling creative, there are 24 different vodkas available to add to any gift. And, if you can't decide on just one vodka, that's okay because you can put in as many bottles that you can fit in your basket.
These gift baskets have an endless number of ways you can customize them to the recipients' preferences.
thinkliquor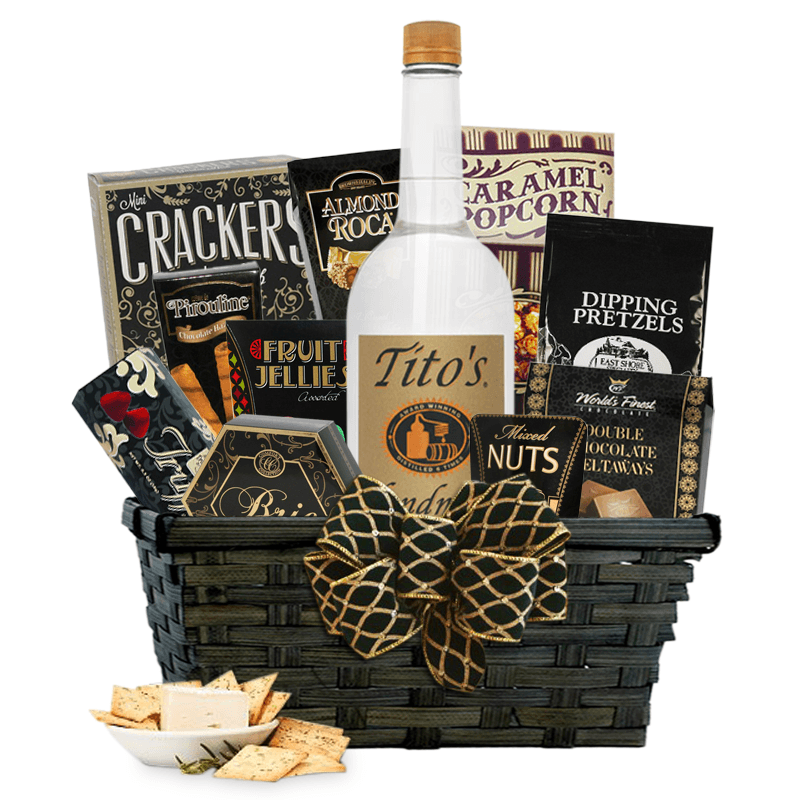 thinkliquor offers various hard alcohols, wine, champagne, mixes, and more. thinkliquor ships to domestically and internationally to prespecified locations. There are slightly more than 30 states not in their delivery range, so be sure to check out approved sites before getting started.
thinkliquor has an extensive variety of vodkas to choose from; in fact, they over 100 different vodka options. These options include:
High-end brands like Beluga Epicure Lalique Decanter Vodka priced at $11,494.99
Popular everyday brands like Absolut
Flavored Vodkas
Craft Vodkas
Vodka Gift Sets like Quiet Storm Trio Set
Pre-mixed vodka cocktails like High Noon Watermelon Vodka and Soda
Gift baskets
thinkliquor's three vodka gift basket options are
Titos Gift Basket (featured in the photo above) full of savory snacks priced at $99.00
XL Titos Gift Basket It's not the gift basket that is large. Instead, it's the 1.75-liter bottle of vodka that makes this basket XL. This basket also features some yummy sweet surprises like caramel popcorn and cashew Roca priced at $152.90
Grey Goose Gift Basket has a combination of sweet and savory treats to be enjoyed along with the smooth taste of Grey Goose priced at $148.50
Saloon Box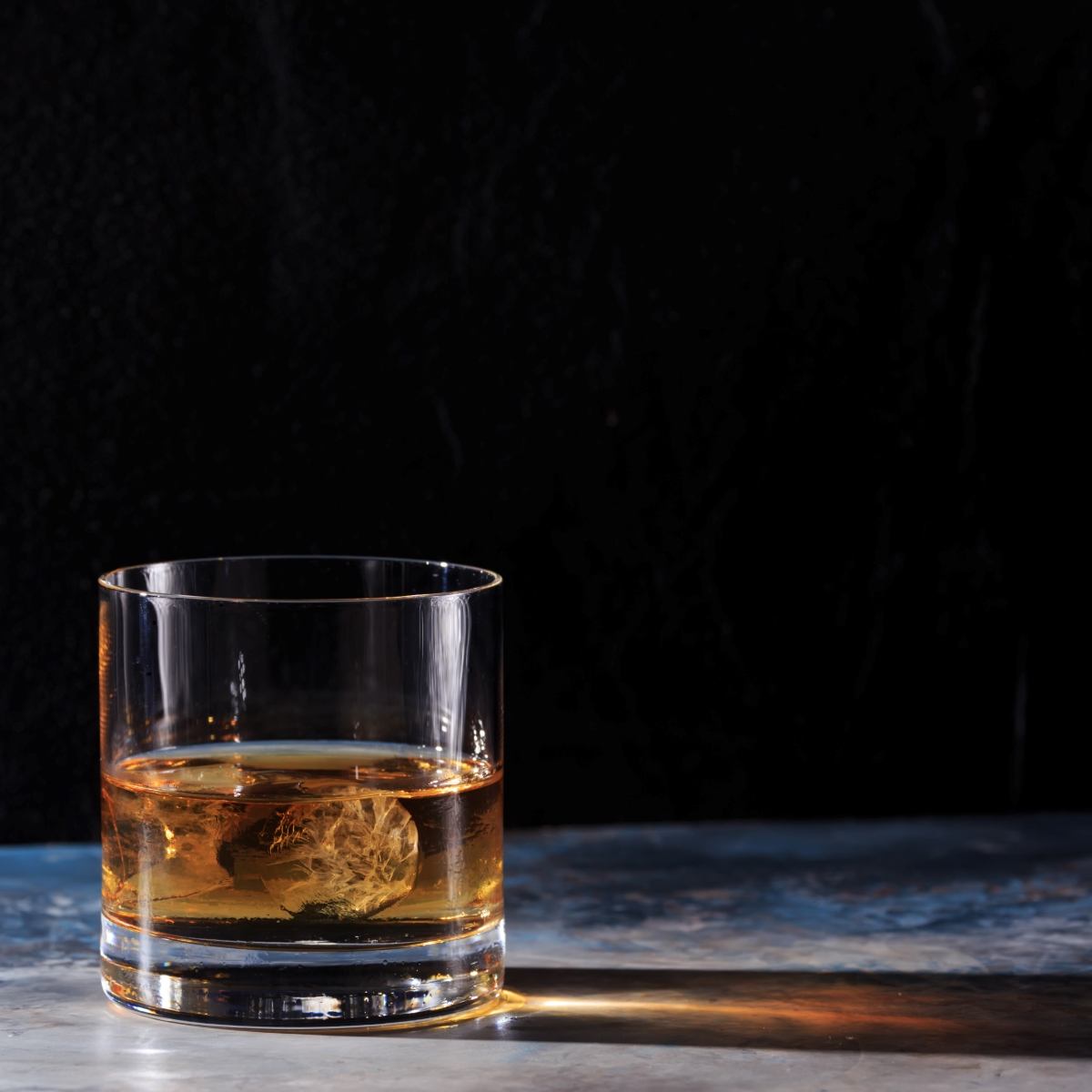 Last but not least is the Saloon Box. The Saloon Box was founded in 2015 in San Fransisco, CA. That October in 2015 marked the sale of their first cocktail, and four years later, they can boast having sold over 20,000 cocktails across the US.
What makes the Saloon Box unique is that instead of offering a vast variety of spirits, they instead focus on sharing fabulous drink recipes that include small batch artisan liquors. They offer a variety of options from different monthly clubs to one-time gift boxes, which can be purchased with or without the alcohol.
However, it is recommended trying the drink recipe with the suggested spirit to receive the full cocktail experience.
The Saloon Box offers one Vodka Cocktail gift set, The Huntsman, a spin on the whiskey old fashioned. This gift set highlights Western Son Vodka, a small craft distillery based in Texas. The kit includes all of the fixings to make The Huntsman; citrus, clove, peppercorn, cinnamon, star anise, coriander, allspice, Vermont maple, plus stir sticks and garnish.