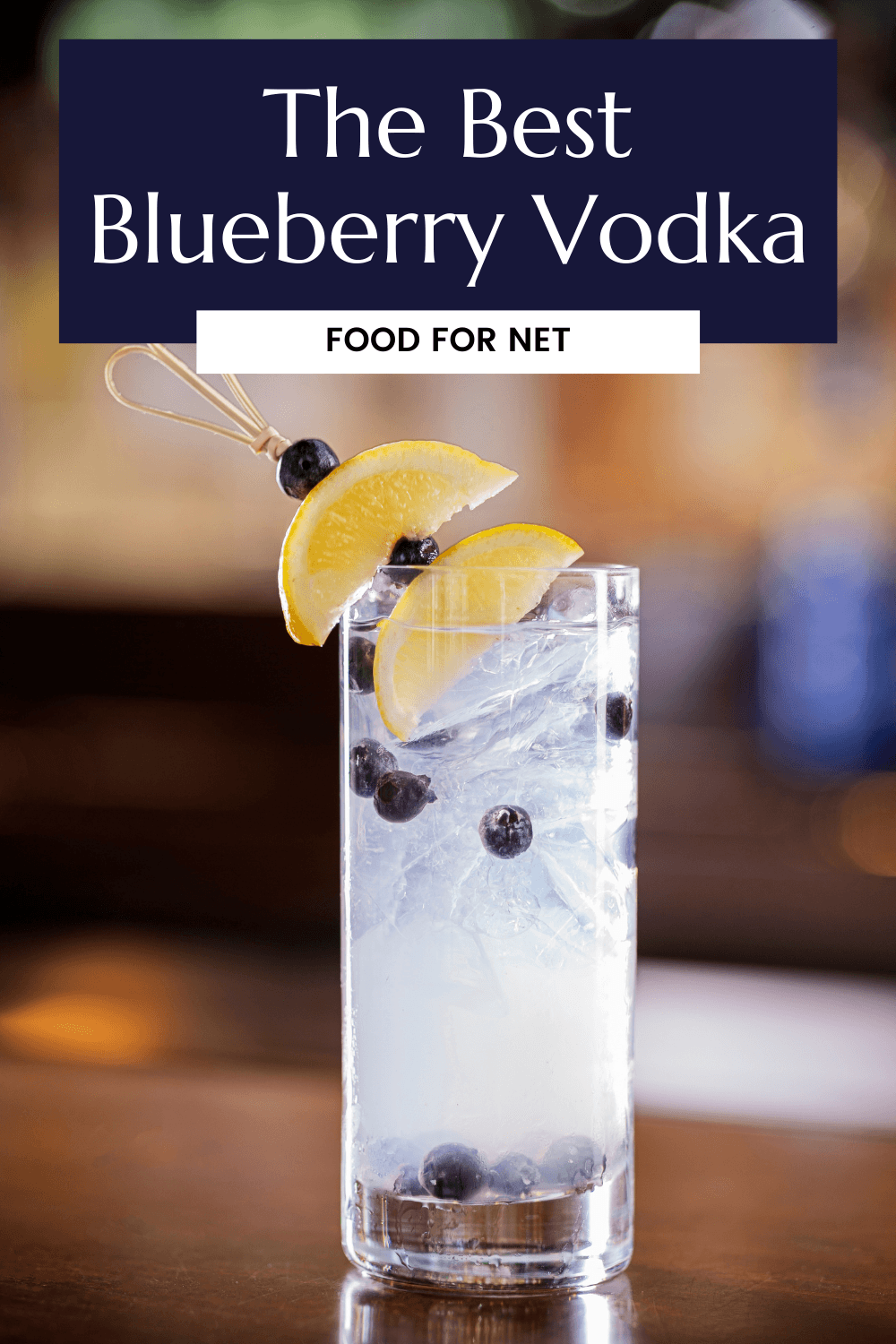 Though blueberries are easy to obtain and native to North America, they still have an exotic feel to them. They're a deep, dark blue color, their flavor is strong, sweet, and slightly tart, and they're absolutely filled with antioxidants and other crucial nutrients. They're grouped with other "superfoods", they're such a healthy fruit.
They're also popular in mixed drinks and as a flavored spirit. So popular, in fact, that some distilleries have only one flavored expression, and it's blueberry! The best blueberry vodka is one that brings the berry essence to any mixed drink it's featured in. Blueberries are not overly sweet and offer the slightest of tangy notes so they're incredibly versatile.
The following list contains several well-known, proven brands that work hard on creating high-quality vodka to work with in the first place. Once their base is perfected, they source whole, fresh fruits and infuse their natural flavors and essences into their carefully crafted, smooth, crisp vodkas.
All of these expressions are smooth enough for serving chilled or on the rocks if you want a quick, easy, refreshing blast of blueberry. They also perform beautifully in an array of sweet, fruity cocktails and some even bring a lovely blue color to the table, as well!
The Best Blueberry Vodka
1. Smirnoff Blueberry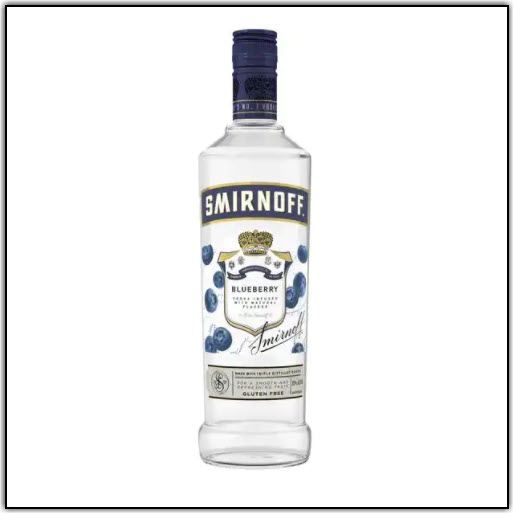 Once again, Smirnoff comes through with their sharp and delicious Blueberry Vodka. This one came to be in 2007 and is one of 37 flavors put out by Smirnoff, in addition to their original vodka – which is used as the base here.
The original recipe is distilled ten times for optimal smoothness and natural blueberry flavor is added after. Blueberries are one of the very few fruits native to America and after strawberries, they're the second-most popular berry in the United States. Blueberries have a strong, sweet flavor and they're known as a superfood for their powerful health benefits, so it's no surprise their popularity translates to spirits and cocktails.
This blueberry expression by Smirnoff is perfect for sipping on the rocks or adding to your favorite berry cocktails in the summer. On the nose, you get sweet, candy-like aromas of blueberry and bubblegum. The palate offers sweeter notes of blueberry with tartness showing up mid-palate and building to a warm, peppery finish that's slightly bitter.
2. Burnett's Blueberry Vodka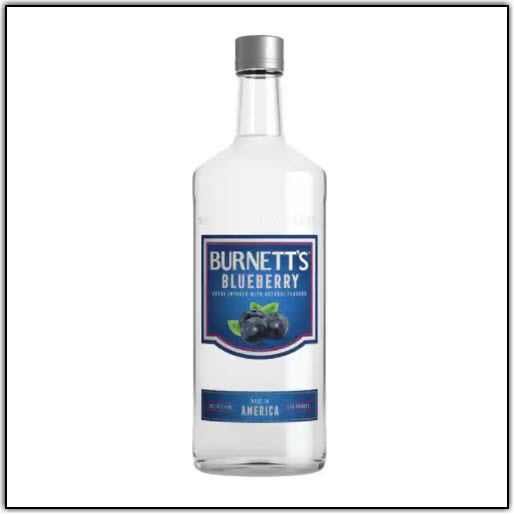 Burnett's Vodka prides themselves on their premium quality and unparalleled smoothness. They achieve this feat by quadruple distilling their vodka and filtering it through charcoal three times. Their premium process creates one of the smoothest vodkas on the market, and it's entirely gluten-free and proudly made in America.
Their Blueberry Vodka uses their classic expression as a base and adds the bright, natural flavors of fresh blueberries for an authentic, superior taste. The smoothness of the base vodka allows for sipping neat, though this vodka really shines when mixed into a sweet summer cocktail.
The profile is simple, with sweet, fresh, authentic blueberry on the nose that follows onto the palate, giving you a delicious burst of super-sweet blueberries on the tongue. Blueberry-themed cocktails are abundant but you could easily add this one to any berry-based cocktail for a little extra depth and flavor.
3. Triple Eight Blueberry Vodka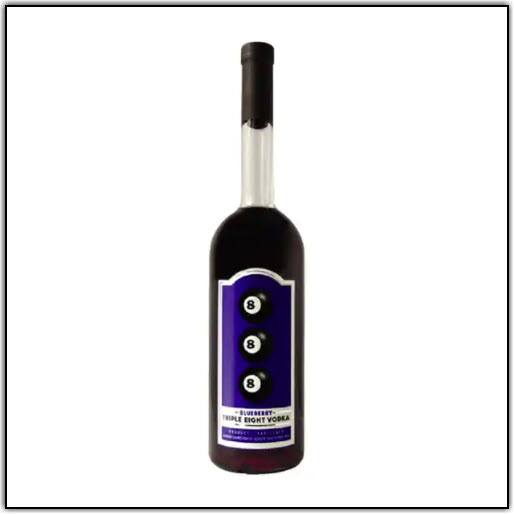 Triple 8 Blueberry Vodka is the flagship effort from Triple 8 Distillery. Released in 2001, the super-premium expression is triple-distilled using only the best organic corn from Holland and blended with the purest of water from the #888 well in Nantucket – giving the expression its unique name.
The blueberries for this recipe are found in the Maine wilderness and are carefully infused into their organic and delicious base vodka. They've worked hard to produce what they believe is the most authentic blueberry vodka on the market – from the aroma and flavors right down to the color of the spirit in the bottle.
Bright aromas of fresh blueberry are present on the nose with a sweet, pleasant corn vodka backing. The palate opens with similar notes of fresh, sweet blueberry and builds to a tarter mid-palate. The bittersweet notes fade into a warm finish with a mild sting and strong notes of corn vodka. No sugars or additives are used, meaning that all the sweetness here comes directly from the blueberries themselves.
4. Cold River Blueberry Vodka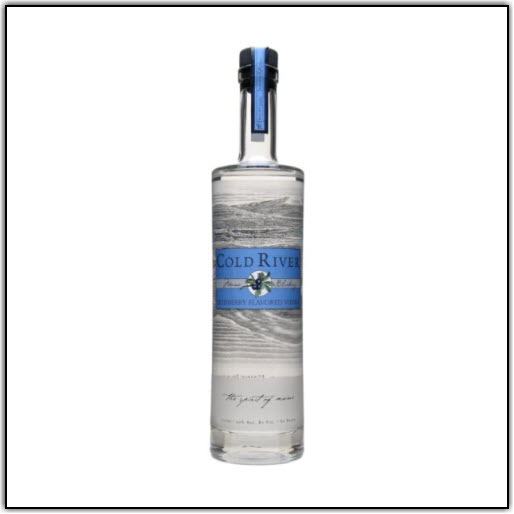 Cold River Blueberry Vodka is Cold River's one and only flavored vodka and has been for many years. It's made with the same care and attention to detail as their regular base vodka, and this shows. The entire process happens in one place where it can be carefully monitored and the quality of the final product is unmatched.
The vodka itself is made from potatoes grown in Maine, where the wild blueberries for each bottle are found as well. They steep the blueberries for five days to extract and trap their sweet, delicious essence which is then infused into their expertly-made potato vodka.
The profile is heavy on the blueberry, with soft, sweet, fresh aromas of blueberry muffins coming through on the nose. The palate follows with notes of fresh blueberries and a gentle, perfectly balanced sweetness that reminds you of a bakery with a bit of lavender in the background. It's a delightful, berry-charged experience every time and it's even better when served on the rocks.
5. Veil Blueberry Vodka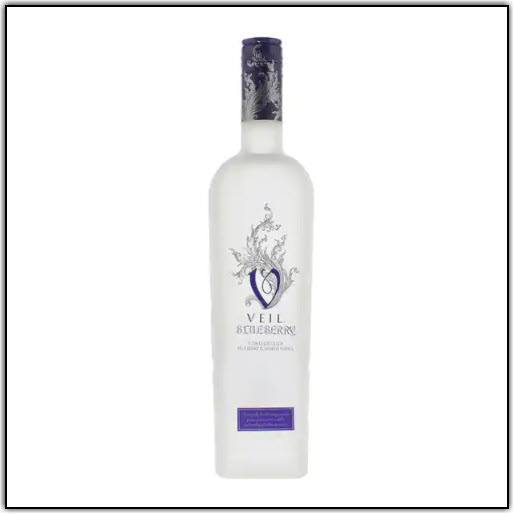 Like their original vodka, Veil Blueberry Vodka is proudly made and distilled in the United States with premium grains, the purest water, and a distillation process that uses multiple stills. To begin, the vodka is distilled three times and put through a charcoal filter to remove any last trace of impurity.
Their original vodka is known for its soft, textured smoothness and easy drinkability. This easily translates to the blueberry rendition. The Beverage Tasting Institute called it a "best buy."
The nose is filled with fresh blueberries and the palate is the same. It's delectably smooth and tastes best on the rocks or served directly from the freezer. The colder the better as the coldness will bring out the crisp, refreshing nature of the base vodka and the sweet, juicy notes of blueberry. The vodka also makes an excellent addition to any fruit drink or a nice boozy lemonade.
Refreshing Blueberry Vodka Cocktails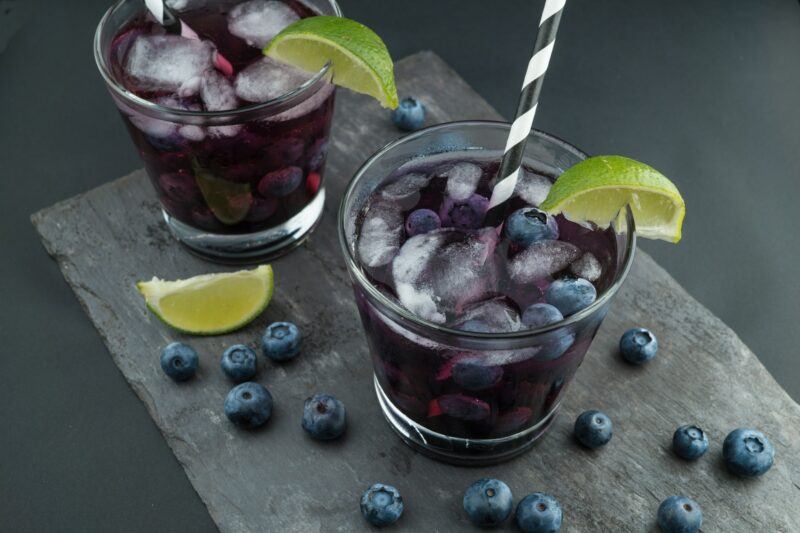 Blueberries make a great addition to any berry-filled drink. If there's a fruity cocktail you already love, adding a shot of blueberry vodka will add depth to the flavor and give it a little extra kick in the alcohol department!
If you want a blue-berry based cocktail, though, or you're unsure where to start, try one of these delicious and refreshing recipes:
Blueberry Cosmo
The Cosmopolitan is perhaps one of the most popular cocktails out there. Plenty of people enjoy the original recipe, though many variations have emerged throughout the years. One such concoction is the blueberry cosmo that comes with a bit of a tropical twist. There are many different fruit flavors at play here, giving you a deep and complex sipping experience.
Ingredients:
2 ounces blueberry vodka
½ ounce triple sec
½ ounce black raspberry liqueur
½ ounce cranberry juice
Fresh blueberries to garnish
Instructions:
Fill a cocktail shaker with ice and add all your ingredients. Shake until well chilled.
Strain the mixture into a chilled cocktail glass.
Garnish with a handful of fresh blueberries and enjoy!
The ingredients here are varied and they all add their own special touch, and the drink comes together in minutes with no complicated steps. When done correctly, the drink is a deep, rich purple color. It's beautiful to look at and could be a great addition to your next Halloween spread if you want to serve up a spooky drink!
Blueberry Watermelon
While blueberries have a distinct and delicious flavor, few things beat watermelon in the category of super refreshing! Both are sweet and blueberries bring a slight tang to the table – why not combine the two for a fantastic summer punch that's great for everyone?
It's an easy recipe you can customize to your taste, and even make a non-alcoholic version if you wish!
Ingredients:
2 cups of seedless watermelons, cubed
2 ounces blueberry vodka
1 ounce of freshly squeezed lemon juice
Fresh blueberries for garnish
Instructions:
Blend watermelon and lemon juice in a blender until perfectly smooth.
Strain the mixture into your glass or pitcher if you don't want any pulp. Leave as is if you're good with the pulp.
Add the vodka and stir until it's combined.
Refrigerate until it's nice and cold, or serve over ice if drinking immediately.
To make a non-alcoholic version, substitute the blueberry vodka with blueberry juice or sparkling water for a fizzy touch. You can add more or less juice and watermelon to create the perfect flavor, here. If you're having a family-friendly gathering, this recipe is quick and easy enough to whip up a double batch, too – one for the kids and one for the adults!