Whether you're planning a celebration, bringing family around, or just wanting something delicious for yourself, what could be better than a cocktail? These drinks are a fantastic way to combine alcohol with holiday flavors, giving you a treat that everyone is going to love. Holiday drinks with vodka are a particularly good choice, as vodka is such an easy spirit to work with.
Regular vodka doesn't have much taste at all, so it won't dramatically change your drink's flavor. This is perfect if you already have a holiday drink that you love. Taking that recipe and adding some vodka will probably give you a delicious treat.
You can also turn to flavored vodkas. These add a little something extra to your drinks, making them more delicious still.
Holiday Drinks Made With Vodka
Cosmopolitan
Screwdriver
Martini
Martini Variations
Holiday Punch
Moscow Mule
Sex On The Beach
Mint Irish Cocktail
Chocolate Martini
Pink Lemonade Vodka
Cranberry Punch
Vodka Tonic
White Russian
Pearl Harbor
Black Widow
Pumpkin Pie Cocktail
Butterbear Punch
Christmas Mule
Pumpkin Spice White Russian Cocktail
Mudslide
Cosmopolitan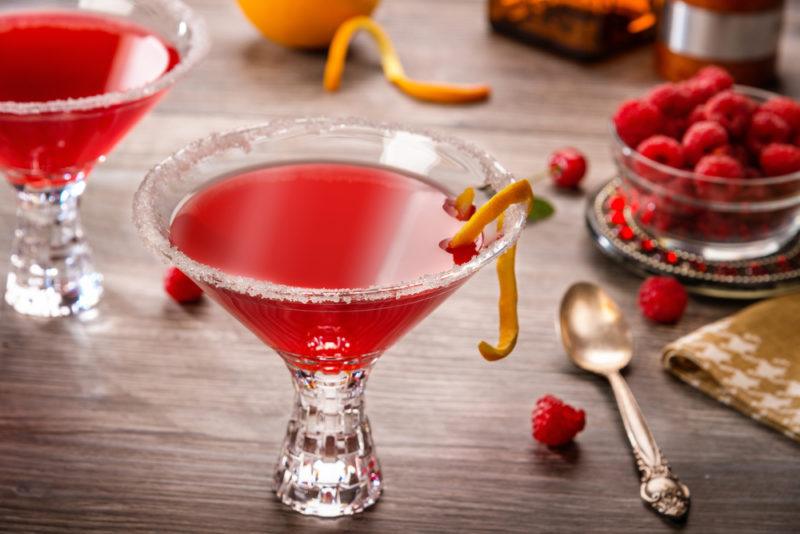 This drink remains a holiday classic, partly because everyone knows about it and partly because you have this fantastic bright red color. The drink doesn't taste too bad either, as it combines vodka, orange liqueur, cranberry juice, and lime.
Using orange, cranberry, and lime in the same cocktail is a masterstroke, as you get a fruity drink with an excellent balance of sweet and sour. To play with the flavors a little, why not use citrus vodka?
Screwdriver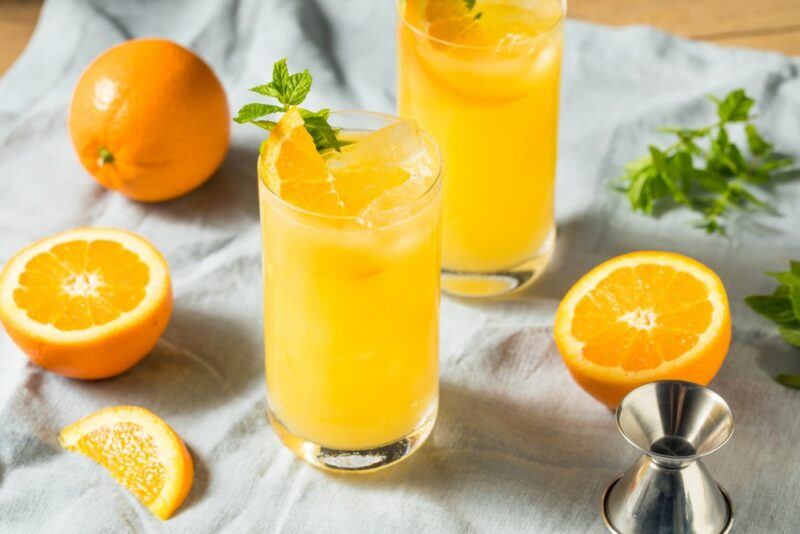 The screwdriver makes this list because it's one of the simplest vodka cocktails out there. Honestly, you just need two ingredients – fresh orange juice and vodka.
If you've ever had a bad screwdriver, don't worry, there are some tricks to this cocktail. The first is to use fresh orange juice. Or, at the very least, a high-quality bottled brand that isn't made from concentrate.
Using fresh high-quality orange juice makes all the difference in the world, giving you a drink that is fruity and bright, without too much sweetness.
The ratio of vodka to orange juice matters too. A screwdriver traditionally uses one part vodka to two parts orange juice, which might be much stronger than you expect. Don't knock that ratio until you've tried it though, as using a decent amount of vodka makes a huge difference.
You could play around with the drink too by topping it up with soda water to create something sparkling and refreshing. Or, why not try flavored vodka instead of regular vodka? This would add some nuance to your drink.
Martini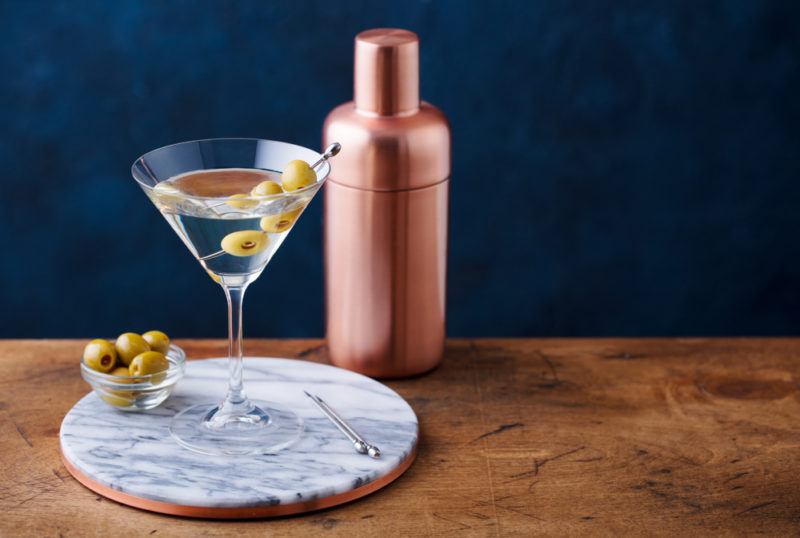 A vodka martini is one of the best choices when you want something elegant. After all, the cocktail is already famous for being featured in the Bond movies. That alone gives it an excellent reputation.
Yet, despite the drink's fame, many people haven't tried it. Why not set that right at your next event?
You know what's even better? The fact that martinis are remarkably easy to make. They just rely on two ingredients: your spirit (gin or vodka) and vermouth.
The ratio of spirit to vermouth strongly influences the flavor of the martini – and what it's called. Wet martinis have more vermouth than normal, while dry ones have less. Some extra dry martinis contain barely any vermouth. I've even seen some where your glass is rinsed in vermouth, then filled with vodka.
If your guests are newly minted martini drinkers, you might stick to an equal ratio of vermouth to vodka. This balance of ingredients is delicious and stops the martini from getting too intense.
Martini Variations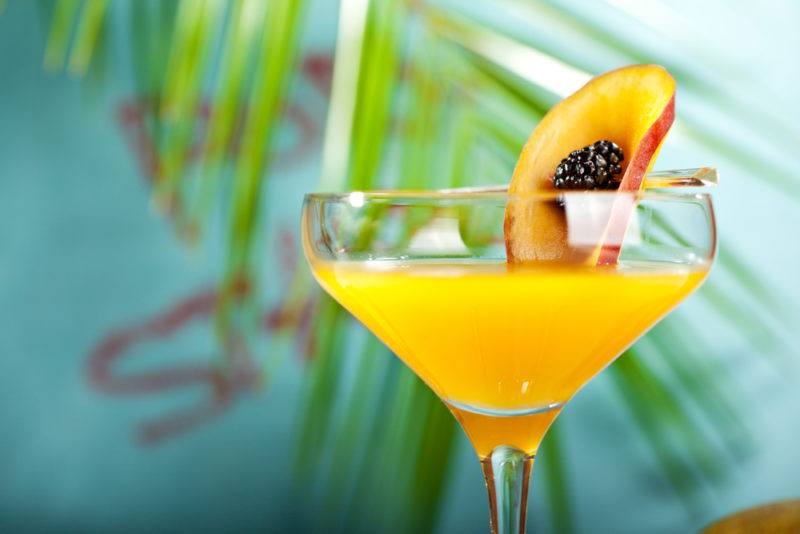 The classic martini is just the tip of the iceberg. There are countless ways to vary the drink, often giving you a fruity cocktail that goes down a treat.
If you want ideas, check out this list, which features an impressive 53 different types of martinis.
Many martini variations aren't martinis in the traditional sense, as they skip the vermouth entirely. They often rely on vodka, some type of fruit juice, and one other source of alcohol. For example, you can make a Caribbean-themed martini by combining vodka, coconut rum, and a little pineapple juice.
Still, while purists might scoff at the idea of martini variations, the drinks are fantastic for the holidays. Not only are they sweeter and easier to enjoy than a traditional martini, but you can also make them in plenty of interesting flavors.
Holiday Punch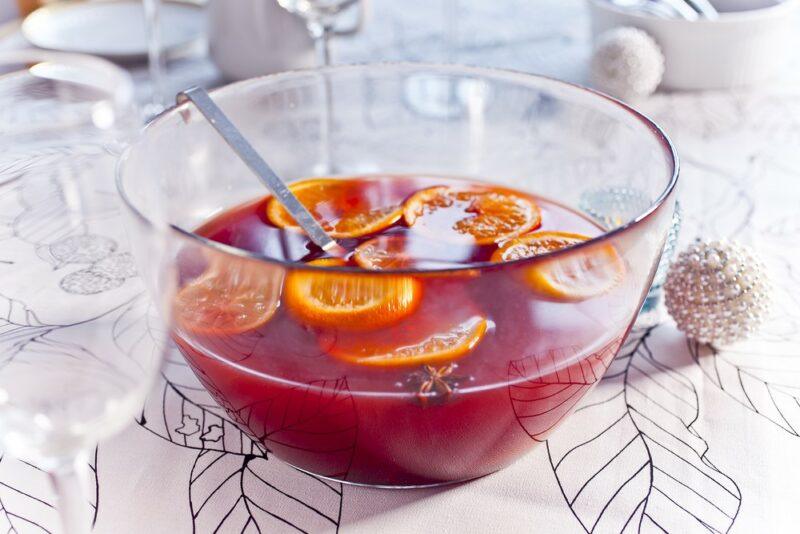 Who can go past punch as a holiday drink? It's ideal for serving a crowd. You can even make alcoholic and non-alcoholic versions to keep everyone satisfied.
The base rules for punch are simple. You generally need some type of fruit juice, like cranberry juice, orange juice, or perhaps apple cider, then at least one type of soda. You might try ginger ale if you want your punch to have a bit of a kick or perhaps Sierra Mist to complement any citrus tones.
Then there's the alcohol. There are plenty of options here too, but vodka is one of the best. After all, vodka can be cheap and it won't change the flavor of your drink much at all.
For a holiday-focused punch, why not try ginger ale, cranberry juice, and vodka as the base ingredients? This combination is simple, yet works surprisingly well. You can even throw fresh cranberries and some orange slices in to make the drink look amazing.
Moscow Mule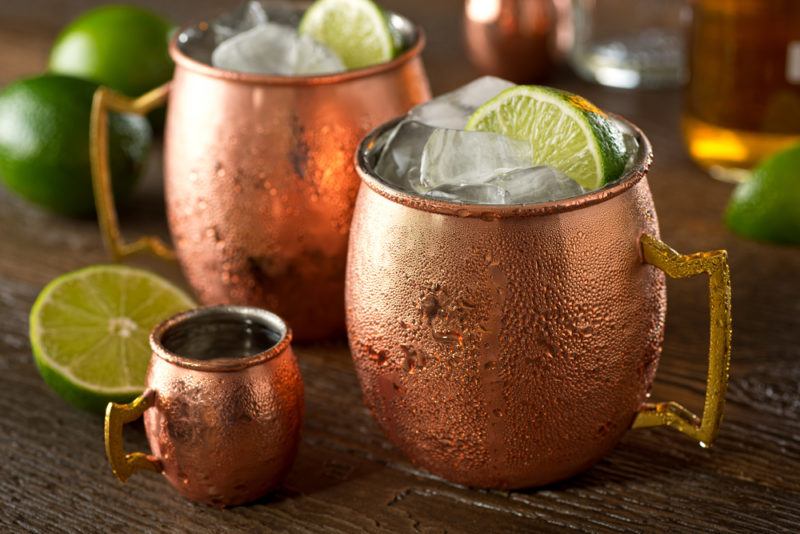 Here's another cocktail that keeps things simple. A Moscow mule combines vodka with ginger beer and lime juice. You could even skip the lime juice if you really wanted, but we don't recommend it, as the citrus flavor keeps the cocktail interesting.
There are plenty of ways to jazz the cocktail up too. For example, the jalapeno mule is a simple variation that adds a couple of jalapeno slices to the drink and garnishes it with a slice of jalapeno. You mightn't be adding much, but that jalapeno certainly provides an extra kick.
You could even just add fresh fruit, like strawberries or cranberries. Try muddling some of the fruit in with the vodka to make the drink shine even more.
Some type of fruit juice or fruit puree can be another excellent addition, giving your drink extra depth. And… the list goes on. The Moscow mule is a surprisingly forgiving cocktail, so why not have a play and see what combinations you can come up with?
Sex On The Beach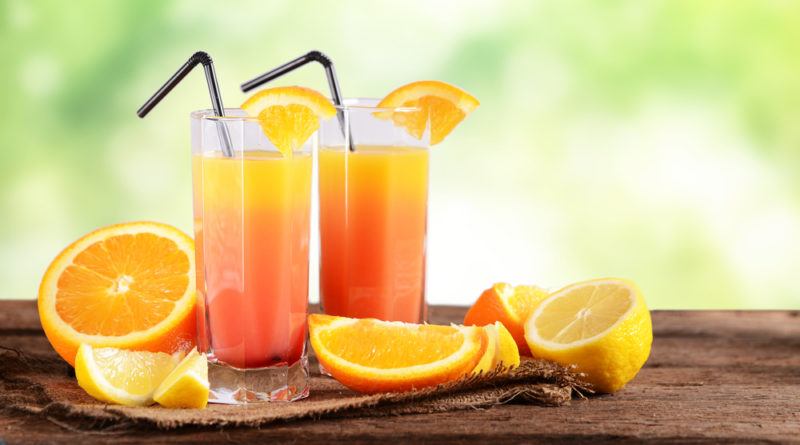 With a fun name, an interesting appearance, and a delicious flavor profile, a sex on the beach cocktail has everything going for it. The cocktail isn't that difficult to make either, as there are only four main ingredients – vodka, peach schnapps, cranberry juice, and orange juice.
That combination of cranberry, orange, and peach is what makes the drink stand out. You get something that's amazingly fresh and fruity, without being overbearing.
You can even make a simpler version by skipping the peach schnapps and using peach vodka instead. Doing that could work well, as many of us don't have peach schnapps on hand anyway.
If the regular version is too sweet, try swapping the orange juice for grapefruit juice. Doing so makes the drink tarter, but no less delicious.
Mint Irish Cocktail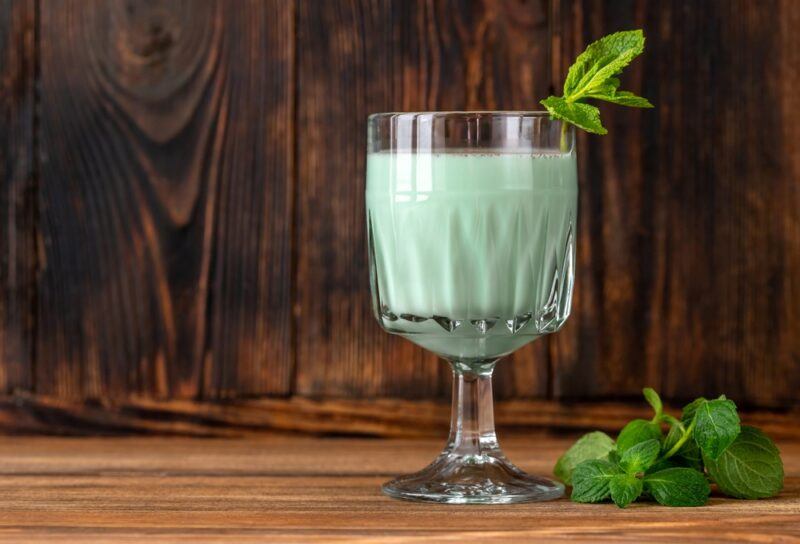 This cocktail combines mint and Irish cream, giving you a delicious balance of flavors and a perfect seasonal drink. The simplest way to make it involves just three ingredients: vodka, Bailey's Irish Cream, and crème de menthe.
The cocktail's flavors, combined with its bright green color, make it an ideal choice for St. Patrick's Day, but you don't need to stop there. The cocktail is also a fun choice over the Christmas holidays.
Okay, let's be honest, you don't even need a holiday to enjoy this cocktail. It's delicious even when there's nothing to celebrate at all.
Chocolate Martini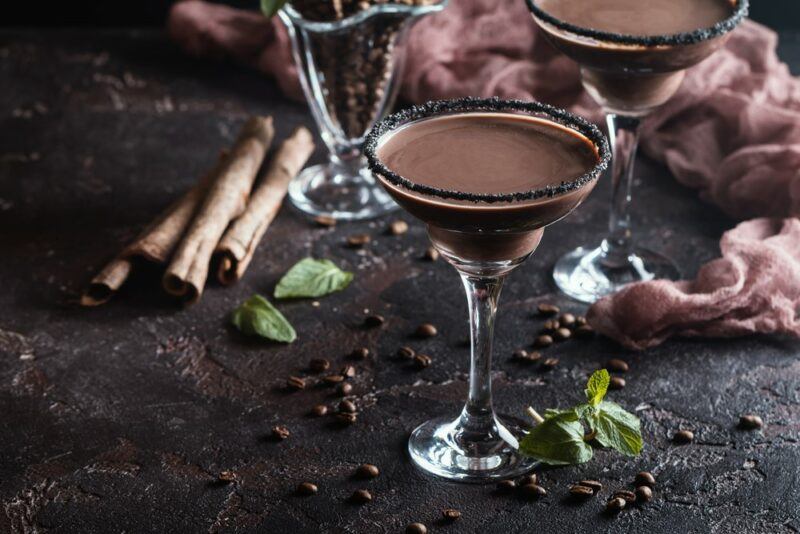 We've already talked about martini variations but seriously, how can we have a list of holiday drinks without talking about the chocolate martini? This drink is, honestly, in a class all of its own. Creamy, delicious, chocolatey, and alcoholic – what more could you want?
While there's no official recipe for this drink, many versions rely on chocolate liqueur, crème de cacao, and vodka. Bailey's might find its way into the mix too, giving you a distinct Irish cream flavor.
Don't forget about the garnishes. These are as important as the ingredients. Chocolate syrup is an easy option here. It is fantastic in the glass itself or on the rim. Chocolate flakes work well too.
And, of course, there are plenty of variations, like adding some peppermint in to give you a peppermint chocolate cocktail (perfect for Christmas). Vanilla vodka makes the cocktail even more exciting or you could try your hand at a white chocolate martini.
Pink Lemonade Vodka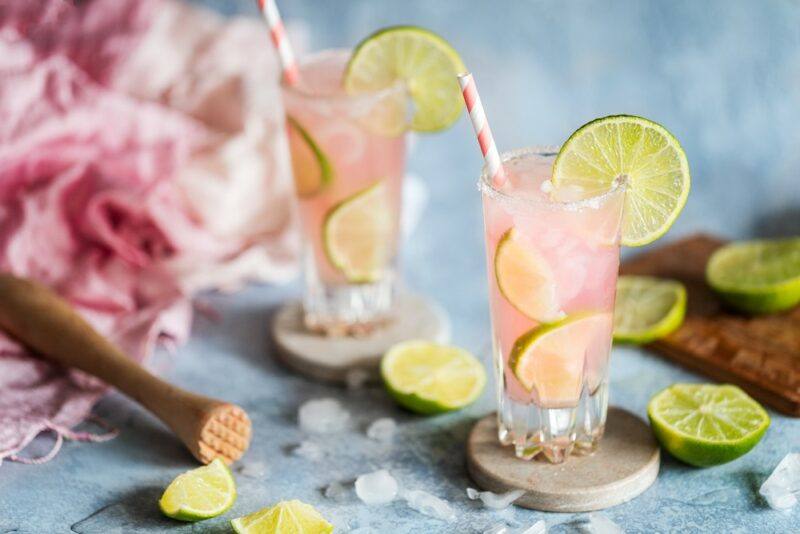 This little treat is exceptional on a warm day or any time when you want something pretty and refreshing. While there are a few variations to the drink, you can probably guess the idea by the name alone.
One approach is to combine vodka, lime juice, cranberry juice, and some type of lemon-lime soda, like Sierra Mist. Regular vodka works well or you could try a flavored version. Citrus vodka would be an easy choice. There's even a brand or two that makes pink vodka. How perfect is that?
If you want to make a slightly more interesting cocktail, try adding a little rum too. You just need a few tablespoons of rum to create extra depth to the flavor, without changing the color of your drink.
Or, for a version that actually tastes like pink lemonade, try combining pink lemonade concentrated with vodka and lemon lime soda. This version is perfect for parties, as there are just three ingredients and you can easily scale up the cocktail.
Cranberry Punch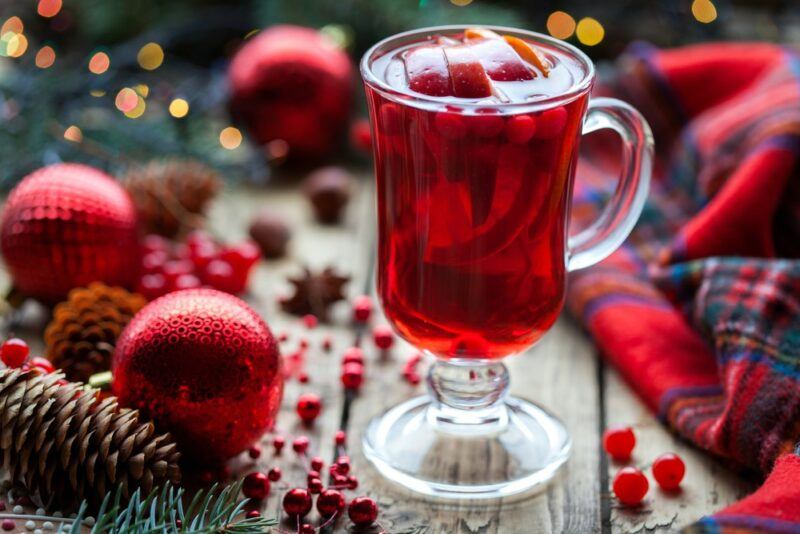 Here's a fun idea for anyone bored of regular punch recipes. Cranberries are the feature flavor, making this drink fantastic for Christmas parties. The main ingredients are vodka, cranberry juice, and grapefruit juice.
That combination gives you a tart and refreshing punch – much better than the overly sweet options normally served at holiday functions.
These ingredients might sound familiar, as they're the same ones used to make a sea breeze cocktail. You're simply changing the ratio of ingredients when creating a punch to give you a less alcoholic version.
Vodka Tonic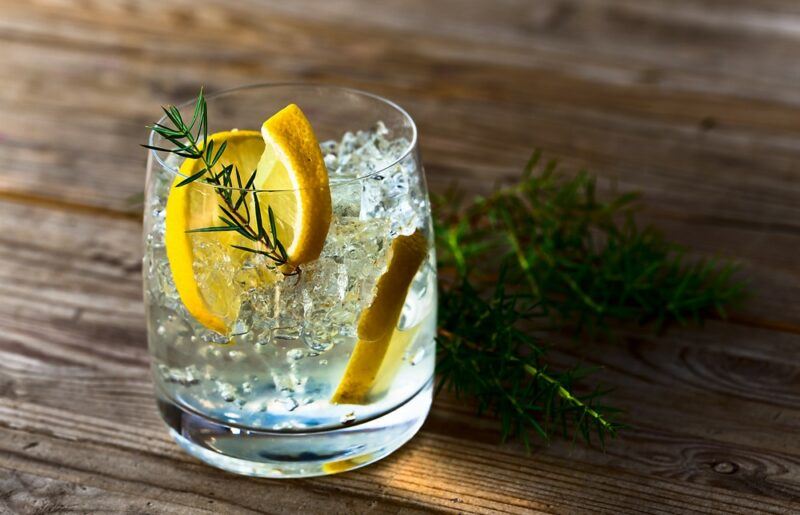 Tonic water is normally combined with gin, which gives the botanicals in the gin a chance to shine. A vodka tonic, on the other hand, is a completely different experience – one where the flavor of the tonic water dominates.
Vodka and tonic aren't combined often, but they really should be. Most other mixers are far too sweet, giving you a drink that's a little too much. With a vodka tonic, you're getting a refreshing drink instead.
Vodka and tonic are the main two ingredients in the cocktail, making this an easy one to prepare. There's just one more addition, lime juice. The juice adds just enough extra flavor to give you a delicious drink. While the lime juice is optional, your cocktail just won't taste the same without it.
White Russian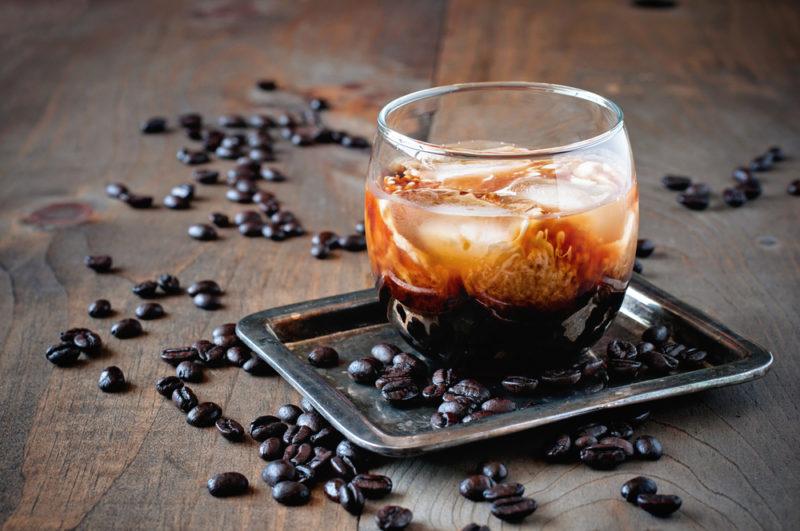 If your event is a casual affair, how about serving a white Russian? This cocktail isn't just a classic, it's also easy to prepare, as it just relies on three ingredients – vodka, Kahlua, and heavy cream.
There are two ways to prepare the drink. The first is to combine the vodka and Kahula, then float the cream on top of it. The other version mixes the ingredients together to create a milkshake-like drink.
Either version is delicious, so you can choose based on whether you prefer the flavors distinct or mixed in together.
Using cream can feel like a bit much at times. That's why some versions of the drink use half and half or even milk. Of course, the lower the fat content, the thinner your drink will be.
Pearl Harbor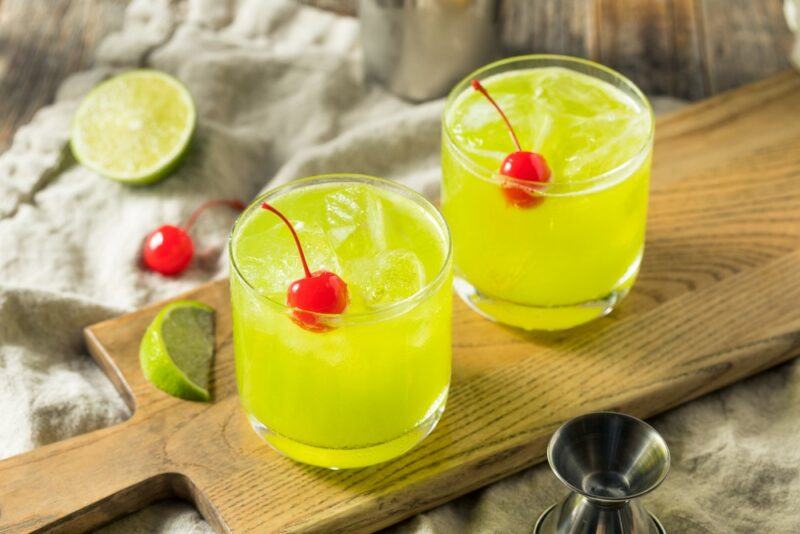 Want a fruity drink that looks a bit unusual? A Pearl Harbor might just do the trick. As you might be able to guess, the drink uses melon liqueur as one of the main ingredients. This is what gives it such a vibrant color and you can't do without it.
This simple drink combines the liqueur with pineapple juice and vodka. You'll end up with soft layers if you pour the drink without stirring, but the cocktail actually tastes much better if you mix everything together.
Because this cocktail has some quite strong flavors, your vodka doesn't need to be the best of the best to create a delicious drink (cheap vodka will be just fine). The pineapple juice, on the other hand, does make a difference. Use fresh pineapple juice if you can. If not, look for a high quality organic product.
There's no point saving any leftover pineapple juice for another cocktail – the juice won't nearly as good even just a day later.
Black Widow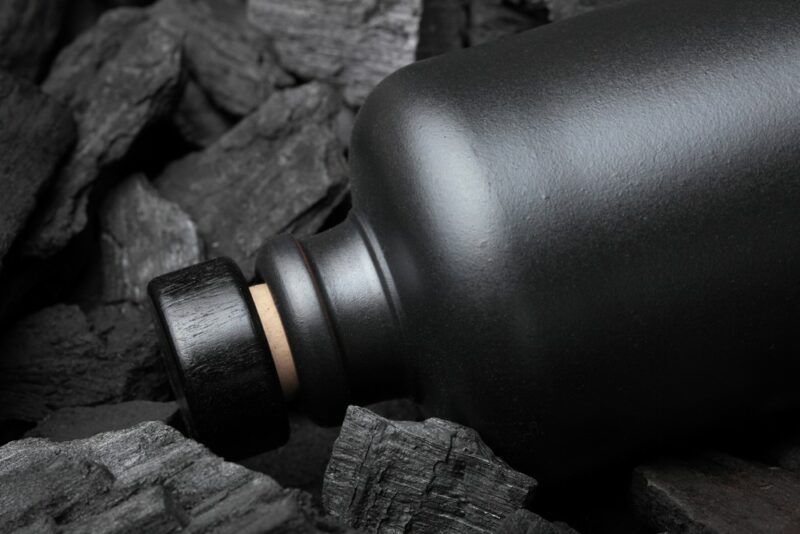 The black widow is a Halloween cocktail – one that combines black and red to give an intense looking drink. Shopping for the cocktail is simple, you just need cranberry juice and black vodka.
This normally means you'll need to use Blavod vodka, as there are few other commercially available black vodkas. You can make your own version, kind of, by mixing various liquid food colorings into your vodka. Infusing vodka with black rice can also work for creating the black color.
As for the black widow cocktail, there are two ways to make it. The first involves floating the vodka in a layer on top of the cranberry juice. This is a little tricky and may not work with homemade black vodka.
If floating isn't going to work, try drizzling the vodka into your cranberry juice instead. This creates a cloudy effect that looks stunning. No matter which approach you use, the color separation won't last long, so prepare this drink right before you serve it.
Pumpkin Pie Cocktail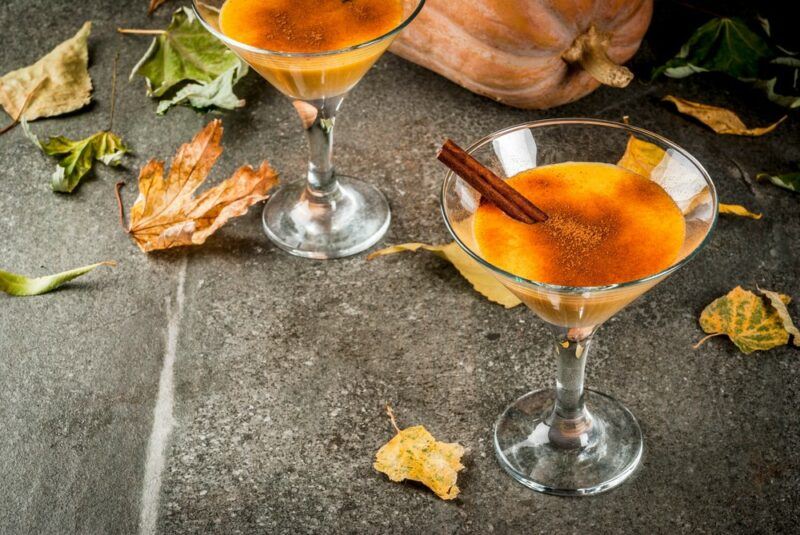 Love the flavor of pumpkin pie? If so, why not try the dessert in drink form. Plenty of cocktails attempt to mimic the flavors of pumpkin pie, with varying degrees of success.
One version comes from Taste of Home and uses vanilla vodka as one of the main ingredients. Milk and heavy whipping cream provide creaminess, while other ingredients add the desired pumpkin pie flavors.
Of course, that's just one aproach. Some include pumpkin puree directly in the cocktail. You'll even see pumpkin pie vodka used some of the time.
Butterbeer Punch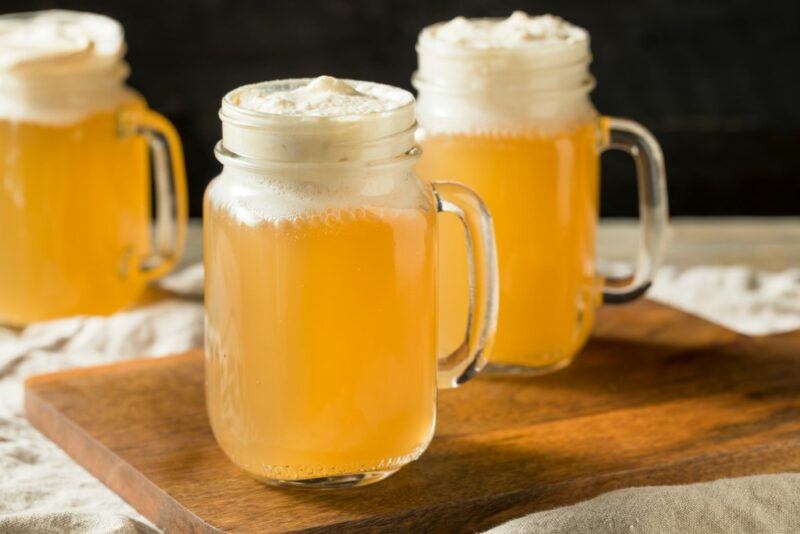 As you can probably guess from the name, this punch recipe was inspired by Harry Potter. It would be a fun choice for any Harry Potter-themed party or simply an event that you wanted to be a little bit different.
There are two parts to the drink. The first is the punch, which simply combines vanilla vodka, seltzer, and cream soda. Those ingredients give you a frothy vanilla mixture that is a good match to Butterbeer.
Then, you have a topping that's basically whipped cream, brown sugar, and some vanilla extract (for extra vanilla flavor). Add some sugar and butterscotch syrup on top to set the whole thing off nicely.
Christmas Mule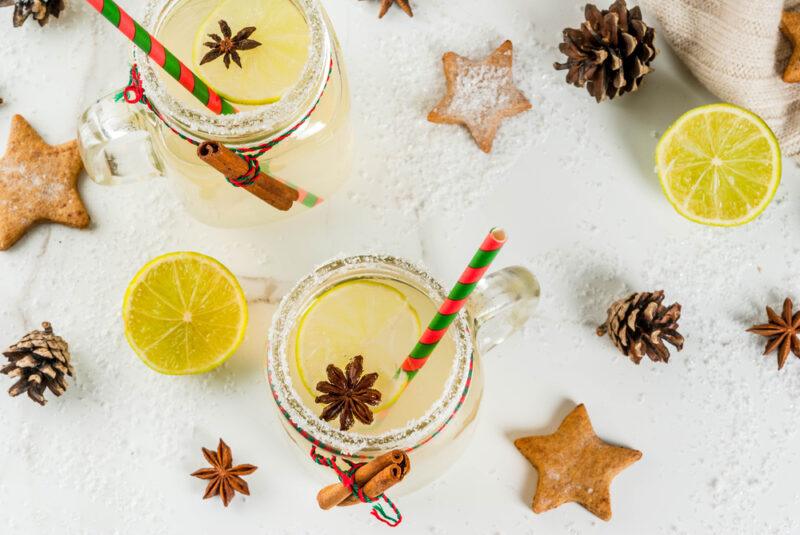 We've already talked about the Moscow mule, but why not vary the idea a little? A Christmas mule is similar, as you're still using vodka and ginger beer.
This time, however, you're using pear vodka rather than the plain stuff and adding a stick of cinnamon. Doing so provides some extra flavor and spice to the drink.
Also, unlike a regular Moscow mule, the Christmas mule is a hot cocktail. To make the drink, you need to heat the ginger beer, either on the stovetop or in your microwave. This needs to be done gently. Too much heat will make the ginger beer lose its carbonation.
Pumpkin Spice White Russian Cocktail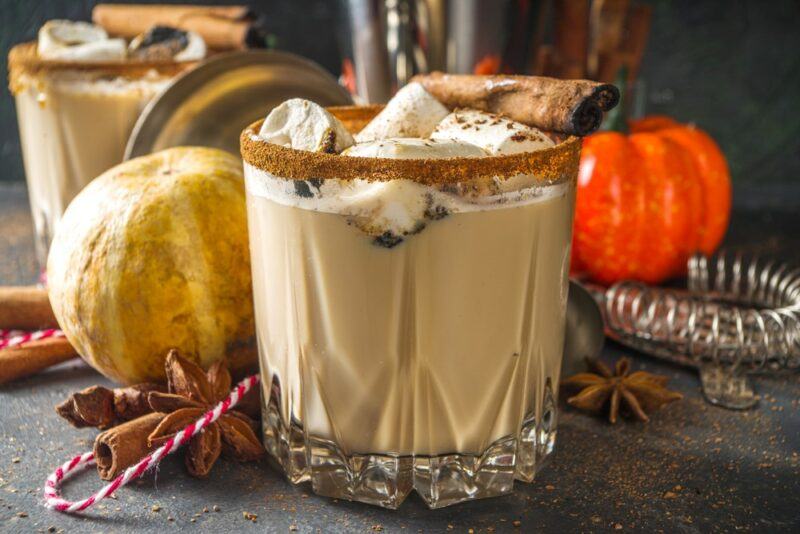 This cocktail adds a fun seasonal twist to the traditional white Russian, giving you a creamy drink with delicious pumpkin spice flavors. Just like a regular white Russian, you're using vodka and Kahlua as key ingredients.
But, instead of using cream or half and half, you make this cocktail using pumpkin spice creamer. Look for a brand that you already trust, one that has a delicious flavor and doesn't rely too much on additives.
Making a rim like the one in the image is easy. You can simply use crushed graham crackers, perhaps with a little pumpkin pie spice and sugar mixed in.
Mudslide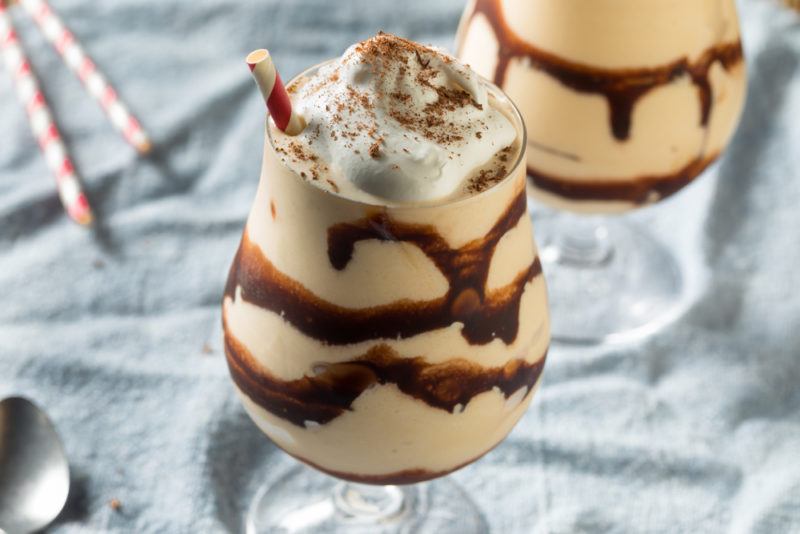 Speaking of creamy drinks, how about a mudslide cocktail? This drink can be made in countless ways, but most rely on vodka, Baileys, and heavy cream. You're basically making an adult version of a chocolate milkshake.
You can get creative with other ingredients too. Cocoa powder, chocolate syrup, and even ice cream often make their way into the drink. Or, why not change the vodka? Vanilla vodka is an excellent choice, as it perfectly complements the other ingredients.
Another option is to make a slushie version by blending your cocktail together with ice. Some versions even use cold brew coffee ice cubes or chocolate milk ice cubes, so that the drink never gets diluted.