The lemon is already a versatile little citrus fruit. Aside from being delicious, it has many health benefits, is very useful in cooking, and even has some medicinal properties. It's also used as a natural cleaning agent or as an ingredient in natural cleaners. It works on all kinds of surfaces from counters, to wood, to tile floors.
We can also add alcohol to that list! Many lemon-based cocktails call for lemonade, lemon juice, lemon zest, and lemon wedges themselves as garnish. If you want to take it to the next level even, you can get yourself a nice lemon-flavored vodka. There are hundreds of flavored vodkas out there these days, but the lemon is one of the originals.
The best lemon vodka is made with actual lemons or natural lemon flavors. Added sugars may make the drink sweeter, but often it becomes too sweet or tastes artificial. A strong cocktail may be able to cover up these flaws, but it still won't compare to a drink made with a more natural expression. A well-balanced lemon vodka is also deliciously refreshing when served chilled or on the rocks.
Vodka is already a fresh, bright, crisp spirit, so the addition of sweet, tangy, crisp citrus is a no-brainer. Throw in some soda water for a nice fizzy touch on a hot summer day and you've got an easy-peasy poolside drink to enjoy on your own or make in bulk for your friends.
The Best Lemon Vodka
1. Deep Eddy Lemon Vodka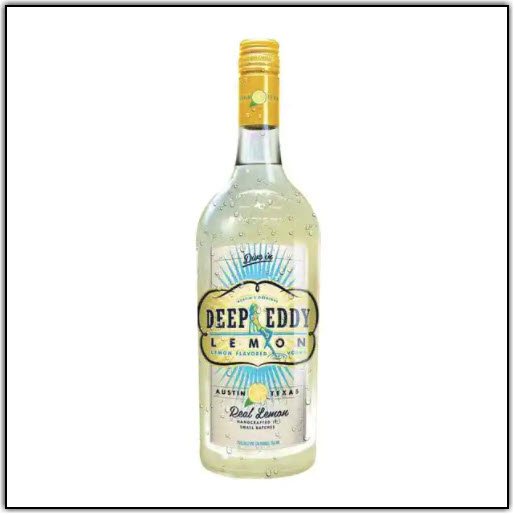 Deep Eddy Lemon Vodka is one of the smoothest of its kind on the market. It's made using Deep Eddy's original vodka, which is crafted from real corn and pure reverse osmosis filtered water. It's distilled ten times in state-of-the-art stills and then filtered eight times through their premium filtration system.
This ensures an incredibly smooth finish and no bite whatsoever.
The delicious lemon flavor is achieved by using fresh juice from real lemons and just a touch of cane sugar. It ends up being naturally bright, sweet, and a little sour.
The expression even looks authentic, with a bright golden yellow color in the bottle and just a tiny bit of pulp. The aroma is light and smells subtly of sour lemon with a tinge of orange and a hint of sugar in the background.
The palate is stronger than you would expect given the soft nose, opening with a sweet and sour kick that fades into a little brown sugar mid-palate. The finish has a bit of classic vodka flavor to it with a touch of lemonade.
2. Crop Meyer Lemon Vodka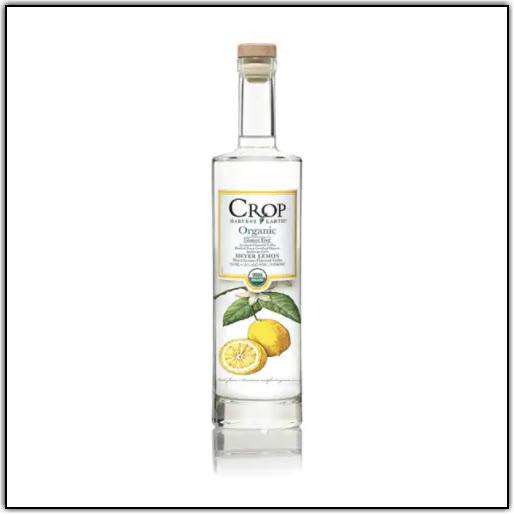 Crop Meyer Lemon Vodka is made with unique and delicious Meyer lemons, offering a new take on citrus vodka. A Meyer lemon is a cross between a lemon and a tangerine orange. It retains the tart nature of lemon but has some additional flavor to it, which lends itself nicely to this crisp flavored vodka.
It's made with USDA-certified organic, American-grown corn to create a neutral base. This vodka is so expertly crafted and efficiently distilled that no additional charcoal filtering or carbon treatment is required. The distillation process alone produces a delicious expression that strikes the perfect balance between sweet and tangy.
It's extremely sweet and a bit acidic on the nose with an aroma of lemon so strong you can almost taste it. The palate follows through with a mild sweetness and the perfect touch of acidity. It's a well-rounded flair that sits delicately on your tongue before softly dissipating and leaving behind a pleasant, well-balanced aftertaste.
3. Absolut Citron Vodka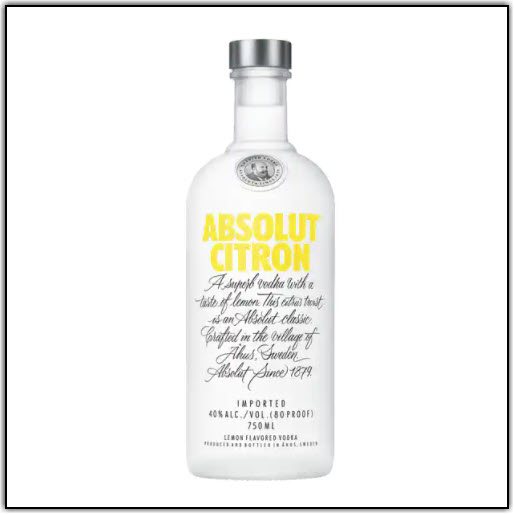 Absolut is a big name in vodka – a status they've earned for the consistent quality, amazing taste, and wonderful mixability of their expressions. Absolut Citron was launched in 1988, just nine years after its original came out. Many people had already taken to drinking the original Absolut Vodka on the rocks with a twist of lemon, so this was an immediate success.
The twist-of-lemon drinkers were delighted to remove both an ingredient and a step from the process of their favorite drink. The vodka also became a hit with fans of the Cosmopolitan cocktail as it was soon discovered that Absolut Citron took the drink to a whole new level.
The nose opens with bright but well-balanced citrus with some wheat grain and vodka notes in the background. The palate offers a medium-body with moderate and well-balanced notes of citrus peel – lemon dominates with a touch of lime in there, too. There is a slight sweetness from the grains and a gentle bite near the end with a warming finish.
4. Grey Goose Le Citron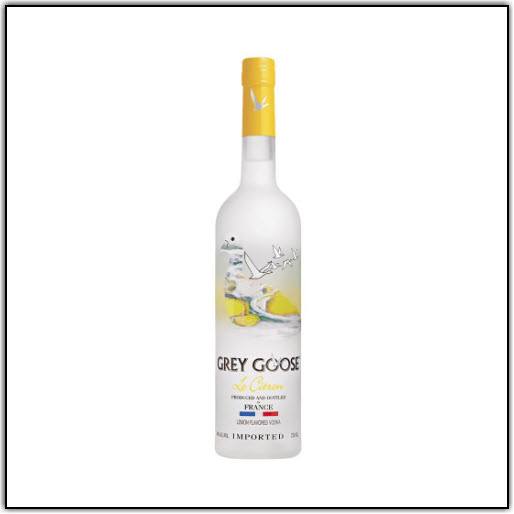 Another well-known premium vodka brand, Grey Goose le Citron does the lemon flavor well, offering something unique to the market with their use of lemons from the Menton region of France. These lemons are known for having a thick skin and a mild flavor.
All of Grey Goose's flavored expressions use their original vodka as a base, crafted from soft winter wheat and natural spring water. To impart the flavor from the unique French lemons they use essential oils made from said lemons. It's not the most conventional method but it works, creating a bright, crisp, perfectly balanced lemon vodka.
The aroma features freshly squeezed lemons with mineral notes in the background. The palate offers bold citrus zest with a soft, gentle bitterness in the background. The crisp, fresh finish offers a final kick of citrus.
5. New Amsterdam Lemon Vodka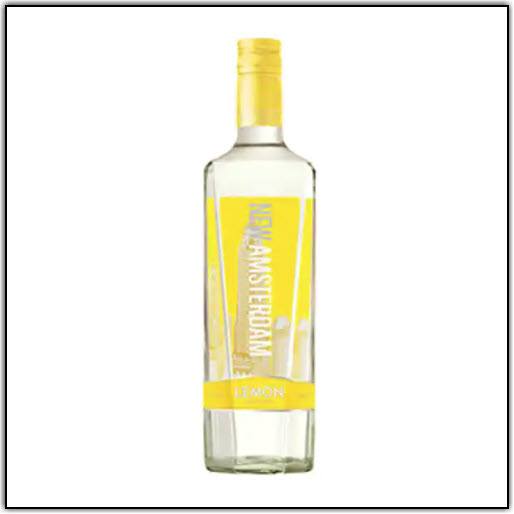 New Amsterdam Lemon Vodka is part of a collection born of passion and dedication. The founders simply love good vodka and have always remained committed to premium quality, excellent taste, and noticeable smoothness. This is all obvious in their delicious lemon rendition.
The vodka is distilled five times and filtered three to offer a taste that is crisp and clean. They promise it's smooth and tasty enough to drink on its own, on the rocks, or in cocktails. Their distinct flavor is achieved by using freshly squeezed lemon juice along with a hint of lime peel.
The profile on this one is interesting and a little more varied than your typical lemon or citrus vodka. The aroma offers notes of cucumbers and lime sherbet behind the lemon. The palate follows with similar notes of lime and cucumber with lemon coming in strong and layered mid-palate. The finish is crisp, clean, and quite sweet.
The Best Lemon Vodka Cocktails
The possibilities here are truly endless – a splash of lemon will complement almost any sweet, tangy, citrusy cocktail. Some recipes call for regular vodka and then lemon juice. Many of these can be enhanced by using lemon vodka instead, which amps up the lemon and adds a little extra tang. This is something you can experiment and have fun with, or you can start with one of these classics:
The Lemon Drop
Inspired by the infamous lemon drop candies, this drink was around before lemon-flavored vodka even hit the larger markets and it became so popular that several pre-made mixes now exist.
However, it's not difficult to prepare and making it fresh yourself will always taste better than a mix. The ingredients are pretty easy:
Lemon wedge and granulated sugar for rimming
2 ounces vodka (make it lemon vodka for an extra punch of lemon)
1 ounce freshly squeezed lemon juice
½ ounce simple syrup, or a little more to taste
Lemon twist for garnish
Instructions:
Start by wetting the rim of your glass with lemon juice and dip it in the sugar. Set the glass aside.
Fill a cocktail shaker with ice, vodka, lemon juice, and simple syrup, and shake well.
Strain the drink into your rimmed glass.
Add the lemon twist to garnish and enjoy!
Pomegranate Martini
This recipe comes straight from Absolut as a suggestion for how to use their Absolut Citron Vodka. If you have a bottle of Absolut Citron on hand it'll let you experience this cocktail in its intended form, but any lemon vodka will still make a delicious and refreshing bright pink drink!
Ingredients:
1 ⅓ ounce Absolut Citron
⅔ ounce pomegranate juice
⅓ ounce triple sec
1 dash lime juice
Zest from one orange peel
Making this one is about as easy as they come. Fill a cocktail shaker with ice and add all your ingredients. Shake it well and strain the drink into a cocktail glass, garnish with your orange zest, and enjoy!
The lemon flavor will be obvious here, but the drink will be a bright pinkish-red color from the pomegranate! While using all fresh ingredients is the best way to go, straining your own pomegranate juice can be tricky. If you have to buy some, just make sure it's as fresh and natural as possible. This way you'll get the freshest and most potent flavors and you'll be able to enjoy the drink as it was intended.