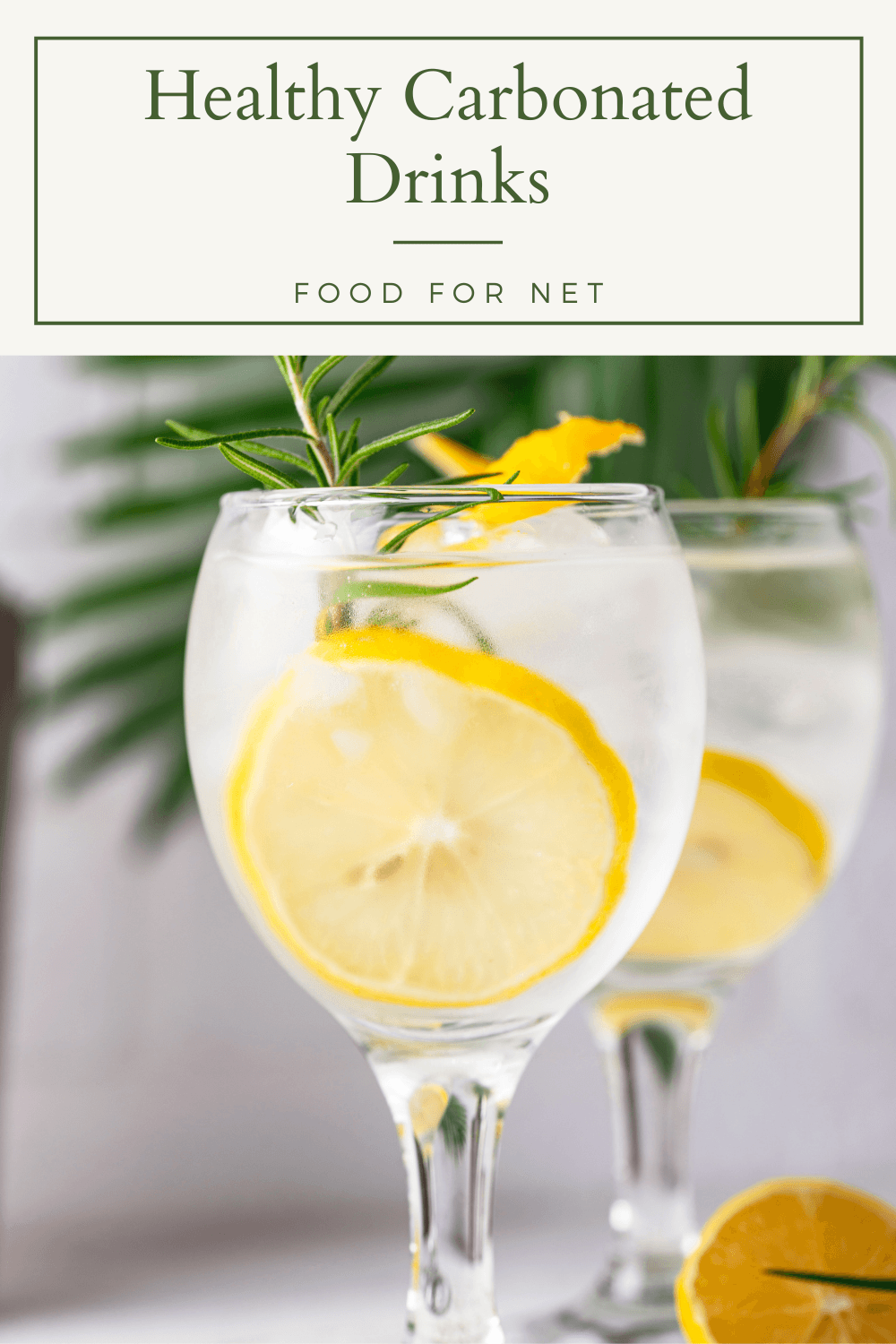 There's no denying that soda is a terrible choice for health. Many products are packed with sugar and the ones that don't often rely on artificial sweeteners instead. We can't forget about the other additives either. Thankfully, there are healthy carbonated drinks out there too, if you know where to look.
These drinks contain much less sugar than soda. Many contain no sugar at all and skip the other additives as well. They're also much healthier than processed still sugary drinks, like Vitaminwater, Gatorade, and Powerade.
Don't worry though, they're still quite delicious. Plus, once you've been drinking them for a while, the idea of drinking soda will probably seem gross.
The most important thing is to give yourself the time to adjust. You'll be pleased about cutting your sugar intake down, even if the experience isn't that fun at the beginning.
Healthy Carbonated Drinks
Seltzer, Club Soda, and Sparkling Mineral Water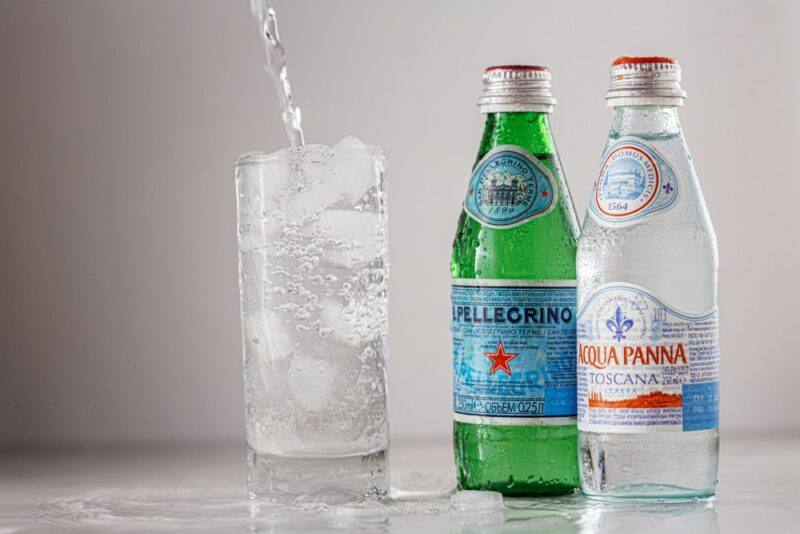 Believe it or not, seltzer, club soda, and sparkling mineral water are slightly different from one another.
Selzer is simply water with carbon dioxide added to make it carbonated. Club soda also has added minerals, such as potassium and sodium. Those minerals may provide nutritional benefits and change the flavor of the water.
Mineral water is a natural product instead and must contain at least 250 ppm of dissolved solids. Some types of mineral water are naturally carbonated. Others have the carbonation added separately, often from a natural source.
While these types of drinks differ in their mineral content, they're all considered types of sparkling water. They're also very relevant for your health, as they contain water, bubbles, and little else.
Even so, it's always worth checking the ingredients label before buying any type of sparkling water. This way you can be certain that the drink doesn't contain anything unexpected.
Sparkling Water With A Splash Of Lemon or Lime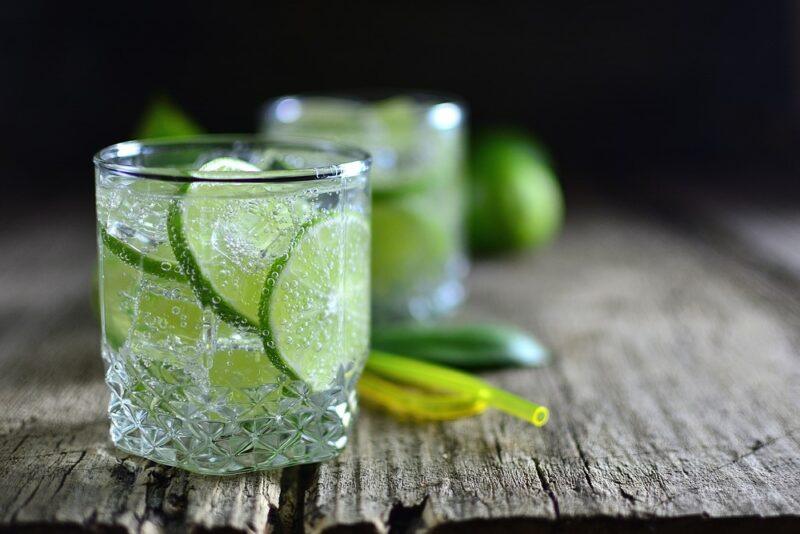 If sparkling water is a little boring on its own, try adding just a splash of lime juice. You could take this one step further by adding a lime wedge to your glass as well.
The lime gives you just enough flavor to make the drink interesting. Plus, you're not adding many extra calories.
You can do the same thing using lemon juice, which basically gives you fizzy lemon water. Or, why not use lemon and lime in the same drink?
Some people add a little sweetener to make the drink taste better. While doing so can be appealing, it's important to be careful too, as even sweeteners like stevia have some concerning features.
Sparkling Water With Juice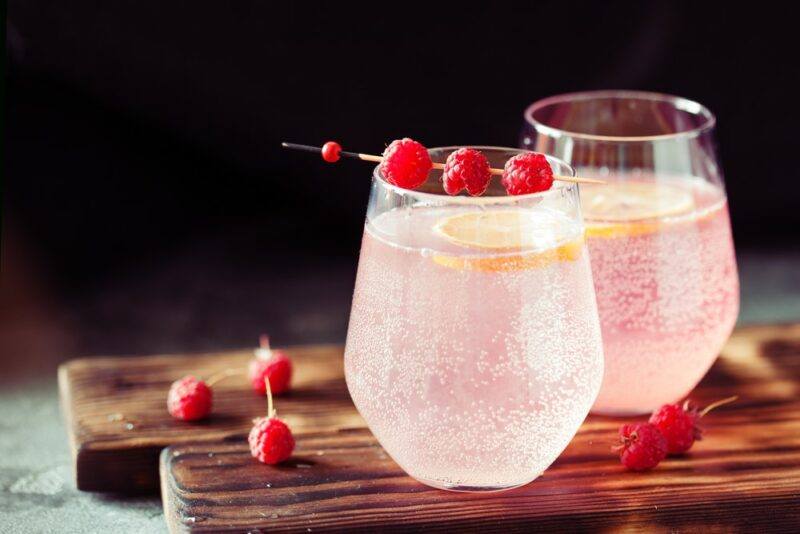 Lemon juice and lime juice both allow you to add flavor to water without many calories. But, they're not always the right choice as they are both acidic with a sharp flavor.
Sometimes a sweeter type of juice is more appealing. Cranberry juice can be an excellent choice, as it has a strong flavor, so it will stand out against the sparkling water.
Don't forget about the sugar content though. Fruit juice is high in sugar and isn't as good for you as it often seems to be (for example, you'll get many more benefits from an orange than from a glass of orange juice).
So, if you're going to use fruit juice, try to keep the amounts low so that you're not getting too much sugar.
Spindrift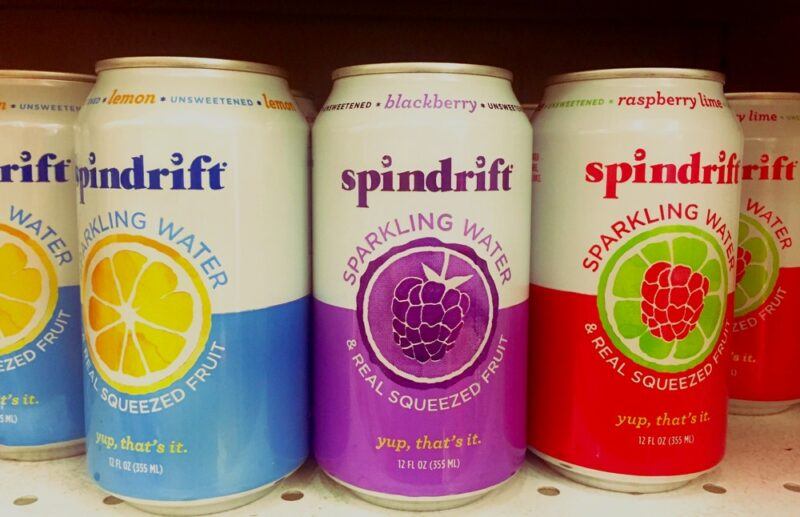 Spindrift offers a variety of flavored sparkling water products. These are different than most types of sparkling water because the ingredients focus on water, fruit juice, fruit puree, and little else.
For example, the ingredients list for Spindrift Cranberry Raspberry simply includes carbonated water, raspberry juice, cranberry juice, raspberry puree, and lemon juice. A 12 fl. oz serving gives you 8 calories and 1 gram of sugar, which isn't much at all.
The idea isn't so different to adding fruit juice to sparkling water yourself. Still, it's always helpful to have some healthy store-bought options as well.
Perrier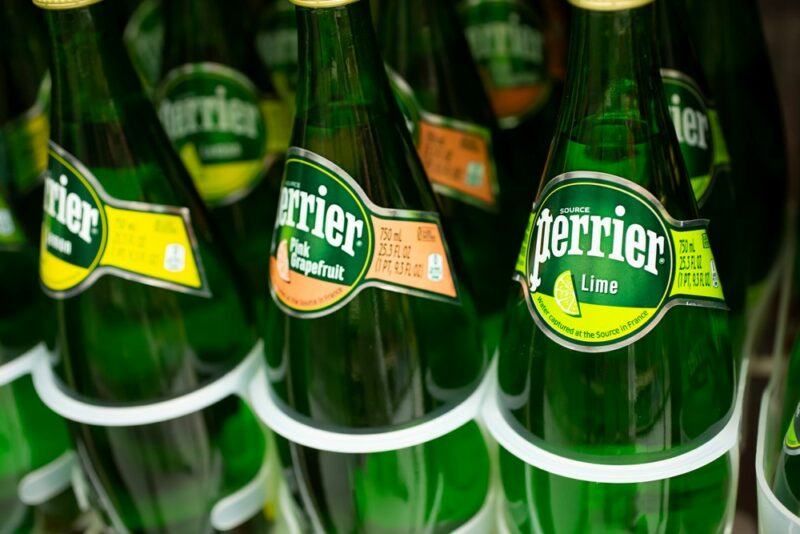 Perrier is a French sparkling mineral water brand that contains no added sugar and no calories. The company has now expanded its range, and some of those new products are even better than their plain mineral water.
The best option is their flavored waters. There are eight flavors in the range and these all rely on mineral water, carbon dioxide, and natural flavors. That's it. No added sugar and nothing artificial.
These drinks mightn't be as good as Spindrift, as Perrier is using flavors rather than fruit juice. Still, the approach helps to keep the calorie content down, so it isn't all bad.
There are also Perrier Fusions. There are four flavors in this range: Pineapple & Mango, Peach & Cherry, Strawberry & Kiwi, and Lemon & Guava. These products use fruit juice and natural flavors, along with added sugar.
You end up with roughly 12 grams of sugar in a 330 ml can. This is much less sugar than you get with regular soda, but it's still more sugar than you might want.
Personally, I'd stick to the regular Perrier or the flavored versions, as the Fusion products contain more sugar than I'm comfortable with.
LaCroix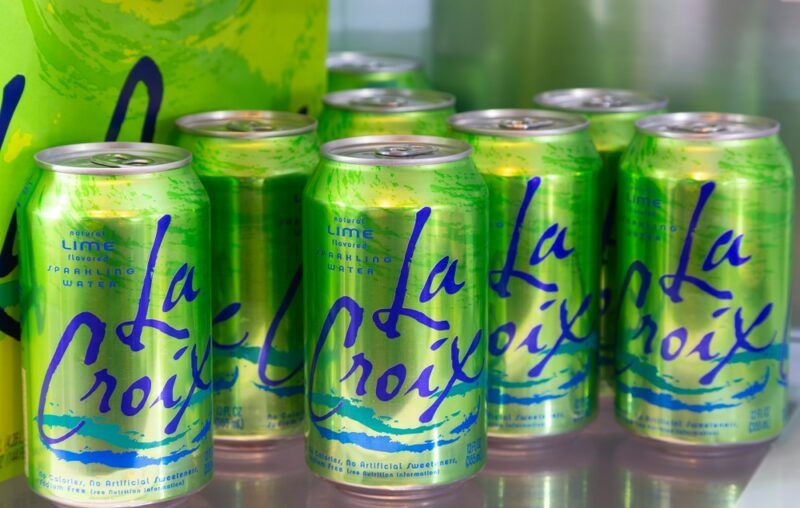 LaCroix is one of the most famous type of flavored sparkling water. It's promoted as being entirely natural, guilt-free, and clean.
They're not really exaggerating either, as LaCroix takes an unusual approach. Rather than using fruit juice or natural flavors to make their juice taste good, the company uses natural essences from their featured fruit instead.
This approach means that the flavor in their water is subtle. It's enough to make the water taste interesting and nothing more.
Other Flavored Sparkling Water Brands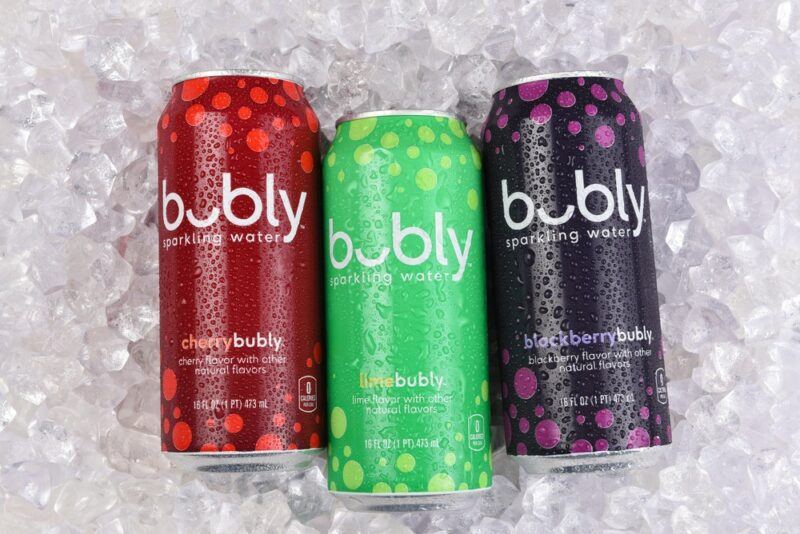 The flavored sparkling water products that we've mentioned are just the tip of the iceberg. Many other brands are now getting involved with the trend, creating their own interesting flavors.
These products can be quite different than each other, so please check the ingredients label each time. For example, some of them use sparkling water with a little fruit juice, just enough to provide flavors. Others may be as much as half fruit juice. Some, like Perrier Fusions, even add flavors and sugar too.
Here are a few more interesting brands to check out:
Bubly. This is another product that simply uses carbonated water and natural flavor. There are regular 16 flavors to choose from, along with other interesting products, like bubly bounce, which includes caffeine too.
Hella Bitters & Soda. As the name suggests, this interesting product combines bitters and soda (yes, those same bitters that you find in cocktails). You end up with a very low calorie drink that can be used in cocktails or on its own.
Polar Seltzer. Polar offers some of the least expensive sparkling waters, ones that just rely on natural flavors and water. You can often find them in plastic bottles or in cans. Reviews of the flavors are somewhat mixed, but the price alone makes this a good product to try.
Vita Coco Sparkling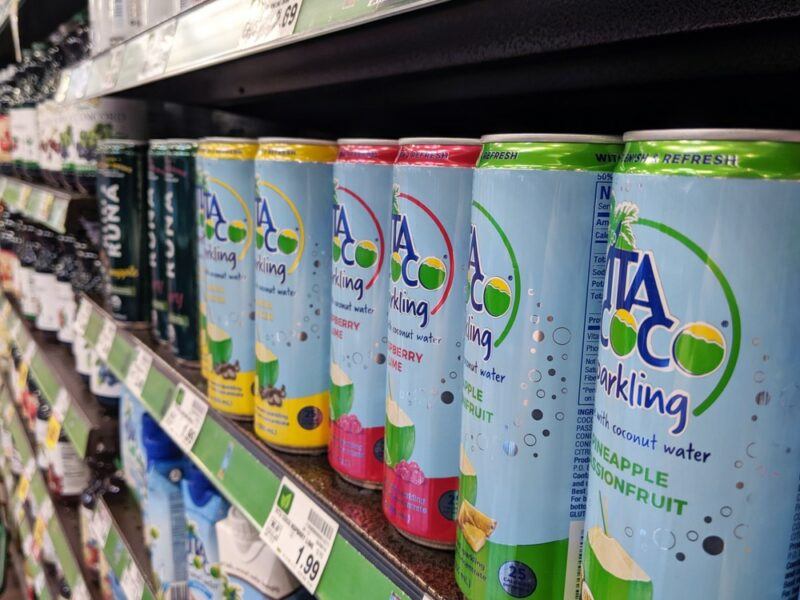 Vita Coco takes an interesting approach to the sparkling water idea. They offer Vita Coco Sparkling Water, which is a flavored version of sparkling coconut water. This means that it has most of the benefits of regular coconut water. The extra flavor and bubbles simply make the drink more enjoyable.
The nutritional information is pretty good too, as you're getting 4 grams of sugar in a 12 fluid ounce serving.
There's a couple of limitations though. One is that the company uses juice from concentrate rather than fresh juice. They include natural flavors too.
There's also some sodium present, along with potassium. These are both electrolytes. They're particularly important for anyone who loses a decent amount of water through sweat, but the sodium isn't great for people who need to cut down their sodium intake.
Infused Sparkling Water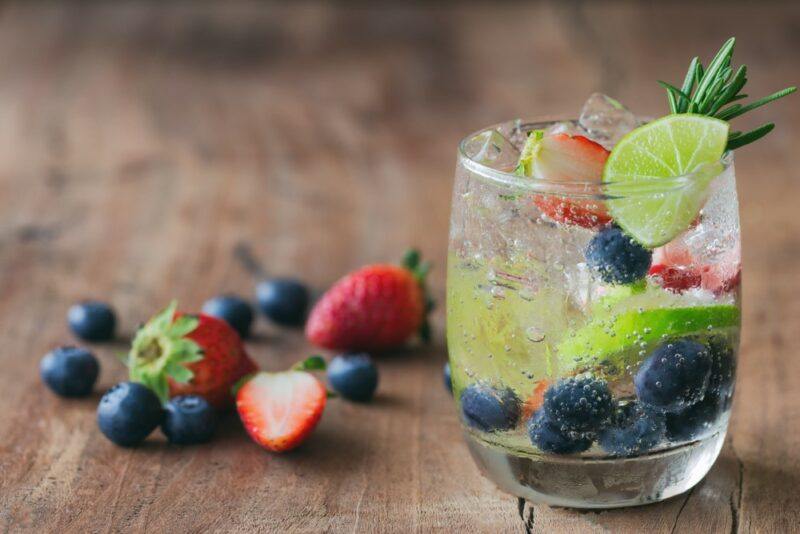 Infused water is one of the healthiest drinks on the planet. All you're doing is taking regular water, then adding in various fresh fruits, vegetables, and even some herbs or spices. The flavors from your additions infuse into your water, making it taste more interesting without adding in many calories.
As for the flavors and the ingredients you use, well, the sky's the limit. You could use a list of infused water recipes (like these) as a starting point or try your own combination.
While infused water is normally made by using still water, you can make infused sparkling water too. Doing so is as simple as dropping your ingredients into sparkling water instead of still water.
Sparkling Tea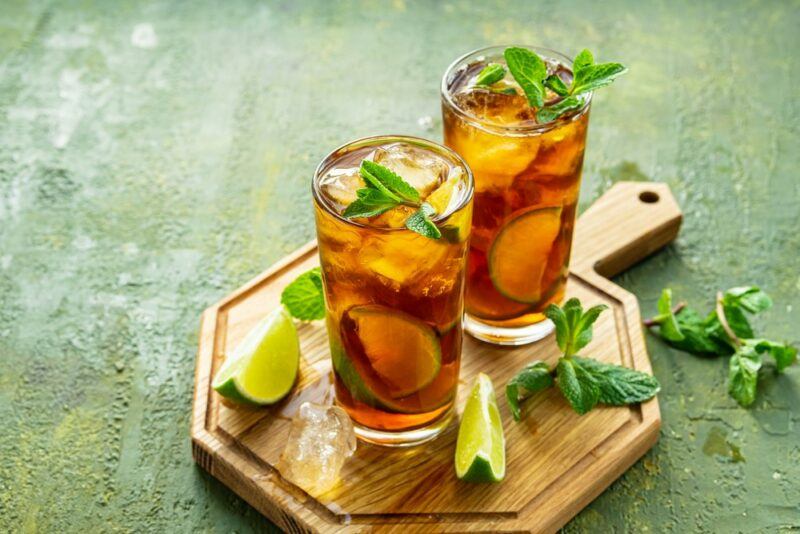 Here's another interesting idea to try. Sparkling tea is basically a combination of soda water and tea, one that's served cold. The drink gives you all the benefits of tea (and there are many), while also giving you a lighter drink that's low in calories and caffeine.
You can make the drink yourself at home or try a commercial version instead.
For example, the brand Sound combines tea with sparkling water and ingredients like cinnamon, lemongrass, or vanilla, to give you a truly delicious drink. They also avoid sweeteners, giving you a zero calorie drink.
Minna has taken a similar approach. Some of their products include Cherry Cacao Green Tea, Orange Mango Black Tea, and Lime Hibiscus Rooibos Tea.
Some companies have tried to create something more similar to soda, so there's some cane sugar in the recipe as well. This isn't an entirely bad thing though, as the sugar makes the tea even more delicious and you're still getting much less sugar than in regular soda.
Kombucha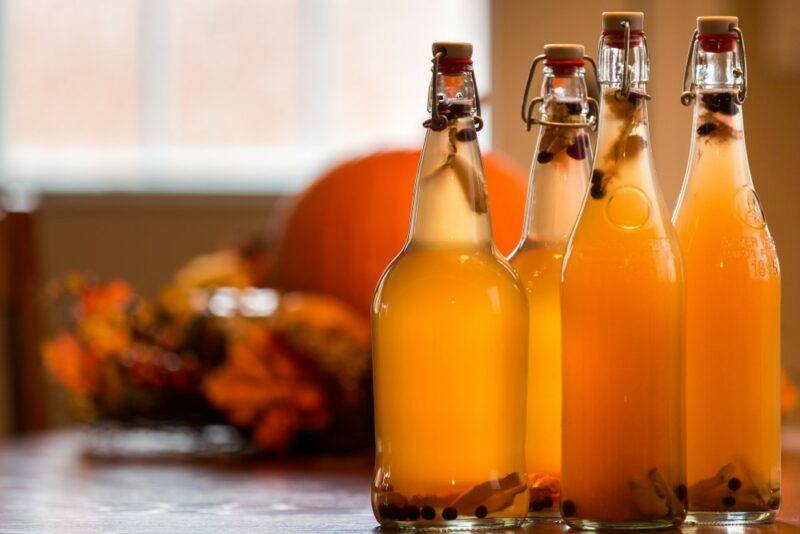 While we're on the topic of tea, don't forget about kombucha. The fermentation process that creates kombucha also makes it slightly fizzy and provides plenty of probiotics.
The probiotics mean that kombucha is an excellent way to improve your gut health. Kombucha may offer a variety of other benefits too.
Plus, kombucha tends to be low in sugar, as most of the sugar that's added initially is used as food for the bacteria. Just be sure to pay attention to any ingredients labels, as some companies do add sweetener to their kombucha.
Can Carbonated Drinks Really Be Good For You?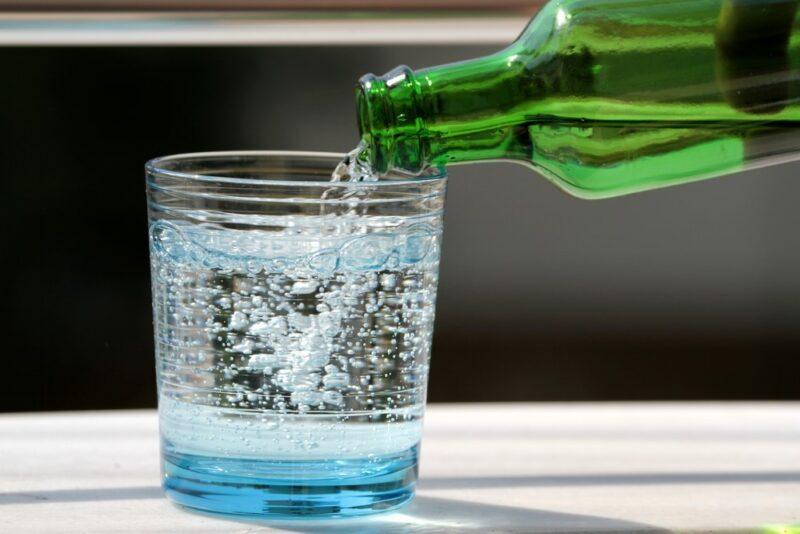 The drinks on this list are all fairly healthy, as they're low in sugar and don't rely on additives. But, there's one other topic we need to address – whether carbonated drinks can really be healthy.
This is an area that's sometimes debated. Part of the problem is that the carbonation process creates a slight acidity. You can also end up with indigestion, hiccups, or gas from fizzy drinks, especially if you drink them too quickly.
Other claims suggest that carbonated water might leach calcium from your bones, harm the enamel on your teeth, or have negative effects on your stomach. Yet, there's absolutely no evidence for this effect.
What About Diet Soda?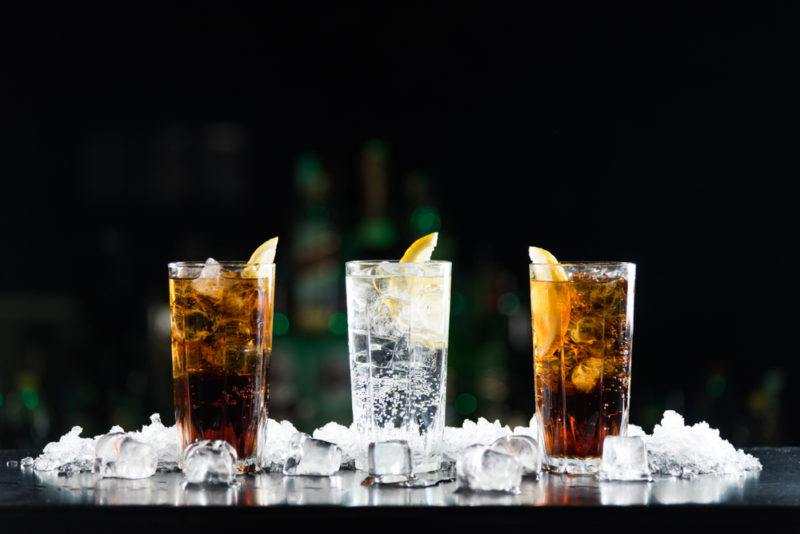 You've probably noticed that we left diet soda off this list entirely. We did this because while diet drinks help you to avoid sugar, they have plenty of risks of their own.
In particular, drinking a lot of diet soda could damage the enamel on your teeth, cause havoc on the microbes in your gut, and lead to sugar cravings. Artificial sweeteners like aspartame have been linked to the most serious problems, but even natural sweeteners like stevia may not be as safe as many of us assume.
The biggest benefit of diet soda is simply that it can help you to avoid sugar. But, the drinks we've featured on this list do so as well and they're much safer choices.
Finding Healthy Fizzy Drinks Yourself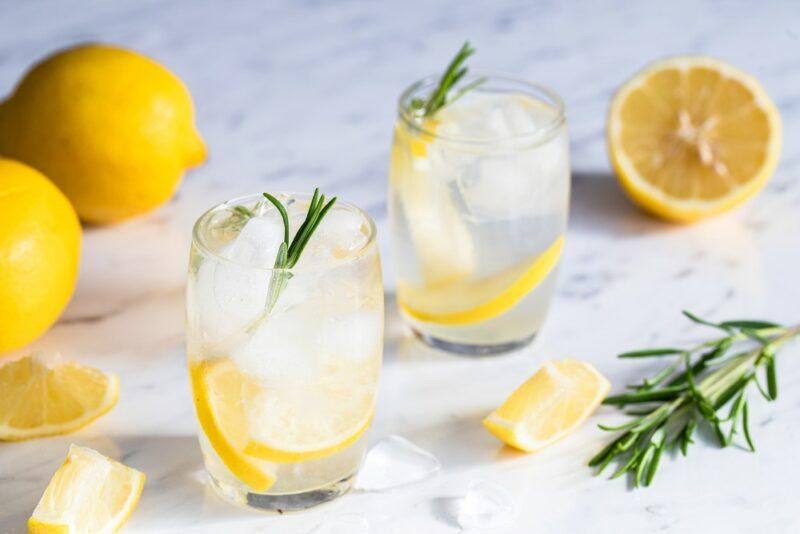 There are plenty of other healthy carbonated drinks out there too, including commercial products and ones that you buy yourself. However, you do need to be cautious, as many products aren't as healthy as they first seem to be.
To begin with, always check the ingredients label, even for products that seem to be healthy. It's shocking just how many brands add sugar or artificial ingredients to make the drink taste better.
Take tonic water as an example. The drink sounds like it should be good for you, but tonic water is surprisingly similar to regular soda. Some products even contain 33 grams of sugar in a 12 fl. oz serving, which is far too much.
Also remember that natural ingredients don't necessarily give you a healthy drink. Adding fruit juice, for example, makes sparkling water taste better. But, when you use too much of it, you end up with a sweet drink that doesn't contain that many nutrients. You can see this pattern with many homemade soda recipes. These don't use the additives that you find in commercial sodas but they sometimes contain just as much sugar.