The custom of ending the day with an alcoholic nightcap might not be as common as it once was, but many of us do so every so often. A nightcap might be as simple as a small glass of brandy, Irish Cream liqueur, or even some wine. Still, why not go for an evening cocktail instead?
Cocktails often taste better than straight spirits anyway. They end up having a more complex flavor profile and the alcohol often isn't so overpowering.
Plus, a cocktail doesn't need to be strong. Some of them are, of course, while others heavily rely on mixers to create a more relaxing drink. We're covering a variety of styles in this list to give you options to choose from.
If you're looking for something different for the end of the day, our list of drinks to drink in the evening might be helpful. Those drinks tend to be non-alcoholic and are healthy ways to end the day.
You might also consider milk cocktails. The focus on milk often makes these creamier than other types of cocktails. While some milk cocktails mightn't be good in the evening, many of them are.
Evening Cocktails
Hot Toddy
Hot Chai Toddy
Mulled Wine
Lavender Honey Cream
Negroni
Boulevardier
New York Sour
Old Fashioned
Bamboo
Manhattan
Don Lockwood Whiskey Cocktail
Rum Flip
Brandy Alexander
Green Ghost
Hot Toddy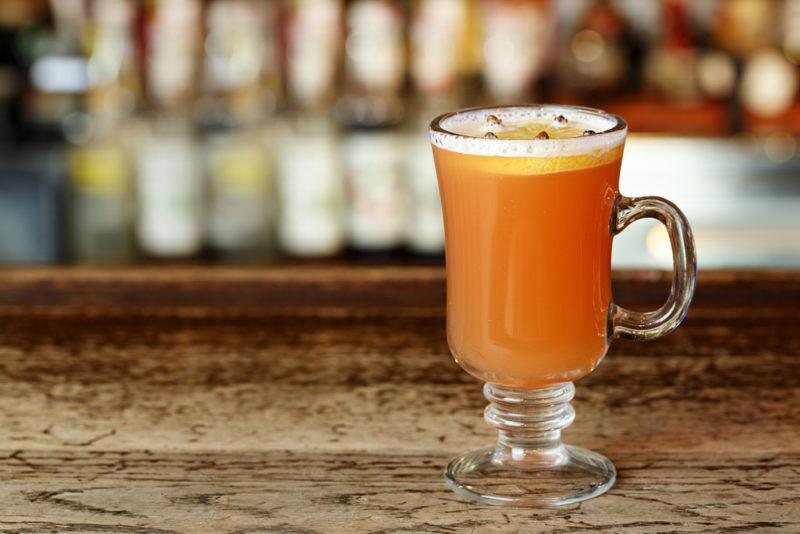 Let's begin with a classic. The term hot toddy is a general one. Most hot toddies rely on hot water, along with ingredients like lemon juice, honey, and various spices. A splash of alcohol is added in too, with whiskey being a popular choice.
For the most part, you can make a hot toddy however you would like, as the recipes vary so much from one another. You might want to make the lemon flavor more prominent or add more than just a splash of whiskey in there.
It's also worth thinking about how sweet to make the drink. Some hot toddies are cloyingly sweet, using sugar or apple cider to obtain this sweetness. This high sugar content is a serious problem if you're making a nightcap. The last thing you want is a sugar rush from the drink that's meant to help you wind down.
Keeping the sweetness to a minimum will create a more delicious drink – one that is better for you too.
Hot Chai Toddy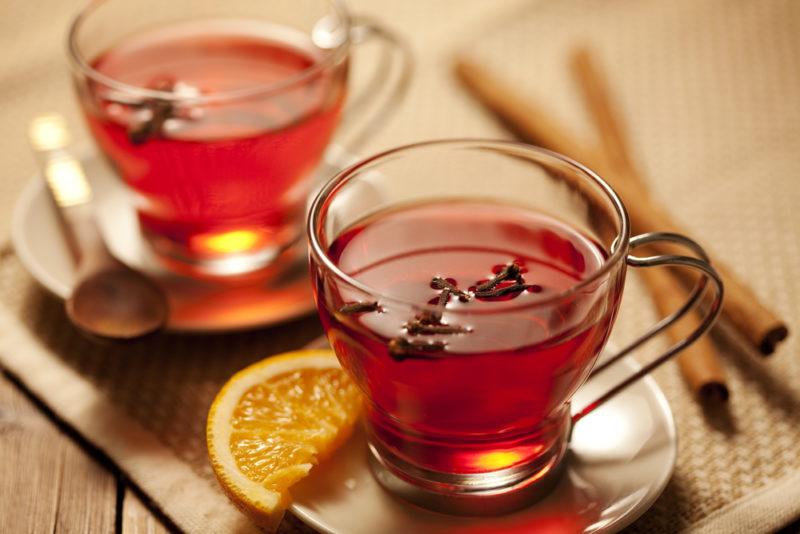 Not surprisingly, this cocktail is a variation on a hot toddy. The main difference is that you're using chai tea in the mix as well. Chai tea uses a combination of black tea and spices, so you're getting a strong flavor of tea as part of the cocktail.
While you can use whiskey, this cocktail often calls for gin instead. The botanicals in gin are an ideal combination with the flavors of chai tea, especially if you find a spiced gin.
Some versions of the cocktail use apple juice or apple cider too. This makes the drink sweeter and can be appealing. But, don't go overboard with the apple juice. Once again, hot toddies aren't nearly as good when they're too sweet.
Mulled Wine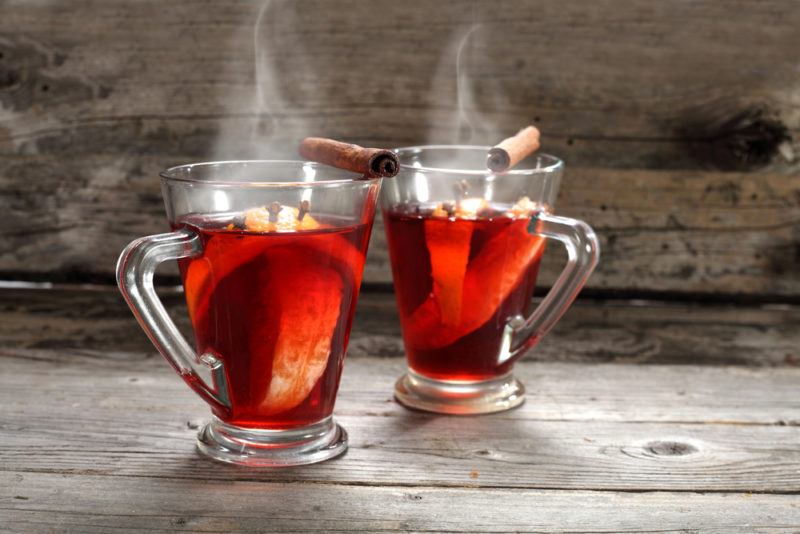 Mulled wine is another classic choice. This time, you're heating wine with a selection of spices. The heating process infuses the flavor of the spices into your wine.
While you can make mulled wine with white wine, most versions use red instead. Red wine naturally complements the spices and you don't need to be picky about the wine you use. Any red will be fine. Only some types of white wine will work for mulled wine and the wrong selection can taste horrible once heated.
You might need to add some type of sweetener to the wine too. Brown sugar is often used. You could also choose a fruit syrup.
If you want to make the process easy, try preparing your mulled wine in a slow cooker. The slow cooker keeps your wine warm without bringing it to a boil. This minimizes the alcohol that is lost during the heating process.
Lavender Honey Cream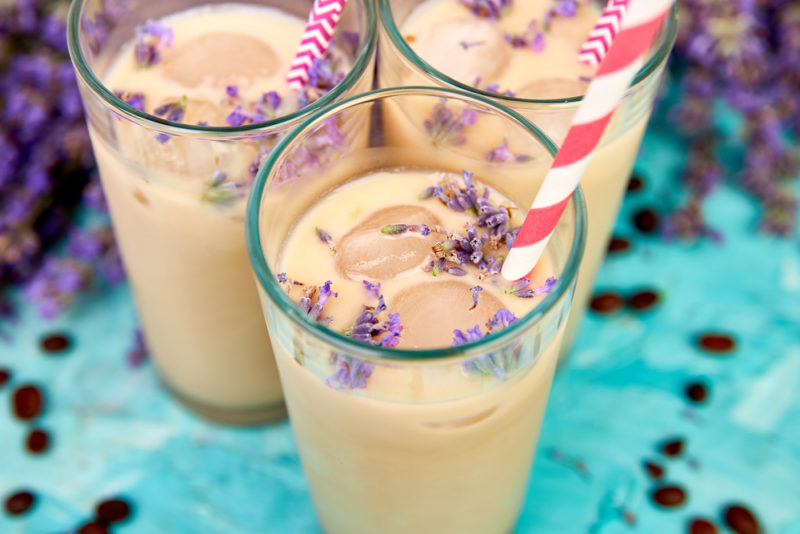 This modern cocktail feels ideal for the end of the night. It uses lavender honey syrup and heavy cream as key ingredients.
Oddly, the original version uses a botanical vodka as the base ingredient. You could experiment with the drink to see if another spirit tastes better.
Negroni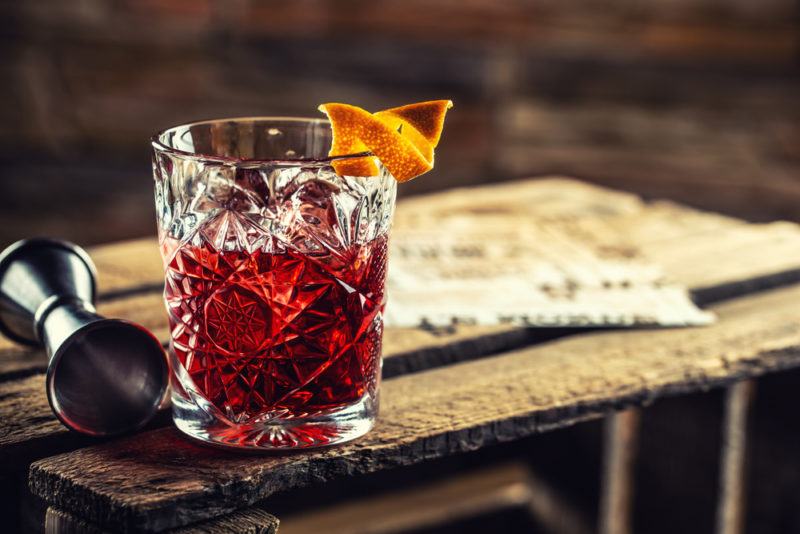 The negroni is a classic cocktail that shows up in many places. It is particularly appealing, as it has a complex flavor profile and vibrant coloring. Despite this, a negroni isn't difficult to make at all.
You just need three ingredients to make the cocktail – gin, sweet red vermouth and Campari. Combine equal measures of each of these in a glass with ice. Give it a stir, then you're good to go.
The cocktail has a slight bitter edge to it, which is surprisingly appealing late at night. This bitterness can help to settle your stomach, especially if you've just had a heavy meal.
Boulevardier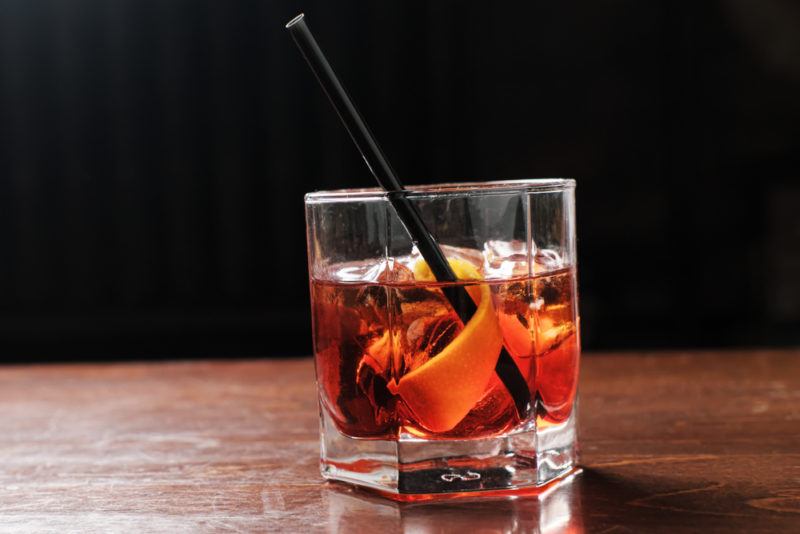 A boulevardier cocktail is similar to a negroni, relying on bourbon or rye whiskey, rather than gin. The rest of the cocktail is exactly the same.
Yet, a boulevardier is also very different than a negroni. The use of gin creates a more complex drink with interesting flavors.
Both cocktails are flexible. You can make them using equal measures of all three ingredients or increase the amount of spirit and decrease the other ingredients. The ratios of ingredients will affect the flavor of the finished drink, but the end result is appealing regardless.
New York Sour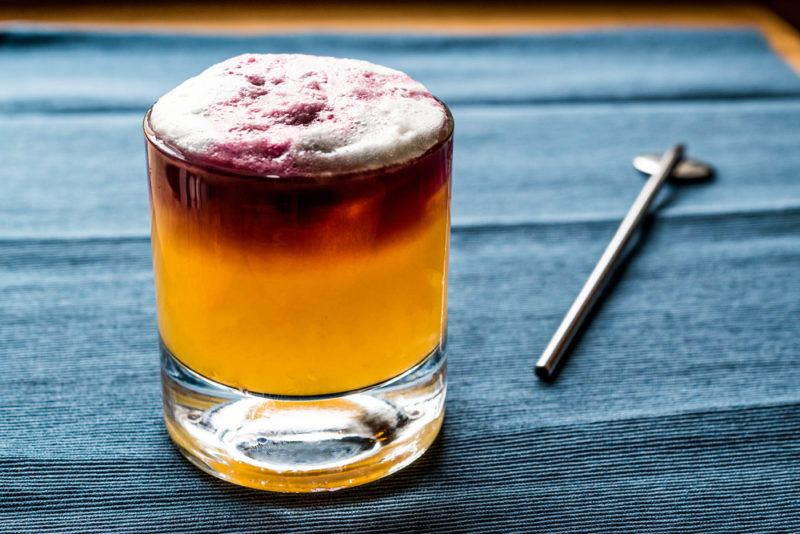 The New York sour is a delightful variation on a whiskey sour, one that uses red wine to finish the drink off. The red wine helps to mellow out the sharpness of a whiskey sour, creating a nightcap that goes down a treat.
To make a New York sour, start off with a whiskey sour, then pour a little red wine gently on top, over the back of a spoon. If done carefully, the red wine should float on top, creating a layered effect.
Old Fashioned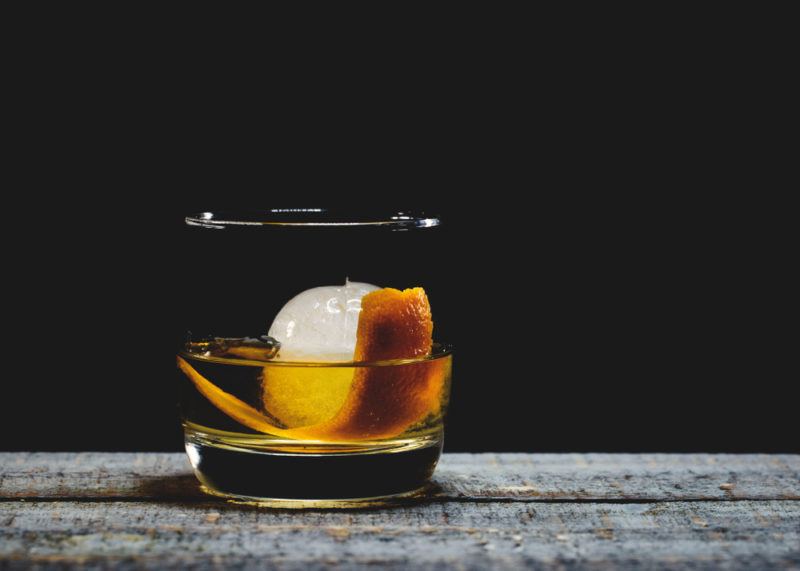 The biggest advantage of this cocktail is that it is simple. An old fashioned uses whiskey as the base spirit, then adds in a sugar cube and bitters. You'll need to muddle the sugar cube with the other ingredients, but the process can be surprisingly relaxing.
An old fashioned is also perfect as a nightcap, as you're basically creating a mellower version of whiskey on the rocks.
Bamboo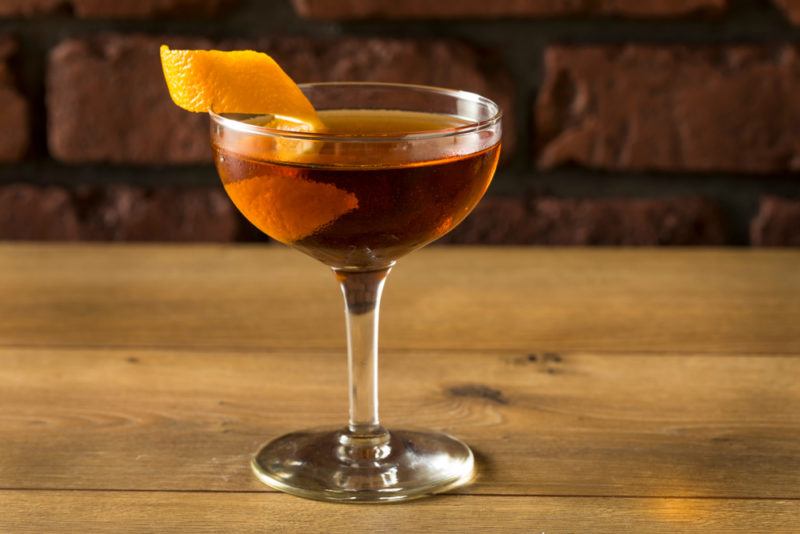 If you're looking for a milder drink, a bamboo could be the perfect choice. This cocktail uses equal measures of sherry and dry vermouth. A few splashes of orange bitters and Angostura bitters are added as well.
With no heavy spirit in sight, the bamboo has a lower alcohol concentration than most other cocktails. As such, the drink can easily help you wind down, without making you tipsy in the process.
Manhattan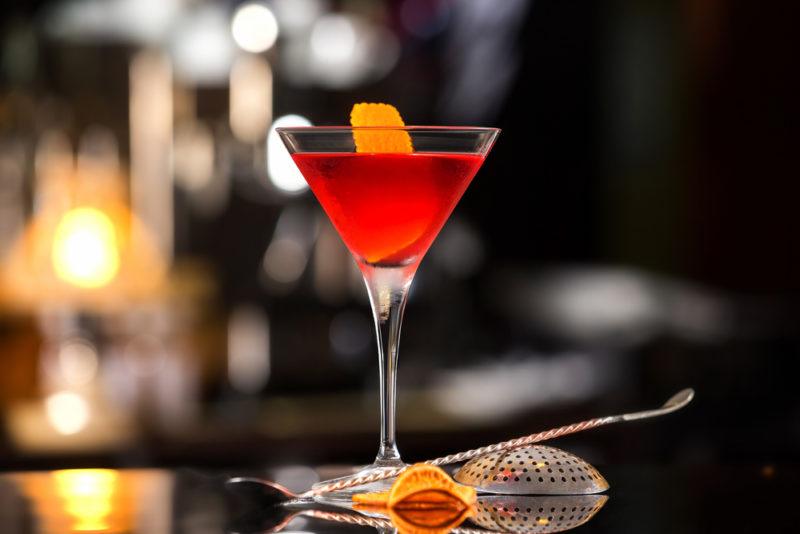 The refined flavors of a Manhattan make this an easy choice for evenings. This time, the base ingredient is bourbon or rye whiskey. Sweet vermouth is used as well. A common ratio is two parts bourbon to one part sweet vermouth.
A dash or two of Angostura bitters finishes the cocktail off nicely.
Some versions add a little orange bitters as well to make the flavor profile more interesting. Whether you use the orange bitters is up to you. This cocktail goes down easily either way.
Don Lockwood Whiskey Cocktail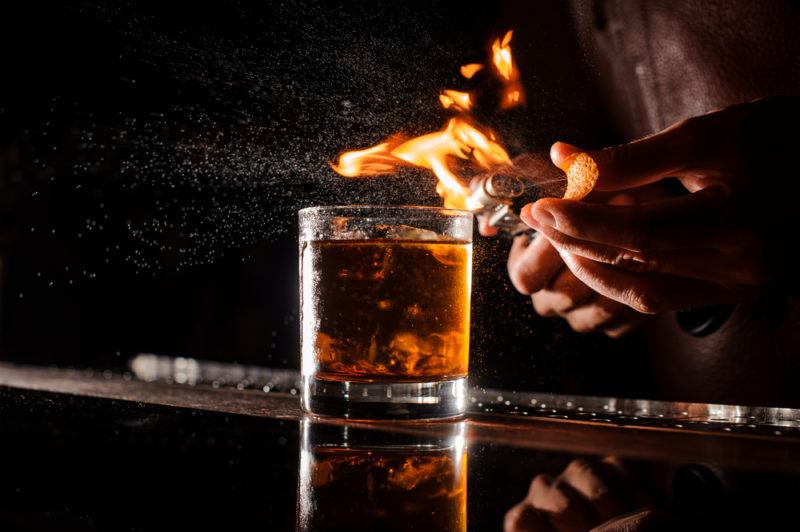 Whiskey often makes its way into a nightcap and Don Lockwood whiskey cocktail highlights the idea perfectly. The drink is more complex than most, as it uses bourbon and Scotch, along with chocolate bitters, Angostura bitters, and a little maple syrup.
The flavor profile ends up being smoky and sweet. Because you're not using much mixer in the cocktail, it does end up being strong.
Using both bourbon and Scotch isn't essential for the cocktail. While the combination of the two spirits provides nuance to the flavor, you could use a double serving of either bourbon or Scotch if you only have one on hand.
Rum Flip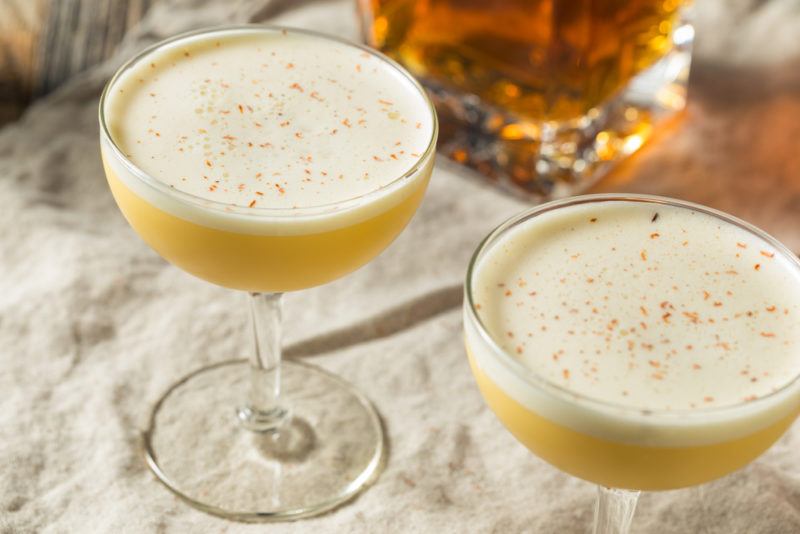 A rum flip can be simple or complex depending on how you make it. The simplest version uses nutmeg, rum, and a whole egg.
The egg and rum are shaken together on their own to create a frothy texture, then shaken a second time over ice. A little water is added, then the cocktail is strained into a glass and sprinkled with nutmeg
The combination of egg and rum creates a surprisingly hearty texture, while the flavor combination naturally complements the end of the day.
Some versions of the recipe add extra spices in. Cinnamon is a common choice. You could play around with other spices too.
Brandy Alexander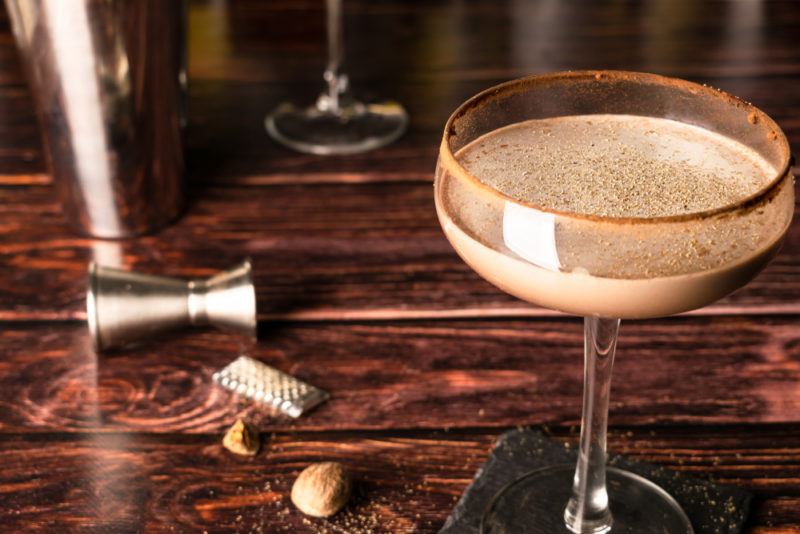 A brandy Alexander is a classic dessert cocktail. It uses three main ingredients: cognac, dark crème de cacao, and heavy cream. These are shaken together over ice, then strained into a glass. Grated nutmeg is used as a garnish and complements the flavors nicely.
While recipes vary, a classic ratio of ingredients is two parts cognac to one part crème de cacao and one part heavy cream.
Green Ghost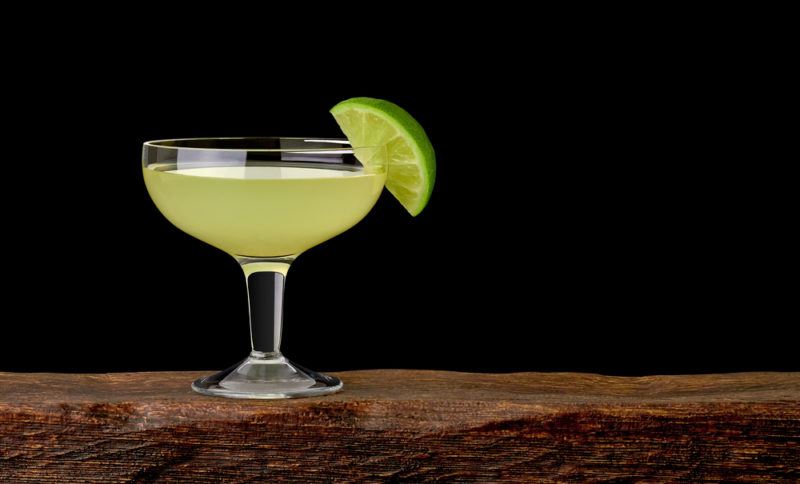 Not much is known about the history behind the green ghost cocktail. In one sense, this hardly matters, as the cocktail is well worth making. It's also one of the few cocktails that tastes as good as it looks. In contrast, many other colored cocktails have a less-than-ideal flavor profile.
The cocktail mostly consists of gin, with a little green chartreuse and lime juice added in. The green chartreuse provides most of the color for the drink, while the lime juice adds in some extra flavor complexity.