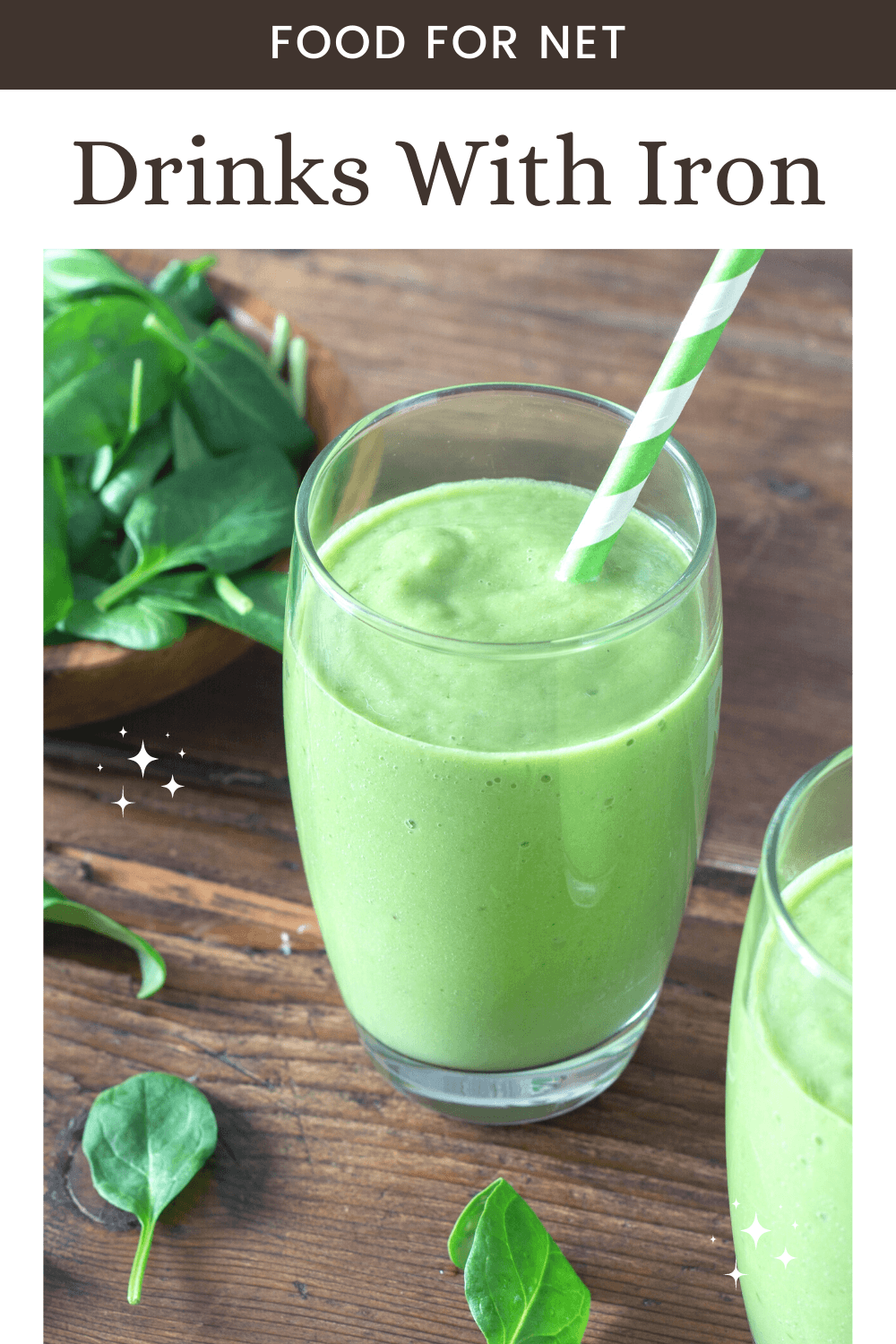 The importance of iron truly can't be understated. Iron plays a key role in the production of hemoglobin, the protein molecule in blood that helps to carry oxygen. When your iron levels are too low, your body can't transport oxygen well at all, leading to a wide collection of side effects and putting you at risk. Drinks with iron make it easy to beef up your iron levels in a way that's fast to consume and quick to absorb by the body.
It's also surprisingly easy to be deficient in iron. Women, children, vegetarians, vegans, and anyone who gives blood frequently is at particular risk. And, while there are plenty of iron rich foods, drinks with iron can be even more useful.
After all, it's much faster to have a drink than to deal with a full meal, especially one that's meat heavy. You can even take your drink with you and have it on the way to a meeting or right before a workout.
If you're worried about your iron intake, keep an eye out for iron deficiency symptoms like weakness, pale skin, cold hands and feet, lightheadedness, and extreme fatigue. If you experience any of these, talk to your doctor about getting your iron levels tested.
Iron Rich Drinks
Spinach-Based Green Juice
Some Vegetable Juice Blends
Pumpkin Juice
Smoothies
Protein Shakes
Prune Juice
Beetroot Juice
Spinach-Based Green Juice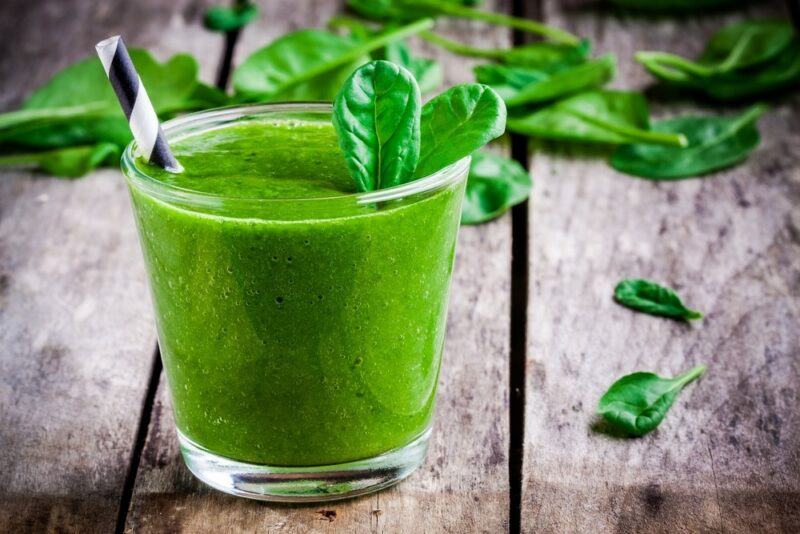 Green juices often contain a decent amount of iron. The trick is to find ones that contain rely heavily on spinach, as this is a powerful choice for iron. Spinach contains some vitamin C too, which can help with iron absorption.
If you find the flavor of spinach too overpowering, why not include some fruit in the juice as well. Combining spinach leaves and apples is a good starting point. You could then experiment with other additions as the mood takes you.
The amount of iron in your drink will depend on how much spinach you use, along with the other ingredients. Three cups of raw spinach, for example, gives you 2 mg of iron (and you probably won't use more than that in your juice).
That being said, you should be a little cautious with spinach, as it's very high in oxalates. These oxalates can increase your kidney stone risk. High oxalate foods like spinach may even be a no-go if you've had a kidney stone in the past.
Some Vegetable Juice Blends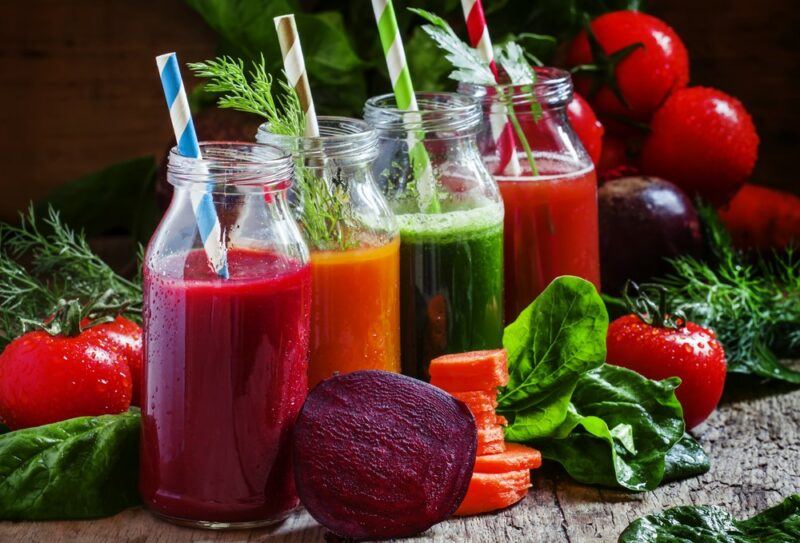 Green juice isn't your only option. Some vegetable juice blends end up containing iron too, including ones you make at home and ones that you buy. The original V8 juice, for example, has 0.7 mg of iron per serving.
You will, however, need to be careful about the recipe, as iron content can vary dramatically. V8 is a good example of doing so, as you're only getting a little iron per serving (daily iron requirements are between 8 mg and 15 mg for most people and even higher during pregnancy).
Most of the iron that is present in V8 will come from tomatoes, as tomatoes are the main vegetable present. If you're making something similar at home, I recommend using much more spinach and less tomato juice.
Pumpkin Juice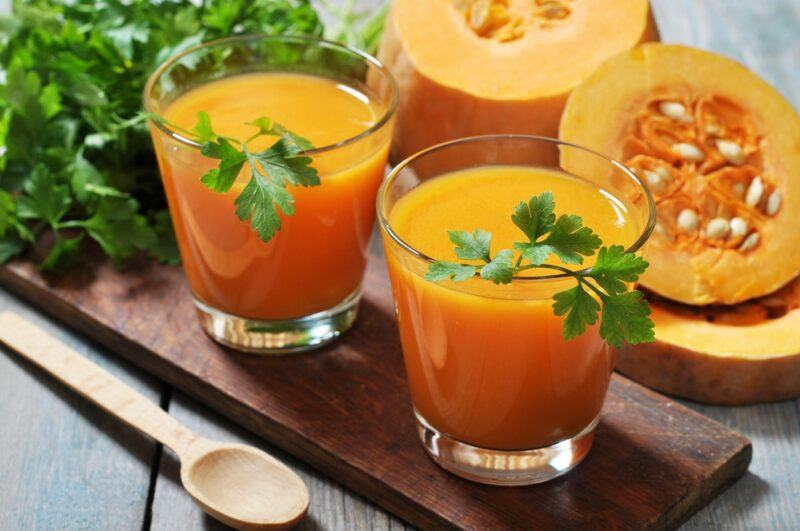 Pumpkin seeds are rich in iron, so it shouldn't be surprising that pumpkin juice contains a decent amount as well. You don't even need a juicer to make pumpkin juice. Simply blend the pumpkin flesh and then strain it to give you the juice.
Pumpkin juice is a fantastic seasonal option too. Who doesn't love the flavor of pumpkin in the fall? You could make hot pumpkin juice or mix some spices in to make the flavor even more interesting.
Smoothies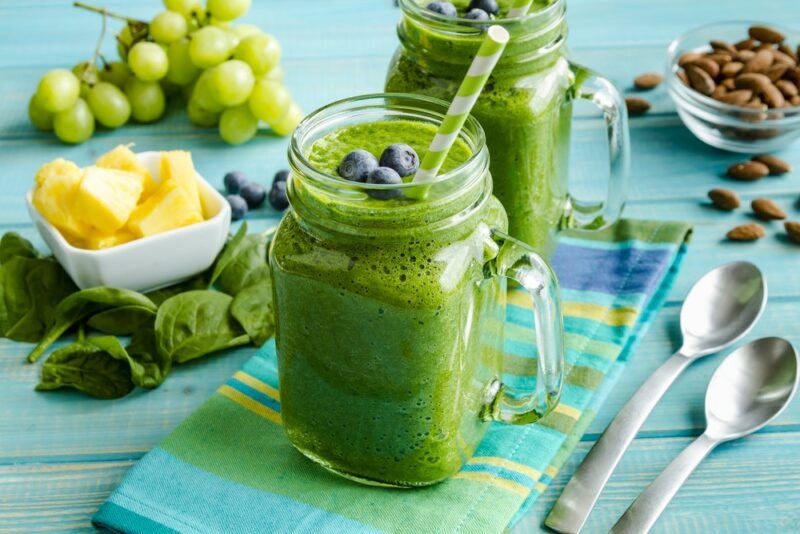 Don't forget that you can make smoothies as well. This might be an even healthier option than spinach juice, as you're using all of each spinach leaf. In contrast, spinach juice often involves straining off much of the fibrous material. The difference in approaches is why spinach smoothies are often more nutritious than spinach juice.
If spinach doesn't appeal to you, why not use pumpkin in your smoothie instead? This could make for a fantastic fall-themed drink, one that happens to be very healthy as well.
Smoothies also allow you to include more ingredients, including some that add extra iron. You can even add tofu into your smoothie. This gives it a surprisingly good texture, while also providing you with iron and protein.
When you're making smoothies, look for some vitamin C rich ingredients as well, like guavas, pineapples, oranges, and pineapple. The vitamin C will help you absorb the iron from the other ingredients.
Besides, vitamin C rich ingredients tend to contain sugar too. This should help to balance out any intense flavors from spinach or other leafy greens.
Protein Shakes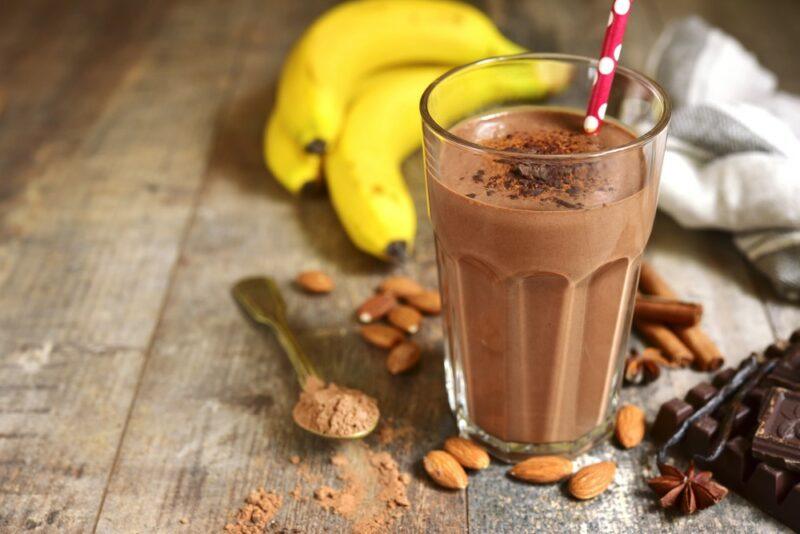 You can also turn to protein powder. Some products naturally contain iron, while others are fortified with it instead. For example, pea protein powder often contains somewhere between 5 mg and 7.5 mg of iron per serving.
Meal replacement protein produces may have even more iron.
However, you'll need to check the label carefully – as many don't have any iron at all. This is because high iron intake is a problem for some groups, so it's safer to leave the iron out and let people find it in other ways.
Why not try throwing some protein powder into a smoothie too? Doing this gives you a very satisfying drink, one that's rich in nutrients as well. There are countless ingredient combinations to try out. You're certain to find one that you love before too long.
Prune Juice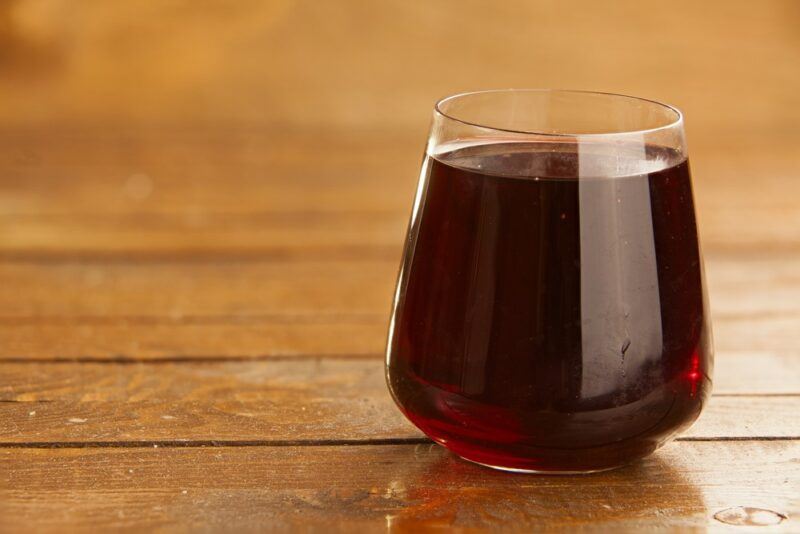 Prune juice is often used as a way to reduce constipation, but that's not all that it's good for. The juice also contains a decent amount of iron – as much as 3 mg per cup.
Just be sure to watch the amount you consume, as too much prune juice can lead to diarrhea, cramps, gas, and other issues.
To avoid this issue, try starting slowly, with just a little prune just each day. This gives your body time to get used to it. Plus, this way, if you do get any side effects, they should be mild.
Beetroot Juice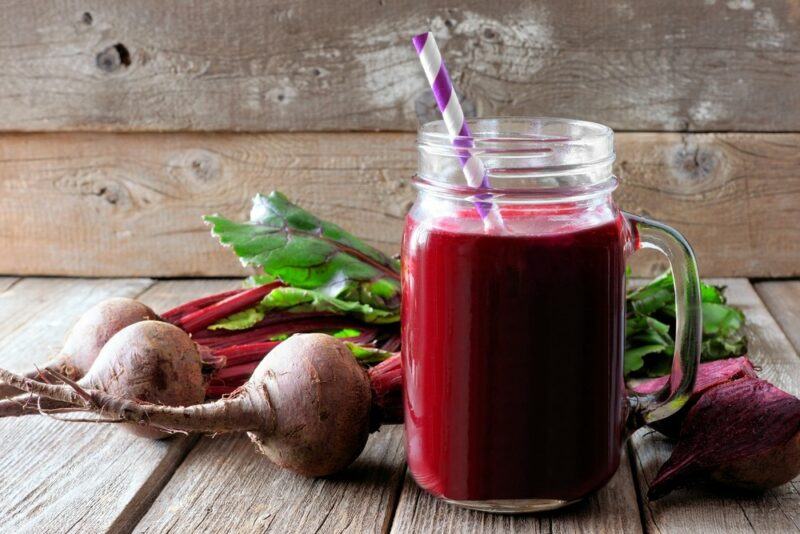 Beetroot juice isn't as popular as spinach juice, pumpkin juice, or even prune juice. Still, it can be a good source of nutrients, including iron.
Beetroot juice has a strange flavor that's somehow sweet, earthy, and a little bitter, all at the same time. Some people enjoy the juice, while others can't stand it. If you fall into the latter group, you could try adding other types of juice to make it more drinkable.
For example, I've seen one recipe use apple, ginger, lemon, carrots, celery, and beetroot, while another relied on lemon, cucumber, ginger, and beetroot. We all have different flavor preferences, so you'll need to experiment to find the best ingredient combination for you.
Drinks To Avoid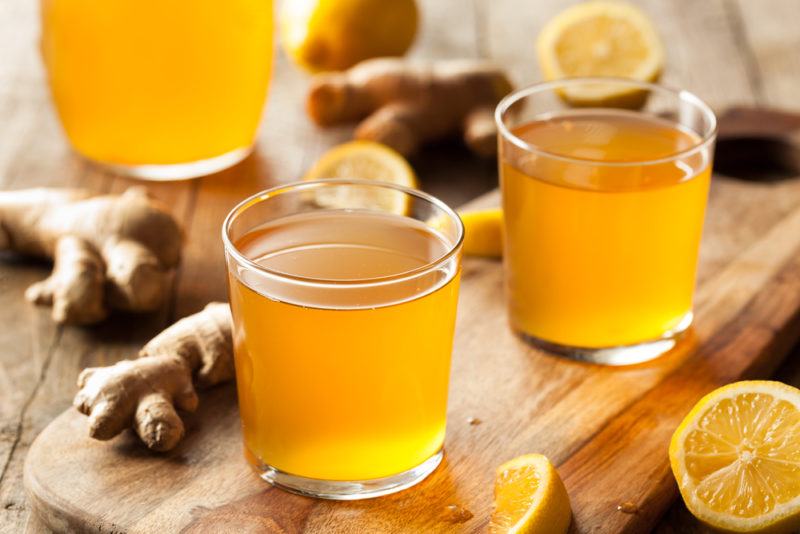 While we're talking about iron and drinks, let's also look at a few drinks to be cautious with. This is an equally important topic, as some drinks can decrease iron absorption, meaning that you're getting less iron from your food.
In fact, cutting down on drinks that inhibit iron absorption could be as powerful as getting more iron in your diet to begin with.
Tea and coffee are the main drinks to watch out for, as they contain tannins, which inhibit the absorption of plant-based iron. This means that drinking tea or coffee during a meal can decrease the amount of iron you're getting – perhaps by a considerable amount.
Coffee also contains another inhibitor, chlorogenic acid.
These compounds don't mean that you need to avoid tea and coffee entirely, but it's best to have your tea and coffee at least an hour or two before your meal.
The same pattern applies to any drinks made from tea or coffee, including kombucha.
Wine can decrease iron absorption too – an effect that is stronger for red wine than for white wine. However, the effect of wine on iron is complex, as alcohol itself can increase iron absorption. The best approach, then, is the same as normal – if you enjoy wine, there's no need to stop, but make sure you're drinking in moderation. Doing so means that you're maximizing the benefits will keeping your risk low.
What About Iron Rich Foods?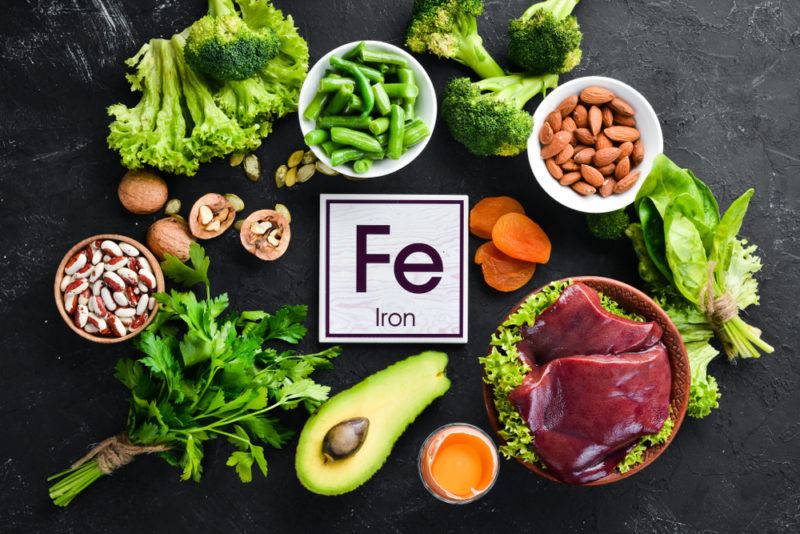 This has been a short list, as there aren't that many iron rich drinks. The limited number isn't too surprising, as iron is most prevalent in meat, rather than in plant-based foods.
Plus, the drinks in this list all focus on iron from plants, so you're getting non-heme iron. That type of iron isn't as well-absorbed as iron from animals.
There's one other issue too – the amount of iron. Even the best rich drinks on this list give you far under your daily intake of iron. This means you'll need to focus on iron rich foods as well, including options like meat, pumpkin seeds, pistachio nuts, eggs, and fish.
Of course, you don't need to get all of your iron from a single source. You might get some of your iron from drinks, while the rest comes from food instead – whatever works for you.