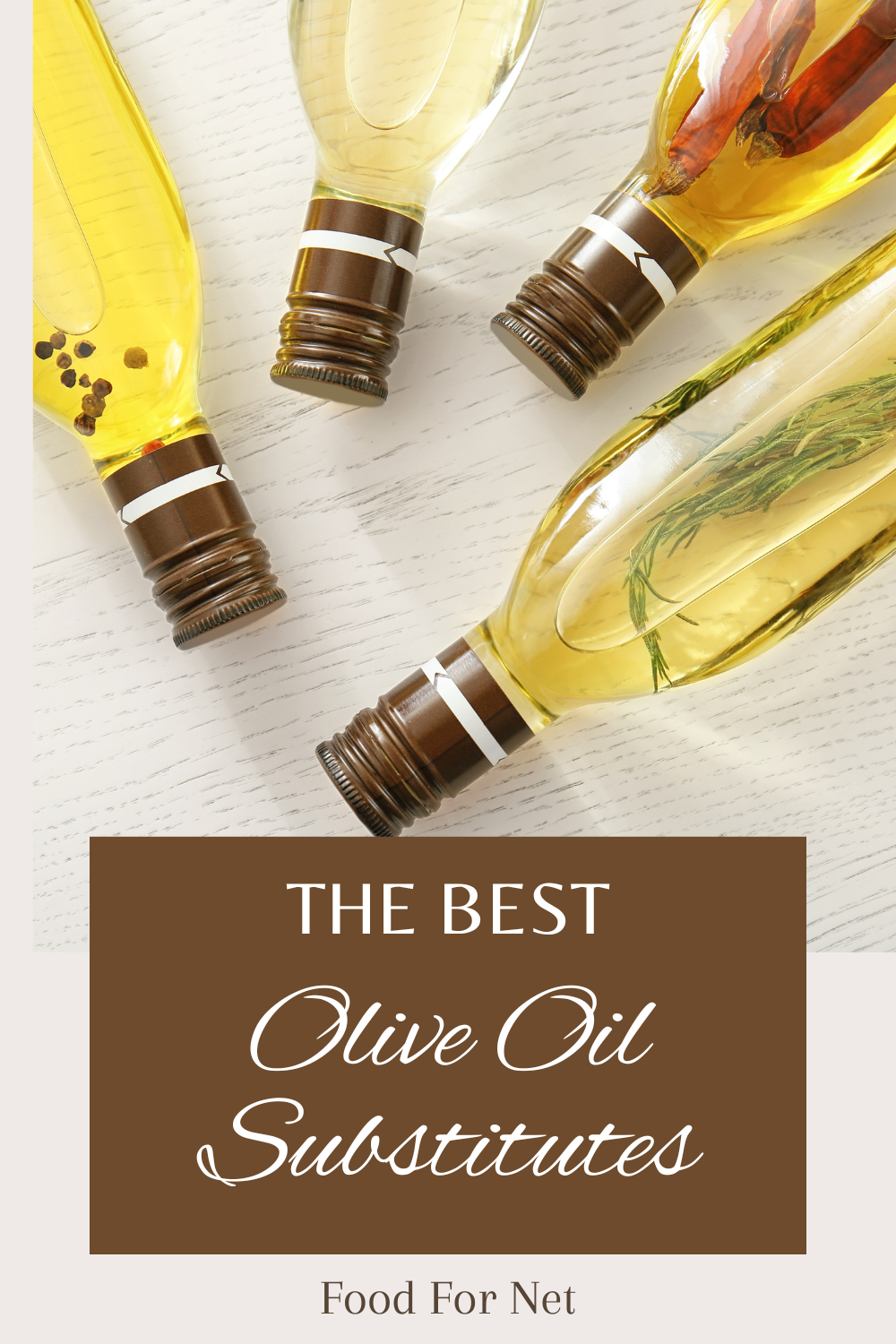 Olive oil has an exceptional reputation. It's rich in monounsaturated fats, high in antioxidants, and even has a pretty decent smoke point. Plus, it often goes through minimal processing, giving you a natural product that's certain to be good for you. But, olive oil is also expensive, so you'll sometimes need olive oil substitutes instead.
Thankfully, there are plenty of options. Most of the time, you'll be using another oil, like avocado oil or canola oil. When doing so, the replacement is simple, just one teaspoon of the new oil for one teaspoon of olive oil.
Generally, changing the oil shouldn't impact your recipe much at all. There are exceptions though, as some substitutes have a distinct flavor of their own.
It's also worth thinking about why the original recipe included olive oil. If the oil was included for its flavor, then a different oil may change the taste of your dish.
P.S. If you're a fan of olive oil, why not try an olive oil of the month club? These are the best way to get fresh high quality oil regularly. Many clubs provide a variety of oils and even include tasting notes, giving you the chance to fully experience all olive oil has to offer.
Substitutes For Olive Oil
Canola Oil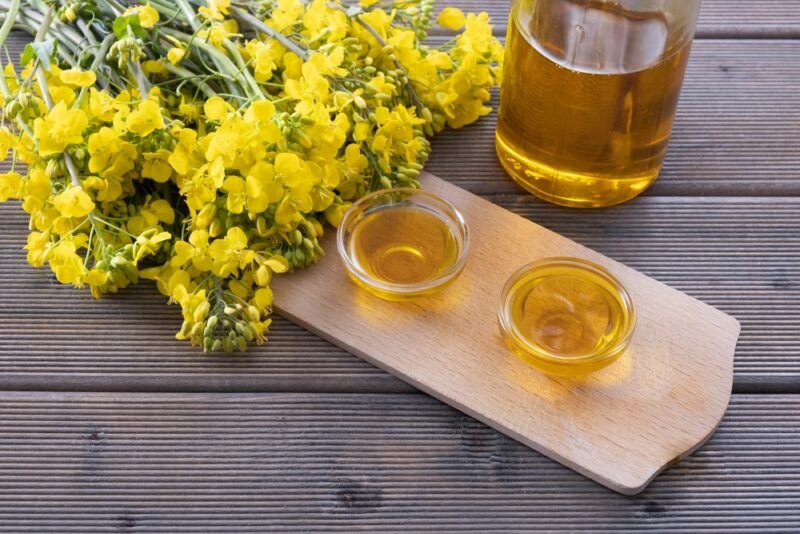 Canola oil is one of the simplest olive oil substitutes, as it's inexpensive and very easy to find. The oil is made by pressing canola seeds, but the process doesn't stop there. Instead, canola oil also goes through chemical refinement, which helps to give it a decent smoke point and minimizes the flavor.
Canola oil isn't the ideal choice though. While it's often promoted as heart healthy, the processing can leave it with chemical residues. Plus, canola is often genetically modified, which is one more strike against it.
As such, canola oil isn't the healthiest oil to use. It is pretty cheap though, so it still has its place.
Also, canola oil is almost flavorless. This makes it incredibly versatile and means the oil won't give your dish flavor in the way that olive oil does. The lack of flavor is perfect for meals that have plenty of other flavor packed ingredients.
Coconut Oil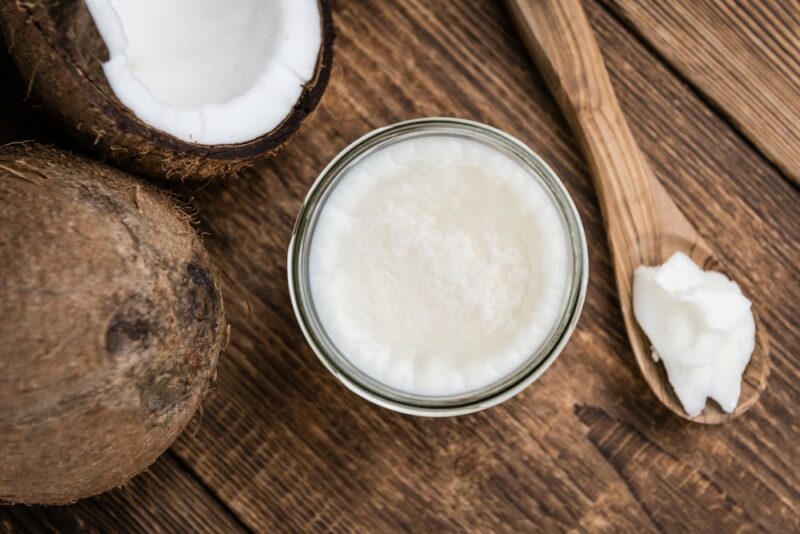 Coconut oil is a little trickier as an olive oil substitute.
For one thing, it's high in saturated fat. This means it tends to be solid at room temperature and you can't use it in all the same ways as olive oil.
For example, coconut oil won't work well in salad dressing. It does work well for frying though, as it quickly melts in the heat.
Unrefined coconut oil also has a distinct coconut flavor. This works well with some dishes and conflicts with others.
These features mean you need to think carefully about coconut oil. Some recipes will work just as well with coconut oil or olive oil. Other times, you'll need olive oil or another liquid option from this list.
Avocado Oil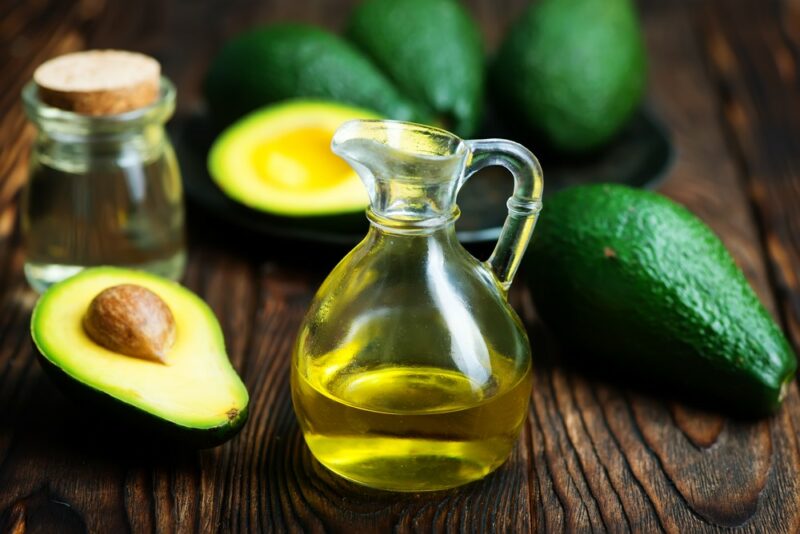 Avocado oil mightn't be as famous as olive oil, but it's getting there. It has plenty of benefits, as it's low in saturated fat and is antioxidant rich.
The flavor works is useful too, as avocado oil often tastes buttery and rich. It should work well in most olive oil recipes.
Also, like olive oil, avocado oil is a decent source of oleic acid. This powerful fat is thought to lower inflammation, decrease heart disease risk, and promote health in other ways too.
The fatty acid composition keeps avocado oil liquid at room temperature, so you can use it in all the same places as olive oil.
Avocado oil is delicious when you're cooking. Even unrefined avocado oil has a decent smoke point, while refined avocado oil gets up to 520˚F. This makes it ideal for high heat cooking (and more stable than even refined olive oil).
Sunflower Oil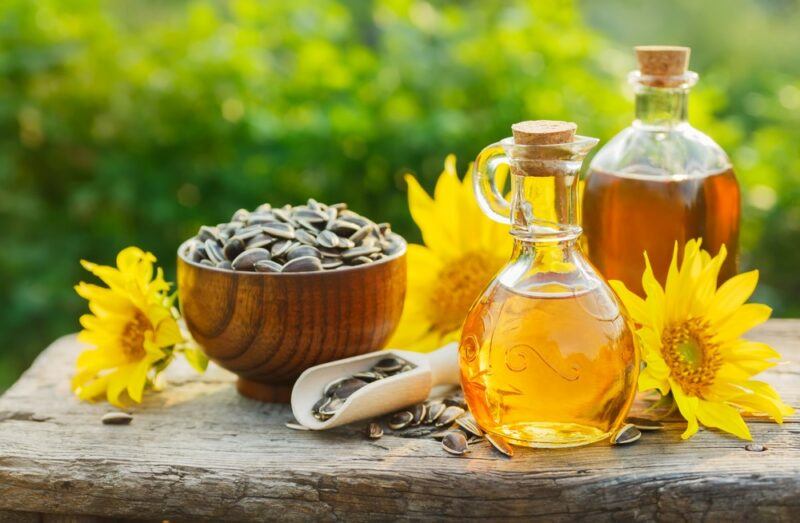 Sunflower oil reaches an impressive 440˚F smoke point, making it another option for high heat. It's rich in monounsaturated and polyunsaturated fats too, which is great news for health.
Cold pressed sunflower oil is the best choice and offers plenty of antioxidants. However, it also has a distinct flavor. Refined sunflower oil has a much milder flavor, making it more versatile than extra virgin olive oil.
Can Cooking Oil Go Bad?
Yes, all cooking oils can go bad. Though cooking oils are often stored at room temperature and have a pretty long shelf life, they can spoil through the process of oxidation, as well as light and heat exposure.
How to recognized spoiled cooking oil varies based on the type of oil. For transparent oils, a cloudy appearance or "flat" taste/smell is a sign of being rancid. Solid fast like tallow or butter can develop a sour or soapy flavor, and even grow mold.
Grapeseed Oil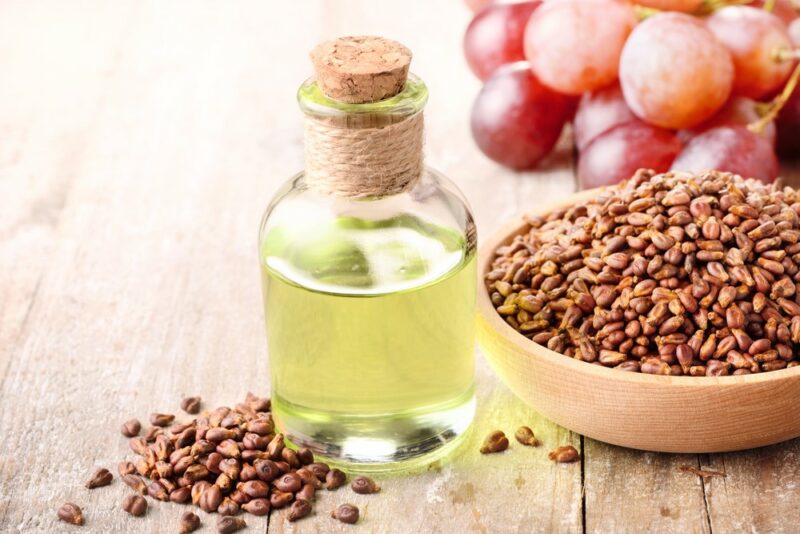 Grapeseed oil is a little obscure. However, it's a useful substitute, as it has a high smoke point and is fairly neutral.
While it doesn't have the same flavor as olive oil, it does have a slightly nutty finish that works perfectly in many dishes. You can easily drizzle it on top of salads or use it for sauteing.
The oil is also a particularly powerful source of vitamin E, which acts as an antioxidant. That said, it isn't necessarily healthier than olive oil, as it lacks most of the other vitamins that olive oil offers.
Butter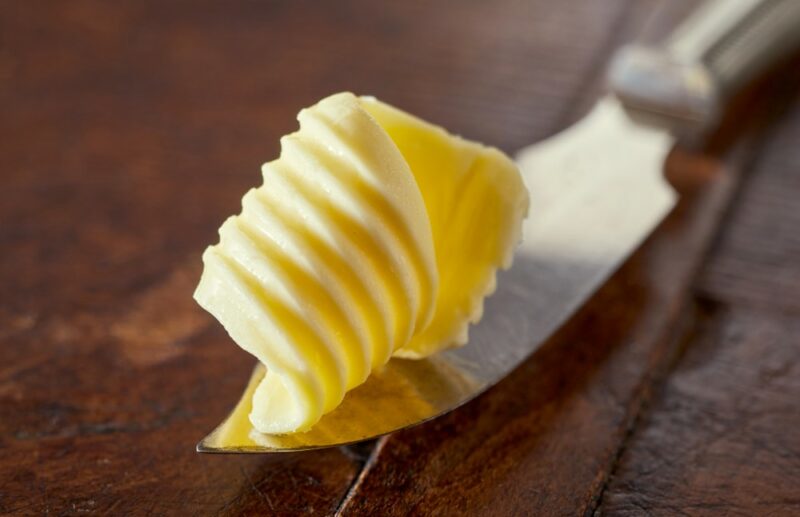 Using a solid fat instead of olive oil might seem strange, but the substitution does work. Butter has a delicious flavor and richness too, which complements many meals.
If you're substituting butter for olive oil, you can simply use a teaspoon of melted butter for every teaspoon of olive oil. You need to be a little careful with temperature though, as butter burns easily.
However, this ratio changes if you're baking. Here, a replacement ratio of 4:3 butter to olive oil works much better.
You'll need to pay attention to the flavor of your dish too. While butter is delicious, some olive oil recipes play on the herbal aspects of olive oil. These dishes won't taste the same if you use butter instead.
Ghee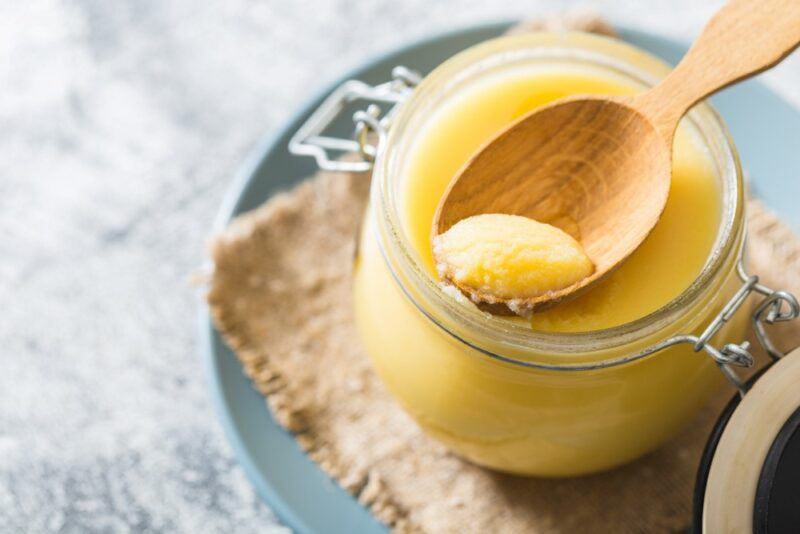 Ghee is a type of clarified butter and still has the same rich buttery flavor. In fact, ghee tastes even more like butter than butter itself.
So, most recipes that work well with butter are also perfect with ghee
Ghee also has a higher smoke point, making it better for high heat cooking. This is crucial, as butter has a relatively low smoke point and can easily burn during cooking.
Peanut Oil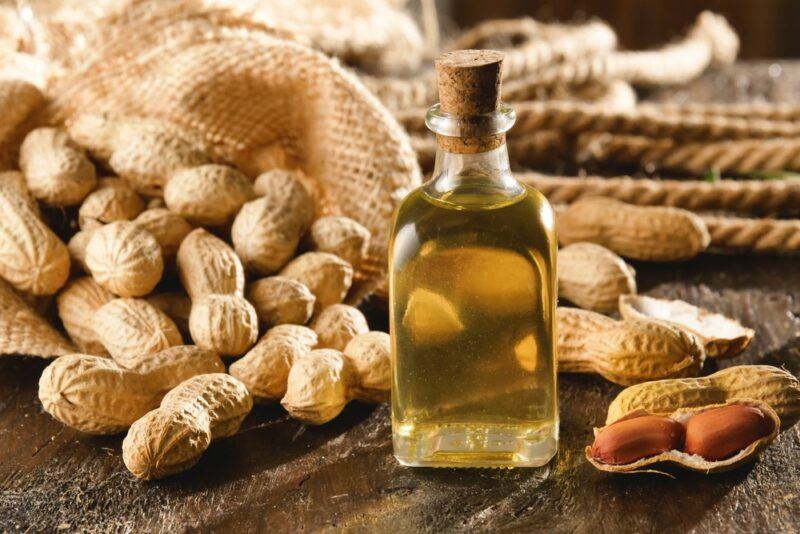 Peanut oil has a distinct nutty flavor and smell, which will be noticeable in many meals. Peanut oil is excellent in marinades, stir-fries, and sauces, particularly when the flavor profile is already strong.
You can cook with peanut oil too, as it has a smoke point of around 450˚F.
However, peanut oil doesn't have the same oxidative stability as olive oil. So, despite the high smoke point, peanut oil may form some dangerous compounds at high temperatures.
Flaxseed Oil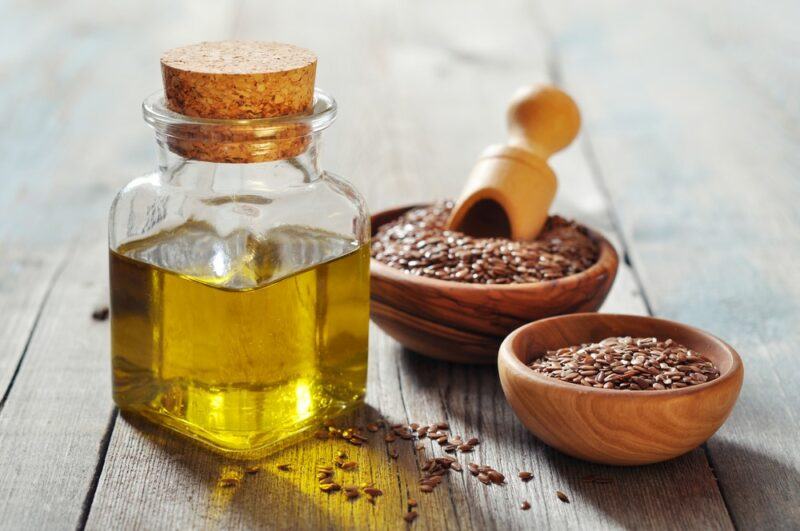 Flax seeds are a powerful source of plant-based omega 3s, which makes flaxseed oil incredibly good for you. The oil works well for salad dressing or for drizzling over food.
It isn't great for cooking though, as the smoke point is low. Still, you can easily drizzle flaxseed oil over salads and use it to make salad dressings.
Vegetable Oil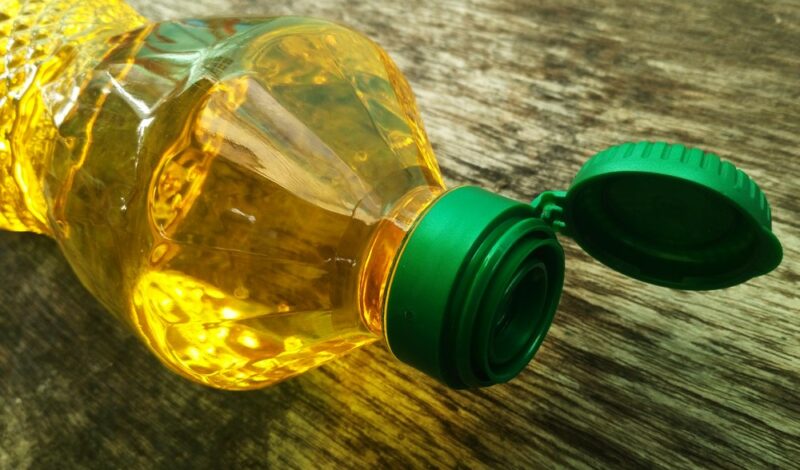 Vegetable oils are heavily refined. They're normally made from a blend of ingredients, which can include seeds, canola, soybeans, and others.
While products can differ considerably in their ingredients and ratios, vegetable oil always tends to be cheap and flavorless. This is because of all the chemical refinement.
Refined oils are generally low in saturated fat, so they're useful occasionally. They're even thought to help with heart health. Still, they're concerning too, especially as they sometimes use genetically modified ingredients.
The lack of flavor also means that using vegetable oil instead of olive oil can sometimes give you a bland meal.
Nut Oils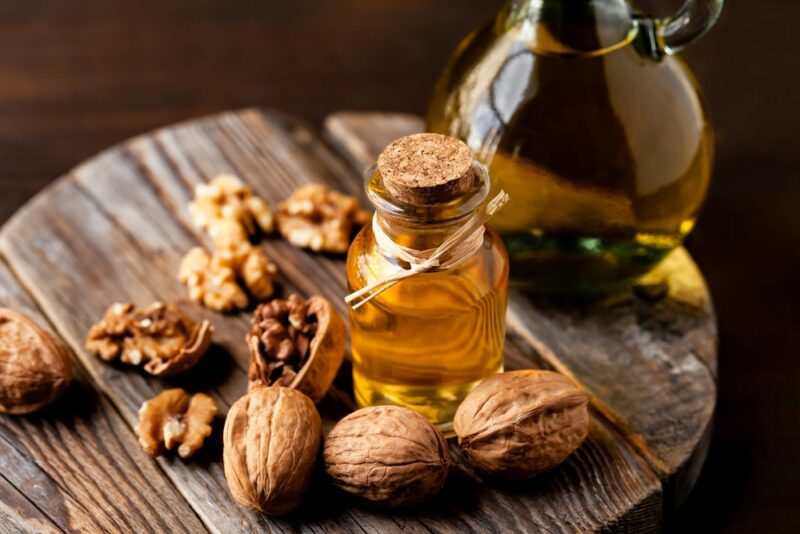 We mentioned peanut oil earlier in this list, but it isn't your only option. There are plenty of other nut-based oils as well, including hazelnut oil and walnut oil.
These often have a strong flavor, so the oils are best for drizzling and dips, rather than in recipes. You could also play around with some of these in a pesto for an unusual version of the dip.
Watch out for heating walnut oil. It quickly gets bitter, so it's best to use it for salads rather than frying.
Mashed Banana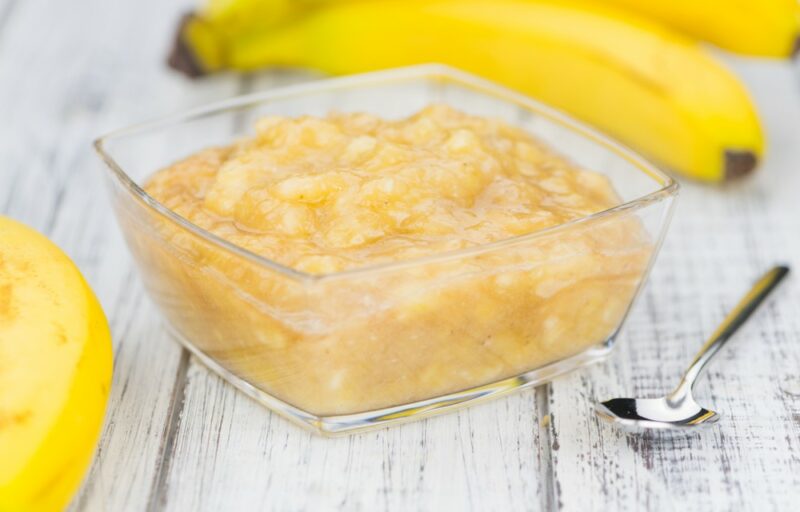 Here's an unusual entry. Mashed bananas work surprisingly well instead of olive oil in baking.
This is a great way to boost your potassium intake. The flavor of banana also adds an interesting fruitiness to your baking. Most of the time, you'll want to use a substation ratio of one part mashed banana to two parts olive oil.
That said, banana really only works well in baking. You certainly can't use mashed banana instead of olive oil in a salad dressing.
Tips For Substituting Olive Oil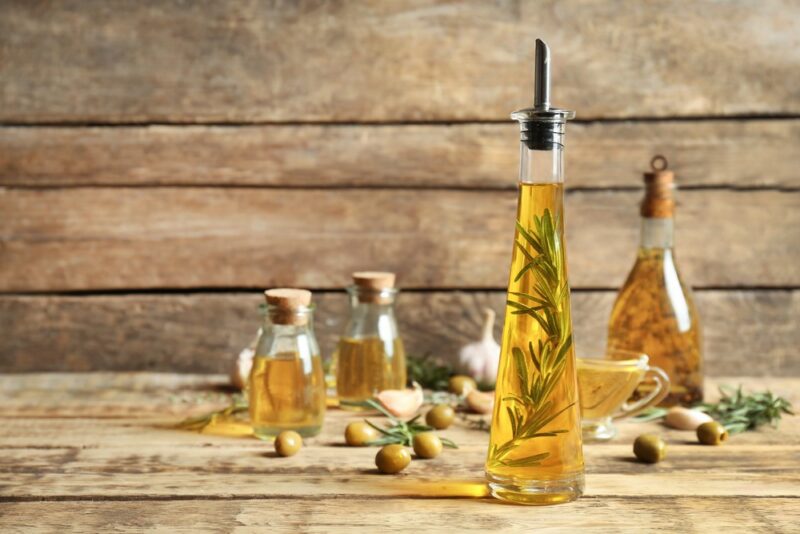 As you've seen, there are plenty of different oils. They vary in their flavor and smoke point, making them useful in different situations. So, how do you get the most out of olive oil?
Think About The Smoke Point
An oil's smoke point is the temperature where it starts to smoke (that's hardly surprising, is it?). The goal is to keep the oil below this point.
Hitting an oil's smoke point causes multiple issues. You're not just making your kitchen smoky, but you may also be creating harmful chemicals. The process is awful for flavor too and could even completely ruin your meal.
Match The Oil To The Recipe
Olive oil has a distinct flavor, as do many of the oils on this list. So, you need to match the flavor of your oil with what you're doing.
For example, coconut oil is fantastic in many Asian and African meals, but it doesn't work well in most Mediterranean dishes. It's also solid, like butter, so it won't be good in a salad dressing.
Oils with mild flavors, like vegetable oil and grapeseed oil are excellent when you don't want to mess with the flavor of your dish. They don't add much flavor either, so they're best for dishes with enough flavor to stand on their own.
These oils are great for baking too, as you normally want texture from the oil, rather than flavor. Or, you could use butter, as the flavor works well with most types of baking.
Think About Why You Want The Oil
One way to match the oil is to think about what you're looking for.
For example, if you normally use olive oil in a vinaigrette, do you want flavor or texture from the oil?
If the vinaigrette already has plenty of strong flavors, then you may not want anything extra from the oil. Mild oils like grapeseed oil are perfect in this case.
However, if you want the oil to strongly contribute, you'll need something bolder. Avocado oil is one option, but you could go more extreme with peanut oil or toasted sesame oil.
The same consideration applies if you're using the oil in a sauce.