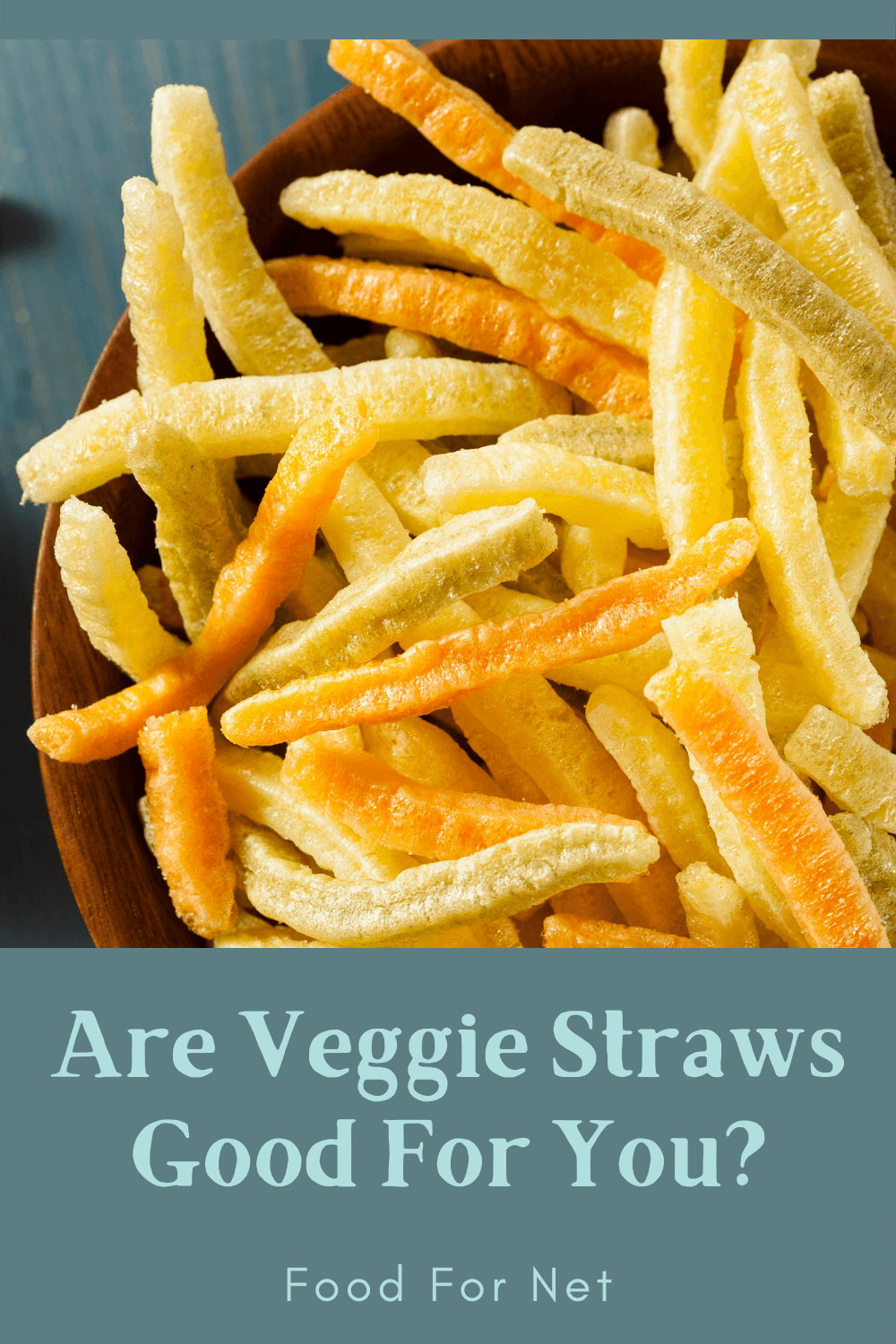 Veggie straws and veggie chips often seem like a much healthier choice than regular potato chips. That makes sense, right? After all, vegetables are good for you, while potato chips are just loaded with carbs and fat. So are veggie straws good for you?
Yet, veggie straws often aren't what the name implies. Many versions are heavily processed and use potato as their primary ingredient. There are other veggies too, but often in a surprisingly low amount. This shouldn't be too surprising, given that veggie straws don't have the same texture or color as real veggies.
What about it, then? Are veggie straws good for you? To answer that, we need to look at their ingredients and nutritional profile.
Are Veggie Straws Good For You?
What Are Veggie Straws?
Their Nutritional Profile
Benefits Of Veggie Straws
How Veggie Straws Could Be Harmful
Are There Any Healthy Veggie Straws?
Should You Avoid Veggie Straws?
Final Thoughts
What Are Veggie Straws?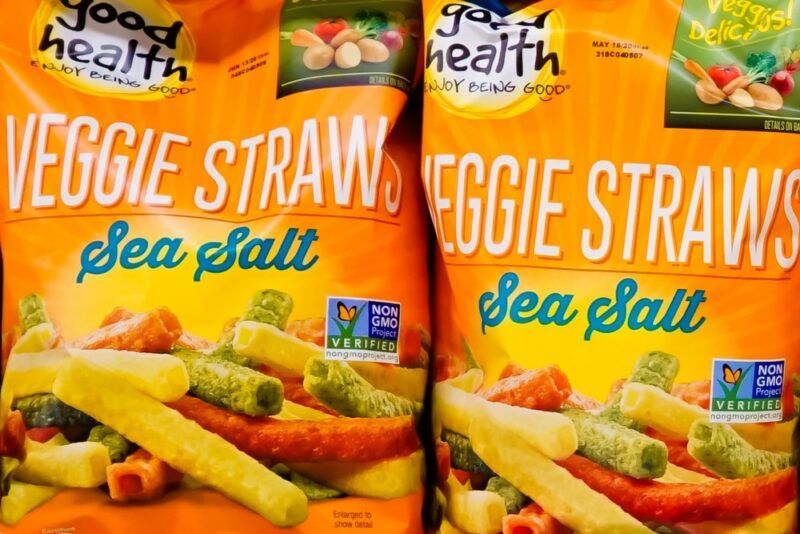 Veggie straws sound pretty obvious – they're a straw-like snack that's made from real vegetables. Yet, they don't rely on veggies as much as you might expect.
For example, the straws from Sensible Portions use potato starch, potato flour, and oil as the main ingredients. There is some spinach powder, tomato paste, and beetroot powder too, but these are much further down the ingredients list.
Those vegetable-based ingredients don't provide much nutrition or flavor. They're mostly there for coloring. Many products follow a similar pattern, relying on potatoes as the main ingredient and just using tiny amounts of vegetable powder.
Doing so isn't necessarily false advertising, as the straws do contain the vegetables they claim to. In fact, the straws even are mostly vegetable-based, simply because potatoes are a vegetable too.
Their Nutritional Profile
There's no single nutritional profile for veggie straws, as there are so many different brands. However, the veggie straws from Sensible Portions are a good illustration of what you can expect.
The serving size is an ounce, which gives you roughly 38 straws. For this serving, you get 130 calories, 7 grams of fat, 1 gram of saturated fat, 17 grams of carbs, no fiber, and less than 1 gram of protein.
There are some nutrients present, including a little calcium, iron, and potassium. However, the nutrient content is very low.
Now, 38 straws is a decent amount, especially if you eat them slowly. You could easily have half that much, which would give you a snack of 65 calories. That's not so shabby if you're just looking for something tasty and crunchy.
Benefits Of Veggie Straws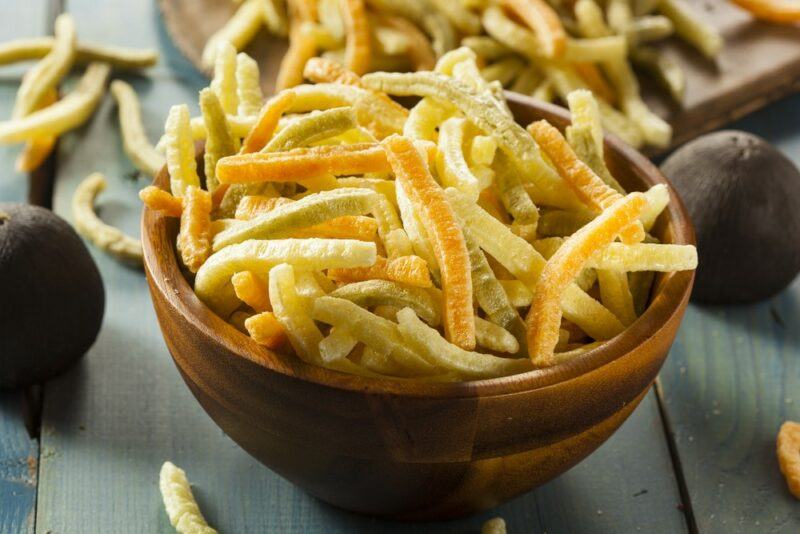 Often 'Better' Than Potato Chips
Veggie straws are most often used as a healthy alternative to potato chips. While veggie straws aren't actually that healthy, they are normally a little better than potato chips.
Most of the time, you'll get fewer calories, less fat, and less saturated fat per serving of veggie straws compared to potato chips.
If you're choosing products well and keeping your portions in check, this difference could be helpful. Regularly eating veggie straws instead of potato chips could even help you to lose weight.
However, it's important to compare the nutritional labels before starting with veggie straws – as some brands of veggie straws are worse than others. Plus, while potato chips are never healthy, some companies focus on creating healthier versions.
They're A Convenient Snack
Veggie straws are ready to go. You can buy them in most food stores and eat them straight out of the bag. This is incredibly useful if you're out and need something to munch on.
Besides, life is often hectic and there's a lot going on. Many of us don't have time to prepare snacks, so it's fantastic to have something that can be eaten immediately.
How Veggie Straws Could Be Harmful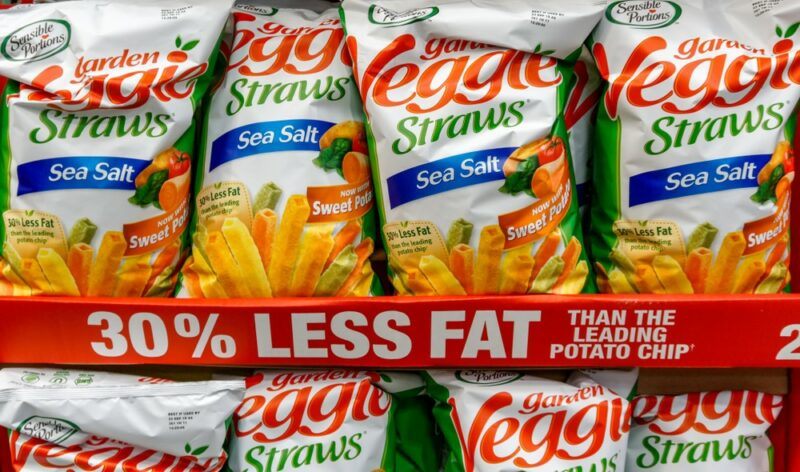 They're Not Nutritious At All
Veggie sticks are typically very low in both fiber and protein. Sometimes you're getting no fiber and less than 1 gram of protein per serving.
The low fiber content is particularly concerning, as most of us aren't getting enough fiber in our diets. Vegetables are normally a powerful way to increase your fiber intake, so having a vegetable-based food without fiber isn't useful at all.
Veggie straws aren't very nutritious either. This is partly because they're heavily processed and also because most veggie straws only contain minimal amounts of vegetables.
They're High In Carbs
Not only do veggie straws contain little fiber and protein, but they're also very high in carbs. For example, the Sensible Portions product we mentioned earlier contains 17 grams of carbs per serving.
None of those carbs come from fiber, so you'll get a fast blood sugar spike from veggie straws. This makes them a particularly poor choice for anyone with diabetes. Even without diabetes, a blood sugar spike is never ideal.
There are also concerns that simple carbs lead to many health issues, such as increasing inflammation, leading to weight gain, and increasing the risk of various diseases. The carbs in highly processed foods are the worst culprits here, adding to the concern about veggie straws.
The carb content also makes veggie straws a no-go for anyone following a keto diet.
They're Deceptive
Perhaps the biggest problem with veggie straws is that they seem much healthier than they are. The company may even compare them to potato chips on the packet or use claims like "0 mg cholesterol" and "no artificial flavors and preservatives".
Similarly, there are often images of vegetables on the packet, like spinach and tomatoes. Those images imply that the vegetables feature heavily in the veggie straws, yet they're often present in minimal amounts.
Veggie straws might be healthier than potato chips, but the difference is often very small. Besides, healthier isn't the same thing as healthy at all.
Their Sodium Content
We can't forget about the sodium either. Veggie straws are often loaded with it, often giving you more than 200 mg of sodium per serving.
While sodium itself is an essential mineral, it's also a problem, as modern diets are already packed full of sodium. Overdo it with sodium and you start to see many problems, including high blood pressure, increased heart disease risk, and fluid retention.
There are some low sodium veggie straws out there, but most them just decrease the sodium content. They don't cut sodium out entirely.
Besides, let's be honest, most types of chips don't really taste that good when you cut out all the salt. So, if you want crisp and delicious chips, you'll probably be getting some sodium along the way.
It's Easy To Consume Too Much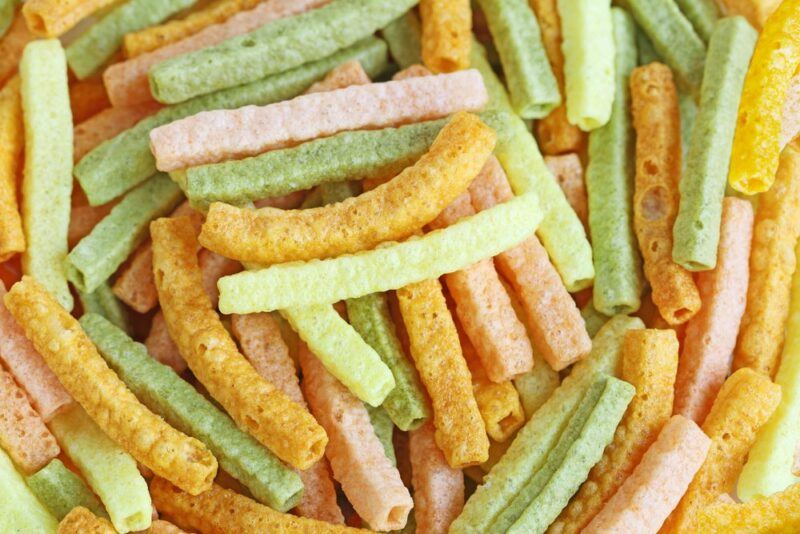 Veggie straws are low in protein and fiber, so they won't satisfy you much at all. This makes it easy to keep reaching for another handful.
The salt doesn't help either, as salt has a semi-additive quality, so you always want a little bit more.
Overconsumption is even easier if you're buying veggie straws in large bags. To get around the issue, it's best to portion out your veggie straws before you get started.
Are There Any Healthy Veggie Straws?
There aren't really any healthy veggie straws on the market. The best you get is products like the ones from Sensible Portions, where the nutrition profile isn't too bad.
For those, if you keep your portion sizes reasonable, then the veggie straws end up being a tasty snack that is a bit healthier than potato chips. Just don't make the mistake of seeing them as being healthy.
To see something better, we need to step away from veggie straws and focus on vegetable chips instead. After all, veggie straws will always be highly processed, while it's possible to make minimally processed versions of vegetable chips.
The best versions are simply baked, roasted, or dehydrated vegetables. Some will have seasoning ingredients too, while others may even skip these and only give you vegetables.
You can find versions in the middle of the range too, ones that have gone through some processing, but are still much more natural than veggie straws.
You might need to try out a few products or even make your own versions at home. After all, the healthiest veggie chips don't have the same flavor and texture as potato chips or veggie straws, so they mightn't be as satisfying.
Should You Avoid Veggie Straws?
The problems with veggie straws far outweigh the benefits. From a health perspective, veggie straws don't have much going for them at all.
But, what if you enjoy veggie straws? Do you need to cut them out of your diet?
Not necessarily. Healthy diets still have room for some inferior food choices. The trick is to watch your portion sizes. This could include portioning out the amount you want to eat first, rather than keeping the bag of veggie straws next to you.
You could also try pairing veggie straws with other snacks. Dipping them in hummus, for example, provides you with some protein and fiber. Doing so gives you a more filling snack and should decrease the blood sugar impact of the veggie straws.
Alternatively, you might skip veggie straws entirely and just go for potato chips. Let's be honest, few people actually prefer veggie straws over potato chips, we just eat the veggie versions because they seem healthier. Sometimes it's better to simply eat what we're craving to begin with, while keeping our portion sizes reasonable.
Final Thoughts
Despite their name, veggie straws aren't a health food at all. Instead, they're a highly processed snack that's high in carbs and contains barely any nutrients. They certainly don't count towards your daily servings of fruit and vegetables.
Their main saving grace is that they're a little lower in fat and calories than potato chips. Even then, veggie straws certainly aren't good for you. Instead, they're a snack to be very cautious with. If you do want a healthy snack, you could turn to minimally processed veggie chips.
Or, why not skip the whole idea? Why not simply cut up vegetables like carrots, cucumber, and red peppers into slices and munch on those? These are a much healthier snack than veggie straws. They're tastier too.
Frequently Asked Questions
Are Veggie Straws Gluten Free?
Like potato chips, veggie straws are typically gluten free. Still, you'll need to check the ingredients label, as gluten-containing ingredients can sometimes sneak their way in.
Are Veggie Straws Good For Weight Loss?
Most of the time, no. Veggie straws are low in nutrition and far too processed to help with weight loss. Their only benefit is that they're often lower in calories, but that's not enough on its own.
Are Veggie Straws Vegan?
The basic ingredients for veggie straws are vegan friendly, so most products are as well. You'll need to be careful with some of the flavors though. For example, ranch or sour cream and chives veggie straws often contain milk powder and aren't vegan friendly.
Are Veggie Straws Keto?
Most of the time, no, veggie straws are too high in carbs to work well on a keto diet. That said, you might be able to fit a very small serving within your daily keto macros.
Are Veggie Straws Dairy Free?
Veggie straws normally rely on plant-based ingredients, so they tend to be dairy free and vegan friendly. However, some flavors may contain dairy – such as ranch or cheddar.