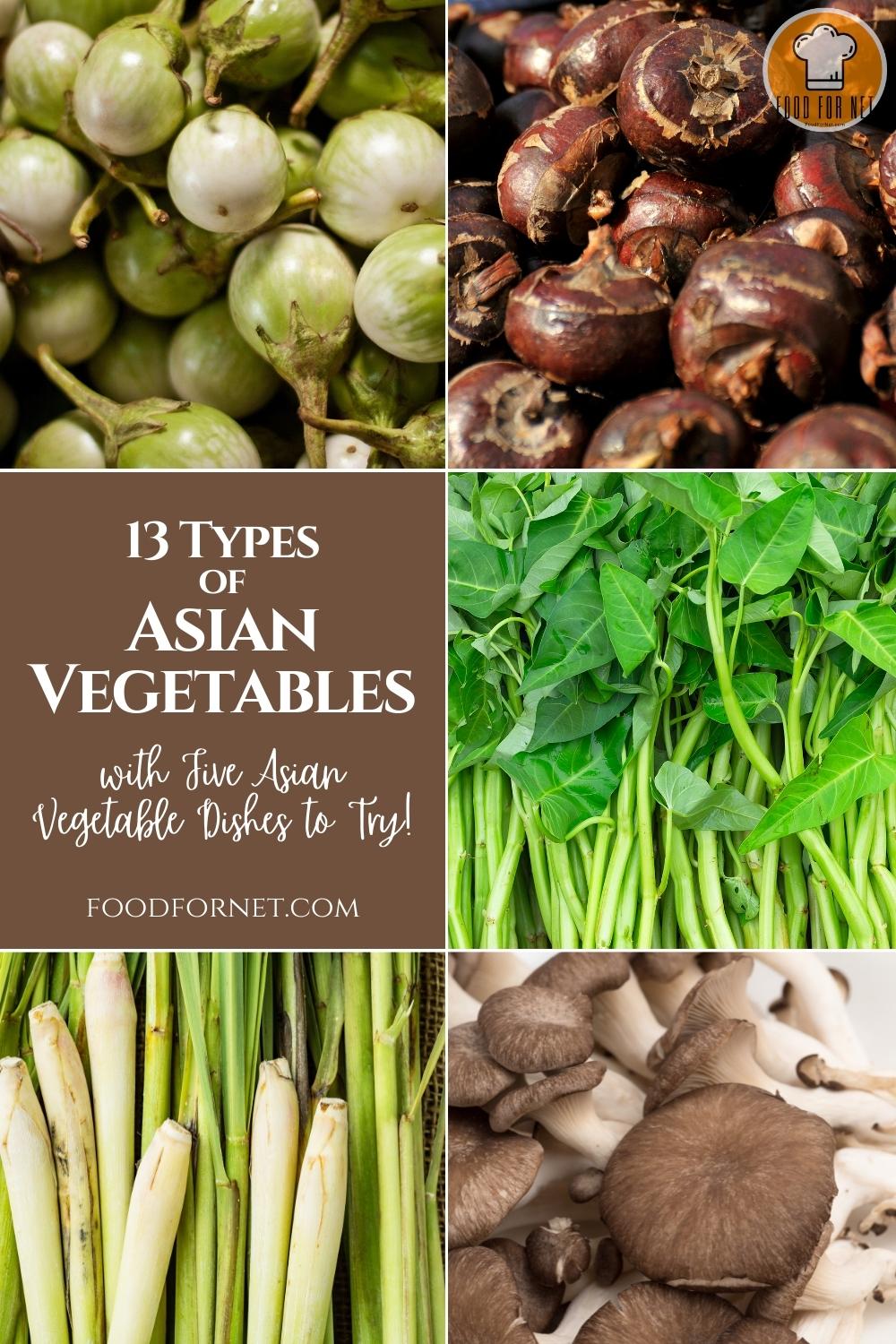 When you love trying out different cuisines, particularly Asian cuisine, you are bound to encounter vegetables that you may not be as familiar with like your regular carrots, broccoli, lettuces, or green peas. In fact, some of the best dishes out there showcase Asian vegetables that are native to Asian countries. The is a huge variety of types of Asian vegetables that many Westerners have never seen or heard of.
These vegetables are probably already available from your local grocery store or farmer's market – perhaps you just didn't take notice because they're not familiar to you. Asian stores are also a great place to find these Asian vegetables. If you have a space to spare at home, you can try growing them yourselves, too. You can also try websites that sell fresh vegetables online and simply have them delivered to your doorsteps.
Trying out Asian vegetables will not only expand your knowledge of the different produce out there but will also give you ideas on new and exciting ingredients to try the next time you cook. You'll never know what you may come up with if you have these different flavors and textures in mind to try. The recipes from Asian cookbooks will be much easier to understand and follow as well if you have knowledge about local ingredients.
These Asian vegetables also boast nutrients that can be very beneficial to your health if you can add them to your diet. The flavors they offer can also provide you a break from the monotonous cycle of eating the same old vegetable week after week. Imagine how exciting dinner will be if you can surprise your family or friends with new veggies to try every once in a while.
So, if you're ready to learn different Asian vegetables to add to your meal planning, here's a list to get you off to a good start. Make a mental note and check to see if your local grocery store has them the next time you go shopping.
We've already covered Indian vegetables and Japanese vegetables in our previous posts (not to mention Chinese and Korean vegetables). You can check them out as well and see if any ring familiar to you. Plus, you can pair the vegetables with many Asian sous vide recipes.
Types of Asian Vegetables (With Pictures!)
Tatsoi

Tatsoi, also called tat choy, is closely related to bok choy. It has dark green spoon-shaped leaves that form a thick rosette. Tatsoi is commonly used in Chinese cuisine. It tastes sweet and earthy with a mild mustard flavor. It also has a pleasantly sweet aroma.
In addition to fiber, it's also rich in vitamin A, vitamin C, beta carotene, folate, and calcium. Tatsoi also contains phytonutrients that act as antioxidants that help in preventing chronic diseases like heart disease and cancer.
Gai lan

Gain lan, also called kai-lan or Chinese broccoli, is a cruciferous vegetable that has thick, flat, and glossy blue-green leaves. It also has thick stems and florets that are similar to broccoli except that they're much smaller. It has a slightly bitter and somewhat green and sweet taste.
Gai lan is actually a great source of vitamin K, in fact, it provides 74% of RDA. It also contains vitamin A, vitamin C, folate, B vitamins, and minerals such as calcium, iron, potassium, zinc, magnesium, manganese, and selenium. Gai lan is also a rich source of antioxidants and flavonoids.
Opo squash

Opo squash, also called long squash, bottle gourd, or calabash, is not actually a squash but rather is a gourd. Its delicate white meat tastes like a cross between summer squash and cucumber. It's used in soups, stir-fries, tomato sauces, and chutneys.
Opo squash contains folates, vitamin C, thiamin, niacin, pantothenic acid, pyridoxine, calcium, iron, zinc, potassium, magnesium, and manganese. It's good for facilitating digestion and relieving constipation and indigestion problems.
Laksa leaf

Laksa leaf, also called Vietnamese coriander, Vietnamese cilantro, or Cambodian mint, is the leaf of a warm-weather plant. The leaves are pointed and oblong and are dense-growing making it a great source of herbs in the garden when cilantro is no longer in season.
Aside from its culinary uses (soups, stews, salads, rolls), laksa leaf also has medicinal purposes. It's used in treating abdominal swelling or flatulence, flu, diarrhea due to cold infection, skin infections, bruising and swollen wounds, and snake bites. Its roots are also used in a variety of therapeutic purposes in traditional Chinese medicine.
Galangal

Galangal, also called Thai ginger or Siamese ginger, refers to the aromatic rhizome of plant species in the ginger family. It looks very similar to ginger but its skin is smoother and paler and its flesh is also harder in texture. It has a citrusy flavor with a bite to it and a slightly piney taste.
Galangal contains beneficial plant compounds that help in fighting disease and protecting cells against free radicals. It's also particularly rich in polyphenols which are linked to improving memory and lowering blood sugar and bad cholesterol levels.
Ong choy

Ong choy, also called water spinach, Chinese spinach, or swamp cabbage is a tall and leafy green with hollow stems and tender leaves. It tastes like a cross between watercress and spinach. It has that mild and slightly minerally flavor.
Ong choy on top of its dietary fiber content is also a good source of protein, calcium, iron, vitamin C, and vitamin A. It's good for reducing cholesterol, treating jaundice, anemia, indigestion, and constipation, and protecting against heart diseases.
Thai eggplant

Thai eggplant is a variety of eggplant that comes in golf ball sizes. Some of the cultivars include Thai purple, Thai green, Thai yellow, and Thai white. These eggplants are actually essential ingredients in Thai curry dishes. It can also be eaten raw in salads. It has a crunchy and slightly bitter taste.
In addition to Thai eggplant's antioxidant contents, it also has dietary fiber, manganese, and potassium. It's good for aiding digestion, improving bone health and brain function, preventing anemia and cancer, and boosting heart health.
Gai choy

Gai choy, also called Chinese mustard or Chinese mustard greens, looks like a loose-heading Napa cabbage. Its leaves can be crinkled or smooth with colors that range from pale to bright green. It has thick, fleshy, and succulent ribs. Gai choy has a pungent and peppery taste that is reminiscent of wasabi mustard.
Gai choy is a great source of vitamin C, vitamin A, and iron. It's also high in beta carotene, potassium, and calcium. It also has glucosinolate which may help in reducing the risk of certain types of cancers.
Hiratake

Hiratake, also called an oyster mushroom, is one of the more commonly sought wild mushrooms. It is now grown commercially around the world, cultivated on straws or other media. It does have a very mild fishy and oyster-y taste with a meaty texture and a slightly earthy aroma.
Hiratake is an excellent source of niacin, riboflavin, and pantothenic acid. It also has small amounts of folate, vitamin B6, and thiamin. Hiratake also contains phosphorus, copper, iron, magnesium, potassium, manganese, selenium, and zinc.
Chinese water chestnut

Chinese water chestnut, or simply water chestnut, is a grass-like sedge. It's not a nut but rather is an aquatic vegetable that grows in marshes. It is commonly grown for its edible small and rounded corms. These corms can be eaten raw, grilled, boiled, or pickled. Its white flesh has a sweet, nutty, and tart taste.
Chinese water chestnuts are high in fiber but low in calories. On top of its antioxidants content, it also has vitamin B6, riboflavin, potassium, manganese, and copper. It helps in improving blood pressure, preventing cancer, supporting weight loss, and boosting digestive health.
Konjac

Konjac, also called konjaku, devil's tongue, or snake palm, is an Asian plant whose oval-shaped edible corm is starchy and is often turned into flour to use in cooking. It's also used to make fruit jelly and noodles.
Konjac is particularly rich in a dietary fiber called glucomannan. It may help in managing diabetes, losing weight, reducing cholesterol levels, regulating bowel movements, preventing constipation, healing wounds, and improving skin health.
Bhut jolokia

Bhut jolokia, popularly known as ghost pepper, is one of the hottest chili peppers in the world. Its name means 'Bhutanese pepper.' It is a hybrid of Capsicum chinense and Capsicum frutescens that is cultivated in Northeast India. Ghost pepper rate at more than one million Scoville Heat Units.
Bhut jolokia is rich in capsaicin. It's good for managing blood sugar, lowering high cholesterol, and may even help in treating cancer. Since it's a very hot pepper, extreme care is needed when handling it.
East Indian Lemongrass

East Indian Lemongrass, also called Cochin grass or Malabar grass, is a tropical island plant in the grass family. It is native to India, Vietnam, Cambodia, Sri Lanka, Burma, and Thailand. It has a refreshing and light lemony flavor with a hint of ginger.
Lemongrass contains a significant amount of vitamin A. It also contains anti-inflammatory and antifungal properties. It's good for relieving pain and reducing fever. Lemongrass oils are used as an insect repellent and for clearing acne as well.
Asian Vegetable Dishes
Phak bung fai Daeng
Phak bung fai Daeng is a vegetable dish from Thailand. It is stir-fried ong choy, with red bird's eye chili, oyster sauce, fish sauce, soybean sauce, salted soybean paste, sugar, and chicken brought or plain water. It can be served with rice or rice porridge or can be eaten on its own as well.
Botok
Botok, also called Bobotok or Botok-botok, is a Javanese vegetable dish. A mixture of vegetables, dried fish, coconut flesh, and chili is steamed in banana leaves. Other ingredients like tofu, eggs, mushrooms, or anchovies are also sometimes added. Botok is traditionally served with steamed rice.
Lauki Chana Dal
Lauki Chana Dal is a North Indian Punjabi-style curry. It is made with opo squash, chickpea lentils, chilis, tomatoes, and spices. This golden, flavorful, tangy, and spicy dish is best eaten with a side of roti or paratha.
Canh Khổ Qua
Canh Khổ Qua is a Vietnamese stuffed bitter melon soup. The bitter gourd is stuffed with pork, mung bean noodles, and mushrooms and is simmered in a light chicken broth until it softens. Not everybody will like its bitter taste, to be honest, it's an acquired taste. It's one of those dishes that you either straight up like or absolutely dislike.
Kinpira Gobo
Kinpira Gobo or braised burdock root is a traditional Japanese dish. It is stir-fried shredded burdock root and carrots seasoned with sugar, sake, mirin, and soy sauce. Dried chili pepper is also sometimes added. Kinpira gobo is served with a sprinkling of toasted sesame seeds