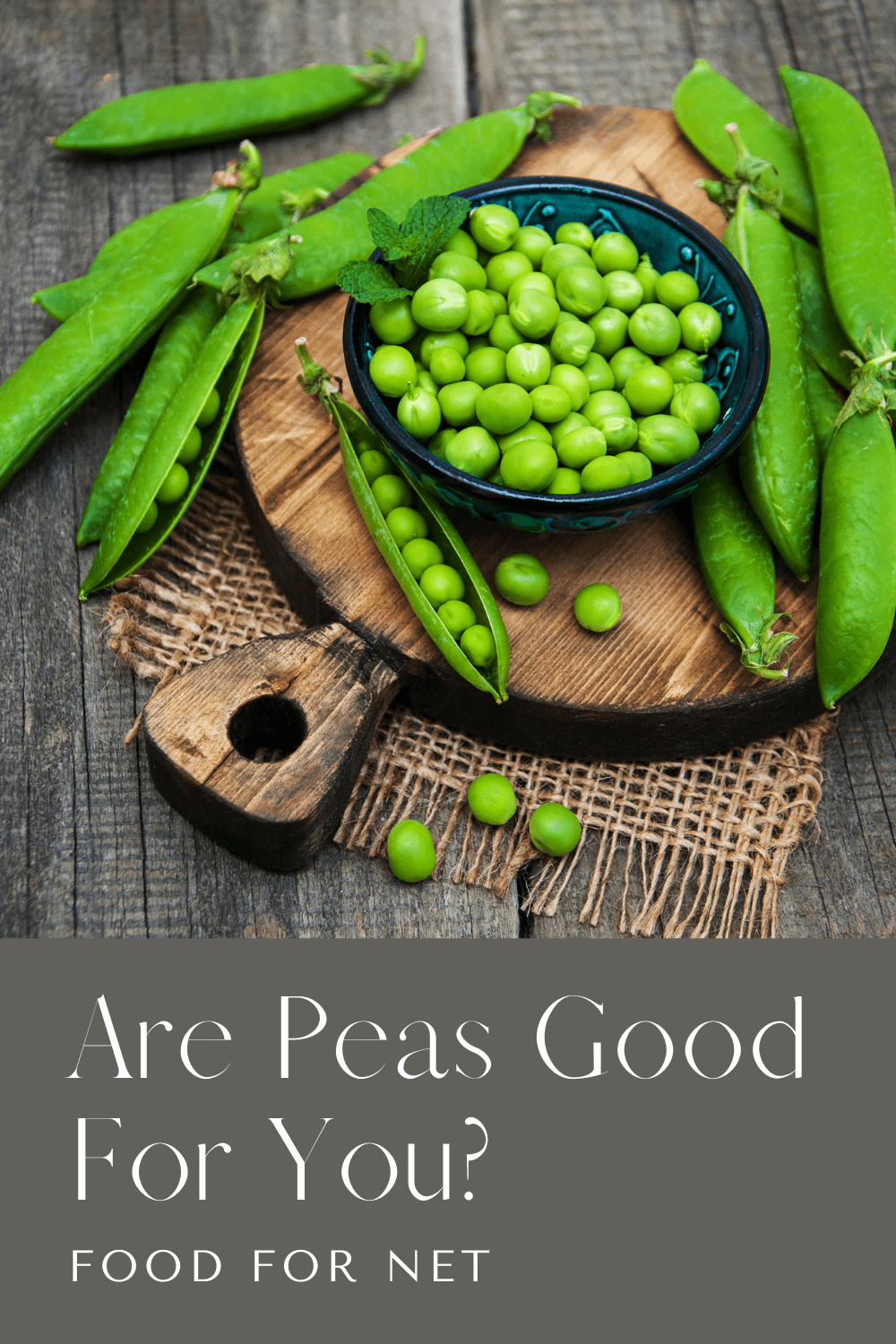 Let's be honest, peas aren't exciting, they never have been. They're often included as a side to meals to provide a nutrition boost, even if no one really wants to eat them. Some of their popularity comes from the fact that frozen peas are inexpensive and very easy to use. What about health though? Are peas good for you?
Like any green vegetable, peas do have plenty going for them, including their nutrient profile and low calorie content. They can also promote health in a variety of ways.
However, it's important to think about the downsides as well. Most types of foods have some of these, like how strawberries often have high levels of pesticide residues or how garlic is high in FODMAPs. Such downsides are rarely a reason to avoid a type of food entirely, but they're still important to be aware of.
Are Peas Good For You?
Benefits Of Peas
How Peas Could Be A Problem
Are Peas Legumes
Ways To Use Peas
Types Of Peas
Are Frozen Peas Healthy?
Final Thoughts
Benefits Of Peas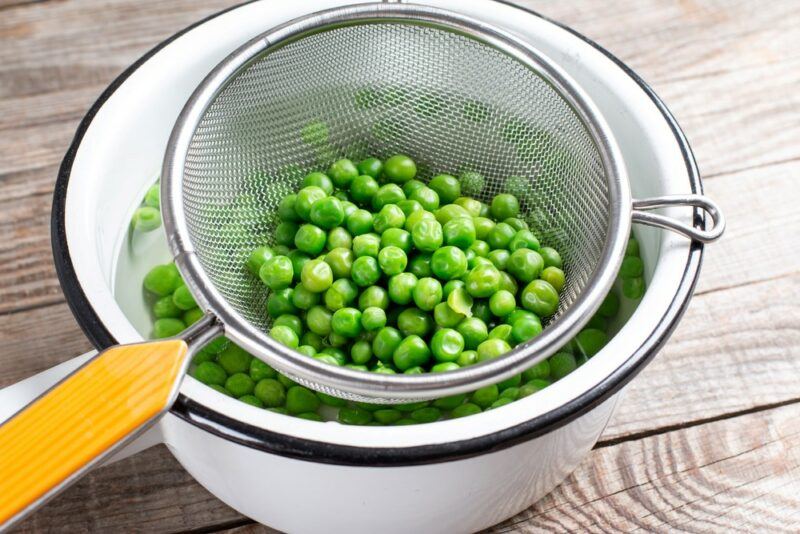 First of all, let's talk about the nutritional profile. For a cup of boiled green peas, you get the following:
134 calories
Carbs: 25 grams
Fiber: 8.8 grams
Sugars: 9.5 grams
Fat: 0.4 grams
Protein: 8.6 grams
Vitamin K: 52% of your daily needs
Thiamine; 28% of your daily needs
Folate: 25% of your daily needs
Vitamin B6: 17% of your daily needs
That list is really just scratching the surface. There are plenty of other nutrients too, including iron, potassium, zinc, niacin, and manganese. This balance of nutrients means that green peas have much more going for them than most of us ever assume.
Don't forget, all of these nutrients are essential. Our bodies use them in hundreds of different ways, helping to build our bones, keep our immune systems functioning optimally, develop muscle, and many more effects.
Our bodies can't make vitamins and minerals on their own, so we need to get them from food instead. Foods like peas, which offer plenty of different vitamins and minerals, are powerful for keeping our nutrient levels where they should be.
They Contain A Surprising Amount Of Protein
While most vegetables don't contain much fiber at all, cooked green peas give you more than 8 grams of fiber per serving. This is a decent amount that adds nicely to any protein in the meal that you're eating.
Protein is incredibly important, as it plays structural and functional roles throughout your body. This means that we all need a decent amount of the macronutrient, even if we're not actively trying to gain muscle.
Plus, you're often eating peas at the same time as other sources of protein, giving you a double hit of the macronutrient.
Helpful For Weight Loss
The combination of fiber and protein is highly relevant for weight loss, as both macronutrients can help you to feel satisfied. This effect means that you won't get hungry as quickly, which should decrease the amount of calories that you consume.
Peas are also a useful way to bulk out a meal, making it more filling in the process.
They're Low In FODMAPs
If you have irritable bowel syndrome (IBS) or a related condition, you might be trying to avoid FODMAPs, as these fermentable carbs can make your symptoms much worse.
While legumes are often a poor choice when you have IBS, fresh peas are an exception. They tend to be low in FODMAPs, as long as you keep to a portion of around 15 grams or so. 15 grams mightn't seem like much, but it works out well if you're using peas in a recipe rather than serving them as a side dish.
Interesting, canned peas contain fewer FODMAPs than fresh or frozen peas, making them the best option, as long as you don't mind canned food.
Provide Antioxidants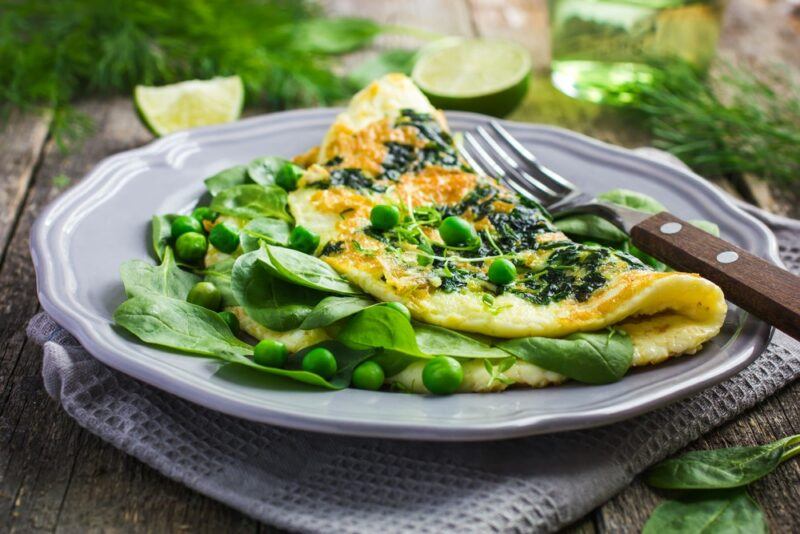 When you hear about antioxidants, you probably imagine fruits like blueberries or perhaps matcha powder. However, antioxidants aren't just found in those so-called superfoods. All fruits and vegetables contain at least some antioxidants and these antioxidants are all relevant to your health.
The effect is obvious from the name, as antioxidants really do decrease oxidation. Specifically, they help to protect your body from oxidative damage caused by reactive oxygen species.
Such damage can harm your cells and even your DNA, increasing the risk of disease. Getting plenty of antioxidants is the best way to decrease this damage and protect your health at the same time.
Green peas mightn't be as famous for antioxidants as blueberries, but you're still getting some antioxidants and every little bit counts, right?
They're Good For Your Blood Sugar
Peas have a relatively low glycemic index (GI), making them a useful ingredient for anyone with diabetes. They do contain some sugar, true, but this is easily offset by the amount of fiber and protein in the peas.
As such, peas should help to balance your blood sugar levels, especially when eaten along with other healthy ingredients.
Provide Fiber, Which Helps With Digestion
A cup of green peas gives you a little under 9 grams of fiber. That's an impressive amount, especially as most of us need more fiber than we're currently consuming.
We don't digest fiber, but this doesn't make it any less important. For one thing, insoluble fiber helps to bulk out your stools, which keeps you regular and reduces the risk of constipation.
Peas are particularly good for this effect, as most of their fiber is in the insoluble form. There is some soluble fiber too. This type acts as good for your gut bacteria and also helps to promote a sense of fullness.
Not surprisingly, these effects are important for your digestion and for keeping your body functioning well.
Can Promote Heart Health
Vegetables, including peas, have many positive health impacts. One of these is the ability to decrease the risk of heart disease.
Peas do this in multiple ways.
First, their fiber content can help to decrease cholesterol levels, particularly LDL cholesterol. This is an important effect, as high levels of LDL cholesterol are a notable heart disease risk factor.
Then there are the nutrients present, including magnesium and potassium. These can protect your heart too, like the way that potassium helps to lower blood pressure levels.
The antioxidants in peas are relevant too. While more research is needed, there are multiple ways that antioxidants could decrease heart disease risk. Antioxidant compounds don't just fight oxidation either. They have other roles in the body too, some of which may lower disease risk as well.
How Peas Could Be A Problem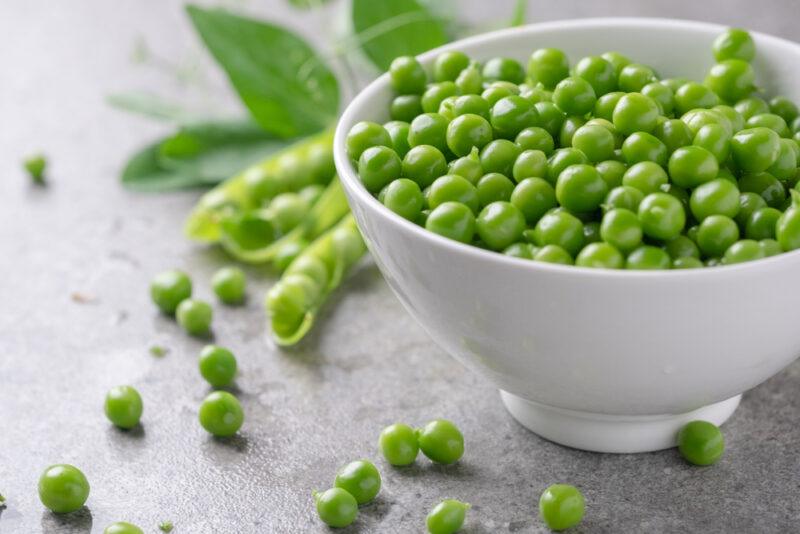 They're Relatively High In Carbs
While the nutrient distribution of peas is fantastic, they do fall down when it comes to carbs. In fact, a cup of the cooked peas contains a whopping 25 grams of carbs. Close to 9 grams of those come from fiber, but that leaves around 16 grams of net carbs.
You even get 9.5 grams of sugar for that serving size, which is a decent amount for a cup of peas. This makes peas difficult if you're following a keto diet. You might need to skip them entirely or keep a close eye on your portion size.
Can Cause Side Effects
Some people experience side effects with green peas, including bloating and gas. There are a few possible reasons for this side effect, starting with the fiber content.
There are also some FODMAPs in green peas, which may cause side effects for people with sensitive digestive systems. Similarly, there are lectins present. These can cause digestive side effects for some people as well.
The FODMAP and lectin content of green peas isn't incredibly high, so you mightn't see any issues at all. If you do, however, you may need to keep your serving sizes low.
One somewhat counterintuitive trick is to keep going with green peas, even if they give you side effects. Stick to small doses, but keep having peas regularly over time. Doing this helps your body to adjust to the peas and you get better at digesting them, to the point that they may stop giving you side effects at all.
After all, peas contain so many important nutrients and antioxidants, it would be a shame to cut them out of your diet if you don't need to.
They Contain Antinutrients
While peas are different than most other legumes, they do contain some antinutrients, including phytic acid and lectins. These compounds are concerning because they can decrease our absorption of nutrients and may have negative impacts on our health.
Some theories even suggest that antinutrients contribute to autoimmune diseases.
It's hard to know how much of an issue these antinutrients really are, as the research is limited and there are plenty of debates on both sides of the argument. However, if you're trying to avoid antinutrients, then peas might be off the table for you.
That said, peas do contain fewer antinutrients than other legumes, as they're picked and eaten when they're relatively immature. This is why some paleo dieters even include peas and green beans in their eating plan (although plenty of others don't).
Are Peas Legumes?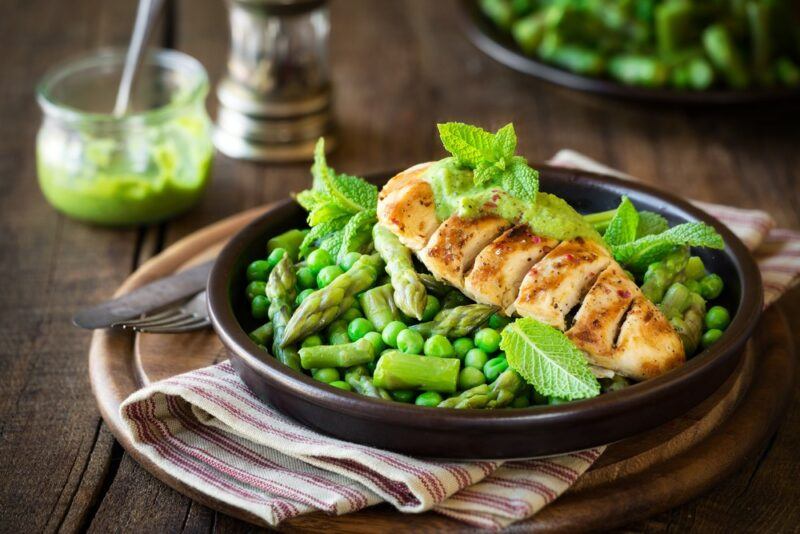 While we're on the topic of legumes and antinutrients, let's dig into the idea a little more. Legumes are plants that produce pods, which then contain seeds that we often eat. From this perspective, green peas are indeed legumes, as are dried beans, chickpeas, lentils, and even peanuts.
Legumes are interesting, as they can offer considerable health benefits, yet many people are concerned about them instead. In fact, if you follow a paleo diet, you might be avoiding legumes entirely.
But, while peas are technically legumes, they don't have the same nutrient distribution as most other foods in this group, including beans and lentils. They also contain fewer antinutrients.
Because of this, they're often categorized as vegetables rather than legumes. Honestly though, the way you classify peas doesn't matter. It makes much more sense to look closely at the nutrients.
Ways To Use Peas
Peas often get a bad rap because they seem so boring. Part of the problem is that they're often overcooked, so they end up mushy and much of their flavor is lost. It's also too easy to simply boil them then serve them as a side dish, without putting much thought into them.
Yet, peas have so much more to offer. They can be used in countless dishes (even if you're relying on frozen peas). Here's a list of 38 options, including dishes orecchiette with walnut and pea pesto and a spring risotto dish, and that's just scratching the surface.
Honestly, if you're bored of peas, the problem is probably just how you're using them. If you start to branch out and experiment more, you'll find all kinds of delicious dishes to enjoy.
Types of Peas
For this discussion, we've mostly been talking about green peas, which are also known as garden peas or shell peas. However, there are also snow peas and sugar snap peas.
Snow peas are unusual, as we harvest and eat them before the peas inside are fully mature. Rather than eating plump green peas, then, you are eating flat pods that contain some immature peas.
This difference means that snow peas are much lower in carbs than regular green peas. You can even include snow peas on a keto diet.
Sugar snap peas are somewhere in the middle of the two types. This time the peas do plump up somewhat, but you can still eat the pods, so there's no need to shell them. Like snow peas, sugar snap peas are low in carbs, making them an easy ingredient to rely on.
Are Frozen Peas Healthy?
Frozen peas are incredibly useful. They're inexpensive and keep for ages, making them a perfect way for low income families to increase their nutrient intake.
It's easy to assume, though, that frozen peas aren't healthy. At the very least, they should be less healthy than their fresh counterparts, as they're more processed.
Yet, this mightn't be the case at all. We're starting to realize that frozen vegetables can be just as good for you as fresh ones, if not more so. One reason is that fresh vegetables often aren't that fresh at all. Unless you're getting them at a local farmer's market or picking them straight from your garden, vegetables have been sitting around for quite some time, with their quality decreasing all the while.
Frozen peas, on the other hand, are snap frozen soon after harvesting. This helps to keep their texture, sweetness, and nutrient content intact. You end up with an easy-to-use ingredient that's surprisingly nutritious.
Final Thoughts
Green peas are easy to overlook, yet they offer a surprising array of nutrients, along with fiber, protein, and antioxidants. These features make peas an easy way to improve your health.
Don't forget about frozen peas either. These are often inexpensive, keep for a long time, and provide most of the benefits that you find with fresh peas.
That said, there are some issues with peas, including their antinutrient content and the way that they can cause side effects. Thankfully, most people won't experience any side effects at all. You can also limit your risk by keeping your portion sizes on the small side.
Frequently Asked Questions
Are Peas Keto Friendly?
Green peas aren't ideal for keto, as they're fairly high in carbs (giving you around 10 net grams of carbs in a half cup serving). However, keto dieters can still eat peas if they keep their serving size small. After all, there are still plenty of valuable nutrients in peas and there's no need to avoid them entirely.
Can You Eat Raw Peas?
Peas can be consumed raw, especially if they are young and fresh. However, as peas age, they become tougher and more challenging to eat raw.
There are also debates about some compounds in raw peas, including antinutrients and cyanogenic glycosides. These compounds could be a reason to avoid overdoing it with raw peas. You might also need to swap focus on cooked peas instead of raw ones if you experience any side effects.
Are Peas Good For Diabetics?
Peas can be helpful for diabetics, particularly as their glycemic index is just 22. There's also plenty of fiber and some protein. These macronutrients help to taper down the blood sugar effect of the sugar in peas, while offering plenty of health benefits as well.
Do Peas Cause Gas?
Beans and lentils are most famous for causing gas, but the effect does happen with peas as well. The gas is due to a complex sugar called raffinose. Our bodies can't break this down well, so we end up with gas as a byproduct.
Thankfully, the risk of gas is lower if you're consuming cooked peas rather than raw ones. This effect also isn't true for everyone. You might find that you can eat peas without any problems at all.
Are Peas Hard To Digest?
Peas do contain FODMAPs, which can be challenging to digest, particularly if you have irritable bowel syndrome. Digestion can also be difficult if you don't eat peas often.
Cooked peas are easier to digest than raw ones, so the risk of side effects from them is lower. However, people with sensitive digestive systems might even have issues with cooked peas.