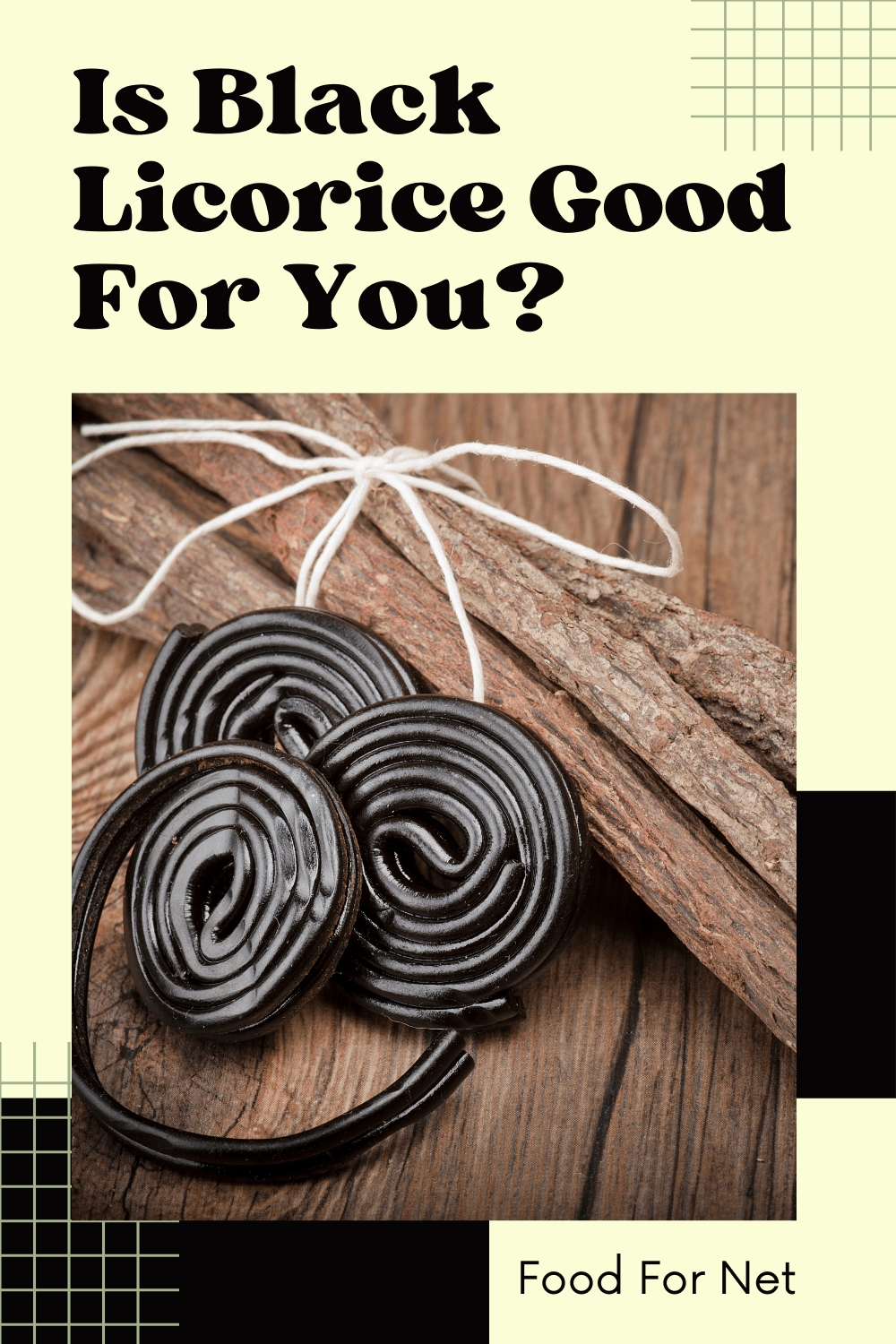 Few candies divide people as much as black licorice does. Some people love the intensity of the flavor, while others can't stand licorice at all. But is black licorice good for you?
Black licorice is not just a candy. It's made with black licorice root, which does more than just provide flavor. Licorice root also contains some interesting compounds that are directly relevant to your health.
So, is black licorice good for you? Could it even be a healthy snack?
Those are interesting questions. Despite being a type of candy, licorice really can help your health. But, don't start eating handfuls of it each day, as licorice comes with some serious risks as well.
Is Black Licorice Good For You?
Licorice Candy Versus Licorice Root
Is All Licorice The Same?
Benefits Of Black Licorice
How Black Licorice Could Be Harmful
How Much Licorice Should You Eat?
Other Ways To Use Licorice
Final Thoughts
Licorice Candy Versus Licorice Root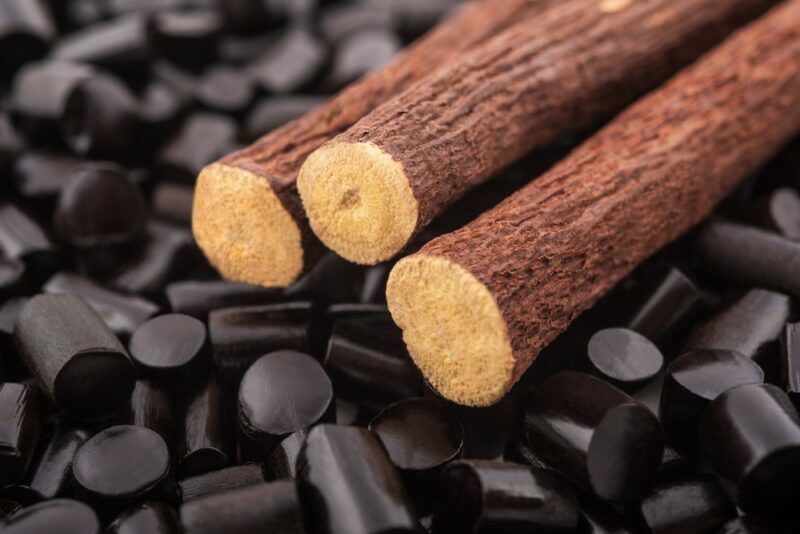 Licorice is a black gel-like candy that relies heavily on an extract from licorice root. The root itself has a long history of being used for medical purposes. It was even used back in the 13th century as a way to help treat sore throats and coughs.
The licorice candy that we know and love today wasn't entirely a modern invention either. It may be one of the oldest types of candy ever made.
Of course, licorice root extract isn't the only ingredient in licorice. Sweeteners are also used to balance out the intensity of the licorice flavor.
Possible sweeteners include sugar, corn syrup, or honey. Other common ingredients include wheat flour, preservatives, flavorings, and coloring agents.
The ingredients vary depending on the product you choose, but you're always looking at a processed type of candy.
Licorice root, on the other hand, is simply that – the root of the licorice plant. The root itself is entirely unprocessed, although it isn't normally used as-is. It's much more common as a flavoring ingredient or as part of licorice tea.
The flavor isn't all that makes licorice special. The root also contains some unusual compounds. The most significant of these is glycyrrhizin. This is responsible for the distinct flavor of licorice root and for many of the benefits.
Is All Licorice The Same?
In this post, we're focusing on the benefits and risks of true licorice candy. This means the products in your local grocery store that actually rely on licorice root for flavor.
The distinction is important, as many licorice products don't contain licorice at all. They rely on anise oil instead. While anise oil has a similar flavor, it doesn't contain the same compounds as black licorice, so it affects you differently.
Fake licorice products can also vary more in their ingredients. Some may include additives, while others may be high in sugar. As such, it's critical to check the ingredients label of any licorice product, so you know exactly what you're getting.
What About Red Licorice?
Red licorice often has a similar style and texture to black licorice, and may even come from the same company. However, it's incredibly rare to red licorice that relies on licorice root.
Most red licorice products simply use chemicals to give it a strawberry or perhaps cherry flavor. In other words, red licorice isn't really licorice at all. It just has the same name.
Benefits Of Black Licorice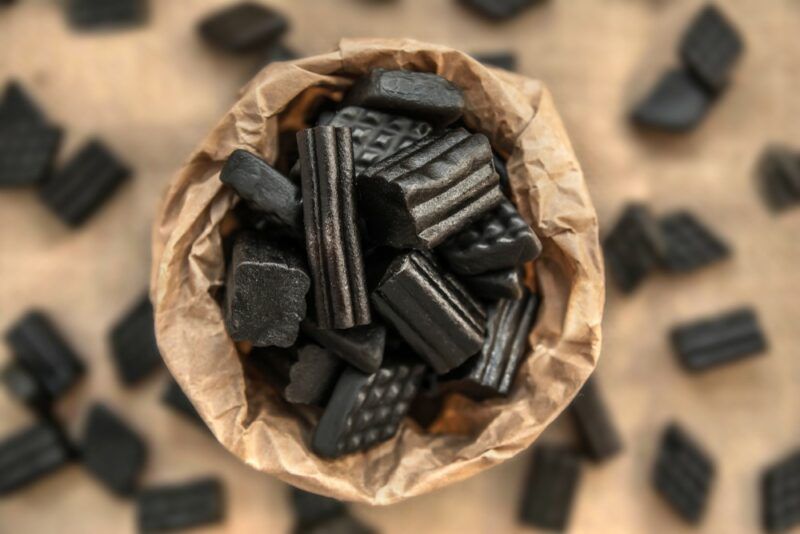 It's Low In Sugar
Licorice also keeps the sugar content relatively low, often giving you around 6 grams of sugar in a 1.5 ounce serving.
Admittedly, that's still a decent amount of sugar, but it's much less than most other types of candy. If you have a sweet tooth, licorice could be a great way of satisfying it without overdoing it on the sugar.
Can Help With Cold Symptoms
Licorice is a popular choice for cold symptoms, particularly a sore throat. This is because some of the compounds have antibacterial properties, which is just what you need when fighting off a cold or even strep throat.
Sometimes you might use licorice candy for this effect. However, licorice tea may be more powerful, as it gives you the same compounds in a soothing hot drink.
Might Help With Your Teeth
This effect is unexpected, but there is support for it. Even black licorice candy can decrease the risk of cavities for some people, partly because of the antibacterial effect.
Of course, it's important to choose your licorice carefully here. You're looking for products that rely on actual licorice root rather than anise oil, along with ones that don't go overboard with sugar.
Can Improve Digestion
There's also a link to your digestive system. Licorice is able to reduce some digestive problems, including heartburn.
In fact, licorice root extract is sometimes used as a way to decrease indigestion and help people to consistently feel better. That's not all. Licorice could also reduce inflammation and help to protect you against peptic ulcers.
Relevant For Asthma Too
Interestingly, licorice may also help with asthma symptoms – specifically for people with allergic asthma. The compounds present in the licorice help to improve breathing and reduce some of the inflammation associated with asthma.
These effects may apply to other upper respiratory conditions as well. Licorice isn't a cure-all, of course, but it can still be helpful.
May Have Other Benefits Too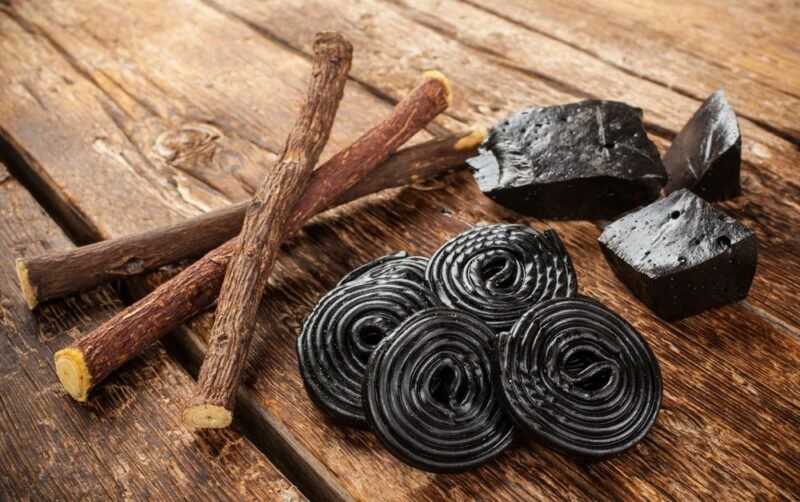 Licorice root contains glycyrrhizin, a bunch of other interesting compounds, and plenty of antioxidants. As such, it could have other health benefits that we're still learning about.
For one thing, licorice appears to reduce inflammation and decrease oxidative stress. Both effects could potentially decrease the risk of serious disease.
There's even a chance that licorice helps decrease the risk of cancer. It may also slow down the growth of cancer cells in some situations.
Research on these benefits is still very limited, particularly for cancer. Most studies have been small or been based on animals or test tubes, so we don't know how common the effects are or even whether they occur in humans.
Even so, these potential benefits are simply more reasons to try licorice regularly.
How Black Licorice Could Be Harmful
Too Much Can Be Dangerous
Too much of anything can be bad for you. But, the risk with licorice is much higher than normal.
One problem is that some of the compounds decrease your potassium levels. This is a huge deal, as potassium is essential throughout your body and plays vital roles in your fluid balance and maintaining a healthy heart rhythm. Too low levels of potassium quickly become dangerous and can wind you up in hospital.
Excess licorice intake can cause other problems as well, like increasing the risk of a heart attack or leading to considerable side effects.
Such patterns are concerning. They can quickly become dangerous, especially for people who were not healthy beforehand.
There have even been reports of people dying from licorice. Thankfully these are rare and mostly come from cases where people were in poor health and ate one or two bags of licorice every day for months or years.
Can Interact With Some Medications And Supplements
Licorice also interacts with a surprising number of medications. This includes blood thinners, diuretics, statins, contraceptives that rely on estrogen, and even NSAIDs.
These interactions can change the way the medications behave in your body, sometimes causing considerable side effects. For example, using licorice when taking stimulant laxatives can dramatically increase potassium loss – an effect that can easily be dangerous.
There may also be interactions with some supplements or herbs.
As such, it's important to be ultra-cautious with licorice when you're taking any type of medication or supplement. Talking to your doctor can help as well, as they can quickly help you identify any potential side effects.
Not Suitable For Everyone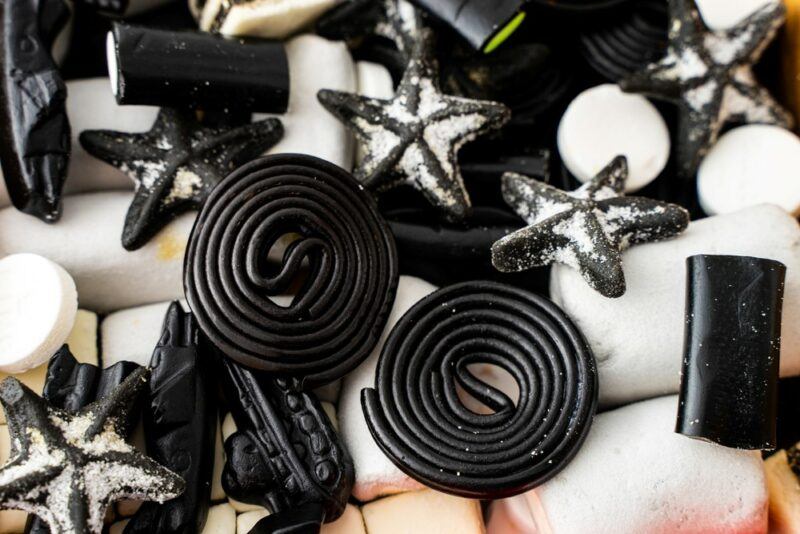 If you're healthy, then licorice isn't likely to cause problems on its own – unless you're eating a decent amount of it most days. However, if you have health problems or are going overboard with licorice, then the sweet treat could quickly become dangerous.
In particular, people with high blood pressure or kidney disease are at a greater risk of side effects from licorice. You may also be at higher risk if your diet is poor and you're not getting enough nutrients.
Also, young children should be cautious with real licorice – as there hasn't been much research on the topic. If they love the flavor, it's better to give them products that use anise oil instead.
Unsafe During Pregnancy
Licorice is also an issue during pregnancy. The glycyrrhizin it contains can lead to brain impairments for the baby.
As a result, pregnant women need to be very cautious with their licorice intake. It's often best to avoid licorice entirely.
It's best to be wary with licorice during breastfeeding too, as there has been little research on the topic, so it's not clear whether licorice is safe.
Often Contains Gluten
A little-known fact is that licorice is often made with wheat flour, which means that it contains gluten.
This may catch some people by surprise, leading to symptoms like stomach cramps, fatigue, and diarrhea. Not everyone is sensitive to gluten, of course, but if you are, it's worth looking for gluten free licorice products.
How Much Licorice Should You Eat?
Most people can eat black licorice periodically without any problems at all.
So, having a couple of servings once or twice a week is completely fine. However, even having two ounces every day could easily be too much.
If you have a health problem, are taking medication, are pregnant, or are eating large amounts of licorice regularly, it's important to be even more cautious. In these situations, too much licorice could cause issues with your heart rhythm and even land you in hospital.
You might want to talk to your doctor as well to find out the best levels.
Also remember that licorice root isn't just used in licorice candy. It's sometimes used as flavoring in other foods as well. You'll need to consider this too when calculating the amount of licorice you eat.
You should also pay close attention to how your body responds. Watch for any signs that something is wrong, like an irregular heartbeat, muscle weakness, and muscle cramps (which are all symptoms of potassium deficiency).
Watching your body's response like this is important because the glycyrrhizic acid level in licorice varies dramatically between products. This means you'll never be able to precisely track your glycyrrhizic acid intake.
Other Ways To Use Licorice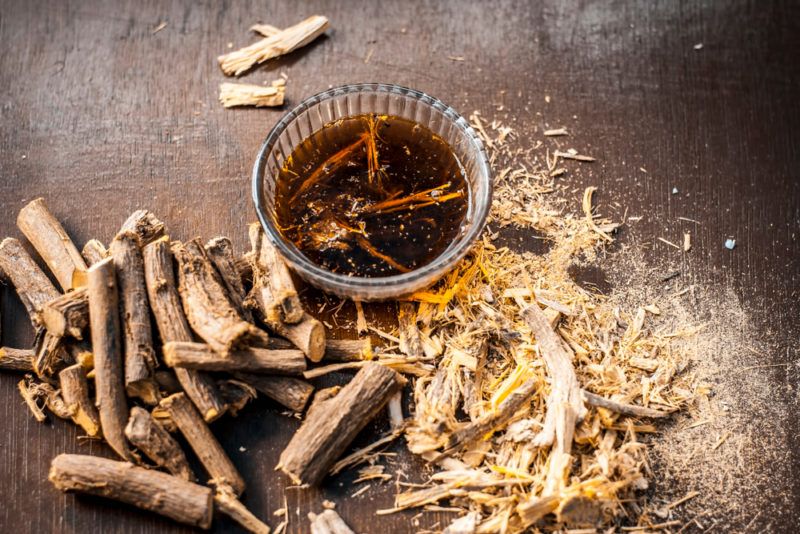 We've been focusing on licorice as a candy. This isn't your only option though, as you can also find licorice tea, licorice extract, and licorice supplements.
These products all provide the same compounds found in licorice itself. As such, they come with most of the same benefits and risks.
Of course, there are some differences.
Licorice tea has the advantage of being hot and soothing, making it even better for sore throats. The water could help with your digestion and hydration too.
Licorice tea, extract, and supplements also lack the sugar found in licorice candy. This could be useful. After all, high sugar intake has been linked to plenty of issues, including increased inflammation and higher diabetes risk.
Such products all contribute to your daily intake of licorice compounds, so you'll need to be wise with the amount you consume.
Also remember to pay attention to product quality. This is particularly important for supplements, as regulation in the industry is limited. There's always the risk that your supplements are contaminated with undesirable ingredients.
Deglycyrrhizinated Licorice
If you're concerned about licorice side effects, you could turn to deglycyrrhizinated licorice root, which is sometimes used in supplements and in licorice candy.
Deglycyrrhizinated licorice is simply licorice where a decent amount of the glycyrrhizin has been removed. Doing so does reduce some of the potential benefits of licorice, but also keeps you much safer.
Plus, even with the glycyrrhizin reduced, the licorice could still offer some benefits. For example, it's sometimes promoted as a way to reduce acid reflux symptoms.
Final Thoughts
Candy is normally a sweet treat that is high in sugar and offers few benefits. Black licorice breaks the mold in that it's lower in sugar, contains some healthy compounds, but can also put your health at risk.
This pattern suggests that licorice could easily help you, but only if you're cautious about your intake. Having a couple of servings per week is a safe amount for most people, while those with significant health conditions or who are taking medication may need to limit their intake still further.
If you love licorice and want more, you could try licorice products that use anise oil rather than licorice root. These can taste surprisingly close to the real thing, but they don't come with the same health risks.
Frequently Asked Questions
Is Licorice A Laxative?
Licorice is often used as a laxative and can promote bowel movements. Because of this, too much licorice risks giving you diarrhea. This effect is why licorice is sometimes included in over-the-counter laxatives.
Thankfully, the laxative side effect is mild, so you won't be running to the bathroom every time you have a piece of licorice.
Can Black Licorice Kill You?
Actually, yes. Shocking as it may seem, too much licorice can potentially kill you because of how it affects your potassium levels.
Thankfully, you need to be eating a decent amount of licorice each day or have very low potassium levels for this to be a serious problem. Even then, the licorice might just land you in hospital rather than killing you.
Still… this highlights the need for caution. It's best to not have more than two ounces of black licorice per day. In fact, why not use licorice as an occasional treat rather than a daily habit?
Is Licorice Gluten Free?
Most of the time, no. Licorice root itself is gluten free, but licorice candy normally uses wheat flour as a binding ingredient.
Thankfully, some companies care enough to use a different binding ingredient, so there is some gluten free licorice out there. YumEarth is an excellent example.
Is Black Licorice Vegan Friendly?
Black licorice can be vegan friendly, but it isn't always. The big problem is that it sometimes uses gelatin as an ingredient and gelatin isn't vegan friendly at all.
To get around this, you'll need to look for products that don't use gelatin, particularly those that are marketed as being for vegans.
Does Licorice Cause Constipation?
Most people won't get constipated from licorice. Licorice is much more likely to relieve constipation instead. However, someone with a sensitive gut might experience constipation.
High licorice consumption can also lead to hypokalemia (extremely low levels of potassium) and constipation is sometimes a symptom of this. Thankfully, the effect is rare and isn't likely if you eat small amounts of licorice every so often.