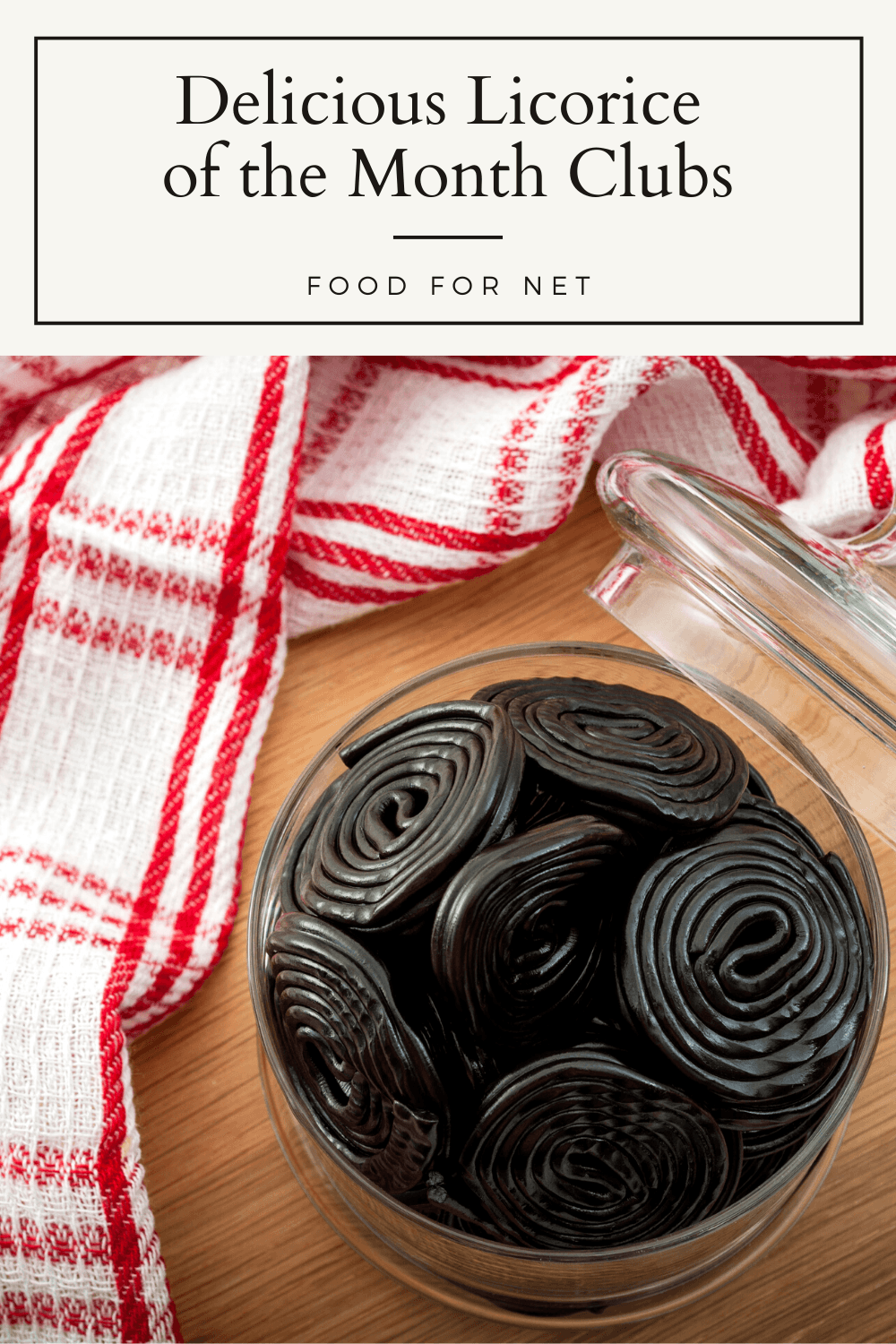 Licorice of the month subscriptions make trying new licorice flavors and brands as easy as opening your front door. And, why not? Licorice has a long history and there are many amazing types to try for yourself.
Licorice root has a unique history and a multitude of uses, most commonly as a candy, but that is not where it got its start. Licorice root was initially found in parts of Europe and Asia, though it is considered a weed and not a coveted plant.
In early Egypt, licorice was used in a variety of teas and consumed for its medicinal properties. Later licorice was introduced to China, where it became an essential element used by apothecaries.
However, licorice's medical benefits were not lost over the ages. Licorice root is still tested for new health benefits and used for ailments like:
Stomach issues, like food poisoning, ulcers, and heartburn
Respiratory health
Stress reducer
Certain cancers such as breast and prostate
Promotes good skin and teeth health
In addition to its health benefits, people have used licorice for various purposes. Licorice was often used in baking since parts of the root are sweeter than sugar. It was also used in other consumable products like tea, cigars, and cigarettes.
But of course, it is best known today as a candy. Licorice is thought to be one of the first candies invented back in the 13th century.
Though today, the licorice we are all familiar with is not always made with licorice root anymore. Many black licorice products are, but the ever-popular Raspberry Red Vines and other red licorice only carry the name and not the essential ingredient.
The licorice name has evolved to include candy that looks like and poses a similar texture to the original black licorice candy. And licorice of the month clubs include both red and black licorice varieties, and some even offer other types as well.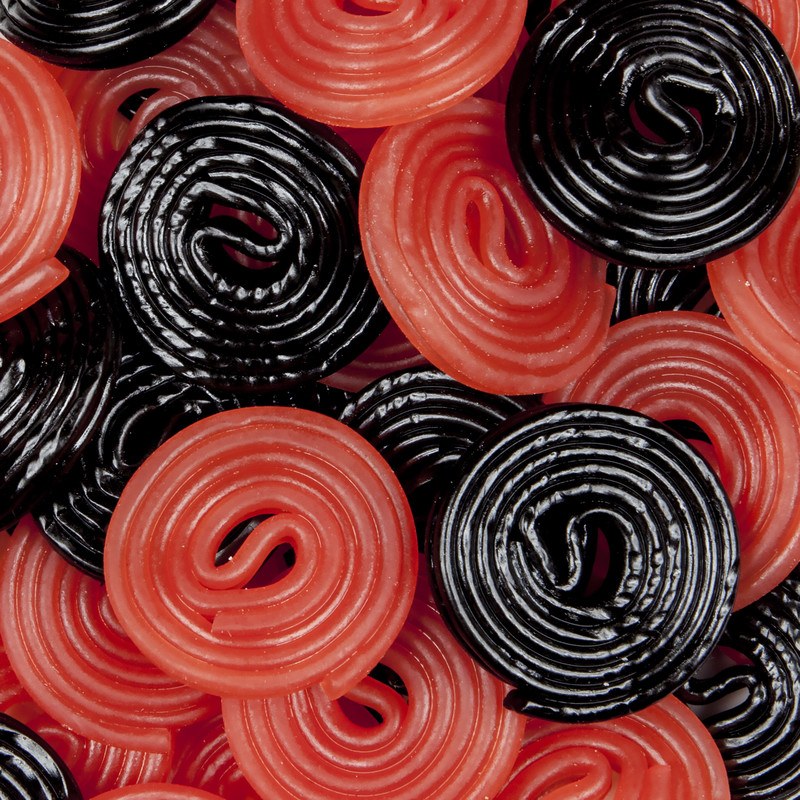 Licorice of the Month Clubs
Licorice International
Dutch Box
Post Sweet
Nuts.com
Gift Tin
Licorice International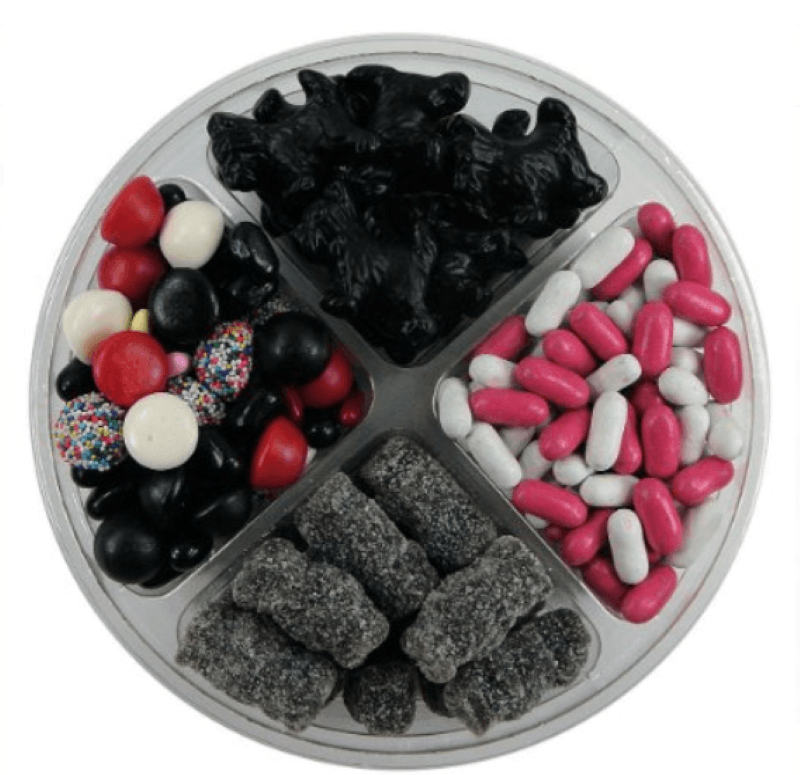 Licorice International, located in Lincoln, Nebraska, prides itself on offering the largest licorice selection in the country. Licorice International has both an online store and two storefronts. They carry every imaginable type of licorice available on the market, including twists, pipes, cigars, and babies.
Plus, they have different brands of licorice from all over the world, including Italy, New Zealand, Australia, Norway, and Germany. And over forty different kinds from the everyday Good and Plenty to the premium Danish licorice Lakrids by Bulow.
Licorice International has three licorice of the month clubs to choose from:
Black Licorice of the Month Club for $220
Red and Black Licorice of the Month for Club $220
Sampler Club for $175
The first two clubs are both 12-month subscriptions and include free shipping, two standard size packages of licorice and one sampler. The package size for the licorice is the same as what is sold in their catalog.
The Sampler Club is a six-month club, each month includes free shipping, a mini licorice sample and a sampler tray. The sampler tray contains four different licorice choices, weighing approximately 1.25 pounds or more.
Regardless of the club you choose, each month, you will receive a unique combination of licorice. So, at the end of the subscription, you will have sampled more than 24 varieties.
Dutch Box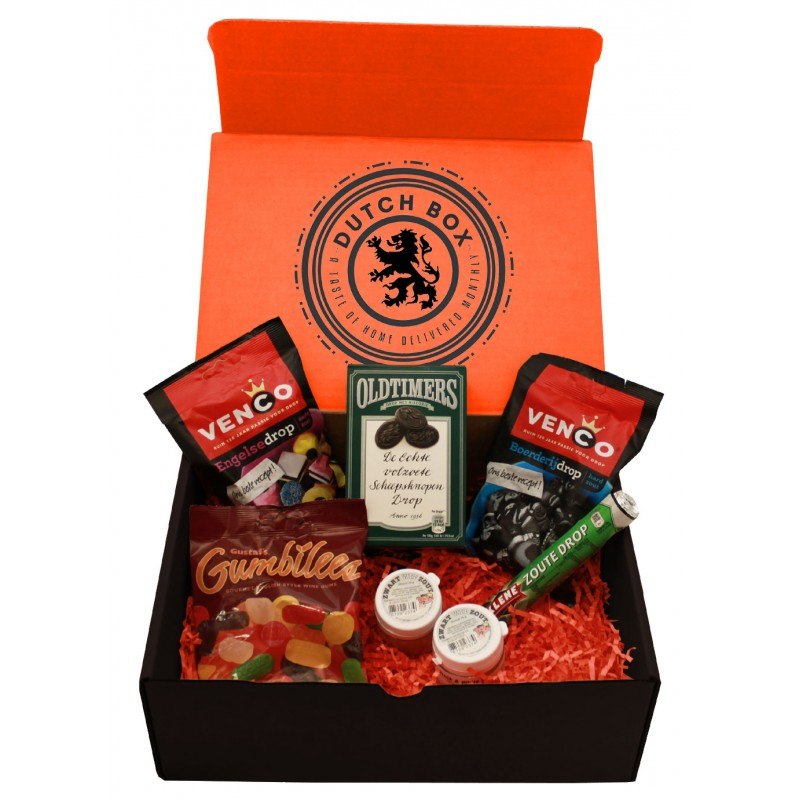 Dutch Box, inspired by the lack of Dutch grocery stores in the founder's neighborhood, brings classic Dutch foods to recipients every month. The founder wanted to share all of his culinary favorites from his homeland with family and friends. Unfortunately, because the Dutch grocery store was far from convenient, it made it very challenging.
He knew he must not be alone in his feelings of frustration at not being able to get authentic Dutch food easily, so he started the Dutch Box. The Dutch Box company sells a large variety of subscription boxes, like:
You Favorites
America's Favorites
Baker's Delight
Breakfast, Lunch, Dinner
Cookies, Cake, and Coffee
Nothin' but Candy
Surprise Me
Sweet Tooth
In addition to the above choices, there is also a licorice of the month club. The Netherlands is known for creating some of the best candy in the world, including licorice. However, in the Netherlands, licorice is known as Drop, so when you open your Dutch box and see a bag labeled "Drop," don't worry, you have the right candy.
The Dutch Box offers three different box sizes-small, medium, and large, which comes in a monthly, every other month, or a one-time shipment choice. Prices range from $19.99-$49.99 per shipment.
Each box contains a variety of products equivalent in price to the box you chose. If you have one or two favorite Dutch licorices, you can indicate that at the time of your order, and they will include up to two different brands of your choice, the rest of the box is filled with different Dutch licorice options.
Some of the licorice brands you may find in your box include Venco, Gustaf's, Zwart, and Salmiak.
You'll also get an array of licorice types such as hard, soft, chewy, sweet, salty, or powder.
Post Sweet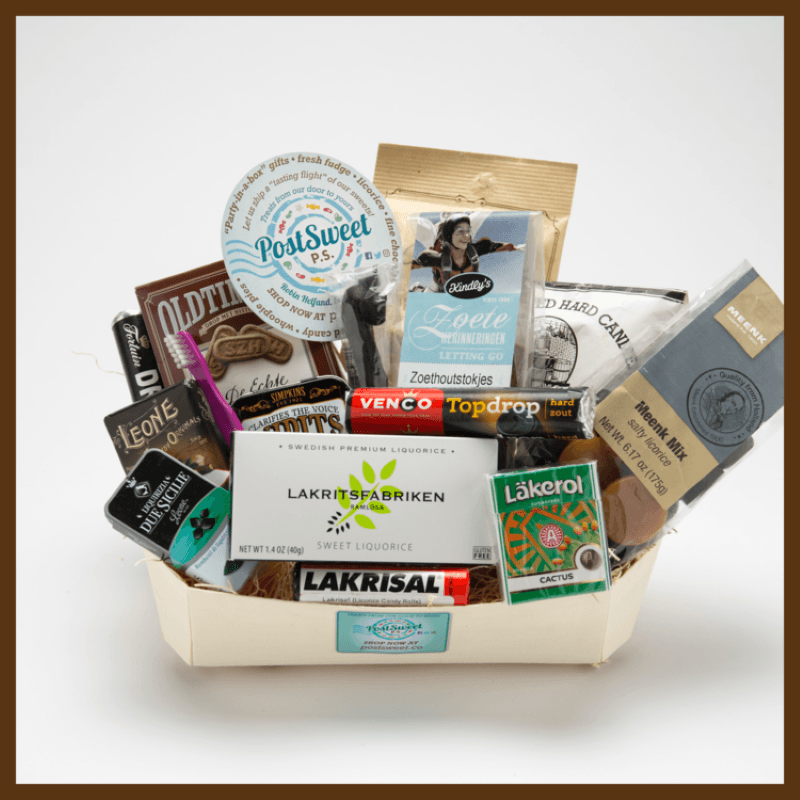 Post Sweet started as Millerton Market in 2004, a shop that sold baked goods and chocolate. However, the founder, Robin Helfand, realized her two main products were not good shop-mates since the bread ovens melted her chocolate.
So, the once bakery evolved into a candy shop instead. Robin's Candy's, located in Great Barrington, MA, offers an array of handmade chocolates, imported candies, and unique gifts. For those not close enough to the Great Barrington location, their online store Post Sweet offers several great sweet choices.
Post Sweet offers a variety of fantastic gift options, including gift baskets filled with an assortment of candy. Some of the more popular baskets include: Childhood Favorites, International Explorer, and Licorice Lovers.
Each basket comes in two sizes classic and deluxe. Additionally, each of those baskets can also be converted into a subscription gift option. The Licorice Lover's monthly subscription comes in:
1 month: $29.99/month for Classic or $49.95/month for Deluxe
3 months: $26.99/month for Classic or $46.65/month for Deluxe
6 months: $24.99/month for Classic or $42.66/month for Deluxe
12 months: $22.33/month for Classic or $37.50/month for Deluxe
Each month the recipient will receive an array of licorice, including international, artisanal, and small-batch options. The baskets are shipped USPS ground for $10 each month.
Nuts.com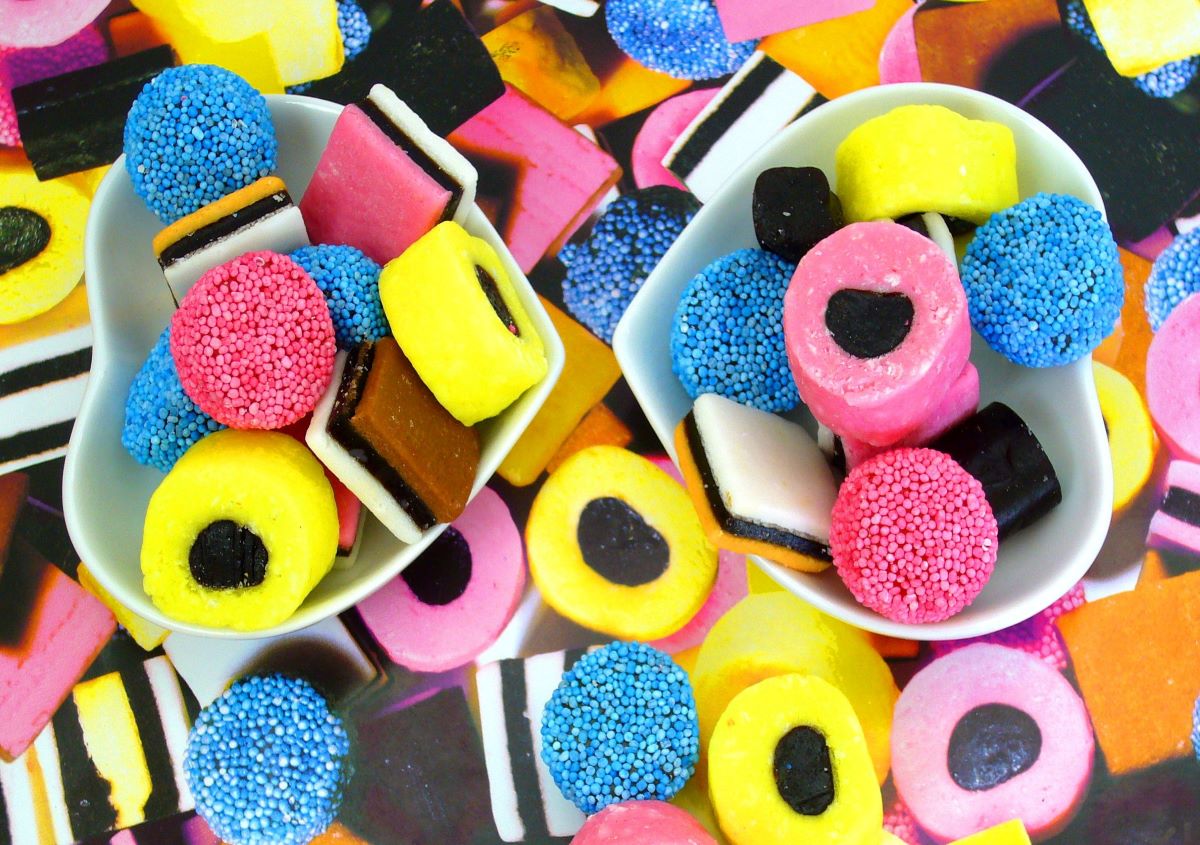 Nuts.com, founded in 1929 by Sol, started as Newark Nut Company. The shop sold premium nuts in bulk as well as dried fruit in an open-air market on Mulberry Street. It didn't take long before Sol's reputation for selling premium roasted nuts got out, and the Newark Nut Company became a success.
Now 91 years later, Newark Nut Company is still going strong and run by the same family. In 1999, they launched Nuts.com, where they offer more than 2,000 different products.
In addition to the roasted nuts and dried fruit that started the company, they also offer a variety of chocolates, candies, and other sweet treats. Plus, they have added on a baking section that includes essentials like vanilla, unique sweeteners, and flours—culinary favorites like pasta, sauces, soups, and condiments. And gifts for all occasions and holidays.
And, their licorice selection is pretty impressive with over twenty varieties to choose from, including:
Licorice mixes
Classic black
Red
Wheels
Laces
Two-tone
Chocolate covered
Twists
Scotties
The best part is that all of their licorice is available as a subscription. Each subscription comes in a variety of delivery options starting at weekly and going up to every 12 weeks. Plus, when you sign up for auto-delivery, you receive an additional 5% discount.
Gift Tin
Wisconsin Cheeseman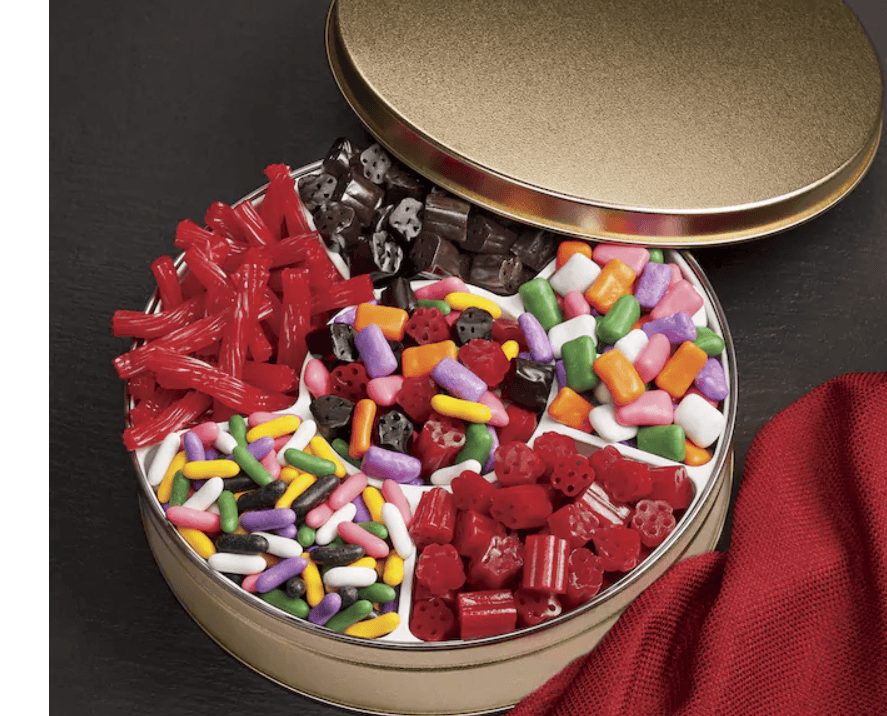 Wisconsin Cheeseman started in 1946 and is one of the leading premium food gift companies in the country. When the company first started, they only offered three different gift options; however, over the years, they have grown into the company they are today with a large assortment of food gift choices.
With a name like the Wisconsin Cheeseman, plus being in the heart of cheese country, you know the cheese they offer must be out of this world. Many of the cheeses available have won multiple awards and make for a delicious gift.
In addition to the many cheese options they also have meats, Kringles, chocolates, spreads, bread, nuts, and smoked fish.
And, if you are looking for a chewier gift, their licorice gift tin will be sure to make any licorice lover smile. The tin contains six different licorice varieties including twists, pastilles, candy coated, nuggets, bites, and assorted.
The tin weighs almost two pounds and is only $24.99 plus shipping. The tin is available to be shipped anywhere in the US.