Eating well-raised and good-quality meat offers so many health benefits. The problem with meat is that it's also so easy to ruin and to do badly. Plenty of companies mistreat their animals and pay them no attention prior to slaughtering them and profiting off the meat.
Unfortunately, even if you wanted to pay for organic, pasture-raised, and grass-fed meat it can sometimes be difficult to find in stores from a truly reliable source. Using a meat delivery service could be your answer.
Not only is a regular shipment of meat incredibly convenient, but you can choose exactly where the meat comes from. There are plenty of farms out there these days that treat their animals well – right down to regular veterinarian care. But, their meat isn't in stores.
Many meat delivery services sell it locally and then ship it across the nation. Many companies use sound, fast, reliable, and effective shipping methods that ensure your meat arrives safe, fresh, and properly preserved.
This way, you can take a deep, close look at the company you're purchasing from and exactly how the meat is fed, treated, cared for, and eventually processed.

Meat Delivery Services
Cooks Venture
Holy Gral Steak
Grass Roots Farmer's Cooperative
Crowd Cow
Porter Road
Snake River Farms
A Greener World
Rastelli's
Moink Box
Omaha Steaks
Mountain Primal Meat
1. Cooks Venture

Cooks Venture boasts the best chicken on the market. They only use certain breeds of chicken that are known to produce juicier, crispier meat that is more flavorful and tender than what you'd get from conventional, mass-bred, and produced chickens. They are the only company in America that uses heirloom chickens that are bred specifically for flavor.
Even better is the fact that all chickens are pasture-raised and treated humanely from beginning to end. They are fed a local feed grown without GMO's, meaning better health and nutrition for both you and the birds. You can order deliveries of two, four, or six chickens and they deliver to all 48 continental states.
2. Holy Grail Steak

Holy Grail Steak began when the founders just wanted to find a great steak. After a while, they ended up connecting with passionate, committed farmers, and ranchers. Today, they raise and produce their own amazing, holy grail steak.
Ultimately, their goal is to produce the world's greatest steaks, using their combined experience and knowledge of farming, animals, and steakhouses. They offer a great range of steaks including wagyu, prime, black Angus, and more. You can also order their beef in the form of hamburgers for easy preparation. Steaks are perfectly aged and vacuum sealed before shipping.
3. Grass Roots Farmer's Cooperative

Grass Roots Farmer's Cooperative works hard to produce the healthiest and highest-quality meat possible and then get it straight from their farm to your table. All of their meat is entirely pasture-raised with no pesticides, antibiotics, hormones, or GMO's in their food.
They have a selection of beef, pork, and poultry. The animals are raised in small broods and herds to ensure both quality of life and the quality of the meat when the time comes. All animals are looked after every day, which is important to many when choosing where to get their meat from.
4. Crowd Cow

Crowd Cow offers a wide range of meats for delivery. This includes pork, chicken, beef, bison, lamb, turkey, and even seafood. They also have the option of ordering 100% grass-fed beef if that's important to you.
You can create a customized order for yourself based on their available options, and then set a regular delivery each month. You can change dates, skip a box, and switch up the contents at any time, so you're always getting exactly what you need, exactly when you need it. By signing up for the subscription service you also save 5% across the board, which adds up if you're buying a lot of meat.
5. Porter Road

Porter Road started in 2010 when co-founders met and decided to team up on starting a catering business. As it grew, they discovered just how hard it was to get good-quality meat from a source they could fully trust.
Today, Porter Road has become the solution to that problem. They work with a select group of local farms to get their meat, and they cut and process it themselves to make sure it's done exactly right. They quickly became a local legend and everyone's favorite butcher shop. From there, they decided to go online and take on the entire nation. Their subscription service offers a selection of curated boxes with four themes: breakfast, fresh cuts, the grill, and add-ons.
6. Snake River Farms

Snake River Farms is part of Agri Beef which is a family-owned and operated company dedicating to producing the very best and highest quality beef and pork in America. It was originally founded in 1968 and is constantly growing.
They offer excellent, healthy beef and pork for delivery while ensuring that all animals are treated properly and have a good quality of life while they're alive. Employees are trained on how to take care of the animals, they are given health checks daily and have plenty of space to roam. They are fed a healthy, natural diet and will be seen by a veterinarian if sick or injured.
7. A Greener World

A Greener World is passionate about making the world a better and greener place. They offer their customers full transparency in the production of their food and the treatment of their animals. They have locations all over the United States and offer nationwide shipping.
Their selection of meat includes chicken, beef, lamb, mutton, duck, bison, turkey, and pork. They also have other products like dairy, cheese, baked goods, eggs, and more. You can cover most areas of your grocery shopping with them if you want.
8. Rastelli's

Rastelli's was established in 1976 and they've been committed to bringing high-quality meats to families and their grills all over America ever since. Whether it's a candlelit dinner for two or a family BBQ, they want to provide you the best possible meats for everyone to enjoy.
They only source their meat from the best – they've searched the world over for farming and fishing families that share their values and beliefs when it comes to food. Every single animal involved is treated humanely and their extremely high standards for quality are never compromised.
9. Moink Box

Moink Box is proud to offer a quality meat subscription service sourced only from fair, humane family farms. Their main selection includes grass-fed and finished beef and lamb, wild-caught salmon, and pastured chicken and pork.
To sign up for their subscription service, you begin by choosing your type of meat. Then, you can set your delivery frequency. Their specific products and cuts of meat change often so you can sign on regularly and change your selections for each delivery. If you don't have a strong preference or want to be surprised, they will make selections for you as well.
10. Omaha Steaks

Omaha Steaks has been in business for 100 years and has always prided itself on producing some of the very best steaks in the world. It began with a father and son, who passed their knowledge and skill down to new generations through the years.
They have evolved so much over the last century, and today they ship their legendary steaks all over North America. They will always be known for their steak, but they also offer seafood, desserts, side dishes, and a variety of meat as well.
11. Mountain Primal Meat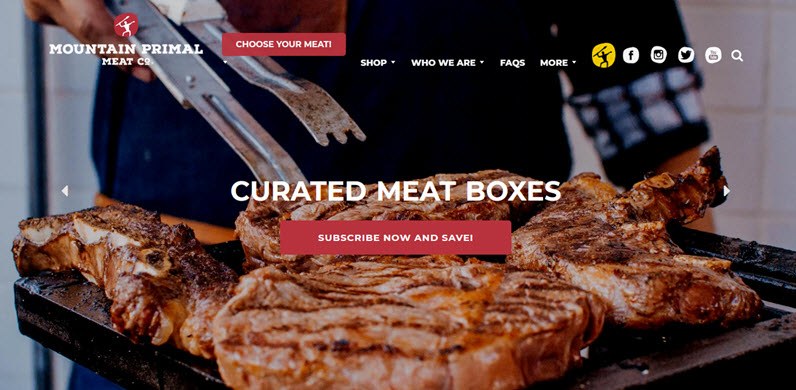 Mountain Primal Meat (is a Colorado-based company that focuses on quality meat and natural ranching. They offer a classic selection of meat, including ground beef, steak, pork, and sausages. There is even food for dogs, merchandise, BBQ sauce, and meat sticks that you can order (just in case you're looking for something a little different).
All of the meat is flash frozen before it is shipped. This helps to maintain freshness and quality.
If buying meat individually isn't appealing, you could try one of the three stockpile boxes. Two of these focus on ground beef, while the third has a wide range of meats. These boxes are all excellent ways to stock up your freezer.
Get 10% off your first order with code FOODFORNET10
Things to Consider When Having Meat Delivered
There is quite a lot to consider when you're looking for a good meat delivery service. Many people are particular about their meat, and it's an extremely easy thing to get wrong. You must choose carefully.
Variety of Meat
Some companies focus on a single type of meat. Often, this is good because they do it really well. But, it means there is no variety. If you're only after one thing, that's fine, but many people do like a good variety and it's nice if you can get it all in one place.
If you like to mix it up, find a delivery service that offers a good variety of meat without compromising quality.
Animal Welfare
Animal welfare is getting more and more attention these days as people wake up to the horrible conditions animals are forced to live in on some farms. Fair, humane, and ethical treatment of livestock, while they're still alive, is important to a lot of people.
If you are one of them, pay close attention to the way each of the meat delivery services describes the care of their animals, and look for full transparency. If they aren't open and honest about the condition and treatment of their animals, it's probably not good.
The Process
Another thing to pay attention to is how they process and ship the meat. Especially if you're ordering from across the country, you need to make sure they have proper shipping protocols in place.
It's also good if they offer very fast shipping when orders are traveling from fay away. It usually costs a little extra but it might be worth it to have your meat fast and get it as fresh as possible.