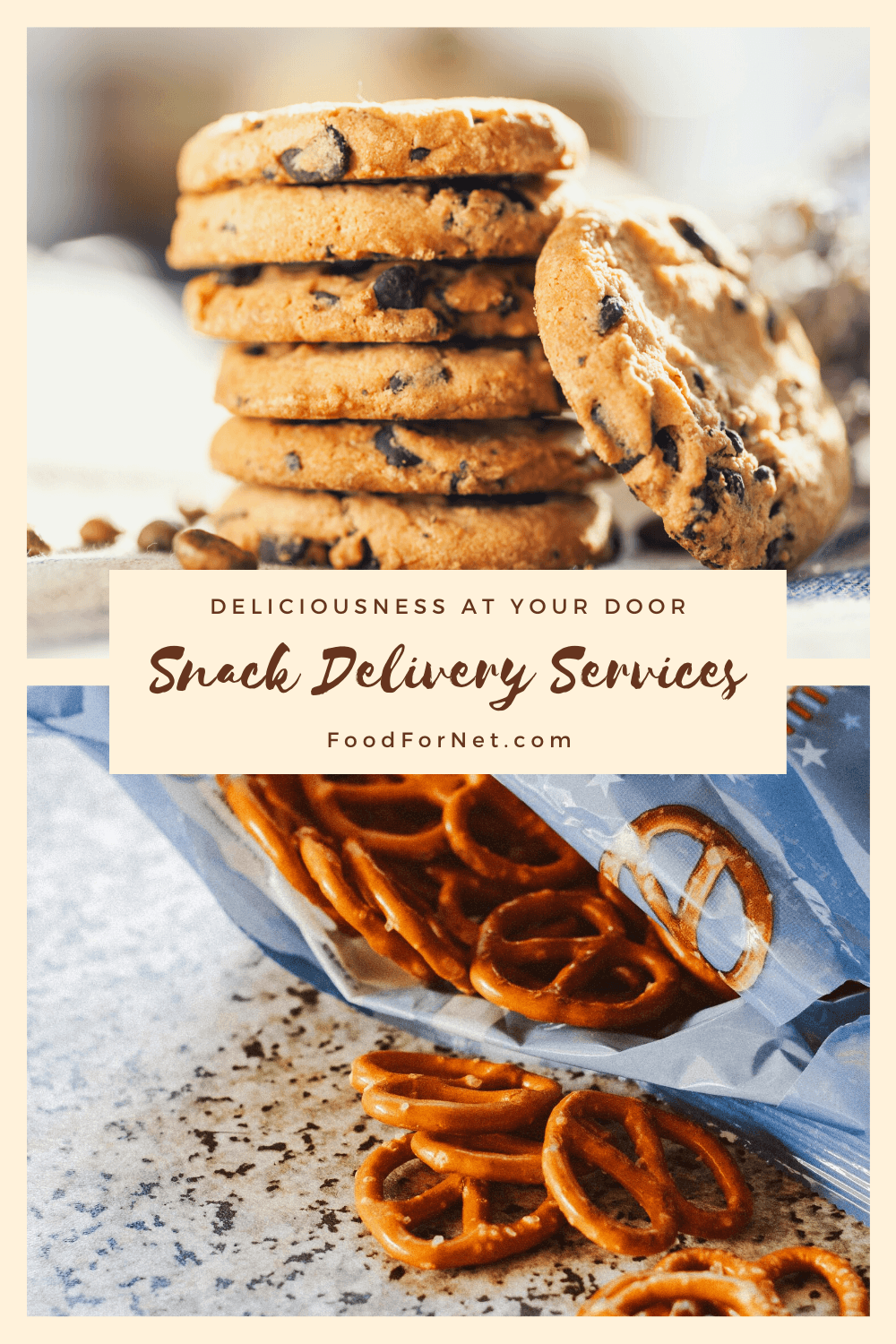 Whether you're tiding yourself over between meals or hosting a movie night, everyone needs a cupboard stocked up with snacks. Whether you've got a strong sweet tooth or you're sticking to your diet, there are snacks out there for you.
You can wander around the grocery store searching for the best options if you want. Or, you can find a snack delivery service that will bring you exactly what you want! Most deliver on a monthly basis so you'll never run out of your favorites.
The options are endless – you can find services that deal exclusively with candy or chocolate, and you can find ones that curate collections of your favorite brand-name classics. There are even themed boxes that deliver snacks from a different country every month – this is great for those with an adventurous palette and a love for travel.
Snack delivery services also make it incredibly easy to pack your kid's lunches every day. Whether you've ordered ten snacks or 30, they usually come individually packaged so all you need to do is toss it into the lunch bags and they're good to go! It's equally as fast for mom to grab a treat once the kids are out the door, too.
Snack Delivery Services
1. Universal Yums

Universal Yums is a snack subscription service that brings you fun and delicious snacks from a different country every month. In addition to the snacks, they include a booklet with 12+ pages with information and trivia about the location and it's culture.
Snacks include a good mix of sweet and salty, soft and crunchy, and an amazing variety of flavors. It's a fantastic way to get fun little taste of some cool new places around the world without having to splurge on a plane ticket. You can choose from three different sizes – 6, 12, or 20 monthly snacks.
2. Naked Snacks

Naked Snacks is a way for even the most health-conscious people to indulge in some sweets without over-doing the sugar. The company is dedicated to making healthy snacks both more enjoyable and more accessible for all – through amazing flavor and convenient delivery.
Their snacks follow an 80/20 rule. 80% whole foods with a 20% sweet reward. Snacks include nuts – some salted, some covered in chocolate – and seeds, dried fruits, healthy chips, and the like.
Deliveries can be 5, 10, or 20 snacks. You can customize the box entirely – either choose everything, let them surprise you, or a little bit of both.
3. Snack Nation

Snack Nation is a fun snack box that's meant to be given as a gift or a surprise for someone – mot commonly a family member or your employees, either remote or in-office. Especially for a remote employee, a surprise box of yummy snacks from their employer can make them feel super appreciated even though they're not a part of the office.
But – no one will know if you just want to order for yourself! You can order one of three sizes, 10, 15, or 30 snacks. For each box purchased, Snack Nation donates a meal to a family in need through Feeding America.
Boxes include a range of snacks, such as chips, bars, trail mix, sweets, even jerky and coffee.
4. The Balanced Snack Box

The Balanced Snack Box is determined to make healthy snacking as easy and as simple as possible. They do this with a monthly delivery of clean, healthy snacks you can feel good about. Not only are their snacks healthy but you can also choose from gluten-free, nut-free, vegan, and keto-friendly boxes.
Ultimately, their goal is to help you transform your life by making better choices and living a more balanced lifestyle of better snacks. The timely delivery each month means you can also save the time and energy it would otherwise take to track down the healthiest stuff at the grocery store.
5. Munch Addict

Munch Addict is a snack subscription box for the most daring and adventurous snackers. Each month, they collect a number of new and tasty snacks from around the world and compile a mystery box. They don't let anyone know what's in it and you certainly can't make any choices for yourself.
Past boxes have included candy from different cultures and fun new things covered in chocolate. It's a great way to discover new things, get a taste of different cultures, and find treats that you'll never see at your local stores.
6. Candy Club

Candy Club is for anyone with the ultimate sweet tooth. While it's certainly not the healthiest choice, we all deserve an indulgence once in a while and sometimes the same old candy all the time just doesn't cut it.
Candy Club offers a combination of sweet and sour candies in a variety of unique flavors and types. Some favorites include sour belts, cupcake bites, sour strawberries, pineapple rings, and candy watermelon slices. They also offer a selection of vintage candy including gummy peach rings, apple rings, biscotti bites, toffee peanuts, and more. When subscribing, you can choose either mostly sweet or mostly sour depending on your preference.
7. Love With Food

Love With Food combines their passion for snacks with their dedication to fighting child hunger. For every box they sell, they donate a meal to American families in need. To date, they have donated more than one million meals!
You can create your own custom delivery from their snack shop, or subscribe to one of their recurring boxes. Available box sizes include 7, 10, and 15 snacks delivered monthly. They deliver a great variety of new and classic snacks, with organic and all-natural box options available as well.
8. Variety Fun

Variety Fun promises a fun box of snacks from a variety of categories. Each box includes an assortment of chips, cookies, candy, crackers, pretzels, popcorn, nuts, and more, all in one box. You can be sure you're getting quality as well considering they include as many name-brand options as possible.
They have subscription options for both home and office. The office boxes contain 200 snacks each month and you can pick between "fun" snacks or exclusively healthy snacks depending on what your team wants. For a busy, hungry office you can also choose a twice-monthly delivery schedule.
9. Vegan Cuts

Vegan Cuts is a dedicated vegan company that's passionate about all things vegan. They have an entirely vegan snack box as well as a makeup box and a general beauty box. They are separate subscriptions so you can just go for the snacks, or branch out to the others as well if you really want to build your vegan collection.
Their snack box contains at least ten items each month, all of which are carefully curated by their expert snackers. They go all over the world looking for new snacks, flavors, and cultures to experience. In addition to their 100% vegan promise, they are also committed to being 100% cruelty-free and they donate to various animal sanctuaries every month.
10. Carnivore Club

Carnivore Club is the perfect subscription service for meat lovers. Their subscription service has two options – the classic box or the snack box. The snack box delivers four to six meat snacks each month. This includes jerky, meat sticks, and the like.
The classic box includes four to six full cuts of premium meat each month. This includes handcrafted salami, bacon, and more – things you won't ever find at the grocery store! Outside of the subscriptions, they also have a shop where you can create an individual, custom order.
Things to Consider When Having Snacks Delivered
A monthly snack delivery is certainly convenient, especially for those with a chronic sweet tooth or lots of kids at home. But – you need to make sure you're getting exactly what you want lest you feel your money has gone to waste. Consider the following things when choosing a snack delivery service:
Variety
Most snack subscription boxes don't let you customize the regular box, meaning everyone gets delivered the same thing. For this reason, it's important that you pay attention to the variety they offer so you're not always getting snacks you don't like.
Some offer a wide range of snack types while others focus on just one thing – candy for example. Figure out what kind of snacks you want on a regular basis and find a service to suit your needs.
Healthy or Sweet
There are two distinct categories of snack boxes – junk food and healthy snacks. The junk food boxes will satisfy that sweet tooth with chips, candy, chocolate, and more. Healthy snack boxes, on the other hand, will deliver things like nuts and crackers that will qualify for your healthy diet.
The type of box you want will depend on what kind of snacker you are.
How Many Snacks are You Getting?
Lastly, you want to consider the quantity. As an individual and/or occasional snacker, a small box of ten or fewer will probably do. If you're buying for your whole family or even a workplace, you want something that offers much more.
Some boxes have multiple options, so make sure you find something that offers the quantity you want while still being affordable.
Related Content