Finding good food at the airport is always an exercise in frustration. Far too many things look like they should be delicious, yet they end up being dry, stale, or simply gross. Thankfully, there is some airport food that tastes good too. Some of it is even healthy.
To find it though, you're going to need to be cautious. After all, there are plenty of poor choices at the airport too. Some of them risk making you sick during your flight, which is almost the worst possible outcome.
In this list, we're covering both sides of the equation – showing you which foods are a good choice before you fly and which ones should be avoided, regardless of how hungry you are.
Also remember that buying food isn't your only option. You can also make delicious meals to bring with you to the airport. Plenty of foods can even be taken with you onto the plane, making everything much less stressful.
Airport Food That Tastes Good
Fresh Fruit

Fresh fruit is one of the simplest choices. It's delicious and refreshing. Plus, it's a natural product, so you know exactly what you're getting before you pay for it.
Fruit isn't too hard to find either. Most restaurants and stores will have a bowl of fresh fruit somewhere. If you can't find any, try asking. With so many brightly colored displays, it's easy to miss the fresh fruit.
You will, however, need to pay close attention to the fruit you choose. Some pieces may have been sitting there for a while or handled by many people, which often gives you bruised or over-ripe pieces.
Apples and oranges can both be excellent choices, as they hold up to handling well. Bananas, on the other hand, bruise easily and it can be hard to find one that still tastes good.
Honestly though, it's much better to just bring fruit from home. This way you know the quality ahead of time and you're not overpaying for a simple piece of fruit.
Fruit Salad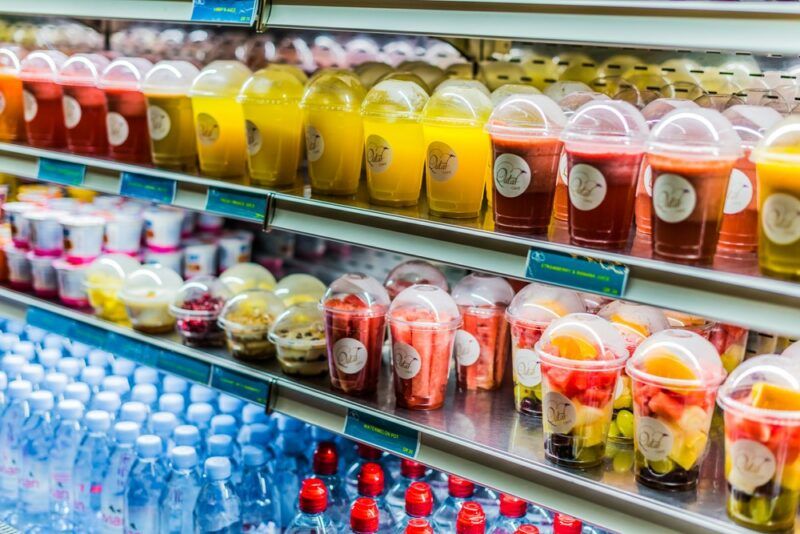 Fruit salad can be delicious. Once again though, the trick is to choose well. Look for products that have been prepared in-house, rather than ones that have been sitting in the cabinet for days.
Ask about the dressing too. Many fruit salads rely on cut up fruit and nothing else. This gives you all the benefits of whole fruit, while also providing a variety of flavors and textures.
Other fruit salads use a syrup-based dressing that's heavy in sugar. This can make the entire salad sickly sweet, which is an awful idea right before you get on a plane.
Yogurt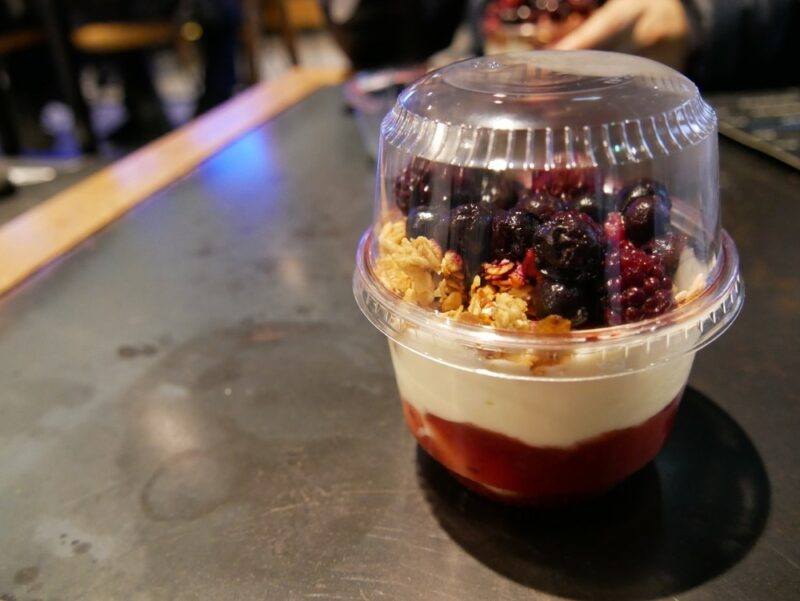 Airports cater for many early morning travelers, so breakfast foods like yogurt are a common sight.
As strange as it might seem, the pottles of yogurt like those from the grocery store are often the absolute best bet. The benefit here is that you know exactly what you're getting. You can use the ingredients labels to work out which brands are low in sugar and don't use many additives.
Yogurt parfaits can be delicious too, especially when they're made with granola and fresh fruit. While it's hard to get these wrong, be aware that the calorie content is often high. Still, parfaits are filling too, so they might be worth the calories in some situations.
Cheese Plates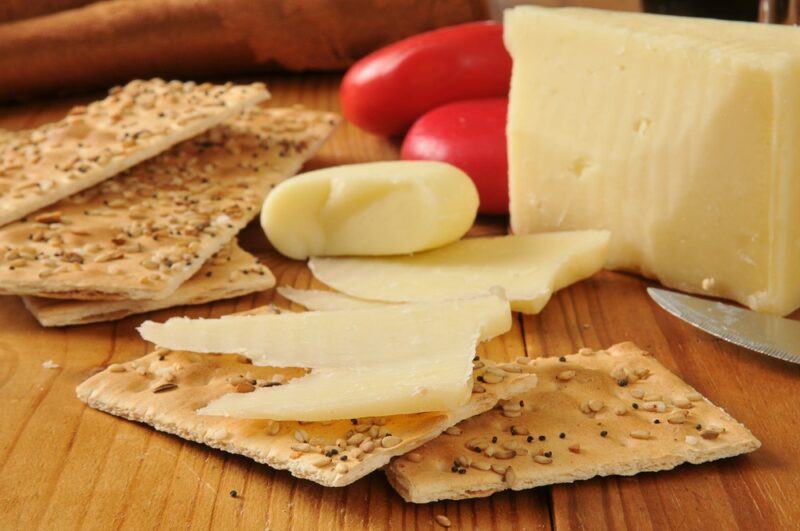 There's no denying how delicious cheese is. It has another fantastic feature too – you know exactly what you're getting. It's hard to mess up a meal that mostly just consists of cheese and perhaps some crackers.
Many places will offer pre-prepared cheese plates in their cabinet section. While these vary in quality, they're more reliable than most other cabinet options, including sandwiches.
This highlights one of the most important rules of eating at airports – simple is best. The more complicated a dish is, the more chance that the company will get it wrong.
Food From Restaurant Chains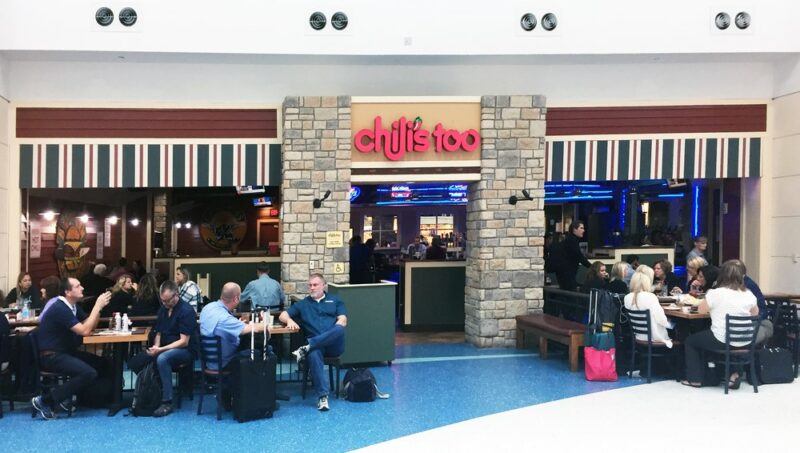 This may be unexpected, but casual restaurant chains like Chili's and Shake Shack often produce surprisingly good airport food. The quality can even end up being better than one-off restaurants that look like they focus on quality.
This happens because large chains are invested in their image. Plus, they have the finances and infrastructure to maintain consistent quality, even when serving food at an airport. Smaller brands simply don't have the same clout.
Most of the time, the quality of food at such chains is roughly the same as you'd get from any of their other branches (so, not excellent, but not horrible either). If you have a company or two that you enjoy, then they're a reliable choice when you're at the airport too.
Besides, such chains tend to be pretty inexpensive, especially when compared to other airport food. You might be able to get a filling meal for less than $10. That's hard to beat.
Grilled Soft Tacos

Tacos made using grilled chicken can be perfect, as they're not too heavy and keep the calorie content low. Some even have vegetables, which give you extra nutrients.
There is a trick though. You need to choose the company carefully to make sure you're getting a quality product and there's no risk of food poisoning.
This is another time where using a familiar restaurant chain may work to your advantage. This way you know precisely what you'll end up with.
Subway Sandwiches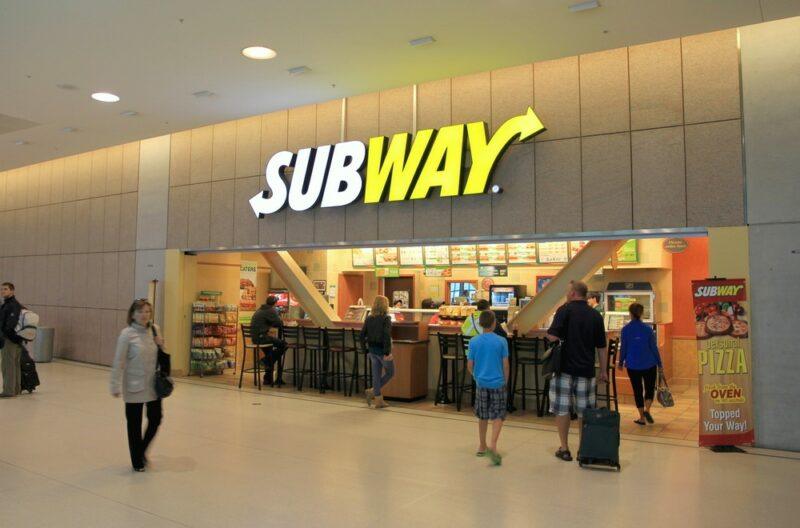 Sandwiches from Subway can be surprisingly good, as you get to choose the ingredients and the restaurant has a strong focus on quality. Plus, your sandwich is prepared fresh. That's always better than eating a deli sandwich that's been sitting in a cabinet all day.
Before you order your sandwich, take a close look at the ingredients in the cabinet. Subway sandwiches are best when the ingredients are replaced regularly. If everything looks wilted and unappealing – try somewhere else.
The popularity of the store is another indication. This is one time where a large line of customers is actually a good thing, as this means that the ingredients are regularly getting turned over.
Soup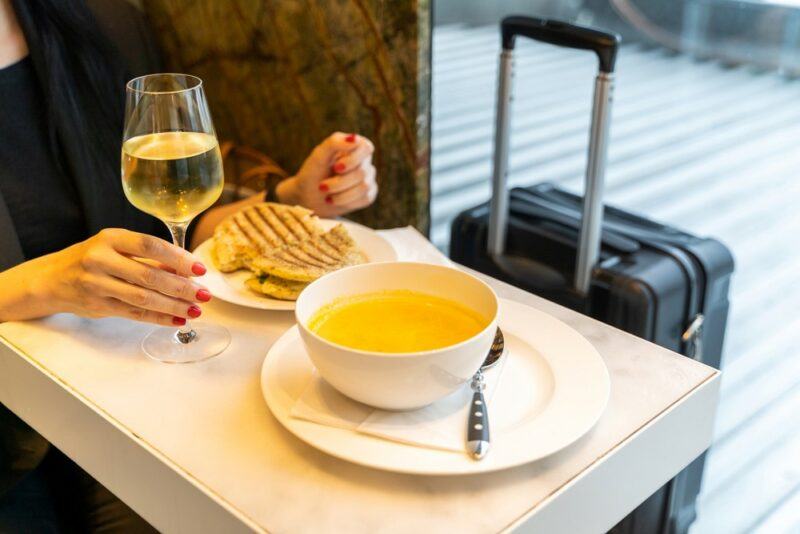 Soup is often an excellent choice. Not only is it warm and nourishing, but there are also many types to choose from.
The best soups will be broth-based, ideally ones that contain plenty of vegetables or legumes. Minestrone and vegetable soup are classics. Don't forget about chicken soup either.
These soups contain plenty of water too. The water helps to keep you hydrated, which is essential when you're traveling. It's too easy to get dehydrated, especially as you can't take a bottle of water on the plane with you.
Skip the cream-based soups whenever you can. These are often laden with calories and won't do you much good at all.
Eggs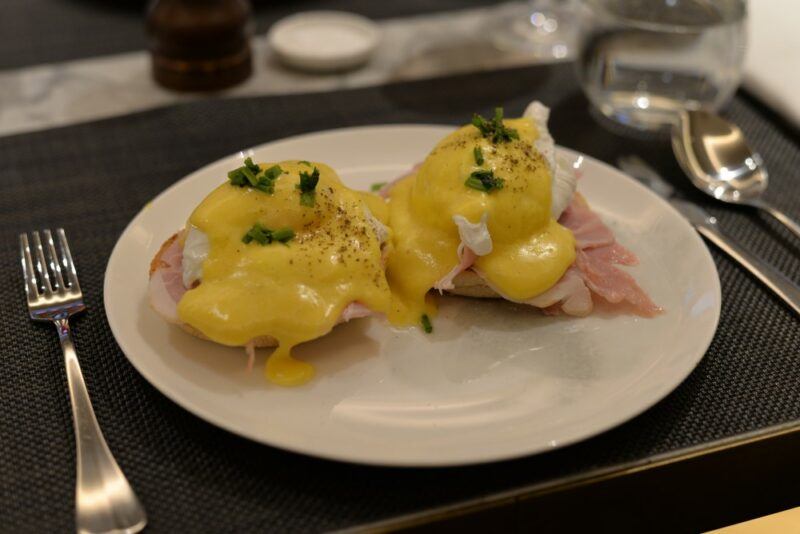 Whether they're poached, fried, scrambled, or hard boiled, you'll often find eggs on the menus of airport restaurants. Eggs are surprisingly perfect, as they're such a classic that they're hard to get wrong.
Plus, don't forget that eggs are also packed with protein and various nutrients. This makes them a healthy choice, one that can help to keep you satisfied for hours.
Prepackaged Nuts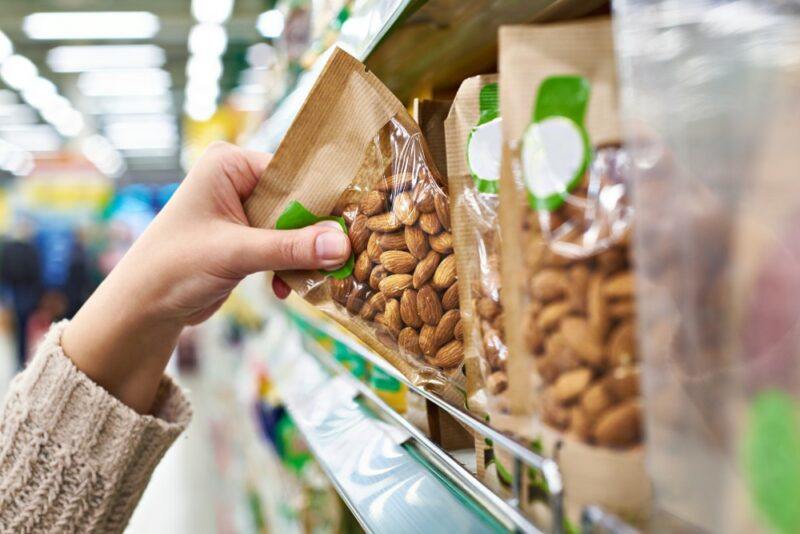 Many airport stores have a section with prepackaged snacks, including yogurt, nuts, cheese, and other simple options. Such simple snacks might seem boring, but they're actually one of the best things you can buy, largely because it's hard to mess them up.
Nuts also have the advantage of being filling. While they're not enough for a full meal on their own, they can easily tide you over.
The trick here is to focus on products that just contain nuts or perhaps a combination of nuts and seeds. Don't be tempted by trail mixes, as these often contain far too much sugar and easily end up being calorie bombs.
Foods To Avoid
Salads
Most Cabinet And Buffet Food
Burgers
Sushi
Burritos
Salads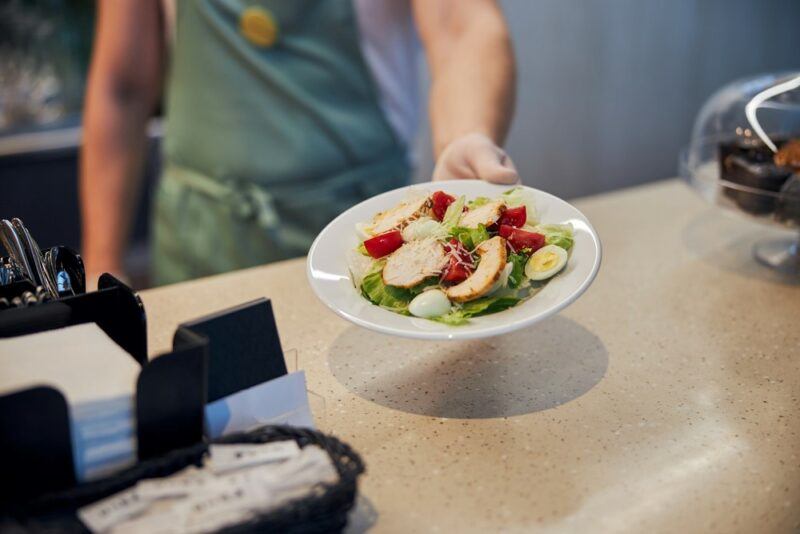 Airport salads seem like they should be a great choice. They're not.
One problem is that the salads are generally sitting in the cabinet for much of the day. They're often wilted and don't taste that good at all by the time you get to them.
The chain of food safety is also a little questionable in an airport. You never really know how long food has been sitting out for. Because salads use raw ingredients, the risk of food poisoning is surprisingly high.
Let's not forget that airport salads are expensive too. You're paying through the nose for a small salad of questionable quality. Why do that to yourself?
The main exception would be places like Subway, where the ingredients are getting turned over regularly and salads are made fresh. Even here, you'll need to look closely at the ingredients before you order to make sure the quality is what you expect.
Most Cabinet And Buffet Food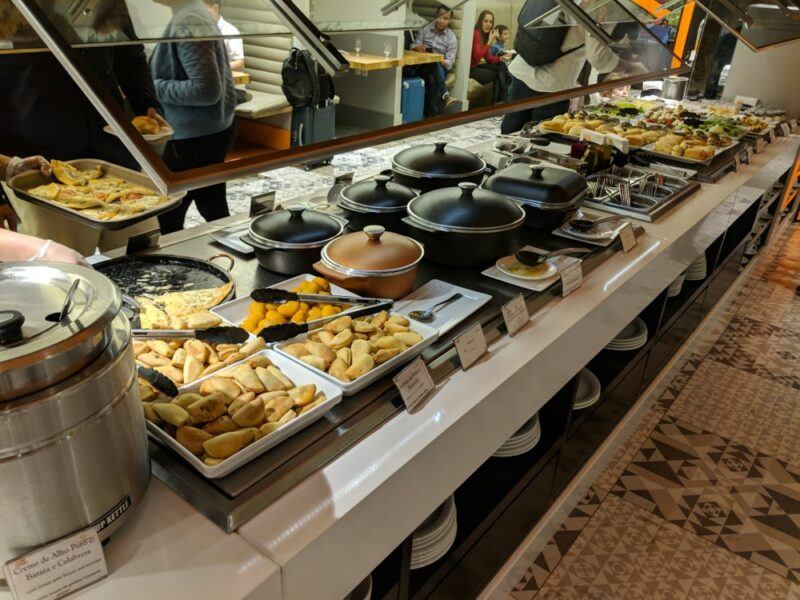 Unless you're traveling first thing in the morning, cabinet and buffet food is almost always a bad idea. Most of the food is prepared in bulk and has been sitting there for hours. This includes deli sandwiches, which seem like they should be filling and healthy.
Some of those items weren't even prepared on site. They were shipped in, defrosted, and warmed instead. Not surprisingly, the food doesn't end up tasting very good at all.
Food that's kept warm tends to be worse than anything that's chilled. Keeping food warm for hours on end tends to dry it out. That's why your cheap slice of pizza often ends up chewy and tasting much like cardboard.
The best options are buffets where the food quickly sells out and is replaced by fresh additions. But, it's worth being wary even then, as popular food isn't always as delicious as it seems.
Burgers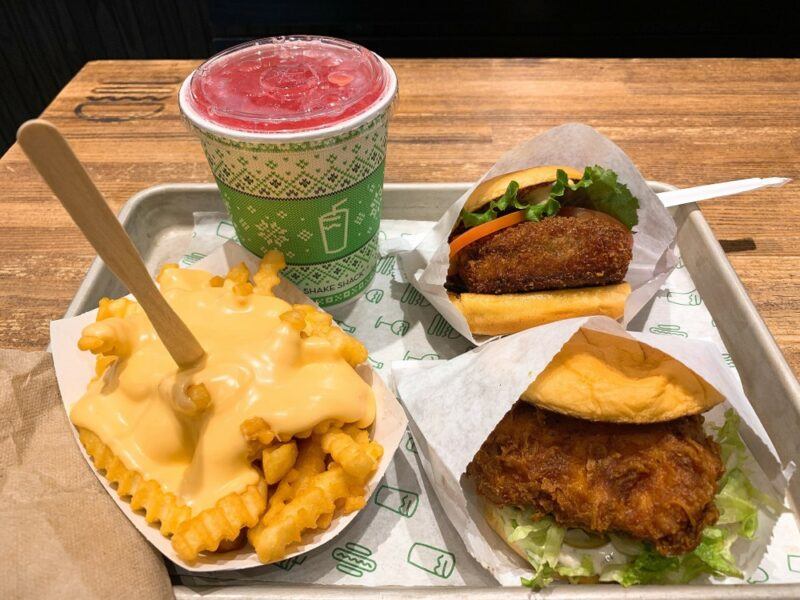 Burgers seem like a first-rate choice at airports, as they're often inexpensive and are filling. The biggest issue is that undercooked red meat can easily make you sick.
And, let's be honest, the focus on quality in airport kitchens often isn't amazing. There's a lot going on at once and it's too easy for things to go wrong. Even mild food poisoning would be enough to make your flight a traumatic experience.
Sushi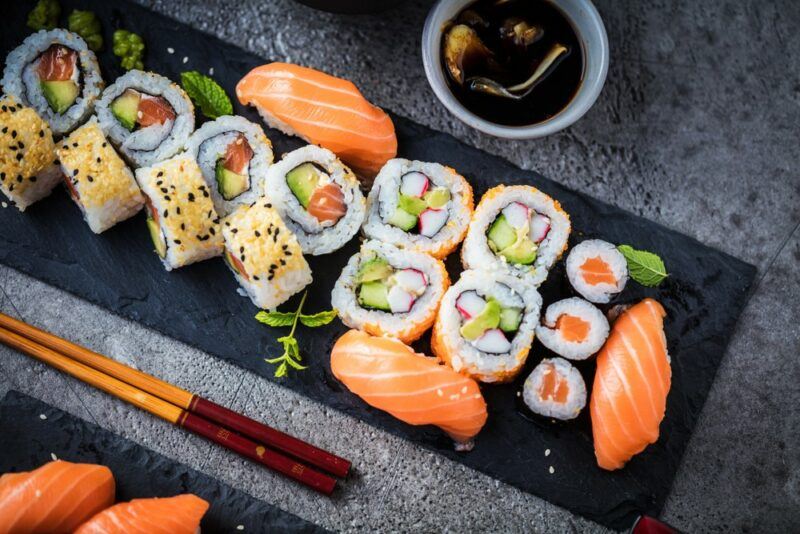 Sushi is healthy and delicious, most of the time. It also comes with a little risk, as it involves raw fish and needs to be stored at the right temperature.
That risk is minimal most of the time. But, there are too many extra variables at the airport, including just how long the sushi might be sitting around for.
In the end, the answer is the same as it is for burgers – sushi just isn't worth the risk.
Burritos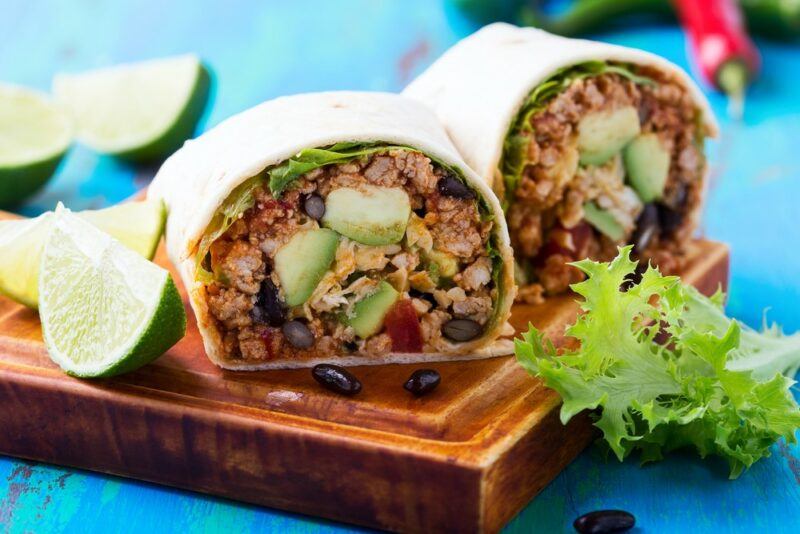 There's some risk of food poisoning from burritos, but this isn't high, as the ground meat used should be fully cooked.
The problem here is the side effects. Many people end up needing an urgent bathroom visit after a burrito. That's not a good situation to be in when you're in a confined space far above the earth. Unexpected turbulence could make matters even worse.
Do yourself a favor and play it safe at the airport. This is the last place in the world that you want to be experimenting with new food.