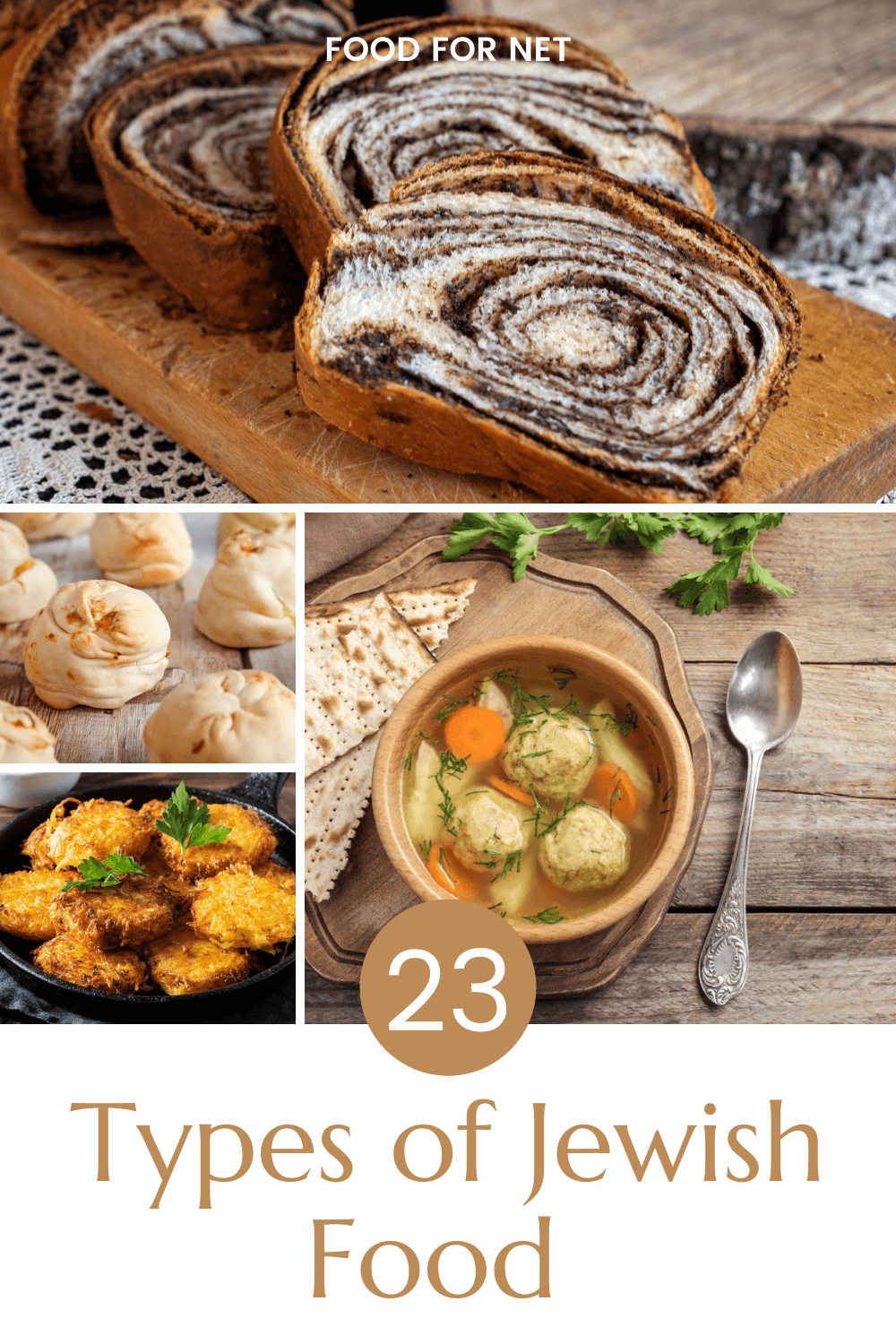 Learning about Jewish cuisine can seem almost overwhelming at first, partly because there isn't just one style of Jewish food. Instead, the various types of Jewish food is influenced by the region that people settled in, by history, and by many other things. This has led to a variety of different styles, including Persian, Indian, Latin American, Ashkenazi, and Sephardi Jewish food.
Culture and history aren't the only things that have influenced Jewish meals. The food must also be prepared following the rules of kosher. This includes avoiding pork and shellfish, along with some other ingredients. Meat, when served, needs to have been ritually slaughtered and prepared in a specific way.
To complicate matters further, the rules prevent meat and dairy from being combined in the same dish. Such restrictions mean that many traditional dishes need to be modified to make them suitable for Jewish eaters.
However, all of these rules don't mean that Jewish food isn't worth eating. Quite the opposite. There are plenty of delicious meals that are worth trying for yourself. Many of them can easily be made at home by following a Jewish or a kosher cookbook.
Delicious Jewish Meals And Food
Shakshuka

This one pot dish is a staple meal and tastes just as delicious as it looks. It's an Israeli that meal involves a spicy tomato-based sauce and eggs. As well as tomatoes, the sauce also tends to include cumin, chili peppers, and perhaps onions.
Of course, you can always play around with the ingredients and spices to create your own version of the dish. Some variations include a green shakshuka and one that uses some of the ingredients that you find in a caprese salad.
It's often served in a cast iron pan with some type of bread to help you mop up all the delicious sauce. Small pieces of pita bread are a popular choice, although other types of bread can be used too.
Latkes

You'll often see latkes served during Hanukkah, as part of the celebrations. The delicious potato cakes are even one of the most popular parts of the holiday for many people.
Despite their popularity, there's nothing very unusual about latkes. They're simply pancakes made with grated potatoes that have been deep fried to give them a fantastic texture. Sour cream or apple sauce are the most common accompaniments to the potato pancakes. Of course, other types of sauce work well too, so don't be afraid to experiment.
The tradition of serving latkes during Hanukkah isn't related to the potatoes at all. Instead, the oil used to deep fry the potato cakes is the historically significant part. This oil is a reference to one point in Jewish history, where a single night's worth of oil lasted a whole eight nights instead.
Brisket

Traditionally speaking, brisket is slow cooked meat, made from a particular cut of beef, one that tends to be both inexpensive and tough. The toughness of the meat makes slow cooking essential. Otherwise, it would just be too difficult to eat.
Thankfully, as all brisket lovers know, the final dish is well worth all the effort that goes into it. You end up with a flavorful meal, one that often uses herbs for extra complexity. In fact, when the brisket is cooked well, the meat almost melts in your mouth.
Brisket is an easy Jewish food, as it already largely meets dietary guidelines. The main limit is that you need to choose kosher meat. But, you probably already know where to source such meat locally.
Don't forget that other types of meat can be cooked slowly as well. Corned beef is a classic example. It might have a different flavor and texture to regular beef brisket, but it is no less delicious.
Mandelbrot

This treat should look familiar, as it is very similar to the Italian biscotti. The difference is in the ingredients. While a biscotti tends to rely on butter, a mandelbrot is made using oil instead.
This change in ingredients means that a mandelbrot can easily be dairy free, which then gives you plenty of flexibility for when you can eat it.
Challah

Challah is a famous type of Jewish bread, one that is often served and eaten during significant Jewish holidays and Shabbat. The bread is immediately recognizable by its braided appearance.
Don't worry though, the braided bread isn't nearly as difficult to make as you might expect. All you need is a good recipe and a little practice, then you'll be making loaves with the best of them.
It's even possible to use a bread machine for the bulk of the work.
Plus, this is a versatile type of bread. It can even be frozen or used as the base for French toast.
You don't need to stick with plain challah either. There are plenty of variations, including honey challah, where the honey adds a fantastic flavor and just the right amount of sweetness. Adding raisins is another way to make the bread a little more interesting (although, honestly, challah is delicious even when it's served plain).
Matzoh Ball Soup

Here's an interesting dish that you might not have seen before. The basic dish is just chicken soup, complete with the stock and vegetables that feature in most versions of such soup.
However, the carbohydrate balls are what make the meal stand out. These give you such a perfect contrast of texture and flavor. You'll wonder why you ever made chicken soup without matzoh balls.
Traditional methods of making the soup involve using chicken fat as part of the process. However, this isn't essential. You can easily vary the recipe. It's even possible to make a vegetarian or vegan version of matzoh ball soup without too much extra effort.
Kugel

This traditional Jewish meal uses noodles and potatoes as the main ingredients. While that combination might sound strange, don't judge the meal until you've tried it for yourself.
Other ingredients include butter and cheese, and the entire dish is based in the form of a casserole. You end up with a delicious meal that's comforting and rich in carbs. It isn't exactly a healthy meal and would be horrible for low carb dieters. Still, comforting dishes like this certainly have their place.
As with many dishes, there is plenty of ways to vary the meal. Noodle kugel, potato kugel, and matzo kugel are all popular versions that you might see served. It's even possible to make a sweet version of kugel, where cinnamon and raisins might be included to complement the sweetness.
Other versions add savory ingredients, like vegetables, peppers, and herbs, to provide a greater depth of flavor.
Sufganiyot

The name sufganiyot might be unfamiliar, but the treat itself shouldn't be. We're basically just talking about a donut, one that is deep fried and delicious. The donuts are often filled with jelly too, which just makes them even better.
As with all donuts, these treats are best eaten fresh. They never taste as good if you're having them a day or two after they've been made.
For that matter, a warm sufganiyot is almost impossible to beat. Try one for yourself and you'll see what we mean.
Charoset

Charoset may look instantly familiar, as baked apples with cinnamon are a traditional fall dish in the United States too.
There is, however, one difference here – as charoset often includes walnuts. The walnuts provide a fantastic contrast to the texture and flavor of the apples, while also giving you some extra protein.
You'll often see this dish served during Passover. However, it can be just as delicious on other occasions as well.
Hummus

We can't forget about hummus. This chickpea dip is now incredibly popular and well known. You can make it yourself without too much effort and grocery stores stock plenty of versions with all manner of flavors.
While hummus isn't exclusive to Jewish eating, it's popular among Jews, so it's too important to leave off this list.
Borekas

Borekas could be the perfect dish for anyone who loves pastries. They're generally made from either phyllo dough or puff pastry, with sesame seeds on the top.
As for fillings, the options are almost endless. Some versions are filled with cheese, while others use potato or spinach instead. Multiple fillings can work as well, like borekas that combine onions and lentils, or ones that include potatoes and cheese.
You could even use meat as an ingredient.
Honestly, what's not to love?
Gefilte Fish

While dishes like borekas, hummus, challah, and sufganiyot are almost universally loved, interest in gefilte fish is more varied. Some people absolutely love the dish, while others can't stand it at all.
Regardless, the fish is often served during Jewish holidays and on Shabbat.
The dish itself is made by using deboned poached white fish, which has been ground and formed into patties. Sliced carrot is often used as a garnish.
Traditional versions of this meal were more labor-intensive and involved stuffing minced fish into fish skin. That practice is largely ignored now, with chefs preferring to simply shape ground meat instead.
Babka

Babka is a type of sweet cake that can be varied in countless ways. The dough tends to be both doubled and twisted, creating interesting shapes in the cake. You can expect it to rise high too, as there is plenty of yeast included in the recipe.
Traditional fillings include chocolate, dried fruit, and nuts, but you can let your imagination go wild. There's no shortage of recipes to play around with, including traditional flavor combinations and modern ones.
Knish

Knish is both simple and delicious. You're basically eating either fried or baked dough that is stuffed. Cheese, meat, or potato are all common fillings. But, as you can probably guess, there are plenty of ways to change things up.
Knish has become a surprisingly popular food in the United States, particularly in the 2000s, when many knish stores opened. While some of the excitement around the dish has died down, there are still plenty of passionate knish eaters throughout the United States.
Rugelach

This treat is ideal for anyone with a sweet tooth. The little pastries look a little like croissants, except that they're smaller and are packed with chocolate.
The dough is a little different too, as yogurt or cream cheese is usually used as part of the dough. This addition creates an amazing texture and flavor, one that you won't want to pass up.
Bagels

While bagels aren't exclusive to Jewish cuisine, they are important, as you'll find them served at many Jewish bakeries. It's easy to see why too, as bagels are the perfect base for many different toppings, including cream cheese and lox (which is basically smoked salmon).
There's no shortage of places to buy fresh bagels. However, if you want something even better, why not make your own instead?
Homemade bagels will almost always taste better than anything from the local store. You can even tweak the ingredients to make the bagels exactly right for you.
Smoked Salmon

Smoked salmon isn't just a topping to put on your bagels. The fish is also delicious in many other ways, including in sandwiches, on crackers, and even on its own.
You probably won't need more than a few slices of smoked salmon at any given time, as the flavor is strong (smoked salmon isn't cheap either, which is another reason for watching the amount that you use).
To save a little money, why not smoke salmon yourself? There are plenty of recipes that allow you do to this at home. You don't need a lot of equipment or patience either. Shortcut recipes will give you a similar flavor and texture to real smoked salmon, with much less work.
Blintz

If you want something easy, delicious, and endlessly versatile, blintzes are tough to beat. The basic idea is a flat pancake that is rolled up and stuffed with a variety of ingredients. You'll sometimes see sweet versions with fillings like chocolate. Savory versions are also popular, with fillings like mashed potatoes, cheese meat, or rice.
An interesting variation is often served during Hanukkah, where the blintzes are stuffed with cheese and then deep fried. The deep frying represents part of the Hanukkah story and the finished blintzes are simply delicious.
Hamantaschen

These little triangle jelly-filled cookies are prepared for the Jewish holiday of Purim. The shape is a reference to Haman and is said to resemble either Haman's hat or his ears. Haman himself is the villain of the Purim story because he tried to kill all the Jews in Persia.
Of course, you don't need to know or be invested in the story behind the holiday to enjoy the cookies.
The cookies also happen to be delicious and they're easy to prepare. Making the cookies can be an excellent family activity, one that even the kids can get involved in.
Fruit jelly is a popular filling for the cookies, but there's plenty of room for variation here too, with chocolate and poppy seeds being other options. You can even get creative and make complex fillings.
Cholent

Cholent is a slow cooked meal and became popular because Jews are prohibited from both working and cooking on the Sabbath. Slow cooking is an easy way around the problem, as one can begin cooking the meal before the Sabbath, and then have a hot cooked meal on the day itself.
The basic idea is just a slow cooked meal, so there are countless variations on the theme. Some of these are simple, others are complex, and many are influenced by the cuisine of the region in question.
Hot Deli Sandwiches

Deli sandwiches, particularly those served on rye, are classic Jewish fare. Corned beef is a popular ingredient and the sandwiches are infinitely better if you prepare your own.
Don't be afraid to experiment with fillings. This is the best way to find sandwiches that you love. After all, everyone's flavor preferences are just a little bit different.
There's one limit here though. Because of the rules surrounding dairy and meat, you can't include both in the same sandwich without the dish being non-kosher.
Apple Cake

Apple cake isn't an exclusively Jewish food, but it is one you'll often see served, particularly for the Jewish New Year.
Choosing a dairy free apple cake recipe is particularly powerful, as this means you can easily serve the cake straight after a meat-rich meal.
Jewish-Style Fried Artichoke

This method of cooking artichoke is thought to have originated in Rome and is seriously delicious. The artichokes are seasoned a little, often just with salt, pepper, and lemon juice. Then they're deep fried in olive oil.
After frying, a little cold water is sprinkled over the artichokes. This helps to crisp them up and gives you crunchy leaves that taste amazing.