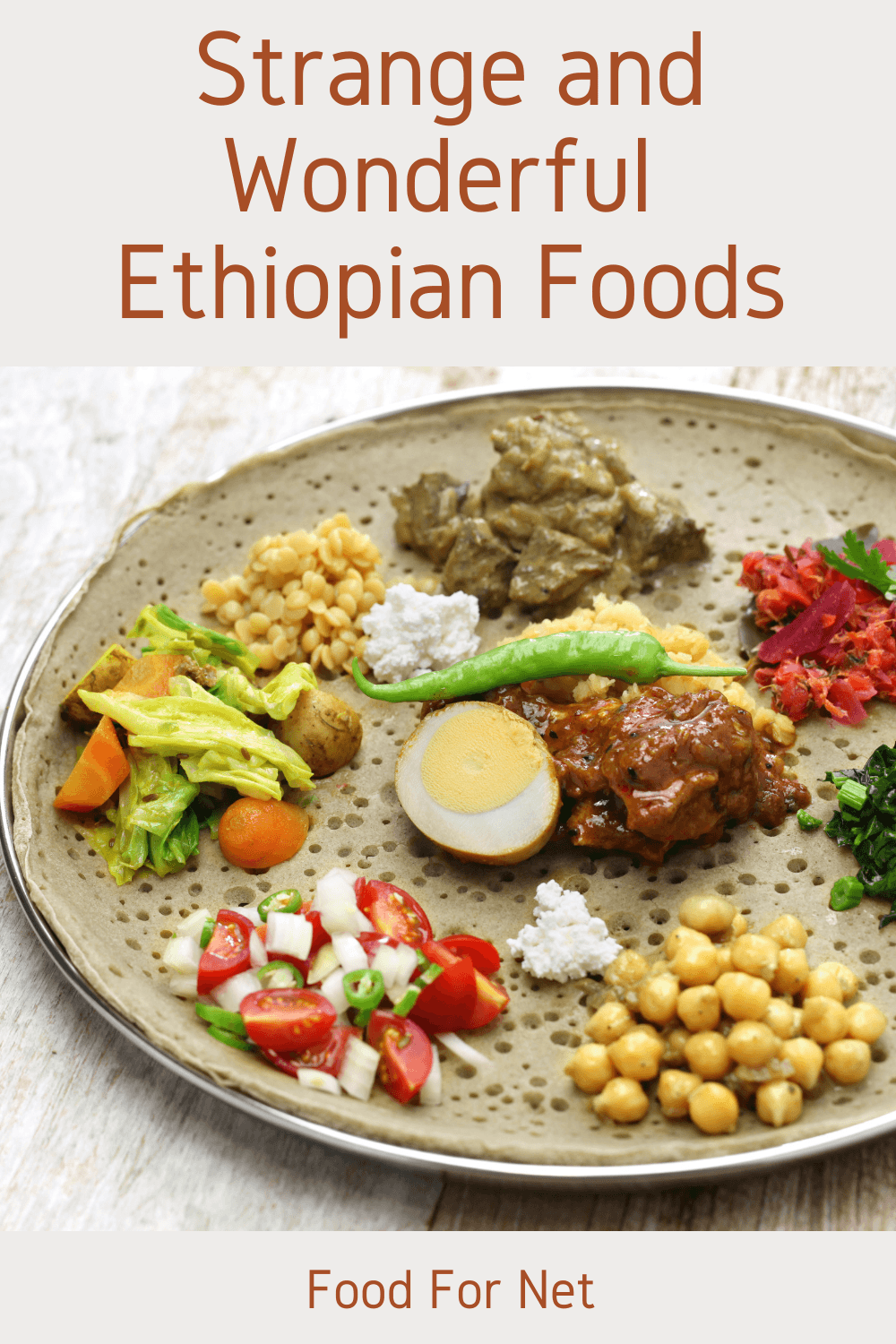 Ethiopia is a remarkable country, one that we don't talk about often enough. Its long history and cultural background means that there are many delicious types of Ethiopian food just waiting to be experienced.
However, before we get to the food itself, we should talk a little about eating in Ethiopia. The country follows a communal eating approach, where everyone is sitting around a common dish and generally eating with their hands.
The foods have plenty of flavors to go around, as Ethiopian cooking often heavily relies on spices. In fact, many meals rely on a classic spice mix called berbere that includes 16 different herbs and spices, like cardamom, cinnamon, ginger, and chili powder.
The intensity of the flavors is similar to some other ethnic meals, like Thai or perhaps Indian cooking. However, Ethiopian food is certainly distinct. Oh – and the dishes tend to be healthy too. They're often low in fat and packed full of nutrients. There are even plenty of vegetarian options.
Delicious Ethiopian Foods
Injera
Tibs
Kitfo
Tere Siga
Bayenetu
Wot
Fuul
Firfir
Enkulal Firfir
Timatim Salata
Beet Salad
Buticha
Fasolia
Kolo
Shiro
Dulet
Misir Wat
Asa
Gomen
Minchet
Key Wat
Injera

We must talk about injera before anything else, as this Ethiopian bread is the base for most meals. This bread probably isn't what you expect either. It is a little like a pancake or flatbread, except that it has a rubbery surface and a bitter, almost sour flavor.
Injera pieces can be large too, as other foods tend to be piled on top of it. Eaters can tear scrips of injera from the edges and use these to scoop into the other ingredients.
While the flavor of injera mightn't be what you expect, the bread serves its purpose well. Its bitterness naturally contrasts and even complements the spiciness of other foods.
Plus, injera isn't made from wheat. It relies on tef instead. This is one of the smallest grains in the world. It's naturally gluten free, contains a decent amount of protein, and is sometimes seen as a superfood.
Tibs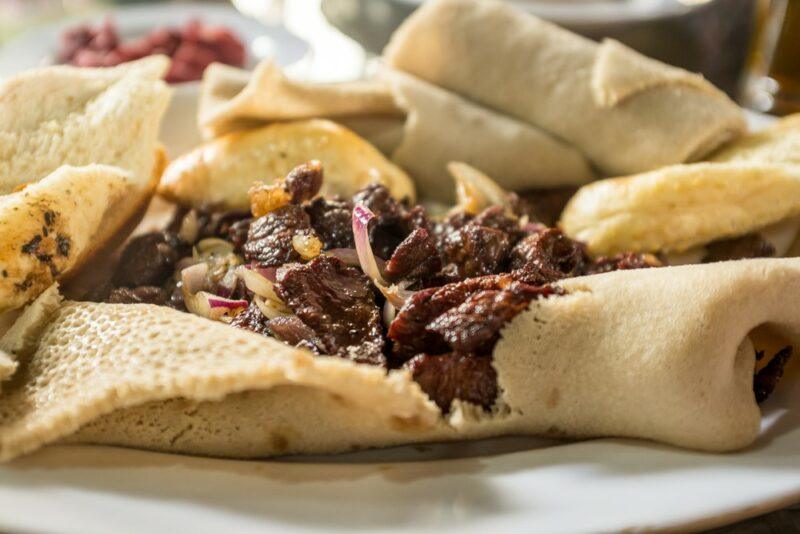 Made from sliced lamb or beef that has been pan fried with plenty of butter and garlic, tibs is an exceptionally popular dish. It's also one that can be varied in countless ways.
You'll see different types of cuts of meat feature, along with different sizes and shapes. Some versions of tibs will be extremely hot, while others will be mild instead. Vegetables vary too. Sometimes you might see plenty of vegetables included, while other dishes might have barely any.
If you order tibs in a restaurant, you'll often find that it has literally just been cut from the carcass. This approach might seem incredibly unappealing, but don't sweat it too much. After all, you're getting incredibly fresh meat. That's not a bad thing at all.
Tibs isn't just popular today. It also has a long history. It was often used as a way to show respect and is also common during holidays and other special events. While the meal has become more casual these days, it still holds a special place of significance for many people.
Kitfo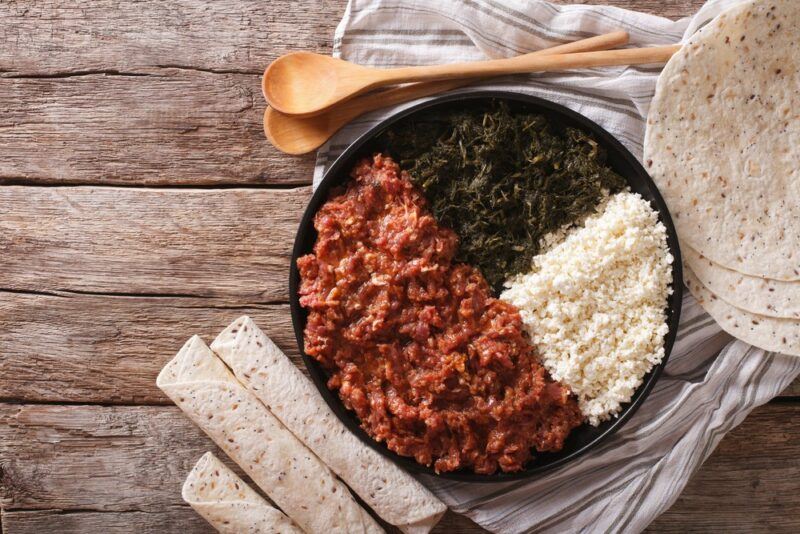 It's hard to go past kitfo when you're looking for something delicious and healthy. The dish relies on lean minced meat that is warmed with butter and some seasoning ingredients.
The most notable feature of this dish is that it is traditionally warmed, rather than fully cooked. It's a little like steak tartare in this sense.
However, because the meat isn't fully cooked, you'll need to be careful about where you order it from. Focus on reputable restaurants and vendors so that the risk of food poisoning is minimal.
Tere Siga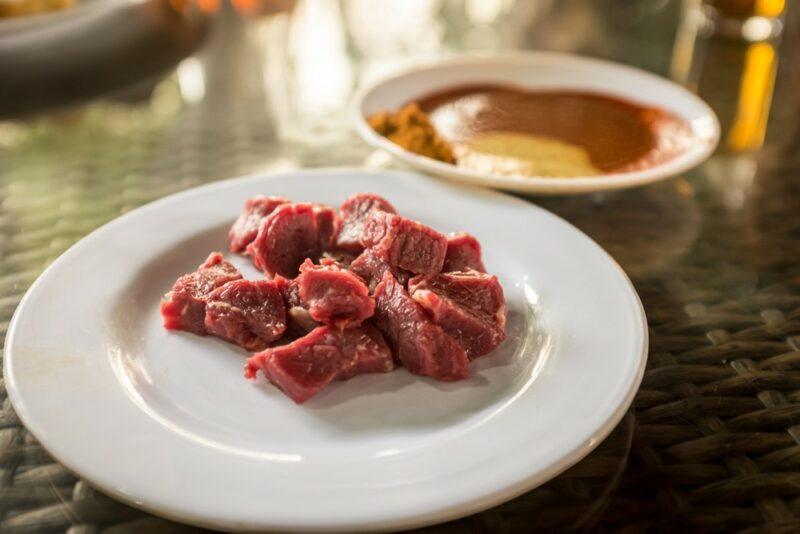 Speaking of raw meat, here's another dish to consider. Tere siga is a surprisingly popular delicacy that simply consists of raw red meat that's been cut into cubes. Injera or bread is often served with the meat, plus a seasoning mix called mitmita.
That's about it though – so this dish is best for those who genuinely love their red meat. Even then, you need to be cautious with this dish.
Popular or not, raw meat does come with health risks. There's always the chance that you'll end up with a tapeworm or with salmonella poisoning. Locals will often say that they've experienced no problems. Tere siga may even make them feel stronger and more vigorous. Still, you'll need to make your own decision about risk versus reward.
Bayenetu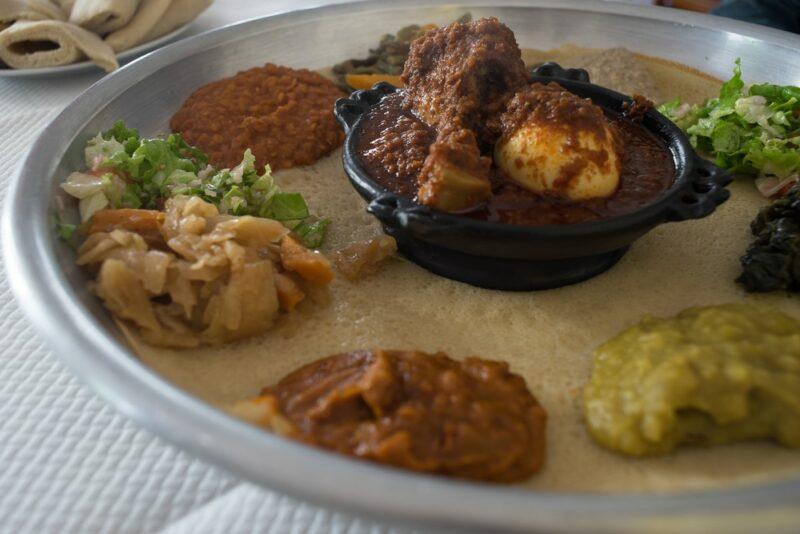 While meat often features on Ethiopian menus, there are plenty of vegetarian dishes to be found too. This is partly because there's a tradition of abstaining from meat on some days of the week, making it crucial to have some good vegetarian alternatives.
Bayenetu is basically a little bit of everything. You're served injera, once again, and this is piled high with all types of lentil stews, potatoes, vegetables, and more.
You end up with a delectable meal that hosts a wide variety of flavors and textures. It's also a perfect choice if you're not sure what to order because you can be certain that you'll love at least some of the items.
Wot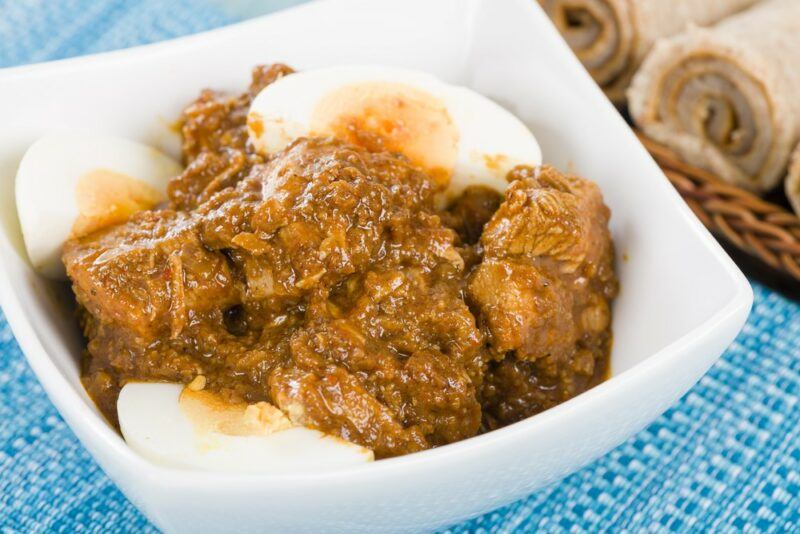 Wot is simply the Ethiopian word for stew, so it's not surprising that this dish comes in many different styles. The most popular version is doro wot, which is simply chicken curry.
Interestingly, the curry often relies on chicken wings or chicken drumsticks, rather than chicken breasts. Using dark chicken meat like this adds to the flavor of the meal, making it more intense.
Don't expect this to be a tame curry. Doro wot often relies on berbere, which is a combination of multiple spices, including chili powder, ginger, and garlic. This is heavily relied upon for what, giving you plenty of spice and rich flavors.
Other versions include sigg wot and misir wot, which are beef curry and lentil curry, respectively. Asa wot features too. This is fish curry and is just as flavorful as the meat-based options.
You'll often find wot served as a celebration meal, particularly during significant religious festivals.
Fuul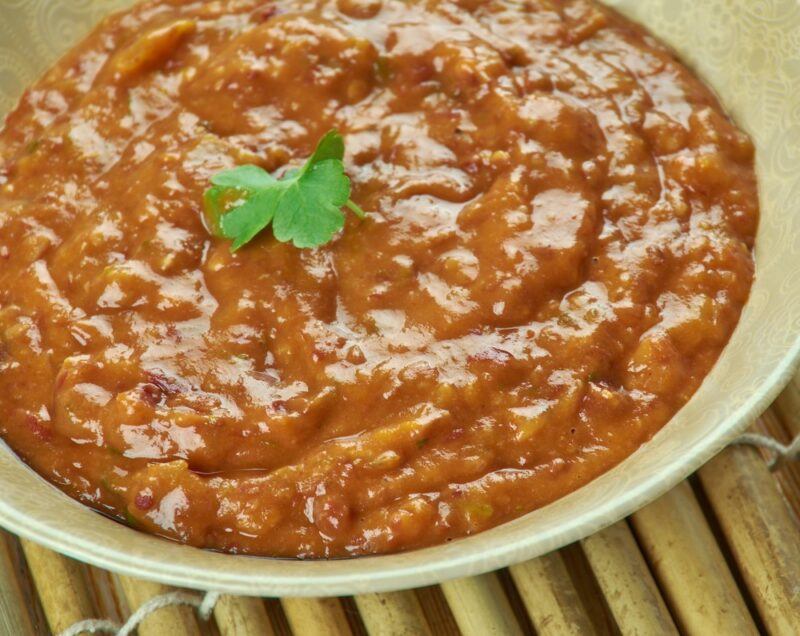 We've mentioned fuul in other food lists, as this dish is common in many Middle Eastern and East African countries. The Ethiopian version relies on fava beans that have been stewed and spiced, creating an easy breakfast dish.
However, you don't normally eat fuul on its own. Instead, fuul is often served with plenty of bread. Diners can use the bread as a scoop to eat the fuul.
Firfir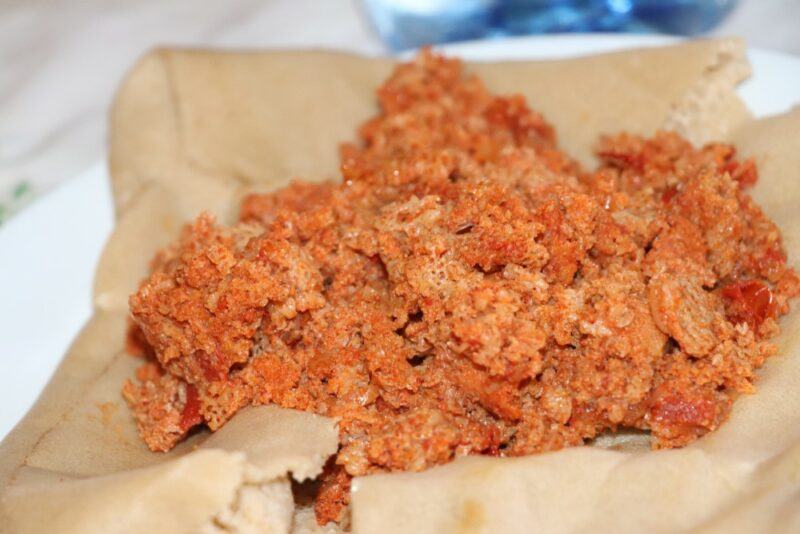 Firfir is one of those meals that doesn't look like much at all. It might even seem unappetizing. But, don't be put off by appearances. Sometimes the most delicious foods aren't the ones that you expect at all.
The basic version of firfir is a spicy dish that's made from shredded flatbread (often the classic injera). However, the sauce is really what makes the meal. This provides an amazing flavor, partly because the sauce relies on the berbere spice mix that we mentioned earlier.
Firfir is also unusual because it's one of the few Ethiopian dishes that is eaten with a spoon, rather than with your hands.
While firfir is normally enjoyed as a breakfast meal, having it first thing in the day might be too intense for some. If that's the case for you, why not try firfir at a different time of the day? It can be a delicious choice no matter what.
Enkulal Firfir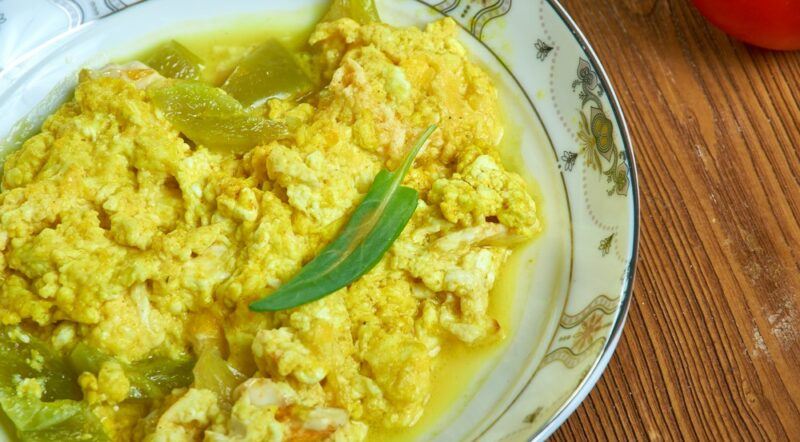 While the basic firfir is a dish made from shredded flatbread, there are some interesting variations, including enkulala firfir. This dish is essentially scrambled eggs.
Still, it's hardly a boring meal, as enkulala firfir is cooked in nitre kibe, which is spiced Ethiopian butter. The butter kicks the eggs up far beyond what you've tried before. Other ingredients may be included too, like onions, fresh chili, and tomatoes.
After this dish, regular fried eggs will never be the same.
Timatim Salata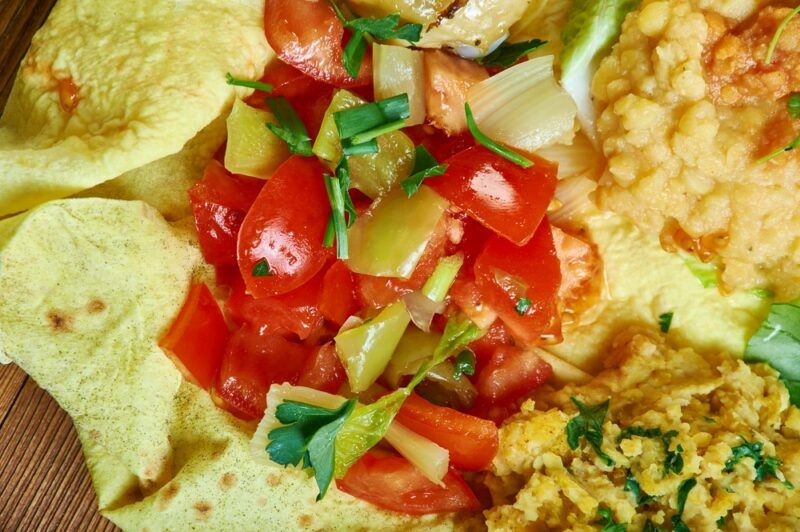 Timatim salata is simply tomato salad – and it is exactly what the name suggests. Most places will focus on fresh tomatoes that are bursting with flavor.
These tomatoes are diced and mixed with a handful of ingredients, like chilies and onions. A little seasoning is used too, including olive oil and lemon juice. That's it though. There's nothing more to the meal.
Simple or not, timatim salata is delicious. You also get a fantastic contrast of flavors between the salad, the injera, and whatever dishes you're eating at the same time.
Beet Salad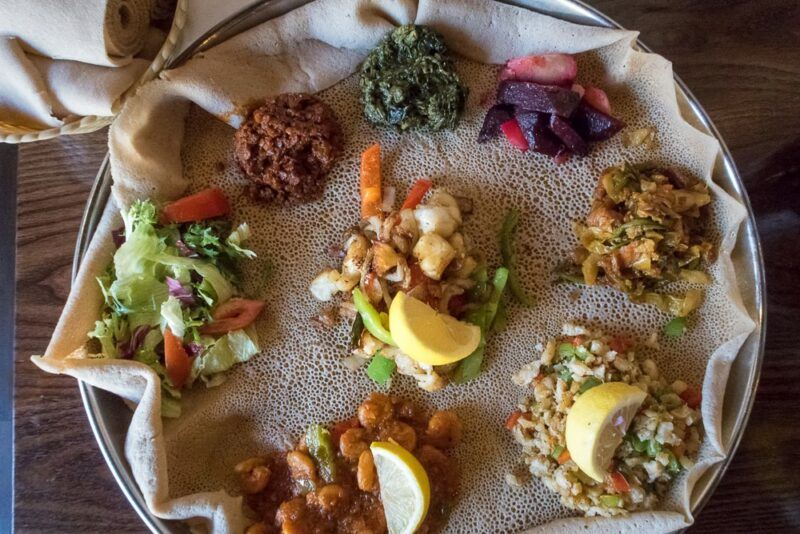 If you love vegetable options, then beet salad is another fantastic choice. It is exactly what you'd expect – marinated beets with various spices. Other ingredients may be included as well, such as carrots or even potatoes.
Of course, because of how Ethiopians serve food, you'll rarely be eating beet salad on its own. You're more likely to see the salad served on injera along with a collection of salads, curries, and other foods.
Buticha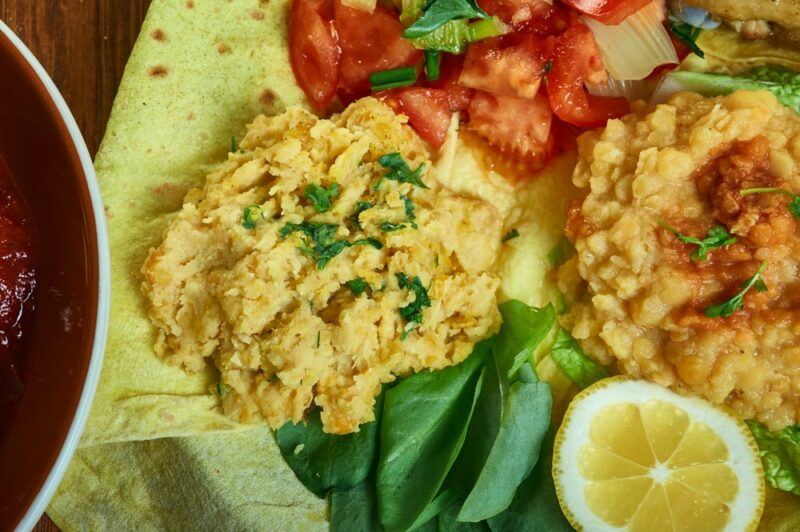 Buticha is another food that you'll find served on injera. It's a simple chickpea dip that uses lemon juice as a crucial ingredient. The lemon juice gives the dip a fantastic vibrancy, making it stand out against the more heavily spiced foods.
Hot pepper flakes and mustard may be included too. Even then, the dish isn't at all overwhelming.
Fasolia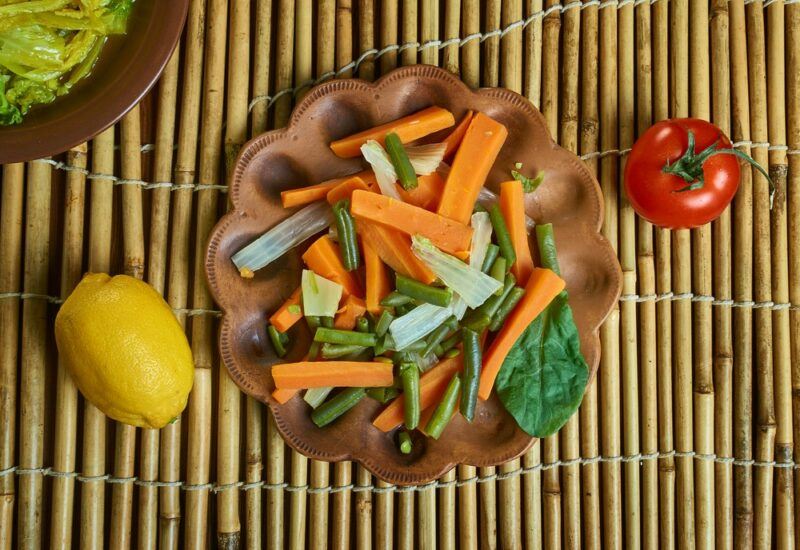 This dish focuses on string beans. The beans are often sauteed with other ingredients, including caramelized onions and carrots. Herbs and spices often feature too, like rosemary, basil, or thyme, which all complement the green beans nicely.
As with most Ethiopian dishes, Fasolia can be varied in countless ways. Individual cooks choose their own combination of herbs, spices, and other ingredients.
The way that Ethiopian dishes all vary means that your dining experiences can vary dramatically. This isn't a bad thing at all. Besides, even if the flavors and textures are very different from one place to the next, you can be confident that your meal will always taste amazing.
Kolo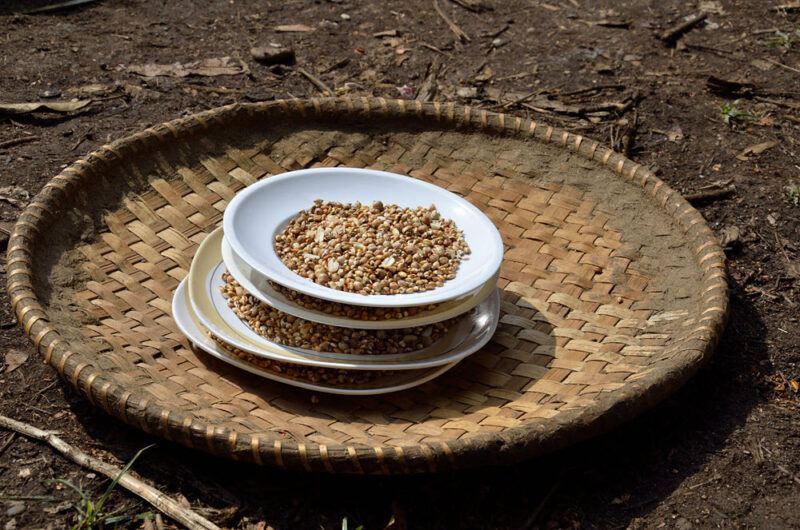 If you're looking for an easy snack to pair with beer, then kolo could fit that bill easily. The term sometimes refers to roasted barley, but more often the snack relies on a variety of roasted grains, with sunflower seeds and chickpeas being common additions.
Snacking on kolo is a little like having a handful or two of nuts between meals – a fantastic way to stay satisfied and get more nutrients into your diet.
Shiro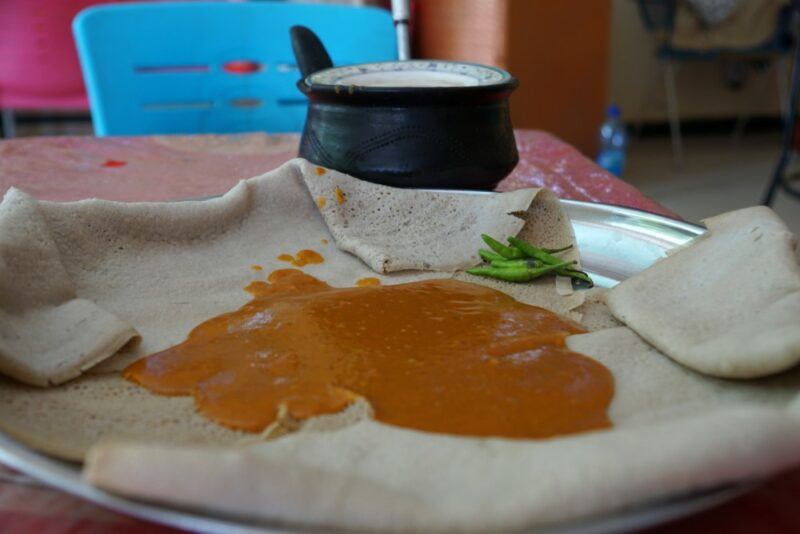 Shiro is more like a sauce than many of the other foods on this list. Still, it's ladled onto injera and served in the same way as most other Ethiopian dishes. It's one of those unassuming meals that don't seem like much at first glance. Don't be fooled by appearances though, sometimes the meals that don't look like much are the most delicious.
Chickpea powder is the main ingredient in shiro. This is slow cooked along with the berbere spice mix. Some versions add other ingredients in as well, such as broad beans or lentils.
You'll see the consistency vary too. Some versions are so thin that they're basically soup, while others are much thicker. The flavor profile is fantastic regardless of the consistency.
Dulet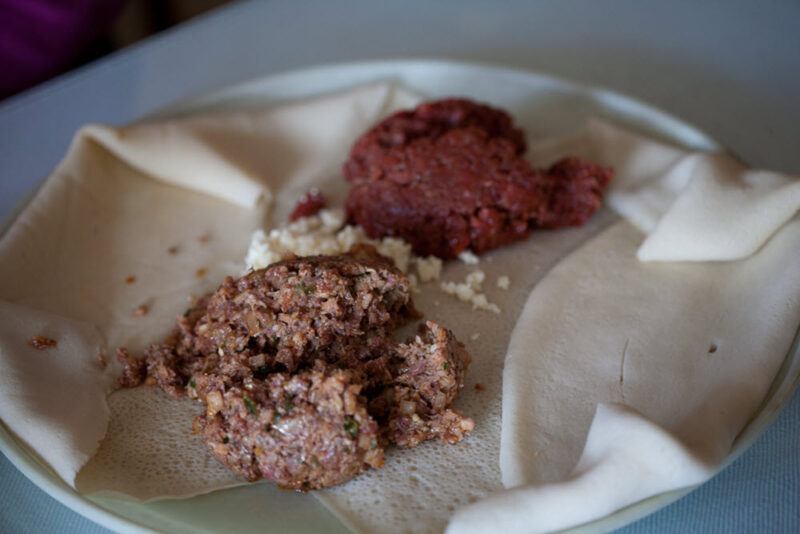 Dulet is one of those dishes that is filling and enjoyable, until you learn what it is. Once you know that dulet is a mixed meat dish that relies on minced tripe, lean beef, and liver, it's likely to seem much less appealing. For those that don't know, tripe is stomach lining. It might not be something you ever imagined eating, but tripe can be surprisingly tasty.
The filling nature of the meal makes it a fantastic choice in the evening.
Misir Wat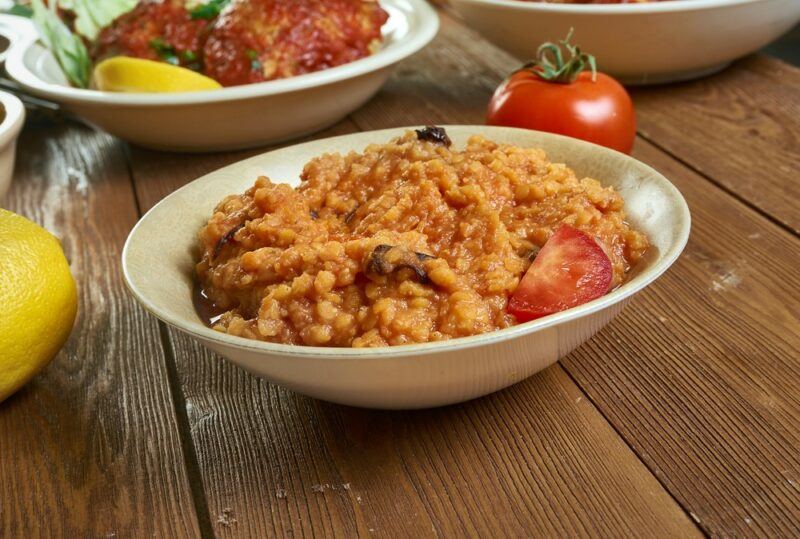 This dish is an Ethiopian staple and is also relatively simple. It's basically just red lentil stew. The lentils are cooked in the spice mix berbere, which increases their color and provides an excellent flavor profile.
While this dish doesn't vary much from place to place, you might notice some differences in the spice profile and texture.
Asa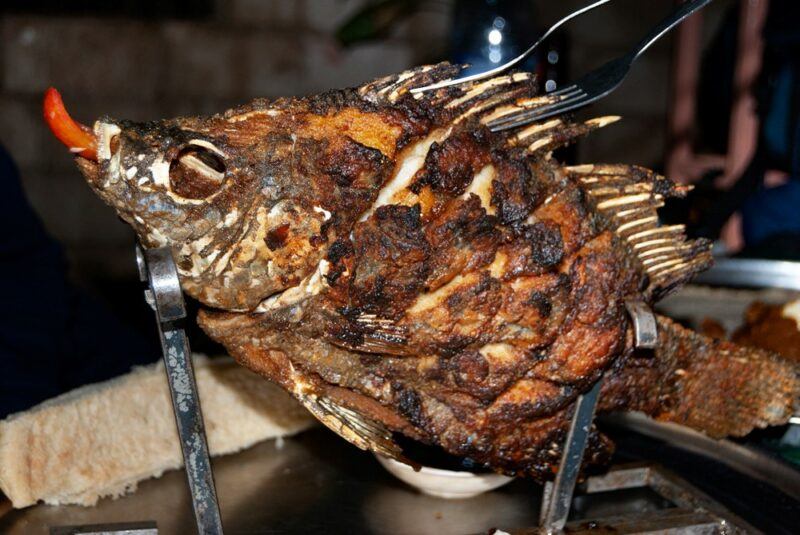 Asa simply translates to fish. You'll find it served in a few different ways. One of the most popular is where the fish is fried and served whole. The sight can be a little disconcerting to Western diners, as you're often faced with the teeth and eyes of the fish, rather than just the flesh.
Once again, this is a meal that's eaten by hand, with injera and some type of sauce to accompany it. While asa can be delicious, eating the dish can be fiddly, as you need to pick the meat out from the bones.
Another option is asa shorba – fish soup. You'll often find it at the Awassa Fish Market, although plenty of other places serve the soup as well. Some people use whole fish in the soup, although there's plenty of variation depending on where you go and who you order fish from.
You can also find koroso. This dish involves deep frying the fish and making cuts to form a checkerboard pattern. Doing so makes the fish easy to eat with your hands. A dipping sauce is often served on one side and injera may be present too.
Gomen

Gomen is the perfect dish if you love dark leafy greens or if you're looking for something packed with nutrients. The dish is simply collard greens cooked with spices. You'll often find it as part of the mixed bayenetu dish or served along with many other items from this list.
A variation on the dish is gomen be siga. This one includes a few extra ingredients, including beef, more vegetables, and garlic. While this version of gomen is tasty, it is no longer vegetarian, so it won't always be what you're looking for.
Minchet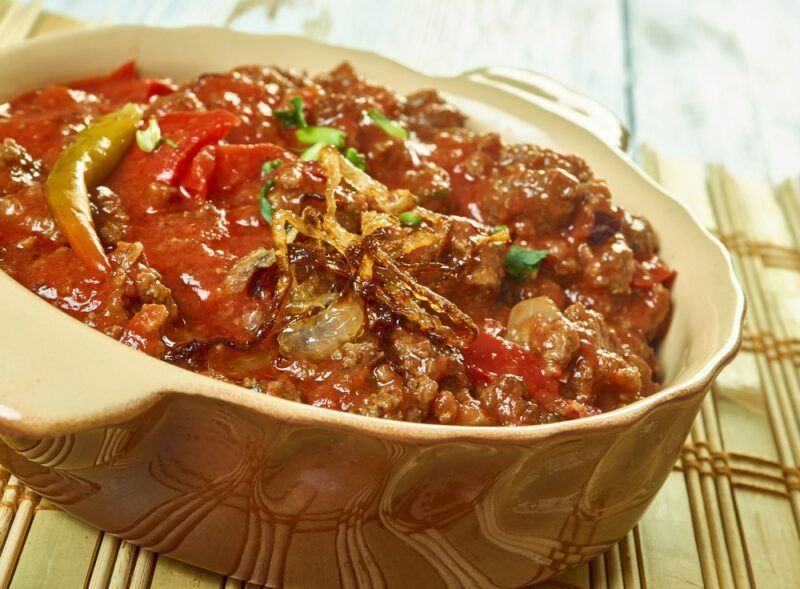 This spicy ground beef stew often features on a plate of various meat-based dishes. This isn't surprising either, as the stew combines red onions, ground beef, and berbere spice to give you a simple and flavor-rich dish.
The spiciness of the dish might be too much for some. Thankfully, it is often possible to ask for a low spice version instead.
Key Wat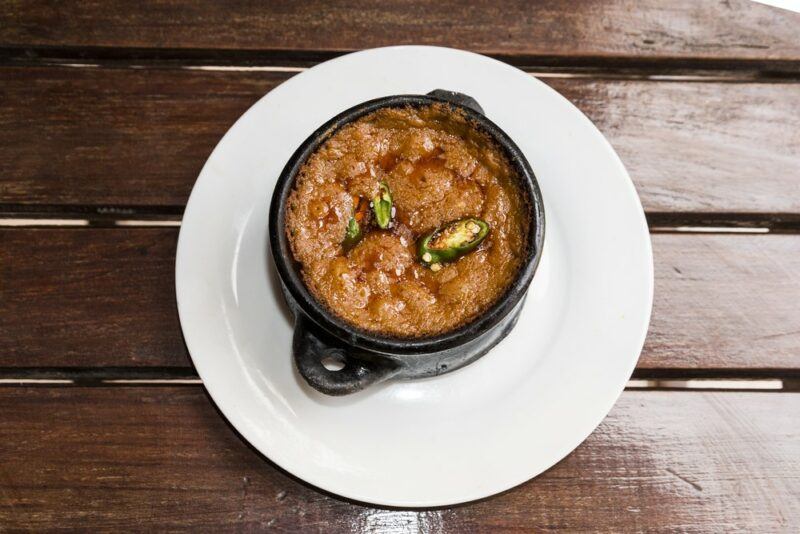 We're already talking about spicy meat, so here's another dish to consider. Key wat and minchet are remarkably similar. The main difference is that while minchet relies on minced beef, key wat uses beef chunks instead.
Both dishes are classically served with a boiled egg on top. This adds a delightful flavor contrast. You might find either of these dishes on a mixed meat plate or perhaps both of them.