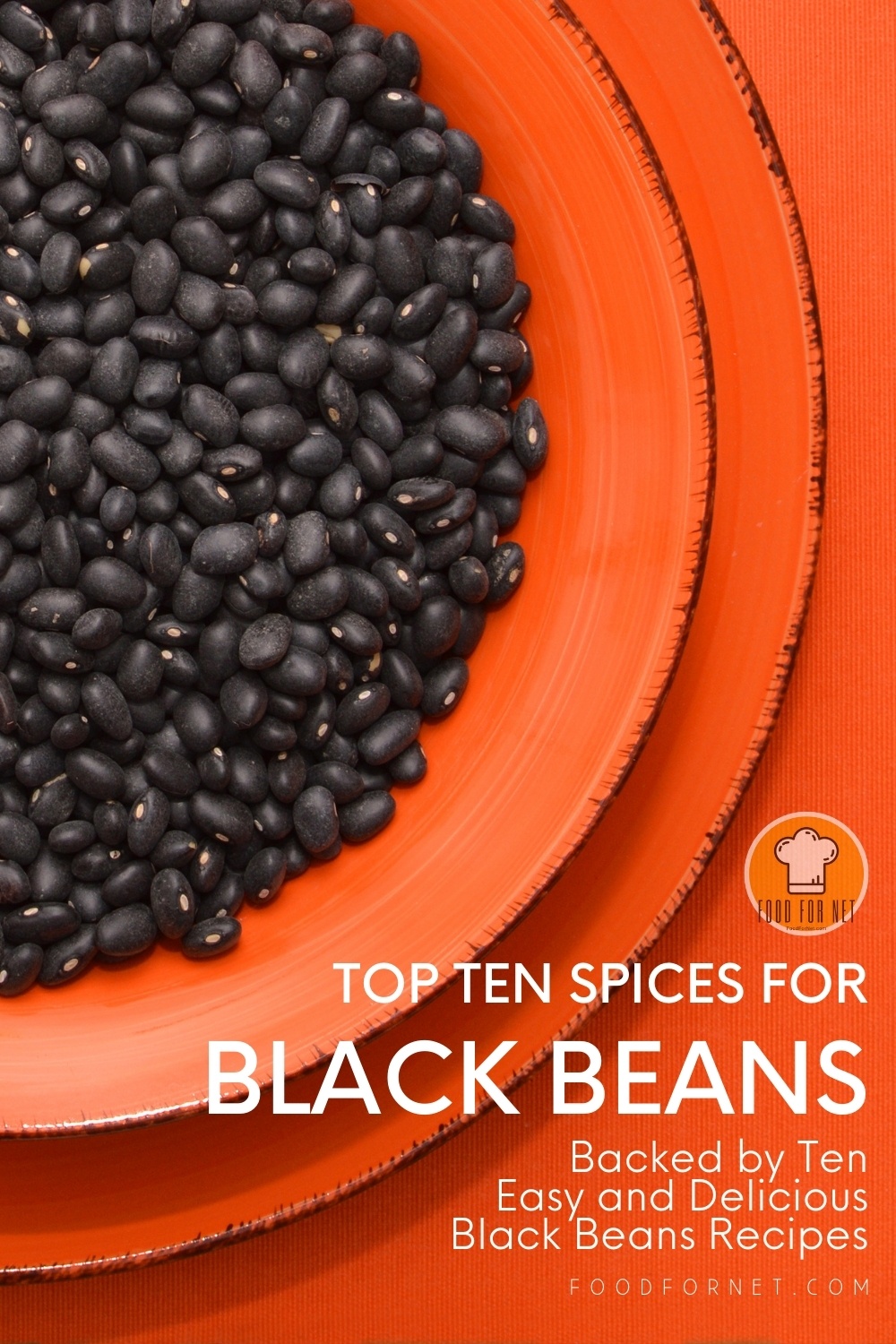 Black beans, also called turtle beans, are incredibly healthy. No wonder why some people can't just have enough of it. They're packed with protein, fiber, antioxidants, and carbohydrates. It has a creamy, somewhat nutty, and earthy flavor with a tiny hint of sweetness as well. And because it's mildly flavored, it makes for a great base for so many dishes. It easily takes on flavor from whatever ingredients or spices for black beans you cook it with.
Imagine simply lacing it with different flavors from earthy chilis, punchy citrus, refreshing herbs, and a few spices then letting it gently simmer and fuse together – a few moments later you have yourself a delicious, spicy black beans dinner! Pretty cool what you can do with black beans, right? This is also another reason why people love it, it's so simple to work with!
Black beans are common in Mexican, Spanish, Caribbean, and South American dishes. They are frequently served as stews, soups, dips, and even as salads. Oftentimes they're also served with rice. Black beans started gaining popularity among US consumers in the 1980s. By 2016 there are 164 new products launched that contains black beans including hummus, crackers, and pasta. I guess from there, black beans really sealed their places in many dinner tables. And not surprisingly, the dishes you can make from it are absolutely delicious plus the fact that it's undoubtedly nutritious.
Black beans are classified as legumes like lentils and peas. And again, it's incredibly healthy and possesses so many health benefits that it can easily become your favorite protein source or substitute in many meat-centric dishes. It can boost gut health, protect from heart disease and cancer, keep belly and weight in check, and trigger beneficial chemical reactions in the body with its molybdenum content. A cup of boiled black beans contains 15.24 grams of protein and 15 grams of fiber. It also has calcium, iron, magnesium, phosphorus, potassium, folate, and vitamin K.
So, are you ready to make some amazing black beans dishes? Here are 10 spices for black beans that you can try along with some really delicious but easy recipe ideas. Make a quick check of your pantry and see what spices and herbs you have in stocked. If you're missing one or two, no problem, simply order spices or fresh herbs online and get on with your meal planning.
Spices for Black Beans
Cilantro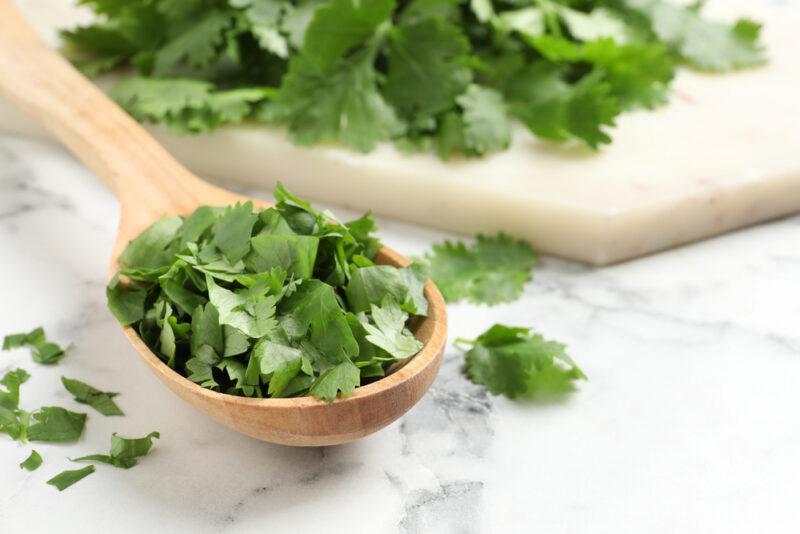 Cilantro is actually the leaves and stems of the coriander plant and is mainly used in Asian, Middle Eastern, and Central American cuisine. It has a pungent, complex, citrusy flavor. It's actually quite reminiscent of parsley and citrus.
Cilantro contains vitamins C, provitamin A, and K. It also has trace amounts of folate, potassium, manganese, lutein, choline, beta-carotene, beta-cryptoxanthin, and zeaxanthin. It's good for managing blood sugar, boosting brain health, reducing anxiety, and preventing foodborne illnesses.
Here's a Cuban-style black beans recipe that is super quick to make. In just 25 minutes you can already enjoy it with rice, chicken, or steak. Perfect for busy nights when you just don't have the time to cook beans from scratch, so canned beans it is! Simply flavored with cilantro, red bell pepper, bay leaf, cumin, oregano, wine vinegar, and your good old salt and pepper.
Parsley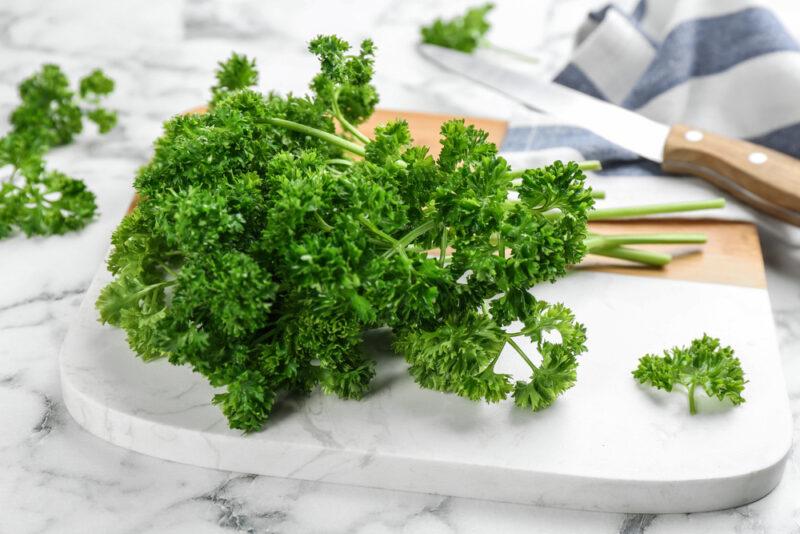 Although you usually see parsley as garnishing to dishes, it's actually a good flavor enhancer. It's a common ingredient in the French bouquet garni (a traditional bundle of fresh herbs that are tied together) which is added in soups, braises, sauces, and stews. Parsley tastes bright and herbaceous with a hint of the bitter taste.
Parsley is an excellent source of vitamin K. It also contains a decent amount of vitamin A and antioxidants known as flavonoids. It helps reduce the risk of diabetes, heart disease, stroke, and cancer. It may also help stimulate appetite, increase urine production, improve digestion, and reduce spasms.
If you're on the lookout for a vegetarian side dish, then this Mediterranean black bean salad is more than perfect for you. Parsley along with arugula, basil, tomatoes, roasted pepper, and of course the black beans really make this salad, simple, fresh, and delish!
Chili powder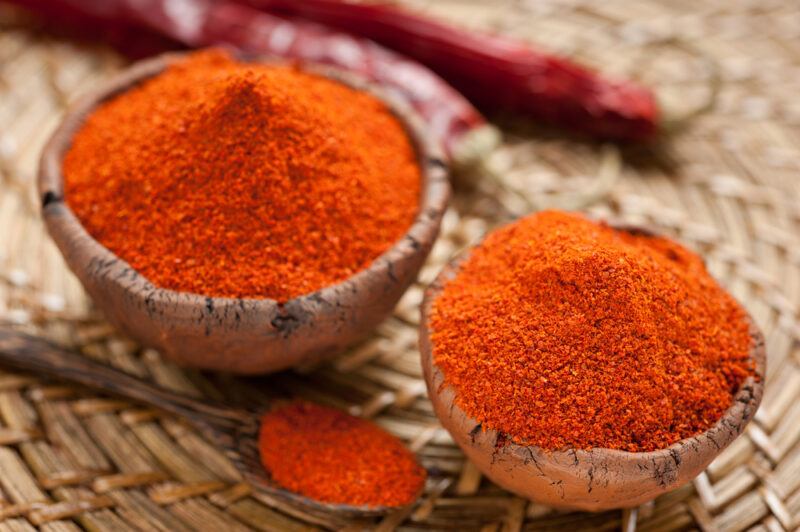 Chili powder is the powdered dried fruit of more than one variety of chili pepper. The usual chili powder available in the market also contains additional spices to complete the blend. It tastes mild to moderately spicy depending on how much cayenne pepper is used in the mix. It also has that flavor profile known as Tex-Mex because of the aromatic and savory spices added in the blend.
Because it is still mainly chili peppers, it contains the bioactive plant compound called capsaicin. And depending on the other herbs and spices added, it can also be a great source of calcium, magnesium, and phosphorus. Chili powder can aid in weight loss, enhance cognitive function, help the heart, and relieve nasal congestion.
Not only is this black bean chili easy to make but it's also gluten-free and vegan and vegetarian-friendly. Of course, you can always add meat if you want. But try this one first and see for yourself how good it is even without the meat.
Oregano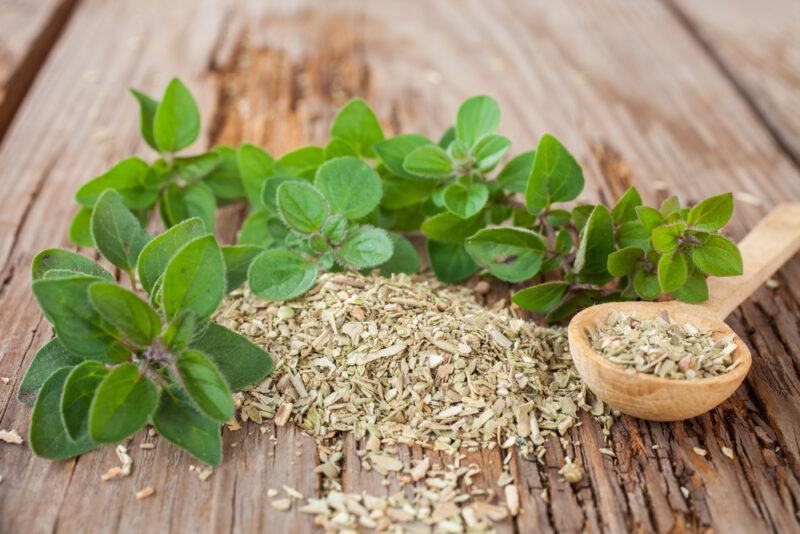 The oregano leaves used in cooking, whether in fresh or dried form, came from the oregano plant with olive-green leaves and purple flowers. They're closely related to mint, thyme, basil, and marjoram. Oregano has a bold and earthy flavor with a slightly bitter taste. Sometimes, it's described as peppery and assertive.
Oregano contains thymol and carvacrol which are antibacterial agents. It's also a good source of antioxidants, fiber, vitamin K, iron, manganese, vitamin E, tryptophan, and calcium. It helps prevent cell damage, fight infections, relieve pain and may even lower cholesterol, improve gut health, and have cancer-fighting properties.
For a spicy but citrusy black beans dish, try this recipe. It's layered with flavors from oregano and other herbs, chili, cumin, and citrus juice. Its spiciness is well-balanced with the freshness of the herbs and acidity from orange and lime. Now, all it needs is a cup of rice or tortillas to complete the meal.
Cumin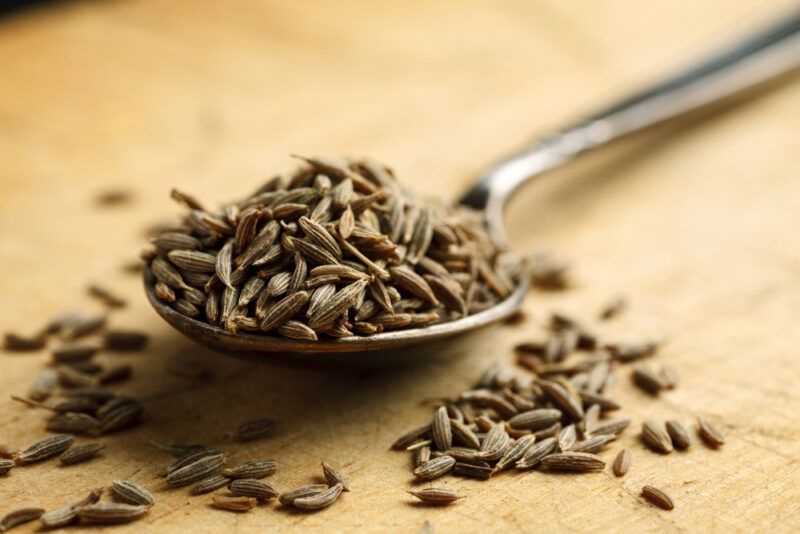 Cumin is the dried seed of a flowering plant in the family Apiaceae. This spice makes up a large proportion of curry powder and chili powder. It's also an essential spice for many Indian dishes. Cumin is actually one of the most popular spices in the world. It has a rich, hearty, earthy, and warm flavor with hints of citrusy taste.
Cumin is a good source of iron, magnesium, calcium, and phosphorus. It also contains vitamins A, B6, C, E, and K. It helps control blood sugar, fights bacteria and parasites, aid in weight management, and improve symptoms of IBS. It may also treat diarrhea, lower blood cholesterol levels, and prevent cancer cells from multiplying. Cumin also has anti-inflammatory effects.
If you love tacos or enchiladas, then you better bookmark this side dish. It's Mexican-inspired and is easy and super-fast to make. Perfect whenever you need something delish and quick! It's simply flavored with cumin, cilantro, onion, garlic, and salt. Now, if you're really into tacos, see our post about taco meat spices for more recipe ideas.
Smoked paprika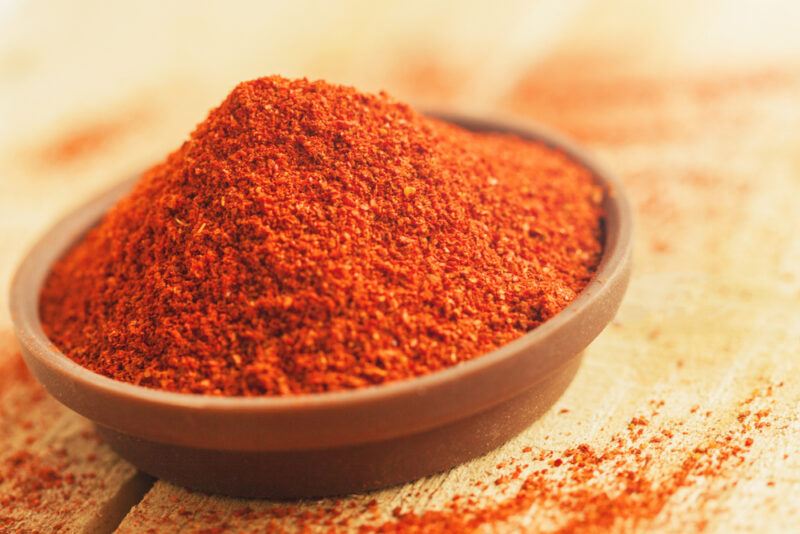 Smoked paprika is crushed smoke-dried chilis. Typically, oak is used in smoke drying the chilis giving it a noticeable outdoorsy flavor. Smoked paprika has a rich smoky flavor that can be mild, medium-hot, or hot – depending on the variety of chilis used.
Paprika is a good source of vitamins A, E, B6, and iron. Its lutein and zeaxanthin contents boost better eye health and lower the risk of cataracts. And because it has capsaicin which is an anti-inflammatory compound, it may also help treat pain and fight inflammation. Its carotenoids content on the other hand helps improve heart health by lowering cholesterol levels.
Black bean burgers because, why not, right? If you can enjoy burgers a little healthier then go for it, especially when it's this good. You can make some adjustments, as noted in the recipe, to make it completely vegan or vegetarian. Smoked paprika along with cumin, chili, garlic powder, and Worcestershire sauce really adds to the 'burger' taste.
Ginger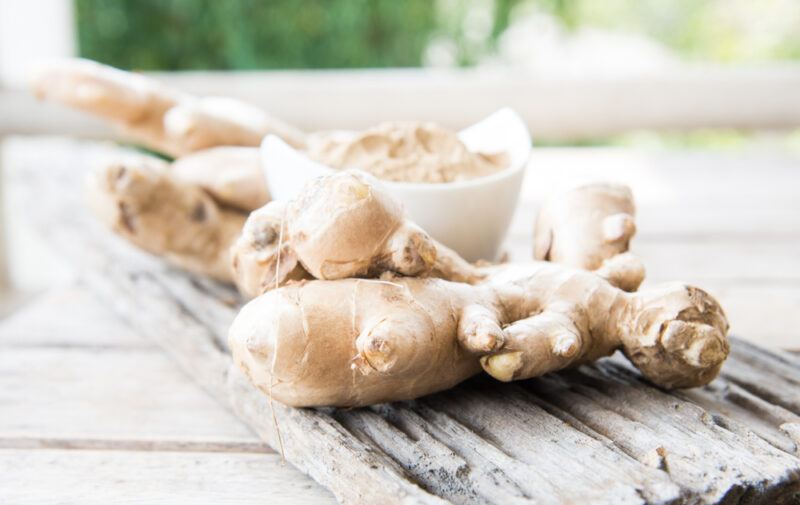 Ginger root or simply ginger is a spice that is native to Asia and is part of many Asian cuisines. And although commonly called root, ginger is actually a rhizome. It is closely related to turmeric, galangal, and cardamom. Fresh ginger has a pungent and spicy aroma with a slightly peppery and sweet taste.
Ginger contains gingerol which is a substance with powerful antioxidant and anti-inflammatory properties. It also has trace amounts of iron, potassium, magnesium, phosphorus, zinc, folate, riboflavin, niacin, and vitamins B3, B6, and C. It can help in relieving nausea, easing cold or flu, reducing inflammation, supporting cardiovascular health, and lowering the risk of cancer.
For a black bean salad with Thai flavors, this one is drizzled with a mixture of minced ginger, rice vinegar, lime juice, garlic, salt, and oil. The salad is mainly black beans and corn, with onion, celery, red pepper, jalapeno, and cilantro. It's super simple yet fresh, delicious, and pretty colorful!
Red pepper flakes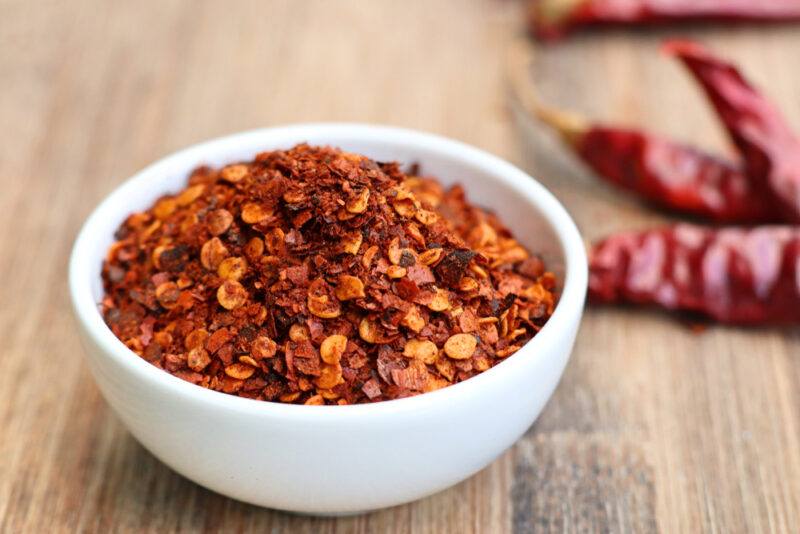 Red pepper flakes are from dried and crushed peppers (usually a combination of different varieties) that include flesh and seeds. It has a slightly sharp and earthy taste with a decent amount of heat. About medium-low heat or 3-4 on a scale of 1-10.
Red pepper flakes contain iron, magnesium, potassium, and vitamins A, B6, C, and E. It helps relieve digestive issues, promote weight loss, boost metabolism, and decrease pain. And because it contains capsaicin it also has anti-inflammatory properties.
This spicy black bean soup is healthy and naturally vegan, vegetarian, and gluten-free. It's mainly spiced with ground cumin but the red pepper flakes provide most of its heat. So simply adjust accordingly if you're not into spicy food. Quick tip, for a creamier soup texture, simply puree some of the soup in a blender and then simply stir it back into the pot.
Bay leaves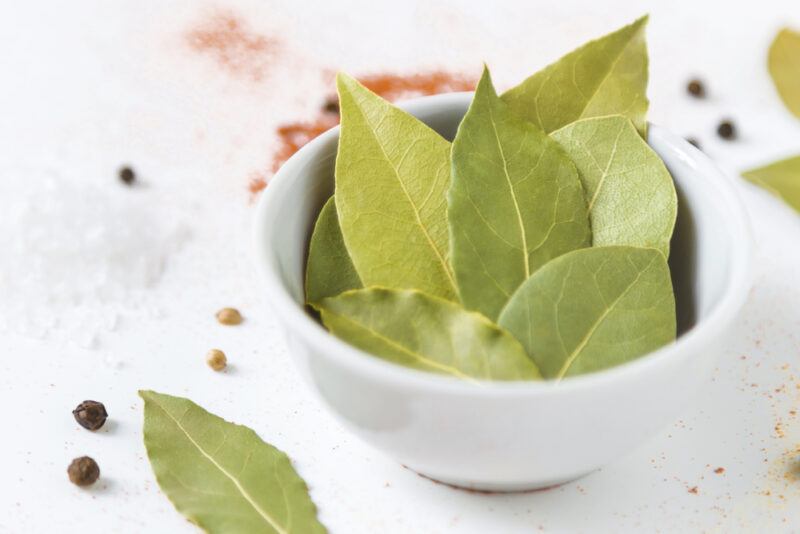 Bay leaves, sometimes called Laurel leaf, is an aromatic leaf used in cooking that has a pungent and sharp, bitter taste when fresh and herbal with slightly floral similar to oregano and thyme when dried. The aroma it imparts to dishes is actually more noticeable than its taste.
It's a rich source of iron, calcium, potassium, magnesium, and vitamins A and C. Bay leaf actually has medicinal purposes and is used in treating gas, stimulating bile flow, triggering sweating, and easing muscle and joint pain.
The boost of flavors of this Cuban black bean dish is of course brought by the combination of bacon and spices like bay leaves and cumin. It will only take you less than an hour to prep and cook and is perfect when served with rice or other garnishes.
Coriander seeds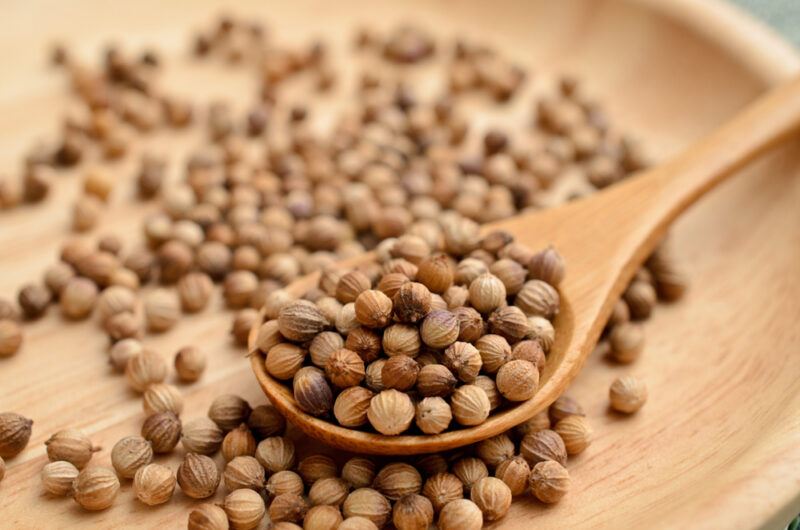 Coriander seeds come from the coriander plant which leaves and stems are referred to as cilantro. The seeds which are then dried are the ones used as a spice in cooking. It has a floral, citrusy, light, and sweet flavor when used whole, and has an additional nutty aroma when roasted and then grounded.
Coriander seeds are rich in copper, iron, zinc, and other essential minerals. It aids in reducing bad cholesterol and boosting good cholesterol. It also helps improve heart health and boost metabolism. And because it's a good source of antioxidants and other essential vitamins, it also aids in regulating blood sugar levels, promoting hair regrowth, and delaying premature greying of the hair.
Here's another simple and easy spiced black beans recipe to add to your collection. This time, coriander is used along with cumin and chili powder to flavor the dish. As simple as it may sounds, the spice combo simply works!
Related Content