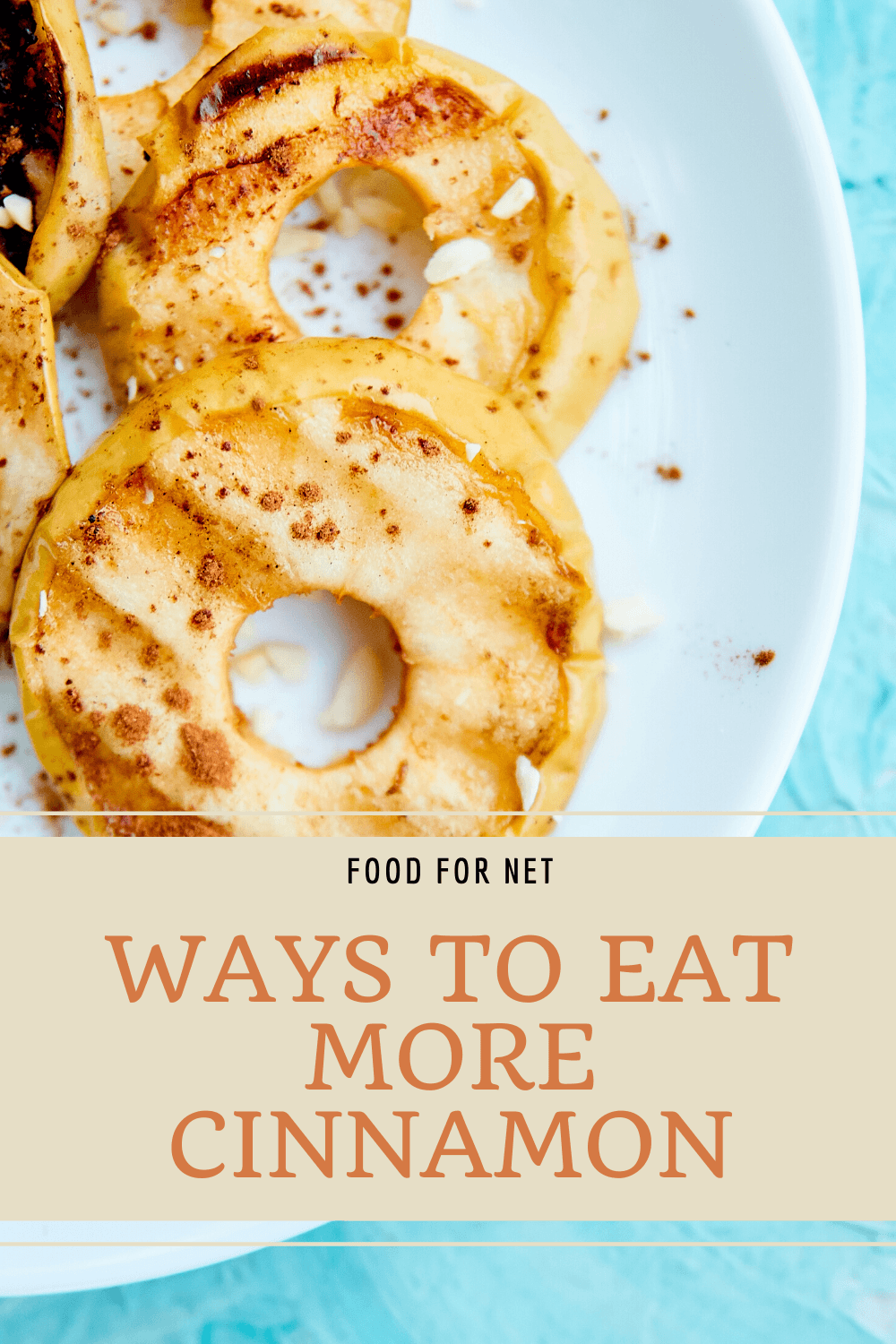 The flavor of cinnamon should be a familiar one, as the warming spice is added to countless treats, baked products, meals, and hot drinks. Cinnamon's flavor isn't the only reason for finding ways to eat more cinnamon. The spice has also been linked to some major health benefits.
The most significant is that cinnamon may help to decrease blood sugar levels. The effect is valuable for diabetics, and cinnamon could help to promote other health outcomes too.
Cinnamon may also decrease inflammation. This is a notable effect, as chronic inflammation can harm your body in many ways and is far too common.
Of course, as with most natural products, research into health benefits is still ongoing. There is no definitive proof that cinnamon will improve your health, but some studies do suggest as much. Besides, it's easy to add cinnamon to your diet, so why not try it out for yourself?
If you're going to try some of these cinnamon rich foods and drinks, then it's worth picking up Ceylon cinnamon.
Most of the cinnamon in stores is cassia cinnamon, which contains significant levels of coumarin, a natural blood thinner. Consuming too much coumarin regularly could lead to liver damage or even liver failure.
The level of coumarin in Ceylon cinnamon is much lower, making this a safer choice. You might find that you prefer the flavor of Ceylon cinnamon anyway.
Ways To Eat More Cinnamon
Chai Tea Or Chai Latte
Ginger Cinnamon Tea
Add To Your Coffee
Sprinkle It On Porridge
Add To Baking
Mix In With Stewed Fruit
Add To Smoothies
Golden Milk
Mix In With Yogurt
Add To Meat Marinade
Use Cinnamon Quills In Rich Dishes
Roast Almonds With Cinnamon Powder
Mulled Wine
Hot Toddy
Roast Sweet Potatoes With Cinnamon And Honey
Homemade Granola
Mix Cinnamon Into Purchased Cereal
Cinnamon Hot Chocolate
Candied Bacon
Cinnamon Sugar Apple Crisps
Make A Cinnamon-Based Salad Dressing
Apple Pie
Cinnamon Fat Bombs
Cinnamon Rolls
Cinnamon Spice Popcorn
Cinnamon Baked Grapefruit
Chai Tea Or Chai Latte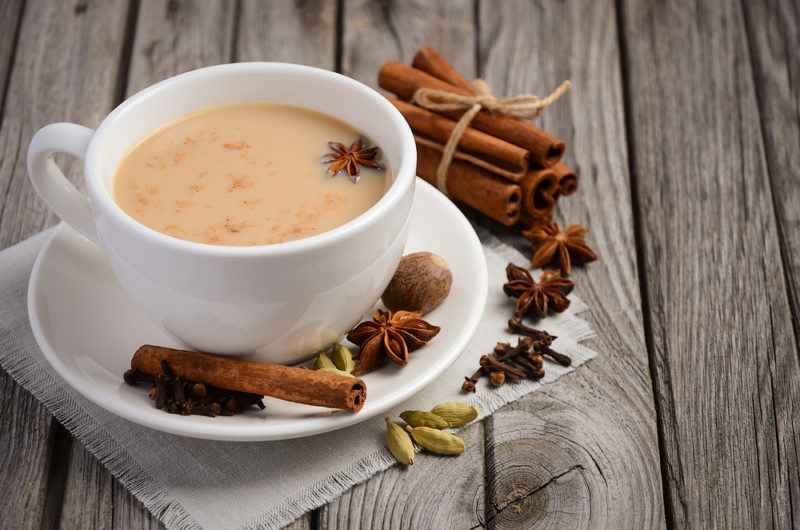 Chai tea has become incredibly popular and also goes by the name chai masala or masala chai. Either way, the drink uses a base of black tea, along with a selection of spices.
There's no single official way to make chai tea, so you'll see many variations to the spices that are used and their quantities. Still, cinnamon is one of the most common spices, so there'll typically be some cinnamon present. Other spices might include black pepper, cardamom, fennel, and cloves.
Chai tea tends to be brewed using a combination of warm milk and warm water, creating a milky drink that is often sweetened.
A chai latte is a variation on the idea. These are made using chai tea concentrate and steamed milk. The finished drink ends up being milkier than chai tea. Chai lattes are easy to prepare as you're normally using a liquid concentrate.
Ginger Cinnamon Tea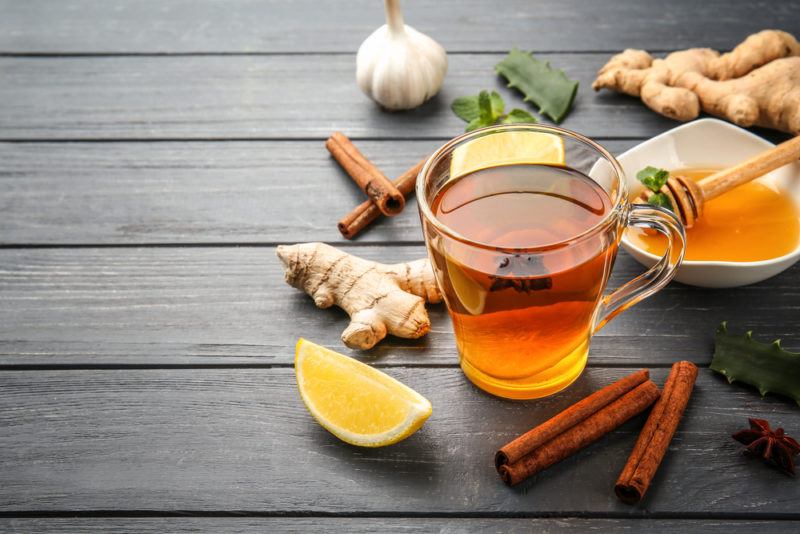 The term ginger cinnamon tea is slightly misleading, as this hot drink doesn't use tea leaves at all. The main ingredient is fresh ginger instead. You're boiling the ginger in water to extract the flavor and then adding in cinnamon before serving the drink.
You might choose to add a little honey to the drink as well if you find the flavor of ginger to be too strong.
Add To Your Coffee

Sprinkling cinnamon on top of a cappuccino is already common practice, but you could just as easily do the same with any type of coffee.
Including cinnamon on top of a drink looks especially appealing if your drink is already topped with cream. That way the cinnamon stands out. Still, this is hardly essential, as the flavor and the benefits of the cinnamon matter more than the appearance.
Another trick is to include a cinnamon stick in your coffee. This helps to infuse the flavor from cinnamon into your drink, without altering the texture in any way. The idea is perfect for anyone worried about gritty coffee.
Sprinkle It On Porridge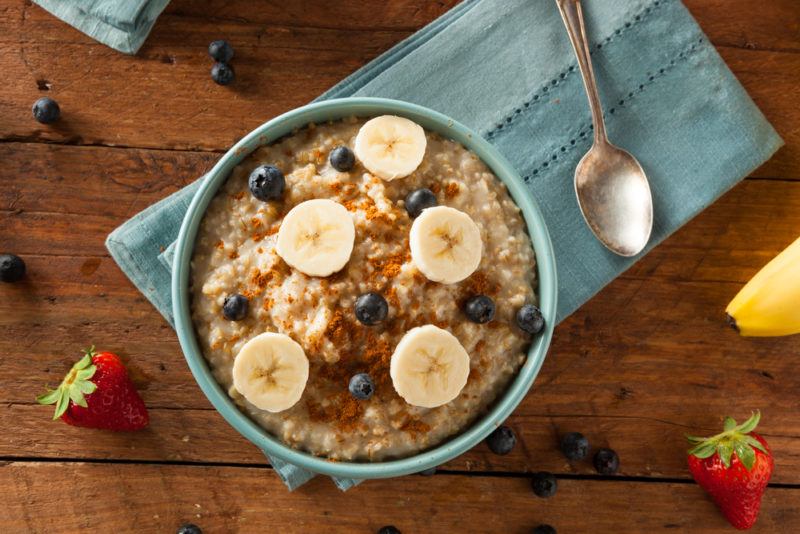 Cinnamon can be added to porridge in precisely the same way as to coffee. Actually, you can sprinkle cinnamon on plenty of foods, far too many to list here.
Porridge, however, works remarkably well as it doesn't have much flavor of its own. This makes the cinnamon stand out. You might use other similar ingredients too. For example, cinnamon, brown sugar, and bananas are sometimes used together with porridge.
Add To Baking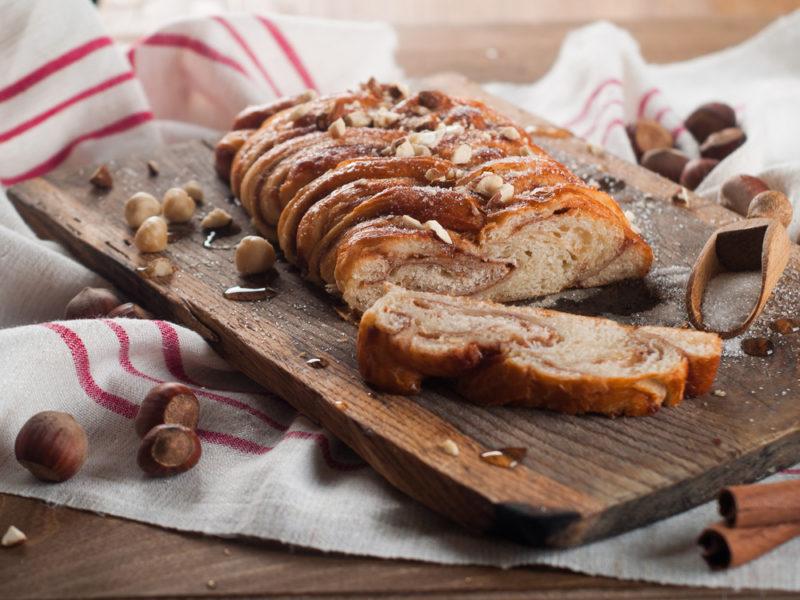 Baking is another commonplace to use cinnamon. The spice's flavor perfectly complements the taste and texture of many baked goods.
Cinnamon rolls are a classic example, along with cinnamon bread and snickerdoodles. There are many other cinnamon-containing baking recipes too. Some of them will look familiar, while others may be completely new.
We're not going to highlight any recipes here, as a quick Google search will turn up a large number of recipes for you to try.
Mix In With Stewed Fruit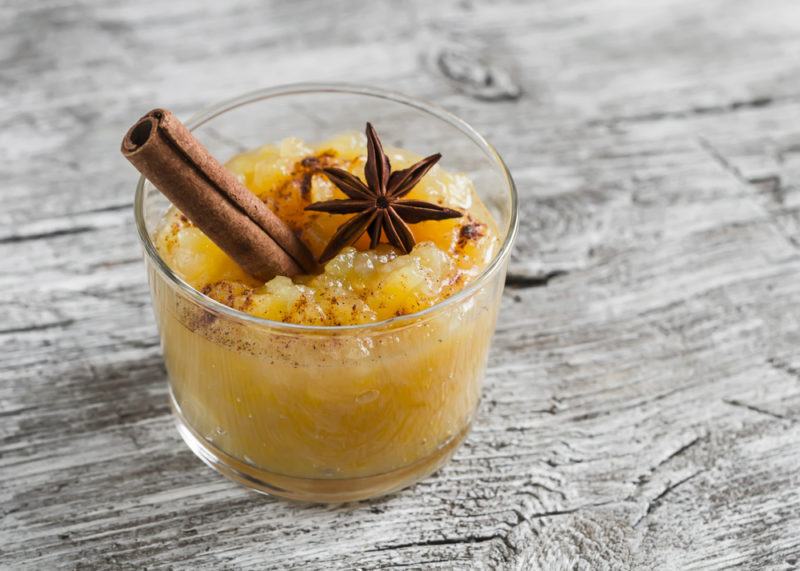 Stewed fruit is easy to prepare and is a delicious addition to desserts or breakfasts. Simply stirring a little powdered cinnamon into the fruit is a great way to add some extra flavor.
The approach works exceptionally well if you're making stewed apples, as the flavors of apples and cinnamon complement one another well. However, other types of stewed fruit are a viable option too.
Add To Smoothies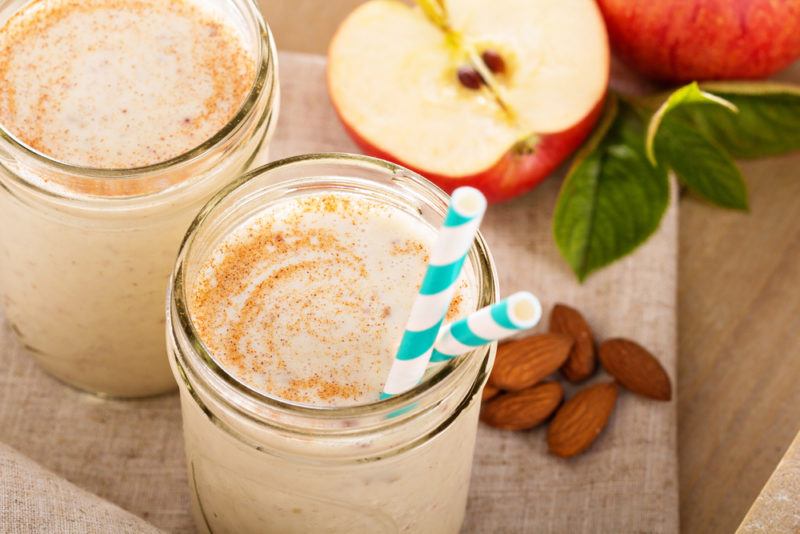 Smoothies are powerful. They can provide you with a large number of nutrients at a time. Everything is blended together, so you can get your nutrients faster, without having to eat a heavy meal.
Smoothie recipes often include fruit, vegetables, and spices, with cinnamon being a popular spice to choose. Some smoothies will bury the flavor of cinnamon almost entirely. You're still getting the benefits, of course, you just don't get to enjoy how cinnamon tastes.
Other recipes make sure the other ingredients aren't too strong, so that you can still taste the cinnamon. For example, you might see a smoothie that uses Greek yogurt, cinnamon, and oats as main ingredients, which would end up tasting a little bit like a cinnamon roll.
Because there are no strict recipes to follow with smoothies, you can easily play around with the ingredients. Try different combinations until you learn the types of smoothies that you enjoy the most.
Golden Milk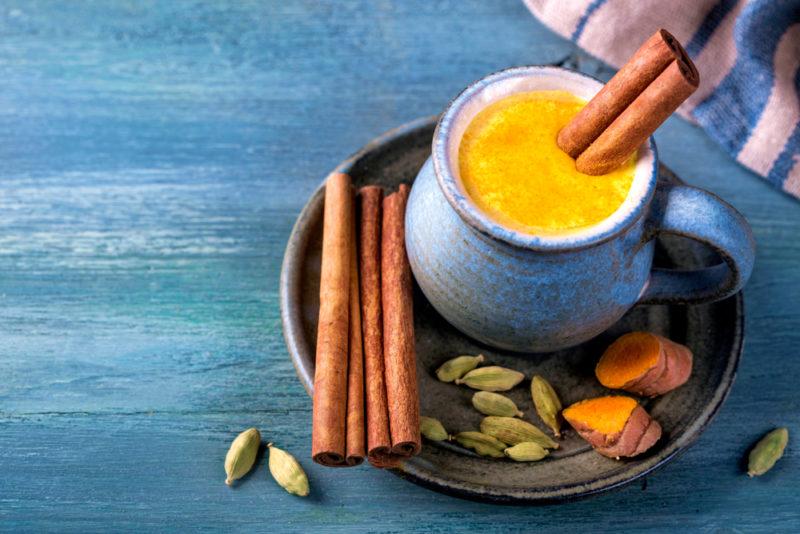 Golden milk has become incredibly popular as a way to increase turmeric intake. It is a hot drink that sometimes goes by the name turmeric latte as well.
There is no single way to make the drink. Most recipes use plant-based milk as the base for the drink and include a decent amount of turmeric.
After that, it is really up to you. Many people include cinnamon in the drink and possibly some other spices too. The extra spices make golden milk into a warming drink that tastes very good.
Mix In With Yogurt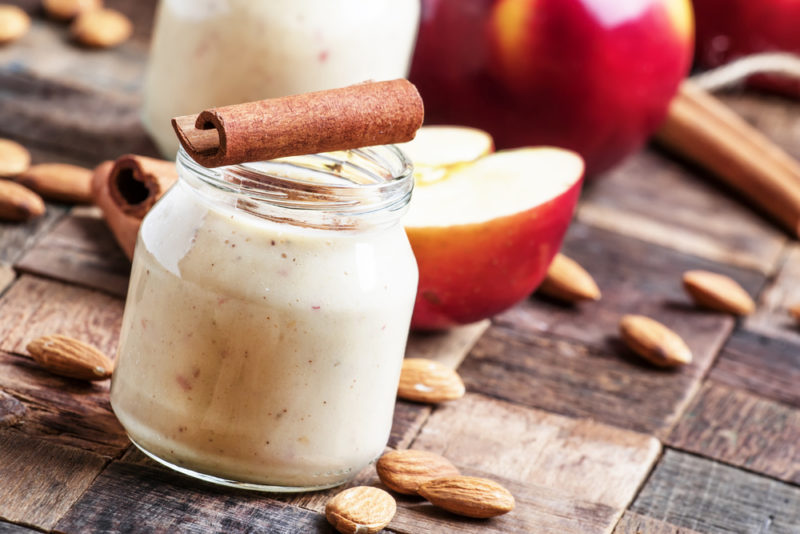 It's hard to get more straightforward than just stirring some powdered cinnamon into your yogurt. And, why not? Yogurt is a healthy addition to your diet anyway, giving you access to various probiotics, along with protein, potassium, and magnesium.
Cinnamon could be stirred into any type of yogurt, giving you the chance to choose your favorite. For example, Greek yogurt and cinnamon could be a fantastic combination, especially as Greek yogurt tends to be thick and creamy.
To get the most benefits, be sure to choose your yogurt well. The best brands are those that use few additives and keep the sugar content low. Yogurt doesn't need much sugar to taste good, especially if you're going to add cinnamon for extra flavor.
Add To Meat Marinade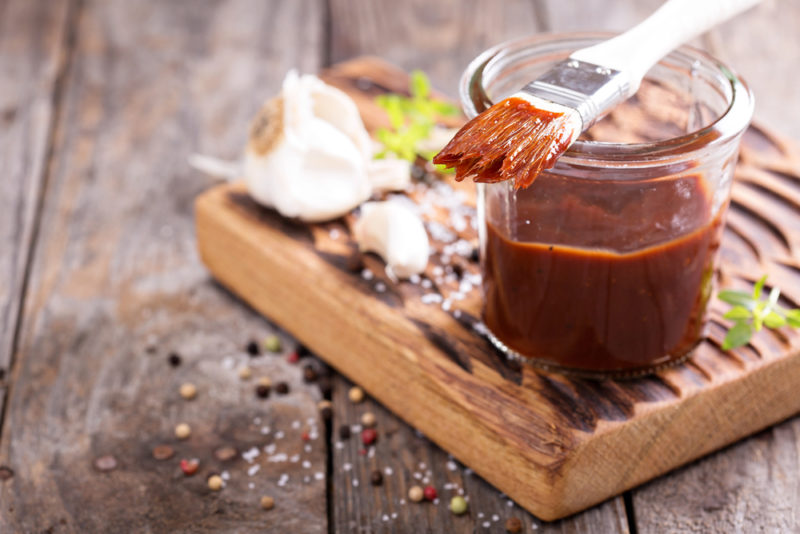 Cinnamon isn't just a spice for sweet foods and drinks. It can also combine really well with savory foods. Using cinnamon in a meat marinade is a classic way to do just this.
The flavor of the cinnamon contrasts against the meat. The exact effect will depend on the other ingredients in your marinade. For example, one recipe uses cinnamon in a chipotle pepper marinade, while another combines cinnamon with garlic and lemon.
There are two approaches that you can take here. One is to use a recipe that has cinnamon as a key ingredient. The other is to simply mix some cinnamon powder into a marinade that you already have.
Use Cinnamon Quills In Rich Dishes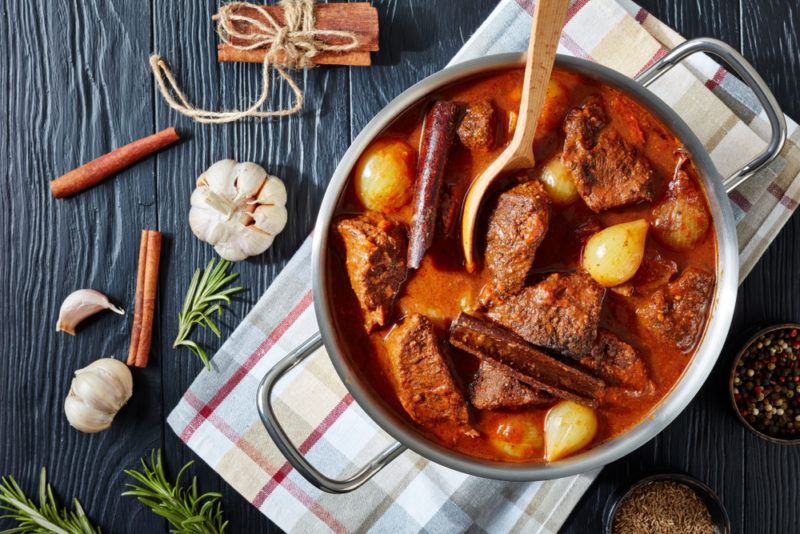 Cinnamon works well in rich dishes, such as soups or stews. Because these dishes have an intense flavor of their own, the cinnamon doesn't have a massive impact. Instead, it merely adds to the complexity of the meal, creating a more interesting flavor profile.
Using cinnamon quills is an ideal approach, as you can simply fish them out before serving the meal. If you don't have quills on hand, you could stir in powdered cinnamon instead.
Both styles work well, although they do create slightly different flavors. While powdered cinnamon could lead to a gritty texture, most of the time the cinnamon combines perfectly with the other ingredients.
Roast Almonds With Cinnamon Powder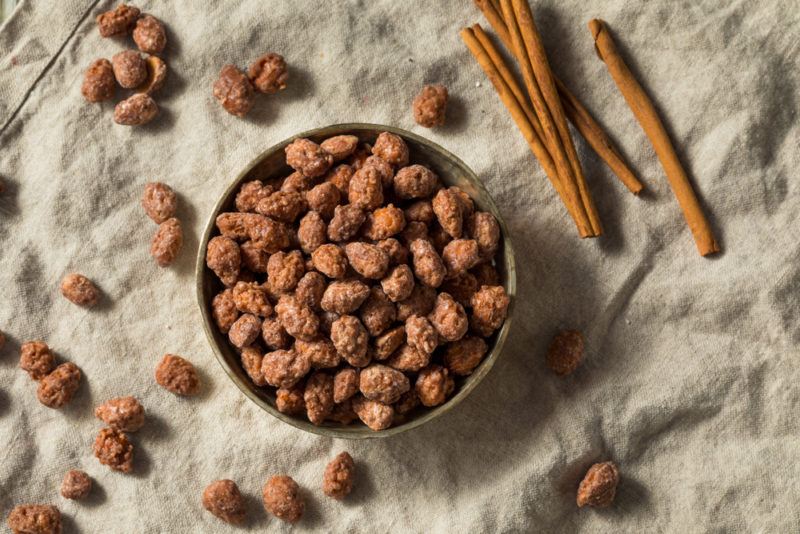 Savory spices are a common choice when you're roasting and seasoning almonds, but you can also take a sweet approach. Using cinnamon powder and sugar is one classic combination. This gives you sweet nuts that have more crunch than usual.
Brown sugar can make this snack even more delicious, as brown sugar has a more intense flavor than its white counterpart. Some recipes call for salt as well, which creates a sweet and salty combination.
Mulled Wine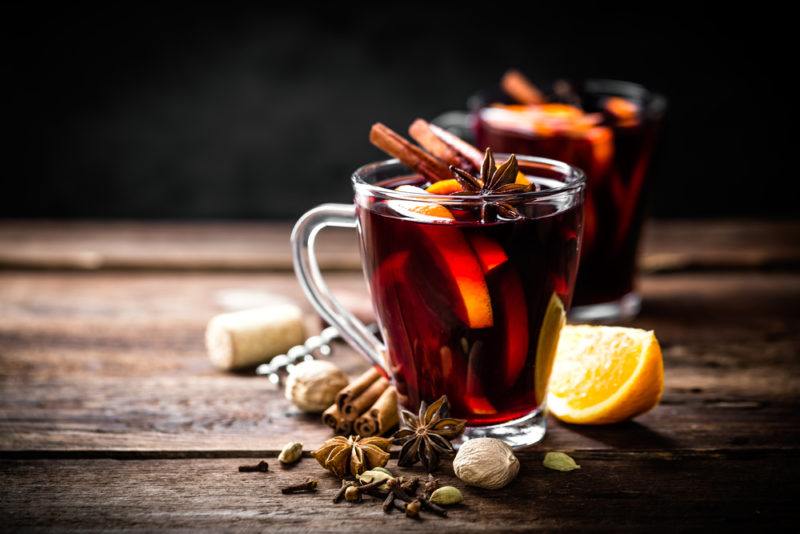 Mulled wine is a classic hot cocktail that is perfect at any time of the year. You're basically heating wine with various spices. Flavors from the spices infuse into your wine, giving you a delicious and complex drink.
You can vary the spices depending on your preferences, but it's best to stick with whole spices, rather than ground ones. Using ground cinnamon, for example, would create a gritty and unappealing texture. On the other hand, cinnamon sticks are perfect.
You might also need to add some sweetener to the wine, such as brown sugar or honey. Another trick is to spike the wine with whiskey or brandy. This increases the alcohol content and helps to offset any alcohol that was lost during heating.
While mulled wine is generally prepared on the stovetop, you can make it using a slow cooker too. The process takes longer than with a stovetop, but there's no need to keep an eye on the mulled wine and no risk that it will boil either.
Hot Toddy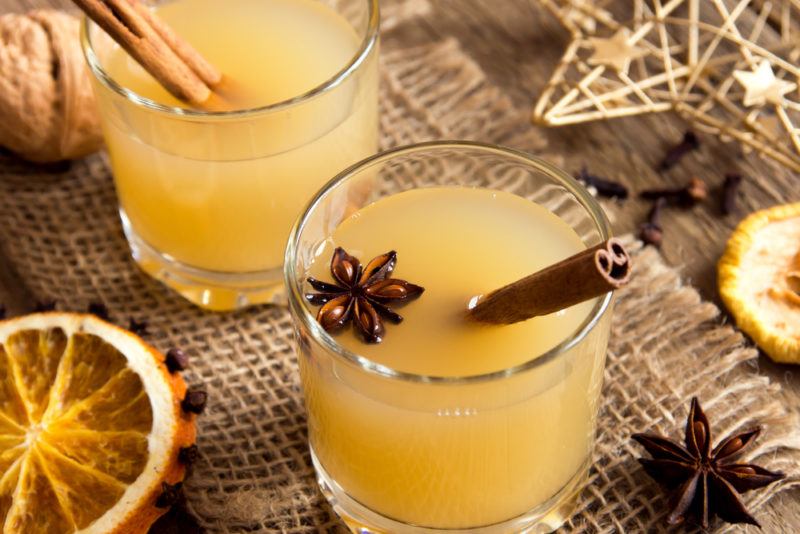 A hot toddy is another hot alcoholic drink, one that is especially good if you have a cough or a cold. As with mulled wine, the recipe for a hot toddy can vary dramatically.
Most versions rely on some type of whiskey, often bourbon, along with ingredients like lemon, honey, and hot water. A cinnamon stick and other spices can be included too. These provide extra complexity to the drink.
Roast Sweet Potatoes With Cinnamon And Honey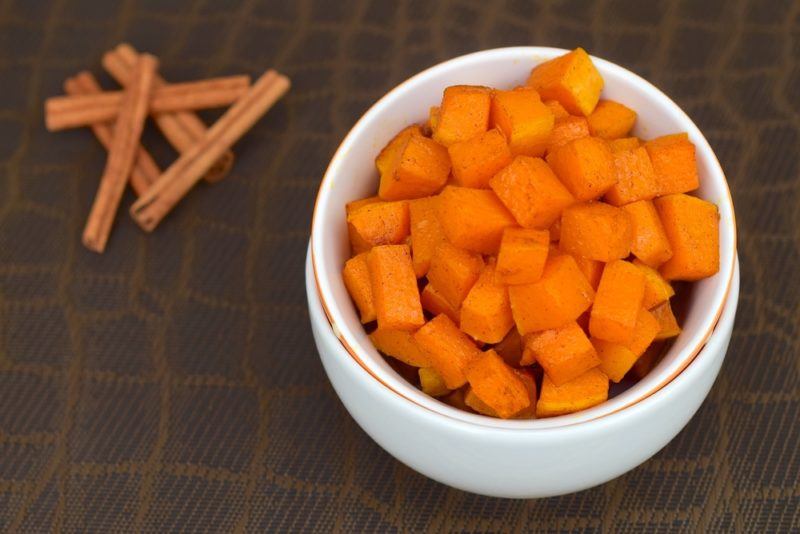 For a nice seasonal dish, what about roasting sweet potatoes with cinnamon and honey? The honey is a perfect complement to the sweetness of the sweet potatoes, while the cinnamon adds warmth and depth of flavor.
Making this meal is beyond simple. You just need to lay the chopped sweet potatoes on a roasting tray, drizzle then with oil and seasonings, then bake. Alternatively, you could toss the sweet potatoes in the oil and the seasonings, which would provide a more even coating of flavor.
Homemade Granola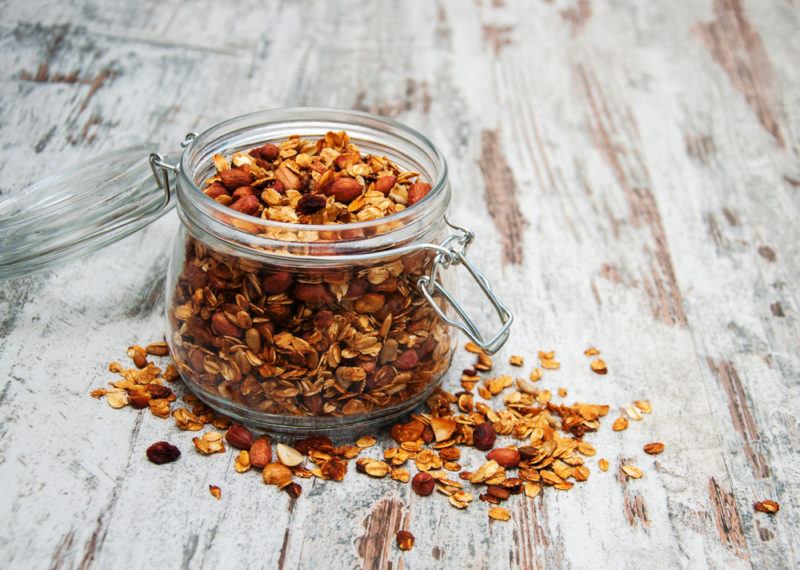 Making your own granola has many advantages. For one thing, you get full control over the ingredients. This is important, as many store-bought brands are full of artificial ingredients and far too much sugar.
Such products will often give you a sugar rush and a sugar crash, rather than a sustained release of energy. If you make your own granola, then you can focus on low GI ingredients, ones that are full of nutrients.
Adding cinnamon to your granola provides a flavor boost, making the granola taste much more interesting. You can even select the other ingredients so that they complement the cinnamon.
Mix Cinnamon Into Purchased Cereal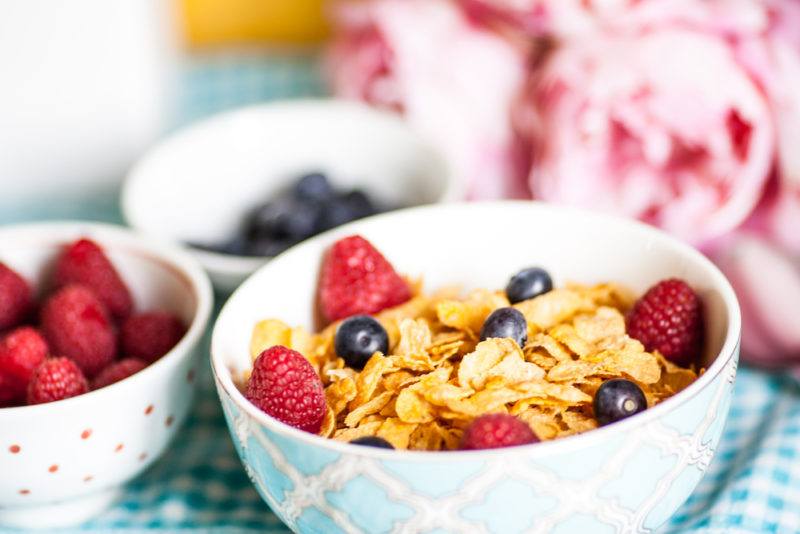 Of course, going to all this trouble isn't the only option. You could also just stir some cinnamon powder into cereal that you bought from the store.
This way, you still get the benefits of the cinnamon without needing to source the ingredients to make granola yourself.
If you do this, then the cereal that you choose will make a huge difference. Try to avoid anything high in sugar or flavorings, as you might not taste the cinnamon at all. The best option will be cereal that is as natural as possible and has few added ingredients.
Cinnamon Hot Chocolate

We mentioned coffee earlier in this list, but did you know that cinnamon combines well with hot chocolate too? In some ways, cinnamon and hot chocolate ends up working better than cinnamon and coffee, as hot chocolate has a mellow flavor.
With hot chocolate, you generally include cinnamon in the drink, rather than sprinkling it on top. Some recipe creators add in other spices as well, such as nutmeg. The extra spices provide more complexity and simply improve the drink.
Candied Bacon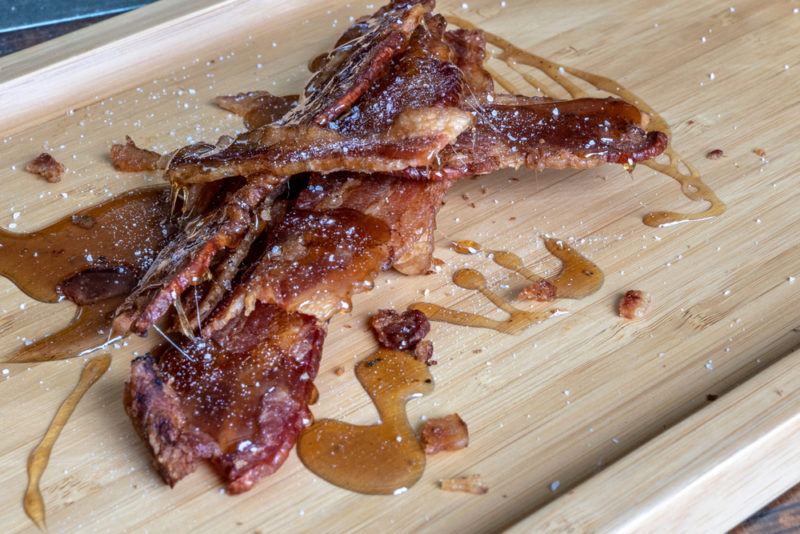 Candied bacon recipes combine savory bacon with sweetness from sugar and other ingredients. While that combination might sound strange, it ends up being exceptional.
Some versions of candied bacon include cinnamon as an extra ingredient. We already know that cinnamon and sugar combine together well, so it's not too surprising that cinnamon would be perfect as part of candied bacon.
Cinnamon Sugar Apple Crisps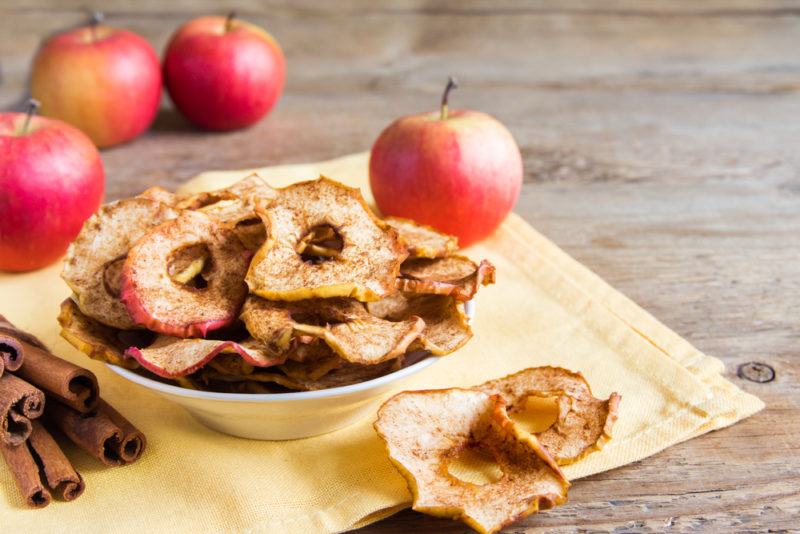 We mentioned cinnamon as a topping for roast almonds, but there are many other options too (including different types of nuts). Combining cinnamon with apple crisps and sugar is a very appealing choice, as cinnamon and apple is such a classic pairing anyway.
While there are many such recipes out there, this one from Jennifer Meyering is an excellent place to begin. The apples in the recipe are baked, so you don't need any special tools. There are also just three ingredients in the recipe, which highlights just how easy it is.
Make A Cinnamon-Based Salad Dressing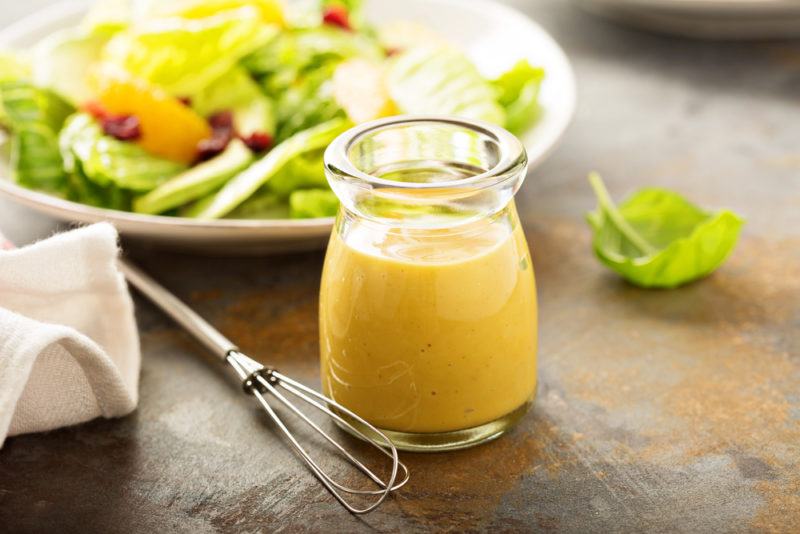 Here's an unusual one – you can use cinnamon as part of a salad dressing. A cinnamon vinaigrette is a common style, which also tends to use apple cider vinegar as an ingredient. You can use the vinaigrette in the same way that you would use other similar dressings.
Not surprisingly, this type of dressing is ideal on salads that include apple.
Apple Pie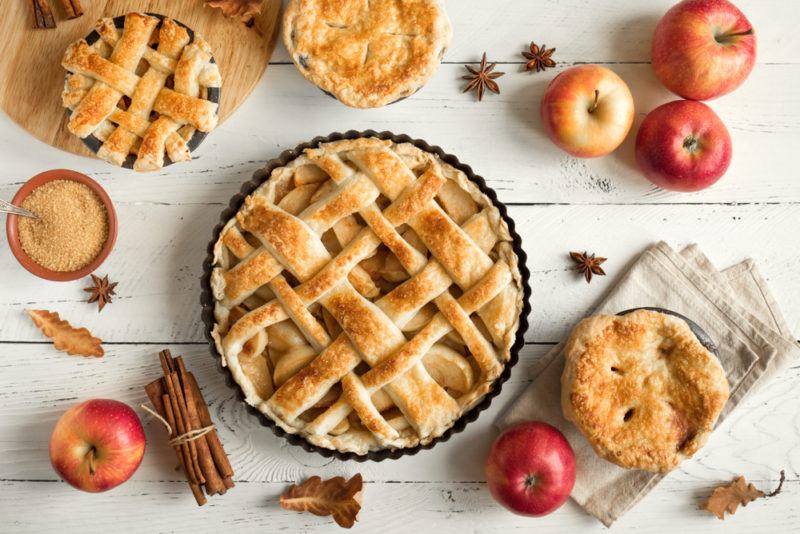 If you're making an apple pie, then including cinnamon is almost a must. Even if your recipe doesn't call for cinnamon, you can easily mix some cinnamon powder in with the apples.
Doing so makes the whole pie taste that much better.
Cinnamon Fat Bombs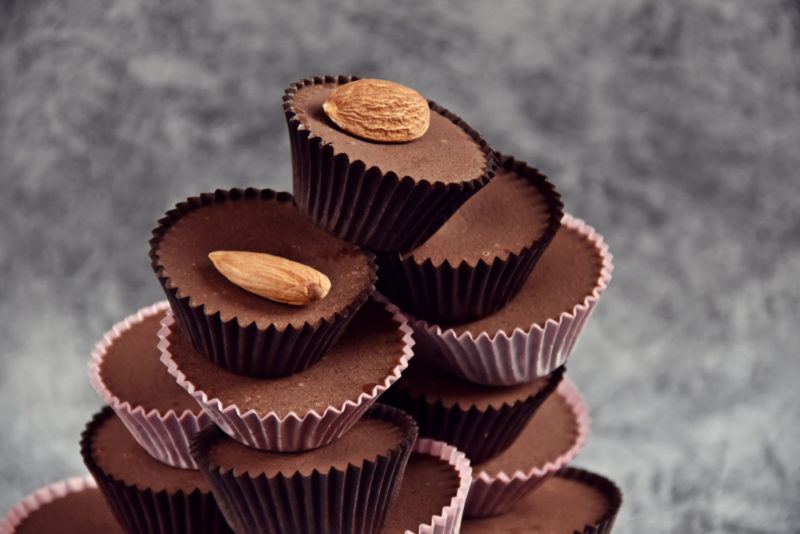 Fat bombs are often used by keto dieters. They're a way to get more fat in your diet and balance your macronutrients. As the name suggests, fat bombs are mostly fat. There'll generally be some protein present too, along with carbs, but only a small amount.
Cinnamon often features in fat bombs, especially in fat bombs that try to mimic the flavor of cinnamon rolls. These often take advantage of cream cheese, as this is high in fat and only has a mild taste.
Cinnamon Rolls

We mentioned using cinnamon in baking earlier in this list. Even so, cinnamon rolls need to be included as they are such a classic way to use cinnamon.
While there are many variations on cinnamon rolls, the basic approach involves making spirals of dough where the dough has been brushed with cinnamon sugar. The end result is an intense cinnamon flavor in a delicious and buttery dish.
Cinnamon Spice Popcorn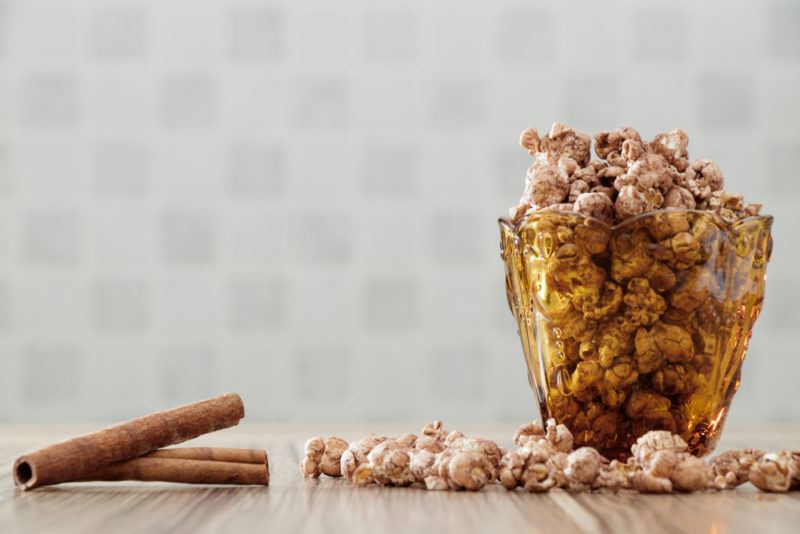 Cinnamon also works well as a topping to popcorn. The most common approach is to use cinnamon and sugar, similar to some of the other entries in this list.
A completely different approach is to include some spicy ingredients with the cinnamon, like hot chile oil. This creates an interesting sweet and sour contrast that makes popcorn even more appealing as a snack.
Cinnamon Baked Grapefruit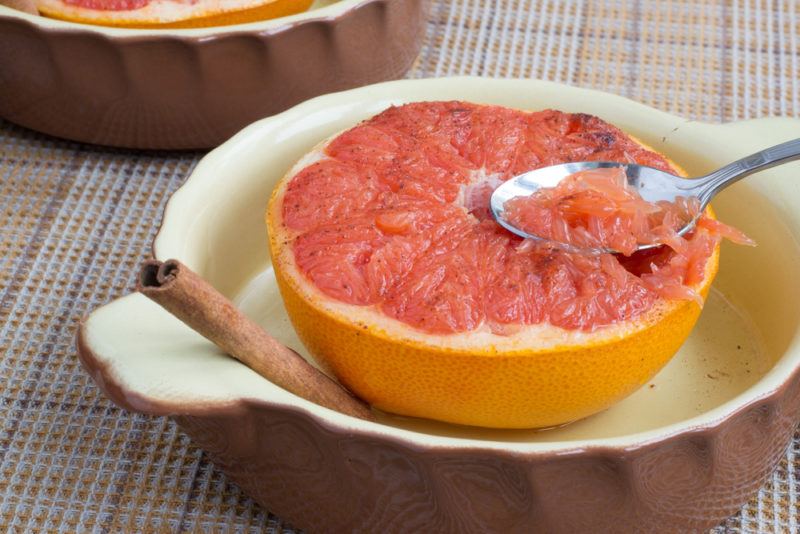 This interesting recipe needs to be tried to be believed. You're baking grapefruit using cinnamon, ginger, and brown sugar to add in extra flavor.
The ingredients are combined and then sprinkled on top of the grapefruit before cooking. The sweetness from the sugar helps to mellow out the grapefruit, while the ginger and cinnamon provide additional flavors.