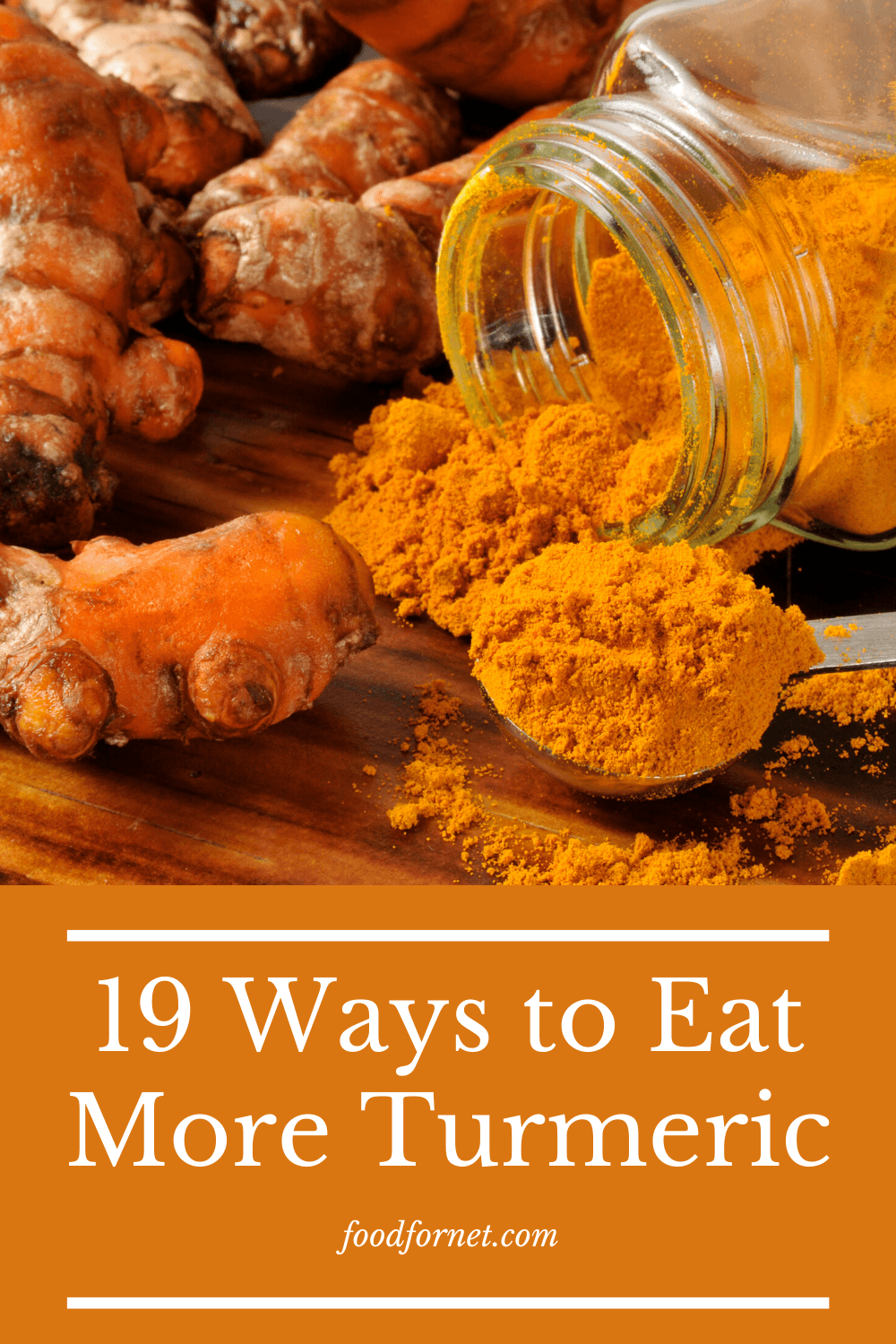 Turmeric is often promoted as a powerful spice, one that offers many different health benefits. Yet, many people don't consume turmeric regularly, as the spice isn't the easiest thing to include in a Western diet. Thankfully, there are plenty of ways to eat more turmeric.
In this post, we're highlighting a selection of foods and drinks that can help you get more turmeric into your diet. Some of these highlight the flavor of turmeric, which is fantastic if you like the taste of the spice. Others bury the flavor entirely.
Either way, getting more turmeric in your diet just makes sense. The spice has strong antioxidant and anti-inflammatory benefits. It may help to improve your immune system and even reduce the symptoms linked to conditions like arthritis and depression.
Plus, the spice is safe and has a long history of traditional use. Even if you're not convinced of all the potential effects, studies keep pouring in about the advantages of turmeric and its active compound curcumin, so it's worth giving the humble spice a chance.
Ways To Eat More Turmeric
Add It To Eggs Or Tofu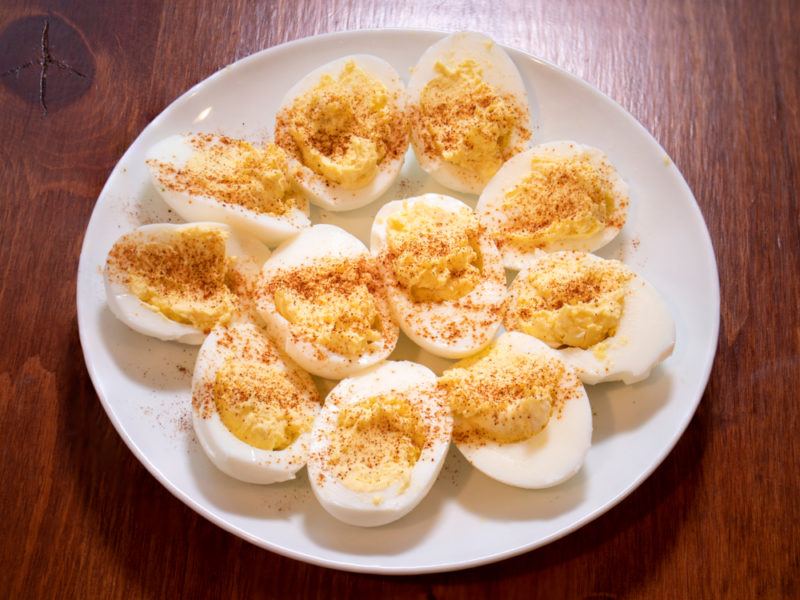 Sprinkling turmeric powder in scrambled eggs, a frittata, or on top of poached eggs is an easy way to enjoy the spice without shocking anyone too much. You can even use plant-based eggs for a vegan option. Turmeric complements the flavor of eggs well, making your dish taste a little richer.
You can take the same approach with tofu scrambles as well. Turmeric tends to add a little extra flavor here as well, making the tofu taste more interesting.
Make A Curry

Turmeric is traditionally used as a curry ingredient and it is absolutely perfect in this role. In fact, our bodies absorb turmeric the best when it is consumed with black pepper and fat, which is another reason for using turmeric in curries.
You can make your own curry powder using turmeric too. There are various recipes online, such as this one from Minimalist Baker.
If you're planning to buy a commercial curry powder mix, make sure that you check the ingredients, as curry mixes can be very different from each other. Some of them may contain very little turmeric or none at all.
Use It With Rice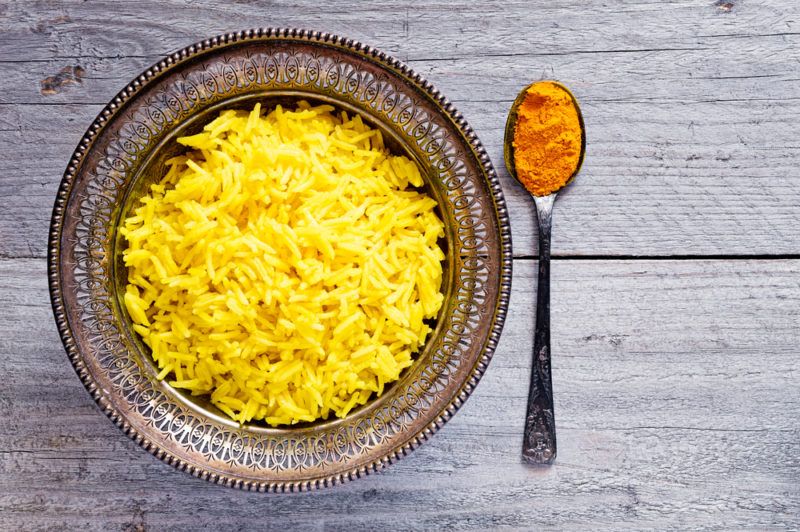 Mixing some turmeric in with your rice is another simple technique. Doing so changes the color and flavor of the rice, making it much more interesting than regular white rice.
Plus, the difference in flavor isn't that dramatic, as you'll normally just be using a little turmeric for a decent amount of rice. You can also start with a low dose and increase the amount of turmeric over time as you start to enjoy it more.
Use It With Any Boring Ingredient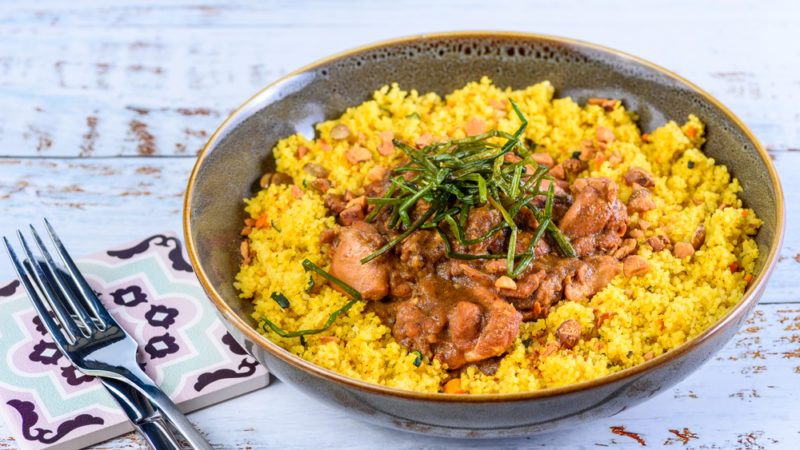 For that matter, turmeric can be combined with other common ingredients, such as quinoa, couscous, or mashed potatoes. The general effect is the same regardless – you're adding a little color and some extra flavor to your meal.
And honestly, why not? Sides like mashed potatoes and couscous can get pretty boring when you have them frequently.
Try Turmeric Salad Dressing

Turmeric-based salad dressings are fantastic. They add a hit of extra flavor to your salad and are generally easy to make too. You can find many recipes to experiment with by simply googling 'turmeric salad dressing'.
Many of the dressings will use other healthy ingredients too, such as lemon juice, ginger or olive oil. You could also simply stir turmeric into another salad dressing too, especially one that doesn't have strong flavors.
What about taking an even simpler approach to and just sprinkling turmeric on top of a salad? The turmeric flavor will often get buried by the other ingredients anyway.
Combine Turmeric With Vegetables

Roasted vegetables might be delicious on their own, but an extra ingredient or two can take them to an entirely new level. Turmeric is one way to do this, as the spice adds a warm and peppery flavor that is absolutely perfect with vegetables.
You can also try sprinkling turmeric onto sautéed greens, like kale, spinach or collard greens as well. The turmeric doesn't just complement the flavor of your veggies, it also makes them stand out visually.
Mix It In A Soup

Turmeric works well with many different soups. It often adds an extra bit of warmth, making the soup feel more wholesome and delicious.
You don't need to rely on a recipe here either. Turmeric can be mixed into whatever soup you happen to be making. You could even mix a spoonful or two in with canned soup.
The flavor of turmeric complements chicken soups and vegetable soups particularly well, but don't be afraid to experiment. You might find that the spice works well in many meals that you didn't expect it to.
Use It In Stir Fries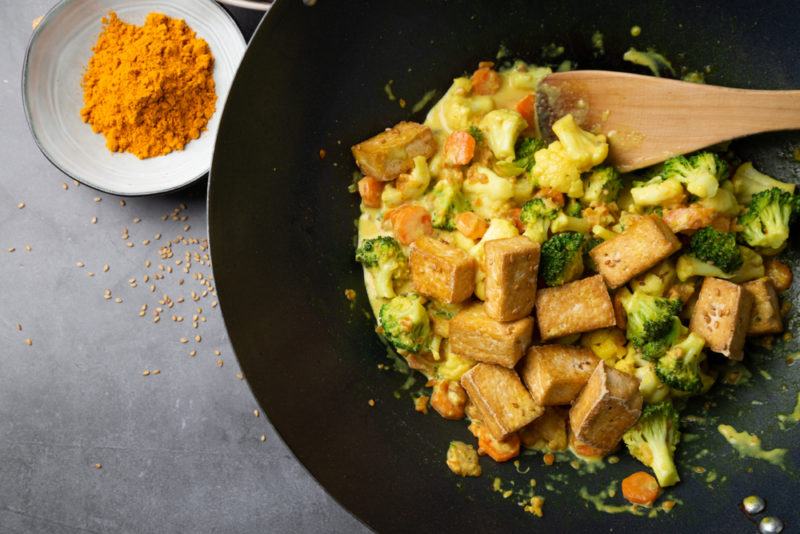 Turmeric works well as part of a stir fry too. Most of the time you'll be able to simply throw the spice in along with whatever other seasoning ingredients that you're using.
Turmeric combines particularly well with chicken, but honestly, just about any stir fry will taste good with some turmeric in it.
Blend It In With Hummus

Try adding a teaspoon or two of turmeric in with your hummus. This is a particularly easy way to enjoy turmeric, as hummus can be used as a dip or a spread in many different snacks.
The turmeric also gives the hummus an appealing yellow-orange color, which helps it to stand out.
Try Turmeric And Fish

Turmeric can easily be added to whatever herb and spice combination that you're using for your fish. This approach works well regardless of whether you're baking your fish, pan frying it or even crumbing it.
Add It To A Smoothie

If you don't like the taste of turmeric, a smoothie is a great way to go. The other ingredients will often mask the flavor of turmeric almost entirely.
This is a particularly good approach if you want to use fresh turmeric root, as you're working with multiple ingredients at the same time. Turmeric powder will work well too, although fresh turmeric is likely to offer more benefits.
You don't even need to hunt for smoothie recipes that include turmeric, although there are plenty of them out there. Instead, you can simply add a little turmeric into almost any smoothie recipe. Focus on recipes with bold flavors if you don't want to taste the turmeric.
Use It With Juice

Ginger works well with many juices too, especially those that combine fruits and vegetables. For example, the site Clean Eating Kitchen offers a recipe for Lemon & Ginger Green Juice, which includes ingredients like celery and cucumber to provide the green coloring.
Ginger also combines perfectly with carrot juice, especially if you have a few other ingredients in the mix too. You can play around with ingredients and quantities until you get something that you love.
Try Golden Milk

Golden milk also goes by the name turmeric latte. The drink gets its color and flavor from turmeric.
While there are various ways to make golden milk, most recipes rely on a combination of plant-based milk, turmeric and other spices, such as ginger and cinnamon. The tastiest versions of the milk involve boiling all of the ingredients together and then simmering for ten minutes or so. The simmering process helps the flavors to infuse into the milk.
You can then use a fine strainer to transfer the mixture into a mug. The use of milk and other spices helps to mellow out the otherwise intense flavor of turmeric, creating a surprisingly tasty drink.
Turmeric And Honey

You can also simply mix turmeric and honey together, then eat the mixture from a spoon. Three parts honey to one part turmeric is a good balance.
You could also try a ratio of one part turmeric to seven parts honey. This combination is less intense, which could be perfect if you're not a fan of how turmeric tastes.
The combination would be particularly good if you have a sore throat, as honey has soothing properties, while turmeric is an anti-inflammatory.
Make Turmeric Ginger Tea

Ginger tea is a simple hot drink that you can make by boiling then simmering fresh garlic in hot water. It is a perfect drink if you're fighting off nausea or if you want to soothe your throat.
It's easy to add a teaspoon or two of turmeric to the mixture when it is boiling too. Just make sure that you strain the drink when you pour it into a mug. Otherwise it will end up too gritty.
If the flavor is too intense, you could easily add some honey to the tea.
Turmeric Baked Goods

Turmeric can easily be added into many savory baking recipes, particularly muffins. In fact, there are many muffin recipes out there that take full advantage of the flavor of turmeric. Turmeric Carrot Muffins from Vegan Rica and Turmeric Breakfast Muffins from Green Kitchen Stories are just two examples.
Once again, you're not limited to recipes that already contain turmeric. You can easily add turmeric powder into recipes that you already use.
If you're adding turmeric, it's best to start off with a small amount. You can always increase this once you know that turmeric works well with the recipe that you're focusing on.
Try Turmeric With Spiced Nuts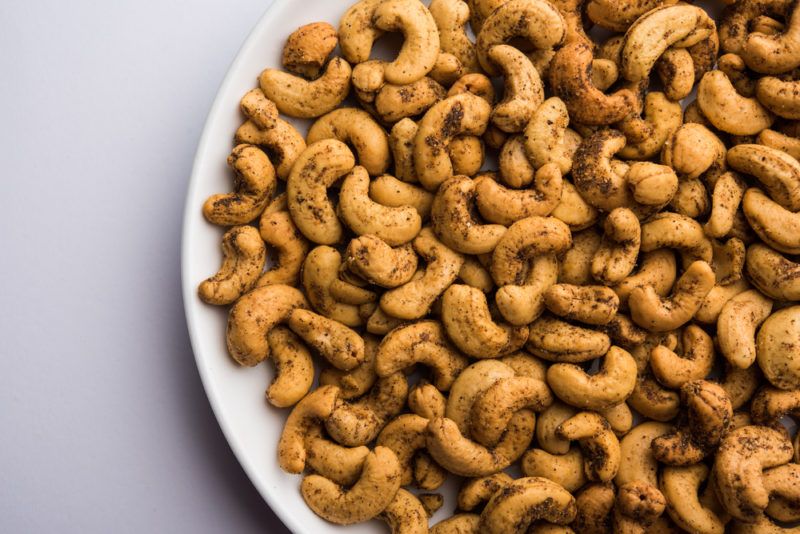 Making your own spiced nuts can be much healthier than buying seasoned nuts from the store, as you get to control the ingredients that are used. While turmeric might not be a classic spice to use, the style is worth trying out.
Some people rely almost entirely on turmeric, while others choose to add other ingredients as well. For example, the site Chartered Wellness has a recipe called Rosemary + Turmeric Spiced Nuts, although the actual recipe contains seven different spices, along with nuts and olive oil.
Make Energy Bars With Turmeric

Making your own energy bars is a fantastic idea. Doing so allows you to focus on the flavors and ingredients that you want. This is important for health, as similar bars from stores may contain processed ingredients, additives and a significant amount of sugar.
Adding turmeric to an energy bar recipe is one way to increase the benefits that the bars offer. You could simply use turmeric in a recipe that you already rely on or focus on a recipe that uses turmeric as a key ingredient (like these Cinnamon Turmeric Super Seed Energy Bars or these Lemon Turmeric Energy Balls).
Add Turmeric To Popcorn

Turmeric can also be used as a surprising topping to popcorn. The site Quitokeeto has one recipe that you can check out and there are others out there too.
While making turmeric popcorn does take more effort than conventional popcorn, the end result is certainly worth the effort. The flavor is also an exotic alternative to the salty and buttery popcorn that is much more common.
Bonus: Make A Turmeric Shot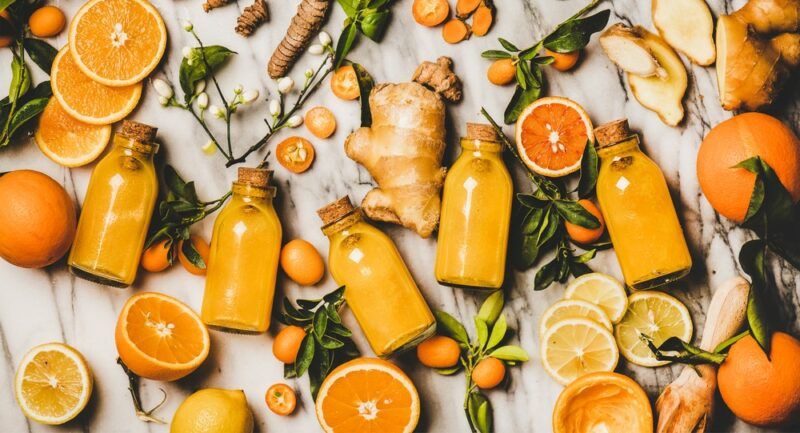 Wellness shots are designed to give you plenty of health benefits in a small serving. You drink them fast too, so there's little time to focus on the flavor. Turmeric shots are a popular choice. They often include citrus and black pepper as well. The black pepper helps with absorption, while the citrus helps the drink to taste good.
You can also add ginger to create a combination turmeric and ginger shot. Doing so gives you even more potential benefits. Plus, the flavors work together well.