Whether you eat them on their own, sprinkle them on salads, use them as an ingredient when cooking, or mix them into your ice cream, there's no denying that pistachios are popular. They also share many features with other nuts, so it shouldn't be surprising that they're healthy too.
But, why are pistachios good for you? What is it that makes these little nuts so special?
Some of the features of pistachios will be familiar already. The nuts are an excellent source of healthy fats. They also contain plenty of nutrients and antioxidants, and may decrease heart disease risk.
Still, as you've probably guessed, there is some bad news too, including calories in pistachios. We're covering both perspectives as part of this post, showing you how pistachios can be helpful and when you need to be careful with them.
Are Pistachios Good For Your Health?
The Benefits Of Pistachios
The Problems With Pistachios
What Do Pistachios Taste Like?
How Do You Eat Pistachios?
Final Thoughts
The Benefits Of Pistachios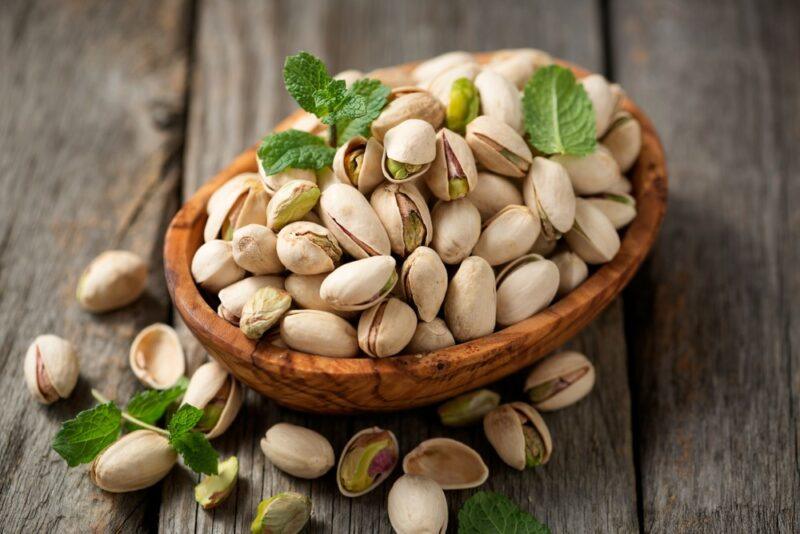 They're Nutrient Dense
Just like other nuts, pistachios are packed with nutrients, including vitamin B6, manganese, potassium, and magnesium. These nutrients all play various roles in your body. Getting enough of them is essential for staying healthy and keeping disease risk low.
The vitamin B6 content is particularly important. You get a little over a third of your daily intake for this vitamin, which is impressive.
Can Decrease Oxidative Stress And Inflammation
Pistachios contain a variety of plant-based compounds, which have plenty of different impacts throughout your body. This includes both antioxidant and anti-inflammatory effects.
Oxidation and inflammation are both important processes, but they can also become unbalanced and increase the risk for disease. Eating plenty of antioxidant-rich and anti-inflammatory foods helps to keep inflammation and oxidation in check, allowing our bodies to function as they should.
The Protein And Content
Nuts are always a fantastic choice for protein. Not only do you get a decent amount of protein per serving, but nuts are also perfect as a snack. You can also use them in recipes to provide extra flavor, nutrients, and protein.
Pistachios are particularly important, as they offer around 6 grams of protein per ounce. Almonds are the only other type of nut with so much protein. All the others contain less protein per serving, making them less powerful.
There is some fiber present too, roughly 3 grams per ounce. While our bodies don't tend to digest fiber, getting enough fiber is essential for good digestion. You can't just rely on pistachios for your fiber, of course, but they're a simple way to get more of the macronutrient without much effort.
They Promote Heart Health
Just like other types of nuts, pistachios can promote your heart health. They do this by helping to lower your blood pressure and cholesterol levels. Plus, the balance between carbs, fiber, and protein means that pistachios don't spike your blood sugar.
This makes them much more powerful than high carb snacks. Many of those would give you a quick rush of energy, followed by an energy crash. You'd be hungry again before too long.
Many of the heart health benefits come from the healthy fats present in pistachios. In particular, you get 7 grams of monounsaturated fat and 4 grams of polyunsaturated fats per ounce, along with only 1.5 grams of saturated fat. Monounsaturated fats are the type most strongly linked to health benefits, making this a powerful balance of fats.
You Get A Decent Amount Of Nuts Per Serving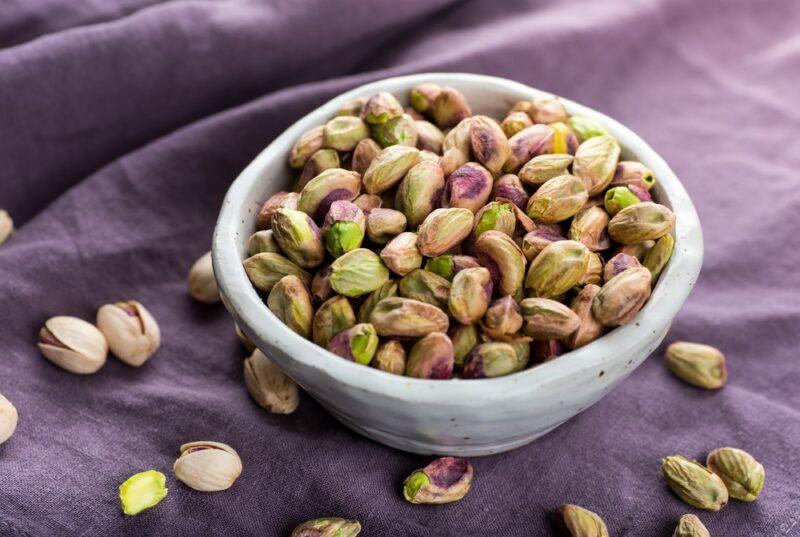 Pistachios are small and fairly light, so you get a decent number of them per serving. In fact, an ounce of pistachios gives you almost 50 individual nuts.
That's more than you get with any other type of snack nut.
The serving size is perfect if you struggle with portion control, as it takes longer to eat a large amount of the nuts (especially if they're still in their shells). Plus, it's easy to just use a few pistachios to add color to a dish, without increasing the calorie content by much.
Pistachios May Help You Sleep
Did you know that pistachios contain melatonin? Melatonin is famous for balancing sleep rhythms. Some people find that melatonin rich foods help them to nod off faster and stay asleep longer.
Pistachios are an excellent choice for melatonin. Not only do they contain more melatonin than many other foods, but they're also easy to snack on. What could be simpler than having a handful or two of pistachios before bed to help you sleep?
They Can Help With Weight Loss
Nuts are surprisingly useful for weight loss. Their combination of fat and protein helps to keep you full, making nuts perfect as snacks between meals.
Snacking on nuts could mean that you don't crave sugary treats as often. That effect might even reduce your calorie intake.
Pistachios have a surprising advantage here – their shells. It takes time and energy to remove the shells from your pistachios before you eat them, even if the nuts are already partially open.
While removing the shells can be a pain, the process makes it easier to keep your nut consumption in check. Don't forget that you get close to 50 pistachios per ounce too. That combination of features reduces the chance that you'll ever overdo it with pistachios.
The Problems With Pistachios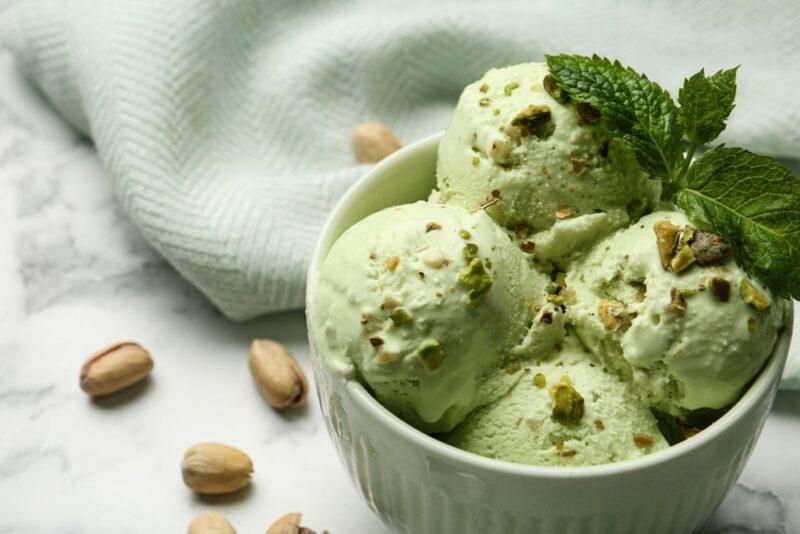 Their Carb Content
While most nuts are high in fat and low in carbs, there are a few exceptions, including pistachios, cashews, and chestnuts. Pistachios contain roughly 18 net grams per 100 grams.
With this many carbs per serving, pistachios aren't a good snack choice for low carb or keto dieters.
However, you'll still see them in some keto recipes because their purple/green color makes them excellent for decoration. And, if you're only using a few, you're keeping the carb content way down.
The Price
Pistachios mightn't be as expensive as macadamia nuts or almonds, but they're getting there. The price is partly related to the amount of work that goes into farming pistachios. Plus, pistachio trees need quite specific conditions to thrive, which limits the number of places where farmers can grow them.
The high price of pistachios isn't a huge deal if you're going to be using them as decoration or every so often in a special treat. But, if you're looking for an everyday snack, pistachios may be outside of your budget.
The Calories
While nuts are prized for their nutrient density, they're not such a great choice when it comes to calories. With pistachios, you're getting roughly 160 calories per ounce. This is less than many other tree nuts, but is still high enough to be significant.
As a reference point, common recommendations suggest that moderately active adults need somewhere between 2,000 and 2,600 calories per day. Many factors influence your ideal calorie intake but those numbers are a good starting point.
While an ounce of pistachios doesn't get you anywhere close to your daily target, remember that you still need to fit all your meals into those calorie goals, along with your drinks, and any other snack.
The number of calories doesn't mean that you need to avoid pistachios. You simply need to be wise about using them. Make sure your serving size fits well into your current needs.
Pistachios Are Often Salted
Raw pistachios are naturally low in sodium, but many people buy roasted pistachios instead. These are often salted, sometimes giving you more than 500 mg of sodium in a cup of the nuts.
Even if you keep your serving sizes low, the amount of sodium might be a cause for concern. After all, high sodium intake is linked to issues like heart disease and high blood pressure. Many people are already consuming too much sodium and pistachios only make that problem worse.
You Might Consume Too Much Manganese
Manganese is one of the nutrients found in pistachio nuts and it's an important one for health. However, you can consume too much of it, which can cause side effects and even neurological conditions.
If you're just eating an ounce or two of pistachios a day, the manganese levels should be fine. Higher amounts of pistachios could be a problem, particularly if you're getting manganese from other sources too.
What Do Pistachios Taste Like?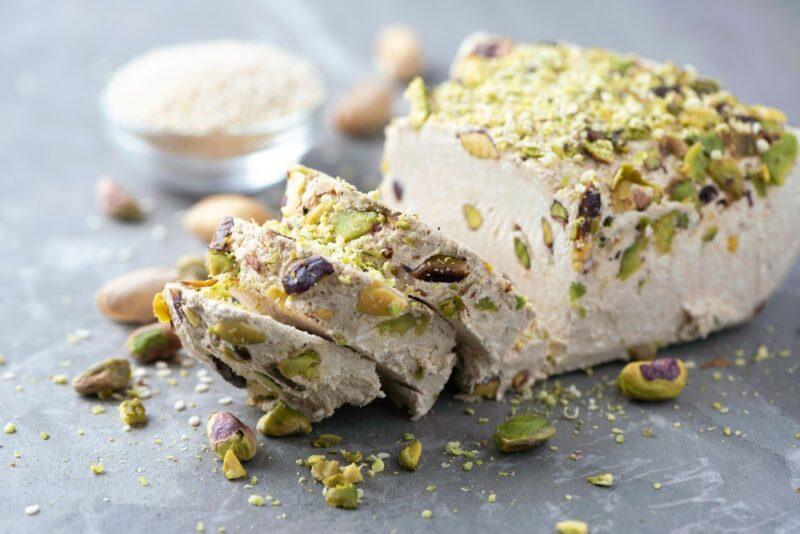 Pistachios generally have a mild flavor, with a slight sweetness. However, the flavor can vary, even within the same batch, so some pistachio nuts end up tasting more strongly than others.
How pistachios taste also varies with the age of the nut. Young and green pistachios tend to be a softer and don't have much sweetness. They become harder and sweeter as they age.
The flavor is subtle enough that it can be almost entirely drowned out by salt. This is why many people prefer unsalted pistachio nuts.
How Do You Eat Pistachios?
Pistachios are more complicated than most nuts, as you're often buying them still in the shell.
The shells are tough, so you'll sometimes need to use a small hammer or a nutcracker to get into them. Sometimes there'll be a small crack along part of the shell. If this is the case, you can use your fingernails in the crack and open the nut that way.
You can buy shelled pistachios as well, giving you the chance to simply eat the nuts without the hard work. However, shelled pistachios don't tend to last as long, so don't buy too many at a time.
Once shelled, pistachios can be eaten like other nuts or used in many different recipes. You'll often see them used as garnishes and ways to brighten meals up due to their coloring.
Final Thoughts
Like other nuts, pistachios contain plenty of nutrients and healthy fats. They can help to decrease inflammation and oxidative stress, while promoting health in a variety of other ways.
There are only two major problems – the price and the calorie content. In both cases, the best solution is to moderate your pistachio intake. Enjoy the nuts, by all means, but try not to eat more than an ounce or so per day.
Think about the rest of your diet too. You'll often get the most benefits by eating pistachios instead of another snack, rather than simply adding the nuts into your diet.