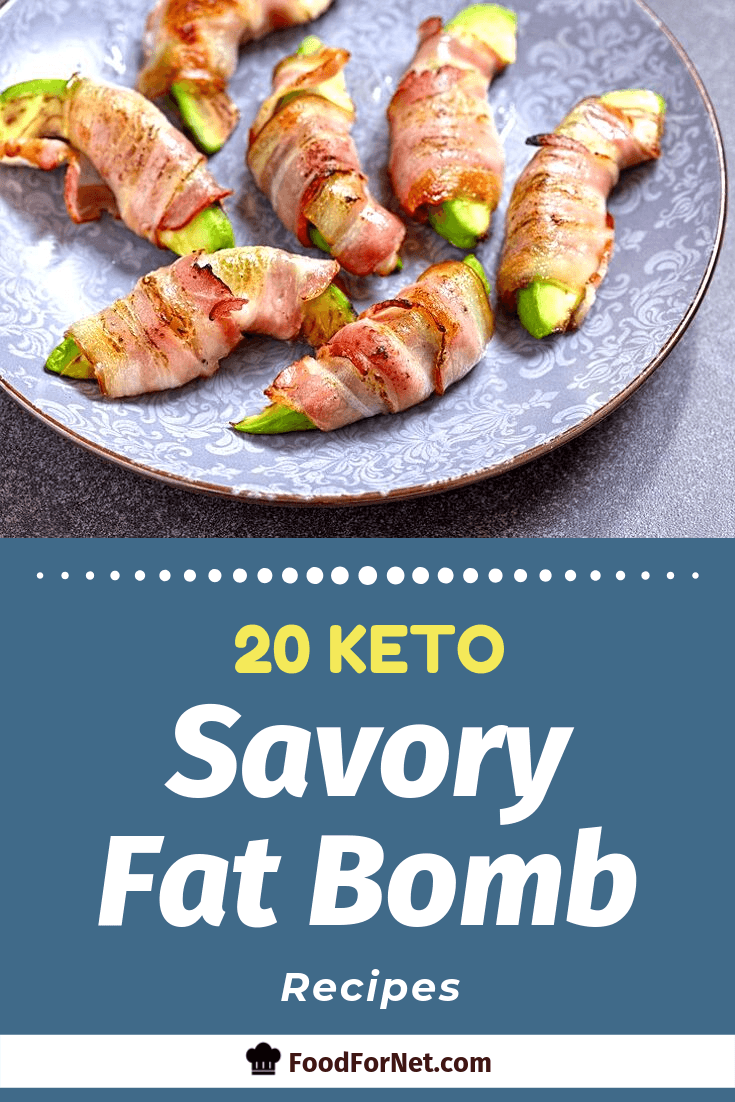 Fat bombs are often thought of as sweet keto snacks. Most of the time that's true. You'll find plenty of amazing fat bomb flavors out there too, like raspberry, chocolate, mocha, lemon and much more.
Even so, sweet isn't the only option. There are also many keto savory fat bomb recipes. These often use an entirely different selection of ingredients. The finished snack is different too. Some of the savory fat bombs are very similar to regular ones, just with different flavors. Others come in their own styles.
Check out this list to find some of the best savory options. Don't worry if some of the flavor combinations sound odd. Keto recipe creators are amazing at mixing flavors and ingredients to create spectacular results.
Keto Savory Fat Bomb Recipes
PS. Many keto snacks and appetizers aren't fat bombs but are still a good source of healthy fats.
PPS. There are plenty of sweet fat bombs too, like chocolate almond fat bombs.
5-Min Prosciutto Avocado Fat Bombs
These savory fat bombs come from ketosummit.com and they're one of the simplest examples that you'll find. There are just three ingredients, two of which are obvious from the name of the recipe.
The overall style means that these fat bombs would work well as an appetizer for a party or something similar. Of course, there's nothing stopping you from making them just for your own personal snack.
Crab Rangoon Fat Bombs
Lyndsay from officiallyglutenfree.com offers this unusual fat bomb recipe. The fat bombs rely on some common ingredients, like bacon and cream cheese, but they also include crab. The crab adds a little something extra to the flavor profile, helping these snacks to taste unique. If nothing else, the recipe is a fun way to try out something new.
Everything Bagel And Lox Fat Bombs
The best thing about these fat bombs is that they're unusual. The recipe comes from healthstartsinthekitchen.com and uses 'everything bagel' seasoning. This approach means that the fat bombs end up with a distinctive coating, one that would taste amazing. There are some interesting flavors included in the fat bombs too. You'll need to check out the recipe to find out what these are.
Savory Mediterranean Fat Bombs
These fat bombs from ketodietapp.com even manage to look like conventional fat bombs (or coconut truffles, as Martina suggests). They use a fantastic combination of ingredients that gives them a strong Mediterranean flavor profile. Don't be fooled by their rather simple appearance either. There are plenty of flavors packed into these small fat bombs.
Guacamole Bombs
Here's another recipe that takes advantage of avocado. The recipe at stepawayfromthecarbs.com provides all the details about making the guacamole yourself. Georgina also mentions that you could get away with using guacamole purchased from the store too or use your own favorite recipe.
An unusual feature is that these fat bombs are shallow fried. You could even deep fry them if you wanted. The finished snack is ideal for many different situations. There's even a fun texture difference between the inside and the outside of the fat bombs.
Bacon & Egg Fat Bombs
This second recipe from ketodietapp.com is another interesting idea to try out. This time, the emphasis is on bacon and eggs – a staple on any keto diet. As Martina points out, fat bombs like this can be a fantastic way to feel satisfied without setting off any sugar cravings.
Besides, there's something cool about bacon and eggs in this form. The fat bombs look fantastic and are bound to taste just as good.
Healthy Tuna Avocado Balls
While avocado is a common ingredient in fat bombs, it's rare to find a fat bomb recipe that relies on tuna as well. This is exactly what this recipe from hungryforinspiration.com does.
The style is an extremely good choice for anyone who enjoys meal prepping. You could easily throw the fat bombs in lunch boxes or take them with you to work every day. They would even give you an energy boost to help improve your focus.
Bacon Jalapeno Cheese Bombs
This recipe is from stepawayfromthecarbs.com and it offers a particularly amazing flavor combination. I mean honestly, bacon, jalapeno and cheese? How can you not love these fat bombs?
The fat bombs partly rely on fathead dough, so they follow a different style than most. They could be the perfect choice for anyone who doesn't enjoy the regular texture of fat bombs.
Jalapeno Poppers Fat Bombs
This recipe is an especially fun choice. The inclusion of jalapeno helps to make the fat bombs jump out. While the idea is similar to jalapeno poppers, the fat bomb approach works especially well. The recipe can be found at lowcarbyum.com, where Lisa offers plenty of images to step you through the processes.
Pimento Cream Cheese Fat Bombs
Christel from diabetesstrong.com provides another interesting choice. This time, the fat bombs rely on pimento cheese. This creates a flavor that you simply won't find elsewhere. You also end up with fat bombs that just look fantastic. The recipe also uses toasted pecans to create an interesting texture on the outside of the fat bombs.
Breakfast Bacon Fat Bombs
It's easy to see why these fat bombs are promoted as a breakfast item. The ingredients used are common choices for breakfast – especially the bacon. Of course, you're not just limited to breakfast. You could eat the fat bombs at any point of the day. Go ahead and check out the full recipe at asimplepantry.com.
Better Burgers
Here's a fun snack to consider, one that would be perfect served at parties. The style is also one that would appeal to a regular audience, along with keto dieters. The small burgers contain ten grams of fat each, so it's easy to see why Jessica calls them fat bombs.
As she mentions, the burgers can be easily transported and reheated – making them a versatile snack. The recipe comes from forgetsugarfriday.com. As always, it contains all the information that you're going to need.
Bacon, Braunshweiger And Pistachio Truffles
The best thing about this recipe from ibreatheimhungry.com has to be the flavor combination. I mean honestly, pistachio, braunshweiger and bacon? I don't think I've seen another snack with those three ingredients together.
The end result is a snack that looks a little bit like a truffle. Biting into them reveals a fun surprise, as the fat bombs are layered. The texture also means that these work well spread on something like a cracker (low carb, of course) or with a celery stick.
Savory Fat Bombs
This recipe comes from fatforweightloss.com.au. It relies on garlic and parmesan as the main flavors. There are also olives in the mix. The fat bombs are simpler than many other options, but this is half the appeal. You get the chance to really enjoy the flavors and the texture of the snack, while the fat bombs remain easy to create..
Bacon, Egg And Avocado Savory Fat Bombs
Bacon, avocado and eggs – what's not to love? The title makes it sound like you're getting a single fat bomb recipe, but ketovale.com actually provides two different recipes. The idea is that you make both recipes at the same time, giving you six of each type of fat bomb.
Of the two, the bacon and egg fat bombs have the lowest carb content (0.3 net carbs per serving). Even so, both options would taste good and easily fit into a keto diet.
Savory Pizza Fat Bombs
If you love the flavor of pizza (who doesn't?), then this recipe is for you. It comes from ruled.me, so you can be certain that the fat bombs will be amazing. I love the way that the fat bombs are fairly simple to make, yet they still manage to look very impressive.
They seem like something that could easily be served at a party – and would impress your guests. The recipe only makes six fat bombs at a time, so you might need to make multiple batches if you planned to serve these at an event.
Keto Bacon Fat Bombs
These fat bombs are a completely amazing choice. You get a savory snack that is bursting with smokey flavor, one that is also suitable for paleo dieters. The recipe is also a surprisingly easy one. It only requires six different ingredients and you're following a handful of steps.
Jennafer provides full details about the process at blog.paleohacks.com. You make six fat bombs at a time. Interestingly, the serving size is two fat bombs, rather than one.
Jalapeno, Cheese And Bacon Bite Fat Bombs
Here's another fat bomb recipe that features bacon. This time it comes from the site healthhomeandhappiness.com. The fat bombs have a familiar visual style, as they're basically savory truffles that have been rolled in bacon.
Bacon Maple Pecan Fat Bombs
This recipe comes from zenberryketo.com and it's a little different than other entries. In fact, the inclusion of maple makes these a bit sweeter than you might expect for this list. Still, the fat bombs are too good to pass up.
One of the key features is that they use bacon fat as the main type of fat. While this is an unusual style, Olive states the choices does taste much better than it sounds. The recipe is also a good alternative to wasting leftover bacon fat.
Cheese Ball Fat Bombs With Crispy Prosciutto
Here's another fat bomb style to try out. The recipe is from castironketo.net, which is an especially good site for keto food. These fat bombs are softer than most. This could be perfect if you want to spread them on a low carb cracker or something similar. Alex mentions that the fat bombs reheat well. You can also eat them cold.