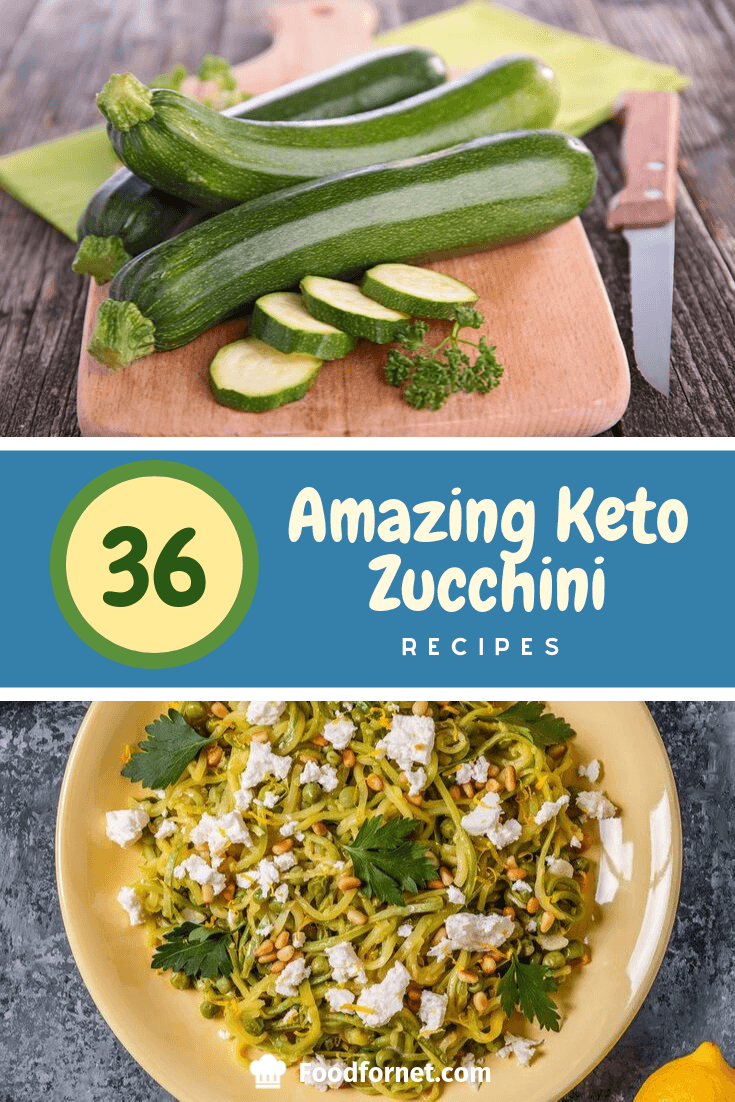 Zucchini is a great ingredient for keto, partly because of its low carb content. The vegetable only has three grams of net carbs per 100 grams, which is pretty impressive.
This carb content makes it difficult to eat too much zucchini, even if you use it in many different dishes. Besides that, zucchini is a healthy vegetable that contains many beneficial nutrients.
While there are plenty of other vegetables with similar properties, zucchini does have a distinct advantage – flexibility. Zucchinis are often spiralized to create zucchini noodles (zoodles, for short). These are perfect low carb noodle alternatives and work well with many different dishes.
In this post, we're highlighting some of the best keto zucchini recipes out there. Some of these use zoodles, while others use zucchini in an entirely different way. Check out the list to find some new recipes for your own repertoire.
Keto Zucchini Recipes
PS. One of the most popular ways to use zucchini is as a pasta alternative. We have an entire list of zoodle recipes that highlight this use.
PPS. You can also check out our list of keto quiches. Some of these use zucchini as an ingredient, while others feature different vegetables.
Summer Squash Zoodles With Bacon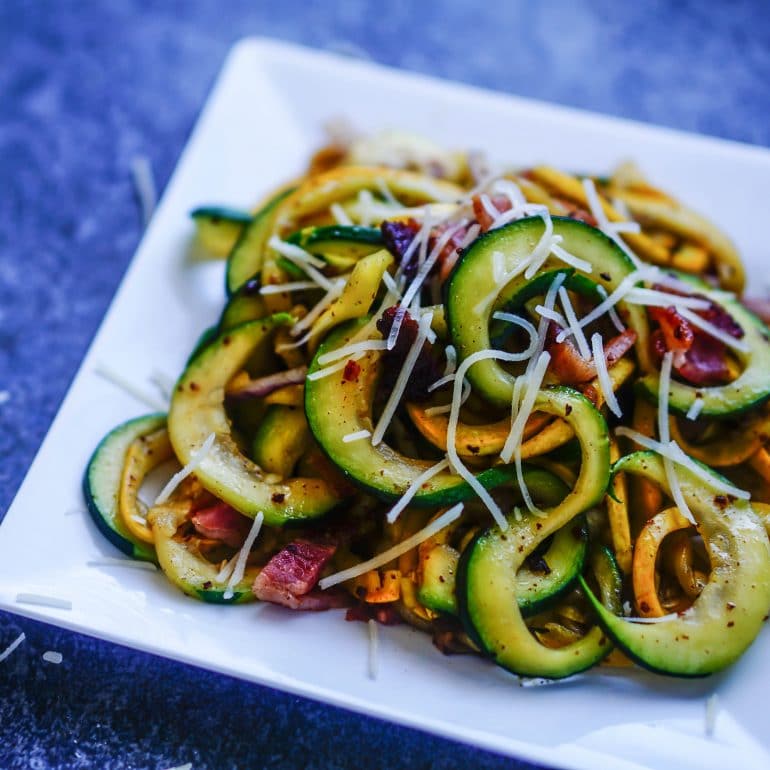 The first thing that I love about this recipe is the way that it looks. The meal has such an amazing combination of colors, especially with the bright green zoodles. Abbie (from ketogasm.com) is also using a wider cut of zoodles than many other recipes. This is part of the reason that the recipe looks so cool.
Another interesting part is that the recipe doesn't just use zoodles. Half of the 'noodles' are made from zucchini, while the other half is made from a yellow squash. Doing so creates a more varied flavor profile. The approach is a key reason why the recipe looks so amazing visually too.
Egg Bacon Zucchini Nests
These little snacks are a fun low carb alternative to hash brown egg nests. The recipe can be found at beautyandthefoodie.com. There are also plenty of images to step you through the process. This time, the zucchini is grated, so you don't even need a spiralizer to make the dish.
Cheesy Zucchini Casserole
Despite the appearance, this zucchini casserole doesn't use conventional zucchini noodles. The zucchini is simply cut into quarters lengthwise and then sliced. This style is ideal for anyone who doesn't have a spiralizer (or if you just want less work).
The recipe itself comes from alldayidreamaboutfood.com. It's a fantastic one to try if you love cheesy and comforting dishes. You might even find that kids love it, despite the zucchini.
Pesto Chicken With Zucchini Noodles
This meal focuses on the pesto chicken much more than the zucchini, but it's still a good choice to check out. The recipe comes from aussieketoqueen.com and allows you to create some amazing tasting chicken. You could even just make the pesto and combine it with something different entirely.
Meatball Pasta Bake
Here's another recipe that relies on zucchini noodles. This time it comes from ketosummit.com and is an alternative to a traditional pasta bake. One cool aspect is the intensity of the flavors. The tomato-based sauce should help to mask some of the taste from the zucchini. That outcome is ideal for anyone who isn't too keen on the vegetable but wants the nutrients that it has to offer.
Stuffed Zucchini Boats For Breakfast
These zucchini boats make such a fantastic choice for breakfast. The recipe comes from lowcarbmaven.com and offers a really cool balance of flavors. As Kim points out, the dish is also a good way to get vegetables into your breakfast, as these are often missing. Check out the recipe to find out how to make zucchini boats for yourself, along with information about the great ingredients that the zucchinis are stuffed with.
Crispy Baked Zucchini Fries
This recipe comes from Maya at wholesomeyum.com. It's a five-ingredient recipe where you are making a healthy alternative to fries. A serving of the fries contains just three grams of net carbs. They're also tasty enough that even kids will enjoy them.
Zucchini Bread With Walnuts
Being on a keto diet doesn't mean that you have to skip bread entirely. This recipe, from greenandketo.com, is a fantastic version to try out. The use of zucchini helps to make the bread moist and sweet, while also offering health benefits. The walnuts on the top are an interesting addition, helping to provide extra crunch and flavor.
Zucchini And Feta Fritters
These fritters from cookinglsl.com are one of the best ways to use zucchini. The fritters make a great keto appetizer or a dish that you can serve at a party. The inclusion of feta creates a sharp flavor that contrasts nicely against the zucchini.
Paleo And Keto Zucchini Noodles
Zucchini noodles are a common low carb alternative to pasta. This simple recipe from bestrecipebox.com shows you how to make the noodles for yourself. The recipe isn't just boring zucchini noodles either. There are various flavor packed ingredients included that help to make the noodles more interesting. You could easily pair the zoodles with other low carb recipes and there is no shortage of such recipes out there.
Garlic And Parmesan Fried Zucchini
Here's another interesting use of zucchini and is hosted at ketodietapp.com. The fried zucchini pieces would be suitable for many different situations. For example, they would be good at parties or just as a random snack. The recipe provides information for the fries and also for a dipping sauce with complementary flavors.
Zucchini Lasagna Roll-Ups
This recipe from evolvingtable.com is another style that would work well as a snack. The recipe is also a fun one, as you're taking advantage of the flavor of lasagna. While there are recipes to make low carb lasagna, these rollups are a much simpler option, one that happens to look fantastic on the plate too.
Zucchini Noodles With Meatballs Meal Prep
This recipe is slightly different than the other entries as Kirbie (from kirbiecravings.com) focuses on the meal prep angle. This normally means that you're making multiple meals from the recipe, which can be used later in the week. The idea is a fantastic way to save time on busy days while still eating good food.
The meal prep approach isn't the only advantage of this recipe. The meal would also taste fantastic, as it takes advantage of zucchini noodles, along with keto meatballs. The combination of flavors would work well and creates a filling meal.
Creamy Garlic Shrimp Alfredo Zucchini Noodles
This recipe from staysnatched.com is another one that uses zucchini noodles (or zoodles). Shrimp is the protein of choice for this meal. You're combining the zoodles and shrimp with a keto alfredo sauce. The combination creates a creamy dish with plenty of flavors.
Zucchini Cheese Muffins
Here's a less conventional recipe. It comes from Angela at divaliciousrecipes.com and allows you to make a savory snack. Muffins like this would be a perfect way to take nutrition on the go. As Angela mentions, they'd even be a great breakfast choice.
Honestly, savory muffins are seriously underrated. They're often much better than their sweet counterparts. The muffins are also versatile, as you can eat them at any time of the day.
Zucchini Banana Bread
This recipe comes from buttertogetherkitchen.com and is another bread-based choice. The combination of banana and zucchini might sound a little odd, but Kasey shows that the flavors combine surprisingly well. The finished product even looks like a regular loaf of banana bread.
Salt And Vinegar Zucchini Chips
These zucchini chips would be a great choice if you wanted a low calorie snack. For that matter, they're perfect as an alternative to potato chips – regardless of the diet that you're on. As Brenda (from sugarfreemom.com) highlights, the chips only contain 40 calories per serving.
Chicken Stuffed Zucchini Boats
Zucchini can be a good way to serve other keto ingredients. That's what is happening in this recipe from feelgoodfoodie.com. You're basically making boats out of the zucchini and then filling these with chicken, cheese, pasta sauce and various seasonings.
Herbed Zucchini Quiche With Parmesan Crust
Quiches are another great way to take advantage of zucchini. While there are many such recipes out there, this version from ayokitchen.com is a particularly good one to try out. One of the most interesting aspects is that the recipe uses a variety of herbs. These create a compelling flavor profile that complements the zucchini nicely.
Easy Cheesy Zucchini Gratin
This zucchini recipe comes from ibreatheimhungry.com. It's a tasty alternative to potato gratin, one that is low in carbs and is gluten free. The dish could be a light meal on its own, but it is most useful as a side dish. You could combine it with many different keto meals, like roast chicken.
Air Fryer Zucchini Fries
If you want a fast and easy snack, look no further than these fries from gimmedelicious.com. They are made in the air fryer and take just 15 minutes to create. Don't worry if you don't have an air fryer. Layla provides instructions for making the fries in an oven too. Using the oven will take longer, but the end result is worth the effort.
Fluffy Zucchini Bread Pancakes
How about including zucchini in pancakes? That's the approach taken in this recipe from thebigmansworld.com. Unlike most of the recipes on this list, the zucchini in these pancakes is hidden. You won't even taste it. As such, the pancakes are a perfect way to get family members (and yourself) eating more vegetables.
Zucchini Bread With Walnuts
This recipe from ruled.me acts as a bread-based dessert. It is less sweet than many other types of desserts, but sweet enough that it acts like a treat. The bread can also be frozen. You could choose to slice it up and freeze the pieces individually or freeze the entire loaf at a time. The best approach will depend on how fast the bread is likely to be eaten.
Zucchini Pizza Bites
These pizza bites come from walkingonsunshinerecipes.com. The bites are a simple way to have all the flavors of pizza without the carbs. They're also easy to make. You're basically building mini pizzas on baked zucchini slices. This style means that you can vary the toppings. The finished bites would be a fun party choice. They'd also work well as an appetizer.
Low Carb Zucchini Nachos
Here's another recipe that relies on popular flavors. This time you're making nachos – using zucchini chips instead of nacho chips. The recipe includes information for making the spiced meat and the guacamole shown in the image. Details about the toppings are provided as well. You can find all the information that you need at healthfulpursuit.com. There's even a video for you to follow.
Zummus (Zucchini Hummus)
There are many variations of hummus out there, which feature different ingredients and flavors. This version comes from bobbiskozykitchen.com. It uses zucchini as the main ingredient, giving the hummus (or zummus, if you will) a fresh and unusual taste. Various other ingredients are included in the recipe too. These provide extra depth to the flavor.
Low Carb Zucchini Muffins
If you want a portable keto snack, these zucchini muffins would work well. The recipe is featured at sugarfreelondoner.com, where you will also find plenty of other low carb and gluten free recipes. Katrin mentions that the zucchini adds a freshness to your muffins, along with a little sweetness.
When making these muffins, you can choose whether or not you want to peel the zucchini. Leaving it as-is will give you more nutrients, while peeling it means that the zucchini is much harder to notice in the muffins. Because of this, peeling the zucchini could be a good choice for anyone who has picky kids.
Lemon Blueberry Zucchini Bread With Almond Flour
This recipe from wholesomeyum.com takes zucchini bread to the next level. Rather than relying on just zucchini, Maya includes lemon and blueberry to make the bread taste much more interesting. As she mentions, the bread really acts like a dessert. It is sweet and tasty – to the point that it resembles a cake. Despite this, the bread ends up being low in calories.
Low Carb Zucchini Brownies
Karina (from cafedelites.com) has done an amazing job with this recipe. Not only are you making moist and chocolatey brownies, but you're also including a healthy veggie. Adding zucchini to a keto brownie recipe is a great idea, as the zucchini isn't even noticeable in the final treat. The end result is a dish of brownies that taste decadent, but are healthier than most other brownie recipes.
Microwave Zucchini Bread
Meals that can be made in the microwave are always powerful. They're fast and easy, giving you more time to focus on other parts of your life. This recipe is one example of the style. It comes from Deanna at theharvestskillet.com, who always creates amazing recipes.
The idea of making zucchini bread in the microwave is particularly appealing. While there are many zucchini bread recipes out there, most of them involve making a large batch of the bread at a time. Doing so isn't always ideal. With this microwave recipe, you can make the perfect amount of zucchini bread for one.
Pizza Stuffed Zucchini
Who doesn't love pizza? This recipe, from thatlowcarblife.com, offers an unusual way to get most of the flavors from pizza. The idea is simple – skip the carb-laden crust and simply build your pizza in zucchini boats instead. The style is faster and easier than making a regular pizza anyway. You can also choose the ingredients that you like the most to make up the filling. Just be sure that you calculate the carb content for whatever you include.
'Apple' Muffins
These 'apple' muffins come from gnom-gnom.com and they're a little unusual. The main reason is that they don't use apples at all. Instead, Paola has carefully designed the recipe so that the muffins look and taste like they contain apple pieces. In reality, the muffins rely on zucchini instead. While the idea might sound a little odd, the finished muffins are simply amazing. If you didn't know better, you might believe that they were apple muffins.
Zucchini Lasagna Pinwheels
I love the visual style of this recipe. The flavor combination is great too, as you're relying on most of the key ingredients from a lasagna. The recipe itself comes from abbeyskitchen.com. As Abbey mentions, the dish is a great way to eat healthy vegetables, while also getting gooey cheese. Is there a better way to enjoy your veggies?
5-Minute Zucchini Lemon And Mint Salad
Here's a simple and unusual recipe to try. It comes from eatdrinkpaleo.com.au and you're making a raw zucchini salad. It's a very fast dish to prepare, taking around five minutes from start to finish. Irena mentions that the salad tastes fresh, making it ideal in the warmer months. You can also grill the zucchini before making the rest of the salad if you don't want to use raw zucchini.
Courgette Mint & Feta Fritters
These fritters come from Libby at ditchthecarbs.com. They're an effective keto snack, especially as they are very portable. You could easily include them as part of a packed lunch. Even kids would enjoy the fritters on a regular basis. An even better aspect is that these fritters are easy to make. They take just 15 minutes and only use four ingredients.
Baked Zucchini Chips
To finish off this list, here is a baked zucchini chips recipe, which comes from aspicyperspective.com. While this type of chip isn't unusual, the recipes all differ from another – each relying on their own combination of spices. The choice for these chips looks particularly appealing. There are also various tips included to help you make a great keto snack every time.