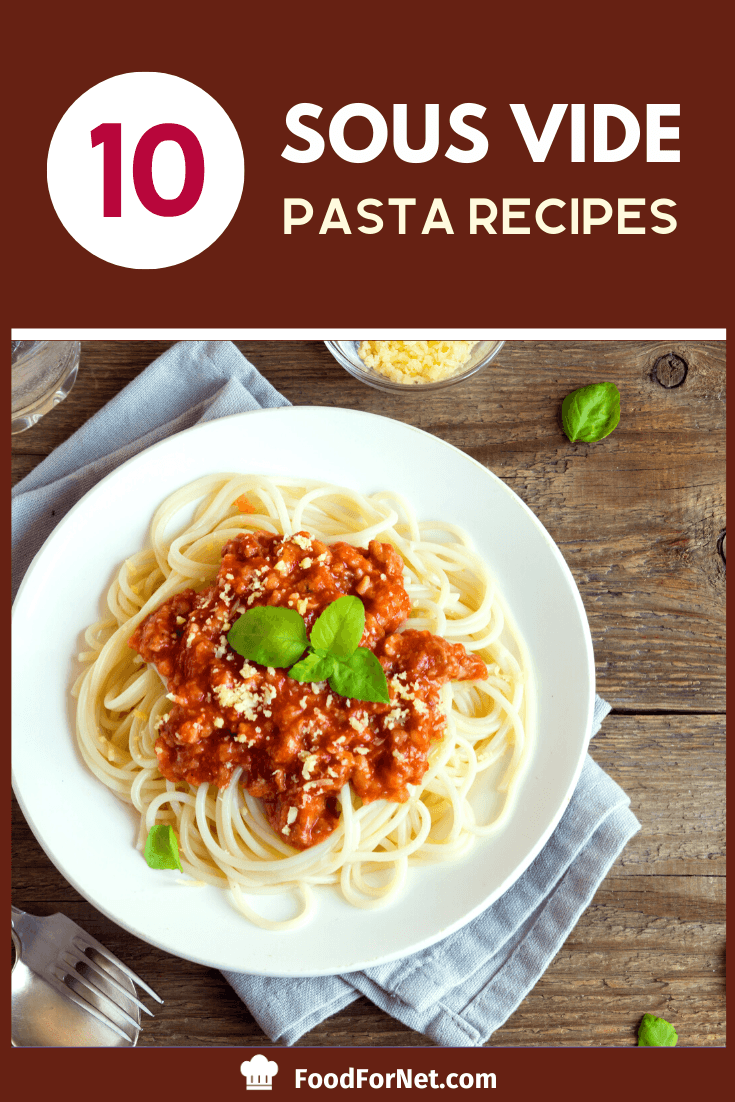 One type of food that is often excluded from sous vide discussions is pasta. Realistically, pasta is rarely ever cooked in sous vide and with good reason. After all, standard preparation for pasta involves boiling it and you wouldn't ever do so with sous vide. Some bloggers have found that you can sous vide pasta with the right recipe and the results are half decent. But honestly, there is little advantage to doing so.
So then, why do I have a list of 10 sous vide pasta recipes? Well, the list doesn't focus on actually cooking pasta itself in the sous vide. Instead, the recipes are ones that are specifically designed to go with pasta or just naturally make a perfect complement to pasta.
As a result, these are all fantastic recipes that are bound to satisfy any pasta lover – even though you're not cooking the pasta in your sous vide. And besides, the more recipes you have at your fingertips, the greater your versatility for cooking.
Sous Vide Pasta Recipes
Rotini in Sous Vide Saffron-Tomato Oil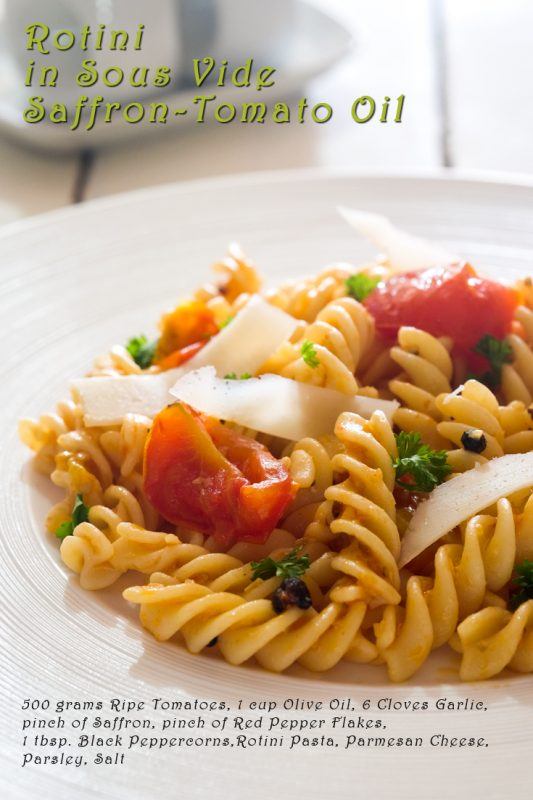 This first pasta recipe is for Rotini in Saffron-Tomato Oil, which is one of my own sous vide infusions. In this case, the sous vide component is an infused oil that takes advantage of saffron and tomato flavors.
With it, you end up with amazing-tasting oil and tomatoes that can easily be combined with pasta. You could easily add some minced beef or another type of meat to the mix to get something heartier. However, following the recipe as written offers a fresh-tasting meal that is also easy to prepare.
Fresh Tagliolini with Sous Vide Lamb Shank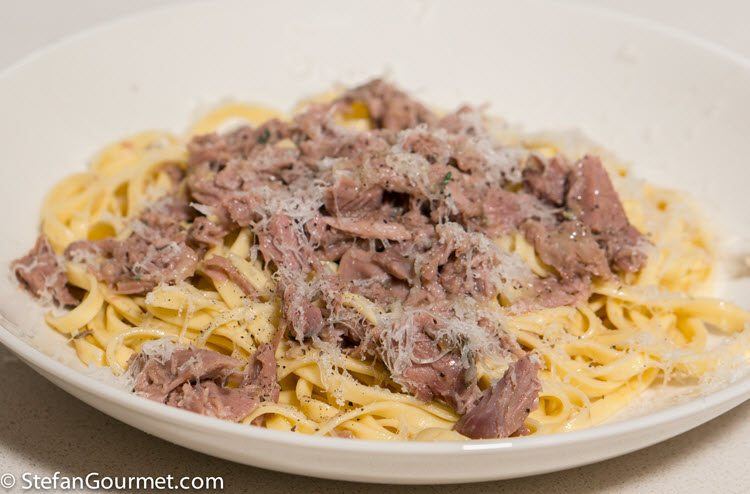 This tagliolini recipe comes from stefangourmet.com and takes a different approach to sous vide and pasta. With this recipe, you're cooking a lamb shank through sous vide and then shredding it. That shredded meat is then combined with cheese and homemade pasta – creating a simple dish with surprisingly strong flavors.
You could also make the same recipe using fresh pasta from the store, if you prefer. However, there is something special about homemade pasta, so it's worth making the pasta yourself if you have the chance to.
Smoky Sous Vide Meatballs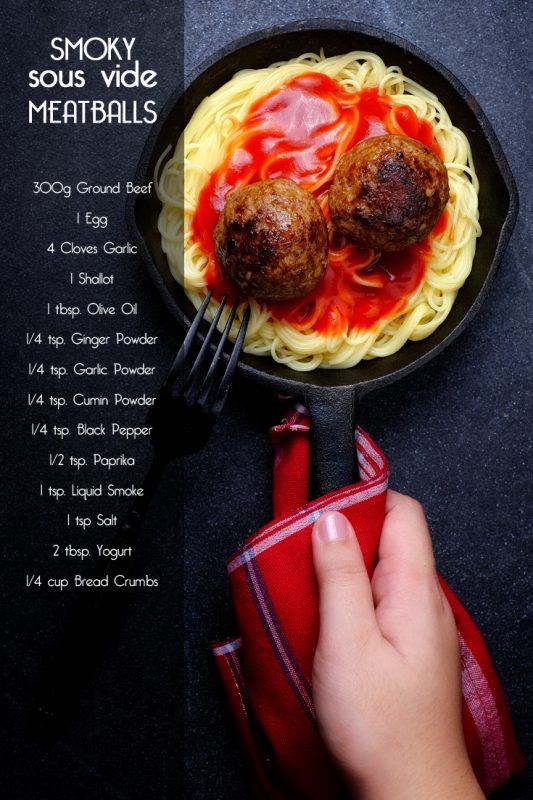 As the name suggests, the recipe for Smoky Sous Vide Meatballs simply focuses on making the meatballs themselves. Cooking these in the sous vide is an effective technique, letting you be sure that the meatballs are fully cooked without you needing to open one up to check.
As for pasta, the smoky flavors of the meatballs are a natural fit. Besides, spaghetti and meatballs is such a popular dish, so why not serve them this way? You could do so using any pasta sauce that you have at hand – resulting in a simple yet powerful meal.
Sous Vide Chicken Noodles
As I mentioned earlier, most sous vide pasta recipes don't actually involve using the sous vide for the pasta directly. However, this Sous Vide Chicken Noodles recipe from www.chefsteps.com is an exception to that rule. The main reason is that the recipe isn't for conventional pasta. Instead, you're actually making noodles out of chicken itself.
The approach brings a whole new meaning to the idea of chicken noodles, especially if you make chicken noodle soup from them. While the pasta idea may not work for everybody, it is a unique alternative. Plus, the style could be very appealing to anyone on a low carb diet.
Sous Vide Chicken Parmigiana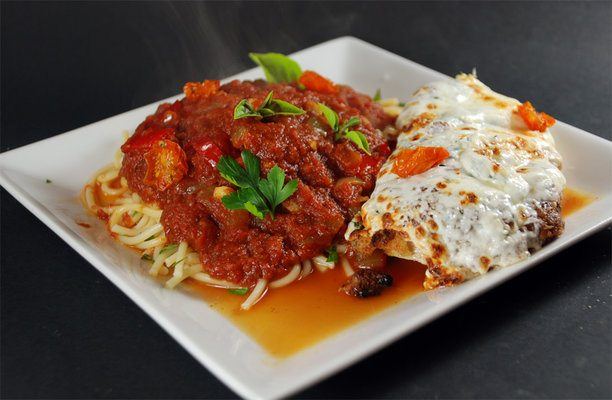 I've always found that Chicken Parmigiana makes for a great meal, especially when you want something that isn't too complicated. This recipe from amazingfoodmadeeasy.com offers a much easier way to prepare the dish – while meaning that there is much less guesswork involved. I also love the way that this meal looks on the plate and the contrasting colors are simply so perfect.
Pasta with Sous Vide Wild Boar Ragu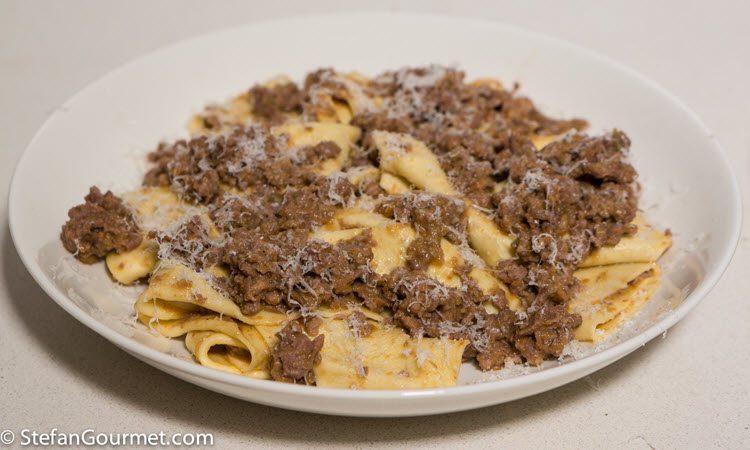 This is the second recipe from stefangourmet.com and it has some similarities to the first. Both dishes take advantage of fresh pasta and use the sous vide to cook the meat. However, this particular recipe uses wild boar, which is a fairly unusual choice of meat, although it does work well with the ingredients at hand.
Now, there are various steps and tools involved with this recipe, more so than most of the others on this list. This may make it unsuitable for some situations. Still, if you're looking for something that is stunning, this is an interesting recipe to try out, especially as it tastes more unconventional than it looks.
Sous Vide Poached Egg with Simple Pasta

This Poached Egg with Simple Pasta recipe is exactly what the name suggests and it comes from the site almost-kosher.net. Serving poached egg with pasta like this is a fairly common (and popular) idea, although many people haven't even heard of doing so and certainly haven't tried it.
You could easily do the same thing without sous vide but honestly, making a poached egg with sous vide is one of the main reasons for having the setup. That aside, getting the timing right for poached egg and pasta is normally difficult, especially as the dish doesn't work if the egg is overcooked or the pasta has cooled off. In contrast, using sous vide makes it easy to get the timing perfect.
The World's Best Sous Vide Osso Buco
Osso Buco is an Italian dish and this Sous Vide Osso Buco recipe is a great way to make it without stress or worry. The recipe itself comes from www.chefsteps.com, so you can be sure that the instructions are easy to follow. My favorite thing about this recipe would have to be the way it looks on the plate. But, beyond that, it is simply a good option if you're wanting to cook with veal shanks.
Here's my own osso bucco recipe in the slow cooker.
La Genovese alla Napoletana Sous Vide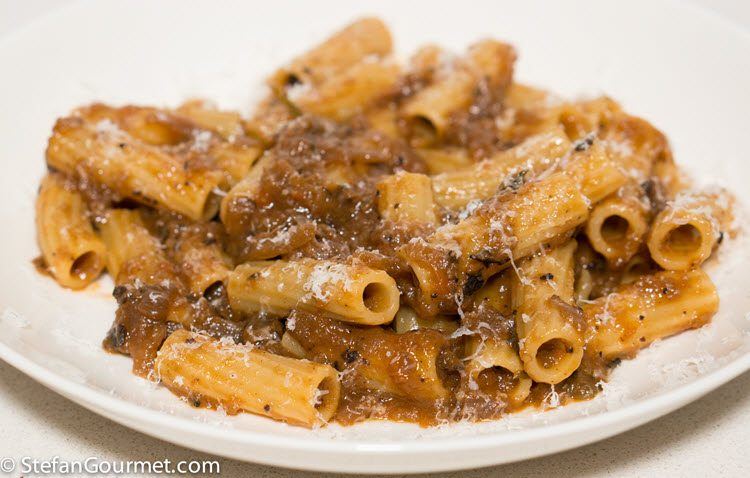 The name La Genovese alla Napoletana makes this recipe, from stefangourmet.com, sound highly unusual. But, in actual fact, the dish here is basically beef in onion sauce, along with ziti pasta. Still, the recipe is much more interesting and intense than the standard approach, especially as the sauce itself is created from sous vide beef brisket.
The interesting thing is that this dish actually has two components. One of these is the pasta aspect, which I just mentioned. The second is to serve the beef brisket that you cook along with the remaining sauce. This basically lets you get two dinner courses without having to do an excessive amount of work.
Sous Vide Bison Strip Steak Carbonara
This Bison Strip Steak Carbonara is the final recipe on the list and it is another one that comes from amazingfoodmadeeasy.com. With lists like this, I try to focus on a range of different food blogs. But, there aren't that many bloggers that use sous vide for pasta recipes.
In this particular case, the recipe takes advantage of bison cooked with the sous vide and combines this with a vegetable and carbonara base. The differences in flavor and texture work exceptionally well together, especially as bison is a lean cut of meat.
You could try this recipe with beef steak as well
---
And if you don't have an immersion circulator yet, you really should check out both the Joule and Anova Precision, which are my top rated sous vide cookers. They are very well designed, plus come with bluetooth integration for remote cooking.
Related Content