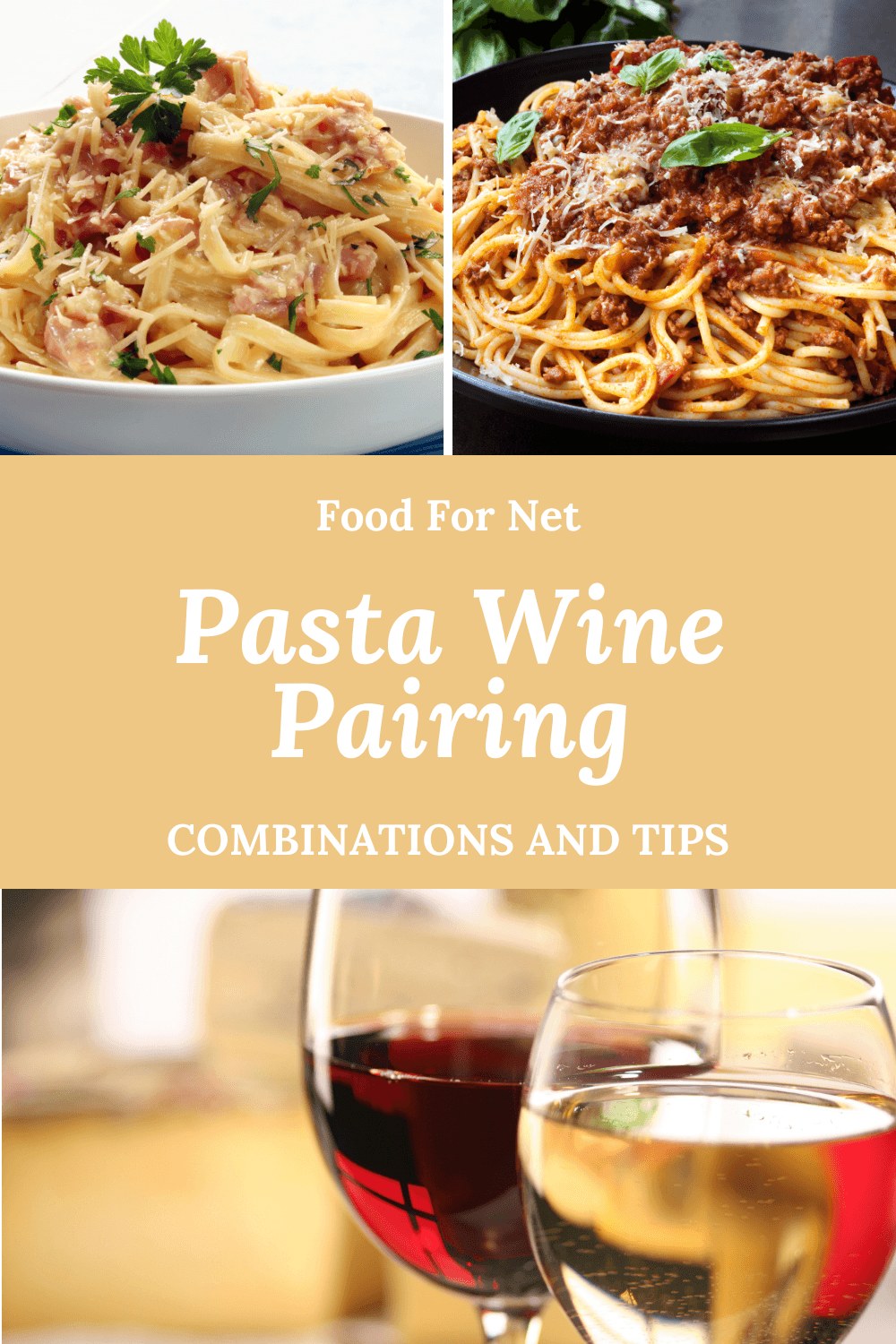 Wine pairing is a large and somewhat complex field. The goal is to choose wines and foods that go well with one another. Sometimes this means that they are complementary and highlight similar flavors in each other, while in other cases you may be focusing on contrasts instead. Finding the right combinations can seem difficult when you first start, which is why this post is focusing on pasta wine pairing.
In it, we're highlighting a range of classic pairings of pasta and wine, while also talking about what you need to think about when making your own pairings. As such, some of these combinations are very specific – one type of wine to one type of pasta meal. Others are broader. After all, there are countless types of wine to choose from and just as many variations in the pasta dishes that you make.
The first thing to mention is that you don't want to focus on the pasta at all. Instead, when pairing wine with pasta, you generally want to focus on the sauce instead.
This shouldn't be too surprising. Pasta doesn't have much flavor of its own. It's largely used as a vehicle for the other ingredients. To get the most out of your pasta and wine pairing, you'll need to focus on the dominant flavors in your dish, which normally comes down to the sauce.
Pasta Wine Pairing
Chianti with Spaghetti and Meatballs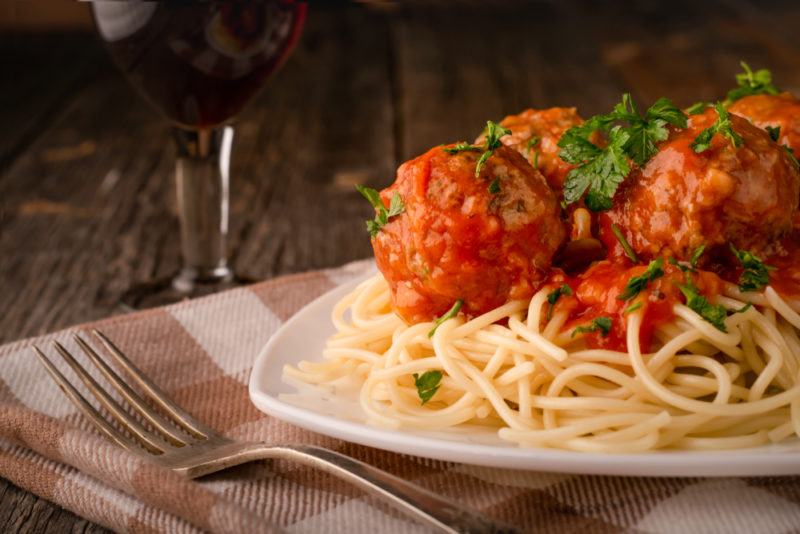 If you want something a little unusual, chianti is a good type of wine to try. This Italian red is dry and medium-bodied, with a notable fruity flavor. These features makes the wine work well with any tomato-based dish, as the tomato acts as an ideal contrast to the acidity of the wine.
You'll get similar effects from any dish with a tomato-based sauce, but spaghetti and meatballs is an especially good choice, as the dish contains red meat as well. Red meat and red wine almost always pair well together, so this makes the dish work well on a second level too.
Of course, chianti isn't your only choice. Many other medium-bodied red wines are excellent with spaghetti and meatballs, along with similar dishes. For example, you can serve spaghetti and pork Bolognese with a sangiovese instead or even a merlot.
With this type of meal, look for a red wine that has some fruity and spicy notes. These flavors will help bring your meal to life, giving it extra depth and complexity. The same red should also work with many steak pasta dishes, particularly those that use a tomato-based sauce.
Lasagna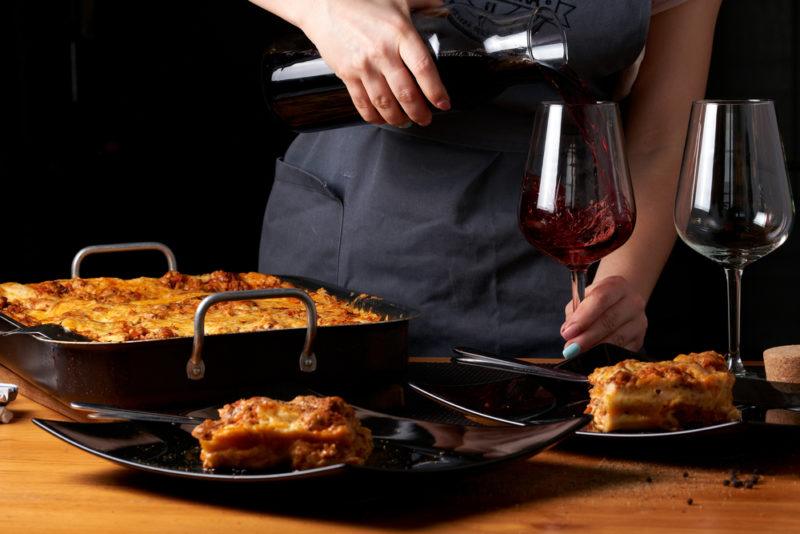 Lasagna is a complex dish with a variety of flavors, but there are still some wines that pair perfectly with the meal. The goal is to find one that complements the acidity of the tomatoes in the red sauce and allows the flavors of the dish to be fully enjoyed.
Merlot is a classic choice that gives you everything that you're looking for. You could also turn to a cabernet franc, a sangiovese, or a dolcetto, however merlot remains a crowd pleaser that happens to be easy to source.
Pesto, Pasta, and Sauvignon Blanc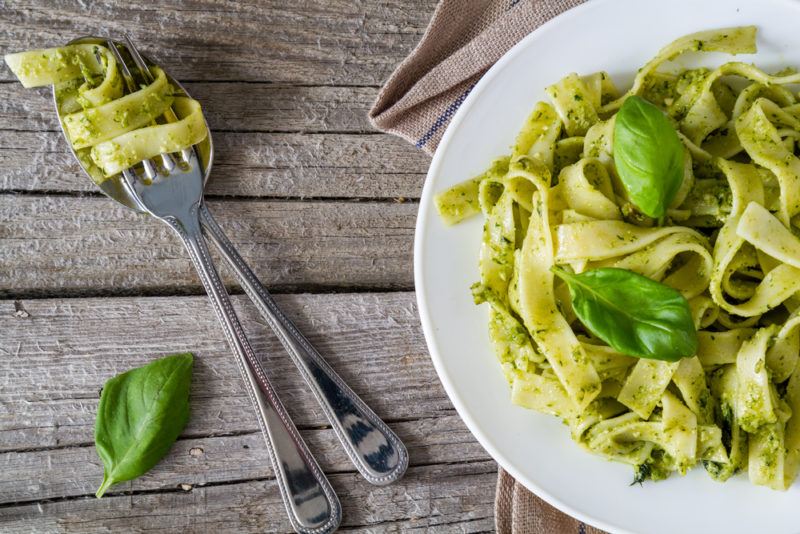 Pesto is classically made using pine nuts, basil and parmesan cheese, although you can make it by relying on other types of herbs and nuts as well if you want to. The trick for wine pairing, regardless of the type of pesto that you're using, is to treat the pesto as the centerpiece of the dish. It will often be the most dominant flavor, so the wine that you choose needs to complement the pesto.
The herb-based nature of pesto means that you'll get the best results from a savory and herbaceous wine. Sauvignon blanc is an easy choice here, partly because the wine is common and tends to be inexpensive.
There is variation between one sauvignon blanc and the next, but you'll often find that the herb qualities are most common in wines that come from the eastern Loire Valley region. Try to avoid pairing your meal with chardonnay, as chardonnay doesn't have the flavor tones needed to complement the herbs in the pesto.
Creamy Chicken Pasta

Chicken is a relatively light meat, which is why you'll often see it paired with white wine and occasionally a light red like a pinot noir. However, the type of wine you use when pairing with a chicken pasta dish is going to heavily depend on the sauce.
If you're using a relatively light cream-based sauce, then the dish will pair well with a full-bodied white wine. Chardonnay is a classic choice, as it often has buttery tones. This type of white wine complements the chicken, pasta, and sauce perfectly, without overwhelming any of the flavors.
A pinot noir could be a good choice here too. So, for the most part, you can choose similar wines to what you would use if you were serving chicken on its own. The wine selection changes as your sauce gets richer. You'll often need to focus on wine that has more body and greater complexity.
For sauces that already rely on wine, try focusing on a dry fruity white wine. Pinot grigio and sauvignon blanc are both safe options.
If your chicken pasta is creamy and uses an oil-based sauce, then the intensity of your wine needs to be surprisingly high. A chianti can be a good choice here. This Italian wine is fruity, with medium acidity and a medium body. The combination of features is ideal for cutting through the oil.
Chardonnay and Creamy Sauces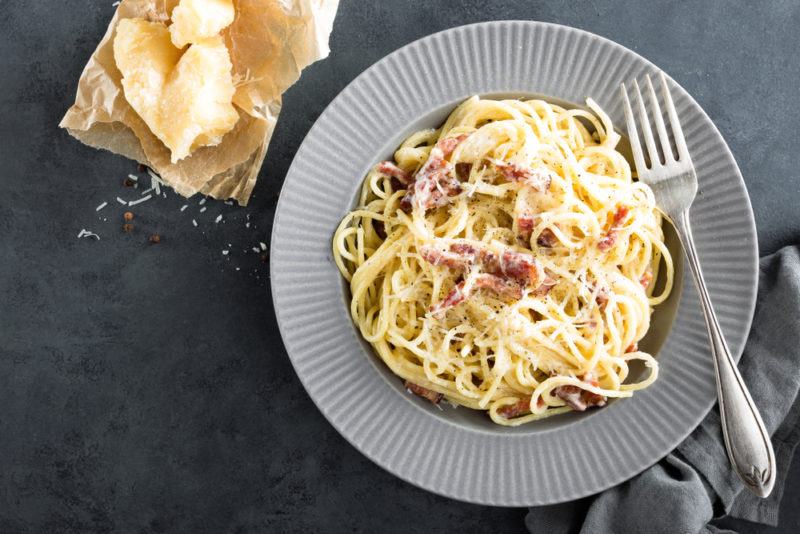 Chardonnay was one of our suggestions for creamy chicken pasta and it is actually the best choice for many different types of creamy pasta. This is partly because chardonnay has buttery tones, which easily match the flavor profile of your sauce.
For example, you can use chardonnay with a vegetarian pasta dish, a mushroom-based pasta, a carbonara, a cheese-based sauce, or even a vegetable lasagna. However, you will need to pay attention to the type of chardonnay that you choose. With vegetarian pasta, you'll generally want a young chardonnay. Many cheese pasta dishes and pesto sauces will benefit from this type of chardonnay too.
On the other hand, you may sometimes want an oaked chardonnay instead. This is especially true for many Italian creamy pasta dishes, like carbonara. The oak aging adds another layer of complexity to the wine, which is exactly what you're looking for.
Other Pairings for Creamy Sauces

Of course, chardonnay isn't your only option when you're serving a creamy or a cheesy pasta dish. Other oak-aged whites are the most obvious alternative, as these have some of the same richness that you find with chardonnay.
Or, if you want a different approach, try pairing with a light bodied red wine instead. Pinot noir is an easy go-to here, as this red wine is lighter than most, so it doesn't tend to overwhelm your meals.
Mushroom Pasta Dishes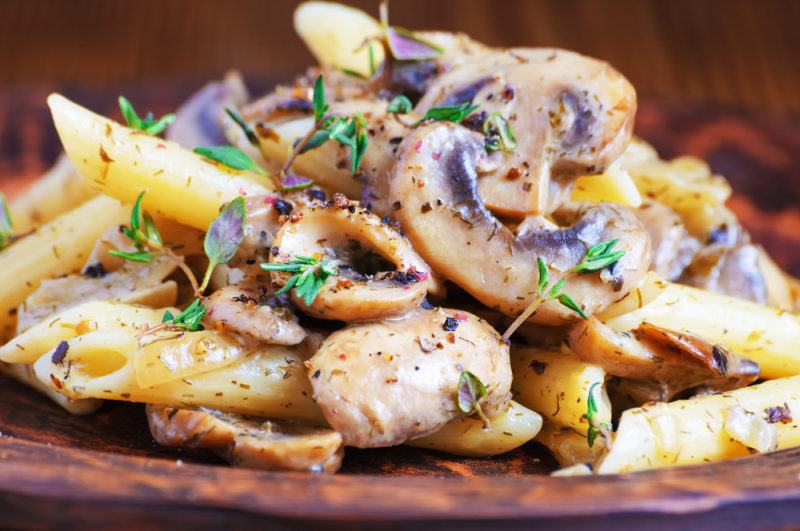 Mushrooms have a strong earthy flavor and that flavor directly influences on your wine matching. You'll want something that has a bit of body to it and isn't too acidic. If white wine is your preference, then you can't go wrong with a chardonnay. You could also look for something a little more unusual, like a soave or a bianco di custoza.
For red wine, a pinot noir or a light merlot are both good choices. Pinot noir, of course, is known for being an easy-to-drink red wine, one that pairs with a wide variety of foods, including chicken and salmon. Merlot has more body too it, although a light merlot can still be easy-to-drink.
Combining mushroom pasta and red wine will often be the more appealing approach. After all, red wine can often be smooth and somewhat mellow. It's hard to go past that combination when you're serving mushroom pasta.
Spaghetti Alle Vongole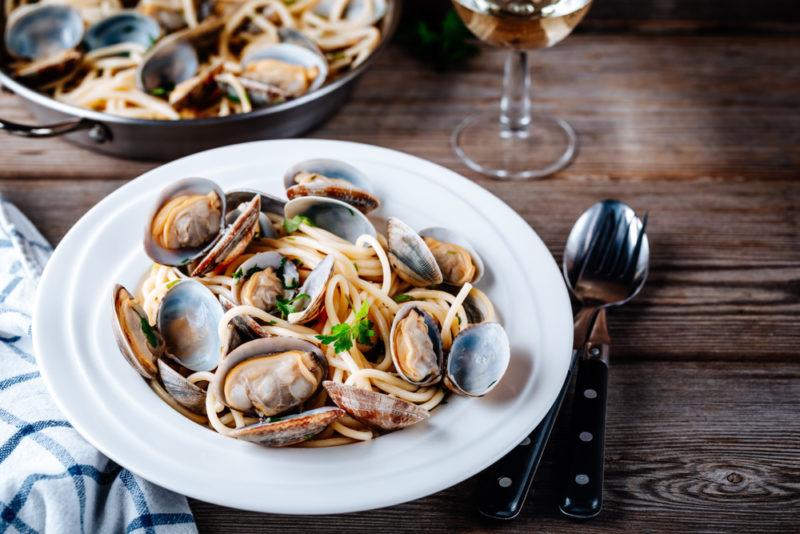 This Italian dish relies on spaghetti and clams as the main ingredients, along with a relatively light white wine sauce. As such, you need to focus on a white wine at the same time. However, the best wine pairings for this pasta dish aren't light-bodied white wine. Wines with a bit more oomph are generally chosen, as these help to create a more complex and interesting experience all around.
Chardonnay is the traditional choice here, as it has a warm and elegant flavor profile that is exactly what you need. You might consider a white burgundy, which is a specific type of chardonnay that is made in the Burgundy region of France. Most of the best bottles of chardonnay come from this part of France, so you're not likely to regret the choice.
Grenache blanc is another option. This white wine is sometimes considered full-bodied and sometimes medium-bodied. Either way, it's a rich and delicious wine that often includes flavors of honeysuckle, lemon zest, and pear. It's easy to see how such flavors would complement spaghetti alle vongole without overwhelming the dish at all.
Red Sauces and Meat

Many pasta meals follow the same general pattern. They use a red tomato-based sauce, along with some type of red meat. Spaghetti with meatballs and spaghetti bolognese are two examples of this meal. I'm sure you can think of others as well.
This type of dish tends to have strong flavors, along with some acidity from the tomatoes. The best choice is to focus on a medium-bodied red wine, one that tends to be relatively tart. This is especially true for dishes where the tomato remains the key flavor element.
Sangiovese wines are a good style to try here, including the classic chianti. You could also look at primitive, granache, and Montepulciano d'Abruzzo. Some of these wines will be more difficult to find than others, but they're all worth trying out. If you get stuck, a chianti could be a simple choice that still provides the right balance.
As you increase the richness or creaminess of the sauce, you could move towards a more full bodied red wine. However, it's still worth relying on a wine that has tart or acidic qualities, rather than a fruity one. These qualities are important because of the acidity of the tomatoes in your meal.
Other Tomato-Based Sauces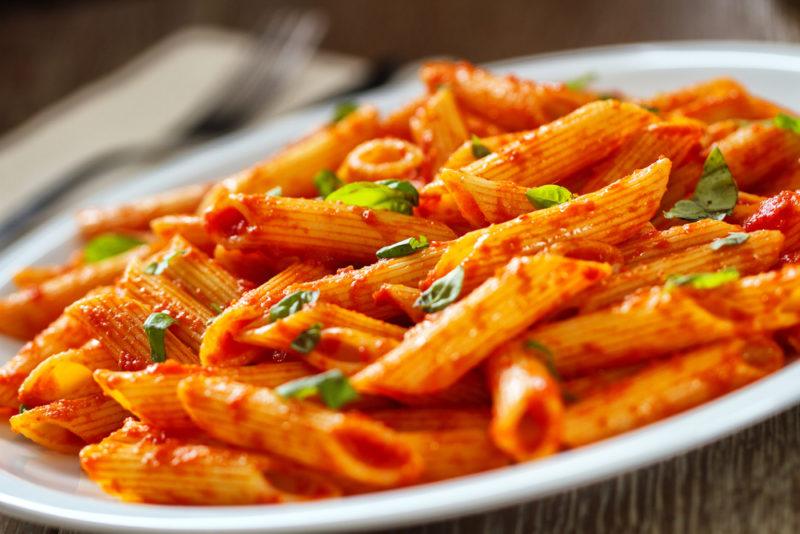 In other cases, you might be serving a lighter meal, perhaps focusing on a tomato-based sauce, along with basil and some pasta. If the sauce is on the fresh side rather than being cooked, then a crisp white wine is often the best choice. A pinot gris can be ideal here, especially as the wine is a popular one.
Sauvignon blanc is an exceptional alternative. It tends to be the drier option of the two and is also more aromatic. These features can work well for a tomato-based dish, giving you an enjoyable balance of flavors.
If the sauce is cooked instead (and you're still not using meat), then a slightly heavier wine is in order. Many people choose a light red wine for this type of meal. A Sicilian red can be especially appealing.
Spaghetti Puttanesca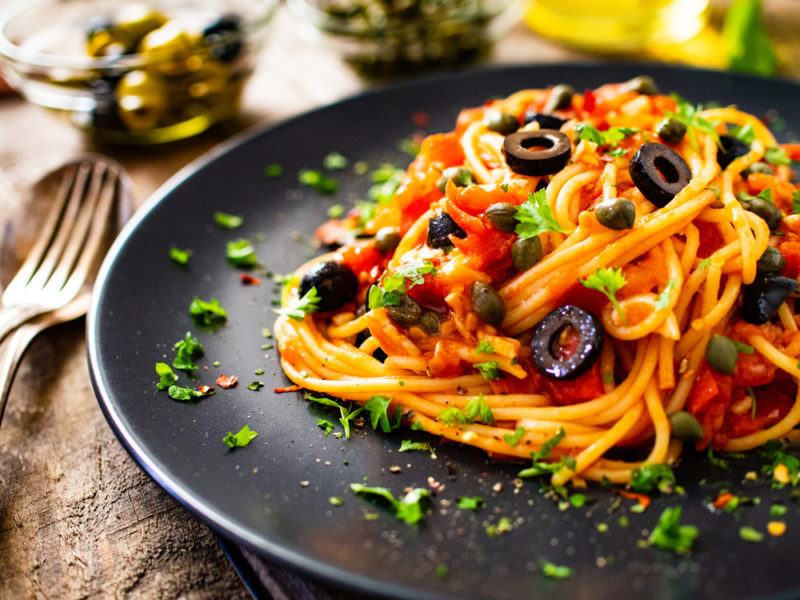 Puttanesca is a special type of pasta sauce that needs extra consideration. At first glance, it seems like a relatively light tomato-based sauce and you're often serving it without meat. Yet, this doesn't mean that you can rely on a weak wine, as puttanesca is a flavor-packed dish.
Key ingredients in the pasta sauce can include chilies, olives, capers, garlic, and even anchovies. Which such ingredients, it's clear that most light bodied wines would get entirely drowned out. To create a good pairing, you need to turn to something more heavily flavor packed instead.
There's a theory that wine and food that comes from the same place is often complementary. This isn't always true, but it's a good place to begin. In this case, you're looking at an Italian pasta dish, so focus on red wines from Sicily and South Italy. You want wants that are strong enough to hold their own. Nero d'Avola and primitivo are two popular choices.
Spicy Sauces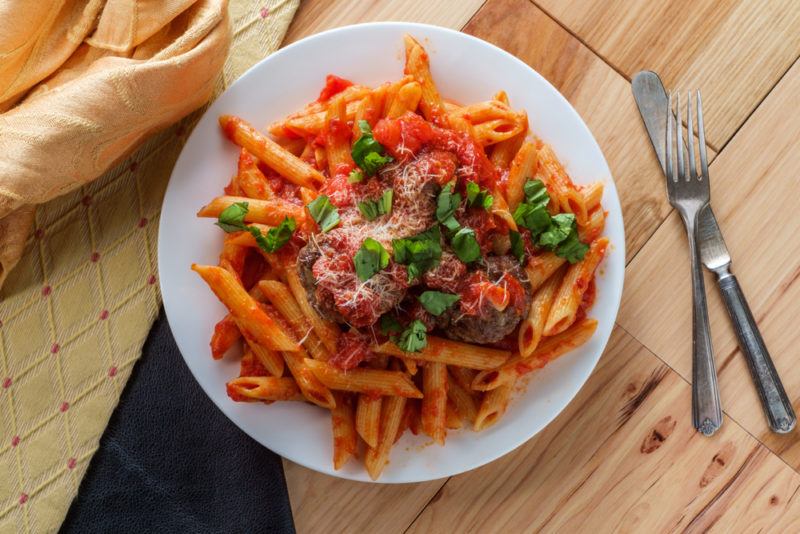 If your pasta dish has a notably spicy sauce, like arrabbiata, there are two main approaches that you can take. The first is to focus on a rustic red wine, preferably one that comes from Italy. Zinfandel, primitivo, or a Sicilian red wine are all appealing choices here.
The other is to focus on a dry white wine instead, particularly one that has a sharp flavor. The sharpness of the wine will contrast well against the spiciness of the dish, allowing both the wine and the sauce to shine to their full potential.
Shrimp Scampi with Chardonnay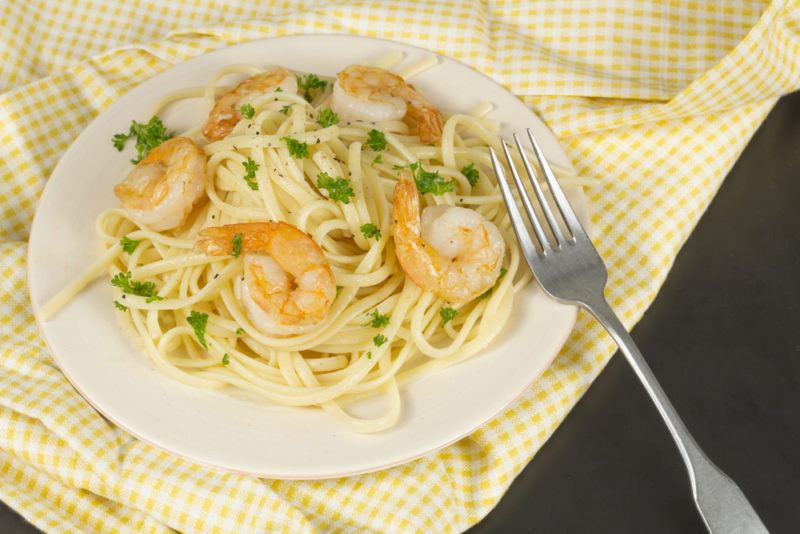 Shrimp scampi is a delicious meal, but you'll need to choose your wine carefully, as the flavors can be somewhat nuanced. Chardonnay is an ideal choice here, as you're getting an attractive balance of flavor that doesn't risk overwhelming the flavors of your dish.
Plus, chardonnay tends to be silky with buttery tones – two features that are perfect with the buttery sauce of shrimp scampi.
Penne Boscaiola with Merlot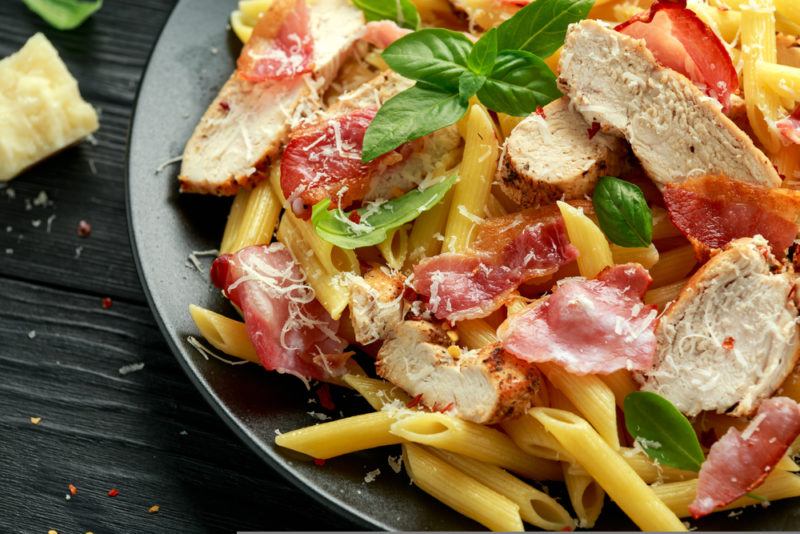 This pasta dish is sometimes known as woodsman-style pasta. It's easy to see why too, as the sauce relies on often relies on mushrooms and bacon, which gives the meal an earthy and smoky quality.
Merlot is a perfect wine to use here, as it has an appealing depth of flavor and won't get lost in the mushroom-bacon goodness of the sauce.
While you could look for other reds with a similar amount of body, try to avoid white wines and light bodied reds like pinot noir. These don't have the strength to stand up to the flavors in the penne boscaiola.
As always, this pairing is based on the sauce, so you'll still want the same wine even if you switch out the penne for a different type of pasta.
Seafood-Focused Pasta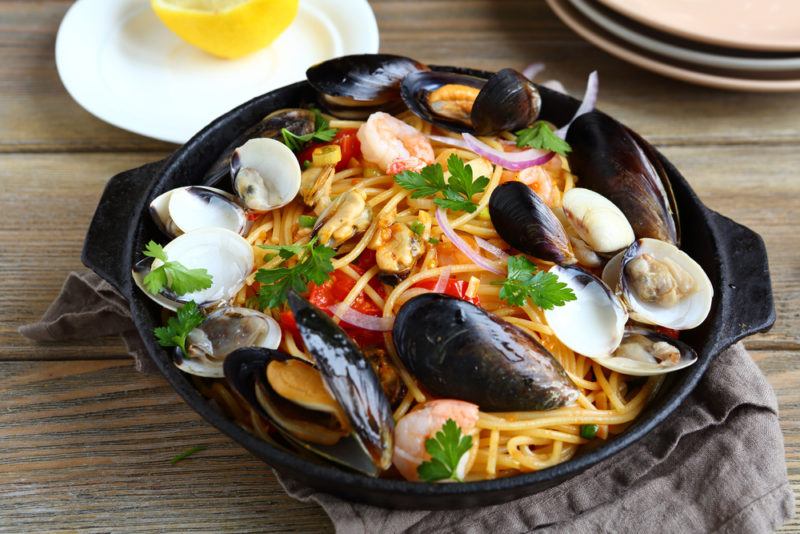 We've mentioned a few seafood pasta dishes already, but there are plenty of others out there. Most of the time, you'll be looking for a crisp dry white for an accompaniment. This type of wine tends to be vibrant and helps to showcase the seafood flavors without overwhelming them.
A dry rosé can work well too. This may be preferable in some cases, as rosé wine offers a little more depth than you find with white wine. Rosé is often versatile too, making it a good choice if you're serving a single type of wine for multiple courses.
The main exception is rich seafood pasta meals, including those that rely heavily on lobster or crab. In these cases, you may need a fuller white wine instead. Chardonnay is the obvious choice here, perhaps one that has been lightly oaked. Aging in oak adds a certain richness to your chardonnay and this is perfect with the flavors of crab or lobster.
Pasta with Meat Substitutes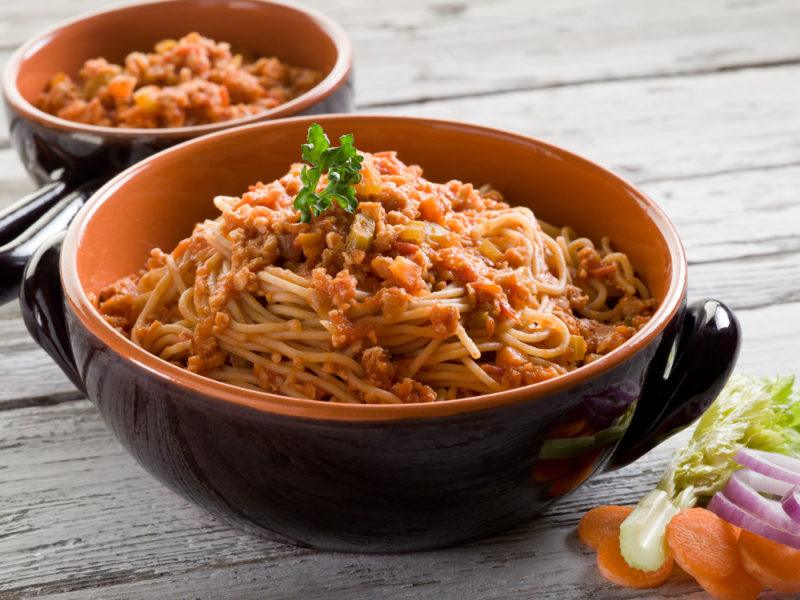 Meat substitutes like soy mince, veggie sausages, and veggie burgers behave much like their meat-based counterparts when you include them in meals. So, for wine pairing, you need to follow the same principles that you would for meat.
For example, a lasagna made using soy mince rather than beef mince could be paired with a merlot or a cabernet franc, just like a regular dish of lasagna.
Pasta Primavera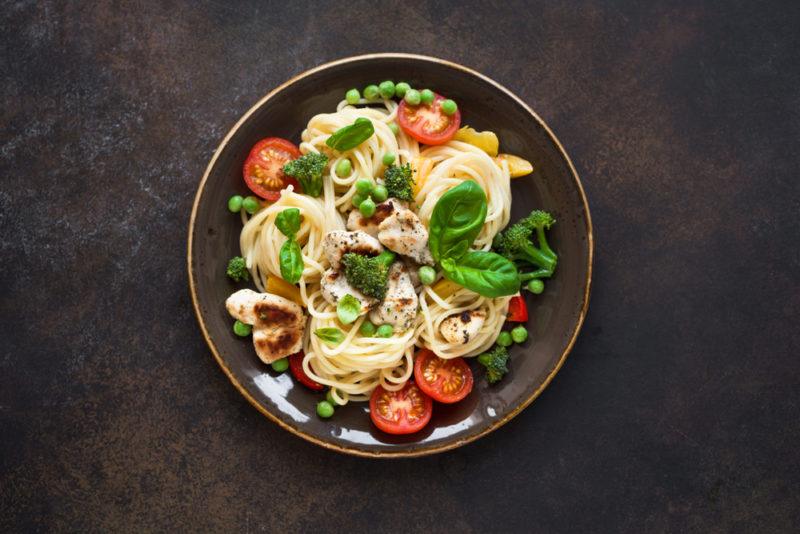 Primavera pasta dishes tend to rely on baby vegetables, often in a creamy sauce. For this type of meal, it's best to focus on a crisp white wine to provide contrast to the flavors.
An Italian white wine works well here, such as Arneis. You could also look for a sauvignon blanc. Sauvignon blanc has some herbaceous flavor notes, which naturally pairs with the vegetables in primavera. A Loire sauvignon blanc is a good choice or perhaps one from New Zealand.
The same is true for any pasta dish that heavily relies on herbs.
You could also take a different approach and focus on a sparkling rosé instead. Rosé wines are known for their versatility, and a sparkling rosé also provides lovely bubbles that are perfect with your creamy pasta.
Plus, a rosé tends to offer a hint of berries as part of its flavor profile. This acts as a delicious contrast to the creaminess of your pasta.
Pesto Pasta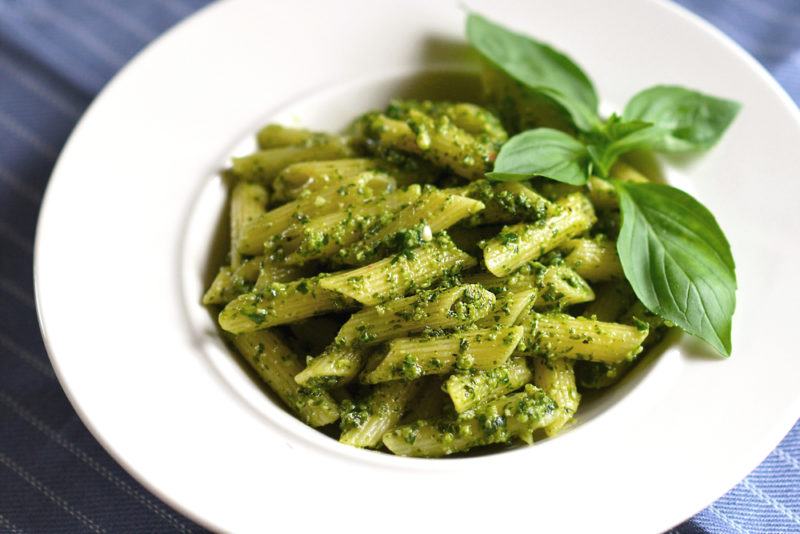 If pesto is the dominant flavor in your pasta, then a dry white wine is a good first choice. Once again, sauvignon blanc is a sure-fire hit, as you have those delicious herbaceous notes. If you're feeling a little more creative, then you could consider a dry white wine from Sicily or even a light chardonnay.
But, when taking the chardonnay route, try to avoid wine that has been heavily oaked or has a very full body. Such wines can end up being too rich for your pesto and you would lose many of the subtle flavors from your meal.
Similar wine choices may work with less common types of pesto too, such as those that rely on a different herb or nut. In most cases, you're still ending up with a herb-rich meal, so a dry white wine like sauvignon blanc continues to work well.
On the other hand, if you're focusing on red pasta, then you might consider a medium bodied red wine, such as a merlot or perhaps a Sangiovese. The flavors of the pesto end up matching the wine well although, if we're honest, the complementary colors are a large reason for focusing on this combination.
If your pasta dish also uses tomatoes, then you may need to change the wine combination slightly. A sagrantino or a rosso piceno can be an interesting choice, even though these are red wines rather than white. In fact, sagrantino is a strong tannin red wine. It works because the wine complements the tomatoes well, while contrasting the richness of the pasta meal.
Greek Pasta Salad and Sauvignon Blanc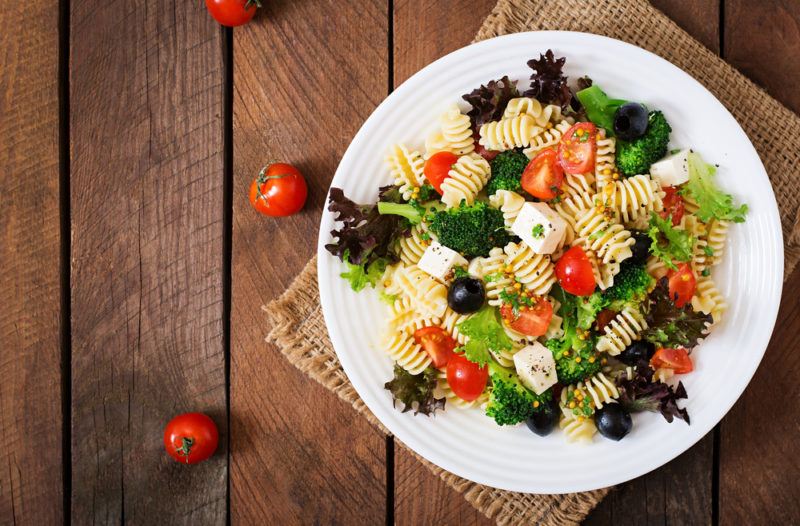 If the food you're preparing is on the mild side, sauvignon blanc is a good go-to wine. It is notable for being dry with high acidity and often offers herbaceous flavor notes. These features make the wine ideal with a Greek pasta salad. After all, this type of pasta dish tends to be light as well.
Linguine al Limone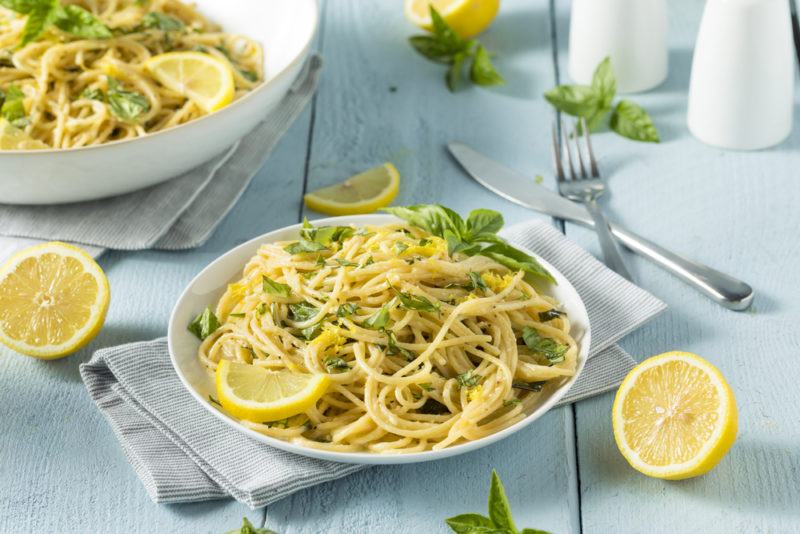 This unusual pasta dish uses lemon as a key ingredient, which creates a vibrant flavor profile. You end up with a contrast between the brightness of the lemon, the texture of the pasta, the cream sauce, and often aged cheese. Such a combination of flavors and textures makes wine pairing difficult, but not impossible.
A sparkling white wine is the obvious choice here, as the sparkling nature of the wine gives them acidity and makes them naturally refreshing. There's also little risk of clashing flavors, which helps explain how sparkling white wines can pair well with so many different types of food.
General Rules for Pasta Wine Pairing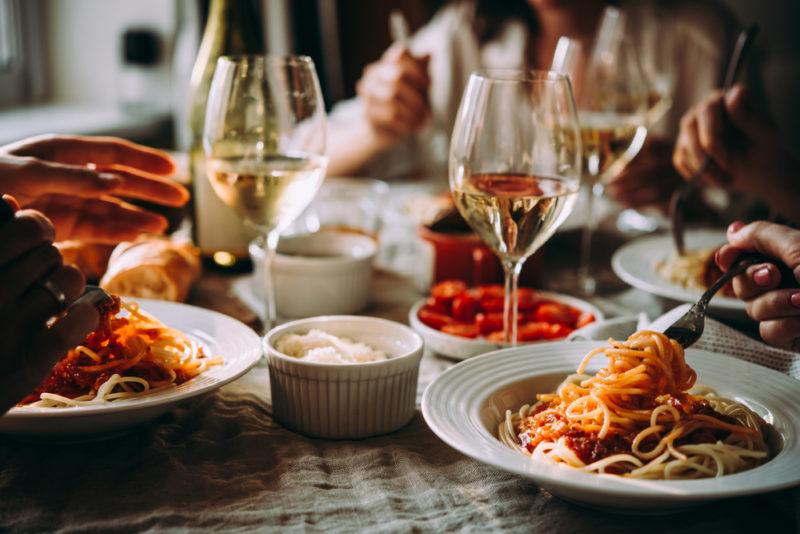 We've talked about many specific pairings of wine and pasta, but this is just the tip of the iceberg. Each dish has its own nuances, as does every bottle of wine. You often need to experiment a little to find a combination that works well for your food and your flavor preferences.
Thankfully, there are some general concepts that you can follow.
Think About Your Sauce
First, rich flavors tend to call for rich wines, which is why medium-bodied red wines are a natural choice with a tomato-based pasta. This is particularly true if your pasta include red meat too.
Pasta dishes that heavily rely on seafood flavors or on light vegetable flavors, on the other hand, pair best with light-bodied red wine.
Creamy and cheese-based dishes are a little more complex. White wine is generally the best bet here. You'll sometimes want a light-bodied white wine and sometimes a full-bodied one instead. The richness of the dish and the strength of the cheese flavors will influence the type of white wine that you need.
Look At The Other Ingredients
You'll also need to consider the other ingredients in your pasta dish. A meal that relies on strong ingredients like red meat or tomatoes is going to need a fuller wine than one that just contains pasta and sauce.
For example, a pesto-based pasta meal works particularly well with sauvignon blanc and some other types of white wine can pair well too. But, if you add tomatoes and meat into the equation too, the pesto becomes less dominant and you'll need to pair with a red wine instead of a white one.
Pay Attention to Acidity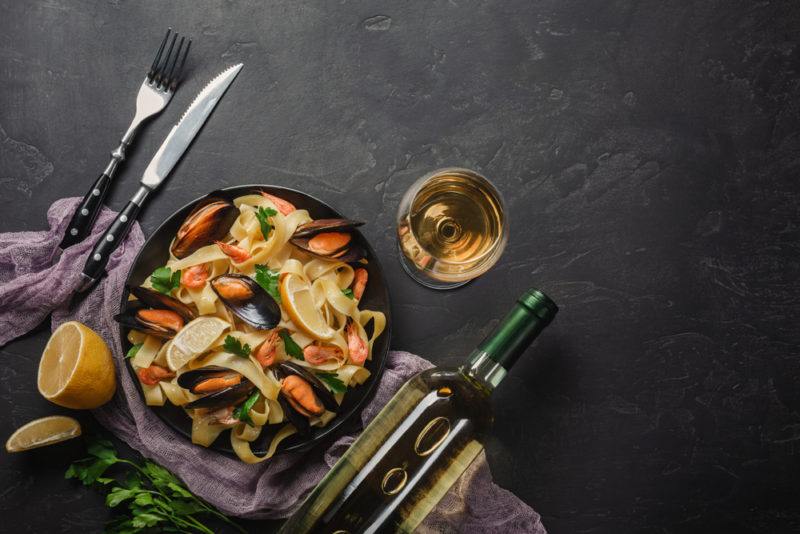 The acidity of your wine is relevant to your pasta and wine pairing too. For cream-based pastas, for example, you're generally looking for wine that has some acidity, but not too much. High levels of acidity risk overwhelming the flavors of the meal.
There's Never Just One Choice
For any type of food, there's normally at least half a dozen types of wine that you can easily pair with your meal. Some of these will be similar to one another, while others may be quite different.
Besides, each of the meals and meal types that we've talked about on this list has many different variations, where you may be changing some of the ingredients, the flavor, and/or the texture of the dish. Such changes all influence the best types of wine to go with the food.
As such, there is plenty of scope for you to experiment with the wine that you choose. Don't be afraid to venture out of your comfort zone, even if that means choosing a type of wine that isn't commonly paired with the food at hand. You never know what delicious combinations you'll find on your own.
When there are multiple combinations to consider, why not start by focusing on your favorites? This idea is a simple one, but a powerful one. After all, if you don't particularly like chardonnay, for example, the combination of chardonnay and creamy pasta isn't going to be amazing for you. On the other hand, a white wine that you love should provide a much better combination of flavors.
Don't Forget About Contrasts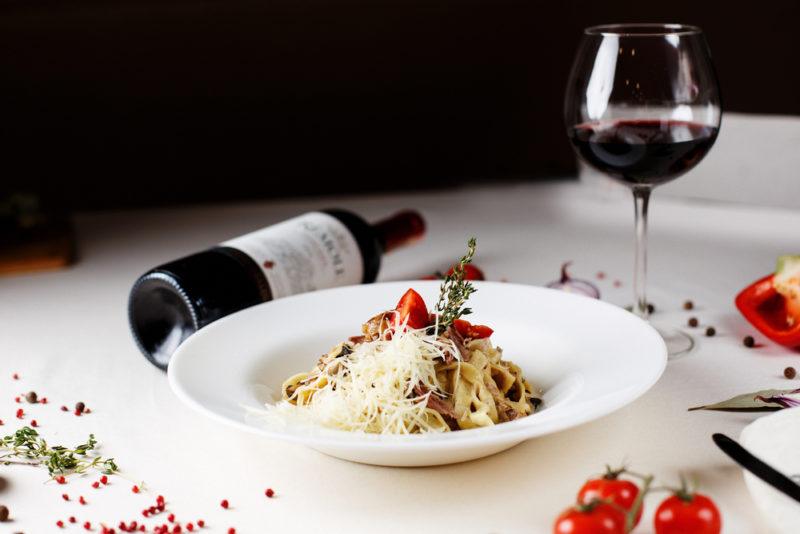 Many of the wine and food pairings we've featured here rely on complementary flavors between the wine and the food, but this isn't your only option. You can also take a contrasting approach, where the differences between the wine and the food make each stand out more.
The pairing of macaroni cheese and a dry riesling is a good example of this type of contrast. The riesling provides a sharp contrast to the creaminess of the macaroni. Some writers say that this combination is similar to eating a crisp apple slice with your macaroni cheese.
Use Classic Pairings As A Guide
If you're still stuck on which wine to pair with your pasta dish, look for a similar pairing that you're familiar with.
Take spaghetti and meatballs as an example. Plenty of other pasta dishes have a similar flavor profile, especially if they rely on red meat and a tomato-based sauce. We suggested chianti as an easy wine to pair with spaghetti and meatballs, so you could use this same wine with another similar dish. How about chianti with spaghetti Bolognese?
Related Content